Wesley van Dijken wins opening Dutch TC National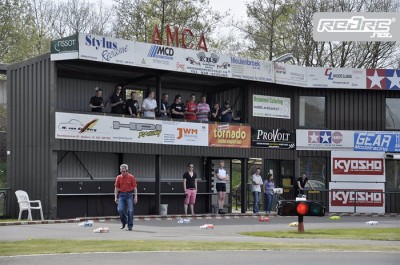 After a long winter the Dutch Nationals got underway last weekend at the famous AMCA track in Apeldoorn. The biggest group of competitors was found in the 13.5T stock class. There was also a group of ProTen-drivers who revamped their championship in 2010. It was soon clear the first round of qualifiers would be the quickest. Due to the warming track the later runs would be almost a second a lap slower. Victim of the early pace was Benny van Oers, winner of last years final, who had to start from pole in the B-final.
The top 10 saw some surprises: the clear pole position of 2009-champ Rob Janssen was not one of them but Joep Willemsens fifth spot and position six and seven for rookies Nico Hulshof en Gerwin Goodschalk were very good in the competitive field. The early speed of the track was very well anticipated by local AMCA-drivers; eight of ten A-maindrivers were locals. Only Patrick Jongenelis (P2) and Ronald Bestman (P10) represented the other regions of the Netherlands in the A-main.

The ProTen-class was reigned by Richard Arts with his self-designed and manufactured Pancar. He had a mere two laps advantage over Matthijs Hermens and Ed van Giezen (who was the only driver with a 200mm-chassis).
Mains:
The first mains looked like they would end in the order of the qualifications but Rob Janssens motor had other ideas; after 8 laps it was all over for the Corally-driver and made way for Patrick Jongenelis who took the win. Joep, Nico and Gerwin, the surprises of the series, had a rough final when they chose the wrong line going into turn one and had to pursuit the pack from the back. Wesley van Dijken and Ronald Arts came in second and third after a fine drive by Wesley to make up for a small mishap which lost him various positions.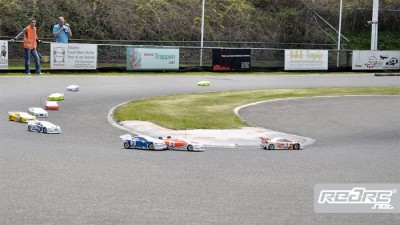 The second A-main was a thriller; three minutes before the cars had to start, a small rain shower made the track very tricky to drive. When the light turned to green apart from Ronald Arts and Joep Willemsen the whole field slid into the grass and the marshals had to work hard for their money. The final two who were placed back on track were Patrick Jongenelis and Eric Mulder; later on those two would attract some attention.
Up front Ronald Arts slipped and slided to half a lap advantage over the rest of the field. Behind him the whole field had major grip issues on the slippery track with the series 30X spec-tires, with a lot of 360 and 720-spins as a result. After two minutes second placed Wesley van Dijken gets Eric Mulder in his "rearview-mirror" who gained a lot of ground after his slow start. The danger disappears for Wesley when Patrick Jongenelis joins Eric and both drivers start a fight for third place which went on until the finish. In the end Eric finished third still followed by Patrick. The result ment Wesley (two times second) got the trophy in front of Ronald and Patrick. 

The mains for the ProTen-class were equal to the finishing position of the series. Richard Arts won twice with Matthijs en Ed second and third. Joost Kuiper was fourth in front of Alexander Fokke and Michel Peterse

Next month the series will continue in The Hague at the HFCC-track.
Result AMCA Apeldoorn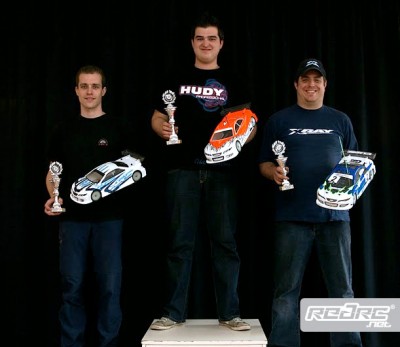 13.5T Stock
A-final results
1. Wesley van Dijken – Xray/LRP SXX (2/2) – 4pts
2. Ronald Arts – Xray/LRP SXX (3/1) – 4pts
3. Patrick Jongenelis – Xray/GM (1/4) – 5pts
4. Eric Mulder – TOP/Tekin RS (5/3) – 8pts
5. Danny Essenstam – TOP/Tekin RS (4/5) – 9pts
6. Nico Hulshof – Xray/Mamba (6/6) – 12pts
7. Joep Willemsen – Xray/LRP SXX (7/8) – 15pts
8. Ronald Bestman – Tamiya/GM (8/7) – 15pts
9. Gerwin Goodschalk – Xray/LRP SXX (9/9) – 18pts
10.Rob Janssen – Corally/LRP SXX (10/10) – 20pts
B-final
 results
11.Benny v Oers (11/11) – 22pts
12.Frans Jansen (12/13) – 25pts
13.Eric Bresser (13/14) – 27pts
14.Tom vd Brink (14/15) – 29pts
15.Raymond Bakx (20/12) – 32pts
16.Mitchell van Es (15/18) – 33pts
17.Martijn v/d Heijden (16/17) – 33pts
18.Ron van Bergen (17/16) – 33pts
19.Jasper Oldenhof (19/19) – 38pts
20.Klaas Lodewijks (20/20) – 40pts
C-final
 results
21.Peter de Wit (21/21) – 42pts
22.Ton Verstraten (22/22) – 44pts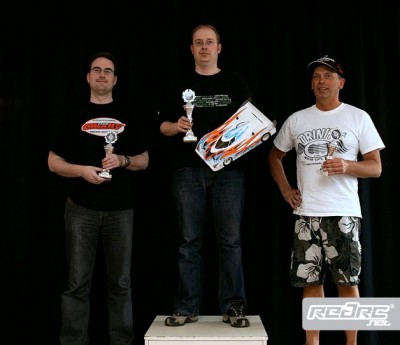 ProTen
A-final results
1. Richard Arts (1/1) – 2pts
2. Mathijs Hermens (2/2) – 4pts
3. Ed van Giezen (3/3) – 6pts
4. Joost Kuiper (4/4) – 8pts
5. Alexander Fokke (6/5) – 11pts
6. Michel Peterse (5/6) – 11pts
Text: Eric Molder / Images: Joep Willemsen/Richard Arts