January 11, 2012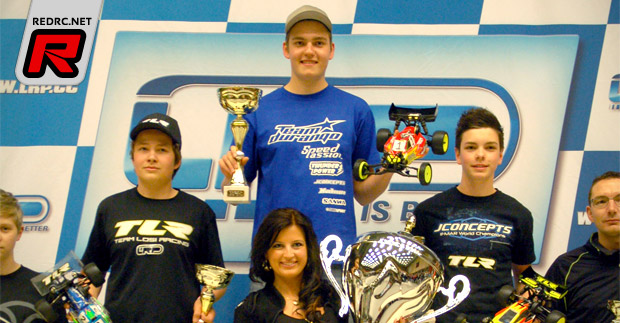 Alongside the DHI Cup touring car race it was the first time for an international indoor off-road race. Many top drivers from northern Europe countries had showed up for this event. Not very surprising was that Germany's Jörn Neumann was the man to beat in both 2WD & 4WD classes, in 2WD Oskar Levin from Sweden tried to beat Neumann together with Alex Hardt from Germany and they could put their cars on the grid on 2nd and 3rd spot. Neumann kept the pace up in all three finals and won all three legs ahead of Oskar Levin and Alex Hardt. 1/8 Nitro ace Martin Hansen made great progress in the finals from his 9th place start position as he ended in 4th position overall with a very good run in the third leg where Martin put himself into 2nd place.
1. Jörn Neumann – 2pts
2. Oskar Levin – 4pts
3. Alex Hardt – 6pts
4. Martin Hansen – 8pts
5. Kim Nielsen – 10pts
6. Jonas Kaerup – 10pts
7. Lars Alex – 10pts
8. Otto Ausfelt – 11pts
9. Jan Larsen – 13pts
10.David Ronnefalk – 15pts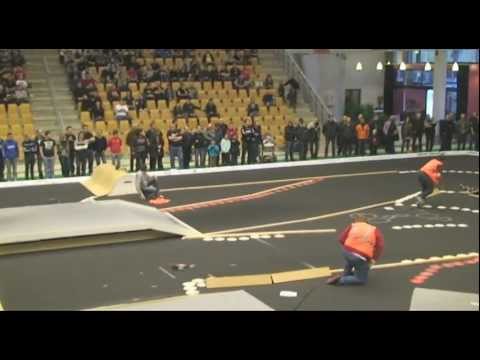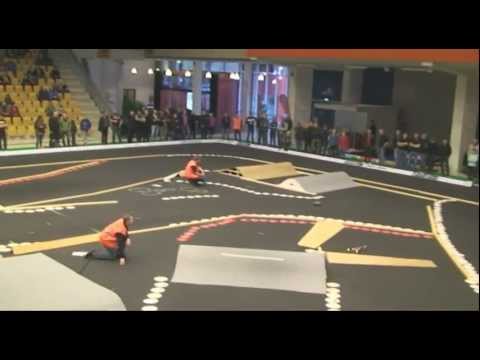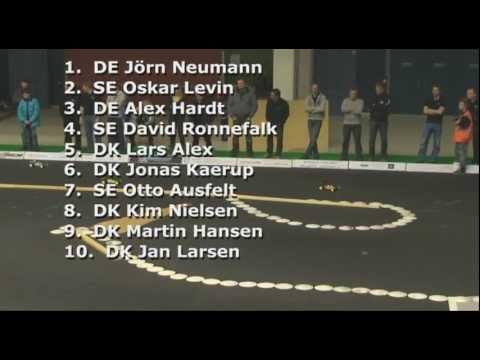 Like in 2WD Neumann was incredible fast in 4WD, David Ronnefalk tried everything but could not match the speed of Neumann, Ronnefalk was fasted in the second leg of qualifying due to some troubles with Neumann's car. Neumann was again fastest in leg 3 and 4 in qualifying ahead of Denmark's Kim Nielsen and in the fourth round ahead of Otto Ausfeldt and Kim Nielsen, both got 2 point for a identical time in this round.
In the Finals no one could touch Neumann and he won all three legs, in the 1st round ahead of Kim Nielsen and David Ronnefalk, in 2nd round ahead of the Swedish drivers Ronnefalk and Ausfeldt. In the 3rd round Ronnefalk hit trouble with his car which promoted Otto Ausfeldt into 2nd position and David Hassel into 3rd spot. Kim Nielsen was unlucky in the third final and missed his podium place and having to make his way through the field he ended in 4th position in this leg ahead of 13 year old Jesper Rasmussen, Jesper had a very good 3rd leg and could have placed his Schumacher in an higher position but was slowed down by Ronnefalk when he ran into trouble.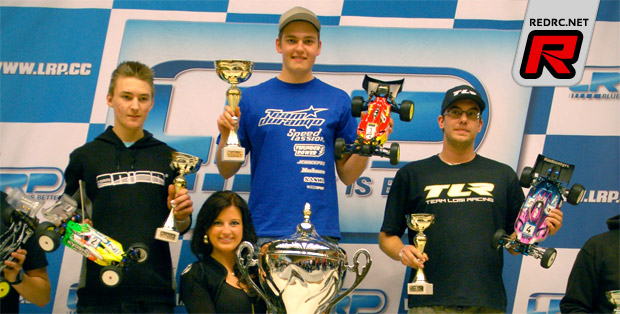 1. Jörn Neumann – 2pts
2. David Ronnefalk – 5pts
3. Otto Ausfelt – 5pts
4. Kim Nielsen – 6pts
5. David Hassel – 9pts
6. Jan Larsen – 11pts
7. Kjell Gunnar Guttormsen – 12pts
8. Oskar Levin – 13pts
9. Jesper Rasmussen – 13pts
10.Andreas Daving – 14pts
Thanks to Ulrich Rasmussen for the report.
---