Hungarian Nationals Rd4 report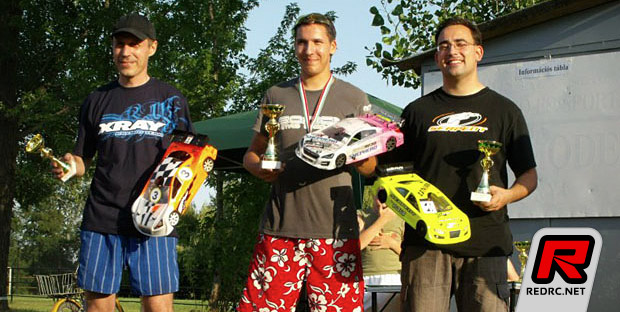 The 4th round of the Hungarian Nationals was held at the nice little track in Orosháza. The extreme temperatures were a hard challenge during the whole weekend, on Sunday it was around 39 degrees so it was a real test for the drivers, cars and engines. For Hungarian Shepherd Team it was a really successful weekend as they were able to take the 1st place in every category.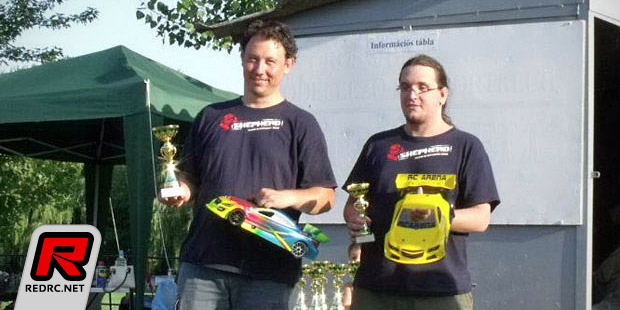 1/10 Stock:
In qualifying last year's champion Balázs Bihari took TQ in front of rookie Shepherd driver Gergő Lehner (Shepherd) and Péter Varsányi. The three drivers fighting for this year's championship title Krisztián Gulyás (Shepherd), Tamás Sági and Zsolt Pintér had to start into the final from the end of the grid this time.
At the beginning of the 30 min final Balázs Bihari took the lead followed by Gergő Lehner, but from the back of the grid Krisztián and Tamás were catching up really quickly. Positions on the first 3 places were changing every few minutes, but after 13 minutes Krisztián Gulyás took the lead and never looked back. He crossed the finishing line in first position 4 laps in front of the rest of the field. The fight for the 2nd place was really tight with Balázs Bihari being at 2nd place only 1 sec in front of Tamás Sági just before the end. But Tamás unluckily lost the 1st gear and had to retire which allowed Shepherd driver Gergő Lehner climbing on the last podium spot although he had two engine flame outs at the beginning of the race.
1. Gulyás Krisztián – 119 laps (Shepherd)
2. Bihari Balázs – 115 laps
3. Lehner Gergő – 111 laps (Shepherd)
1/10 Touring:
Although Simon Ciudan ran the fastest laps in qualifying he was not able to put together a clean five minutes, so it was Gergely Csekő who took TQ'ed in front of Gabor Laszló and Simon. In this category tyre wear played a big role, and if technical problems wouldn't have occurred the final would have been a great tactical battle on this track. However, this did not happen.
At the start Gegely Csekő managed to stay in the lead, Laszlo Gabor stuck at the start due to his mechanical so Simon jumped to second place. Gergely and Simon were pulling away from the others, but after 3 minutes Gergely started to push a little harder and he built up a six seconds gap. Around 8 minutes Gergely engines stopped, which could have cost him four laps, but Simon's engine stopped also on his way out after refueling. After all they were both back on track, now Simon in front with 9 seconds advantage. A few minutes later the exact same thing happend, but Simon had a 2 laps lead afterwards. In the 18th minute the engine of Gregely flamed out a third time and it took much longer to bring him back to the pits which dropped him down to third. With 9 minutes to go Simon lost his 2nd gear, but he had enough advantage to bring home his Sonic powered Velox V10 on the first place. Gergely Csekő fought his way back who the second place with László Gábor completing the podium.
1. Ciudan Simon – 124 laps (Shepherd)
2. Csekő Gergely – 121 laps (Serpent)
3. László Gábor – 119 laps (Xray)
1/8 On-road:
Tamás Sági took TQ in front of Krisztián Gulyás (Shepherd) and Zoltán Jáger (Shepherd). After 7 minutes Tamás Hegedűs fought his way up to first place and increased his lead lap by lap. Without any problem he cruised to the victory 7 laps in front of the rest. For second place there was going on a big battle. Zoltán Jáger, who was faster then Tamás Sági in the first 2/3 of the final, miscalculated his tyre wear and struggled with the car in the last 10 minutes. Tamás Sági was able to catch up on him and both were fighting for the second place in the last 2 minutes. Just one lap before the end of the final Zoltán couldn't bear the pressure and made a mistake loosing his second place.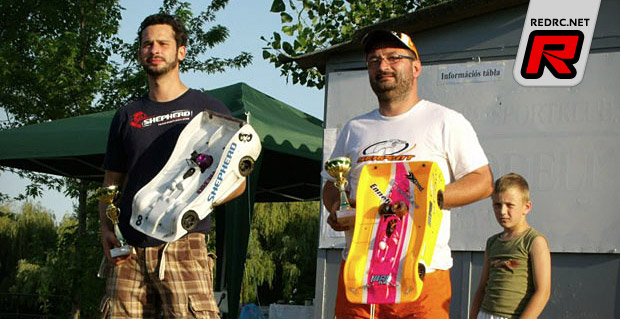 1. Hegedűs Tamás – 139 laps (Shepherd)
2. Sági Tamás – 132 laps
3. Jáger Zoltán – 131 laps (Shepherd)
Source: Shepherd [team-shepherd.com]