Tebo wins 15th Annual HRH Shootout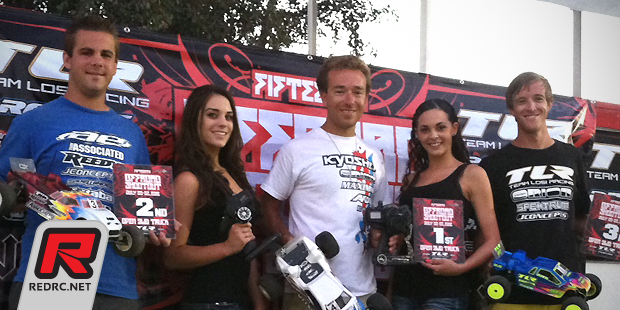 The 15th Annual HRH Shootout was held July 19th to 22nd at Hot Rod Hobbies in Saugus, California. The weather was very typical for the Shootout being in the upper 90′s all weekend long putting controllers, motors, and batteries to the ultimate test. This year's event brought in over 300 race entries. In the Modified Truck Class it was TLR factory driver Dustin Evans taking the TQ honours. In A main number 1 TLR's Dakotah Phend went on to take the win over his teammate Dustin Evans by one second. Steven Hartson finished 3rd. A main number 2 saw Kyosho's Jared Tebo taking the win from the fourth starting position. Steven Hartson finished second and Dustin Evans in third. In the deciding third A main Steven Hartson would take the win, Tebo finished second only .4 seconds behind, and Dustin Evans finished third. With both Tebo and Hartson finishing with a first and second in two of the mains, the title would come down to combined laps and times as the tie-breaker. After everything was added together, it was Team Orion/Kyosho's Jared Tebo taking the Modified Truck overall win by .1 second.
Top 10 result
1. Jared Tebo
2. Steven Hartson
3. Dustin Evans (TQ)
4. Dakotah Phend
5. Cody Turnert
6. Matt Chambers
7. Mike Truhe
8. Brent Thielke
9. Corey Peterson
10. Andy Smolnik
Many thanks to Joe Pillars for sending the report.
Categories - Electric, Events, International, Racing