Hettrich & Wahl win at BaWü Cup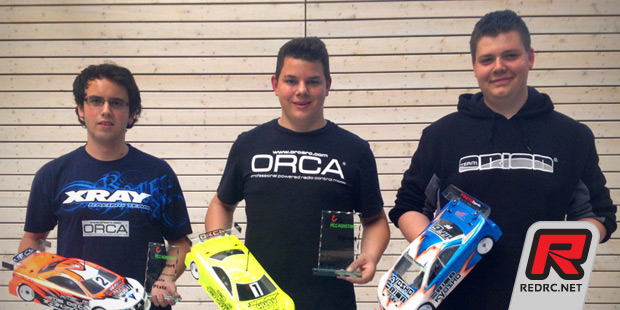 The BaWü Cup in Konstanz in the South of Germany was one of the first carpet races of the 2012/2013 season and a great opportunity for many teams to try out new parts for the upcoming ETS race in Mühlheim Kerlich. The organizers tried a new track layout for this year with a technical section at the first part of the lap and a more open and flowing part for the remainder of the lap. The new layout was well accepted by the drivers and made for some challenges when setting up the cars. In the stock blinky mode class it was T-Shox team-drivers Tobias Vogel, who won the German Stock Championship, and also Valentin Hettrich who showed a strong practice and also qualifying pace. Valentin took the last two rounds of qualifying and also the TQ spot for the finals. For the A-mains Tobias got the car better and better using the same setup Valentin was using. Valentin was on a roll and took the first two A-mains in style. Tobias however did not give up and took the win in the third and last A-main.
Final results Stock
1. Valentin Hettrich – AME MBT/ORCA/T-Shox
2. Tobias Vogel – AME MBT/ORCA/T-Shox
3. Philipp Walleser – AME MBT/Orion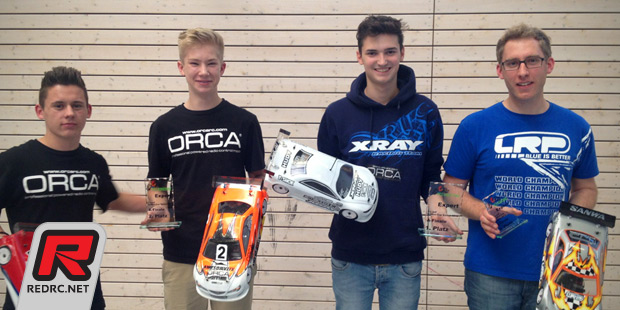 The Modified class saw a very hard battle on the top. Two times ETS A-main finalist Marco Kaufmann, Dionys Stadler, Peter Deggelman and Tim Wahl all fought for the top spot. Tim and Dionys were battling through out the qualifying rounds with Marco and Peter did all they could but they were not able to follow the top 2. On Sunday morning Tim posted the only 28 lap round and took the important TQ spot for the finals. Tim also won the first A-main with Marco and Dini taking second and third after a hard battle cost them too much time. A-main number two again saw Tim pulling away from the field towards the overall win although he had a much harder time with Dini who took second place. In the third and final A-main Tim did some setup work that cost him time handing Dini the race win. Behind them Marco was pushing hard and he ended up over a curb catapulting his car into the air not only breaking his car but also allowing Peter Deggelman to take third overall.
Final result Modified
1. Tim Wahl – AME MBT/ORCA/T-Shox
2. Dionys Stadler – AME MBT/ORCA
3. Peter Deggelman – LRP
Source: Team AME [team-ame.com]