Jeremy Wong wins Malaysia TC nationals Rd4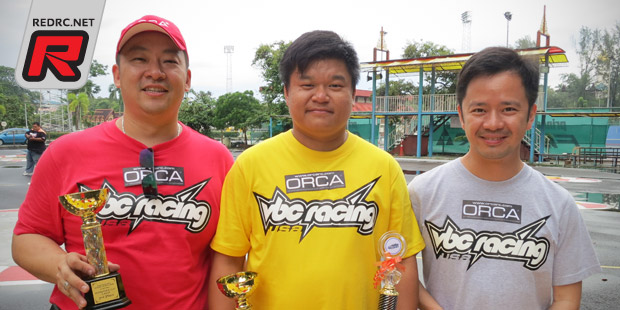 The recent fourth round of the Malaysia electric touring car nationals saw a record entry for the Superstock 13.5T boosted class and it was Spec-R R1 driver Chong who won the first round of qualifiers with a time even faster than most Prostock 10.5T drivers achieved. Round number two went to VBC Wildfire pilot Michael Lo only to be beaten by VBC Racing Asia driver Jeremy Wong who took the fastest time of the day in round three with an 18laps 5:01.873 run. Come the finals the heaven opened its doors and the meeting was washed away meaning the qualifying results would count handing Jeremy Wong and the VBC Wildfire the overall win. Sharin came in second with Michael Lo taking the last spot on the podium.
Many thanks to Michael Lo for sending the report.