Mark Green seals British title with Rd9 win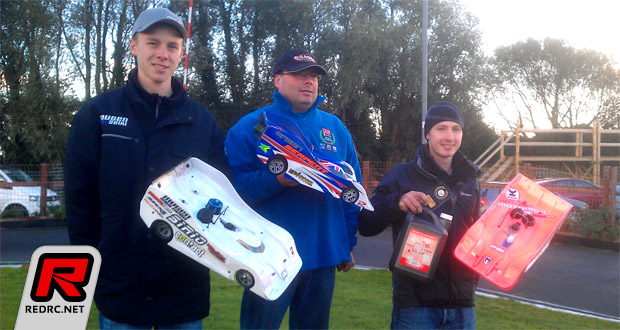 The ninth and final round of this years championship was hosted by the Mendip circuit at Weston Super Mare. With Tim Wood away on Holiday in Egypt to celebrate his 30th birthday, it became a clear fight between defending champion and Mugen / Sirio / Contact driver Kyle Branson against former champion of Serpent / Novarossi driver Mark Green. These two add a clear driver consistency and car setup advantage over the chasing pack throughout Saturday practice and also on race day. The chasing pack of Andy North, The Hastings, Danny Bancroft and Neal King battled it out for the minor championship positions which were again undecided heading into the season finale.
GP 2 and GP 3 championships for lower ranked drivers all had different final permutations which would also be decided at this event. GP2 was decided in favour of current leader and section secretary Ian Billett (Serpent) with current Vice Chairman Peter Lague (Xray), Dave Merrick (Mugen), Roger Doran (Serpent) and local driver Mike Manning fighting it out for second and third positions. In GP 3, it was a fight between Chris Snell (Motonica), Chris O Donaghue (Serpent) and Jon Withington (Xray) for the overall win and minor places.
Saturday was a slow start with diggers dip flooded from the recent persistent rain and required this area to be bailed out numerous times due to the high water table, so this area of the track had to be driven with caution to prevent your car becoming a submarine. Sunday arrived to a dry track with frosty patches but this soon cleared when the sun broke out. Practice went smoothly without any incidents but upon midway through the first round, water had started to appear at the end of the main straight which was causing cars to understeer into the barriers. This was rectified by removing the banners which was directing condensation onto the track. This therefore had great implications on the heats that followed with cars hitting the barrier and breaking the front uprights due to wet patches on track. This however did not stop both championship contenders who set the pace with Mark Green recording a 20 lap 309 seconds result ahead of Kyle on 20 lap 314 seconds
Round 2 and Mark Green recorded the same time but Kyle Branson ran out of fuel and would have been very close to Green's TQ time. Andy North after repairing his car posted a clean run of 19 Laps 306 seconds to more or less guarantee and final position with Andy Hastings 2 seconds further adrift.
In Round 3, Jonh Carr, Ashley Gouveia and Alex Thurston all improved to cement a place in the top ten. In Heat 5, Mark Green again produced a 20 lap result from Andy North and Jason Frost who had cemented a top ten position with 19 laps 309 seconds. Dan Bancroft also recorded a 19 lap 309 second result which put him in ninth with positions 5th to 10th being separated by 1 second. Neal King was having a bad day with engine and car setup issues and would require a good run in the last round to make the top ten.
Round 4 and little change upfront with Mark Green posting another 20 lap 309 second result from Kyle Branson on 20 lap 310 seconds. Andy Hastings however managed to Improve to dislodge Andy North from third position. Pete Hastings eventually recorded a clear race to produce a 19 lap 309 time to scrape in the top ten. Neil King again failed to deliver due to having no steering and would finish 11th.
The top ten was as follows:
1. Mark Green – Serpent / Novarossi/Exceed – 20 laps 309 secs
2. Kyle Branson – Mugen/Sirio/Contac t – 20 laps 310 secs
3. Andy Hastings – Shepherd / Sonic / – 19 laps 304 secs
4. Andy North – Mugen / Sirio/Contact – 19 laps 306 secs
5. John Carr – Serpent UK – 19 laps 308.4 secs
6. Ashley Gouveia – Serpent / Exceed – 19 laps 308.6 secs
7. Jason Frost – Serpent / NR / Exceed – 19 Laps 309.2 secs
8. Pete Hastings – Shepherd / Sonic – 19 laps 309.5 secs
9. Alex Thurston – Motonica / G-Mar – 19 laps 309.63 secs
10.Daniel Bancroft – Motonica / Vox – 19 laps 309.69 secs
The main final blasted away with Mark Green leading and Kyle in hot pursuit. The first casualty was Andy North who had two engine cuts due to rich engine settings which required a re-tune before getting back into the race. The top two started to open up the inevitable gap to the rest and at the first fuel stop, Branson took advantage and jumped into the lead, but Green was still very close. Lower down the order, Andy Hastings maintained third position but hit problems mid distance and allowed Bancroft to move up. At the front, Green got back the lead on lap 89 and after Branson run out of front tires, gave Green the victory and the overall championship. Bancroft eventually finished third with Andy Hastings back in fourth which was enough to claim fourth in the overall standings from North.
The full results are as follows:
1. Mark Green – Serpent / Novarossi/Exceed – 113 laps
2. Kyle Branson – Mugen/Sirio/Contac t – 110 laps
3. Daniel Bancroft – Motonica / Vox – 108 laps
4. Andy Hastings – Shepherd / Sonic – 107 laps
5. Ashley Gouveia – Serpent / Exceed – 106 laps
6. John Carr – Serpent UK – 106 laps
7. Andy North – Mugen / Sirio/Contact – 99 laps
8. Pete Hastings – Shepherd / Sonic – 49 laps
9. Alex Thurston – Motonica / G-Mar – 47 laps
10.Jason Frost – Serpent / NR / Exceed – 28 Laps
In GP2, Ian Billett was confirmed winner although he did not qualify for the B final. Peter Lague after a fine third place finish in the C final resulted in him claiming second with Roger Doran in third. In GP3, all the contenders had qualified in the B final which would make for an interesting race. Jon Withington finished a creditable third in the race behind Neil King and Ross Simons but it wasn't enough since Chris Snell finished 5th to take the title on count back with 3 victories compared to Jon Withington's 2 victories. In third was Chris O' Donaghue on his first season of 1/8th racing which proves his talent and a potential GP2 champion next season.
The Final Championship Standings:
1. Mark Green – 595 points
2. Kyle Branson – 593 points
3. Tim Wood – 588 points
4. Andy Hastings – 577 points
5. Andy North – 577 points
6. Pete Hastings – 576 points
7. Dan Brancroft – 574 points
8. Jason Frost – 572 points
9. Neal King – 569 points
10.Alex Thurston – 560 points
GP2 Final Standings:
1. Ian Billett – 590 points
2. Peter Lague – 586 points
3. Roger Doran – 583 points
GP3 Final Standings:
1. Chris Snell – 594 points
2. Jon Withington – 594 points
3. Chris O' Donaghue – 589 points
Thanks to Andy North for the report.