January 19, 2015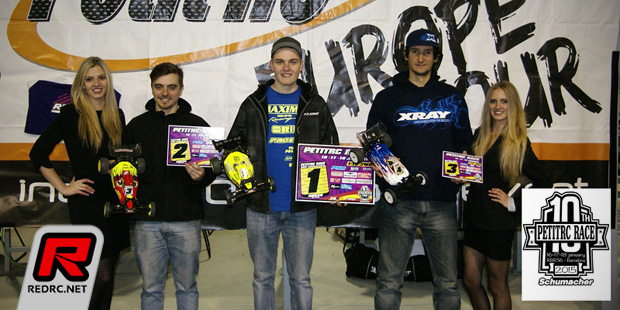 The 10th edition of the Petit RC Race was held this past weekend at the RBR36 Arena in Barcelona, Spain, a new indoor facility built and owned by 1/8th Buggy World Champion Robert Batlle. As usual the race attracted some of Europe's fastest drivers, this time including Jörn Neumann, Migual Matias and of course Robert Battle. The 2WD Buggy and Short Course classes, run on Saturday, saw Jörn Neumann and Robert Batlle leading the proceedings. Jörn took the overall TQ from Dani Batlle while Robert Batlle rounded out the top 3 result. In the Short Course class, that was run in a "finals only" mode, Robert was the man to beat on his home track as he won all but one final legs to take the win from Uri Valde and Vicente Moyano.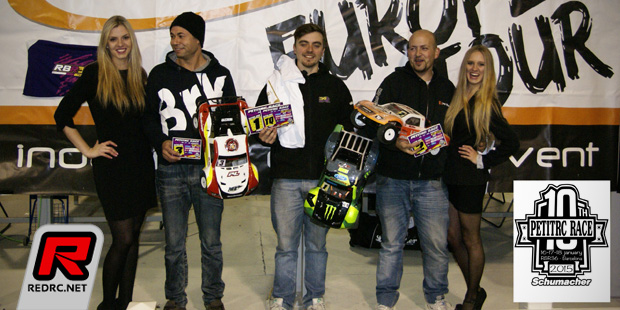 2WD Short Course results:
1. Robert Batlle
2. Uri Valde
3. Vicente Moyano Vadillo
4. Victor Tomas Portillo
5. Sergi Ruiz López
6. Juan Fernando Perez Casares
7. Berty Michel
8. Mikel Colas Fernandez
The finals of the 2WD Buggy class had a bit more drama to offer. In the opening A-main Robert took the win from TQ Jörn who came in 2nd some two seconds down. Miguel Matias, from 4th on the grid rounded out the top 3 of the first A-main. In the second A-final Jörn was able to strike back and to take the win with a margin of over six seconds from 2nd placed Robert Batlle. Miguel Matias again came in 3rd from Dani Batlle, who ended 4th. In the final and decisive A-main it was again polesitter Jörn who lead the proceedings to take the overall in from Robert Batlle and Miguel Matias, who rounded out the podium.
2WD Buggy final result:
1. Jörn Neumann
2. Robert Batlle
3. Miguel Matias
4. Dani Batlle
5. Pol Hernando
6. Max Ricca
7. Pablo Fernández
8. Claux Jonathan
9. Juanma Lerma
10.Juan Caceres
On Sunday the all-wheel driven buggies and trucks were pulled out and again it looked like Jörn Neumann would be the man to beat as he won three out of the four 4WD Buggy qualifiers to take the overall TQ for the triple A-mains. Miguel Matias took the final qualifying round but was only able to place in 3rd on the grid behind Robert Batlle. The opening 4WD Buggy main then saw Jörn taking a very close win from Robert who finished only 0.5s down on Jörn in 2nd. Miguel Matias came in 3rd while Antonio Barrera rounded out the top 4 so far. A-main two and it was again Jörn who took the win and who cemented his outstanding form in the 4WD class. The win handed him not only his second title of the weekend but also his 14th overall victory at a Petit RC Race event. Robert Batlle in 2nd and Miguel Matias in 3rd could only watch. One who was watching the 3rd A-main then was Jörn as he opted to sit out the final 4WD main to let Robert and Miguel battle in out. At the end Robert scored a close win from Miguel to take the runner-up spot. Miguel rounded out the podium, Max Ricca and Antonio Barrera completed the top 5 result.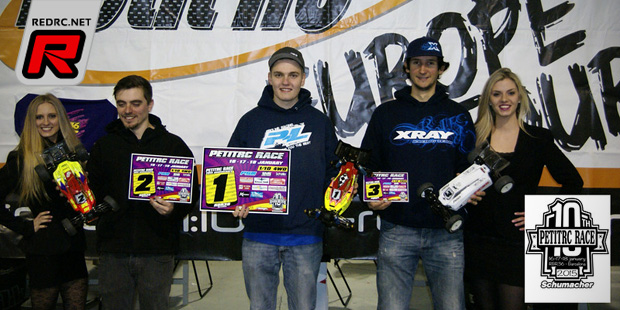 4WD Buggy final result:
1. Jörn Neumann
2. Robert Batlle
3. Miguel Matias
4. Max Ricca
5. Antonio Barrera
6. Pablo Fernández
7. Ramon Chancho
8. Pol Hernando
9. Juanma Lerma
10.Claux Jonathan
In the 4WD Short Course class, to no one's surprise, Jörn was the clear dominator. He won six out of the seven final to take an undefeated win from Isaac Lopez and Manel Prandes. Ruben Santacruz and Niyazi Deniz came in 4th and 5th respectively.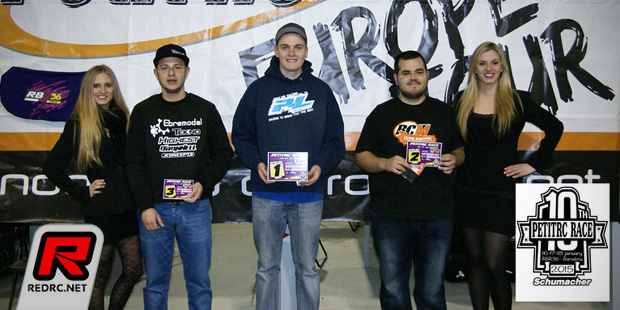 Source: Petit RC [petitrc.com]
---