January 28, 2015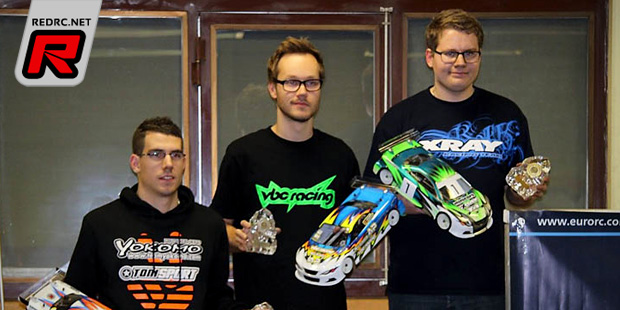 The 4th round of the South Swedish Indoor Cup for electric touring cars was held in Växjö on a small to medium sized, quite technical track with yet a good flow. In both practice rounds Magnus Vässmar ended up first, with Markus Hellquist just 0.333 seconds behind in the second round. In the first qualifier Markus Hellquist set the pace, beating Magnus Vässmar's practice pace by 14/1000nd of a second. Magnus Vässmar was 2nd in the first round a few seconds behind and Daniel Carlsson rounded out the top 3. The track then became slightly slower for each of the following rounds, and no one was able to challenge the top times in round 2 and 3. This meant Markus would take the TQ in front of Magnus.
Qualifying top 10 result
1. Markus Hellquist
2. Magnus Vässmar
3. Daniel Carlsson
4. Niclas Nilsson
5. Mikael Fransson
6. Fabian Vernersson
7. Erik Ström
8. Oliver Olsson
9. Johan Balsberg
10.Jimmy Larsson
The first final was a tight affair in the first laps but then Markus was able to open a small gap while Magnus Vässmar was in a fight with Daniel Carlsson. However Markus made a mistake and dropped down to 4th as Magnus Vässmar managed to win the first main with Daniel in 2nd and Niclas Nilsson in 3rd.
The second final showed some really tight and very clean racing between Markus and Magnus when Magnus chased the leader as close as possible. However Markus did not make any mistakes this time and managed to secure the win in A2
It then all came down to the third final, with both Markus and Magnus having a chance to grab the overall victory. This time around Markus managed to open a small gap right from the beginning, but after a small mistake the top 3 cars suddenly were very close together and Markus barely managed to keep his lead. From that point on Markus kept everything together to take the win in A3 and with it the overall win from Magnus Vässmar and Daniel Carlsson.
Final result
1. Markus Hellquist
2. Magnus Vässmar
3. Daniel Carlsson
4. Niclas Nilsson
5. Mikael Fransson
6. Fabian Vernersson
7. Erik Ström
8. Oliver Olsson
9. Johan Balsberg
10.Jimmy Larsson
Source: Xray [teamxray.com]
---