February 20, 2017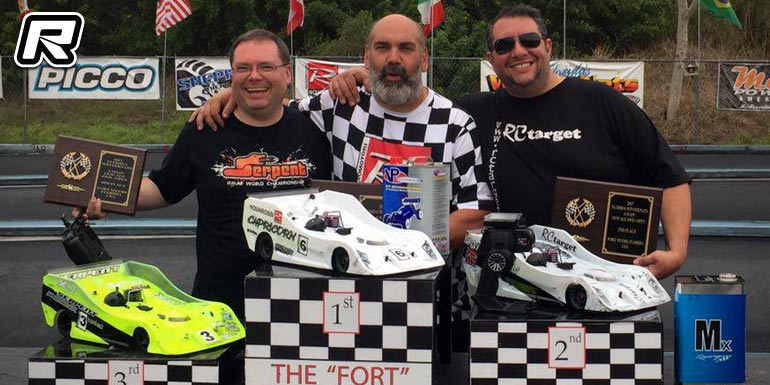 The 2017 Winternats were held in Fort Myers, Florida over the weekend. As usual the event attracted some of the country's fastest on-road drivers as well as guests from abroad. In the premier 1/8th Open class the A-main was a thrill from start to finish. Roniel Regalado brought home the victory after driving a great final. Paolo Morganti had a great comeback from last place to finished second with UK's Mark Green completing the podium in third, with all three finishing within about three seconds. A special mention goes to DJ Apolaro who was leading the race and had to retire due to a battery malfunction two laps before the end finishing fourth.
1/8th Open final results:
1. Roniel Regalado – Capricorn
2. Paolo Morganti – Capricorn
3. Mark Green – Serpent
4. DJ Apolaro – Capricorn
5. Merlin Depta – Serpent
6. Melvin Aulston – WRC
7. Marco Vanni – Shephard
8. Drew Ellis – Xray
9. Ralph Burch – Serpent
10.Tony Rice – Serpent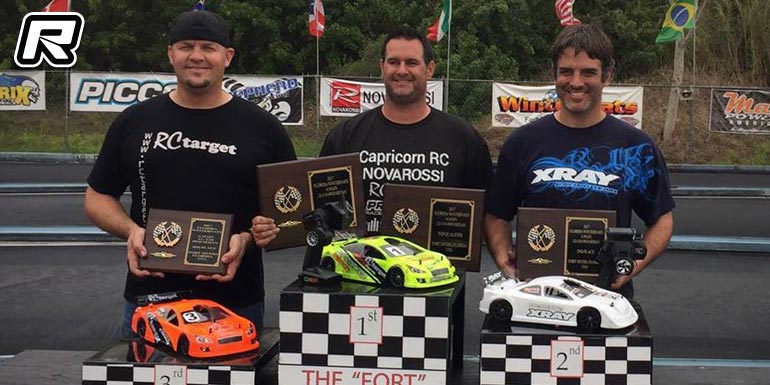 The 1/10th 200mm Sedan final was also very exciting. After all was set and done, it was DJ Apolaro taking the win some two laps ahead of Eduardo Cabal while Rafael Angulo finished in third, another lap down.
1/10th Sedan final results:
1. DJ Apolaro – Capricorn
2. Eduardo Cabel – Xray
3. Rafael Angulo – Capricorn
4. Bobby Horan – Serpent
5. Jerry Guerra – Mugen
6. Jim Piersol – Xray
7. Ralph Burch – Serpent
8. Nick Altieri – Serpent
9. Frankie Vega – Capricorn
10.Jarrett Parsons – Xray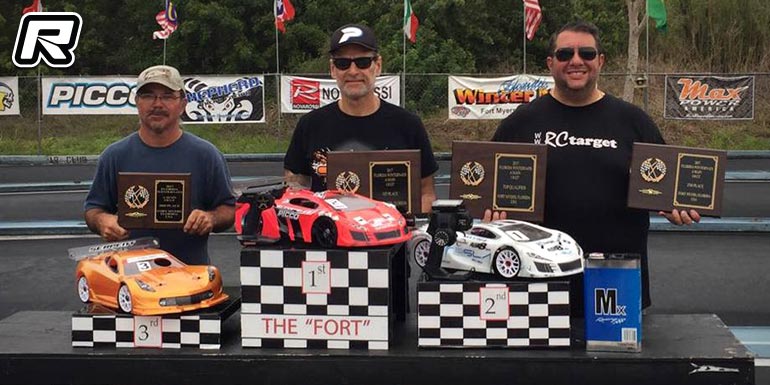 The 1/8th GT A-main was won by Joaquin Desoto Sr. some three laps ahead of Paolo Morganti with Charles Parsons ending the race another two laps down on third.
1/8th GT final results:
1. Joaquin Desoto Sr. – Serpent
2. Paolo Morganti – IGT8
3. Charles Parsons – Serpent
4. Rick Davis – Serpent
5. Hector Montaner – IGT8
6. Chris Remus – n/a
7. Peter Brenton – Serpent
8. Christian Boni – IGT8
9. Franco Desiderio – Serpent
10.Massimo Fabiani – IGT8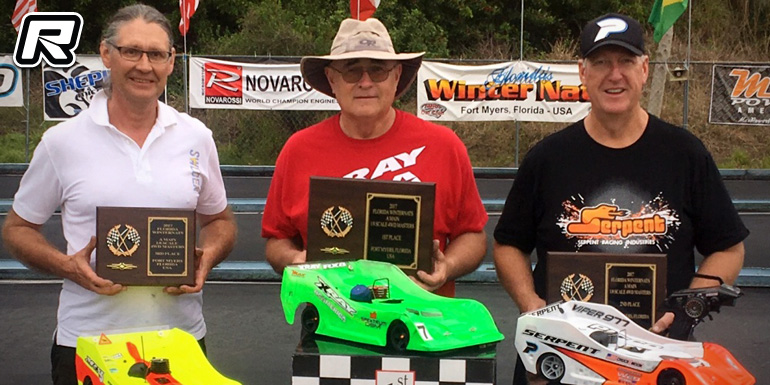 The 1/8th Masters class saw a heartbeat finish with winner, Skip Starkey, and runner-up, Chuck Moon, being separated by only 0.3 seconds on the finish line. Behind the two Per-Hakan Persson would complete the podium result.
1/8th Masters final results:
1. Skip Starkey – Xray
2. Chuck Moon – Serpent
3. Per-Hakan Persson – Mugen
4. Greg Esser – Shepherd
5. Don Jones – Serpent
6. Rick Davis – Capricorn
7. Joaquin Desoto Sr. – Serpent
8. Peter Brenton – Serpent
9. George Martinez – Capricorn
10.Tod Roman – Shepherd
Source: RCtarget [rctarget.com] & Xray [teamxray.com]

---