August 10, 2018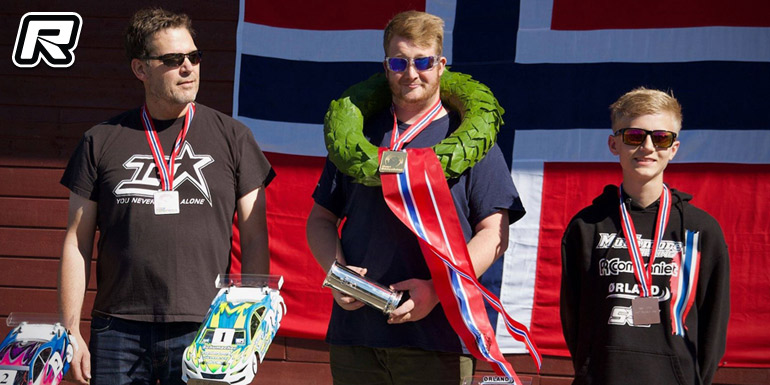 The Norwegian National championship was held at Lorenskogs track just outside of Oslo. The race format saw five rounds of round by round qualifying followed by triple mains. In the Touring Modified class , that attracted 15 entries, it was clear that this would be a race between Nikolai Håheim, Oskar Fjeld and Geir Bjarte Terum, with the junior Mathias Nedrebø also being a challenger. Nikolai won qualification rounds one, two and three with Oskar taking the 4th and Mathias the 5th round. The grid for the finals was Nikolai, Oskar and Geir Bjarte, with Mathias sitting 5th.
In the first final it was Nikolai who took the win, with Geir Bjarte in 2nd and Mathias in 3rd. Nikolai then secured the overall victory with a win in the second final ahead of Oskar and Mathias. In the last final Geir Bjarte took the win ahead of Mathias and Lars Andersen.
Modified Touring final results:
1. Nikolai Håheim – Schumacher
2. Geir Bjarte Terum – Xray
3. Mathias Nedrebø – Yokomo
4. Lars A. Andersen – ARC
5. Roy Gjemble – Schumacher
6. Rune Svestøl – n/a
7. Oskar Fjeld – Schumacher
8. Jonas Ramsrud – Schumacher
9. Hans Nikolaisen – n/a
10.Trygve Bull Freng – ARC
In the Stock class 25 drivers attended, with many good drivers including a former Norwegian Champion and ETS A-finalist. Three junior drivers also managed to get into the A-final. After qualification it was Trygve Berntsen on TQ, followed by Georg Ellingsen and Roger Berntsen. After some exciting finals the podium was: Roger, Trygve and Morten Bremsud.
Stock Touring final results:
1. Roger Berntsen – Xray
2. Trygve Berntsen – Infinity
3. Morten Bremsrud – n/a
4. Marcus Bråten Åseth – n/a
5. Jørn Kristian Borgevad – n/a
6. Olav Dahle – Yokomo
7. Georg Ellingsen – n/a
8. Ole Thomas Bryne – Schumacher
9. Espen Fjeldvær – n/a
10.Bjorn Dahl – n/a
The supporting M-Chassis class was won by Roy Braathen in front of Kenneth Aaseth and Sebastion Krogh.
Source: Schumacher [racing-cars.com]
---