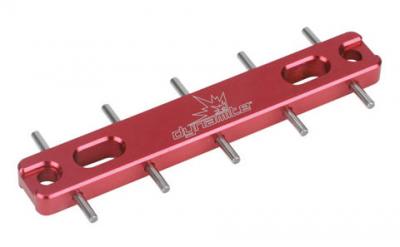 Dynamite RC have released this mini pinion carrier, a simple and handy tool for storing your motor pinions. Machined from aluminium, this red anodized storage system allows drivers to keep their mini-series pinion collection neatly organized.
Source: Dynamite [dynamiterc.com]
Tuesday, June 24, 2008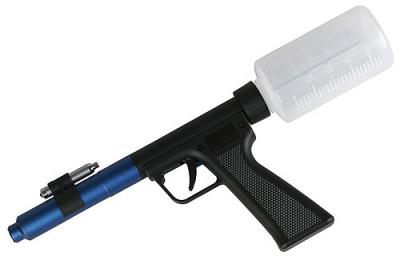 Dynamite have released this innovative new NitroLite Fuel Gun that includes a 2-mode detachable LED that makes fueling any vehicle at night time a breeze. Switch it over to Strobe mode, and use the NitroLite to grab the driver's attention and let him know it's time to refuel. A handy tool if your race is running late and its starting to get dark. Also new from Dynamite is this roll of wheel balancing tape which can also double as chassis ballast.
Click more to see the balancing tape… (more…)
Thursday, June 5, 2008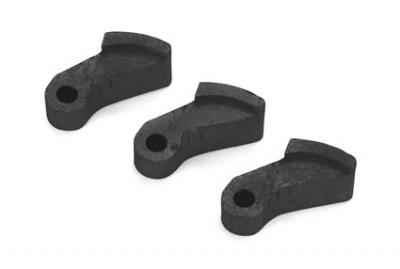 US brand Dynamite have created these Max-Life clutch shoes for use in the clutch of the Team Associated RC8. Made using a special proprietary aluminium alloy, the shoes claim to offer better performance than the stock shoes as well as less wear and thus less maintenance. Sold as a complete set of three.
Source: Horizon Hobby [horizonhobby.com]
Thursday, May 8, 2008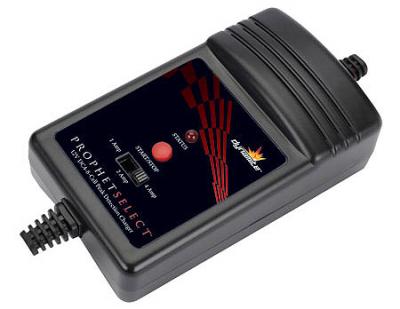 Dynamite have released this inexpensively priced charger which has selectable current adjustment, an excellent choice for entry-level modelers who require different charging current rates. Designed for use with radio, mini and conventional sub-C batteries, the user can choose 1, 2 and 4-amp selectable charge rates with peak detection for optimal battery performance. Powered by 12 volts DC, it is supplied with a prewired Tamiya connector and has reverse polarity protection.
Source: Horizon Hobby [horizonhobby.com]
Thursday, February 28, 2008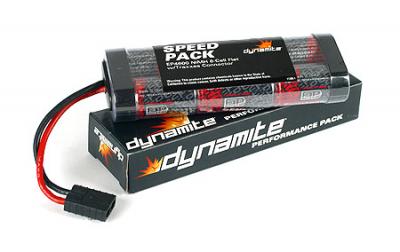 Dynamite have released this 4600MAh 6 cell pack in a flat configuration. Featuring EP cells, this pack overs long runtimes, even exceeding rated capacity and they have been designed for low resistance without cell damage under high amp loads. Supplied with a Traxxas connector, it can handle the high currents associated with brushless application.
Source: Horizon Hobby [horizonhobby.com]
Tuesday, February 26, 2008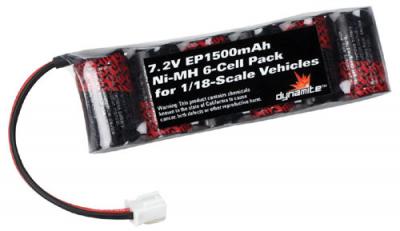 Dynamite have released the perfect add-on for the Associated range of RC18 vehicles, this new EP1500mAh Ni-MH 6-cell flat pack. The highest capacity battery currently available for these vehicles, its side-by-side configuration fits perfectly into Associated RC18T, RC18MT, RC18B and RC18R while its 1500mAh capacity provides better performance and longer run times.
Source: Dynamite [dynamiterc.com]
Saturday, February 2, 2008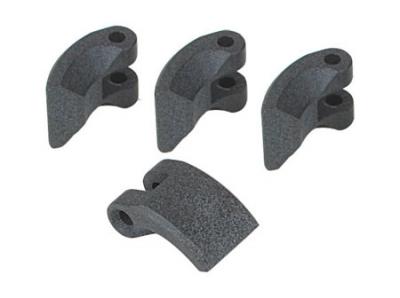 Dynamite RC have released this Max-Life 8ight Aluminum clutch shoe set which, as the name suggests, is suitable for the Losi 8ight buggy and truggy. Anodised black, these shoes have been constructed from proprietary aluminium alloy which improves performance and longevity while keeping maintenance to a minimum on race day.
Source: Dyamite [dynamiterc.com]
Friday, April 27, 2007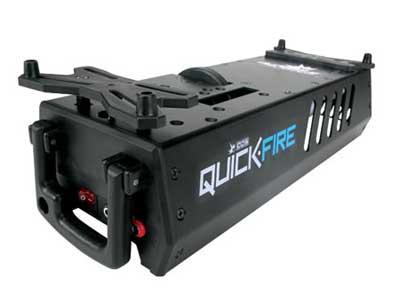 Dynamite have released their new starter box. Named the Quick Fire, it is suitable for many different types of car with many different engine mounting configurations. Apart from its nice styling its a pretty standard affair.
Hit the jump for full details… (more…)
Saturday, October 21, 2006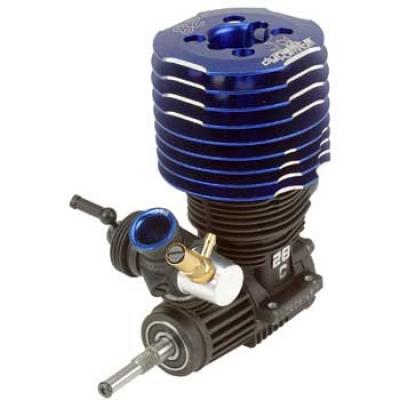 Dynamite have release their 2007 lineup of nitro engines. Called the Platinum series these off road motors are available in .21, .28 and .28 pullstart.
From the product page
For an affordable racing engine comparable in performance to high-end Italian racing engines, Dynamite's new Platinum Series offers dependable rear- exhaust nitro engines for truggies and monster trucks offering great power and respectable fuel mileage.
View the product pages here: .21, .28, .28PS.
Source: Dynamite [dynamiterc.com]Â 
Thursday, October 19, 2006