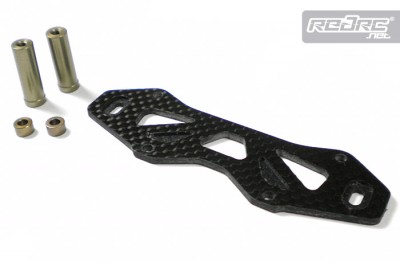 More new products from KM racing who have released this new front bumper plate for their H-K1. Made from carbon fibre, the plate is lightweight, strong and also looks great, coming supplied with the aluminium posts and shims to mount it. KM have also released a 6V 1100mAh NiMh AAA receiver battery for extended run time.
Thursday, December 9, 2010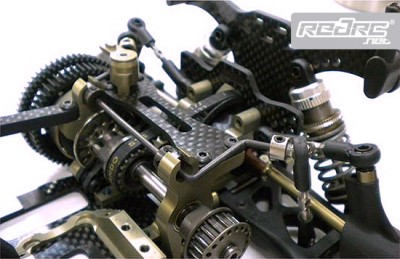 New for the H-K1 1/10th 200mm chassis, KM Racing have released this complete line of rear anti-roll bars. The anti-roll bar wires are now available in 1.8mm, 1.9mm, 2.0mm, 2.1mm, 2.2mm & 2.3mm thicknesses to give you the possibility to fine tune your chassis for any track conditions.
Source: KM Racing [km-rc.com]
Tuesday, December 7, 2010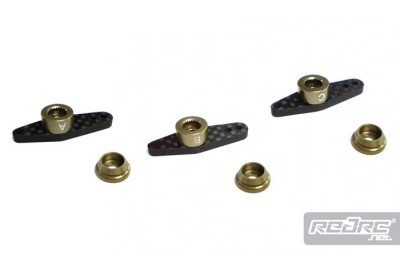 KM Racing have released a number of new products including this line of servo horns. Made for use on your throttle servo, the spline has been made from aluminium, while the arm itself is machined from carbon fibre, making for a strong assembly. Available in 3 different versions for use with different brands of servos. KM have also released some new tools beginning with this universal clutch gear wrench which is primarily used for install and uninstalling pinions from clutch bells and includes the adapters necessary to firmly hold the bell itself. The tool can also measure clutch gap from 0.5mm to 9.0mm, hold the flywheel for mounting and finally includes a 17mm wheel nut wrench. The final tool is a simple glowplug wrench that is long reach and which also sports a clutch nut wrench on the opposite end.
Wednesday, November 24, 2010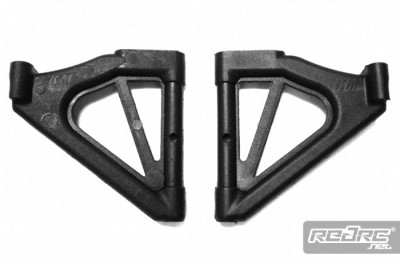 New from KM Racing for their H-K1 chassis are these new option parts, starting with their new wishbones. Featuring more carbon than the originals, these new front upper & lower and rear lower wishbones are stiffer and give less flex for more precise handling. For mounting your body securely there is a new front and rear carbon body plate. And finally for tuning the cars set-up KM have release a range of rear anti-roll bars from 1.8 to 2.3mm.
Monday, October 4, 2010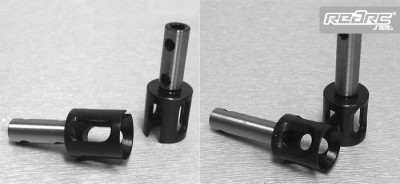 New from CSO Racing for the KM Racing HK-1 are these front and rear diff outdrive adapters. Made from hard coated steel, they are super durable, and have been lightened through the use of strategic machining to offer great performance.
Source: CSO [cso.com.hk]
Wednesday, August 11, 2010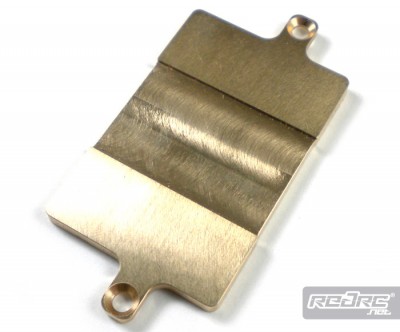 New from KM Racing for their H-K1 200mm chassis is this range of optional parts. To bring the car up to regulation weight as well as putting that weight in the correct place KM have released 2 new copper battery plates in either 25g or 30g weight. Also new are a complete range of anodised aluminium pinion gears in 15T, 17T, 20T, 22T & 23T. Other new parts include a front carbon bumper plate set, foam bumper, a 800mAh NiMh AAA receiver pack and finally a pair of CNC machined POM rear belt tension adjusting hubs.
Wednesday, July 21, 2010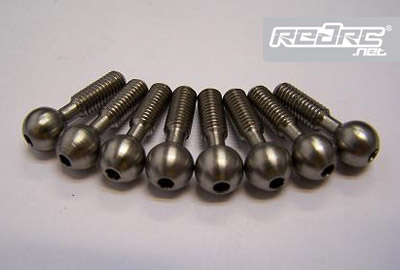 CSO Racing have released two new option parts for gas racers including this pivot balls. Suitable for the KM Racing HK-1 touring car they are made from high grade lightweight, yet strong, titanium and come in a set of 8. KM have also released this pair of lightweight 7075 T6 aluminium front suspension brackets for the Serpent 733.
Click here to see the 733 brackets
Friday, July 16, 2010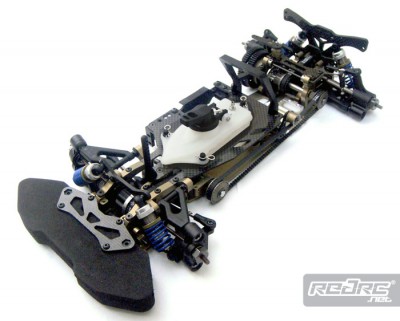 We have shown you CAD images of the new H-K1 prototype IV back in April and today KM Racing have sent us photos and more details on their new 200mm chassis. The car is currently in production and they are aiming for a May 20th World release. As these photos are still of the prototype, there will be some changes from this version and the final production version. Firstly the foam bumper will be using a different plastic bumper top plate as standard, with the carbon bumper top plate shown in the pictures will be sold as option. A receiver box will be included as standard, the shock springs will be black in colour as standard and finally the KM Ultra lightweight clutch system will be included as standard.
Click here for more photos of the prototype
Wednesday, April 28, 2010