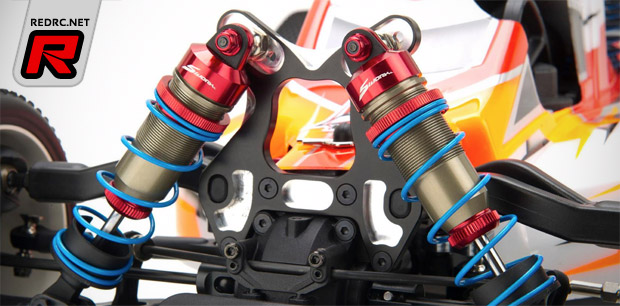 SWorkz new black power series lightened 7075 front and rear shock towers are now available for their S350 buggy. Made from 5mm thick 7075 aluminum, the designers have calculated the perfect balance between weight and strength. They are even lighter than the standard S350 shock tower and with all the new shock position and rear upper arm holes you will be able to bring your car to next level.
View the rear shock towers here
Thursday, March 21, 2013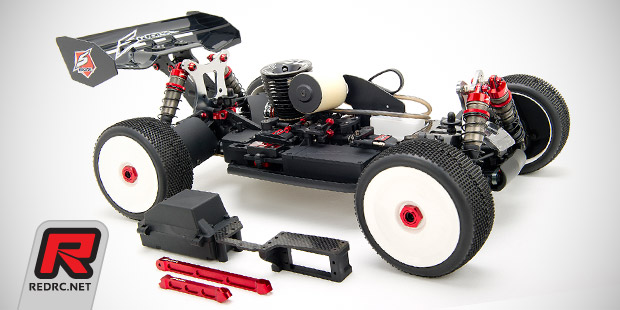 SWorkz introduce the S350 BK1 upgrade pro kit Power Steering Package. The PSP option parts package includes a new radio tray, new front lower arms, new steering plate and new knuckles. These option parts give better balance and weight distribution to the BK1. It also improves the speed of the BK1 steering system making the car easier to drive and more responsive. The limited kit also includes an aluminum 3.0 toe-in plate, aluminum rear chassis brace holder and a set of pro brake pads. The plastic chassis braces included allow for more flex and stability.
Click here to view some of the included parts
Friday, December 14, 2012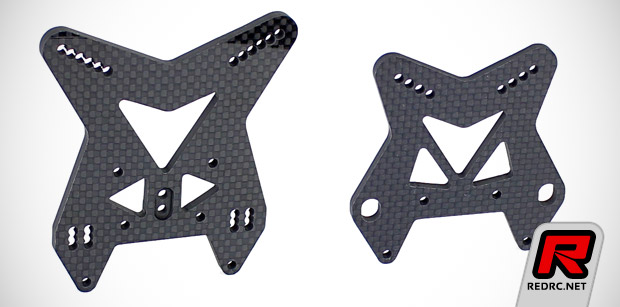 Similar to those released last week, PSM Racing have produced two new shock towers for the S-Workz S350. Made from high quality 4mm carbon fibre there is one new rear one new front shock tower. Both front and rear towers feature additional mounting holes for the top of the shock absorbers and weigh in at only 16.2 grams and 21.5 grams respectively.
Source: PSM [psm-rc.com]
Monday, December 10, 2012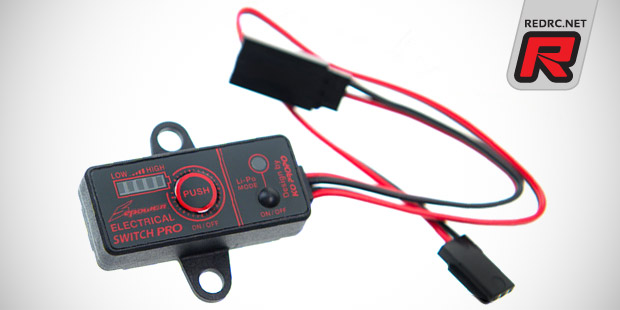 The S-ePower Electrical Switch is an electronic on/off switch with build-in LiPo battery low-voltage cut off to protect receiver batteries from damage. It features an integrated battery indicator, large power switch and dimensions of 39.2×17.5×9.5mm and weights 11g. The switch is useable in a voltage range of 5V to 10V and is able to handle a peak current of 14A. Designed by Japanese company KO Propo it is a direct for the S-Workz S350 PSP radio tray and also fits many other vehicles.
Source: S-Workz [sworkz.com]
Saturday, November 17, 2012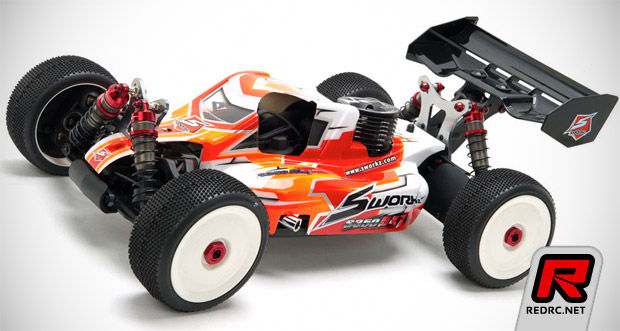 S-Workz have announced that their new Falcon body shell is now available. It features a cab forward design that gives greater stability and faster cornering speeds than the original shell and its new design gives your S350 a new totally new feel and aggressive look.
Source: S-Workz [sworkz.com]
Tuesday, October 30, 2012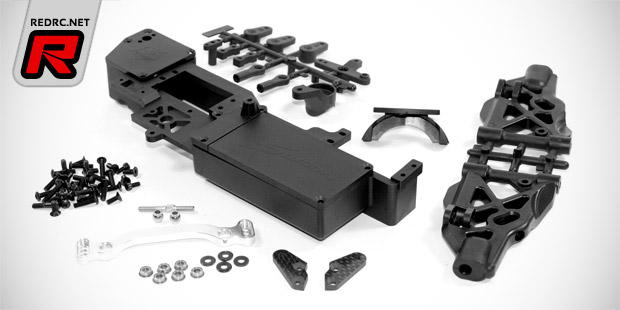 The latest S-Workz S350 Series power steering package is designed not only for better weight balance but also to improve the speed and free movement of the BK1 steering system. The set includes a new radio tray, new front lower arms and also a newly designed steering plate with carbon plates for the steering blocks. Along with the optional Falcone body shell, your BK1 will be going to next level.
View more images of the system here
Wednesday, October 3, 2012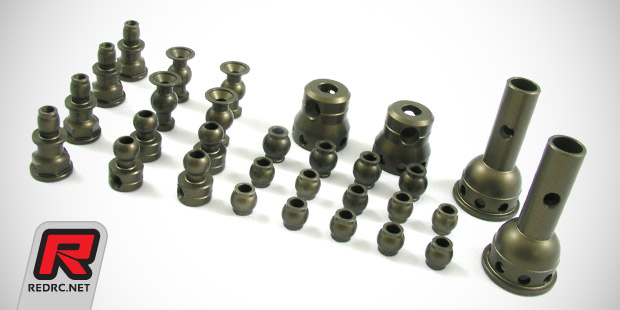 T-Work's introduce these lightweight aluminium option parts for the S-Workz S350 BK1 and BE1 buggy kits. Available are front and rear wheel axles shafts, joint cups, upper shock mounts and several shock mount and anti-roll bar pivot balls. All parts are made from 7075-T6 aluminium and come hard anodised in a dark olive colour.
Source: T-Work's [rc-tworks.com]
Thursday, August 9, 2012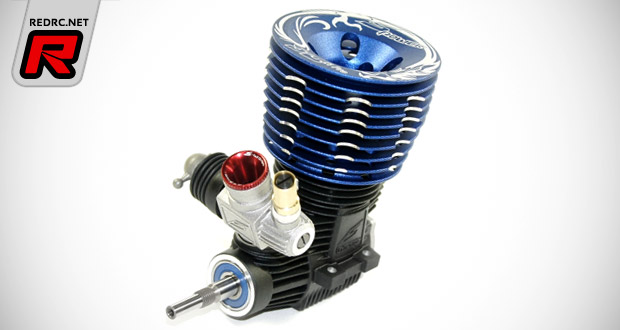 The S-Power S5 .21 Pro engine is the latest engine line up from SWorkz produced in Japan. Developed to have the performance of the S-Power S7 but at a lower price, its popular 3 port design delivers both torque and top speed. The S5 also comes standard with a 7.5mm carburetor venturi, a turbo head, black coated crankcase and a balanced crankshaft. Its lightened Blue engine heat sink sports a Dragon logo to mark the year of the Dragon on the Chinese calendar.
View the engine internals here
Saturday, July 21, 2012