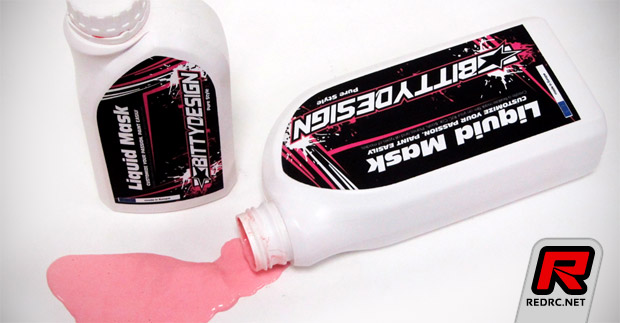 Bittydesign, famous for their quality painted bodies, have released their own Liquid Mask. Developed over the past year by the Italian company on thousands of their own bodies, it was until now a really hard type of product to find in Europe. This Liquid Mask is water based, non toxic and can be easily used by anyone. Bittydesign have produced a video explaining the product and how best to use it, which can be seen below.
View the introduction video here
Saturday, May 26, 2012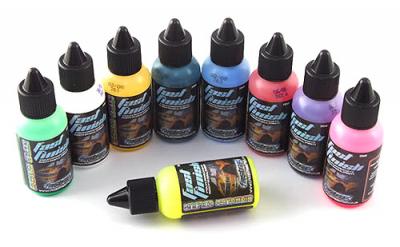 Fans of Fastrax 'Fast Finish' lexan spray paint have been requesting a bottle for airbrush applications for sometime. Well it's here at last. Supplied in convenient 30ml bottles the full range of Fast Finish colours are available to airbrush users from standard through to chrome and colour changing. Look out for the Fast Finish Bottle display in your local hobby shop soon.
Source: CML [cmldistribution.co.uk]
Monday, July 28, 2008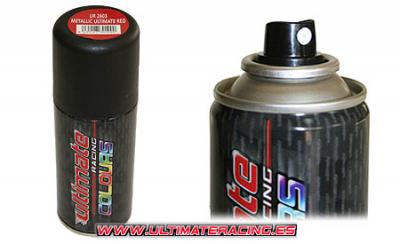 Ultimate Racing have announced the release of their new range of Ultimate Colours spray paint, which has been specifically formulated for R/C lexan bodies. Its formulation, with resin and a special dissolvent, provides an excellent adherence on the polystyrene and ABS and is said to be fast drying, have high elasticity and is easy to apply. Sold in 210 ml aerosol spray cans, each can contains 150 ml of spray paint, and comes with two different applicators, a normal applicator with a small and circular diffuser for small surfaces and a second applicator with a flat diffuser for larger surfaces.
Source: Ultimate Racing [ultimateracing.es]
Tuesday, November 13, 2007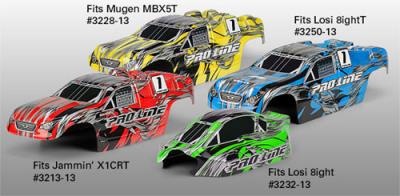 Pro Line have expanded their Quick Lidz range with the announcement that 4 new Crowd Pleazer body shells for the Mugen MBX5T, Jammin X1CRT, Losi 8ight and Losi 8ight T have now been added. Quik Lidz are an easy and economical way to give your car a semi-custom look, simply grab your favorite color of R/C lexan paint, spray onto the clear surfaces of the body, back it up, and bam you're finished. Pro Line have also release some new body clips as well as body clip pull tabs.
Click here to see the other products… (more…)
Thursday, August 16, 2007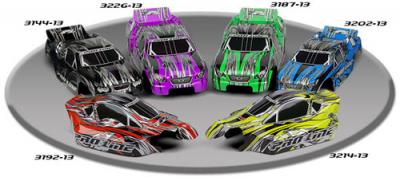 Back at the start of February we reported on these new pre painted bodyshells from Pro-Line when they were briefly shown in Germany, at the Nürnberg Toy fair, well now these bodies have been released along with the full information about them. Suitable for a number of cars including the Kyosho Inferno, Xray XB8 / Mugen MBX5 as well as a number of Monster trucks, they come pre screened (not pre cut) with a tribal design leaving you to just back the body with your favourite colour and its ready to race – no masking, no mess and no rubbish one colour paint jobs.
Source: Pro-Line [prolineracing.com]
Friday, March 16, 2007
This new holographic paint from Powers is wicked, the image above looks like some graphic but is a photograph of a body that has been painted with this stuff. There has been some variations of this rainbow effect before but this just seems to have work really well and has a very strong rainbow effect. It comes in a 28.5ml bottle and can be used immediately without diluting in your airbrush and dries almost immediately.
Source: Powers [powers-international.com]
Friday, December 15, 2006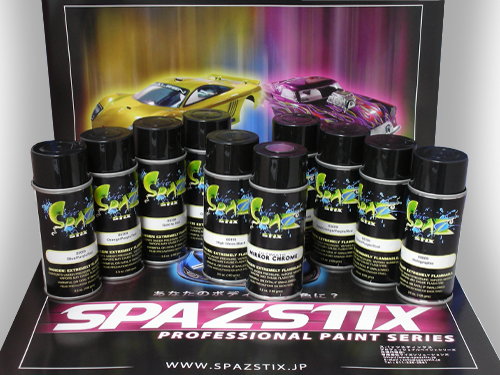 Now i know what your thinking, "cans of paint, is it that slow a news day?". Well the reason that I'm showing this new range of paint is not because of the 10 different colours etc. but because of the absolutely politically incorrect name of the company. Yes there is a company somewhere called 'Spazstix', and it's not actually a government funded social scheme.
This American company, that do some great paint jobs that can be seen on their site, have the most unfortunate name ever.
Source: Spazstix [spazstix.jp]
Saturday, October 28, 2006