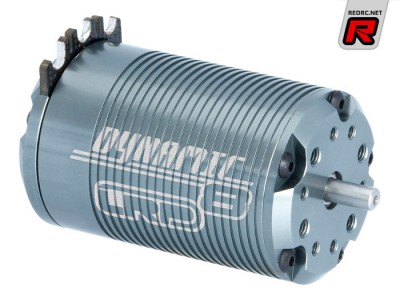 The all new Dynamic 8 motor from LRP was designed specifically for the needs of 1:8 scale electric drivers. The Dynamic 8 features a new multi-slot winding for superior torque, in addition to improved efficiency over the full RPM range, which means less power loss as heat builds and more power is directed to the wheels.
Saturday, September 17, 2011
Tekin introduce the new Pro4 electric brushless motor for 4WD 1/10 scale Short Course trucks. Utilising the design of the T8 1/8th scale motor, the Pro4 produces high torque and smooth power with especially chosen KV ranges to complement 2S and 3S LiPo batteries. The motors feature a 4 pole 12 slot hi-torque design, neodymium sintered magnets, high purity copper windings, CNC-machined 6061 T6 Billet aluminium heatsink can, front 5x13x4mm and rear 5x10x5mm ABEC5 bearings and dual-plug sensor wire harness for use with all sensored and sensorless controllers. The Pro4 with a diameter of 35.8mm and a length of 52.9mm are available with 3300kv, 4000kv and 4600kv ratings.
Click here to view a video of the Pro4 motor in action
Saturday, August 13, 2011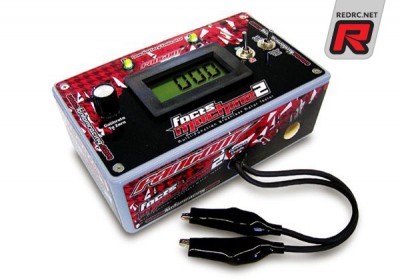 Fantom introduce the new Facts Machine 2 electric brushless motor tester. The multi-function motor tester has the ability to accurately test brushless motors and rotors with parameters like magnetic field strength and stator resistance. The compact unit is self-contained and requires no additional power source.
Click here to view the features
Monday, August 8, 2011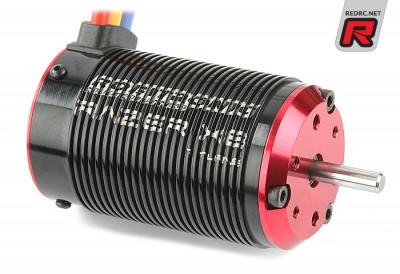 Robitronic release a total of four new electric brushless motors. The Razer BL and Razer Pro BL share the same 42×68.5mm dimensions and while the the normal version is available as 6-pole 2150kv/7T and 1900kv/8T variant, the Pro comes as 2400kv/6T and 2100kv/7T 6-pole/18-slot version for even more power and efficiency. All motors come with a black anodised and highly ripped can with red front and back plate – the Pro variant additionally features three milled out section in the front plate for easy identification.
Click here to view the other new motor
Friday, August 5, 2011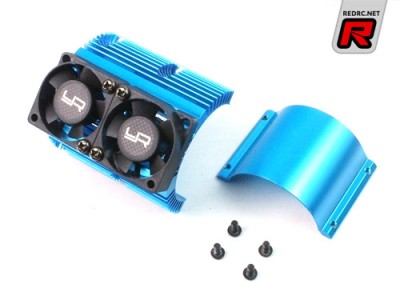 Yeah Racing have released this heat sink with twin tornado high speed fans for motors with approximately 40.8mm diameter. Machined from aluminium, the blue anodised heat sink completely wraps the outside of the motor while the twin motor setup makes easy work dissipating the heat.
Source: Yeah Racing [yeahracing.com]
Wednesday, July 13, 2011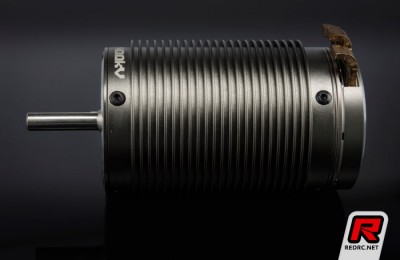 The Vortex MR8 and MR8L are Team Orion's new 1/8 sensor brushless racing motors. They are equipped with sensors for perfect throttle control and a 4 pole rotor for improved performance. Available in two versions, regular length for buggies and XL for truggies and monster trucks and in a wide range or windings.
Thursday, June 30, 2011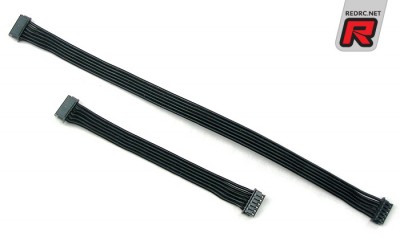 TQ flatwire sensor cables are constructed from black soft PVC insulated wire with high quality crimping at the connector for greater durability. They are slightly stiffer than the company's silicone wire/tube cables but provide a cleaner look and neat wire management. Available in nine sizes from 50mm up to 275mm covering most applications ranging from touring cars up to buggies and trucks.
Source: TQ Wire [tqwire.com]
Tuesday, June 21, 2011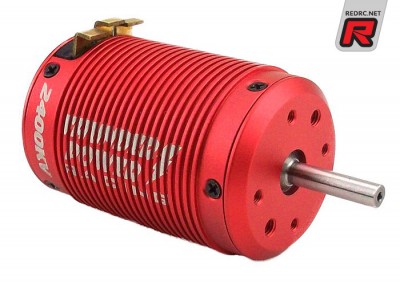 Thunder Power introduces the Z3R-8 brushless motor for 1/8 scale electric vehicles. The motors with a 4-pole Neodymium rotor offer a red anodised aluminium heat sink can with build-in cooling fins, plated copper solder tabs, fast-switching high-temp sensors and adjustable timing from 0 to 25 degrees. The front plate sports dual screw hole mounting pattern to allow for easy mounting in any 1/8 scale application. With a diameter of 42.1mm and a length of 69.2mm the motors weight around 323g and come with 1400, 1900, 2100 and 2400kv rating.
Click here to view another picture
Friday, June 17, 2011