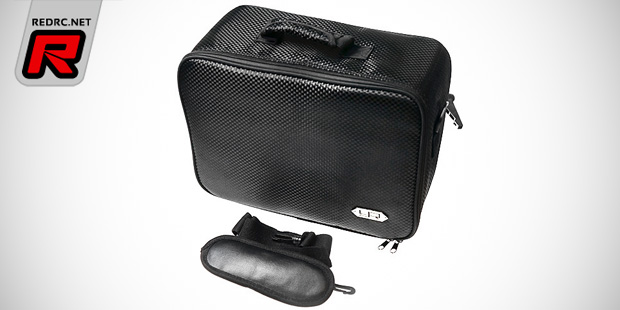 New from Yeah Racing comes a transmitter bag for the Futaba 4PX. Made from lightweight yet sturdy nylon material and offering a tailor-fit foam insert the bag takes the 4PX as well as small parts and more while protecting the precious radio from harm during storage and transportation. The bag sports a comfortable handle for convenient handling and it features a durable zipper, a carbon fibre design and a Yeah Racing logo plate.
Click here to view another photo
Tuesday, May 19, 2015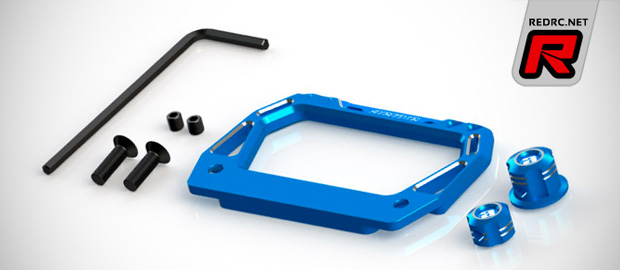 Active Hobby Products from Japan have an aluminium handle and dial set for the Futaba T4PX radio available. Machined from aluminium and offering a lightweight design the handle allows for easier and more convenient carrying of the radio while the anodised dials add a splash of colour to Futaba's top-of-the-foodchain transmitter. Coming in the five colours of blue, black, red, silver and gun metal the set also includes mounting hardware and a hex wrench.
Click here to view another photo
Tuesday, May 12, 2015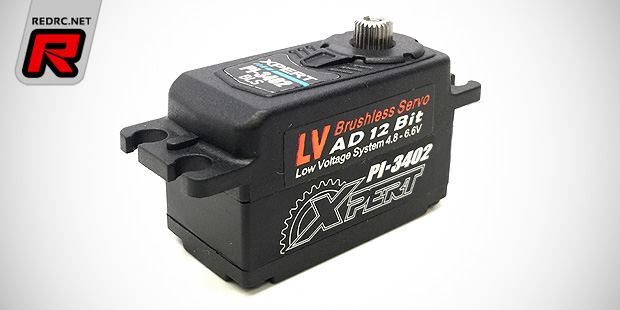 Xpert RC USA announces a new generation low-profile servos, the PI-3402 and PM-3402. Both are upgraded with newly designed, stronger brushless motors and a new high strength gear sets. The new PI-3402 (0.07s/15kg-cm) incorporates the black colour scheme that is a favourite of racers and it is usable with 4.8V to 6.0V input while the PM-3402 is understood to make use of alloy top and bottom segments.
Click here to view the other new servo
Thursday, April 30, 2015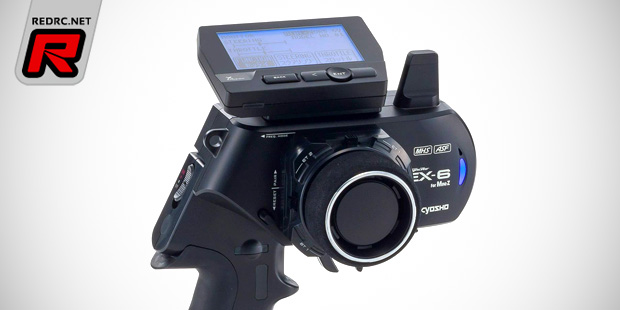 Kyosho America have announced first details on their all-new Syncro EX-6 Mini-Z radio system. The newest and most advanced radio ever built for use with the Mini-Z cars from Kyosho is based on the EX-2 radio system just introduced by KO Propo. It takes advantage of the "KIY" (Kustomize It Yourself) system that allows modular expansion and modification of the radio system, and it has a new ultra-fast hybrid mode that is faster than any system currently available. The Syncro EX-6 features a high level of adjustability via precision digital settings that remain stored in the radio's memory. Most of the settings are adjusted via the two-position LCD display, which can display data in line with the radio for more conventional viewing, or it can be rotated to a transverse position, which makes it easier to view settings and data from the side of the radio.
Click here to continue reading
Saturday, April 25, 2015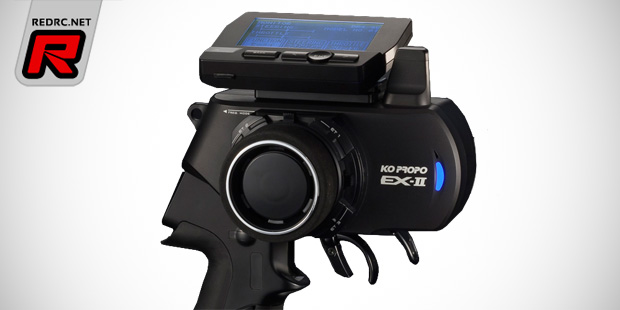 Seen for the first time in prototype stages during last year's All Japan Hobby Show, KO Propo now officially introduce their intermediate level EX-2 pistol grip transmitter. Building on the technology of the EX-1 KIY the EX-2 allows to use many of the EX-1's option parts, including the stick-type unit, while being compatible with all KO Propo FHSS receivers. The lower part of the pistol grip unit resembled the EX-1's while the steering unit is of a more compact design. The main LCD screen unit though is of a slightly simpler design but it can be mounted in two different angles to allow for best possible visibility. On the software side of things the EX-2 is widely adjustable including class standard functions such as dual rate, steering and throttle curve, speed, and feel as well as several mixing functions including twin servo, 4WS, throttle mixing and others. The radio, that also supports Kyosho's forthcoming Mini-Z Super Linear Response MHS mode, will include a KR-241FH receiver and it is set for an August release.
Click here to view the features and more photos
Friday, April 24, 2015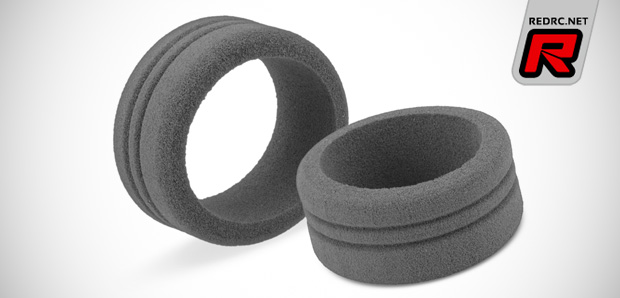 New from JConcepts comes the Dirt-Tech steering wheel foam grip. The durable, gray coloured material made famous as tyre inserts has now reached the all important steering wheel for radios. Specifically designed for the Sanwa/Airtronics M12, the Dirt-Tech steering grip has a convenient size which allows for use on multiple radios including Futaba, KO and Spektrum. The outer diameter has a neutral size which gives drivers great control regardless of hand gripping size. Justified toward the outside section, revolved cuts identify the wheel as being Dirt-Tech but also provide an additional feel. Orientate the grip in the opposite direction to place the revolved cuts just under the finger tips.
Click here to view another photo
Tuesday, April 14, 2015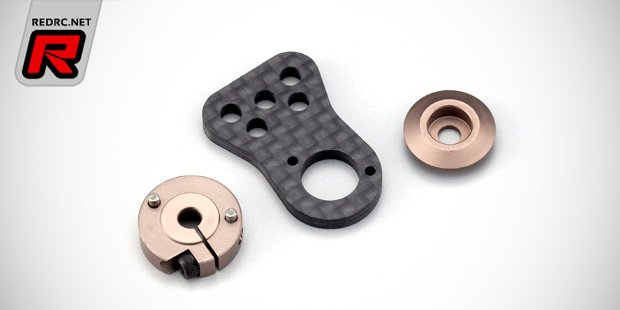 KO Propo America introduce the new carbon fibre servo horn for 1/12th scale cars and an all-black servo lead. Starting with the servo horn, made for 1/12th scale cars the 3-piece part made from carbon fibre and gun metal anodized aluminium offers higher rigidity and a more direct feeling than a conventional servo saver. The carbon lever sports five mounting points for the steering linkages and the assembly fits all servos with KO Propo compatible output gear spline. Also new is a black servo lead with gold connector for those who are after that cool all-black wire setup in their cars.
Click here to view more photos
Friday, April 10, 2015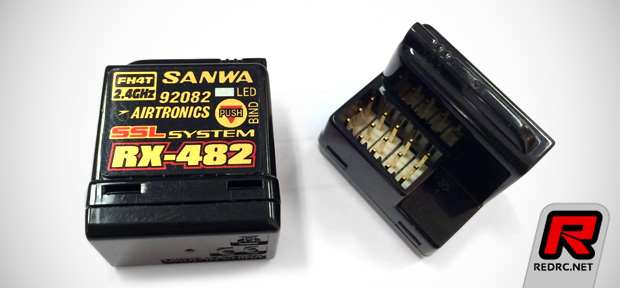 Sanwa soon have two new 2.4GHz receivers available that are of a new build-in antenna design. Doing away with the hassle associated with antenna routing or having the precious wire ripped off of the case during a run the RX-481 standard and RX-482 S.S.L. receiver are of a pretty unique design with a slightly smaller footprint than a RX-472 but a taller case that includes the build-in antenna. Both receivers will be compatible with the Sanwa M12, MT4S, MT-4 and Exzes-Z and they should be available soon. We bring you more information on the full specifications and features as soon as they become available.
Click here to view another photo
Friday, March 27, 2015