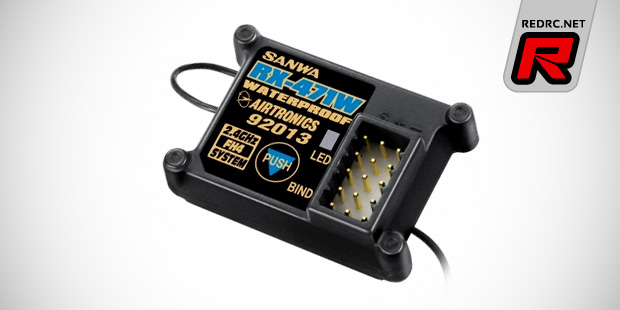 Available soon is Sanwa's RX-471W 4-channel 2.4GHz receiver. The IPX4 spec waterproof device is high-voltage compatible, it measures 30×23.3x14mm and weights in at around 10g. The receiver be used in FHSS4 and FHSS3 mode with M12, M11X, MT-4, MX-3X, Exzes Z and Gemini X radios and it also supports Sanwa's Super Response SSR mode.
Source: Sanwa [sanwa-denshi.com]
Wednesday, February 26, 2014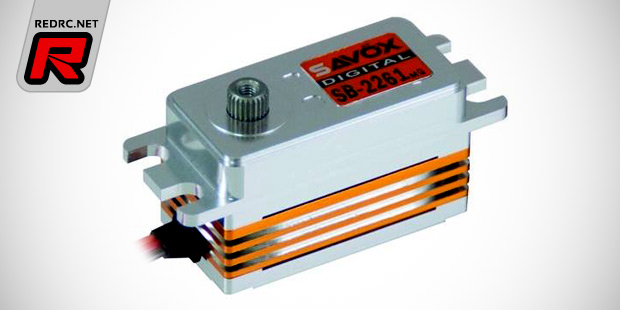 Savöx have released a preview image of a new low-profile servo for 1/10th off-road and touring cars. The SB-2261MG will feature a tough all-aluminium heatsink case, metal gears and a brushless motor while offering a transit time of 0.076s and a torque of 10kg-cm at 6.0V input. It is understood that the servo will hit the stores soon.
Source: Savöx [savoxtech.com.tw]
Wednesday, February 26, 2014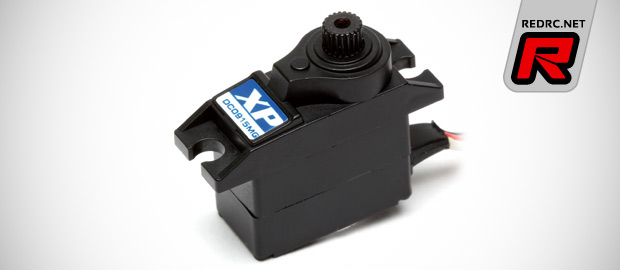 Team Associated introduce the XP DC0915MG micro servo for 1/18th scale applications. The item features a high-torque motor, metal and plastic gears, ball bearing and digital circuitry. At 4.8V input the servo offers a speed of 0.095s and 1.5kg-cm of torque.
Click here to view the specifications
Tuesday, February 25, 2014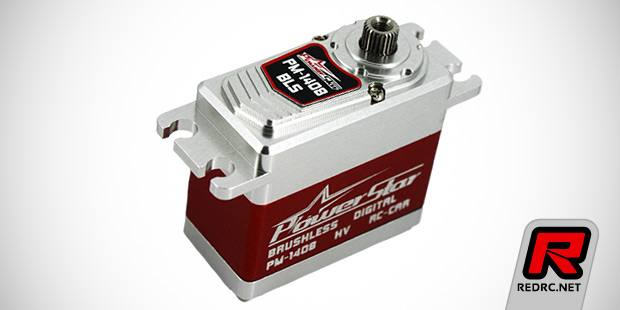 Powerstar introduce the PM-1408 digital brushless servo. Featuring a sturdy aluminium case, tough stainless steel and titanium gears as well as a brushless motor the servo is ideal for all heavy-duty applications such as 1/8th nitro racing. The high-voltage compatible servo can be used with 7.4V (0.083s/14kg-cm) to 8.4V (0.078s/16kg-cm) input.
Source: Vapon [vapon-company.com]
Tuesday, February 25, 2014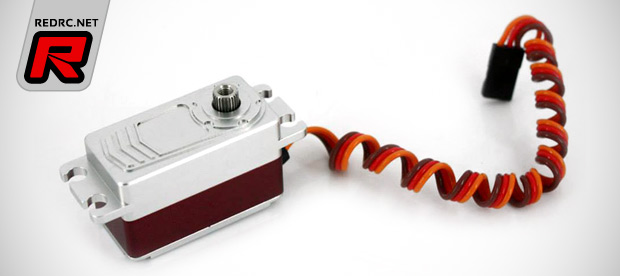 Powerstar soon have the PM-1207LV low-profile servo available. Coming in an all-alloy case the standard voltage servo offers a speed of up to 0.074s/60° and a torque of 12kg-cm – both at 6.0V input. The features include a digital circuitry and a brushless motor while the sturdy case design makes it ideal for on-road and off-road applications alike.
Source: Powerstar [powerstar-racing.com]
Friday, February 21, 2014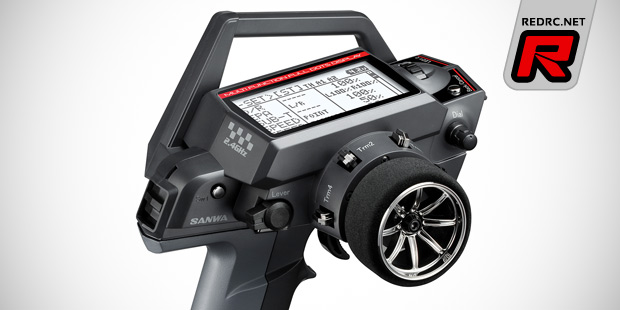 Sanwa introduce the MT-4S 2.4GHz radio system, the follow-up model of the popular MT-4 intermediate level transmitter. The latest incarnation offers a blue back-lit screen for improved visibility of all relevant parameters during usage and setup plus Sanwa's SSL technology allows to adjust the Super Vortex speed controller and SGS-01C gyro via the transmitter. When used in FH4T modulation the MT-4S now also is nearly as fast as Sanwa's current M12 top-of-the-foodchain radio while offering 18 model memory, telemetry functions and the usual array of mixes and servo setup options. The radio comes including a RX-472 receiver and will become available very shortly.
Click here to view the features and the radio in full
Wednesday, February 19, 2014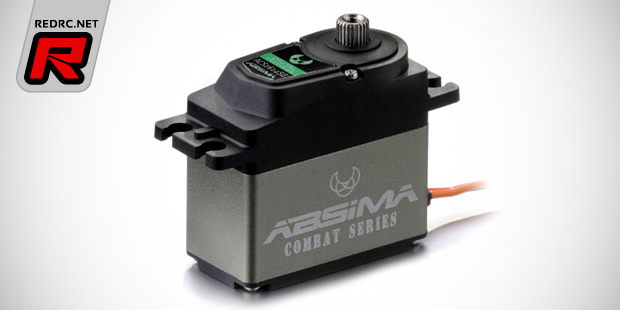 German Team C distributor Absima now have their own range of high-performance servos available. The ACS1615SG (0.09s/15kg-cm), ACS1614SG (0.07s/14kg-cm) and ACS1622SG (0.14s/22-kg-cm) are standard size and standard voltage servos that feature coreless motors, steel gears and aluminium/plastic heatsink cases. Also coming are the ACS1623SG (0.1s/23kg-cm) and ACS1620SG (0.09s/20kg-cm), both are high-voltage compatible offerings, again with coreless motors, steel gears and heatsink cases. It is understood that a range of low-profile servos is around the corner too.
Source: Absima [absima.de]
Wednesday, February 19, 2014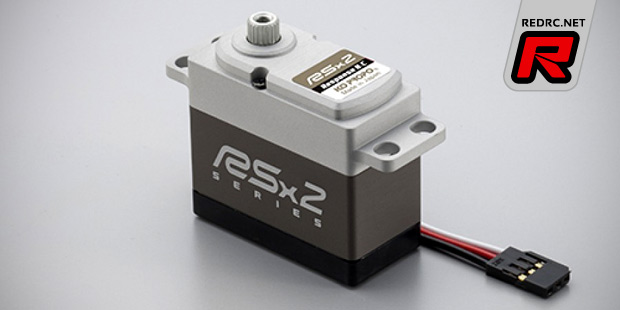 KO Propo introduce the RSx2 series of high-performance digital servos. All feature reworked amplifiers for a more linear feel with today's high-response radio systems plus the case and gear tolerances are now even tighter for the ultimate in precision. Available are the RSx2 Response HC (0.06s/17.6kg-cm), RSx2 Power HC (0.11s/31.6kg-cm), RSx2 Response (0.06s/17.6kg-cm) and RSx2 Power (0.11s/31.6kg-cm) with the HC variants coming with an upper aluminium case for added rigidity and durability while the standard items come with reinforced composite upper cases. All servos feature mixed aluminium and steel gears, they are 7.4V compatible, come with gold-plated leads and double ball bearings.
Click here to view the other new servos
Thursday, February 13, 2014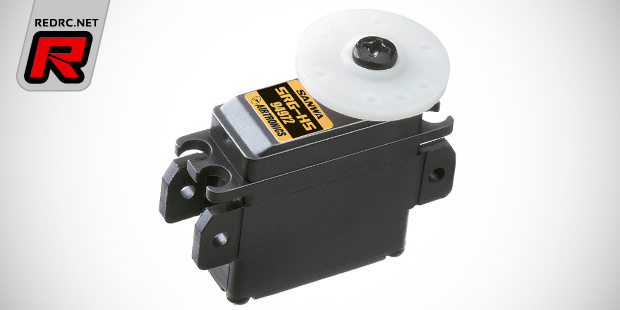 Coming soon from Sanwa is the SRG-HS micro servo for 1/12th scale pan cars. Designed especially for the use with 1S LiPo cells the servo offers a transit time of 0.11s for 40° and a torque of 3.7kg-cm. It is useable with Sanwa's SSR mode and features ball bearings, metal gears and moulded-on lugs for horizontal mounting.
Source: LRP [lrp.cc]
Tuesday, February 11, 2014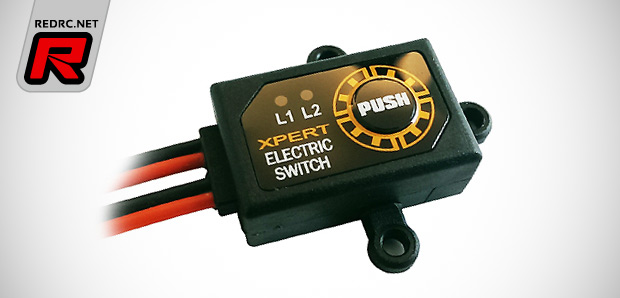 XpertRC now have this electric on/off switch available. Working with 6V and 7.4V input the device eliminates the need to use an unreliable mechanical switch as it offers simple 1-button operation, plus it incorporates an adjustable low-battery warning for LiPo and NiMH receiver battery packs. The case features three mounting lugs that match with the personal transponder mount many radio trays offer and it can additionally mounted using a 2-hole mounting pattern in the case itself.
Source: Xpert RC [xpert-rc.com]
Monday, February 10, 2014