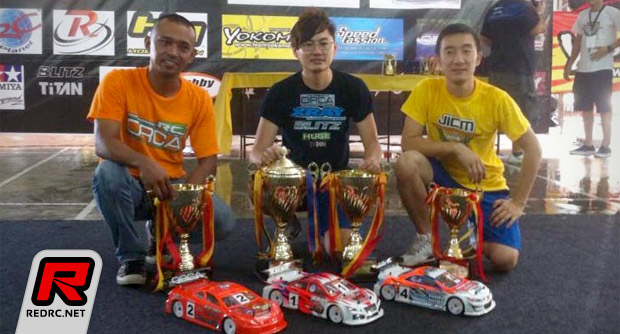 The Johor Indoor Carpet Master 2013 was held recently at Pontian, a small town in the south western Peninsula of Malaysia an this report come from P.Y. Tang. 'Organized by Mr. Ken Ng, a local resident and Xray driver, the event was very successful attracting over 80 entries with many fast drivers attending from the Peninsula Malaysia, East Malaysia and Singapore. Open Brushless 13.5T took center stage as two other classes 1:12 Pan and 1:10 FF was cancelled. The carpet track was newly prepared in a school's open-air multi-purpose hall on Thursday and the layout was very technical which was similar to the 2012 LRP TCM. No practice was allowed until Friday, with 2 control practice and 4 qualifying rounds on Saturday, followed by 1 more qualifying round and 3 finals on Sunday. As asphalt races are more common in this region, the JICM carpet race attracted many drivers and was a must-go event.
Continue reading the report here
Tuesday, May 21, 2013 - add a comment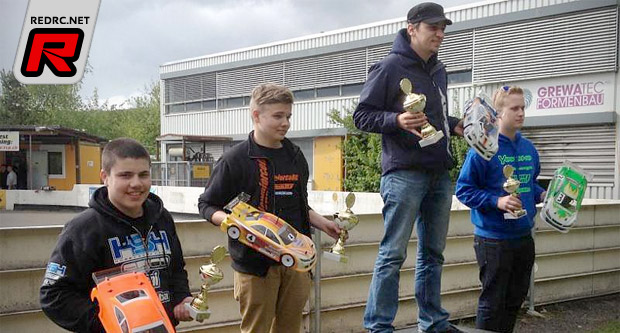 The first round of the Swiss Nationals was held on the very nice race track in Schaffhausen. The drivers had to deal with unpredictable weather conditions over the whole weekend. After two dry and two wet qualifying rounds, it was Mario Rigert who secured pole position in modified class in front of Michele Manzo and Florian Hauser. All three finals which could be raced under dry conditions saw a start to finish victory for Mario Rigert. Second and third place overall went to Fabian Widmer and Florian Hauser.
Tuesday, May 21, 2013 - add a comment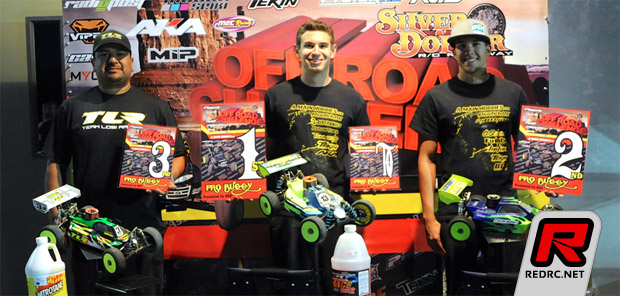 Last weekend hundreds of racers descended on A Main Hobbies' Silver Dollar RC Raceway to compete in the Inaugural Silver Dollar Off-Road Challenge on the new Joey Christensen 1/8-scale layout. The track took center stage during the weekend's race, but when it was all said and done two of A Main Hobbies' rising stars, Austin Blair and Dylan Rodriguez stole the show. Blair and Rodriguez wrapped up the coveted pro classes proving that the two of them are quickly approaching "elite speed" and becoming contenders at every race they attend.
Continue reading the report here
Tuesday, May 21, 2013 - add a comment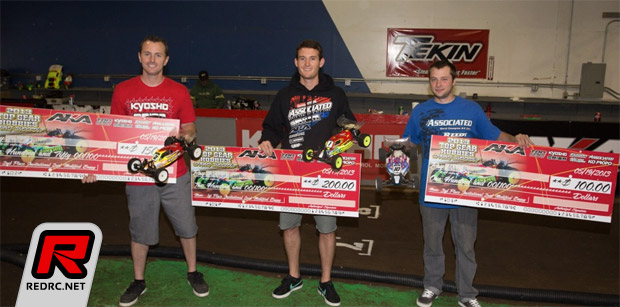 The 1st Annual Top Gear Hobbies Spring Shootout was held this past weekend in Clackamas, OR. This is the home track of Team Orion USA Team Manager Joe Pillars. Making the trip out for this event was Team Orion's current 2wd & 4wd IFMAR World Champion Ryan Cavalieri. The North-West's fastest racers would all be in attendance to test their skills against the 4-Time World Champ. The Invitational Class would consist of 30 racers that were divided up into 4 heats of 8 in random order. All drivers would use 2wd Modified Buggies for all 8 rounds. 4 rounds of heads up racing were ran on Saturday and another 4 rounds on Sunday. Each driver was given 2 throw-outs, using their best 6 finishes. Tie-breakers were determined by the number of 1st place finishes, 2nd place finishes, and on using the 6 counted points. If still a tie, each drivers 2 fastest runs would be combined by laps and times to decide the higher finisher.
Continue reading the report here
Monday, May 20, 2013 - add a comment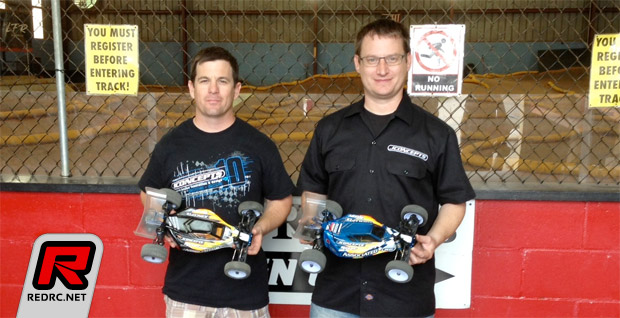 A great weekend for racing during the Chaos on the Coast point series put on by the Space Coast R/C Raceway. Jason Ruona, Paul Wynn along with a great group of JConcepts drivers were out to support the monthly event held at the Cocoa Beach, Florida facility. 2wd modified was hotly contested all day with JConcepts driver Daimon Borkowicz taking the round 1 TQ with Paul Wynn in 2nd. For round 2 the track speed picked up and Paul Wynn was able to stay consistent throughout the 5 minute qualifier resetting the TQ by a slight amount over Daimon.
Continue reading the report here
Monday, May 20, 2013 - add a comment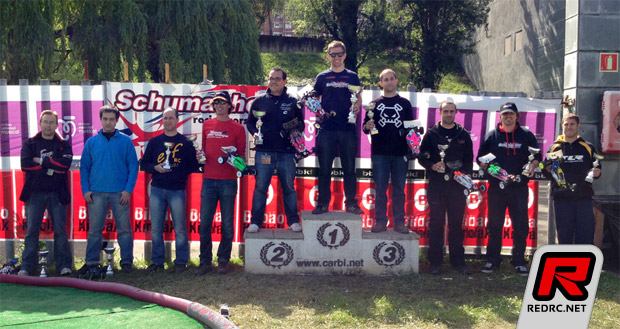 Last weekend Schumacher drivers Tom Cockerill and Trish Neal were invited out to Spain to compete in the second round of their national series at Bilbao, the track that hosted the 2009 European Championships. The track had undergone some changes since that event, with the most noticeable being that it is now run in the reverse direction. The weekend consisted of free and controlled practice on Saturday followed by qualifying and finals on Sunday. During practice the team tried many different setup options, and these clearly worked with Tom and Trish posting the two quickest '3 lap' times.
Continue reading the report here
Monday, May 20, 2013 - add a comment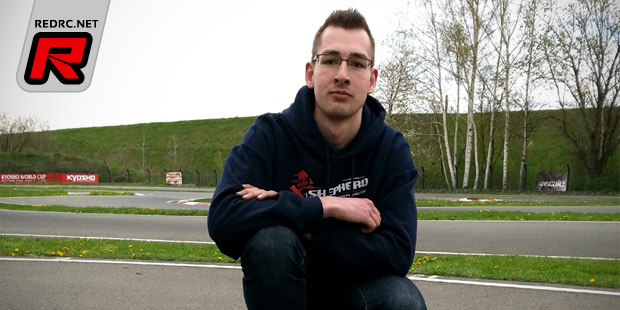 The second round of the East German nitro on-road Championship took place at the fast track of Leipzig. A total of 22 drivers found the way to Leipzig with Shepherd racer Michael Kammer being one of them to score for the East German Championship. On Saturday the whole day the track was wet so the qualifying took place on Sunday morning under better weather conditions. In the last round of qualifying Michael secured himself the TQ spot to start the 30-minutes finale from the pole-position in front of reigning German 1/8 Champion Toni Gruber. At the start he could defend his lead chased be Toni Gruber close behind him. After a few laps Toni made a driving error followed by an unscheduled visit in the pitlane which cost a lot of time. Increasing his lead lap by lap Michael never looked back and crossed the finishing line four laps in front of Toni with Wilfried Stecker completing the podium.
Source: Shepherd [team-shepherd.com]
Saturday, May 18, 2013 - add a comment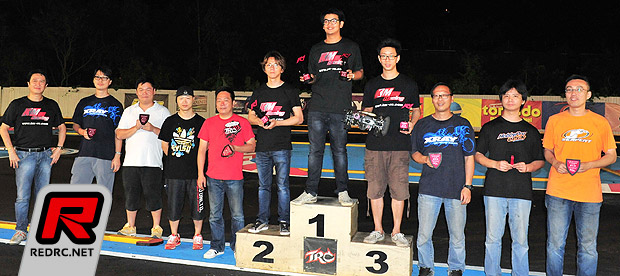 The second KM World Cup race in Japan attracted some 100 driver to race in the nitro 1/10th and 1/8th classes. The 200mm category saw Meen V. taking TQ in front of Keisuke Fukuda and Hung Cheung Hang. Come the start of the final Meen took off and never looked back taking the win some six seconds ahead of Keisuke. Two laps down Hang managed to secure the remaining podium spot making for a KM Racing 1-2-3. The 1/8th class was again dominated by Meen, Fukuda and Hang with Fukuda chasing Meen hard for the lead but six minutes into the race Keisuke hit a track marker and he had to retire. Now it was on Hang to chase Meen but at the end the KM driver won the race some two laps ahead of Hung Cheung Hang with Trin securing the last remaining podium spot. This again meant an all KM podium with the KM H-K8 prototype filling all top positions.
Click here to view the 1/8th podium
Saturday, May 18, 2013 - add a comment