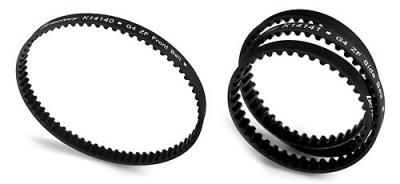 More new products from K-Factory with the release of a number of new items for the Team Magic G4. Starting with the release of a full set of new belts for the front, rear and side of the G4, these ZF belts are super low friction and use a unique construction method to form the teeth, so the belt won't break easily and lasts longer. Also new for the G4 are a set of 3 aluminium Ackermann plates that not only give you extra adjustment options but also increase the strength around pivot ball mount in the event of an impact.
Click more to see the other products… (more…)
Monday, December 24, 2007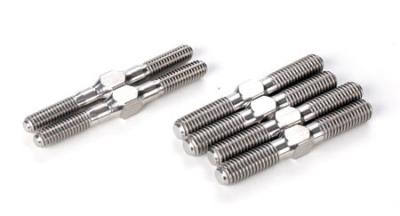 New from Lunsford Racing are these adjustable titanium turnbuckles for the Associated RC8. Sold in a pack of 6 pieces they sport left and right threads and the set includes four 38mm trackrods and two 42mm trackrods. Available in January.
Source: Horizon Hobby [horizonhobby.com]
Monday, December 24, 2007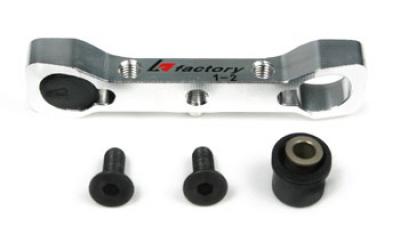 For the Team Magic E4, K-Factory have released this aluminum rear hinge pin mount. Using offset plastic inserts you can easily and quickly set the rear inboard toe in between 1 and 2 degrees depending on the way you place the plastic insert. The hinge pin mount has been CNC-machined from high quality 7075 aluminum and sports the K Factory logo etched on the aluminum surface.
Source: K-Factory [kfactoryracing.com]
Monday, December 24, 2007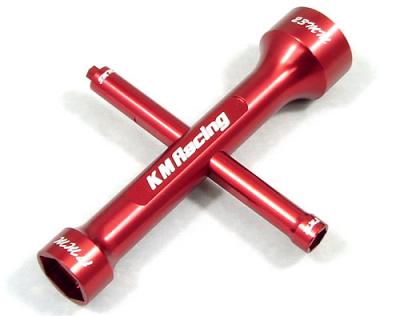 KM Racing have released this Big Foot wrench which contains a number of useful nut spinners with a long reach. Made from red anodised aluminium and sporting the KM Racing logo, as well as the different sizes, the wrench contains a 5mm, 9mm, 17mm and 23mm sized heads.
Click more to see another picture… (more…)
Monday, December 24, 2007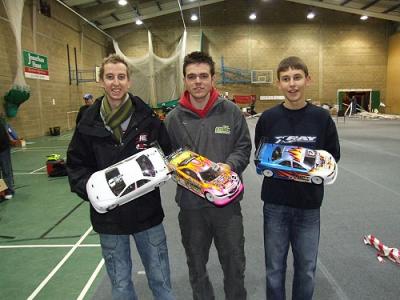 Mirage have a report on their site from last weekends round 3 of the Rug Racers series which was run at Woodson Park in Hertfordshire. Qualfiying saw Andy Moore just beat out his Hot Bodies team mate Olly Jefferies in 2nd with new Xray signing Elliot Harper 4 seconds back in 3rd. Final 1 saw Moore make a mistake that let Jefferies into the lead following closely by Harper, but Olly could hold on for the leg win. In the 2nd leg Moore once again clip a corner and rolled leaving Jefferies out in front once again followed by Harper which was how it finished in the leg and overall with Moore coming home in 3rd.
Source: Mirage [mirageracing.com]
Sunday, December 23, 2007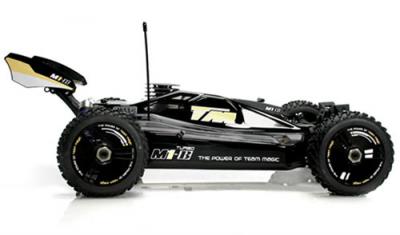 Following on from the release of the updated Turbo version of the M1B buggy from Team Magic, the Taiwanese company have announced the release of a US edition of the car to help it break into the Amercian market. New features include updated front and rear gearbox, steering block carrier, fuel tank, new bevel gears, strenghtened whishbones and the inclusion of lots of K-Factory parts as standard.
Click more to see the full feature list… (more…)
Sunday, December 23, 2007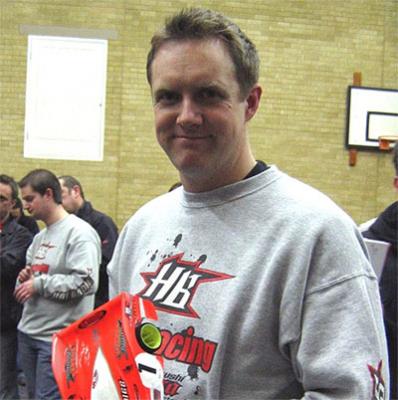 The 4th round of the BRCA 1/12th scale Nationals was held last weekend at the Tamworth track and in qualifying for Saturday's 19T turn event it was Chris Kerswell that claimed the TQ spot ahead of Andy Griffiths in 2nd. In the final, a coming together at the start knocked Griffiths out of contention and Mick Farrell took off after the then leader Kerswell and eventually got passed, but he too fell out of contention and this left Keith Robertson to come from 5th on the grid to take the win. In the modified class there were no surprises with Andy Griffiths taking the TQ and in the final he managed pull away and take the win, giving him his 4th in a row and enabling him to wrap up the modified title with his HB Cyclone 12.
Source: Mirage [mirageracing.com]
Sunday, December 23, 2007
Reedy have announced that the powerful Flash modified motor has been re-invented with updated materials and new winds suitable for today's hottest R/C vehicles. Drifting and rock crawling require the right power band for precise drivability – and Reedy delivers! A new 19T motor is perfect for hardcore drifters while a 55T rock crawling motor guides you to the top of the course with precision control. The original range of winds suitable for 1/10 buggies, trucks, and touring cars are still available. Because these economically priced machine-wound motors are based on high quality championship winning components, they are the perfect alternative to higher priced hand wound and brushless modified motors. The components and construction of the Flash make it perfect for competition or as a powerful update for your RTR.
Click more to see the features… (more…)
Saturday, December 22, 2007