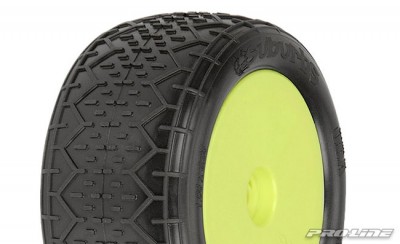 Pro-Line have released their Suburbs for use on 2.2″ buggy rear wheels. Available in the company's M3, MX and MC compounds for loose dirt/cool surface, blue-groove/high heat and clay conditions respectively, they were used at the 2008 ROAR 1/10 Off-Road Nationals, by Ryan Cavalieri who dominated the 2wd modified buggy class. Featuring an inner and outer radius rib tread for increased corner holding and predictable side-bite, the internal carcass webbing resist tire expansion under acceleration and deceleration while the internal sidewall ribbing maintains sidewall structure in extreme traction conditions for greater corner control. The tread height is predictable, aggressive, and long-lasting for use on a variety of blue-groove track and surfaces where you would typically run soft compound tires.
Source: Pro-Line [prolineracing.com]
Sunday, May 17, 2009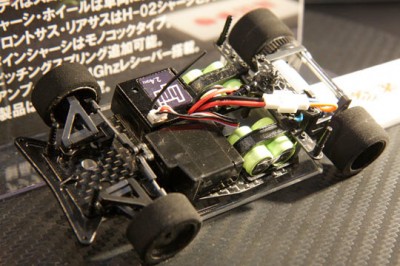 The Shizuoka show is on this weekend in Japan, and as usual the Japanese companies are out in force showing their new products at their home show. HPI Racing have released a number of new items, the most interesting of which being the new Racing 32 H-01 and H-02 chassis', which as the name suggests is a new 1/32nd scale racer. The H-02 chassis shown above, is a full race spec version with carbon throughout and is essentially a tiny Cyclone 12X pan car, complete with foam tires. The H-01 is the RTR version of the same car and features lightweight plastics throughout and will come with a beautiful scale body and is supplied with a 2.4Ghz radio system, as well as a charger / workbench. Also new on the same stand from Hot Bodies is the Flux powered version of the World Championship winning D8 buggy. This brushless car is still only a prototype, but from the pictures you can see that it retains the mechanical brake system, has a composite plastic chassis and a forward mounted motor.
Click here to see the other products
Saturday, May 16, 2009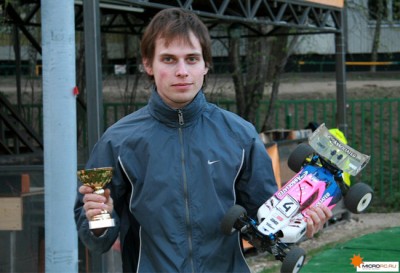 The first round of the EP Off-Road Cup took place at the MRCmodels track in Moscow at the beginning of May. With 49 drivers in attendance, this years competitions will be held over 2 days, with the 2wd buggies, including the Slash, on the first day and the 4wd classes on the 2nd day. Saturday saw competitions held in 3 classes for 2wd buggy and two classes of Slash, Sport for stock out of the box models and Pro for drivers with optional parts, motors and batteries.
Saturday, May 16, 2009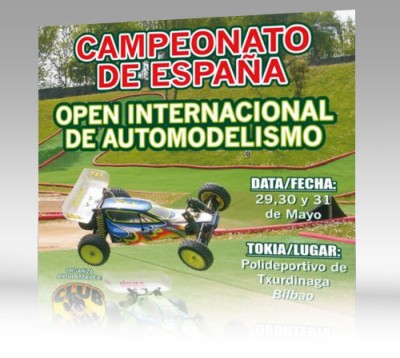 The Off Road Electric Section of AECAR were in contact to tell us about the unofficial warm-up race they are holding at the 2nd round of the Spanish Nationals in Bilbao on the same track as this summer's European Championships. The event will take place on the 29th to 31st of May and is open to all international competitors with a full schedule in place for both 2wd and 4wd classes. If you are interested you have until the 22nd of May to place your entry, forms for which can be found here. Further information, including facilities, hotels, etc, can be found on the official event page here.
Friday, May 15, 2009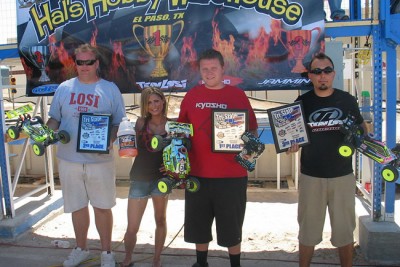 Team Orion team driver has a report on the 2nd Annual Tri State Off Road Championship was held last weekend at Hal's Hobbies in El Paso. 'There was a practice race on Friday night, the day before qualifying. During practice my car was not great, but I talked with my Dad on the phone, and we got it working nice on the very rough track. The track was super rough and dry and the key to winning was to be consistent. We changed the camber links a little and added negative camber for stability. I won the practice race Friday and felt confident going into Saturday. For qualifying Saturday, I TQ'd the first round by 2 seconds over Billy Fischer. In the second round, the nut on a rear outer hinge pin fell off (same thing that happened at Silver State) and ended the heat for me. In round 3, I TQ'd again, this time by 4 seconds over Casey Peck. This would make me TQ in the buggy class.'
Friday, May 15, 2009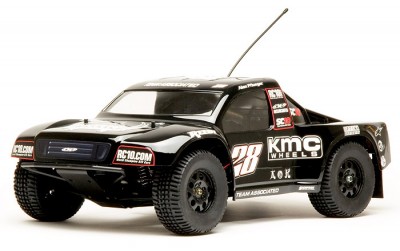 Following on from the announcement of the ready to run versions of the SC10, Team Associated have released 2 new versions of the popular 1/10th scale short course truck. Differing from the previous version in body alone, you can now get the RTR SC10 in both the KMC Wheels replica as well as the Team Associated scheme, which joins the already available Lucas Oil and Pro Comp replicas.
Click here to see the other body shell
Friday, May 15, 2009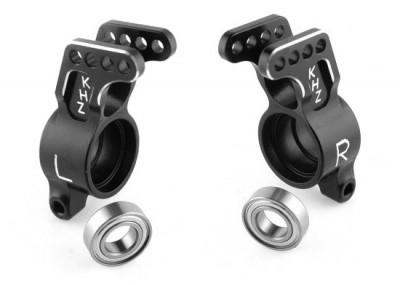 King Headz have released this new line of rear hub carriers for the Losi 8ight 2.0 buggy. CNC machined from 7075 aircraft grade aluminium, these hubs are designed to increase rigidity and add strength to this area and have been designed to accept a larger 8 x 14 x 4mm bearing, which is supplied. For looks they have been anodised black and finished off with some machining of certain edges. Sold separately in left and right versions.
Source: King Headz [kingheads.com]
Thursday, May 14, 2009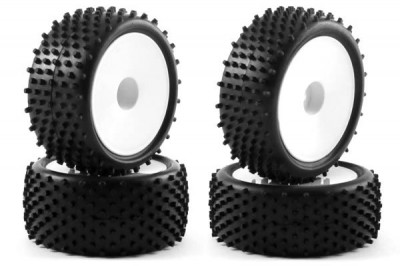 New from Fastrax is this range of wheels and tires for 1/10th buggy bashers. Available for a low price, they are available in a wide range of patterns for off and on road, come pre-mounted and will fit most Tamiya, Kyosho and Ansmann 1/10th buggies as well as other buggies that use standard 12mm hex fittings. Fastrax have also released front and rear wheels in 2 different styles, dished and spoke, as well as foam inserts for front and rear tires. The perfect replacements for wheels and tires that are supplied with most 1/10th kits.
Click here to see the other products
Wednesday, May 13, 2009