July 26, 2013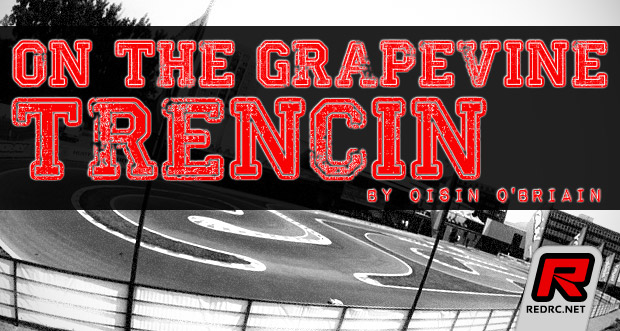 I have had the opportunity to visit many great, and many more not so great, r/c venues around the world and have vivid memories of my 'wow' reaction on entering the world famous Yatabe Arena in Japan and the mammoth Mike's Hobby Shop in Texas. Last week however arriving at the season finale of the Yokomo Euro Touring Series in Slovakia, the Hudy Racing Arena evoked a reaction that is best not put in print. From the time we pulled up in our rental car at the main entrance barrier this place was making a lasting impression. We were greeted by the first of two car-park attendants the second of whom directed us into our parking spot. On entering the building itself the usual handshake and 'hello' greeting from drivers and their entourage had been replaced with 'this place is amazing', 'unbelievable' and 'mind-blowing' and that is exactly what the Hudy Racing Arena is.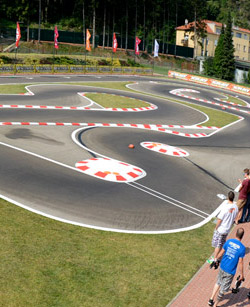 Describing the place as 'The greatest R/C venue in the World' in our race coverage's Track Focus it wasn't just the physical buildings that makes this place so special but the Hudy's attention to detail. Built in 2006 this was the Arena's first international event but the place looked liked it had only been completed days before the 200 plus drivers arrived in Trencin. This was because 20 cleaners spent 2-weeks meticulously going over the 25,000 sq metre complex ensuring everything was spotless including even the steel beams in the roof structure!! Whether or not your an Xray fan you can not but admire what Juraj Hudy together with his sons Martin and Mario has achieved. One of the few true manufacturers able to show in-house the production of its kits from start to finish, the guided tour of the factory was impressive but for me getting to see where it all started was even more so.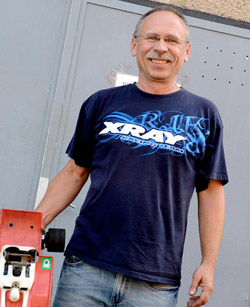 Walking across the grass area at the back of the Hudy Racing Arena and out through an old gate in the fencing, Juraj took us to a side street where 24 years ago, after the fall of communism, he rented a small single car garage size unit. It was so interesting to listen Juraj talk so enthusiastically and with great passion about the early days including such things as how he made moulds for 1:8 Onroad bodyshells from paper mache and how on getting his first big machine, which is still in use today in the factory, he had to get the electricity supply to the small unit upgraded in order for it to work. Better know for designing rc racing cars it turns out the Hudy Racing Arena layout is all Juraj's handy work. Finding an architects firm with experience of building rc tracks wasn't really an option so Juraj came up with the plans for the entire building himself with the architects only job being to work out the calculations to make it all structurally possible. Interestingly while hosting the ETS was a huge success and resulted in a lot of talk over the weekend of how the Arena should be considered for hosting the World and European Championships it would appear that the Hudy's are content to make the ETS the big annual event when they open their doors to the racing community.
******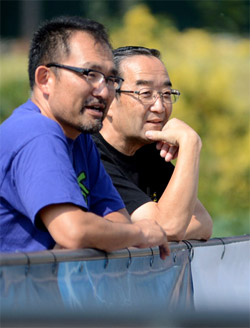 One notable visitor to the race, which attracted a strong industry presence, was Yokomo & Yatabe Arena owner Tom Yokobori. A very unassuming man, this was his first time attending an ETS race and as title sponsors of the series for the passed two years he marked the occasion by putting up a prize for one racer competing in Slovakia to win an expenses paid trip to race at the Yatabe Arena later this year. The draw took place at the Saturday night end of season party and presentations with Italian Alessandro Salvi being the holder of the lucky ticket. Given a private tour of the factory, Mr. Yokobori was clearly impressed by the place and having spotted him jotting down notes into his little book as he paced out the Hudy Arena's indoor asphalt track I think its save to assume that he found some inspiration from the visit.
On the subject of Yokomo, talking to team manager Robert Itoh as the news came through that Xray driver Martin Bayer had just become the 4WD Electric Offroad European Champion at the first time of asking, it looks like the Japanese brand are looking to try replicate in offroad what they have achieved in Touring Cars in Europe. Itoh said they are looking to get more involved in the electric offroad scene in Europe as they see potential in the market and now have in place two good distributors in Toni Rheinard's Tonisport and Michael Boks Mibosport to support such efforts. Having brought over their Japanese ace Naoto Matsukura to a round of the Euro Offroad Series taking the win in 2WD, he said the EOS is a good foundation on which to base a European team presence. While details of the third season of the EOS have yet to be released, Yokomo are already actively working on signing a 'key' driver to lead the team. Interestingly while chatting to Awesomatix owner & designer Oleg Babich over lunch he told me they are set to enter the electric offroad market potentially next year. Breaking the design trends with his A700 touring car, Oleg said so far he has only had time to put together some rough design ideas for the buggy but asking him if it would feature his unique damper design he said it would as he wanted to come to he market with something different to what is already on offer, a formula that worked well for the Russian newcomer when it entered touring cars.
******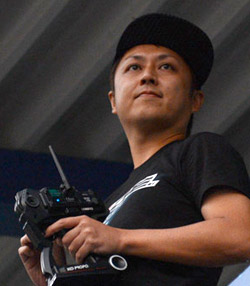 One of the most popular visitors at the ETS Finale was Atsushi Hara. The fact that this legend of our sport only arrived in from Thailand on Saturday rather than coming in two days earlier so he could compete in the race resulted in much speculation within the pits about the former onroad & offroad World Champion's future. Few drivers can or do command the level of respect the 33-year-old gets and how big a star he is was highlighted when up & coming 16-year-old Austrian talent Dominic Vogl, who is good friends with Marc Rheinard, was left star struck on meeting his long time hero for the first time. When Scotty Ernst made the surprise announcement at Saturday nights 'Dash for Cash' that Hara was going to have a go there was an overwhelming reaction from the crowd and the ten A-Main drivers who had just gone before him. Borrowing Martin Hudy's car for his attempt at two timed laps and a chance of the €200 prize, Hara couldn't better Ronald Volker's time but that didn't matter to those who lined-up around the track. They still got to see the master at work, his laps all the more impressive due to the fact that he only got three laps to learn both the track and get used to Martin's Xray T4.
On Sunday afternoon I finally found time to sit down for a chat with Hara, who I must admit left me a little star struck first time I met him when covering the 2008 DHI Cup. Although I had seen his face plastered in just about ever r/c magazine on the planet I actually didn't know if he spoke English which led to a rather embarrassing moment as I introduce myself to him in my best possible pigeon English!! Funny side story while on the subject of English is that Tamiya's Lee Martin, an Englishman, has trouble with my Irish accent. Anyway it's always great to chat with Hara but straight up he put a bit of a dampener on our conversation by informing me that he won't be contesting the 1:8 Onroad World Championship later this year in Japan. I was so looking forward to seeing him mixing it again the nitro establishment having seen him make an impressive debut in the Formula 1 class of r/c in Miami 2-years ago. Hara went on to explain that following HPI Racing's appointment earlier this year of Hobbico as its exclusive US distributor, the company is focusing a lot of time and budget into ensuring a successful partnership. While he views the move as a very positive one, adding that if HPI sales do well its better for HB, he said it has effected the racing side of things.
Confirming that HB will build a 1:8 onroad nitro car he said the schedule between when the car should be ready and when the race starts is too tight for him to put in the level of preparations he feels are required to contest a World Championship properly. Hara said as racing is his job he said he does races to win and having won two world championships he said people have high expectations of him so he wants to ensure from his end that he gives 100% to try and deliver the best result. Unfortunately its a similar story for this year's 1:10 Electric Offroad World Championships. Hara said HB will have a new 4WD buggy for the September event and he has seen the designs for the chassis but with no physical car to go testing with he said it would be too tough to just try and turn up with an all new car. While the situation is a little frustrating with this being of the most quiet seasons he has had in his professional career he said next year the year of the Electric Touring Car and 1:8 Offroad World Championship we will 'see a lot more of Hara'. While Hara wont be in World Championship action this year he said HB will still be in very capable hands with Andy Moore & Teemu Leino going to Japan and Ty Tessman flying the flag in offroad.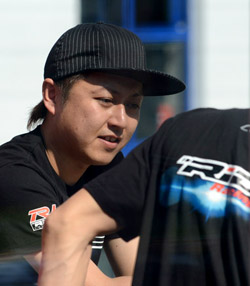 The purpose of Hara's trip to Slovakia was in fact tyre related as he was there for the championship's controlled tyre supplier Ride. Also based in Bangkok at RC Addict, where Hara tests on an almost daily basis, he said he really enjoys working on tyre development. Under contract with HB through to the end of 2016, Hara said this is the first year he has had some 'own time'. While his main goal is still to win World titles, he sees his roll changing over the coming years. Having achieved great fame he said he wants to give back the respect that has been shown to him and try help the sport to grow. Aware that the global down turn is effecting what people can afford to spent on their racing, he wants to travel more in Asia to meet local racers and try and understand better the market. A big problem Hara sees in particular in Touring Cars, of which he is the 2000 World Champion & 2012 runner up, is the speed of the cars. With Round 6 of the ETS the first big race he has attend but not competed in he said it has helped him to see things from a different perspective. Complimenting the ETS for its controlled gear ratio in Pro Stock, he said in general Touring Cars are now too fast and complicated for beginners and this is why it is always the same drivers who win. Two ideas he has that he believes could be looked at include increasing slightly the scale of the cars and using a larger tyre that offers a more 'friendly level of grip'. While I'm sure Hara's ideas are sure to divide opinions, the fact that a driver of his status feels big changes are needed to help attract the next generation of rc racers is good enough reason to at least review where things are at currently.
Have an opinion on the topics discussed? Leave them in the comments below.
Oisin O'Briain is Red RC's Event Editor. Traveling the world reporting on some of the biggest races in the sport he regularly chats with top drivers and key industry figures and in his new column 'On the Grapevine' he will try to bring readers an insight into the latest talk that is doing the rounds in the paddock along with the odd bit of trivia information that comes to light.
The views and opinions expressed in this column are those of the author.
---