August 14, 2017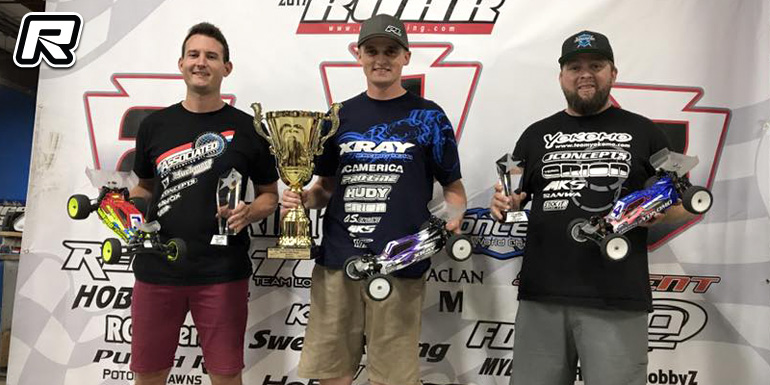 The 2017 ROAR 1/10th Electric Off-road Nationals were held at The Track in Gaithersburg, Maryland last weekend. 270 entries made for competitive racing in the eight Modified and Stock classes. The traditional off-road classes of 2WD Mod Buggy, 4WD Mod Buggy and Mod Racing Truck were swept by Xray's Ty Tessmann who won all but three qualifiers to take dominant TQs.
Ty's outstanding performance continued in the opening two 2WD Mod A-mains were he came out fastest to take his first title of the weekend early. With 3-2-1 finishes, Team Associated's Ryan Cavalieri, starting from the 3 spot on the grid, secured himself the overall runner-up spot from Yokomo's Ryan Maifield. Runner-up after the qualifiers, TLR's Dakotah Phend had to settle for 4th overall.
2WD Modified Buggy final results:
1. Ty Tessmann
2. Ryan Cavalieri
3. Ryan Maifield
4. Dakotah Ohend
5. Spencer Rivkin
6. Cole Tollard
7. Dustin Evans
8. Jared Tebo
9. Alex Kosciuszek
10.JP Richards
11.Jake Mayo
4WD Mod Buggy again saw Ty Tessmann being the man to beat. Ty would bag the opening two A-mains for his second title of the weekend. 3rd placed after the qualifiers, Team Associated's Spencer Rivkin came in 2nd with 2-4-2 finishes from AE teammate, Dustin Evans who snatched the final podium spot coming from 6th on the grid. P4 starter, Ryan Cavalieri would hold onto the 4 spot in the mains while runner-up after the qualifiers, Ryan Maifield had a disastrous A-main and despite a win in A3 he only finished in 5th overall.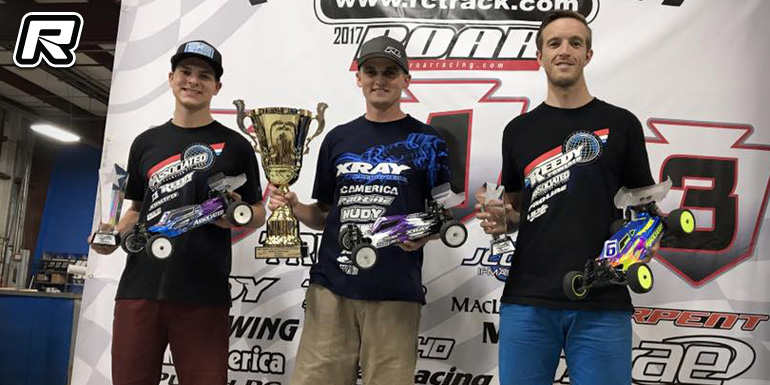 4WD Modified Buggy final results:
1. Ty Tessmann
2. Spencer Rivkin
3. Dustin Evans
4. Ryan Cavalieri
5. Ryan Maifield
6. Carson Wernimont
7. Chad Due
8. Alex Kosciuszek
9. Dakotah Phend
10.Cole Tollard
11.Billy Easton
In the Modified Racing Truck category it was again Xray's Ty Tessmann who left no chance for his competitors. By again taking wins in A1 and A2, Ty would snatch his third title of the weekend with Ryan Cavalieri, coming from P3 and Jared Tebo, coming from P4, completing the podium result. Runner-up after the qualifiers, Cole Tollard had to settle for 4th overall with 2-10-4 finishes.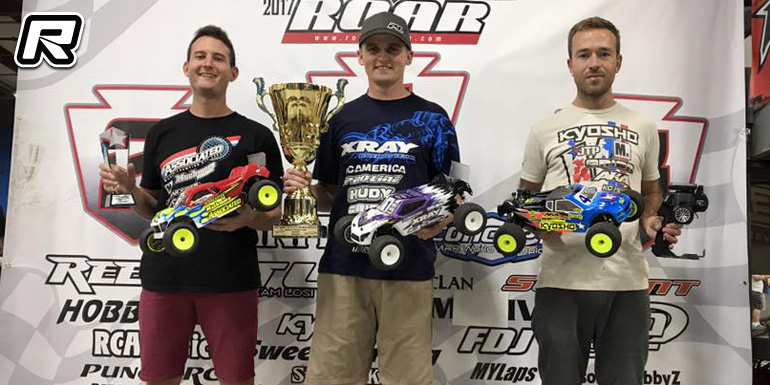 Modified Racing Truck final results:
1. Ty Tessmann
2. Ryan Cavalieri
3. Jared Tebo
4. Cole Tollard
5. JP Richards
6. Dustin Evans
7. Jake Mayo
8. Spencer Heckert
9. JR Mitch
10.Aydin Horne
11.Matt Chambers
Images: Team Orion [teamorion.com]
---