Schumacher Cougar SV 2wd buggy teaser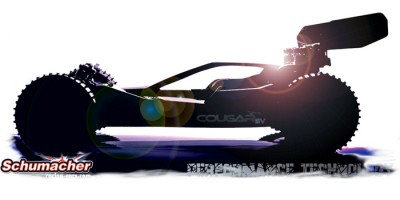 Schumacher have just announced the first official confirmation of the production of the all new Schumacher Cougar SV competition 2WD off roader. The British company is not giving anything away regarding the specs and configuration but judging by the silhouette we would stab a guess at it being mid motored. We are sure more details will be leaked in the coming weeks and we will keep you up to date as we get more information.
You've heard the rumours……seen the chat………and scoured the internet, but now it's finally here. Schumacher have brought you a tradition of Performance technology, with a pedigree second to none, the Cougar SV is no exception. Engineered by some of the most respected design guru's in the R/C industry, the Cougar SV retains the same Schumacher ethos, yet uses a fresh approach to modern technology.
Source: Schumacher [racing-cars.com]
Categories - Cars, Products, Schumacher