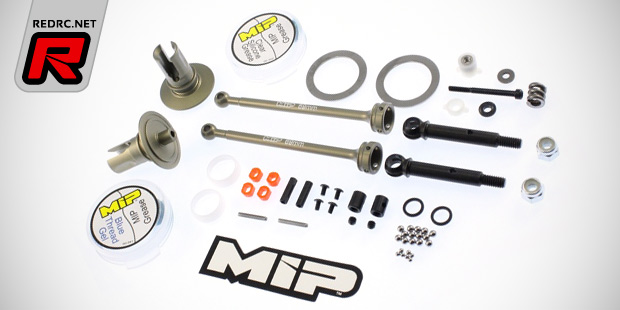 MIP introduce two new Pucks drive systems for the TLR 22 2.0 buggy. First up is the lightweight 17.5 drive system specially designed for Stock racing as it makes use of lightweight C-CVD aluminium driveshafts and Lite Drive aluminium outdrives, scrubbing around 50 percent of overall rotation mass. The Shiny drive system for Modified racing relies on the more robust "Shiny" steel C-CVD shafts and steel outdrives. Both kits make use of MIP's Pucks system that offers a greatly increased contact patch between the driveshaft's drive pin and the differential outdrives for a smoother operating drivetrain while offering easier maintenance at the same time. Both the Stock and Modified kit include a pair of driveshafts with wheel axles, differential outdrives, diff rings and balls, the Pucks assembly as well as several small parts.
Click here to view the Modified kit
Sunday, April 20, 2014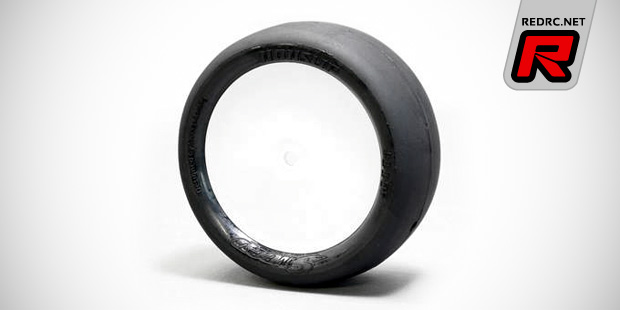 Sweep Racing introduce the Nonslip slick tyres for 1/10th buggies. Available as 2WD/4WD front and rear tyre in ultra soft Silver, extra soft Blue, soft Red, medium White and a special clay compound, the tyres are made for all track slick tyres can be run on such as specially prepped clay and some carpet tracks.
Click here to view the rear tyres
Saturday, April 19, 2014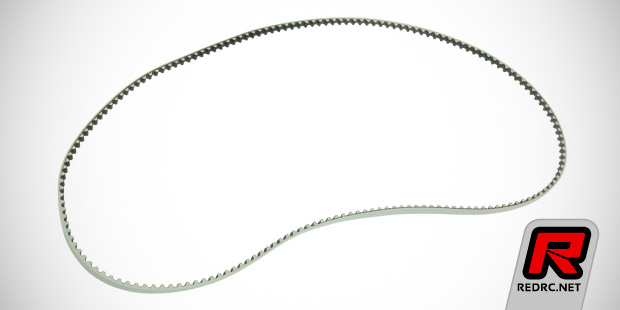 T.O.P. Racing have new low-friction drivetrain belts for the Sabre S4 available. The white colour front and rear belts are made from a special material that minimises friction and frees up the drivetrain for added efficiency, better acceleration and increased top speed.
Click here to view another photo
Saturday, April 19, 2014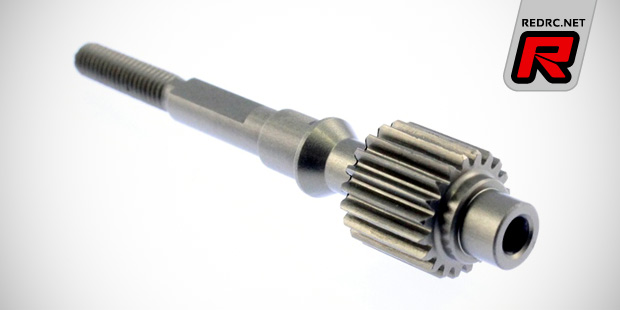 MIP have new option parts for Team Associated's B5 and B5M buggies available in the form of a lightweight top shaft and a Bypass team tuned shock piston kit. Starting with the top shaft, the 1-piece part is made from high quality 7075 aluminium and weights in at only 4.5g, making it around 67 percent lighter than the stock steel shaft, resulting in quick spool-up, acceleration and improved braking performance. The shaft features precision-cut gears and a hard-anodised surface and it is ideal for Stock and Modified racing alike.
Click here to continue reading
Saturday, April 19, 2014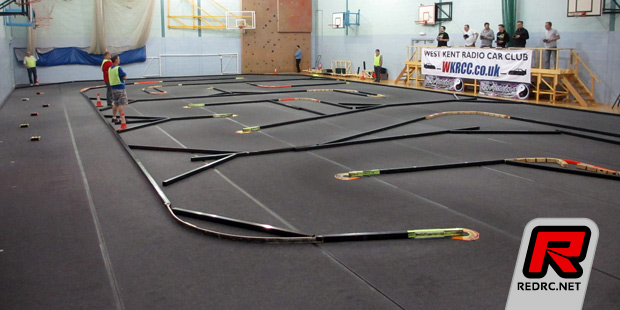 The 1/12 scale electric class is currently in its 'off-season' in the UK, with the BRCA nationals taking place during the winter from October to March. However, a number of clubs and series organisers continue to host events during the summer in order to keep competitors occupied and give them a chance to conduct valuable testing and get some practice in. The West Kent Radio Car Club in Tonbridge, South East England have previously held BRCA national events at their superb indoor venue. However, a complication with the booking arrangements at their venue meant that they were unable to be a part of last winters national calendar. As a result, they decided to put on a one-off GP meeting instead. The classes and racing format for the event were the same as for the BRCA nationals. A 2-day meeting with each day effectively counting as a separate event. This allowed drivers who could only make one of the days to attend.
Click here to continue reading the report
Saturday, April 19, 2014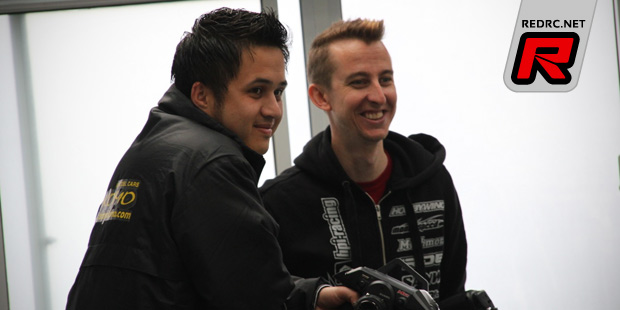 With a morning filled with 3 full rounds of practice, racers were able to really dial in their cars, drop their lap times, and kick up their consistency. Times in the 11-12 second range were common in the stock class, while 1/12th scale and modified sedan were able to dip the times below the 10 second mark.  Staying focused on the tight and twisting layout is the key to success as the track will reach up and bite you if your attention wains.
Click here to continue reading
Saturday, April 19, 2014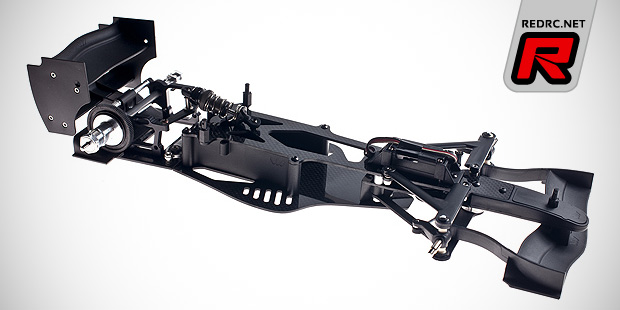 Italian company WRC introduce the F-One-S "sport version" 1/10 formula chassis kit. Making use of carbon fibre and aluminium parts, the kit also includes some new-for-2014 option parts, a 1-piece bodyshell, a 1-piece ball differential and a new 12-ball main gear. The kit is available from now on.
Click here to continue reading
Friday, April 18, 2014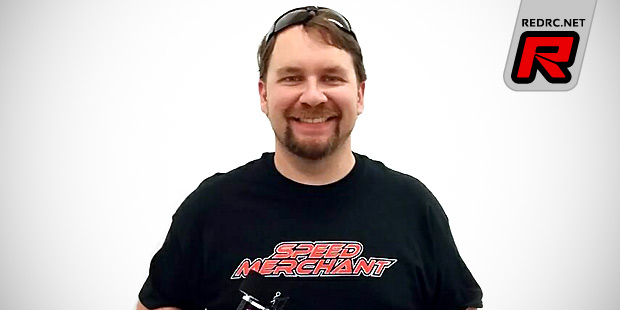 SpeedMerchant announce the signing of multi-national champion Josh Cyrul onto to their racing team. Josh has been a perennial figure a top 12th scale podiums for years and he started his tenure with SpeedMerchant by TQ'ing and winning all of the 12th scale classes at this year's Mile High Indoor Champs in Colorado with his new Rev.8.
Source: SpeedMerchant [teamspeedmerchant.com]
Friday, April 18, 2014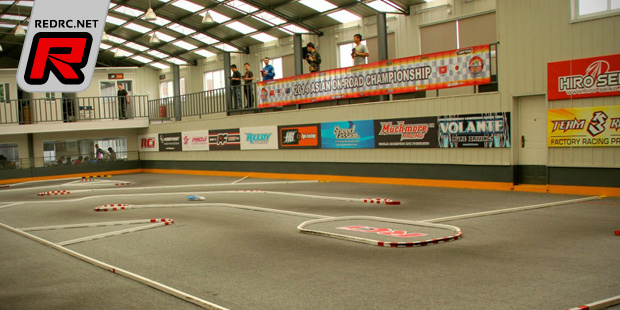 Year two of the Asian On Road Championships is kicking off this weekend with the opening round of the 2014 season starting off at the brand new RCI V2 On Road racing facility in Shanghai, China. The five race series will travel to as many countries with stops in China, Malaysia, Australia, Hong Kong, and Japan. The AOC's focus is on having fun in an organized event, with simple rules, great friendships and exciting racing.
Click here to continue reading the report
Friday, April 18, 2014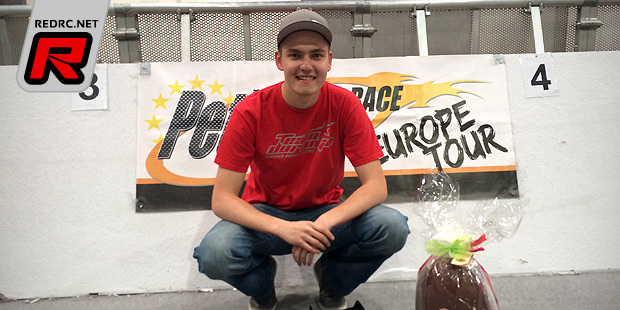 The 8th Annual Petit Race was held this past weekend in Dortmund, Germany. This race was part of the largest Toy Fair in Europe with over 88,000 consumers passing by over 5 days. This years track layout was very flowing and contained many difficult jump sections. Drivers from Germany, Belgium, France, Netherlands, Denmark, Sweden and Poland made the trip for this great event.
Click here to continue reading the report
Friday, April 18, 2014