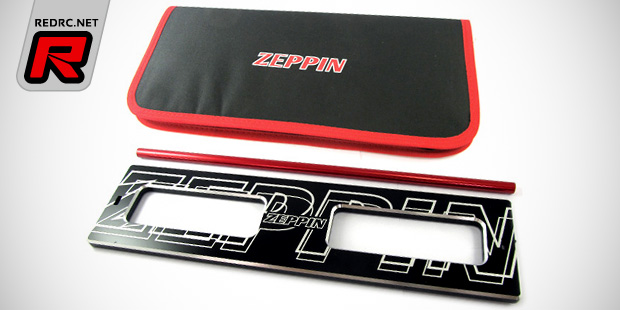 Zeppin Racing introduce the Tweak Killer, a tool to ensure maximum chassis flatness of 1/10th electric touring cars. Making use of a thick CNC-machined, laser-engraved aluminium plate and a sturdy aluminium rod the tool helps to eliminate unwanted chassis tweak that can lead to an erratically handling car. The tool is pretty easy to use as first up the chassis' bumper will be removed and all lower bulkhead and the upper top deck screws loosened. Next up the chassis is placed on the aluminium plate with the alloy rod being placed on top of the front and rear shock tower. Supplied rubber bands then hold the assembly of chassis, lower tweak plate and upper tweak rod together, ensuring maximum chassis flatness. In a final step all loosened top deck and lower bulkhead screws will be fastened and the chassis is ready to go. The Tweak Killer tool comes in a protective carrying bag for storage and transportation.
Click here to view more photos
Friday, August 29, 2014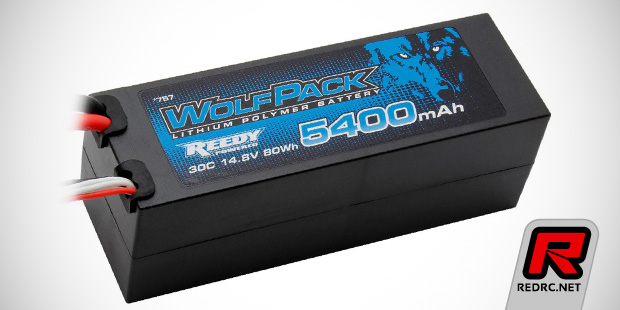 Reedy release the next generation of their popular WolfPack LiPo battery packs featuring increased capacities for even longer runtimes and more overall power. Coming as 7.4V variants with 3300mAh to 7500mAh capacity, as 11.1V 4500mAh as well as 14.8V 4000mAh and 5400mAh pack, all batteries features Reedy's moulded hardcase for maximum crash protection in sizes that fit the most popular car configurations. Wires now exit the case through a rubber gasket which protects the wire's insulation while helping to prevent moisture from entering the case. High-quality cell manufacturing and construction techniques result in reliable operation and maximum cycle-life. The Gen. 2 LiPo batteries come equipped with beefy silicone wires and a reliable, low-resistance T-plug connector. An integrated balancing harness with a XH connector is included.
Click here to view the other new batteries
Friday, August 29, 2014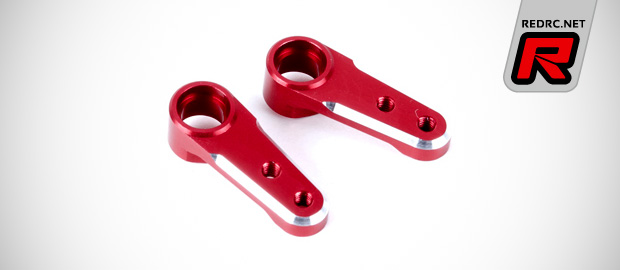 VBC Racing have four new option parts for the Firebolt DM buggy available in the form of aluminium steering bellcranks, a hard-coated aluminium idler gear and two sets of rear suspension mount spacers. Starting with the aluminium steering bellcranks, the parts are machined from lightweight 7075 aluminium and they offer improved stability over the stock levers for a more direct steering response and added durability. The parts come red anodised and are a direct replacement.
Click here to continue reading
Friday, August 29, 2014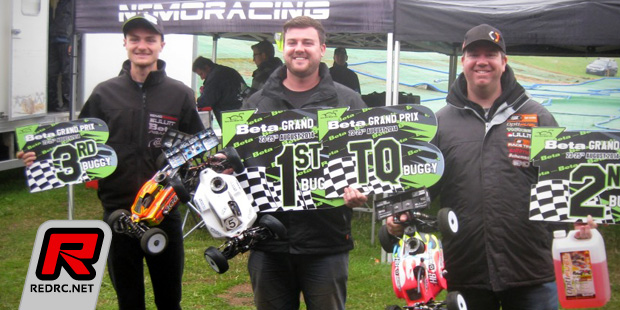 The HNMC Beta GP 2014 was held at Herts Nitro Model Club. In the 1/8th Nitro Buggy class Darren Bloomfield took the TQ and win from Graham Alsop and Tony Truman, who completed the podium in 3rd. The Nitro Truggy class saw Tony Truman taking the TQ and win from Felix Koegler and Michael Shoery. In the 1/8th E-buggy class Callum Niblett came out successful in front of Jerome and Jean-Pierrick Sartel in 2nd and 3rd respectively. The Beta Junior race saw Callum Niblett walking away with the win from Oliver Currie and Lewis Beach.
Click here to view the other podiums
Friday, August 29, 2014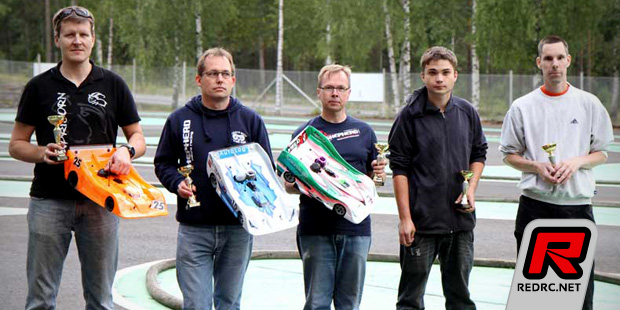 Beside the 1/10th nitro touring class the recent race meeting at the Finnish KYPAK club also saw the running of an 1/8th nitro on-road class. After four rounds of qualifying Tomi, Tony and Sakke were fighting of the TQ, but it was Tony who managed to take the TQ spot in the last round in front of Tomi, Sakke and Risto.
Click here to continue reading the report
Thursday, August 28, 2014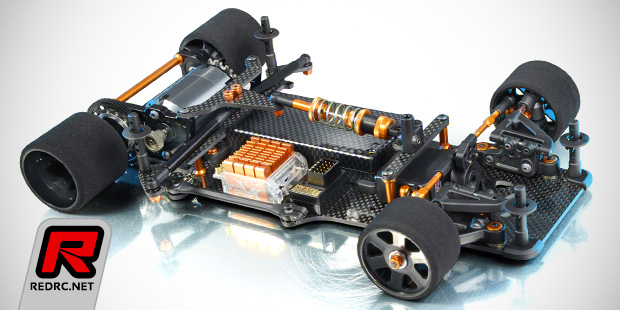 Xray introduce the latest incarnation of their EFRA Euros winning X12 1/12th pan car platform, the X12'15. Not being a totally new car but a subtle refinement, the kit features several performance enhancing details beside orange coloured aluminium parts to match the company's current colour scheme. The car builds on a redesigned carbon fibre chassis that is 3mm narrower while smaller cut-outs in the front optimise the steering characteristics. Along with the new chassis design goes a narrower rear pod and a new centre shock assembly that allows to run a long shock, using an adapter tube or short shock for better bump track handling and on-power traction or improved steering response and quicker direction changes. Part of the suspension package is also a new 1-hole piston for improved on-power steering and new orange anodised aluminium parts.
Click here to continue reading
Thursday, August 28, 2014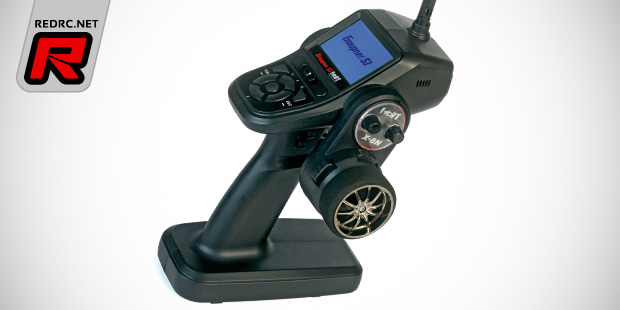 Graupner introduce the X-8N 2.4GHz 4-channel pistol grip radio system. Offering a frame rate of 1.5ms, optimised frequency hopping and bi-directional transmitting between transmitter and receiver the radio is both ultra fast while offering maximum transmitting security at the same time. The transmitter features a 128×64 pixel display, intuitive menu control and the ability to convert the radio for right and left hand pilots alike. The telemetry system can be deactivated for competition use and included with the radio comes a 2000mAh NiMH battery pack, a suitable charger, a GR-8 Race receiver and an update wire.
Source: Graupner [graupner.de]
Thursday, August 28, 2014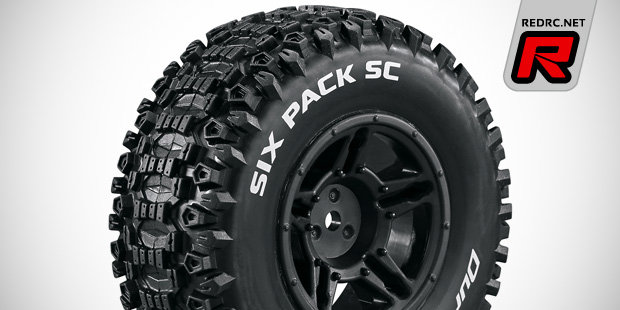 Available from early September are two new Duratrax short course tyres called the Six Pack SC and the Picket SC. The tyres offer a realistic tread design and they are moulded in the soft C2 compound. Sold in pairs and including foam inserts the tyres are available as rubber only or pre-mounted for Slash, Slash 4×4, SC10, SC10 4×4 and SCTE trucks.
Click here to view the other new tyre
Thursday, August 28, 2014