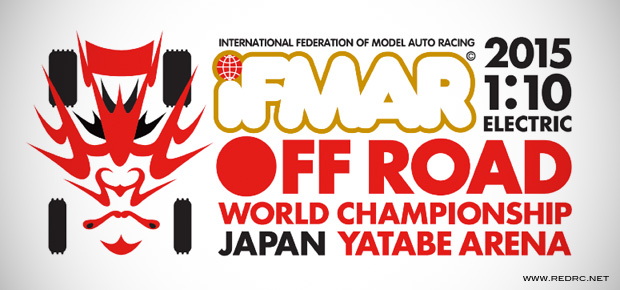 The organisers of the IFMAR 1/10 Electric Buggy World Championships have released an updated schedule regarding the JMRCA 1/10 EP National Championship that is also the Warm-up race for the Worlds. Following a request made by the JMRCA to not provide practice days prior to the JMRCA Nationals, the practice days prior to the Warm-up race have now been cancelled. Practice is now scheduled for the week following the Nationals which is June 8th to 14th.
Click here to view the updated schedule
Friday, March 6, 2015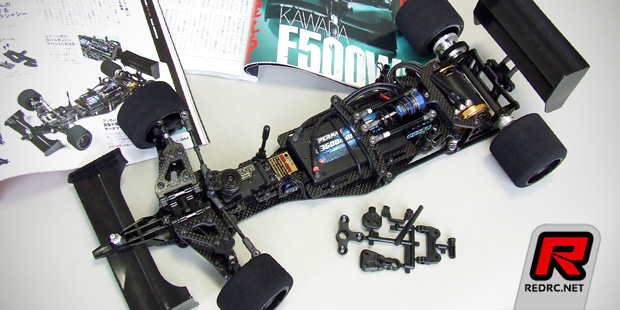 Kawada has released a preview image of their forthcoming F500WS formula car kit. It appears to build on several parts taken over from the company's W500 1/12th and 1/10th pan car range with a purpose-designed double wishbone wide track front suspension and a rear link-type suspension that makes use of in-line roll damper as seen on the TRG formula cars. The slim carbon fibre chassis features a stand-up steering servo mount that obviously can be shifted forth and back to fine-tune the steering geometry while the shorty battery mount also allows to shift the pack forth and back. Other features or general information so far remain in the dark but it is understood that Kawada tries to have the kit available by April.
Source: Kawada [kawadamodel.co.jp]
Friday, March 6, 2015

Xray has announced that European vice-Champion and top Italian nitro touring car driver Mario Spiniello will continue to race with the Slovakian team in 2015. Mario will race and focus primarily on 1/10th nitro touring cars and he will join the factory team at all the major nitro touring events including the European Championships, the ENS and all Italian races. Mario had the following to say:
I am very happy to stay with the World Championship team for the 2015 season and now after five years racing with Xray I am more than confident in the car and the team as well. The 2016 World Championship will be in Italy and I want to race the best car and represent the best team which is without the doubts Xray and as such I took the opportunity and resigned with Xray for 2015 season. Thanks to Xray for trust in me, I will continue to work as hard as possible to improve my results and racing skills.
Source: Xray [teamxray.com]
Friday, March 6, 2015

Break-in Dutch have developed what they claim is an effective new way to break-in new nitro engines. Usable with .12 to .21 engines the rotating parts of the engine are submerged in a container filled with heated oil while the crankshaft is rotated by an electric motor. The temperature and RPM is computer controlled and fluctuates in a range of up to 200 degree Celsius and up to 3,000RPM to ensure an effective yet safe breaking-in process. Additional torque vectoring control ensures the engine is broken-in correctly and it can be used on the track straight away.
Click here to view a video of the break-in process
Friday, March 6, 2015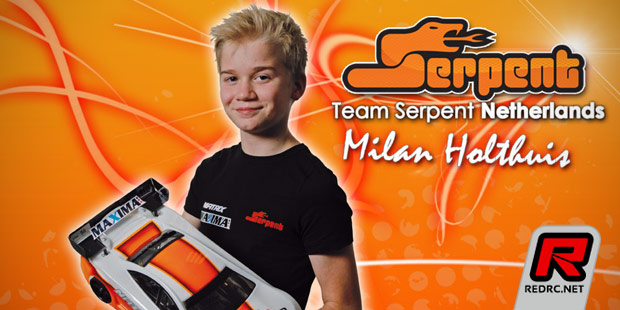 Serpent announce the signing of talented Milan Holthuis to their junior on-road team. Milan will be running in the 1/10th 200mm class backed by selected electric touring car races if time allows. This is what Milan had to say:
In the past few years that I joined the 200mm races and I ran different  Serpent models. Started with a used 733, up to a new 747 and now with the 748. In 2015 I will run the brand new 748 Natrix TQ edition, and I would like to thank Ronald, Michael and Stef for their support. Hope to celebrate my first victory this year, although the competition in Holland is very strong. I can't wait to see the new season to begin, specially the EC –A in Turkey as main event. My new school gave me free off already for that. I will race my Heemstede clubraces, as well as the Dutch championships as well, and practise as much as I can. Greetings to all Serpent drivers and good luck this year.
Source: Serpent [serpent.com]
Friday, March 6, 2015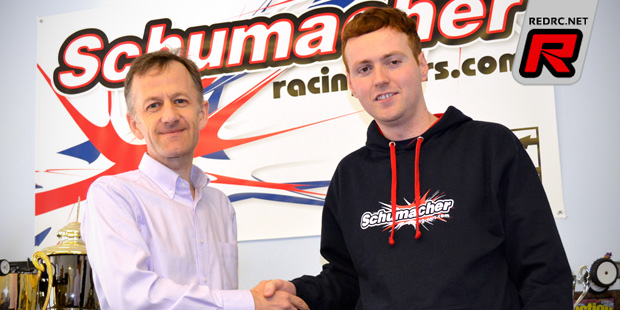 Schumacher Racing welcome Andy Murray to their Engineering Department. Andy is an experienced and accomplished RC racer, having made BRCA national A-finals in 1/10th Touring, 1/12th, and GT12 classes. Andy will be contributing to the design and development of Schumacher products, and will be providing customer support and technical assistance at races.
Source: Schumacher [racing-cars.com]
Friday, March 6, 2015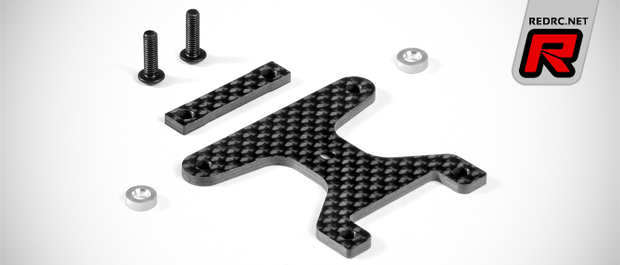 New from Xray comes a 2mm graphite front upper deck for the XB4 buggy. The CNC-machined part is recommended when running the previously released 3mm aluminium chassis and the standard long front upper deck is not used. Included with the deck comes mounting hardware and an additional carbon fibre brace.
Source: Xray [teamxray.com]
Friday, March 6, 2015
For the 3rd consecutive year, the Storm Team organised what is considered one of the biggest and most fun 1/10th off-road events in France. Around 130 drivers attended the event for both 4WD and 2WD classes. In the 4WD class Renaud Savoya came out successful in front of Arnaud Vialle and Cham Dassanayake after taking the TQ position.
Click here to continue reading
Friday, March 6, 2015