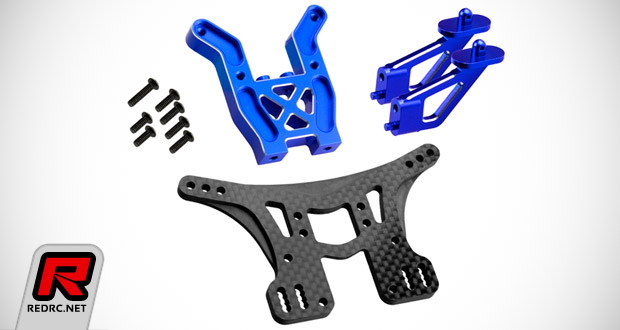 Made for the Centro C4.2 converted Team Associated B4.2 buggies is this rear suspension kit from JConcepts. The set targets 3 key areas where the C4.2 could do with improvements. In stock trim the C4.2 includes a moulded rear bulkhead which is highly flexible and a target to damage in severe crashes. The JConcepts suspension kit includes an all CNC machined aluminium version which has been trimmed, narrowing the stance allowing more room for narrow rear pivot camber link adjustments. The bulkhead is available in blue or black colour and has silver chamfered edges around the border and inner cut-outs. The tucked design, trimmed shape and pocketing give the racer an extremely durable yet light-weight piece.
Click here to continue reading
Thursday, December 5, 2013 - add a comment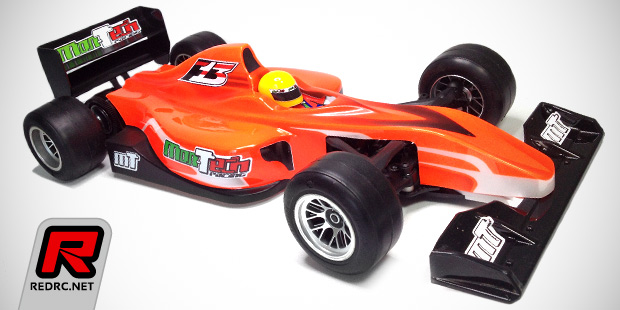 Mon-Tech Racing introduce their latest formula 1 bodyshell, called the F13. Moulded in 0.75mm high quality polycarbonate the 1-piece body comes including a driver helmet, rear diffuser and decal sheet and it is made to fit most of today's F1 chassis.
Source: Mon-Tech [mon-techracing.net]
Thursday, December 5, 2013 - add a comment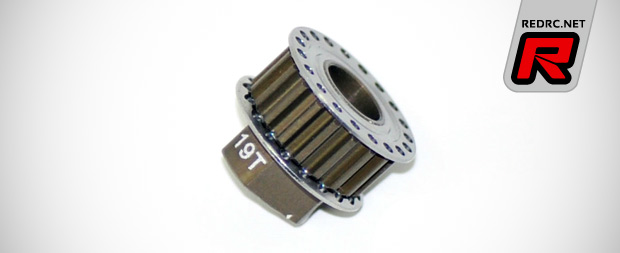 New from Serpent comes a variety of aluminium belt pulleys for the Viper 977. Available are 19T and 21T layshaft, 18T and 25T middle, 28T front and 48T rear pulleys as well as 19T and 21T lightweight pulley adapters. All parts are CNC-machined from high-quality aluminium with the side pulley shims offering openings to let dust and debris escape the pulley and belt area for improved durability and efficiency.
Click here to view the other new parts
Thursday, December 5, 2013 - add a comment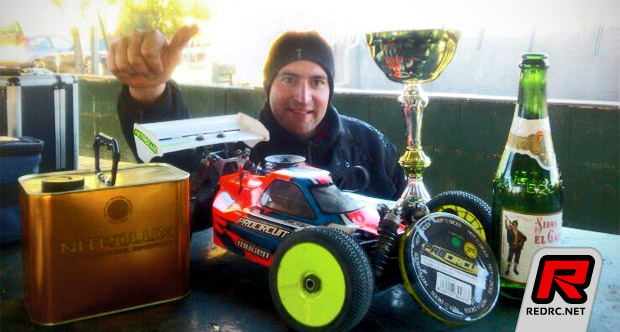 Javi Pombo (Mugen) has won the last round of the Madrid regional championship held last weekend. Javi competed and won against Spanish aces like Dani Vega, Alberto García or Daniel Pariente and the victory also handed him the overall title and marks the culmination of a season that started up in Montpellier where he supremely run the final, and ended up with this regional victory and 6th overall at the Spanish National Championship.
Source: Modelix Racing [modelixracing.com]
Thursday, December 5, 2013 - add a comment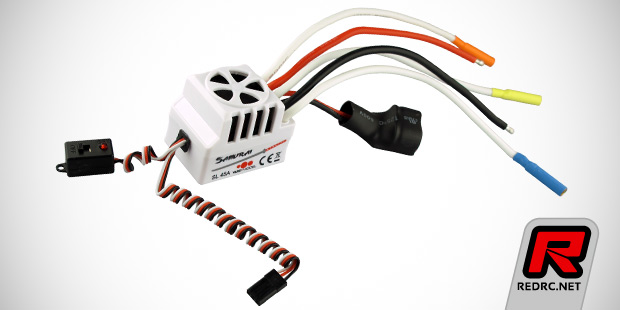 New from CN Development & Media comes the sensorless Samurai 1/10 BL/SL 45A brushless speed controller. Measuring 45x32x37mm the 2S to 3S LiPo compatible ESC features a 2A/6V switched BEC system, splash waterproof protection and it comes pre-soldered with 4mm gold-plated connectors for the motor. The controller is available separately or as combo set including a 3450kv motor and programming card.
Click here to view the combo set
Thursday, December 5, 2013 - add a comment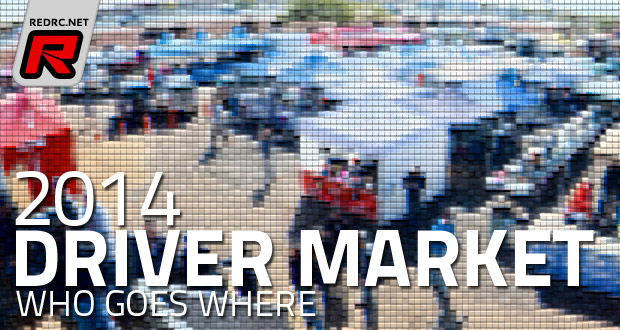 With the annual driver market 'Silly Season' about to kick off, we decided to set out what we know and what we've heard, mixing a bit of fact with rumour regarding the top drivers in Offroad and Onroad. One thing we have heard is that deals are harder to come by this season and that most drivers will be better off holding on to their current deal if they can in what is a tough market with very few big name moves. We will update this section as we get more information along with confirmations from the teams and drivers. UPDATED December 5th
Thursday, December 5, 2013 - 13 comments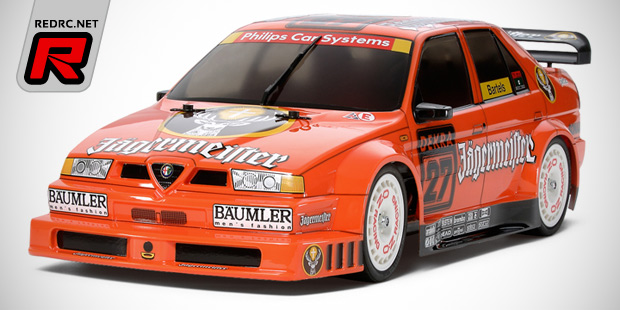 Tamiya introduce two new kits based on their TT-02 entry-level 4WD touring car. First up is the Alfa Romeo 155 V6 TI, the kit resembles the Jägermeister car that was run in the 1994 German Touring Car Championship. The kit builds on a plastic tub chassis with 4WD shaft transmission, gear differentials and in-line motor position. The highly detailed body comes with a separate rear wing and a large decal sheet while the wheels are OZ replicas with grippy slick tyres. The second new kit is the TT-02D drift chassis. It builds on the standard TT-02 and includes ball bearings, a special battery hold-down, aluminium motor heatsink, oil-filled shock absorbers and drift-spec tyres and wheels. Coming without a bodyshell nearly all 190mm and 200mm bodies should fit. Both cars will become available beginning of 2014.
Click here to view the drift chassis
Thursday, December 5, 2013 - add a comment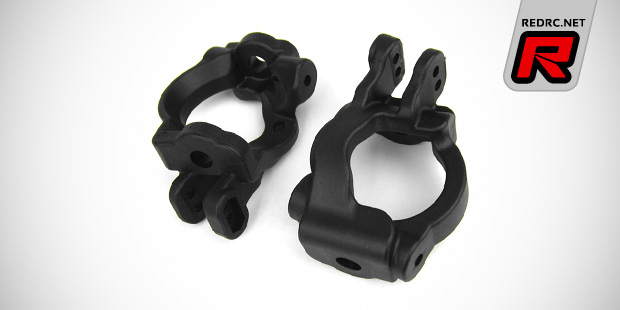 Tekno RC have new option parts for the EB48 electric and NB48 nitro buggy available in the form of 15 degree castor spindle carriers and a clutch tuning set. Starting with the carriers, the 15 degree parts are ideal for bumpy or blown out tracks. They provide more stability in low-bite conditions and make the vehicle easier to drive. Constructed of durable composite material, they are a direct upgrade for the EB48 and EB48.2 electric 1/8th scale buggies and come stock on the NB48, NT48, and ET48 vehicles. Combined with the chassis kick up and ability to adjust that angle with the front inner hinge pin inserts, the total caster on the vehicles can be set from 25 to 27 degree in 0.5 degrees increments.
Click here to continue reading
Thursday, December 5, 2013 - add a comment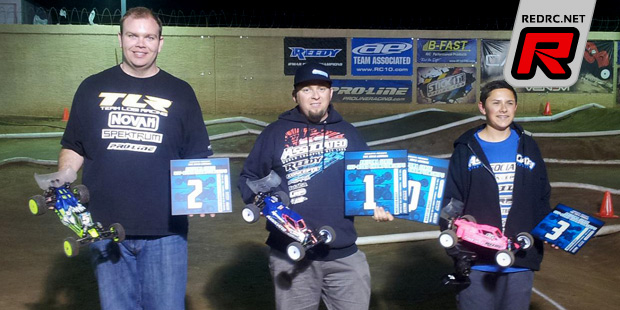 In what was the final Arizona State Championship at the Scottsdale location of Hobbytown/SRS, Team Associated/Reedy driver Ryan Maifield once again stamped his legacy on the event by claiming the top two titles in the state. With 28 years of heritage, the "States" have always been a staple of racing in Arizona and Ryan has been a part of the event since he was six years old, some 21 years ago. With a unique one-day event for each electric and gas, Maifield took the TQ and win of 2WD Modified Buggy on Saturday with his Centro-converted B4.2. Facing ever-changing track conditions, Maifield won A1 and A2 convincingly ahead of Billy Fischer and Tommy Hinz.
Click here to continue reading
Thursday, December 5, 2013 - add a comment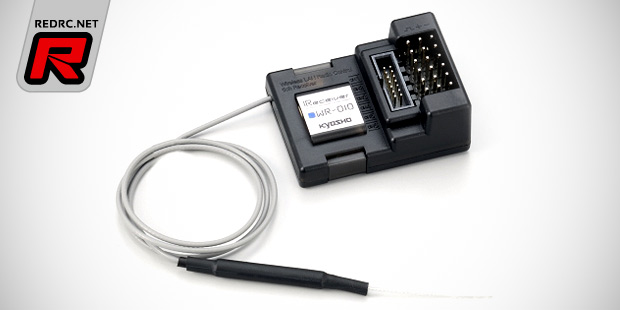 Kyosho introduce the iReceiver wireless LAN radio control system. Making use of a special receiver that replaces the vehicle's standard unit the system allows to control cars, boats and planes via iOS or Android smartphone, tablet and PDA. Up to 6 channels can be controlled and in addition, a micro-camera unit is also available to fit onto your model to capture the action to view on your smartphone in real time creating the feeling of actually driving the car. The data can even be recorded and saved plus a variety of setting features are available including slowing the speed down for easier control, lap time measurement, timer and failsafe functions.
Click here to view the features and a video of the system in action
Thursday, December 5, 2013 - add a comment