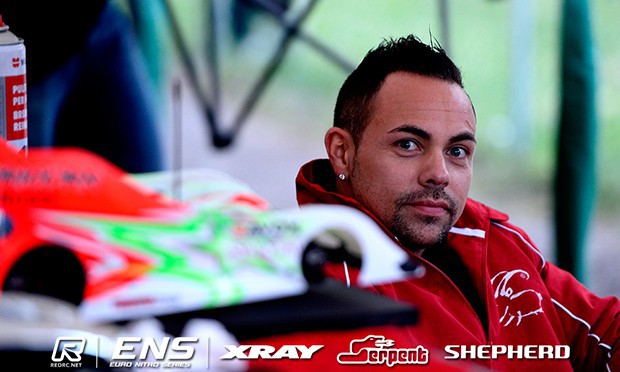 Dario Balestri made it two from two on the opening day of the Euro Nitro Series in Bologna when the Capricorn driver overcame difficult conditions to top a late run Q2 from WRC's Andrea Pirani and the Shepherd of defending champion Simon Kurzbuch.   With rain effecting what was orginally planned to be a day of practice and with more rain forecast for tomorrow, championship organisers were forced to run two qualifiers at the L.Collari RC Raceway but with light fading fast the top heat of 1:8 drivers found themselves running in the dark with only the front side of the track having lighting.  Such was the low light that although 3rd fastest in the top group Francesco Tironi would end up only 8th fastest overall while Robert Pietsch and Lamberto Collari found themselves outside the Top 10 as they struggled with visibility.
Continue reading this report here or view our full event coverage here.
Saturday, April 18, 2015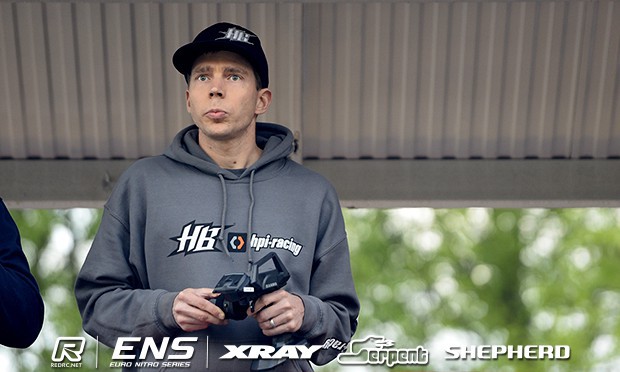 Having lost out on a TQ run after he was blocked by a backmarker on the final lap of the opening qualifier, Teemu Leino was able to run a clean Q2 at the Euro Nitro Series in Bologna to top the times from Bruno Coelho.  Finishing 1.2-seconds clear of the Xray driver, the result sees the HB driver end Day 1 of the season opener as the provisional overnight Top Qualifier as rain again looks set to affect proceedings tomorrow.  With the second qualifier resulting in a DNF for reigning champion Eric Dankel, it was British driver Joe Kerry who completed the Top 3 ahead of Q1 pace setter Alessio Mazzeo.
Continue reading this report here or view our full event coverage here.
Friday, April 17, 2015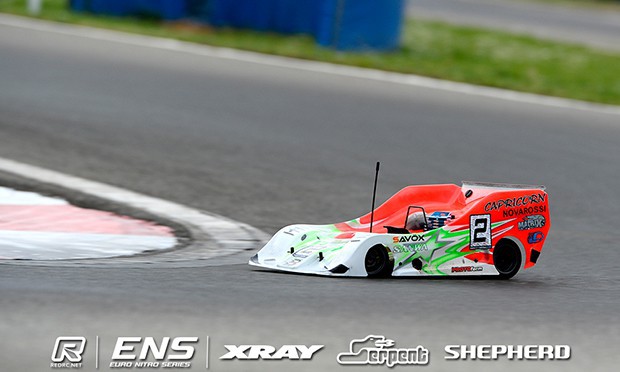 Making the switch to 1:8 for this season's Euro Nitro Series, a number of key drivers changing over as it is a 1:8 World Championship year, Dario Balestri has topped the opening round of qualifying at L.Collari RC Raceway. Racing at the home track of Lamberto Collari, the 2014 ENS 200mm race winner TQ'd the first qualifier of a rain affected day by 0.360 of a second from the 9-time World Champion with WRC's Andrea Pirani completing the Top 3.  For last year's title protagonists Simon Kurzbuch and Robert Pietsch the round would see them both have engine issues.  For Pietsch a flame out on his out lap cost the Mugen driver a run while Kurzbuch's engine would run out of fuel on the last lap however such was the champions pace he managed to get the 6th fastest time.
Continue reading this report here or view our full event coverage here.
Friday, April 17, 2015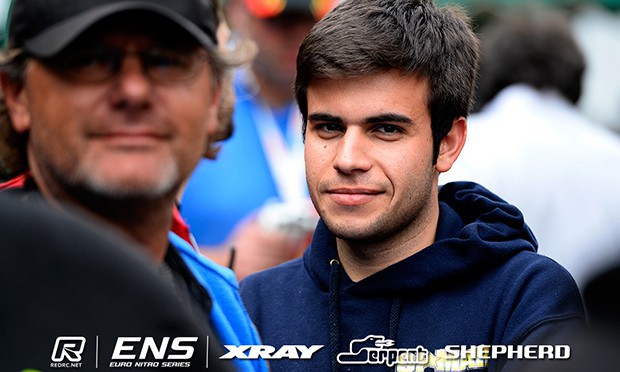 2013 European Champion Alessio Mazzeo has TQ'd the opening round of 200mm qualifying at the Euro Nitro Series season opener in Bologna, Italy.  With rain affecting the schedule for the first official day of the event, when qualifying did get underway on a dry track it was the championship debutant who put his Serpent at the top of the times.  Just 0.185 behind, last year's Round 1 Top Qualifier Teemu Leino would post the second fastest time with the Top 3 being completed by Mazzeo's Serpent team-mate Dominic Greiner.  It was a poor start to qualifying for reigning Champion Eric Dankel and World Champion Alexander Hagberg as they managed only the 9th and 19th fastest times respectively.
Continue reading this report here or view our full event coverage here.
Friday, April 17, 2015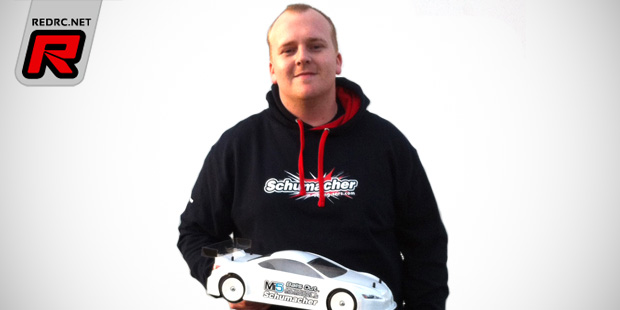 Schumacher have announced that regular BRCA and Schumacher BTCC front runner James Hart has joined the team. James will compete in the BRCA Pro Stock Championship this year and Schumacher would like to welcome him to the team and wish him the best for the season.
Source: Schumacher [racing-cars.com]
Friday, April 17, 2015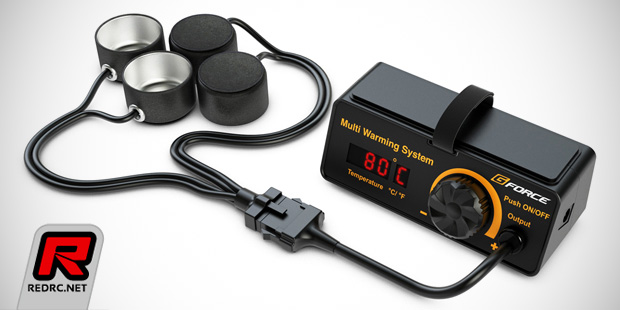 Japanese company GForce introduce the Multi Warming System for Mini-Z-sized mini and micro cars. The system consists of a compact main unit with LC display and a dial for the menu operation and it is powered by 11 to 18VDC input. The included set of alloy cups for the tyres offers individual temperature sensors and 26.4mm reducers to adapt the system to a range of tyre diameters. The unit offers a temperature range of 20°C up to 100°C (68°F-212°F) and a 30 minute safety timer prevents the tyres from becoming cooked.
Click here to view another photo
Friday, April 17, 2015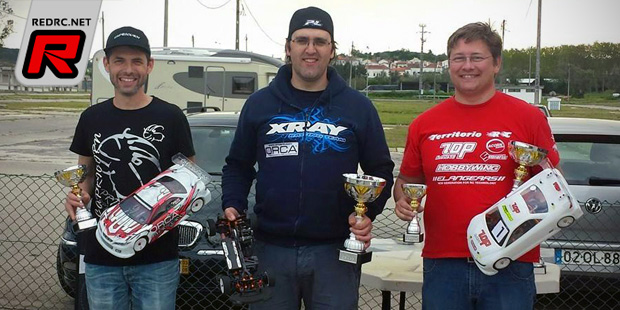 The first round of the Portuguese Touring Car Nationals was held at the track of Maiorca close to Figueira da Foz in the North of Portugal. The weekend started on a pretty green track but once racing got underway the grip came up making for good racing conditions. At the end Jorge Simoes took the win with his Xray in front of TOP driver Jose Figueiredo and Helder Silva (Capricorn).
Click here to view the final result
Friday, April 17, 2015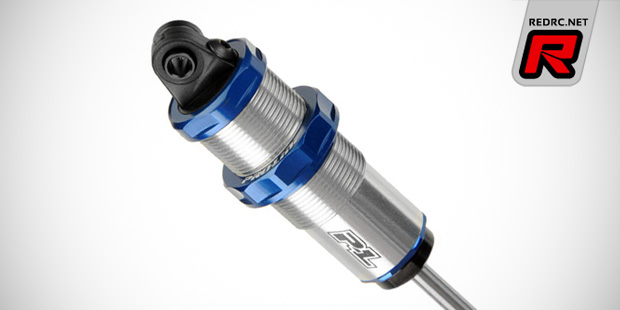 Pro-Line have introduced 1/10th buggy versions of their Pro-Spec high-performance shock absorbers. Previously only available for 1/10th short course trucks the shock Pro-Spec dampers now also come for today's most popular buggies. They are of a 12mm Big Bore design with a single low friction X-ring seal while the pistons and shaft guides are made from smooth white Delrin for low stiction. The threaded aluminium bodies house 3.5mm thick shock shafts with hard chrome coating, just like full scale racing shocks. The shocks also feature an easy access bleeder cap screw for consistent shock builds every time and each pair includes three different piston options of 1.4, 1.6 and 1.8 sizes as well as a blank piston for drilling to a custom size. Custom shock tightening tools and optional shock limiters are also included. The dampers accept most 12mm big bore buggy springs and included are also several upper and lower shock pivot balls as well as optional +2, +4 and +6mm spring perches to fit a wider range of vehicles right out of the box. Coming as separate front and rear sets the shocks are known to fit the Team Associated B5, B5M and B44.3, the Kyosho RB6 and ZX-6, the TLR 22 2.0 and 22-4 as well as the Yokomo B-Max2 and B-Max4.
Click here to view more photos
Friday, April 17, 2015