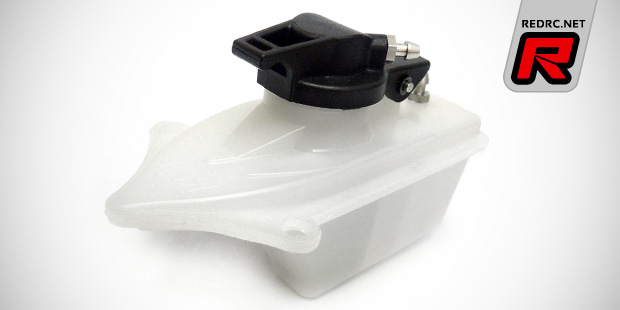 KM have a new option part for the H-K1 Evo3 200mm nitro on-road car available in the form of this fuel tank. It offers a stronger spring for the cap, a new internal fuel filter and a reinforced tank body and cap mount. Also new is a cap pivot pin that now sports an E-clip support. The tank is a direct replacement for the stock part.
Source: KM [km-rc.com]
Wednesday, July 30, 2014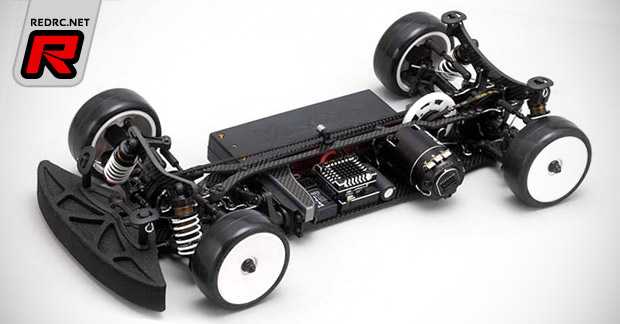 Yokomo Europe introduce the limited edition BD7-2014 ETS Champion kit. Based on the standard Black Edition BD7-2014, the kit is issued to celebrate the 4th back-to-back Euro Touring Series title and it comes with a load of option parts such as C-clip front double joint driveshafts, rear aluminium 44mm dog bones, a graphite front body mount support, a special black colour aluminium servo mount, a titanium-coated main gear shaft, a super-precision bearing set, aluminium belt tension adjustment cams and hard-coated self-lubricating shock ball ends. The kit, that is limited to 25 pieces, is rounded out by a titanium turnbuckle set, a luxury packaging and a transportation bag, both of which are marked with a serial number. The kit will become available from beginning of August. Please note that above image shows the standard edition car.
Source: Yokomo Europe [teamyokomo.eu]
Wednesday, July 30, 2014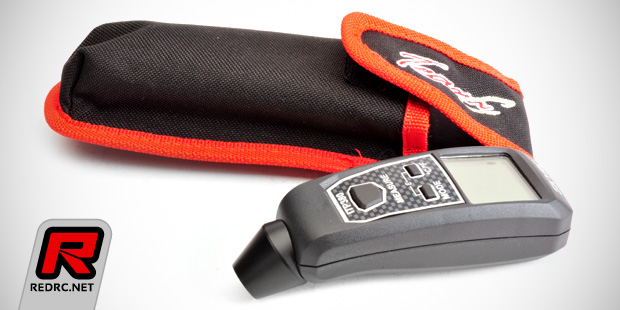 Team C now have an infrared temperature gun available. The device offers a large LC display and a specially shaped sensor head that helps to insert the gun into the engine's cooling head for precise temperature measurement in the glow plug area. While being of good use for nitro racers, the gun also comes in handy to control the temperature of electric motors and speed controllers as well as tyres and electric equipment. The gun comes with a handy Team C branded transportation bag.
Source: Team C [teamcracing.net]
Wednesday, July 30, 2014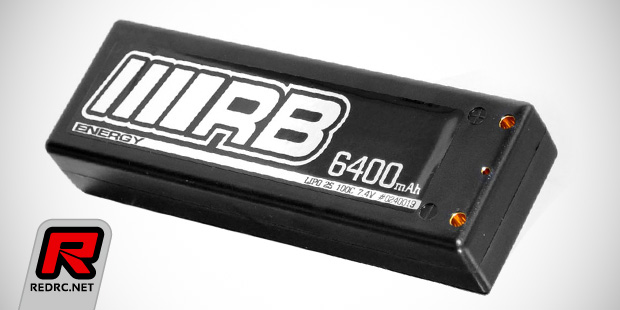 RB have two new Energy range high-performance hardcase LiPo battery packs available in the form of a 2S and a 4S pack. Both are made from 6400mAh cells with 100C discharge rating and they come in plain black cased with chrome RB stickers. The 2S pack measures 138x46x25mm and is equipped with 4mm connector tubes while the 4S pack measures 137x46x49mm. The latter is ideal for 1/8th applications and comes pre-wires with a balancer connector and a high-currrent Deans-type T-plug.
Click here to view the 14.8V battery
Wednesday, July 30, 2014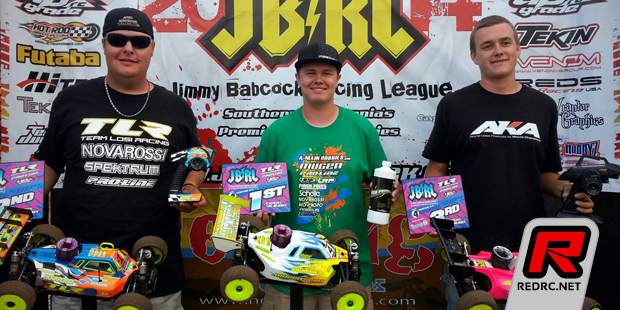 The 4th round of this year's Jimmy Babcock Racing League Nitro Series was held at Heritage R/C Park in Chula Vista. While Ryan Cavalieri (Team Associated) came out successful in the supporting 1/8th E-Buggy class, Drew Moller (Mugen), Adam Drake (TLR) and Cody Smith (TLR) formed the Expert Nitro Buggy podium.
Click here to continue reading
Tuesday, July 29, 2014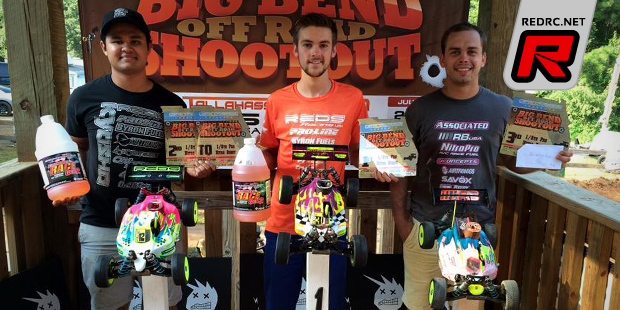 The 2nd Annual Big Bend Off-Road Shootout was held at the Capital City Raceway in Tallahassee. Reds Racing team drivers Eduardo Cordoba and Cole Ogden dominated both the Nitro Buggy and the Nitro Truggy classes. While Eduardo came out successful in the Truggy class and came in 2nd in Buggy his team mate Ogden took the win in Nitro Buggy and the runner-up spot in Truggy.
Click here to view the truggy podium
Tuesday, July 29, 2014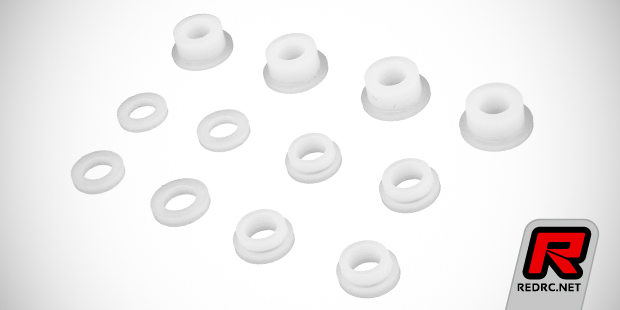 Tekno introduce a CNC-machined shock cartridge set for the dampers of their 1/8th and 1/10th vehicles such as the EB48 and NB48 buggy and the SCT410 short course truck. They are a direct replacement for the stock guides on all Tekno RC vehicles and will reduce drag on the shock shaft and improve suspension efficiency in all conditions, resulting in improved handling.  They are also more durable than the stock parts and one package will cover a full set of four shocks.
Source: Tekno [teknorc.com]
Tuesday, July 29, 2014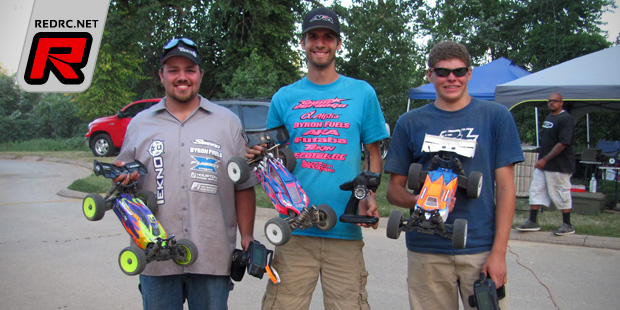 During last weekend's O.S./Futaba Challenge in St. Louis, MO Ryan Lutz dominated qualifying in the 1/8 E-Buggy class by taking the overall TQ place. Ryan was then able to win the first two legs of the prestigious A-main finals, claiming the top spot well before proceedings had concluded for the rest of the field. Carter Flotron finished the race on the runner-up spot while Eric Fletcher completed the podium in 3rd.
Source: Team Durango [team-durango.com] | Image: Futaba [futaba-rc.com]
Tuesday, July 29, 2014