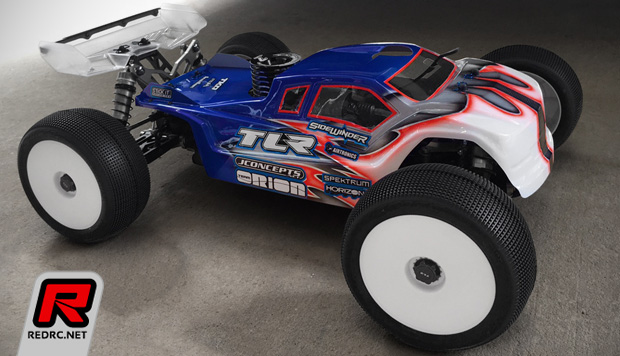 During this weekend's AMS 6.0 in Alabama JConcepts are debuting a brand-new 1/8th truggy bodyshell. Prototyped for the TLR 8ight-T 3.0 and driven by TLR/JConcept's Ryan Maifield the body is set for a release shortly after the ROAR 1/8th Nationals and it will be available for TLR and Mugen trucks.
Click here to view another photo
Saturday, May 30, 2015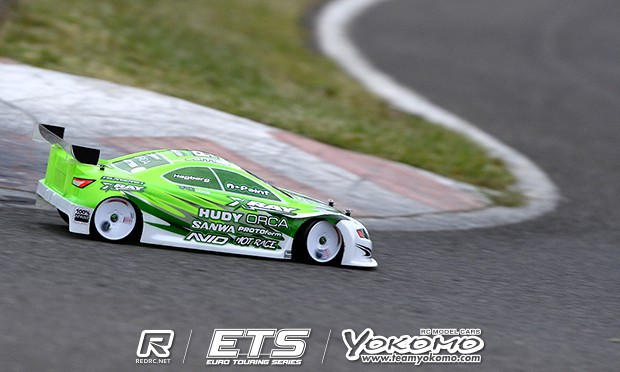 Alexander Hagberg has topped a very cold opening round of qualifying at Round 5 of the Yokomo Euro Touring Series in Luxembourg.  A day which was effected by rain, the Xray driver topped the late qualifier from Yokomo's Ronald Volker and Tamiya's Marc Rheinard, the three covered by 2/10ths of a second.  With track conditions dry but extremely cold for the first of the weekend's four scheduled qualifiers it was Hagberg's team-mate Bruno Coelho who set the early TQ pace.  Starting second behind top seed Volker, the Portuguese driver would catch the German but on passing him would clip the curbing and put his car on its roof.  Continuing for one more lap once marshalled the always spectacular driver would then opt to pull off to save his tyres having lost almost 3-seconds due to his mistake.
Continue reading this report here or our full event coverage here.
Friday, May 29, 2015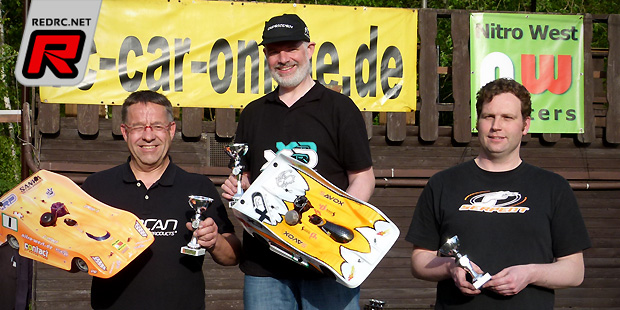 A record of 71 entries had been received for the season opener of the 2015 Nitro-West-Masters (NWM). The seventh season of this growing championship for 1/8th and 1/10th nitro on-road cars in Western Germany and the Netherlands kicked-off at the legendary 234-meter track in downtown Oberhausen. Following an intensive practice on Saturday and exciting racing on a sunny Sunday, finally Christian Wurst in the 1/8th Open class, René Puepke in 1/10th Open, Christian Roenicke in the 1/8th Stock class and Florian Trapp in 1/10th Stock were awarded as the first winners of the 2015 season with Capricorn taking away three of four victories with Shepherd grabbing the last one.
Click here to continue reading the report
Friday, May 29, 2015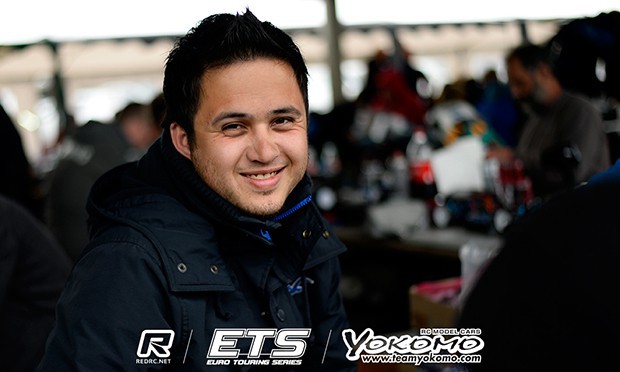 Rain haulted proceedings at Round 5 of the Yokomo Euro Touring Series in Luxembourg just as controlled practice was due to get underway at Mini Circuit "Ville de Luxembourg".  Having started off a dry day, allowing two rounds of free practice to be completed, the heavy rain left race organisers with no choice but to stop the event with the free practice times now expected to determine the reseeding of the qualifying heats. The free practice times would produce no surprises with last year's race winner Ronald Volker fastest from team-mate Yannic Prumper.  Behind them Xray's Bruno Coelho completed the Top 3 in front of Marc Rheinard.
Continue reading this report here or our full event coverage here.
Friday, May 29, 2015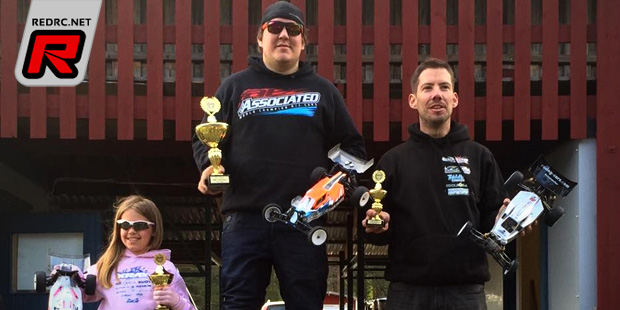 The opening round of the Swedish 1/10th Off-road Nationals was held in Söderhamn on a challenging and pretty low-grip astroturf track. The 2WD class saw some nice battles for the win between Niclas Maansson and young Malin Karlsen with Niclas coming out successful in the opening A-main while Malin was able to strike back in A2 following some small errors of Niclas. For the third and decisive A-main Malin was in a better position as she had scored a 1st and 2nd place while Niclas had a 1st and 3rd place to count. After the start both were running like a freight train until Niclas made a small mistake allowing Malin to get past and open up a small gap. But after having a few small bobbles of her own Niclas was able to catch up on Malin in the very last lap, taking a chance and jumping long on the table top in the winds to just barely put his front end ahead of Malin. Crossing the line both were just 1/10th of a second apart with Niclas coming in 1st.
Click here to continue reading the report
Friday, May 29, 2015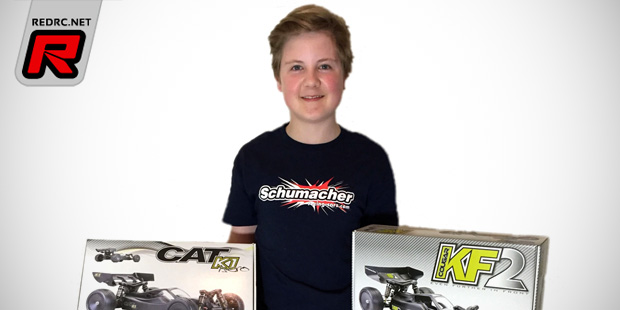 Schumacher welcome young up and coming Finnish star Max Mort to their team. Max will be competing in many regional and national races in Finland as well as select international races such as the EOS events. This is what Max has to say:
I am happy to start driving with Schumacher Off Road cars for 2015-2016 season. I was given an opportunity to drive with factory support with really competitive cars on carpet and I couldn't have said "no". I am really looking forward to the EOS season and Finnish races and I hope that we can have a great year together.
Source: Schumacher [racing-cars.com]
Friday, May 29, 2015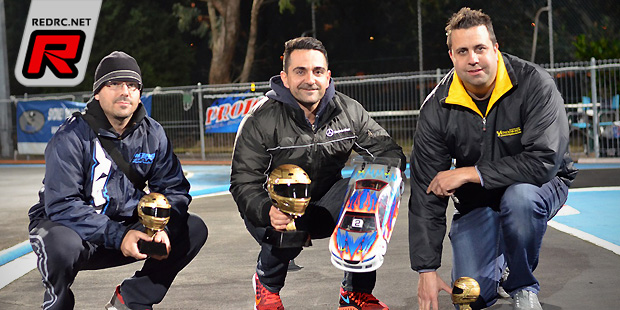 The recent 2015 Muchmore Masters took place last at Sydney Model Autosports with this year's racing format was a 1 day event with finals completed under lights in the evening. The classes contended were Touring Car Stock 13.5T, 21.5T, Formula and 1/12th scale. After drying off the track due to overnight rain practice and qualification rounds kicked off just before lunch time. After the four qualifications rounds and some very close racing Christian Silva and Damien Zarb were at the front of the Touring Car Stock field in position 1 and 2.
Click here to continue reading the report
Friday, May 29, 2015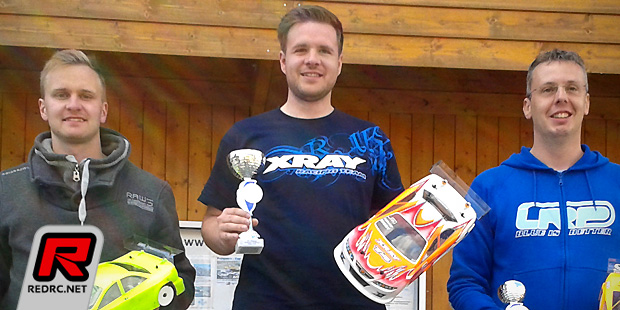 The 2nd outdoor round the the East German division LRP-HPI-Challenge was held at the MRC raceway in Hoeckendorf near Dresden, host of the 2011 German championships. In the fastest of the Stock classes, run with 10,5T brushless motors, zero boost controllers and open gear ratio Fabian Ehrhardt took the overall TQ by winning two out of three qualifying heats. The opening A-main then was an easy affair for TQ-holder as Fabian won the leg some 8 seconds ahead of Tony Streit. The second A-main then saw a close battle between Tony Streit and Fabian but Tony took benefit of a small mistake to grab the win in the second A-main too. A-main number three then again had Fabian coming out successful to underline his good performance this weekend.
Click here to view the top5 result
Friday, May 29, 2015