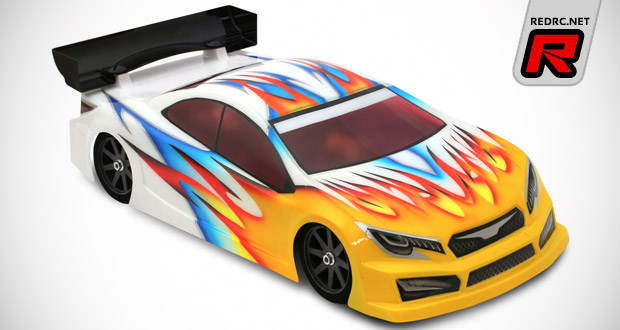 Team Titan have released their all new Blitz WRX 2.0, designed to fit 200mm Nitro Touring cars. This new body provides balanced handling together with quick steering on slow tight corners and lots of stability in big sweeping corners. The body includes an adjustable wing and light weight plastic screw set and comes with high quality window mask and decals. Available in standard 1.0mm version and lightweight 0.8mm version.
View more images of the WRX 2.0 here
Thursday, May 23, 2013 - add a comment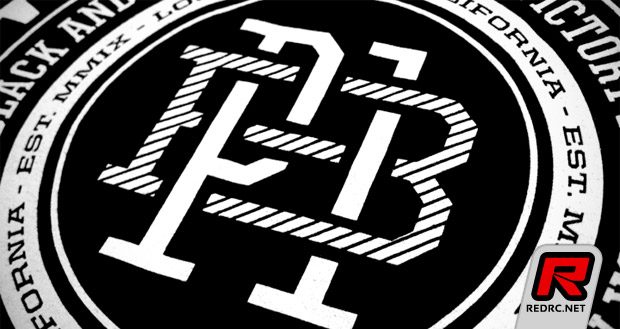 P1 Brand have released another awesome RC lifestyle shirt, called Monogram. 'Solid as an organized labor union and united as an assembly line, this Tee is inspired by the mechanized landscape of industrial fabrication. Showcased by an interlocking, alphanumeric monogram, the P1 Brand motto, "Victory is Black and White", is called out alongside their year of establishment, 2009, and hometown, Los Angeles, California.' Designed and screen printed in the USA the fabric is constructed of 100% preshrunk, 5.5oz. ringspun cotton. The custom, P1 Brand tagless design ensures superior comfort around the collar, while a woven P1 Brand label on the outside, lower hem, completes the look. Available as a black tee with white imprint or white tee and black imprint in adult sizes small-2XLarge.
View more images of the shirt here
Wednesday, May 22, 2013 - add a comment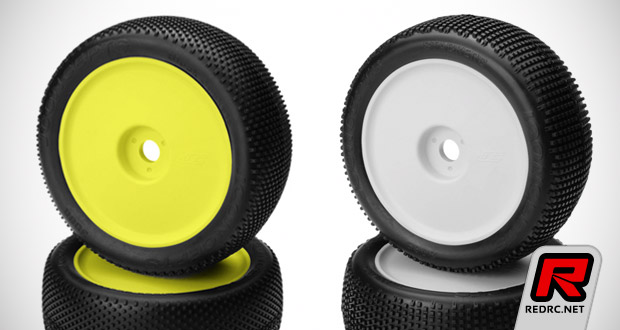 JConcepts have extended their pre-mounted truck line to include Black Jackets & Stackers. The Black Jackets, constructed from very small square pins, provide additional grip on loose conditions with a light amount of dust and debris across the surface. The tread spacing near the outside rows are slightly open allowing maximum flexibility to adhere to smooth and slick surfaces providing a reasonable flex contact patch. The Stackers reveal a heavy center lug design which are supported at the lower base with extra rib features and tiny fillets which provide a heavy forward gripping force. Directional slashes cut into the tread soften the lugs to absorb bumps and also increase the lug flexibility to accommodate loose conditions. Both are available in green compound on white or yellow Elevated wheels.
Source: JConcepts [jconcepts.net]
Wednesday, May 22, 2013 - add a comment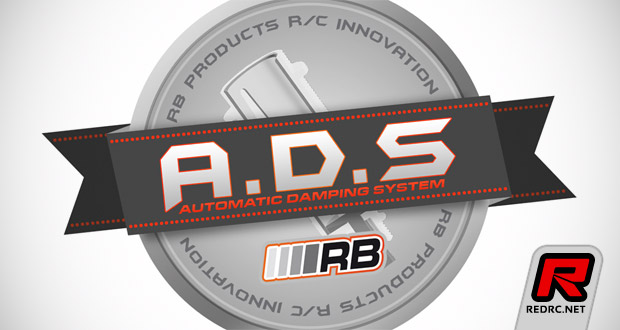 Developed in close collaboration with Italian company Fioroni for 2 years, RB have released a new innovative shock system which makes your shock absorber ultra progressive and with an automatic harder damping which has been the goal of racers for decades. Racers have tried pistons with balls, valves, conical holes, conical pistons, etc. but none ever seemed to work perfectly and also the construction into the small dimensions of an oil shock was also hard to make. So now there is the RB patented ADS (Automatic Damping System).
View more details and images here
Wednesday, May 22, 2013 - 2 comments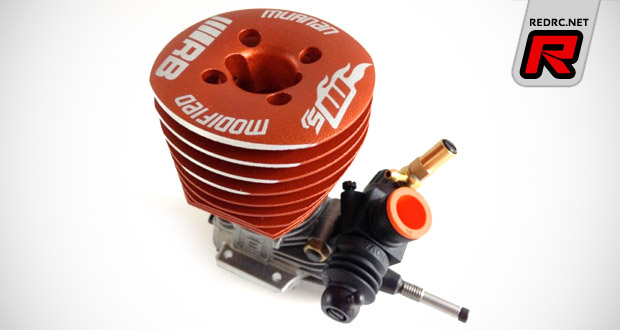 New from Muran comes the RBM5 which was designed for today's most demanding drivers who want exceptional power and fuel mileage together. The RBM5 delivers both and is a great engine to use for Buggy racing. The engine parts are all made in Italy, and are of the finest quality, while the engine is hand tuned by Murnan. The engine design allows for smooth controllable bottom end with a high top speed and has a very linear powerband, which is easy to drive. To top it off, the fuel mileage is exceptional.
Wednesday, May 22, 2013 - add a comment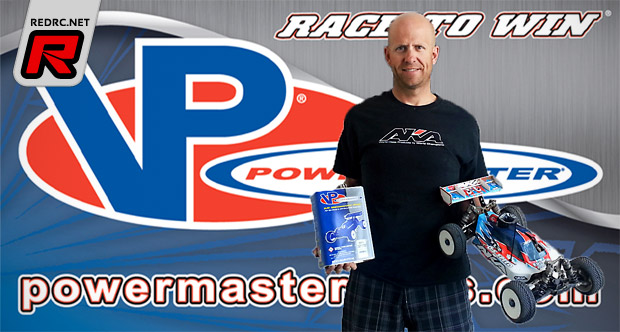 VP PowerMaster would like to welcome our new addition to the team, 2006 IFMAR Nitro Off-Road World Champion, Mark Pavidis. Mark is one of the most widely-known and accredited off-road racers in the R/C racing world. Mark's name is also synonymous with AKA Products, the championship winning tires and accessory company he co-founded with two other R/C legends, Joel Johnson and Gil Losi Jr. Mark knows a thing or two about R/C and what it takes to win at the highest levels of R/C nitro racing. He chose VP PowerMaster to give him solid performance and incredible fuel economy. In Mark's first race out on VP PowerMaster he brought home the TQ and win in the 1/8 Buggy Masters class at this year's 2013 Nitro Challenge race in Arizona and then did it all again at the 2013 Silver State Off-road Challenge in Vegas.
Source: VP [powermasterfuels.com]
Wednesday, May 22, 2013 - add a comment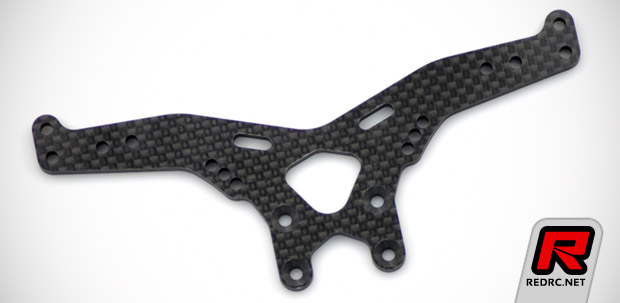 New for the 747, Serpent introduces lower front and rear carbon shock towers to be able to use the Serpent Super-Short shocks, which were originally made for the Eryx 411 TC car, and together help lower the car's center of gravity. The strong 3mm thick front shock tower has 3 options for shock angle with the middle and top used mostly and also has the center holes to mount the center front body mount. The 3mm thick rear low carbon shock tower also has 3 holes for shock angle, and features extra holes to mount the extra body support system with fine tuning options. The Serpent RCM Super-short shocks have the key advantage that you can use the same springs you already have.
View more images of the shock towers here
Wednesday, May 22, 2013 - add a comment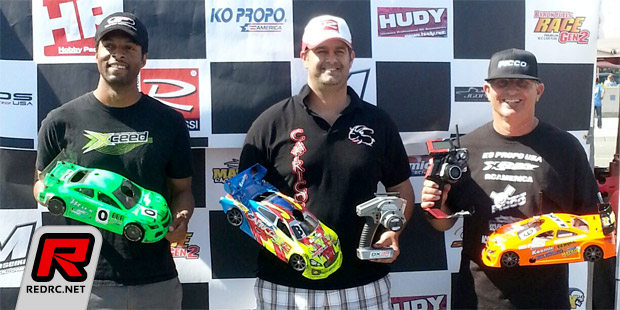 DJ Apolaro report from last weekend's Annual KO Grand Prix Race in California where there was a very good turn out with the Nationals being later this year at the same track. 'They must have had over 140 racers between all classes. Kenny Ives and myself showed up Friday morning like most of the out of towner's to practice and they also run 1 qualifier on Friday as well. My 1/8 scale felt really good from the start and my sedan was needing some work. With racers like Swauger, Burch, Paolo and others, it was a good time to see how our package compared and what we needed to improve. For sure the racers that make 5 minutes have a great advantage. In sedan I had no issues with run time, but with 1/8 scale the stars had to align to make this happen.
Continue reading the report here
Wednesday, May 22, 2013 - add a comment