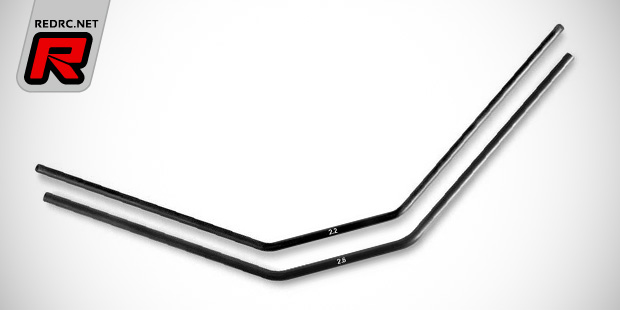 Xray have new optional front anti-roll bars for the XB8 buggy available. Adding to the standard 2.4mm wire are a softer 2.2mm and a firmer 2.6mm variant, all of which are made from heat-treated spring steel. Laser-etched size markings help with easy identification.
Source: Xray [teamxray.com]
Thursday, July 24, 2014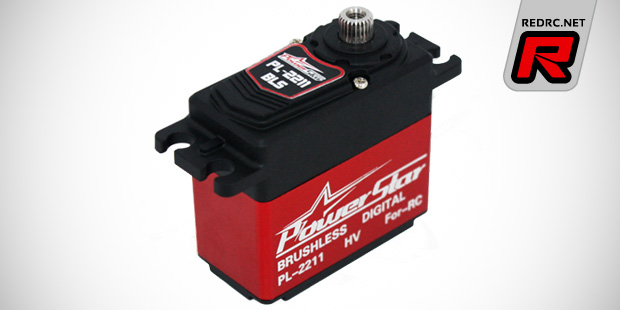 Power Star introduce three new high performance digital servos for high voltage applications. The PL-2211 (0.11s/22kg-cm), the PL-1610 (0.10s/16kg-cm) and the PL-1408 (0.083s/14kg-cm) all feature middle heatsink cases with upper and lower composite cases, mixed stainless steel and titanium gears as well as brushless motors. The HV-compatible standard size offerings work from 7.4V on and are usable with up to 8.4V input for even faster transit times and increased torque. All three are available in different colour variants including red, orange, light blue and blue.
Click here to view the other new servos
Thursday, July 24, 2014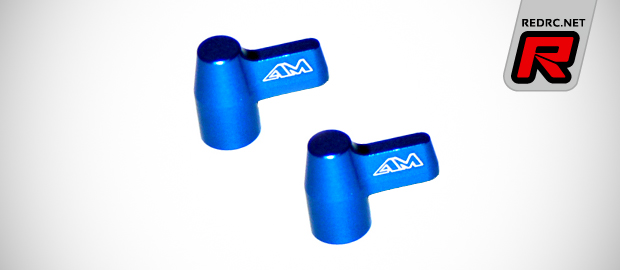 Arrowmax introduce an aluminium thumb nut set for the Yokomo B-Max2 buggy. Machined from 7075-T6 material and coming blue anodised the parts are made to replace the kit's plastic nuts with stronger and better looking parts.
Source: Arrowmax [arrowmax-rc.com]
Thursday, July 24, 2014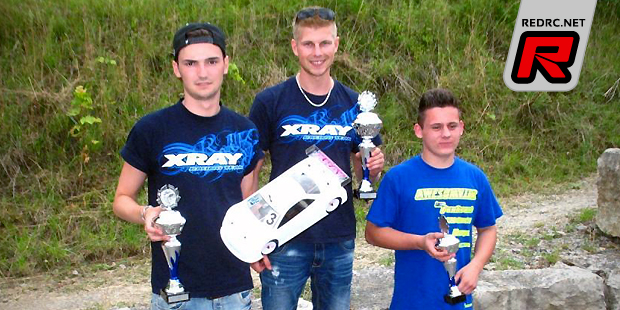 The 3rd round of the South German Electric Touring Car Championship took place in Marbach near Stuttgart on a small and highly demanding track. In the Modified class Marco Kaufmann was the dominant driver as he took all qualifying rounds, which handed him the overall TQ for the finals. He then made maximum use of his pole position by winning A1 and A2 for an early overall victory. The 3rd A-final was won by Marco's teammate Tim Wahl in front of Marco Buhmann. This also gave the overall top 3 result that saw Marco Kaufmann in front of Tim Wahl and Marco Buhmann.
Click here to continue reading
Thursday, July 24, 2014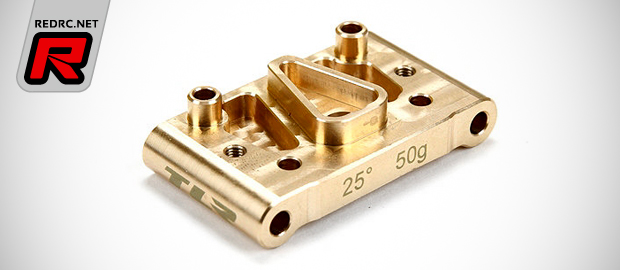 Team Losi Racing introduce this 25 degree front pivot block for the 22 2.0 buggy. Machined from heavy brass the block weighs 50g and it is ideal for those who wish to run a heavier front end on their vehicle. Coming in 25 degree castor configuration using the block will give slightly more corner entry steering compared to using a 30 degree block. It is understood that the front pivot block fits all 22 2.0 kits including the recently announced 22SCT 2.0.
Source: TLR [tlracing.com]
Thursday, July 24, 2014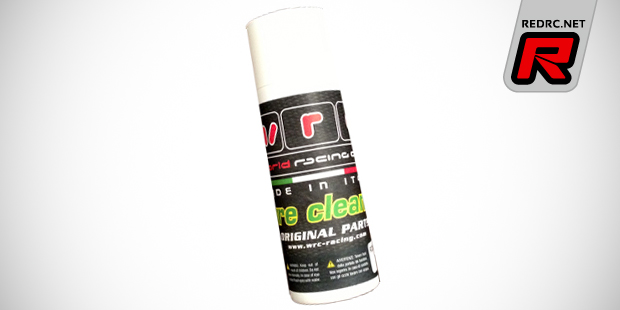 WRC introduce the Pre Additive tyre sauce, a chemical that is used on rubber tyres before applying the actual traction compound. Made to enhance the characteristics of the traction compound, Pre Additive is applied 3 to 4 minutes before the tyre additive and wiped away followed by the application of your favourite traction compound.
Source: WRC [wrc-racing.com]
Thursday, July 24, 2014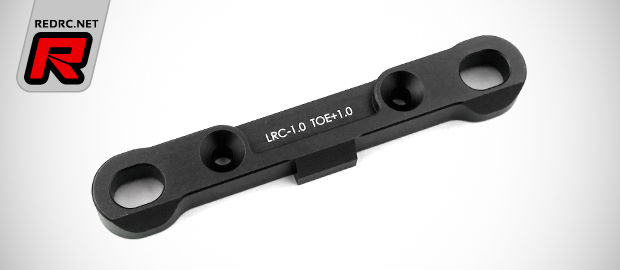 After extensive testing Tekno RC introduce this rear hinge pin brace in low roll centre configuration to improve traction and stability in all conditions. The new brace allows vehicles to square up better coming out of corners and provides easier on-off-power transitions and it is compatible with all of Tekno's 1/8th scale vehicles as well as the SCT410. CNC manufactured from 7075 aluminium and coming gun metal anodised the brace lowers the roll centre by 1.0mm and it gives an additional 1.0 degree of rear toe-in compared to the stock part for the option of running 2.5 to 4.5 degrees of rear toe-in.
Source: Tekno RC [teknorc.com]
Thursday, July 24, 2014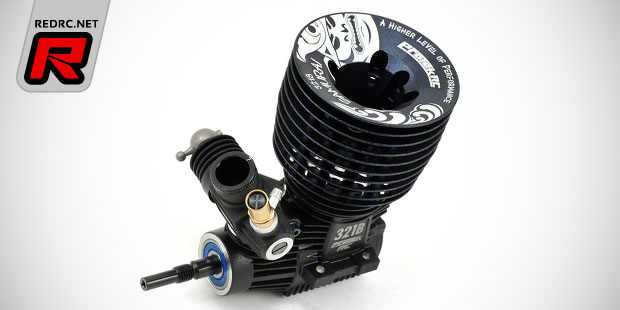 ProTek R/C's all-new 321B "Samurai" off-road 3-Port engine offers a short-stroke design, turbo head, rear ceramic bearing and an easy-to-tune carburettor with elliptical venturi insert. Other features include a black-coated crankcase and an ABC piston and cylinder. The handcrafted engine has been built by a world-renown Japanese engine manufacturer, to the specs of A Main's top pro drivers.
Click here to view the features, specifications and more photos
Wednesday, July 23, 2014