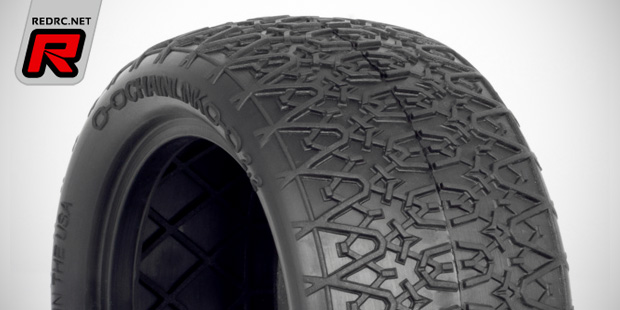 AKA's popular Chain Link tread is now also available in a 1/10th 2.2″ variant. The standard size rear tyre features a bi-level, interlocking tread pattern that creates support for the tyre's carcass and treads. This additional support leads to consistency through corners and provides on-throttle stability while offering a balanced forward drive and side bite which is ideal for hard-packed or blue groove, indoor and outdoor tracks. Available in clay, ultra soft, super soft, and soft compounds as tyres with red inserts.
Source: AKA [raceaka.com]
Wednesday, November 25, 2015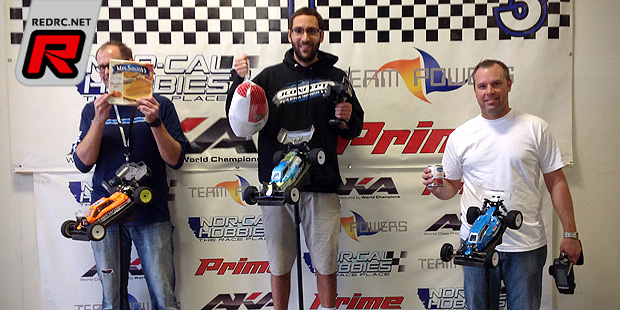 The 8th Annual Turkey Shootout was hosted by Norcal Hobbies in San Jose, California. Daniel Brown TQ'd three out of four rounds of qualifying, having a DNF in the final round. Despite the DNF, Daniel positioned himself as TQ in both the 2WD Modified Buggy and Modified Truck classes heading into the mains. In the 2WD main, Daniel got a great start and by the second lap he was able to break away from the field and dominate the main, maintaining a sizeable gap throughout. In Modified Stadium Truck Daniel got a good start as well but this time he was followed closely by local fast guy Peter Stein. At the half way point Daniel was able to break away from Stein and cruise to his second victory of the weekend.
View the Modified Truck podium here
Wednesday, November 25, 2015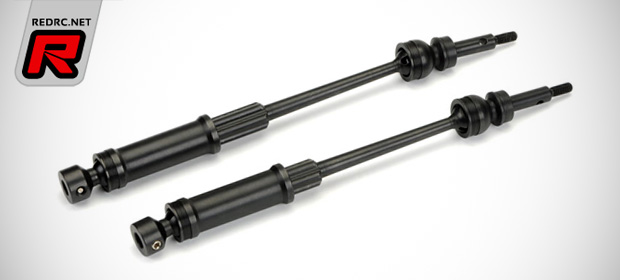 Coming from Pro-Line and made for the E-Revo and Summit are the pre-assembled Pro-Spline HD axles. Designed to fit both in the front and the rear the Pro-Spline HD technology debuted on the Pro-Line Pro-MT kit. The driveshafts are made from hardened black oxide coated steel and they feature a true 6-sided spline that slides smoothly throughout the suspension travel without having to worry about stripping out like the stock plastic drive shafts. The pins are held in place by fully surrounded steel springs and M3 set screws on both ends to handle extreme performance.
Wednesday, November 25, 2015
Available from Border Racing Products is a 1.5mm fibreglass T-bar for the Tamiya TRF102 formula car. Specially developed for medium to high-bite carpet tracks the part is cut from high-quality 1.5mm FRP material and a direct replacement for the standard T-bar, yet much stronger to overcome the breaking issues associated with the original part.
Source: The Border [the-border.com]
Wednesday, November 25, 2015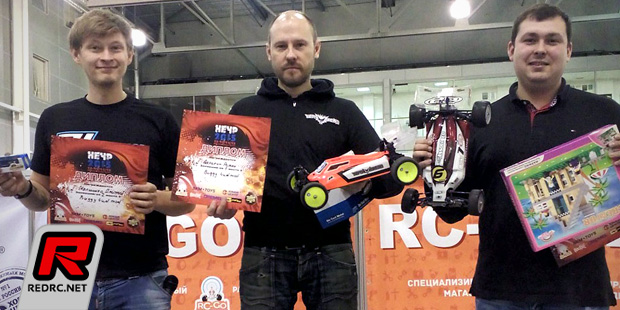 The Russian UN Championship was held at the Crocus Expo Exhibition Centre in Moscow. Considered to be one of the largest events in the country the race attracted over 120 drivers and in the 4WD class it was Roman Larkin who would take the TQ and with it the pole position for the A-main. Roman then went on to win A1 and A2 for an early overall victory over Dmitriy Malyshko in second and Stanislav Glebov in third.
Source: Xray [teamxray.com]
Wednesday, November 25, 2015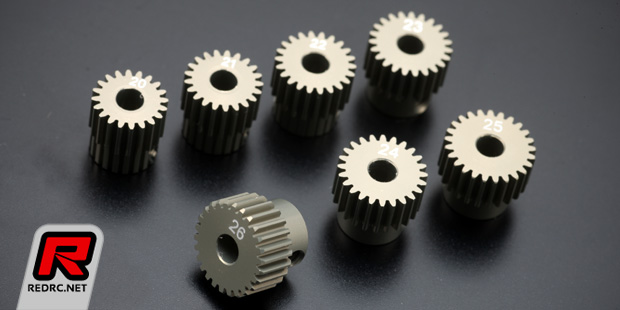 Yokomo have introduced the Racing Performer line of precision 64 pitch pinion gears. Cut from high-quality aluminium and featuring a special treatment to make for a hard-wearing yet low-friction surface the gears are available in a range from 20T to 26T, making them best ideal for Touring Modified and 1/12th scale cars.
Source: Yokomo [teamyokomo.com]
Wednesday, November 25, 2015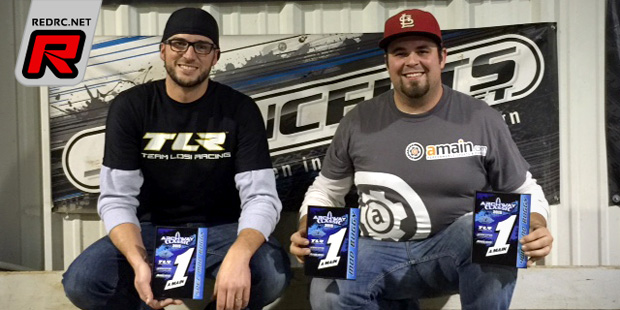 SmacTrac of St. Charles, Missouri was host to the inaugural running of the Archway Classic. A world-class facility, backed by its very fast group of local racers, meant this event would have some fierce competition and with over 150 entries from all around the Midwest, a win at this race would cement a driver as a true threat at any track around the country. In the 2WD Modified Buggy class Matt Gosch, coming from the 3 spot on the grid, would go on to take the A-Main victory after close battles with Jonathan Burkhalter and Chris Baumgartner. In 4WD Modified Buggy Matt struggled to come to grips, setting him up for a 5th place starting position for the single 5 minute A. Aggressive driving early in the race let Matt find his way to 2nd place behind Josh Wheeler, who made an uncharacteristic mistake late in the race to allow Matt by for another A-main win, and a clean sweep of the Archway Classic. Elsewhere in the JConcepts 2WD Spec Tire class, Ben Ellis would take the TQ and win.
Source: JConcepts [jconcepts.net]
Wednesday, November 25, 2015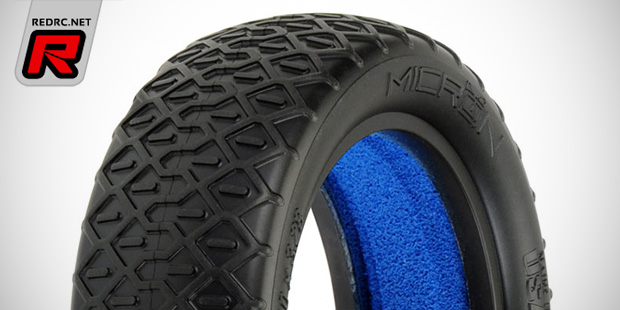 Pro-Line's Micron 1/10th buggy tyre is now also available as a 2WD and 4WD front variant. The Micron is the ideal complement to the Electron, giving racers a lower pin option when the track conditions require it. The tyres feature connected tread technology similar to the Electron with an emphasis on creating as many forward facing edges as possible for maximum forward grip. The unique centre tread zig zags back and forth for great forward bite and side bite while maintaining good wear. The tyres are available in super soft M4 and MC clay compound including blue closed cell inserts.
Wednesday, November 25, 2015