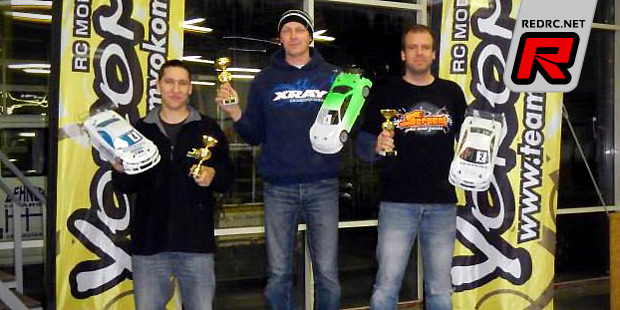 The 3nd round of the RCProf Speedpassion Challange was held in Budapest. In the 13.5T class János Birinyi took the overall TQ after winning the first and third qualifier. In the finals János made a clean sweep by winning all three legs although he had to fight in the second A as he made a setup change that did not suit the changing track conditions well. Finishing second behind the Xray driver was Péter Taál followed by Simon Ciudan. In the Modified class Barnabás Tóth took the win from Zsolt Kálnay, Christian Faur completed the podium.
Click here to view the Modified class podium
Friday, December 13, 2013 - add a comment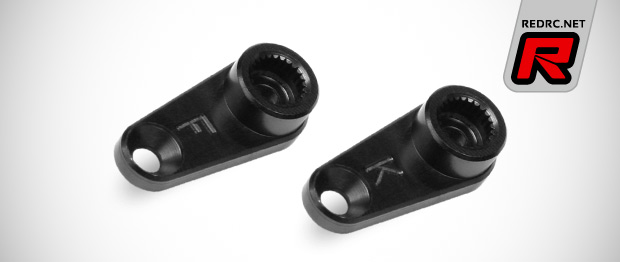 Shepherd have a new range of ultra-strong aluminium steering servo arms available. CNC-machined from high quality 7075-T6 black anodised aluminium they sport a 15mm hole spacing which results in a perfect fitting and steering geometry in the Velox V10 Pro kit. They are available with 23T and 25T spline.
Source: Shepherd [team-shepherd.com]
Friday, December 13, 2013 - add a comment
Schumacher announce the addition of top US racer Matt Olson to the team. Matt has a fantastic history of race wins in the US and is sure to be at the front of the field with his new cars. Matt is employed by MIP and Schumacher Racing will have some MIP option parts for their own cars in the near future. Matt had the following to say about the deal:
I would like to thank Schumacher Racing's Mark Musgrove and Robin Schumacher for the opportunity to be a part of their 2014 International team. And an extreme amount of thanks to my employer and main sponsor MIP for all the support and great products they provide me with at each and every event. Going into 2014 we plan to come out with many Schumacher drivetrain upgrades to help Schumacher customers Worldwide. I only hope to represent MIP, Schumacher, and the rest of my sponsors to the best of my abilities come 2014 and beyond. Thank you once again, and looking forward to a successful relationship.
Source: Schumacher [racing-cars.com]
Friday, December 13, 2013 - add a comment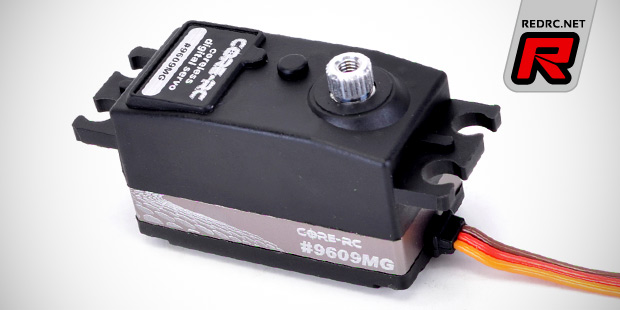 Specially made for 1/10th touring cars is this low-profile digital servo from Core RC. The servo features metal gears, a heatsink case and pulls 9.6kg-cm of torque at 0.09s. It includes a range of servo horns and mounting hardware and is ideal for crowed applications such as touring cars and also 2WD buggies.
Source: Schumacher [racing-cars.com]
Friday, December 13, 2013 - add a comment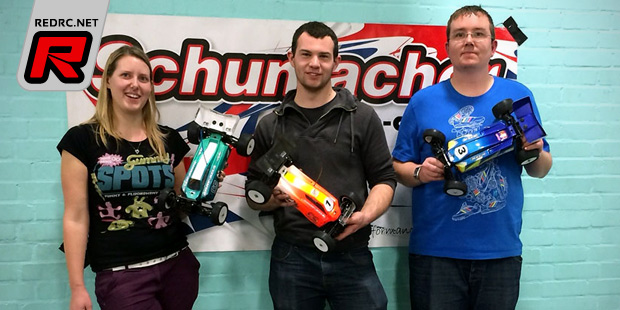 The third round of the Schumacher West Bridgeford Winter Series took place at the indoor carpet track located just outside of Nottingham. The format of the day was two 3 minute practice rounds in heats followed by four rounds of qualifying of which two count and at the end one final leg. In 4WD the top 4 cars all took a round of qualifying, with James Bullivant (Xray) taking TQ with a quicker time over Daniel Austin (Team Durango) in second, Mark Thornewill (Xray) in third and Abi Bullivant (Xray) in fourth. The final was a close affair at the start, a couple of small mistakes by the front runners allowed James to put the hammer down and drive away tone to tone. Behind James, Abi had taken up 2nd position to which she would hold followed by Marc and Daniel who had a close race towards the end.
Click here to view the top 6 result
Friday, December 13, 2013 - add a comment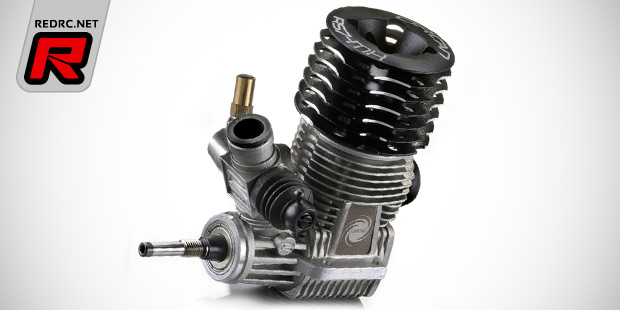 Orcan introduce two new nitro on-road engines in the form of the .21 RS7-MH and the .12 RS3-MH. Starting with the 1/8th scale engine, the RS7-MH was specially developed for the use with 16 percent nitro fuel in order to create higher torque while offering better millage at the same time. Each engine comes hand-tuned to ensure the highest and most reliable performance level by thoroughly modifying the liner and piston, crankshaft and crankcase. The 7-port engine comes in a handy storage and transportation bag with zipper and Orcan logo.
Click here to continue reading
Friday, December 13, 2013 - add a comment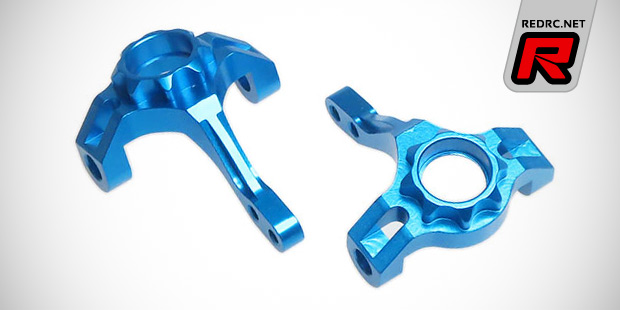 Made for Axial's SCX10 crawler is this aluminium front knuckle set. It is CNC-machined from aluminium and designed to replace the stock plastic parts, significantly improving strength, durability and precision. The parts come as pair, with blue anodising and they are a direct fit.
Source: RC Mart [rcmart.com]
Friday, December 13, 2013 - add a comment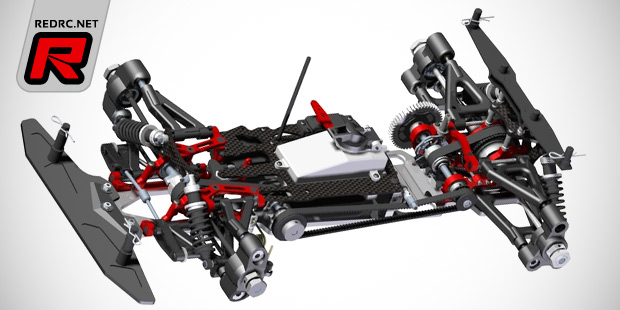 I-Fenix introduce the 4S 1/8th scale 4WD GT kit. Virtually a complete re-design with only the plastics, pulleys and a few other details remaining unchanged from its predecessor, the car features new bulkheads, suspension mounts, weight distribution, a redesigned tank and many more. The kit is set for a release early in 2014.
Click here to view more photos
Friday, December 13, 2013 - add a comment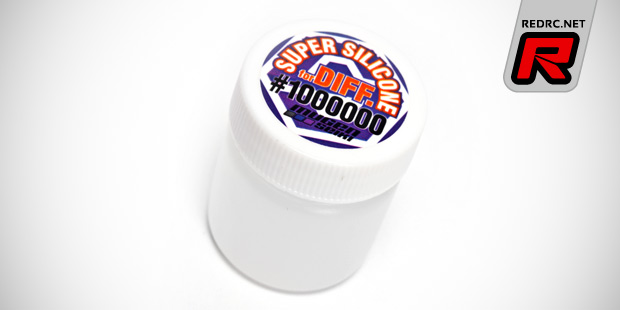 Mugen introduce the 1,000,000 Super Silicone differential fluid. Designed especially for on-road applications the superextra heavy oil is best used in front differentials that then behave like a solid axle bit still allow for a minimum amount of slip making the car easier to drive compared to spool axles.
Source: Mugen Seiki [mugenracing.com]
Thursday, December 12, 2013 - add a comment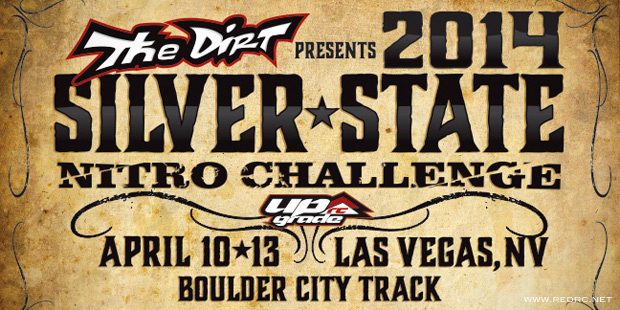 The 2014 Silver State Nitro Challenge will take place on the weekend of the 13th of April at the Boulder City track in Las Vegas. The race running from Friday to Sunday with the practice taking place on Thursday. The event also marks the second race of the 2014 USProCup. More details will become available soon.
Thursday, December 12, 2013 - add a comment