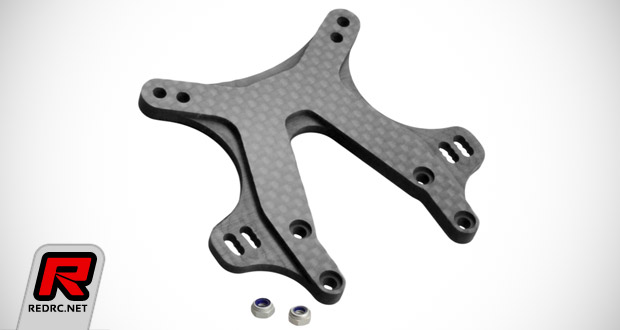 JConcepts has produced a carbon fibre front shock tower for the popular Team Associated B4 line of vehicles. The 4mm thick material is durable, lightweight and features the camber link position mounted in a horizontal position relative to the kick-plane. There are 3 inner positions and 3 outer positions for quick and steady adjustments and the tower features the JConcepts treatment of a milled surface creating the ribbing effect to increase durability where needed. Eliminating the outer shock position gives the vehicle a more nimble look in the front-end while still maintaining the 2 most popular positions.
Source: JConcepts [jconcepts.net]
Wednesday, December 11, 2013 - add a comment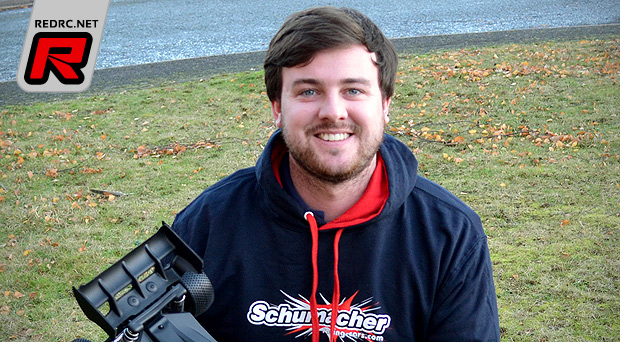 Schumacher announce the signing of multiple champion Darren Bloomfield to their 1/10th off-road Team. The former TLR front runner will race the new Cougar KF, SV2 and KR platforms in 2WD, alongside the new CAT K1 Aero in 4WD. Darren will fit his 1/10th activities around his 1/8th commitments with Nemo Racing. This is what Darren has to say about the deal:
Schumacher are very much a company on the front foot right now with some excellent new products and forward thinking ideas. I look forward to achieving some great results and working closely alongside them with future developments.
Source: Schumacher [racing-cars.com]
Wednesday, December 11, 2013 - add a comment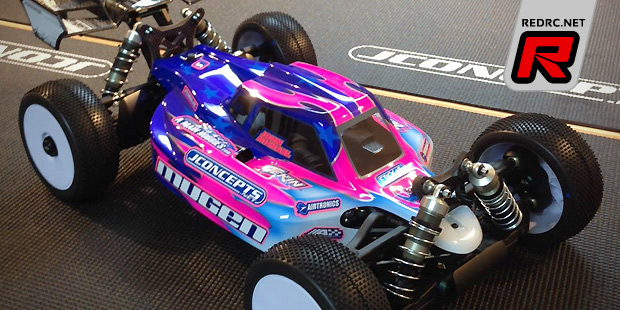 JConcepts have a first teaser image of the forthcoming Silencer bodyshell for the Mugen MBX7 Eco available. Like the other Silencer design bodies the Mugen variant is especially made for high-speed tracks where straightline stability and airflow around the wing and the electronics is critical. All information about the release will become available soon.
Source: JConcepts [jconcepts.net]
Wednesday, December 11, 2013 - add a comment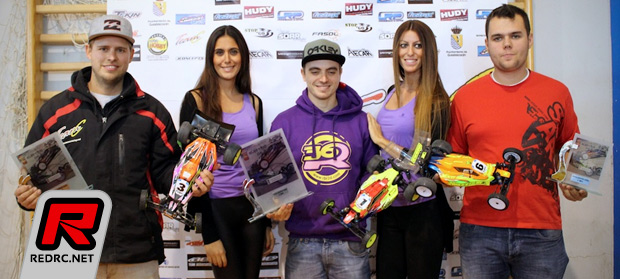 Last weekend saw the running of the Guadalcacin electric buggy indoor race in Spain. Current 1/8th IFMAR Buggy World Champion Robert Batlle attended along other top Spanish drivers like Alex Daras, Hector Albarracín or Zacarías Villalba. In 2WD Robert (Y0komo) took the win in front of Zacarías (Team C) and Alex (Yokomo) while Kiko while Kiko Navarro and David Bustos filled the remaining podium spots in 4WD for a Yokomo 1-2-3.
Click here to view the 4WD podium
Wednesday, December 11, 2013 - add a comment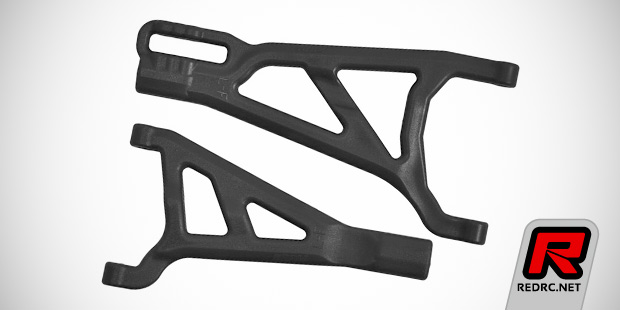 RPM soon have dedicated front A-arms for the Traxxas Summit truck available. RPM's front right A-arms for the Traxxas Revo are already compatible with the Summit but due to the extended T-Lock differential on the left side, the Revo front left A-arms would not fit. That is no longer an issue with these A-arms that feature a revamped cross-brace to clear the T-Lock differential. The arms are moulded from a virtually indestructible blend of high-grade nylons and they come in standard black or blue colour.
Click here to view the blue A-arms
Wednesday, December 11, 2013 - add a comment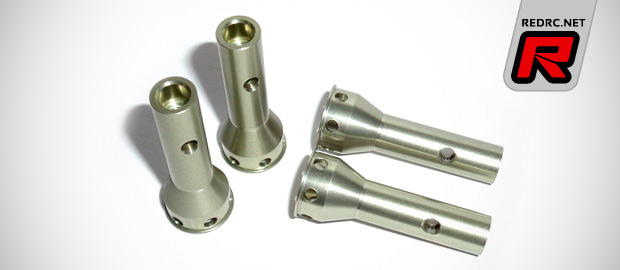 Sylveris RC is a new after market company from France and the first products to appear are front and rear aluminium driveshaft axles for the Tekno EB48/48.2 and NB48 line of vehicles. The shafts are machined from 7075-T6 aluminium, come hard-anodised and they are made to replace the standard steel axles with a lightweight yet durable solution. Using the alloy parts scrubs about 20 gram of rotation mass and unsprung weight from the buggy making for quicker acceleration and better braking action.
Source: Sylveris RC [sylveris-rc.fr]
Wednesday, December 11, 2013 - add a comment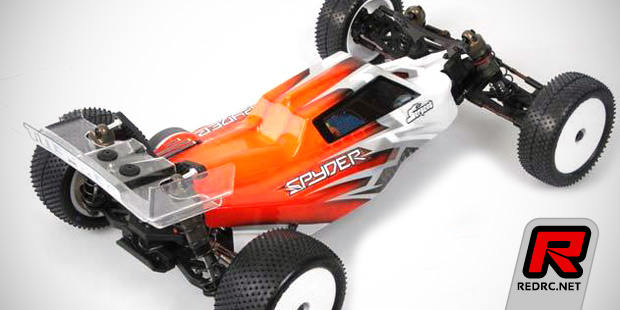 French Serpent distributor Racing Experience have made the first images of Serpent's SRX2 Spyder mid motor buggy available. The MM version follows the rear motor RM version that is available for some time now and the kit targets drivers who race on high-grip carpet and astro turf surfaces. The buggy builds on what appears to be a composite material chassis, it sports the standard SRX2 front suspension but a dedicated rear end with 4-gear transmission and a revised rear bulkhead and shock tower. By the look of things the buggy accepts both saddle and shorty type battery packs and it comes with a cab forward body shell. More photos, information and the complete features and specification list should be available shortly.
Click here to view more photos
Wednesday, December 11, 2013 - add a comment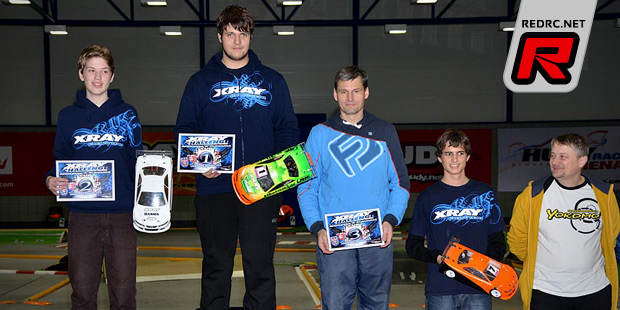 The Hudy Racing Arena hosted the third round of the Xray Challenge Moravia & Slovakia Cup. As usual practice started Friday afternoon and went on till midnight to allow plenty of track time to get the cars dialled in for the high grip surface. Again the 17.5T Stock touring car class attracted the most drivers and it was David Nemcek who took the win from Michal Vitamvas and Ales Pelikan, who completed the podium in third place. Pavel Martinec and Martin Zvara came in fourth and fifth respectively. David then went on to win the Modified touring car class also. This time ahead of Jiri Vysin and Tomas Liptak. Jiri Janousek and Juraj Hudy completed the top 5 result.
Click here to view the TC Modified podium and the other class winners
Wednesday, December 11, 2013 - add a comment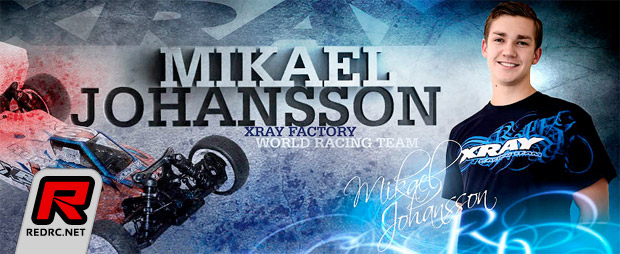 Xray have announced that the young talented European Junior Champion Mikael Johansson has joined the Xray team. The former Kyosho driver is 1/10 2WD & 4WD European Junior Champion as well multiple Swedish cup winner and has finished on the podium at various Nordic Championships. Mikael will race all the off-road classes with the XB8, XB4, XB4 2WD, XB9E & XT9. He had this to say:
I am so happy that I got this possibility to work with a great company like Xray and to work with superstars like Bayer and Savoya. Xray has a strong team both in Sweden and around the world and I am very glad to be part of it and I am looking forward this new challenge. Thanks to Henrik Gustafsson, Mario & Martin Hudy and of course my dad for letting me to have this opportunity, I will do all my best.
Source: Xray [teamxray.com]
Tuesday, December 10, 2013 - add a comment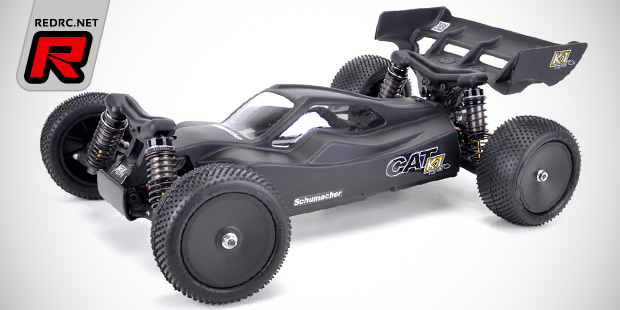 Schumacher introduce the new Cat K1 Aero 1/10 4WD buggy kit. Schumacher's design team have taken the Cat K1 and added a new aerodynamic wing and body combination. New to the Aero are also nut guards, an aerospace carbon fibre chassis and geared diffs. Along with a top deck that promotes controlled flex the Cat K1 Aero features an improved steering geometry for millimetre perfect control. All other features such as the efficient twin belt transmission with optimised motor position and belt length remain the same. The kit will hit stores mid to end of December.
Click here to view the new features and more photos
Tuesday, December 10, 2013 - add a comment