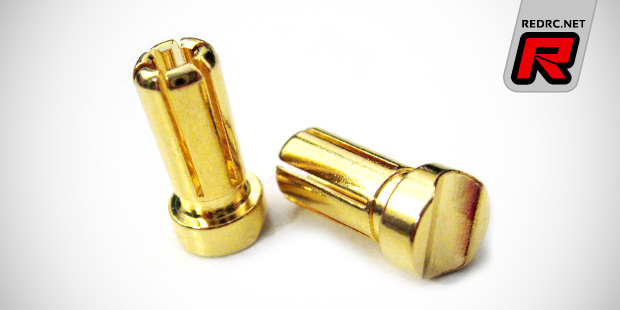 TQ Wire have new 5mm bullet-type connectors with gold or silver plating available. They are only 13mm long, saving weight for touring and pan cars, and are made in a special way where the brass stock is copper clad first before the silver plating is applied, increasing conductivity. The connectors are ideal for the latest breed of high-performance LiPo packs with larger 5mm connector tubes.
Click here to view the silver-plated connector
Friday, December 6, 2013 - add a comment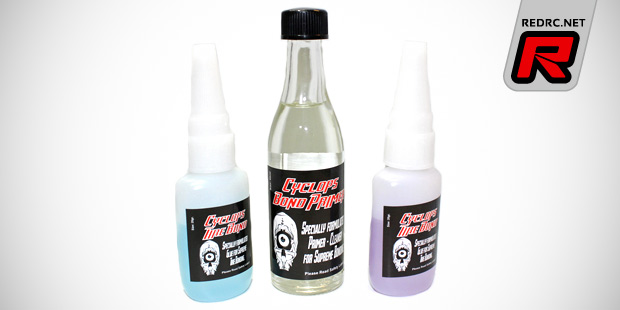 Cyclops have an updated line of tyre gluing accessories available. The purple medium glue is a 100cst viscosity product and after demand from customers the glue is now available in a new, improved bottle. New to the line is the blue thin glue of 25cst viscosity that offers the same elasticity and bonding capabilities as the original purple formula but is thinner allowing the chemical to penetrate gaps faster and also to dry faster. Last but not least is the Cyclops primer which is used to prime the surface of both the tyre and rim for perfect bond. It also is a surface cleaner used instead of ammonia, alcohol or break cleaner. 1/10 EP touring car drivers have also found in many case the primer/cleaner to be used as a tyre additive or as a primer agent for the additive.
Source: DSAW Hobbies [dsaw-hobbies.com]
Friday, December 6, 2013 - add a comment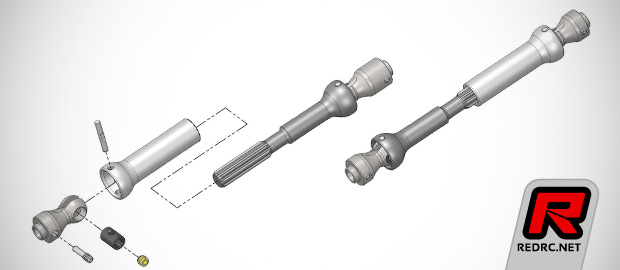 MIP introduce new Spline CVD centre drive kits for the Axial Wraith and SCX10 off-road vehicles. The kits feature an updated design that was made necessary after Axial's running changes to the chassis. The MIP kits will no longer feature the double set screw design to clamp onto the through hole but now incorporate a pin set screw for attachment. Along with that improvement MIP have also changed the drive hubs so that there is no longer any interference when it comes to making contact with the stock spur gear cover. The kits come as specific Wraith and SCX10 variants including hardware and a set of grease and thread lock.
Click here to view the Wraith centre CVD kit
Friday, December 6, 2013 - add a comment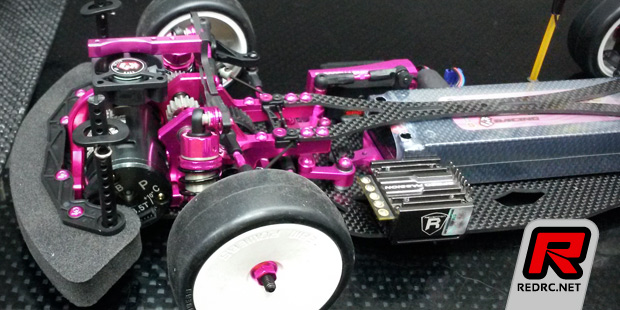 3Racing introduce the limited edition FF2014 front wheel drive touring car. The completely redesigned kit only shares a minimum of parts with its predecessor and features a new chassis design for optimised flex, a new quick release system for the differential, new high-graphite suspension parts all round, front and rear carbon fibre shock towers with new suspension geometry as well as a new dual bellcrank steering system. The kit comes fully ball raced, allows for four different battery positions and includes ball cups made from a new, stronger material. Also part of the package are several option parts such as Factory Racing Team shocks and gear differential, 1-piece 7075 servo mount, front and rear anti-roll bars, pink-colour aluminium screws, hardened 7075 alloy idler gears and aluminium arm mounts. Shipping of the kit, that won the FWD class at the recent Japan round of the Asia Onroad Championship in the hands of JJ Wang, will start on the 23rd of December.
Click here to continue reading
Friday, December 6, 2013 - add a comment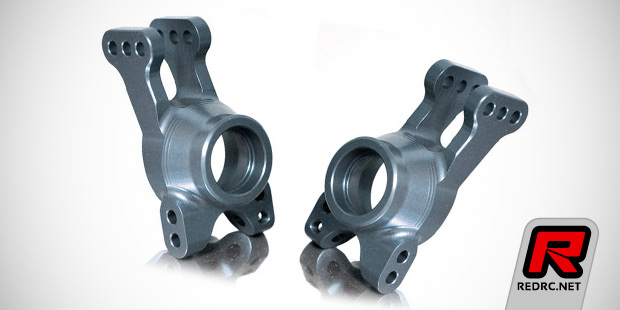 RB introduce new suspension and drivetrain option parts for the RB One line of buggies. First up are aluminium rear hubs made from 7075-T6 aluminium. The parts feature multiple mounting positions for the upper camber links, come grey anodised and greatly improve the durability of this highly stressed part of the buggy. Next up are parts for the drivetrain in the form of ventilated steel brake discs. Developed to make for a precise and fading-free brake system the discs are made for the use with another new part; the Ferodo-equipped brake pad set. The special pads are vulcanised on the steel brake pad for maximum temperature resistance and best possible brake action. To make maximum use of the new brake setup RB has also announced a set of extra-strong springs that are ideal for the use with the Ferodo brake pads. Last but not least come new off-set 17mm aluminium wheel hubs. Available as +1.5mm and +2.5mm variant the parts are sold as pairs, come hard anodised and make for increased track width in order to gain more stability on the front or the rear end of the buggy.
Click here to view the other new parts
Friday, December 6, 2013 - add a comment
Following some speculation about his future, Kyosho have announced that Jared Tebo has he re-signed a contract with the Japanese manufacturers. Winning 8 ROAR National Championships, an IFMAR World Championship as well as nearly 50 big races in the past 5 years Jared has extended his deal with Kyosho for a further 5 years. Jared has this to say about his new deal:
I am very pleased to be signing with Kyosho for another 5 years. My relationship with Kyosho is great, and the past 5 years have been amazing together on and off the track. I feel as a person, and driver, I fit in really good with the Kyosho brand and it just feels like home for me in my racing career. In the past 5 years we have been able to have amazing results; 47 big race wins, including 8 ROAR National Championships and 1 IFMAR World Championship. I am very excited to say the least about the next 5 years in my racing career, as I feel Kyosho can give me the best resources to reach my main goal of 1/8 Offroad World Champion. Thanks to Aki, Mitsuo, Kanai, Chikuba, Joe, Futoshi, and all the the Kyosho staff for their hard work.
Source: Kyosho [kyoshoamerica.com]
Friday, December 6, 2013 - add a comment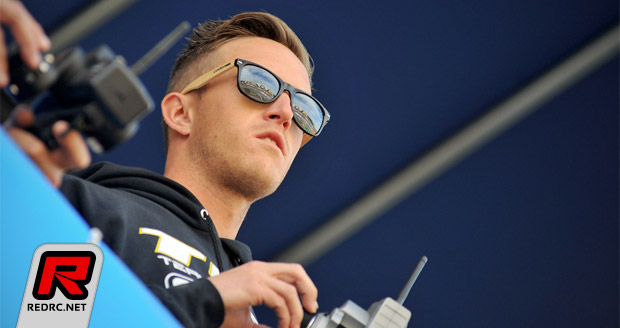 Former National Champion and Reedy race winner Dustin Evans has re-signed with Team Losi Racing. Dustin just wrapped up an impressive season with many notable wins including titles at the JConcepts Indoor Nationals, Rumble in the Rockies, Proline Surf City Classic as well as multiple ROAR National podiums and a respectable finish at the IFMAR Worlds. Dustin will continue to play a vital role in contributing feedback to the engineering team as well as providing input on future Team Losi Racing innovations through the 2016 racing season and he had this to say.
I am very excited to continue with TLR for another three years. We have had some very successful years and with all the great products and people at TLR, there should be many more to come.
Source: TLR [tlracing.com]
Thursday, December 5, 2013 - add a comment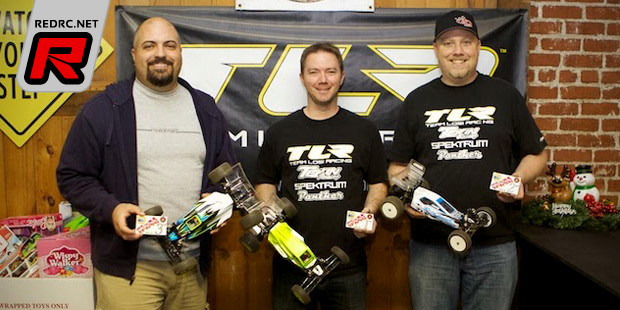 Exeter Hobbies held a Toys for Tots race Thanksgiving weekend, to raise donations for the Marine Corp Reserve toy drive. TLR Ryan Dunford and Doug "Casper" Nielsen made the drive up to the Central Valley from Southern California to help support this great cause and to mix it up with the locals. The race generated 80+ entries and tons of toys. Exeter hobbies does not normally field a modified buggy class so Ryan and Casper put in some stock motors to have some fun with the locals with 3 full heats of Pro stock buggy in attendance. After qualifying was done Ryan would take TQ with a blistering 19 lap time and Casper would line up second also on a 19 lap pace. Exeter hobbies runs a 2 bump up format and 7 min mains for more track time.
Click here to continue reading
Thursday, December 5, 2013 - add a comment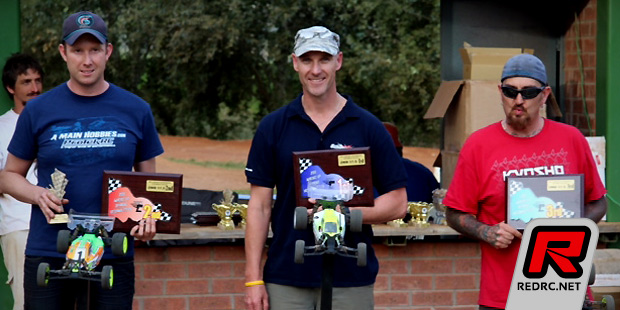 The prestigious Victorian State Titles were run last weekend in Australia, with entry numbers pushing 200 and temps over 30 degrees Celsius for the weekend, there was sure to be some hot action. Sunday saw some very strong fields assemble for the 2WD competition, and it was Schumacher's Scott Gilles who topped the leader board of the Spec motor class in rounds 2 and 3, seemingly securing him the TQ. However, the round 1 winner had other ideas and drove a superb race to eclipse Scott's time and take the round win in the 4th. This meant Scott would start 2nd on the grid. Leg 1 of the finals saw Scott get off to a great start, shadowing the leader for three laps until he made a small error, the Schumacher driver then made a clean pass and went on to win. Leg 2 saw Scott get involved in the typical first corner struggles and he ended up in 3rd place after some mid-field chasing. In the third leg, Scott made a clean start and put his Cougar buggy into the lead on the second corner, never to be headed or challenged, winning the state title right after taking the runner-up spot the day before in the 4WD class.
Source: Schumacher [racing-cars.com]
Thursday, December 5, 2013 - add a comment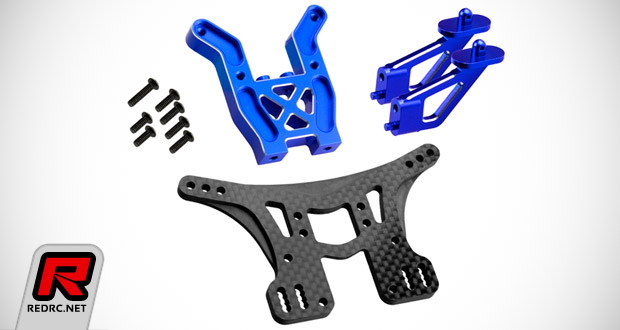 Made for the Centro C4.2 converted Team Associated B4.2 buggies is this rear suspension kit from JConcepts. The set targets 3 key areas where the C4.2 could do with improvements. In stock trim the C4.2 includes a moulded rear bulkhead which is highly flexible and a target to damage in severe crashes. The JConcepts suspension kit includes an all CNC machined aluminium version which has been trimmed, narrowing the stance allowing more room for narrow rear pivot camber link adjustments. The bulkhead is available in blue or black colour and has silver chamfered edges around the border and inner cut-outs. The tucked design, trimmed shape and pocketing give the racer an extremely durable yet light-weight piece.
Click here to continue reading
Thursday, December 5, 2013 - add a comment