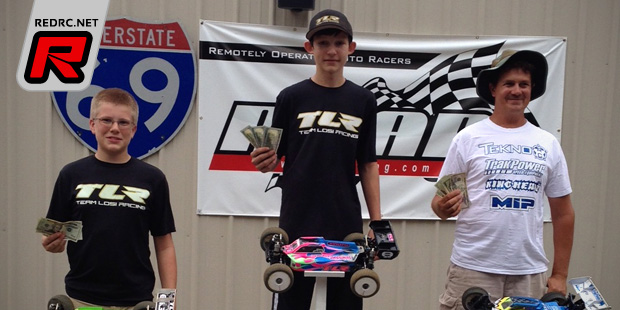 The End of Summer Shootout cash race hosted by I69 Raceway in Noblesville, IN was held this past Labor Day weekend. Even with the heavy threat of rain there was some tough competition on hand ready to race. Only a light shower hit during the event that the track soaked right up. In the 1/8th E-Buggy class TLR/JConcepts' Tyler Jones would take the lead on the second lap and checked out for the win in the ten minute main. Next came the Nitro Pro Buggy main and Tyler's TLR buggy would grab the lead on the first lap of the twenty minute main and would check out again for the win.
Click here to view the Pro Nitro Buggy podium
Tuesday, September 2, 2014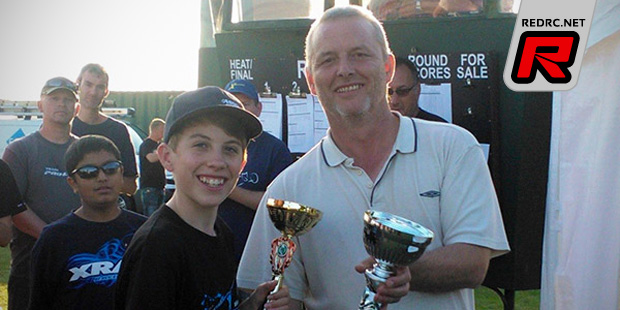 Luke Holdsworth followed up his recent NW regional success by retaining both his National Junior titles at the BRCA championship finals meeting at Boughton Raceway last weekend. On Saturday Luke drove his 2WD B5M to win in fine style and on Sunday driving his 4WD B44.2, Luke stormed to an early TQ with his first two qualifying heats, and took the championship win in the finals.
Source: CML Distribution [cmldistribution.co.uk]
Tuesday, September 2, 2014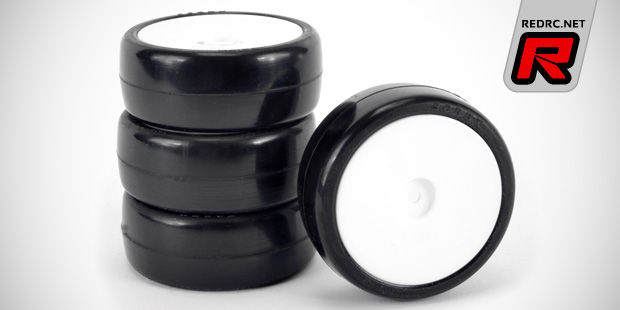 UK Sorex distributors Schumacher introduce the new and improved Sorex 28 carpet tyre. The new construction with the Schumacher developed Black foam insert, Sorex 28R tyre and Revlite wheel is meant to offer great traction and acceleration and the new insert has been developed to give more even wear rate and improved consistency, meaning more runs at a high performance level compared with the popular 28JB tyre. Schumacher Racing have an automated in house gluing process which accurately controls the glue flow rate and quantity.
Source: Schumacher [racing-cars.com]
Tuesday, September 2, 2014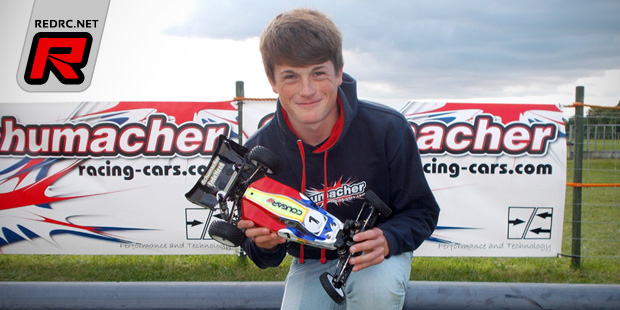 Schumacher driver Jack Neal took a convincing victory at the Under 16 BRCA British Junior championships at Boughton Raceway over the weekend. Jack used his Schumacher Cougar KF to win the 2WD class and CAT K1 Aero in 4WD to take the wins at the annual meeting.
Source: Schumacher [racing-cars.com]
Tuesday, September 2, 2014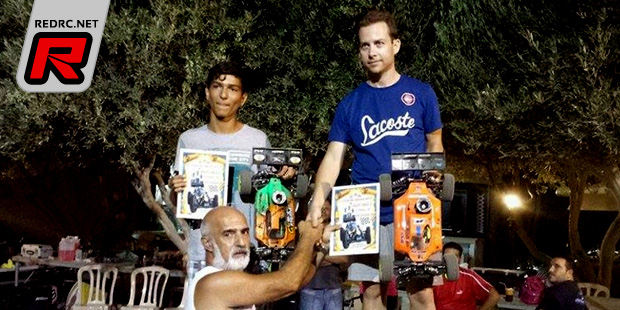 The 2nd Night Race took place at the AG Metal off-road track in Limassol, Cyprus. Nicholas Zachariades took the win on the bumpy high traction track for the second time in a row while Andreas Thrasyvoulou and Marios Christodoulou came in 2nd and 3rd respectively.
Click here to view the top 10 result
Tuesday, September 2, 2014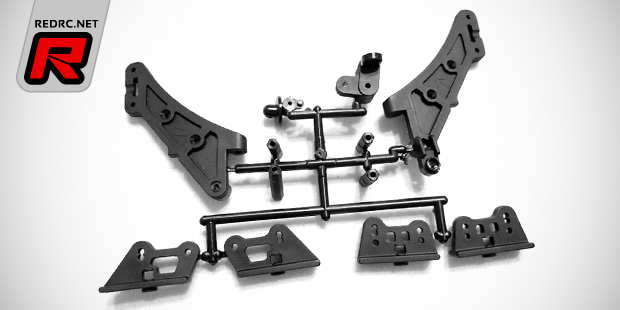 Kyosho's 1/8th scale wizard Yuichi Kanai has released first information on the forthcoming short wing mount for the MP9 buggy. Thanks to two different wing mounting plates the wing mount allows to use three mounting positions; standard kit, standard kit height but 9mm more forward as well as third position 9mm more forward and 5mm lower than standard. The height and position of the wing has direct influence on the rear traction available and is a fine tuning tool to adapt the buggy's jumping characteristics also.
Click here to view another photo
Tuesday, September 2, 2014
Vampire Racing's popular Lithium-Ferrite receiver battery packs are now available in a 2014 edition. Coming in industry standard "straight" or "hump" pack dimensions the 2S packs with a voltage of 6.6V allow the direct use with standard voltage receivers and servos without the need for a voltage regulator as 7.4V LiPo packs do. The straight pack makes use of 1600mAh cells while the hump pack comes built from high capacity 1900mAh cells. Both packs are pre-wired with XH balancer connectors and a JR/Futaba compatible universal plug.
Click here to view the other new battery
Tuesday, September 2, 2014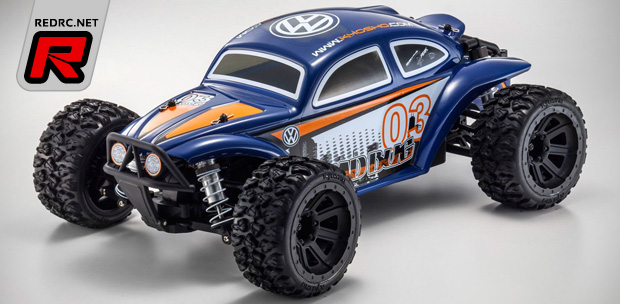 Coming soon from Kyosho is the 1/10th scale Mad Bug VE ReadySet off-road buggy. The shaft driven 4WD vehicle can handle just about any type of rough terrain thanks to its large 100mm diameter tyres on inch up wheels and the aluminium oil shocks. The bathtub chassis is equipped with a heavy-duty suspension, slipper clutch and metal diff gears in the high durability drive train that can take plenty of punishment from hard driving. Included with the factory assembled kit comes a genuine Team Orion Neon One 2400kv brushless motor, a Team Orion R10 One speed controller and a waterproof high torque steering servo. The set is rounded out by a 1800mAh NiMH battery pack, a wall charger and your choice of a blue or white bodyshell.
Click here to view the feature and more photos
Tuesday, September 2, 2014