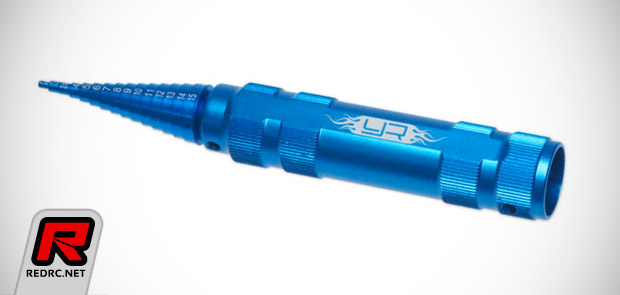 Yeah Racing release this simple aluminum bearing and motor bearing inner diameter measuring tool. Blue anodised, it can measure different bearing dimensions from 2mm to 15mm as well as motor bearings with and inner diameter of 3.18mm.
Source: Yeah Racing [rcmart.com]
Tuesday, May 21, 2013 - add a comment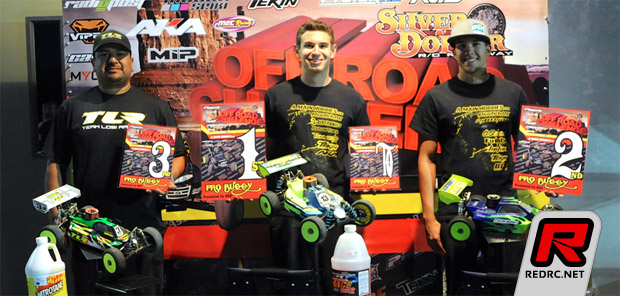 Last weekend hundreds of racers descended on A Main Hobbies' Silver Dollar RC Raceway to compete in the Inaugural Silver Dollar Off-Road Challenge on the new Joey Christensen 1/8-scale layout. The track took center stage during the weekend's race, but when it was all said and done two of A Main Hobbies' rising stars, Austin Blair and Dylan Rodriguez stole the show. Blair and Rodriguez wrapped up the coveted pro classes proving that the two of them are quickly approaching "elite speed" and becoming contenders at every race they attend.
Continue reading the report here
Tuesday, May 21, 2013 - add a comment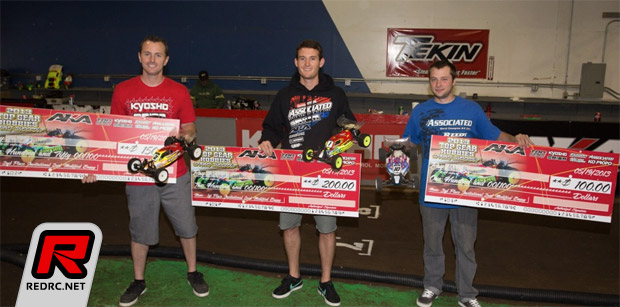 The 1st Annual Top Gear Hobbies Spring Shootout was held this past weekend in Clackamas, OR. This is the home track of Team Orion USA Team Manager Joe Pillars. Making the trip out for this event was Team Orion's current 2wd & 4wd IFMAR World Champion Ryan Cavalieri. The North-West's fastest racers would all be in attendance to test their skills against the 4-Time World Champ. The Invitational Class would consist of 30 racers that were divided up into 4 heats of 8 in random order. All drivers would use 2wd Modified Buggies for all 8 rounds. 4 rounds of heads up racing were ran on Saturday and another 4 rounds on Sunday. Each driver was given 2 throw-outs, using their best 6 finishes. Tie-breakers were determined by the number of 1st place finishes, 2nd place finishes, and on using the 6 counted points. If still a tie, each drivers 2 fastest runs would be combined by laps and times to decide the higher finisher.
Continue reading the report here
Monday, May 20, 2013 - add a comment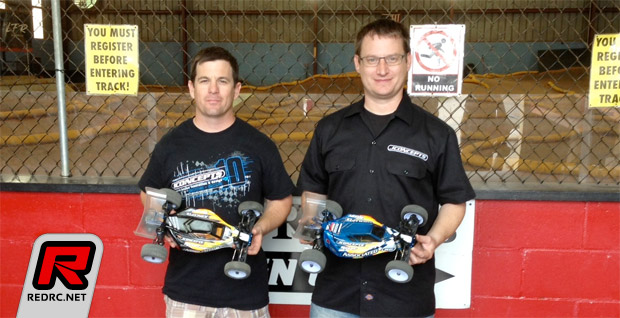 A great weekend for racing during the Chaos on the Coast point series put on by the Space Coast R/C Raceway. Jason Ruona, Paul Wynn along with a great group of JConcepts drivers were out to support the monthly event held at the Cocoa Beach, Florida facility. 2wd modified was hotly contested all day with JConcepts driver Daimon Borkowicz taking the round 1 TQ with Paul Wynn in 2nd. For round 2 the track speed picked up and Paul Wynn was able to stay consistent throughout the 5 minute qualifier resetting the TQ by a slight amount over Daimon.
Continue reading the report here
Monday, May 20, 2013 - add a comment

Having originally passed on their chance to host the IFMAR Worlds next year due to being unable to find a suitable venue willing to host the championships, ROAR got a second chance and has today announced that Full Throttle Raceway in Kissimmee, Florida will host the 2014 ISTC Worlds.
ROAR would like to first thank IFMAR for allowing us to make a second go at hosting the 2014 Electric On Road World Championships. In doing so they have made it possible for ROAR to keep this event in the ROAR Bloc for 2014. We would also like to Thank all of the racers and track operators for their support in bringing this event back. We had but a short window in which to get potential bids in and it was a very tough choice for the Ex comm as all the Facilities where equally capable in holding this prestigious event however we could only pick one. With that being said we would like to congratulate Full Throttle Raceway in beautiful Kissimmee Florida as the host track for the 2014 Electric On Road Worlds. Stay tuned for more updates on this event.
Source: ROAR [roarracing.com]
Monday, May 20, 2013 - 2 comments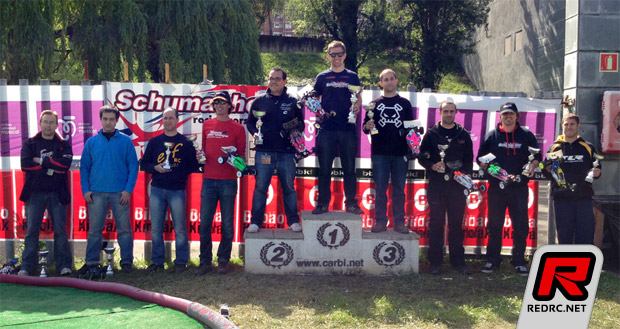 Last weekend Schumacher drivers Tom Cockerill and Trish Neal were invited out to Spain to compete in the second round of their national series at Bilbao, the track that hosted the 2009 European Championships. The track had undergone some changes since that event, with the most noticeable being that it is now run in the reverse direction. The weekend consisted of free and controlled practice on Saturday followed by qualifying and finals on Sunday. During practice the team tried many different setup options, and these clearly worked with Tom and Trish posting the two quickest '3 lap' times.
Continue reading the report here
Monday, May 20, 2013 - add a comment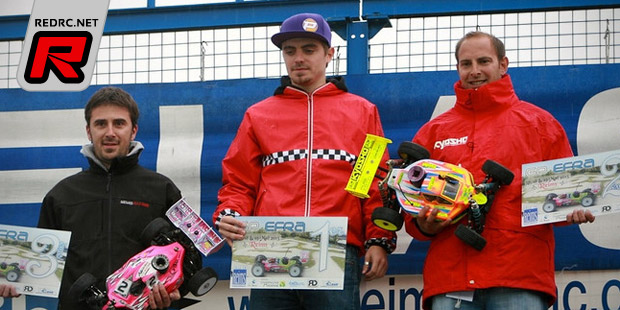 The French EFRA GP, warm-up for the 1/8th off-road European Championship A, took place in Reims this weekend. The racing was held under terrible weather conditions and had to be cancelled 10 minutes into the first semi final, which was being led by Renaud Savoya, due to pouring rain and a flooded track. The decision was made to base the final results on qualifying awarding 2012 World Champion Robert Battle with the win. Second place went to Jerome Aigoin who was tied on points with Jerome Sartel. Lee Martin and Renaud Savoya ended up fourth and fifth respectively.
Click here for the final result
Sunday, May 19, 2013 - add a comment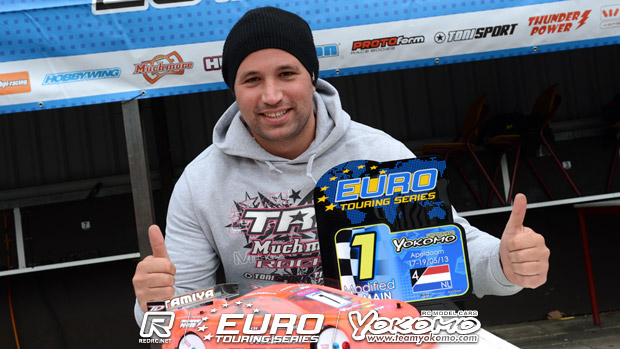 Marc Rheinard has claimed his first ETS victory for 12-months, the German taking his third consecutive Apeldoorn win which is where the 3-time former World Champion last stood on the top step of the podium.  Dominating the second leg of the A-Main ahead of team-mate Viktor Wilck, who didn't mount the much anticipated challenge, the win maintains Tamiya's 100% winning record at the Dutch track, which has now hosted the race 4-times.  Behind the Tamiya 1-2, Team Yokomo's Ronald Volker completed the Top 3 with the defending champion and Wilck now set to battle it out for what could be a crucial second place in terms of the championship standings with two rounds still remaining.
View our complete event coverage here.
Sunday, May 19, 2013 - add a comment