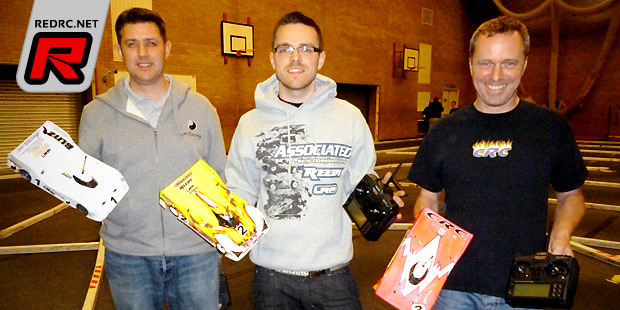 Round 3 of the BRCA 1/12th scale nationals took place in Tamworth last weekend. Once again the entry was almost full with more than 100 drivers competing on each day. The event would see Olly Jefferies driving an Associated car for the final time before he switches to Xray for 2014. Olly has been in dominant form this winter having won 3 of the first 4 national events in the stock and modified classes. In the Stock class on Saturday Olly set a blistering pace in the early rounds, but a fast run from David Spashett would see him line up on pole position for the A-final with his Zen Racing RS chassis. Olly was 2nd for Associated/Reedy/LRP. Championship leader Adam Catchpole failed to make the A-final after finishing 2nd at both of the first two events. In the A final Olly capitalised on a rare mistake from Spashett to then go on and win the race. A fine drive from CRC's Mick Farrell netted him the final podium place.
Click here to continue reading the report
Tuesday, December 10, 2013 - add a comment

Horizon Hobby Inc, parent company to many well known RC car related brands such as as TLR, Losi, Spektrum, Nitrotane etc. have announced that its board of directors has signed a definitive agreement under which the company would be sold to an investor group led by Joe Ambrose, Horizon's Chief Executive Officer. The investment group includes Armory Capital, LLC and Mill City Capital L.P., two investors that have deep experience with management-led acquisitions. Financial terms were not released.
Read the complete announcement here
Monday, December 9, 2013 - 3 comments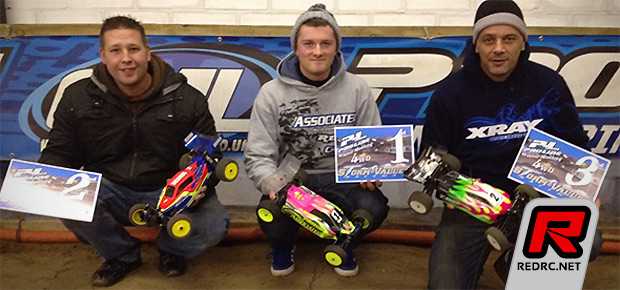 The 4th round of the Pro-Line Winter Masters at Storm Valley again attracted a good amount of UK racers. In 4WD 4WD Mitch took top honours for round one, just missing the fabled 19 lapper by 12 hundredths of a second, with Craig appearing in the top three in second place with Glen Howard taking the last top three place just a second ahead of his brother Graham. Round two once again saw Mitch in pole but with a new name in the frame for second in the shape of Ryan Lawrence, just half a second ahead of Craig. Round three and Mitch continued his domination with a 19 lapper, a Howard brother in second, this time the Graham flavour, and Craig once again third. Final round and Graham broke Mitchell's strangle hold on top spot to take the honours in this round with Mitch second and Craig being pushed out of the top three by Ryan.
Click to continue reading the report
Monday, December 9, 2013 - add a comment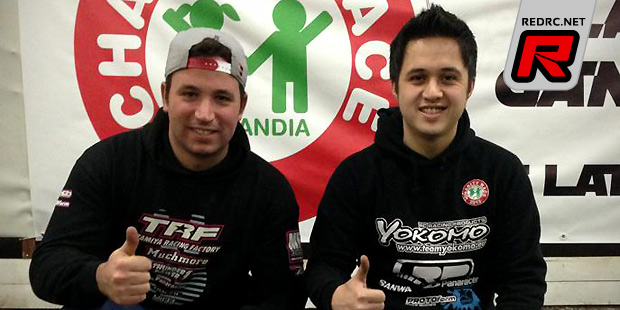 The annual Charity Race took place at RC Landia in Scandiano, Italy with around 120 drivers attending in various on-road classes including touring car modified and stock, 1/12th and F1. In the modified touring car class Ronald Völker (Yokomo) took TQ in front of Marc Rheinard (Tamiya) and Alexander Hagberg (Xray). Martin Hudy would put his Xray fourth on the grid, with Marco Kaufmann (Xray) claiming fifth position after the qualifiers. In the finals Ronald Völker made a clean sweep in leg 1 and 2 taking the overall win early. Marc came in second after winning A-main number 3 after Ronald made a rare mistake on the first lap dropping the Yokomo driver to 3rd place. Ronald was not able to get past Alex so he had to settle for 3rd place in the final while Alex's 2nd place handed the Xray driver the last remaining podium spot.
Click here to view the TC modified A-final result
Monday, December 9, 2013 - add a comment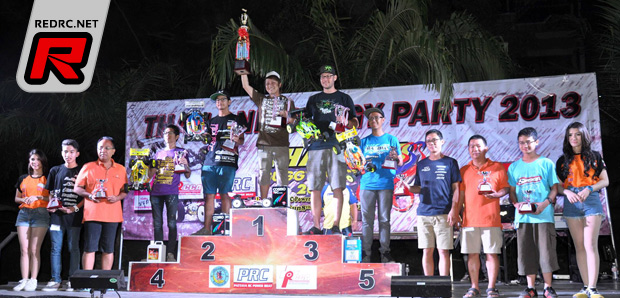 The Pattaya Buggy Party race took place last weekend and the event was just another Asian meeting to be dominated by Atsushi Hara, this time running SWorkz' forthcoming S350 Evo buggy. After taking TQ the Japanese ace, who appears to attend each race with a different brand of vehicle, went on to win the 50 minute final by one lap ahead of Meen Vejrak. Joseph Quagraine completed the podium while Carlee Phutiyothin completed the top 4 result.
Click here to view the final result
Monday, December 9, 2013 - add a comment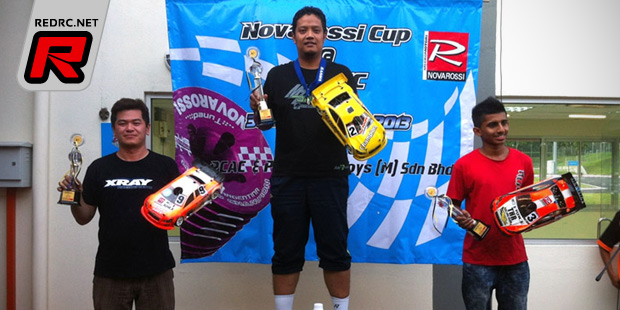 This year's Malaysian Novarossi Cup attracted around 70 racers to compete in the 1/8 and 1/10 200mm on-road classes. The track was closed prior to the event to make for fair conditions for every participant with official practice starting on Thursday. Sunday's finals saw Mizan taking the win in the 200mm class with Amirul Shafiq and Ben completing the podium.
Click here to continue reading
Monday, December 9, 2013 - add a comment

Tekno now have non-vented shock caps for the dampers of their 1/8 and 1/10 scale off-road vehicles available. The parts are CNC-machined from aluminium, come gun metal anodised, in sets of 2 and they fit the company's 1/8th buggy and truck shocks as well as the SCT410 short course truck.
Source: Tekno [teknorc.com]
Monday, December 9, 2013 - add a comment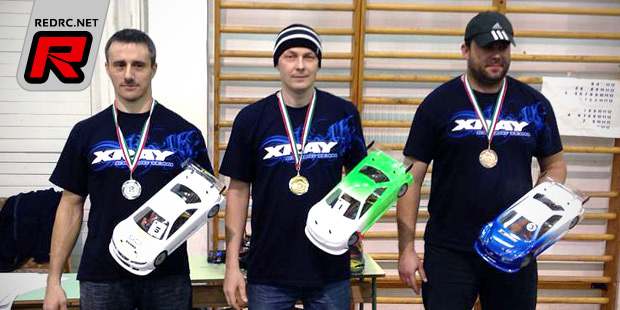 The 3rd round of the East Hungarian national championship was held near Debrecen. Xray driver János Birinyi took TQ in the 13.5T class on the large high grip carpet track and in the finals János scored two wire-to-wire wins handing him the day's win with one leg to go. Ferenc Gibala (Xray) and Tamás Ponghó (Xray) finished second and third respectively.
Source: Xray [teamxray.com]
Monday, December 9, 2013 - add a comment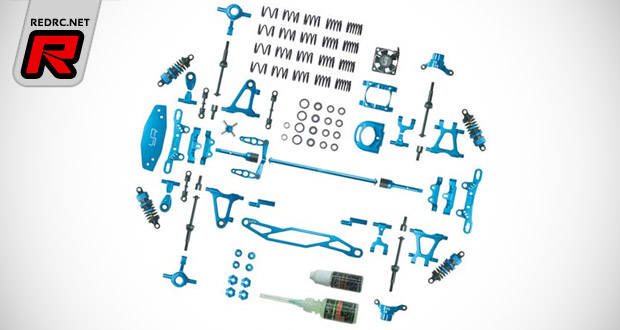 The Yeah Racing aluminium conversion kit for Tamiya'a TT-02 touring car virtually includes all of Yeah Racing's option parts for the entry-level race car. The sets contains a vast amount of aluminium as well as many steel option parts such as upper and lower wishbones, hub carriers, steering upgrades, steel suspension pins, ball bearings, aluminium outdrives and many more. Included are also an alloy centre prop shaft, steel and aluminium universal driveshafts 55mm aluminium shock absorbers, a complete spring set, shock and bearing oils, a full bearing kit and a lightweight heatsink including fan unit.
Source: RC Mart [rcmart.com]
Monday, December 9, 2013 - add a comment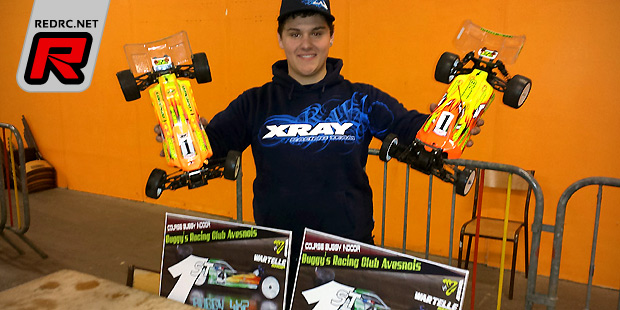 The Charity Race for the Téléthon took place at a small club in Avesne-sur-helpe in the North of the France with around 100 drivers attending. Xray's Lorenzo Crolla took TQ in both the 2WD and 4WD buggy class after controlling the proceedings in qualifying, although this was the first 2WD race on carpet for the young man. The finals then saw Lorenzo being in control of things again, easily taking A1 and A2 for an early win in the 2WD class. Julien Parnot and Ludovic Valtier came in second and third while Remy Barbillon completed the top 4.
Click here to continue reading
Monday, December 9, 2013 - add a comment