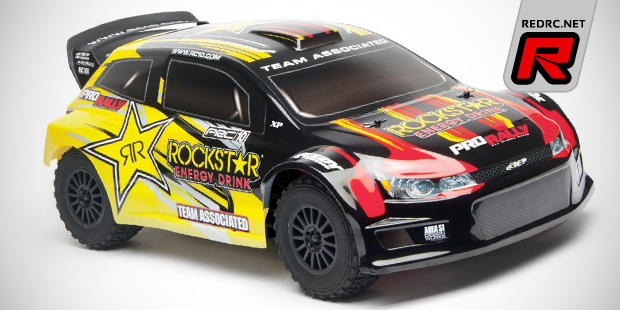 Team Associated introduce the new ProRally 4WD brushless-powered RTR rally car out of their Qualifier Series of kits. The sport-level chassis comes factory-assembled and is based off the ProLite 4×4 platform, offering full-time 4WD in a modular composite tub chassis, long suspension arms, heavy duty gear differentials, front steel CVA and rear dogbone driveshafts as well as adjustable steel turnbuckles. The ProRally comes including a Reedy 550-SL 3500kv brushless motor, XP SC900-BL water-resistant 90A speed controller and a 7-cell Reedy NiMH battery pack. The package is rounded out by realistic, rally-inspired hex drive wheels and your choice of a yellow or white themed Rockstar bodyshell.
Click here to view the features and more photos
Friday, April 25, 2014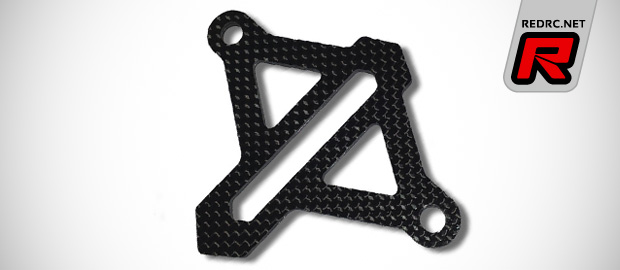 Vision Racing have new carbon fibre battery braces for the Team Associated B5 line of buggies available. Coming as B5 and B5M specific variant the parts are cut from 2.5mm quasi-isotropic material and made to replace the standard composite parts with stronger items of more visual impact. The braces are direct replacements and available separately.
Click here to view the mid motor battery brace
Friday, April 25, 2014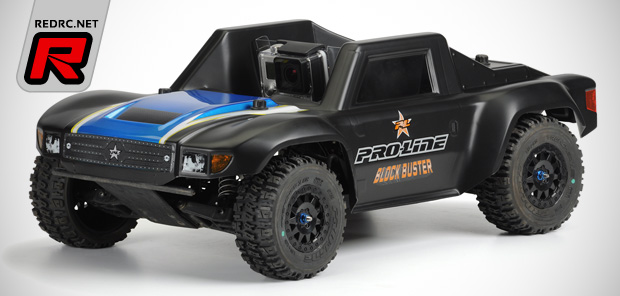 Pro-Line introduce the BlockBuster bodyshell as well as aluminium option parts for the Pro-2 truck. Starting with the body, the BlockBuster is specifically designed for creating movies and inboard off-road footage by mounting "action" video cameras such as the GoPro inside. Complete with a dash for realistic first person camera shots, the body is perfect for creating action packed sequences. It is made out of extra thick lexan with moulded-in strengthening ribs to provide a stable camera mount for non-shaky footage. The sides of the body extend past the top of the camera for protection against roll-overs while the outside looks tough and ready with the Desert Militia style appearance.
Click here to continue reading
Thursday, April 24, 2014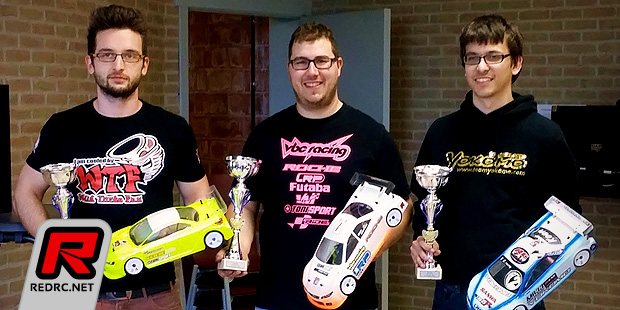 The second round of the Belgian Electric Touringcar Championship was held last weekend in Zarren. Racers from around Belgium and Holland came to battle for the win in the Efra, Stock and supporting F1 class. In the very competitive Efra class it was Olivier Bultynck who was fast all weekend and he had a great last qualifier to put himself on the pole. In second spot sat Nick Joosens followed by Nicolas Delisé and Rico Claeys.
Click here to continue reading the report
Thursday, April 24, 2014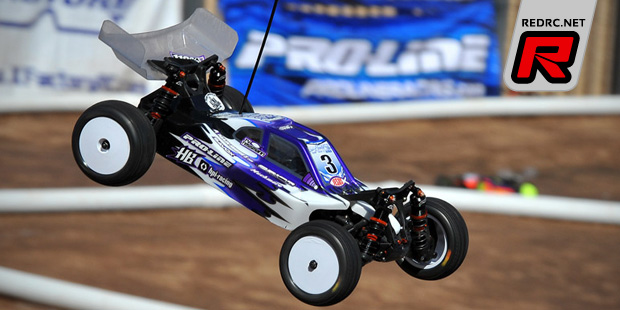 Pro-Line introduce the Type-R bodyshells for the Hot Bodies D413 and D812 buggies. The Type-R came from the mind of Pro-Line team driver Ty Tessmann with a unique mid-cab look and undercut side pods that break away from all of the recent cab forward trends. The Type-R body for the D413 fits perfectly around the triangulated shock towers of Hot Bodies' latest 4WD electric buggy and features kick up in the rear for balanced front to rear down force. Pro-Line's new Type-R body style is a single piece body unlike the stock 3-piece screw together unit, which is difficult to paint and mount. The Type-R for the D812 is the same exact one that Ty used to dominate the 2014 Nitro Challenge. Both the 1/10th and 1/8th body come clear, including window masks and decal sheet.
Click here to view the D812 body
Thursday, April 24, 2014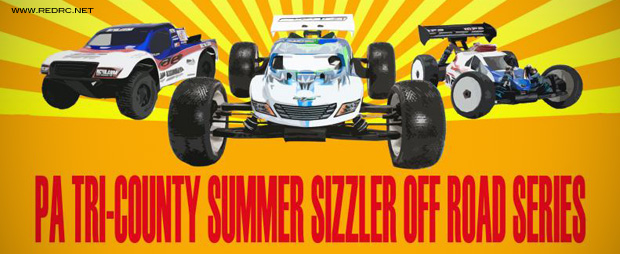 The Tri-County Summer Sizzler off-road series will take place during June and August at Trains and Lanes Hobbies, Mushroom Bowl RC, and Hobbyhut Raceway who are all working together to provide racers with a local 3-race off-road series. Each individual race will have door prizes, provided by race series sponsors, raffled off to entered racers with cash awards will be presented at the last race. The series sees Nitro Buggy, Nitro Truggy and E-Buggy classes along 4WD SC, 2WD SC Modified and 2WD SC Young Guns. The series kicks off on the 7th of June at the Mushroom Bowl Speedway in Kennet Square, PA. More information about the series along with the other race dates can be found here and here.
Thursday, April 24, 2014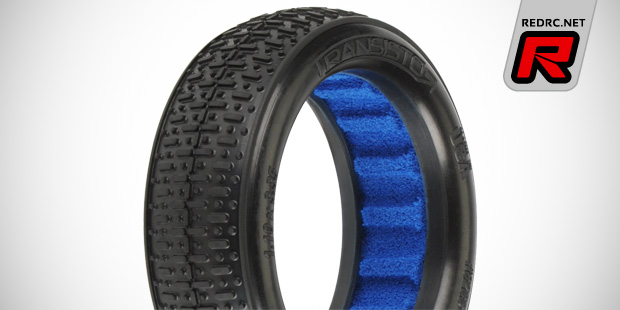 Pro-Line introduce new VTR series 1/10th buggy tyres in the form of the Transistor VTR and Suburbs VTR. Starting with the Transistor the tyre is available as 2WD and 4WD front tyre and designed to offer good, consistent steering in a variety of conditions thanks to the dots and bars design. The Suburbs rear tyre is already known for its performance on indoor clay and outdoor blue groove surfaces and now comes also as VTR variant. The VTR tyres and wheels introduce the horizontal mounting style common in 1:8 Nitro and bring it to the precision environment of the 1:10 racing scene, resulting in the lightest tyre/wheel package possible. All three tyres are available in X2 medium, M4 super soft and MC clay compounds. The VTR tyre line is rounded out by the new Velocity VTR 2.4″ hex wheels for buggies such as the TLR 22, RB5 and RB6, B4.1/2 and the B44.1/2. The rims are available in fluorescent yellow and standard white.
Click here to view the other new parts
Thursday, April 24, 2014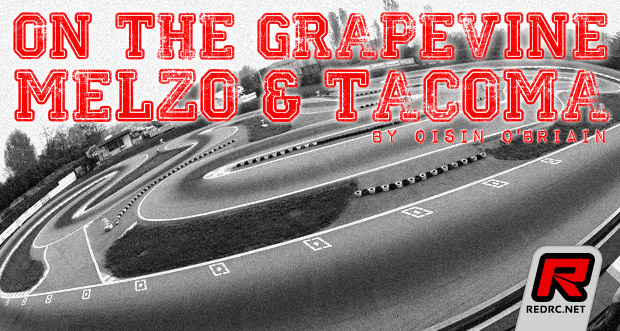 While my own racing activities are far and few between these days, one of the things I enjoy most about racing is the actual building of the kit in preparation for hitting the track. I like the piecing together of the various elements of engineering that is to be found in a competition rc car, most of my builds being onroad nitro kits, and I suppose that stems from my general interest in how most things are made. Happy to sit through a few episodes of Discovery Channel's 'How is it Made' series, I have always been keen when an opportunity arises to get an insight into the behind the scenes of how a product comes about, be it a visit to a Skoda car factory in the Czech Republic while there for a friend's stag or a recent visit to the world's oldest operating distillery which is located not to far from my home town. With the start of the all new Euro Nitro Series came two such opportunities involving rc manufacturers, one of which would turn out to be a lot more interesting that even I expected.
Continue reading On the Grapevine here
Thursday, April 24, 2014 - 1 comment so far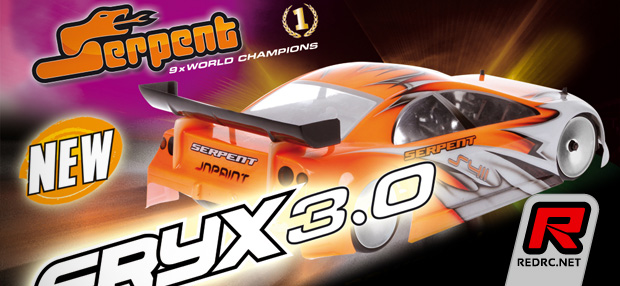 Serpent have send out a scoop for their 411 ERYX 3.0 touring car. The kit will become available in May and features a 2mm hard-coated and laser-engraved 7075-T6 aluminium chassis, new lower bearings blocks, a new low centre of gravity motor mount as well as separate top plate support bushings for improved flex adjustments. Other new parts that will make it into the 3.0 kit are a lightweight aluminium spool, new v2 hard composite plastic parts, front double joint driveshafts, new A-arm brackets front and rear, updated shock O-rings and lightweight aluminium turnbuckles.
Click here to view all new features
Thursday, April 24, 2014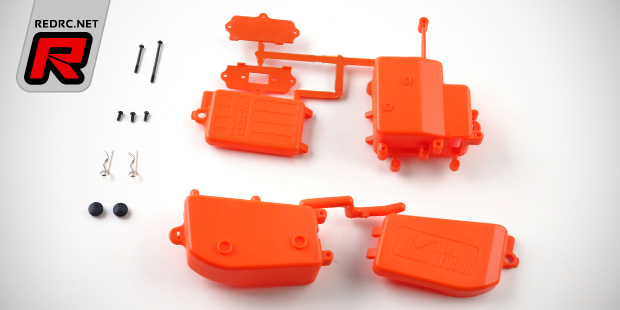 Kyosho have several new option parts for the MP9 1/8th nitro off-road buggy available in the form of coloured radio boxes, suspension weights and aluminium throttle/brake servo arms. Starting with the RC boxes, the parts have been seen before and are now officially launched. They are available in several colours such as fluorescent green, yellow and orange along a white version all of which match with the already available rims and rear wings. The parts are a direct fit on the MP9 platform.
Click here to continue reading
Thursday, April 24, 2014