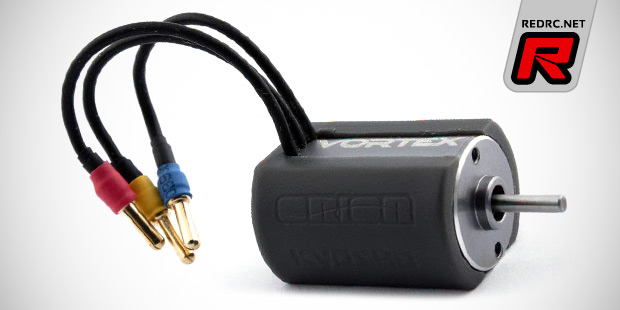 Team Orion soon have three new Vortex Mini-Z brushless motors for the Mini-Z VE available. Coming as 5600kv Stock, 8500kv Torque and 9500kv Speed variant the motors are designed to replace the stock brushless motor with a drop-in solution. All motors come pre-wired with gold-plated connectors.
Source: Kyosho [kyoshoeurope.com]
Monday, March 10, 2014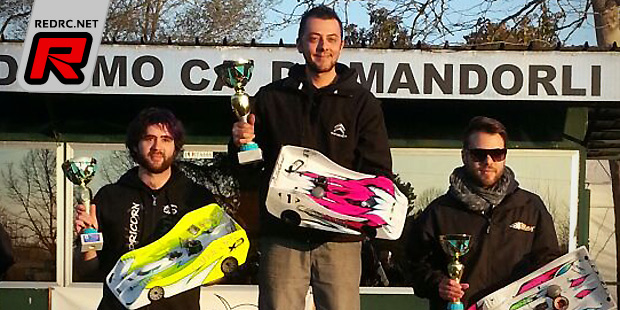 Last weekend the Mini Circuit M.C.S. 80 in Bologna held the Max Power Trophy, the first important race after the Winter season. In the 1/8th on-road class Christian Cavicchioli (Capricorn/XRD) took TQ after winning the first and third qualifying round. Alberto Tedeschi (Serpent/Max Power) and Mattia Collavo (Capricorn/XRD) came in 2nd and 3rd respectively. For the 30 minute final Christian was able to conserve his performance to take the win in front of his Capricorn/XRD teammate Mattia. Alessandro Bracci (Xray/Max Power) came in 3rd to complete the podium.
Source: Capricorn [capricornrc.com]
Monday, March 10, 2014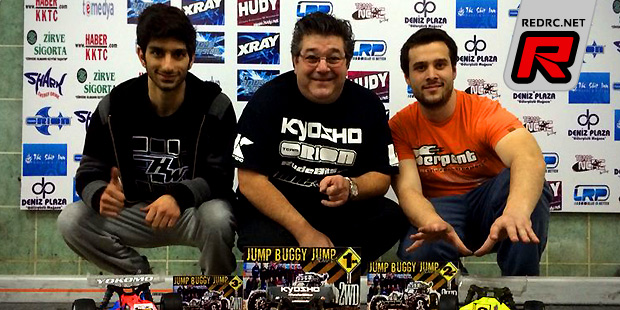 The Northern Cyprus Racing Club hold an indoor electric off-road race during the past weekend with a special guest in form of UK's Tony Evdoka in attendance. The meeting was called the Jump Buggy Jump race and took place on a demanding carpet track with three walls of death, huge jumps and slippery wooden plates. At the end it was Tony who TQ'd both the 2WD and 4WD class and he also went on to win both classes in style. The runner-up spot in the 2WD class went to Deniz Aksüt while Umut Oztumen completed the podium. In 4WD Ilker Ercen came in 2nd and Ahmet Akber took the last remaining podium spot.
Source: Kyosho [kyoshoeurope.com]
Monday, March 10, 2014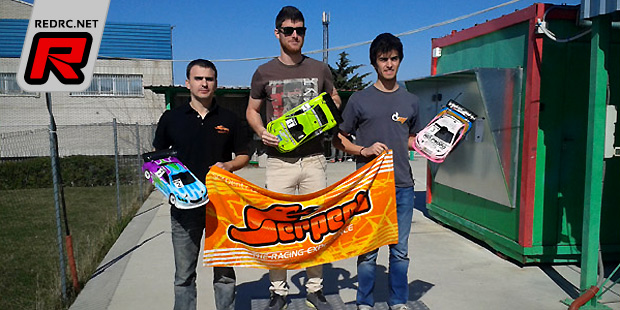 The first round of the Madrid regional championships took place last weekend. Serpent's Juan Hidalgo took the win in front of his team mates Rodrigo Pahissa and Victor Pelaez. Valentin Garcia and Christian Lopez rounded out the top5 result.
Click here to view the top10 result
Monday, March 10, 2014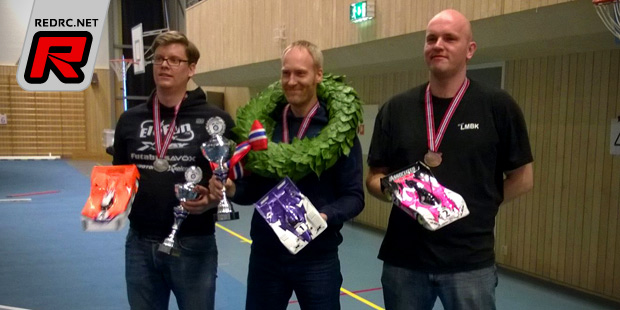 The Norwegian 1/12th scale championship was held in Spydeberg last weekend. The well organised race was run on quite a large track and attracted 21 drivers in the Modified class. The race format saw 5 rounds of qualifying, followed by triple mains. From early on it was clear that keeping good power over the 8 minute heats would be important in order to score good results. This was proven in the first round of qualifying where several drives did not make the 8 minute mark and Lars Haugen would take the first round in the highly competitive field. Helge Johansen would go on to take home two rounds on qualifying with Swede Alexander Anderson taking another round leaving Helge with the overnight TQ. On Sunday morning Lars took home the last qualifier and with it the overall TQ honours by beating Helge's fastest run. Alexander Anderson would start from 3rd on tie-break with Øyvind Stusdal who put his car 4th on the grid.
Click here to continue reading
Monday, March 10, 2014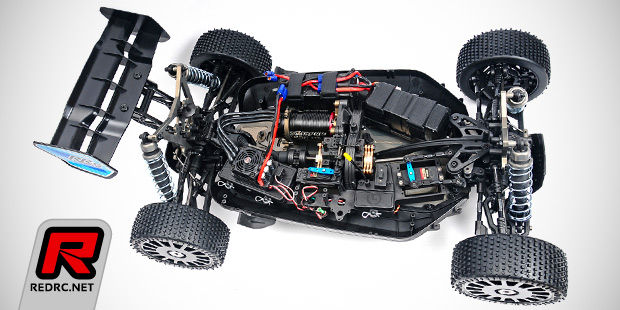 MCD Racing now have an electric conversion kit for the RR5 large scale 4WD buggy available. Designed to replace the standard gas engine with whisper silent electric propulsion the kit contains all structural parts such as a brushless motor mount, an angled battery tray, velcro battery mounts as well as a hardware set. Not included are a brushless motor, speedo and battery packs.
Click here to view more photos
Monday, March 10, 2014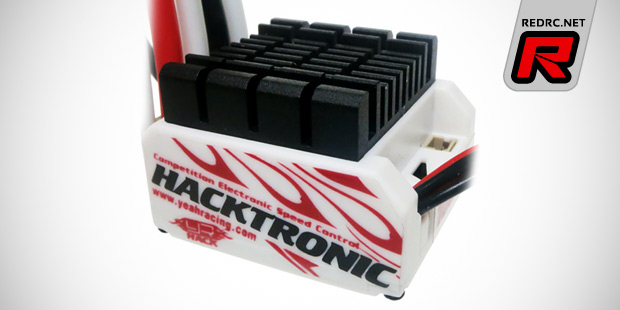 Yeah Racing introduce their new line of Hacktronic bruhsless speed controllers and Hackmoto XTA sensored brushless speed controllers. Starting with the speedos, available are three specific variants for touring car racing, drifting and rock crawling. The Hacktronic-T touring car ESC features widely adjustable punch and turbo settings to make the most out of Modified and Boosted Stock classes. The Hacktronic-D drift controller features additional RPM lock and throttle release curve settings specially designed for drift racing while the Hacktronic-C rock crawler controller incorporates a special software with crawler reverse and holding functions. All ESCs feature a 120A rating, 6V/3A BEC system, 1-2S LiPo compatibility and they come with a 25mm cooling fan unit. An optional programming box and USB interface allow for easy adjustment of all software parameters.
Click here to continue reading
Monday, March 10, 2014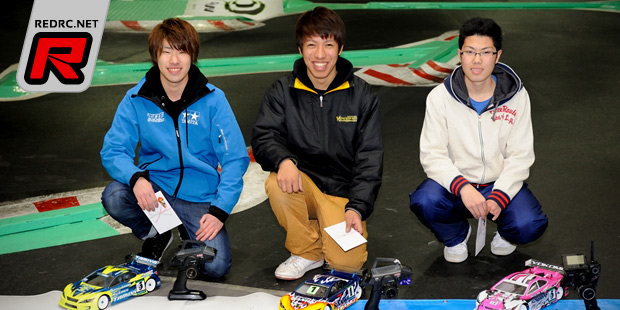 Round number 2 of the 2014 Speed King Tour took place at the World Jam Racing indoor tarmac track in the Gunma prefecture in four electric touring car classes including Modified, Stock, JMRCA Stock and Local. In the premier class of TC Modified, last year's champion Yugo Nagashima took the TQ in front of TRF driver Takayuki Kohno. Round 1 winner Akio Sobue held the third position after the qualifiers. Following a good start into the A main, Yugo' car lost rear grip in the first turn but he recovered quickly and kept the lead. Yugo then dominated the final from start to finish with his Yokomo BD7-2014. Akio moved up to second after a mistake of Kohno while young local talent Toyoki Yamada finished third to complete the podium. In the championship Akio keeps his leading position, while Yugo suffers from having missed the first round due to heavy snow fall. The next round of the 2014 Speed King Tour will be held at the RC Stadium track on the 6th of April.
Source: Speed King Tour [speedkingtour.blog.jp]
Monday, March 10, 2014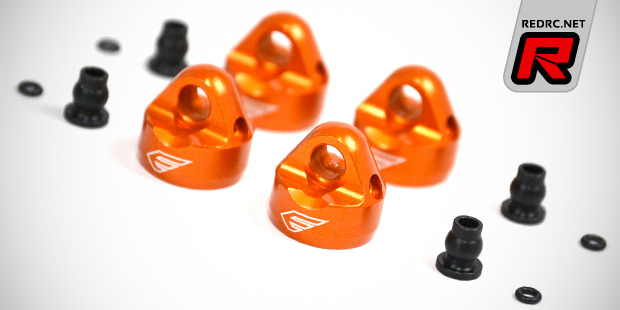 Exotek introduce new optional parts for Xray's successful XB4 line of buggies in the form of aluminium shock caps, shock collars and spring cups. Starting with the shock caps, the parts are CNC-machined from high-quality aluminium and of a heavy duty design. They come in orange or black colour, include snap-in POM bushings and high density rubber O-rings for the bleeder screw. They are usable on all XB4 shocks but require the use of XB4'14 inner O-ring seals.
Click here to continue reading
Monday, March 10, 2014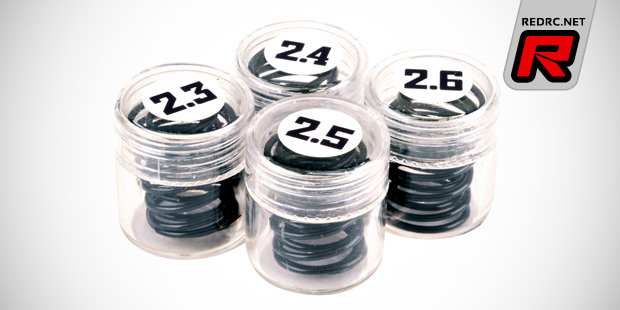 Team C Racing have two new spring sets for the TC10 touring car available. Each set contains four pairs of 20mm low-profile springs, starting with the softer 2.3N to 2.6N set while the "harder" set contains the 2.7N to 3.0N variants. All paris come in handy containers with highly visible hardness markings and are usable with Team C's TC10 chassis as well as many other touring cars that use 20mm long springs.
Click here to view the second spring set
Monday, March 10, 2014