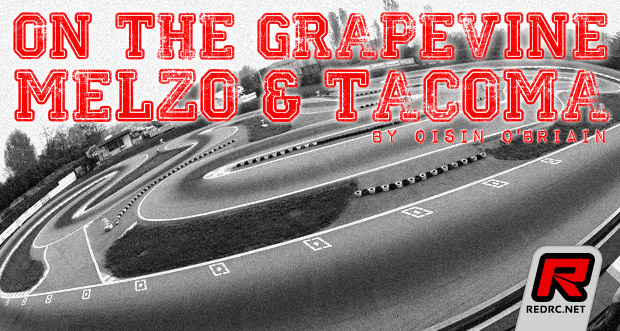 While my own racing activities are far and few between these days, one of the things I enjoy most about racing is the actual building of the kit in preparation for hitting the track. I like the piecing together of the various elements of engineering that is to be found in a competition rc car, most of my builds being onroad nitro kits, and I suppose that stems from my general interest in how most things are made. Happy to sit through a few episodes of Discovery Channel's 'How is it Made' series, I have always been keen when an opportunity arises to get an insight into the behind the scenes of how a product comes about, be it a visit to a Skoda car factory in the Czech Republic while there for a friend's stag or a recent visit to the world's oldest operating distillery which is located not to far from my home town. With the start of the all new Euro Nitro Series came two such opportunities involving rc manufacturers, one of which would turn out to be a lot more interesting that even I expected.
Continue reading On the Grapevine here
Thursday, April 24, 2014 - add a comment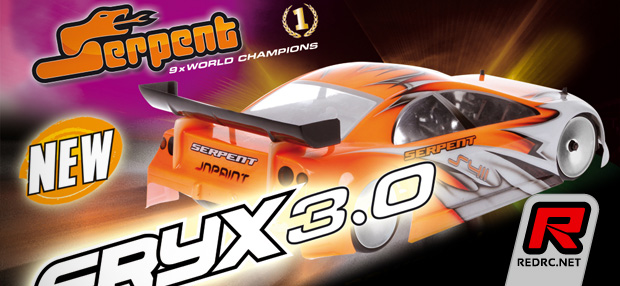 Serpent have send out a scoop for their 411 ERYX 3.0 touring car. The kit will become available in May and features a 2mm hard-coated and laser-engraved 7075-T6 aluminium chassis, new lower bearings blocks, a new low centre of gravity motor mount as well as separate top plate support bushings for improved flex adjustments. Other new parts that will make it into the 3.0 kit are a lightweight aluminium spool, new v2 hard composite plastic parts, front double joint driveshafts, new A-arm brackets front and rear, updated shock O-rings and lightweight aluminium turnbuckles.
Click here to view all new features
Thursday, April 24, 2014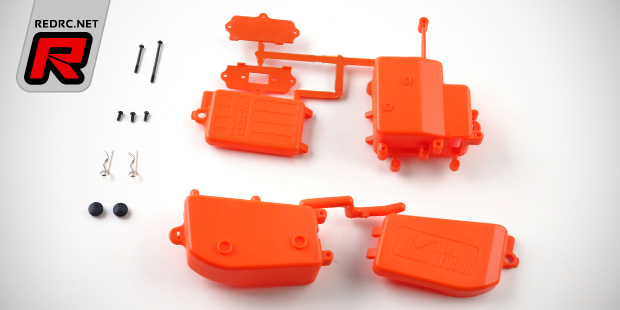 Kyosho have several new option parts for the MP9 1/8th nitro off-road buggy available in the form of coloured radio boxes, suspension weights and aluminium throttle/brake servo arms. Starting with the RC boxes, the parts have been seen before and are now officially launched. They are available in several colours such as fluorescent green, yellow and orange along a white version all of which match with the already available rims and rear wings. The parts are a direct fit on the MP9 platform.
Click here to continue reading
Thursday, April 24, 2014

The organisers of the annual IRCC event, that takes place in Japan, have been in contact to tell us about this year's event which will be held from the 27th to the 29th of June. The race is unique in that it will be held at the Chubu international airport, in an event hall near the arrivals section. With the airport having a hotel and restaurants, you wont need to do much travelling and can in fact access the track by foot. The race will see the running of several on-road classes including Stock TC, a FWD class, Modified and Stock 1/12th scale, World GT and more. Racers interested can visit the official event site here, where you will find all the information also in English.
Thursday, April 24, 2014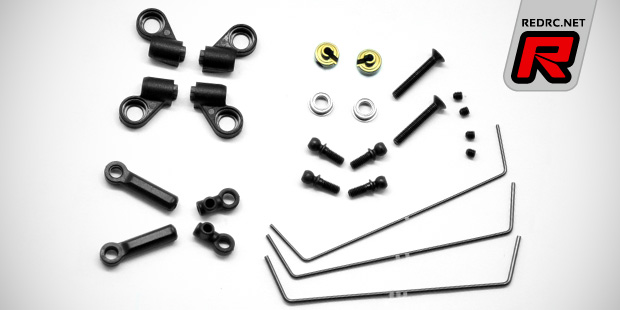 Serpent have two new ball-raced rear anti-roll bar kits for the SRX2 RM and MM available. Both include three different thickness anti-roll bar wires and the needed hardware, including ball bearings, to mount the parts either in the rear motor RM or mid motor MM buggy. Using a rear swaybar can come in handy especially on high bite surfaces such as astroturf, carpet and sugared clay.
Click here to view the mid motor swaybar kit
Thursday, April 24, 2014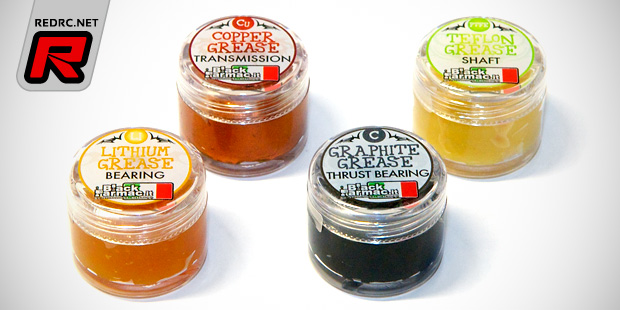 Blacktarmac introduce a line of specially formulated greases for a wide range of applications. First up is the copper grease, a lubricant incorporating finely dispersed copper dust. The grease is formulated to have excellent adhesion and resistance to give protection against wear, rust and high temperature degradation. Its primary use is on transmission parts.
Click here to continue reading
Thursday, April 24, 2014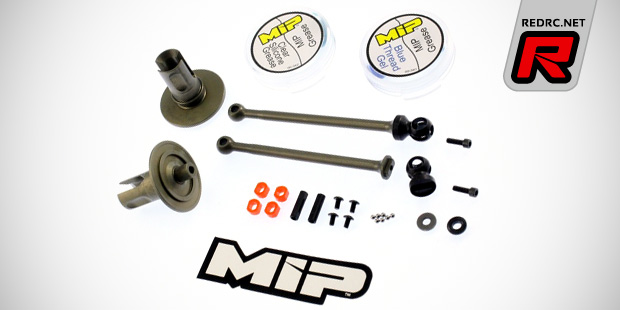 Based on their own Pucks drive systems MIP now introduce the new bi-metal R-CVD driveshaft set for the Team Associated B5 and B5M. This all-new design features a keyed joint made out of hardened alloy steel that connects to 7075 hard anodised aluminium bones. This feature allows to lighten up the drivetrain without sacrificing the durability that steel components offer. The R-CVD design also helps to keep costs low while 7075 hard anodised aluminium outdrives further reduce the rotational mass of the drivetrain. The set is designed to work with the B5 kit's wheel axles and differential parts.
Source: MIP [miponline.com]
Thursday, April 24, 2014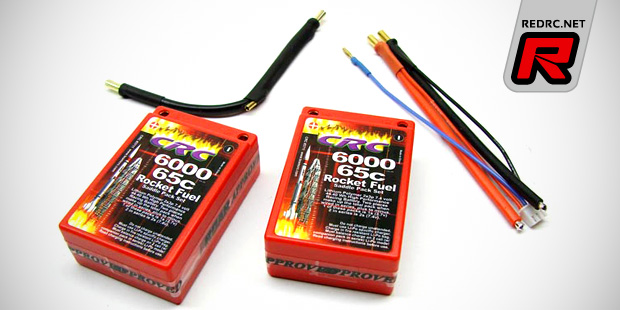 CRC have a new competition LiPo battery available in the form of the Rocket Fuel 2S 6000mAh saddle pack. Built from high-performance 65C cells the ROAR-approved battery comes in an orange colour hardcase and including jumper wire and balance lead.
Source: CRC [teamcrc.com]
Wednesday, April 23, 2014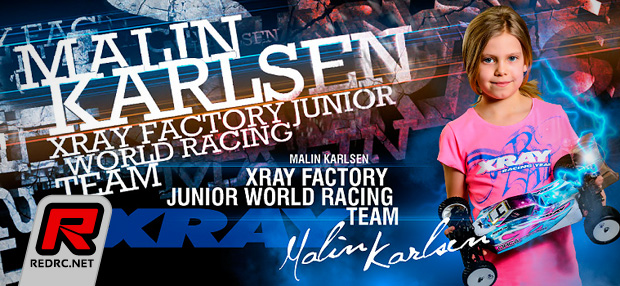 Xray announce that young up and coming off-road talent Malin Karlsen has joined their junior team. Malin is an 8 year old girl from Norway who has shown an exceptional talent. Malin will be racing all Xray off-road buggies in her upcoming campaign that will include the EFRA 1/10th Buggy Euros, the 1/8th and 1/10th Nordic Champs as well as the Swedish Nationals and Cup Series.
Source: Xray [teamxray.com]
Wednesday, April 23, 2014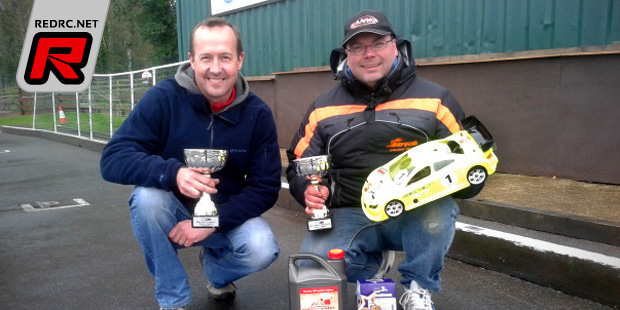 The first race of the 1/10th British National Championships was held last weekend at the Cotswold Race Track in the heart of the UK with 41 drivers attending. Saturday's practice was in dry conditions but Sunday's weather forecast saw rain from 13:00, so 3 rounds of qualifying were completed in the dry and then on time the rain started. No drivers when out for their last race, this left Mark Green and Glyn Beal on TQ for Touring Cars and GT respectively.
Click here to continue reading the report
Wednesday, April 23, 2014