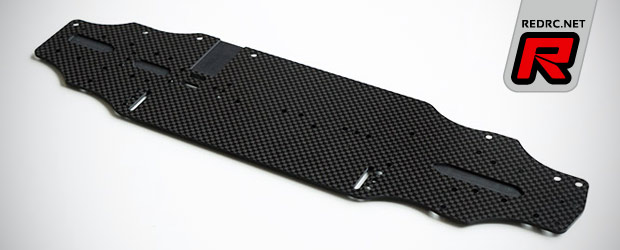 Smokem Racing has taken their proprietary "pro-weave" 100 percent carbon fiber construction and married it to a contoured design to produce the T4'14-IIX chassis for the Xray T4'14 electric touring car. This specially developed 2.0mm thick chassis material is stiffer than conventional weave but softer than a quasi weave. This unique combination of increased flex and lower centre of gravity generates improved corner speed over a wider range of track conditions and temperatures. Through extensive development and testing, Smokem has managed to improve the high speed steering and transitional response with the T4'14-IIX design. Furthermore, the differential and spur gear openings have been closed off to further enhance flex characteristics and improve airflow on the bottom of the chassis.
Click here to view another photo
Friday, July 25, 2014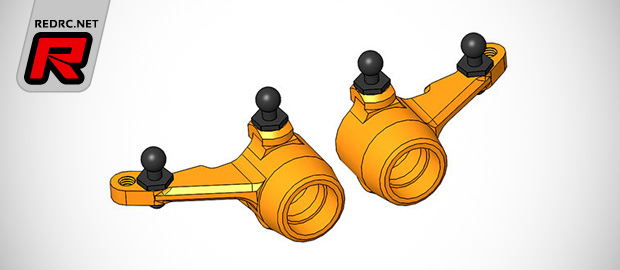 Yeah Racing introduce a range of aluminium option parts for the proven HPI Racing Spring 2 touring car. Available soon are front steering knuckles, C-hubs, 3 degree toe-in rear hubs, front and rear lower A-arms as well as a ball-raced steering set and an aluminium motor mount post. All parts are CNC-machined from high-quality aluminium, they come orange anodised and the A-arm are equipped with bushings for the hinge pin to improve durability and to make for a smooth suspension movement. Also coming is a 4-piece set of 38mm steel CV-style driveshafts that improves drivetrain efficiency. The suspension parts come as pairs with a complete set of all of the above parts being available for those who wish to do a complete conversion at once.
Click here to view the other new parts
Friday, July 25, 2014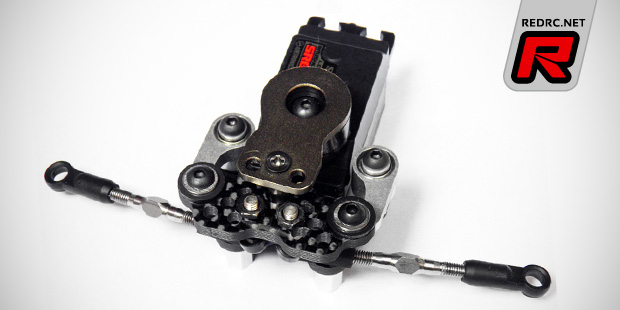 Japanese company TRG have released first information and images of a new dual bellcrank steering system for Tamiya F103 and F104 based pan cars. Designed to deliver an optimised Ackermann geometry the set greatly improves cornering for a more predictable and faster ride. The set only works with low-profile servos of 25mm to 27mm height and with the mounting tabs being 17.5mm high. Included in the set come aluminium bellcranks and steering posts, a carbon fibre steering plate and mounting brace as well as ball bearings and mounting hardware. The steering kit, that will become available by end of July, fits most F103 and F104 kits as well as the Kyosho Plasma F1 and the TRG F114 but some DIY to fully adapt the set to the chassis may be required.
Click here to view another photo
Friday, July 25, 2014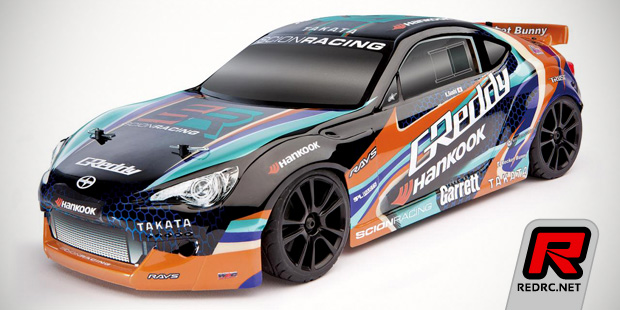 The Apex Scion FR-S is the newest addition from Team Associated's Qualifier Series. Built on the all-wheel-drive Apex chassis, the Scion Racing GReddy FR-S replica comes fully assembled and Ready-to-Run with factory-installed Reedy brushless motor and including a Reedy WolfPack 6-cell battery. Additional features include the XP water-resistant speed control and XP 2.4GHz radio system. The front and rear sealed metal gear differentials are connected together with a tough aluminium drive shaft and imperfections in the road are managed by four adjustable fluid-filled, coil-over tuned shocks.
Click here to continue reading
Friday, July 25, 2014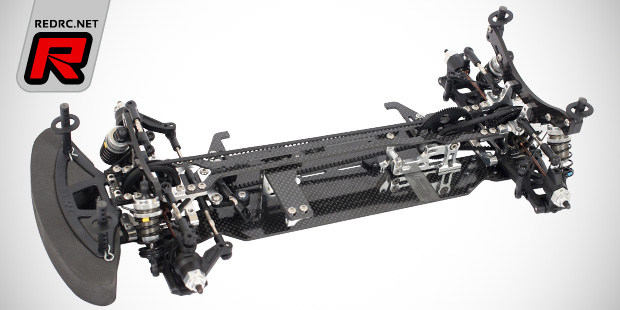 ARC introduce the R10 2015 1/10th 4WD touring car kit. Using feedback collected from drivers at all levels around the world, ARC have further refined the chassis with the main objectives to give more steering, more mechanical grip and maximum side bite to maintain higher corner speeds, with the goal to improve lap times of club and international level racers alike. First up is a new upper deck that offers less screw holes for durability while the new shape of the front of the top deck allows more flex towards the front of the chassis promoting more steering. An added benefit of the short split front is added clearance for the latest generation of Lipo batteries using 5mm plugs.
Click here to continue reading
Friday, July 25, 2014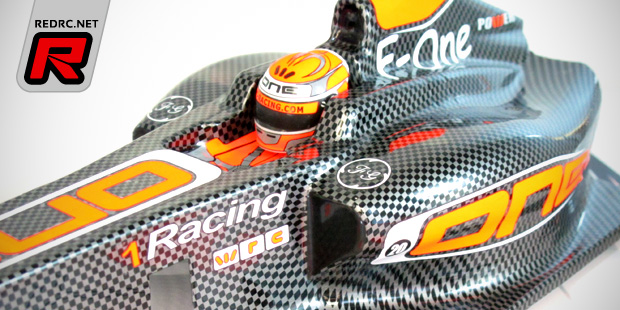 WRC introduce four new sticker sheets for the F-One formula kit. They are made to fit the kit's body and offer several decals for the nose section, side pods, engine cover and the front and rear wings. Also included are helmet and driver decals. The sticker sheets are available in fluorescent green, fluorescent yellow, orange and fuchsia.
Click here to view more photos
Thursday, July 24, 2014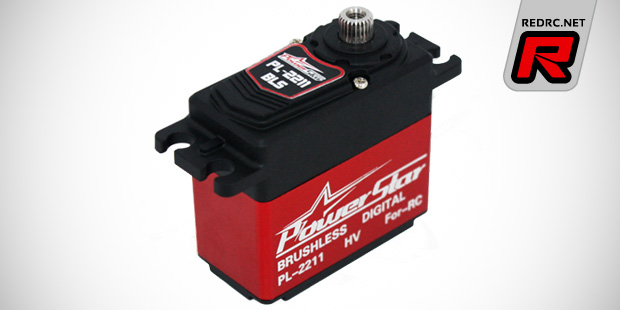 Power Star introduce three new high performance digital servos for high voltage applications. The PL-2211 (0.11s/22kg-cm), the PL-1610 (0.10s/16kg-cm) and the PL-1408 (0.083s/14kg-cm) all feature middle heatsink cases with upper and lower composite cases, mixed stainless steel and titanium gears as well as brushless motors. The HV-compatible standard size offerings work from 7.4V on and are usable with up to 8.4V input for even faster transit times and increased torque. All three are available in different colour variants including red, orange, light blue and blue.
Click here to view the other new servos
Thursday, July 24, 2014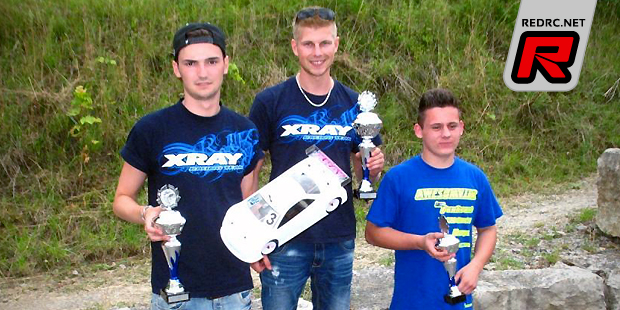 The 3rd round of the South German Electric Touring Car Championship took place in Marbach near Stuttgart on a small and highly demanding track. In the Modified class Marco Kaufmann was the dominant driver as he took all qualifying rounds, which handed him the overall TQ for the finals. He then made maximum use of his pole position by winning A1 and A2 for an early overall victory. The 3rd A-final was won by Marco's teammate Tim Wahl in front of Marco Buhmann. This also gave the overall top 3 result that saw Marco Kaufmann in front of Tim Wahl and Marco Buhmann.
Click here to continue reading
Thursday, July 24, 2014