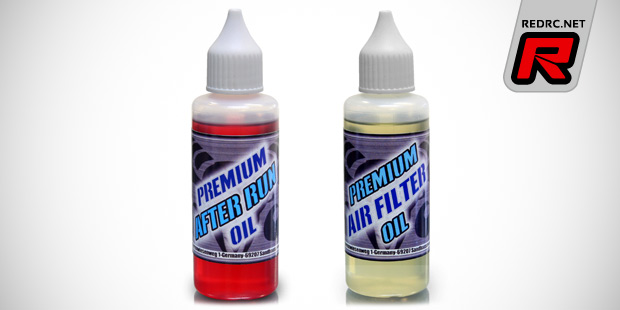 A new range of high-quality premium oils for nitro applications is available from Shepherd. First up is an after run oil specially developed for the use with nitro engines. It keeps the internal engine parts lubricated and protected from oxidation and excessive wear when storing the engine or starting it from cold. It is recommended for the use after every racing day and before storage. The second new product is the sticky air filter oil that protects the engine from dust and dirt. It allows enough air to flow through the filter while airborne particles adhere to it ensuring an optimised combination of protection and performance. Both oils come in handy 50ml bottles.
Source: Shepherd [team-shepherd.com]
Saturday, December 7, 2013 - add a comment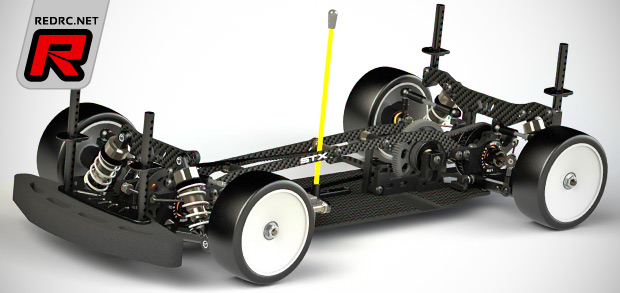 Italian company WRC have announced the latest version of their electric touring car, the STX '014. The updated version is more of a small update than a whole new car with the main changes coming in the form of a new chassis, new inner split suspension mounts for more flex, new battery locators and improved shock absorbers for better handling and cornering. For those who have the current car, an upgrade kit will be made available to bring up to the '014 spec. Available now.
Source: WRC [wrc-racing.com]
Friday, December 6, 2013 - 4 comments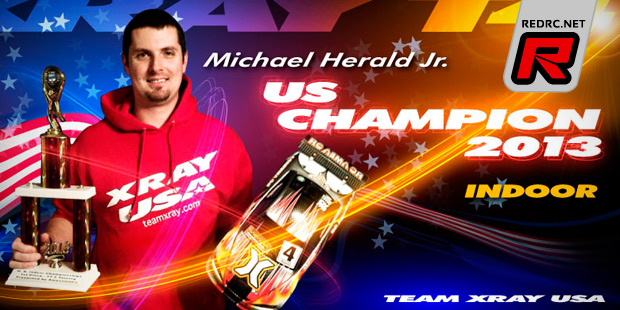 This past weekend the 2013 U.S. Indoor Championships were held at the Holiday Inn at Strongsville, Ohio. As usual, 17.5 Touring was the biggest TC class of the event. The start of the final was fairly clean resulting in a breakaway of about the first 5 or 6 cars, but the following minute or two was a little rough resulting in some tough breaks for Xray's Sam and Mike Herald Jr.. They both kept pushing hard and around halfway through the feature found themselves 1 and 2 with Herald Jr. leading, and they never looked back. Sam was able to reel in Mike to make it close at the end, but Mike drove flawless and held on to win with Sam Isaacs in second and Dave Johnson in third.
Click here to continue reading
Friday, December 6, 2013 - add a comment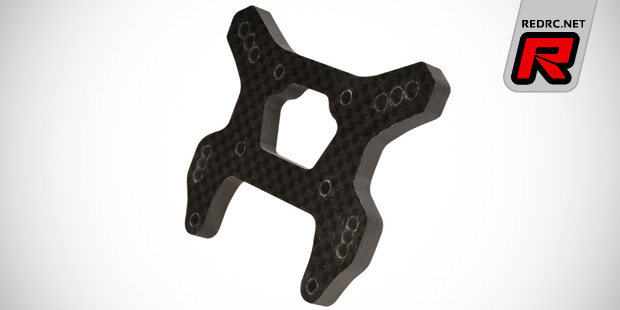 Team C Racing introduce carbon fibre shock towers for their GT8 line of cars. Coming as front and rear item the shock stays are machined from thick high-quality carbon fibre, they offer multiple mounting points for the shocks and camber links and are usable on the GT8, GT8L and GT8LE.
Click here to view the rear shock tower
Friday, December 6, 2013 - add a comment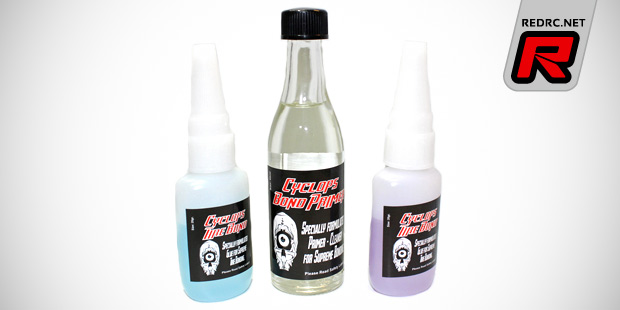 Cyclops have an updated line of tyre gluing accessories available. The purple medium glue is a 100cst viscosity product and after demand from customers the glue is now available in a new, improved bottle. New to the line is the blue thin glue of 25cst viscosity that offers the same elasticity and bonding capabilities as the original purple formula but is thinner allowing the chemical to penetrate gaps faster and also to dry faster. Last but not least is the Cyclops primer which is used to prime the surface of both the tyre and rim for perfect bond. It also is a surface cleaner used instead of ammonia, alcohol or break cleaner. 1/10 EP touring car drivers have also found in many case the primer/cleaner to be used as a tyre additive or as a primer agent for the additive.
Source: DSAW Hobbies [dsaw-hobbies.com]
Friday, December 6, 2013 - 1 comment so far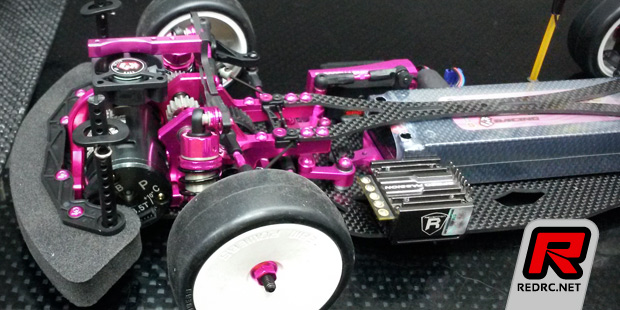 3Racing introduce the limited edition FF2014 front wheel drive touring car. The completely redesigned kit only shares a minimum of parts with its predecessor and features a new chassis design for optimised flex, a new quick release system for the differential, new high-graphite suspension parts all round, front and rear carbon fibre shock towers with new suspension geometry as well as a new dual bellcrank steering system. The kit comes fully ball raced, allows for four different battery positions and includes ball cups made from a new, stronger material. Also part of the package are several option parts such as Factory Racing Team shocks and gear differential, 1-piece 7075 servo mount, front and rear anti-roll bars, pink-colour aluminium screws, hardened 7075 alloy idler gears and aluminium arm mounts. Shipping of the kit, that won the FWD class at the recent Japan round of the Asia Onroad Championship in the hands of JJ Wang, will start on the 23rd of December.
Click here to continue reading
Friday, December 6, 2013 - add a comment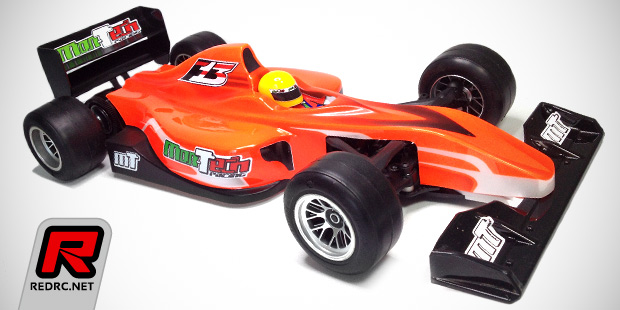 Mon-Tech Racing introduce their latest formula 1 bodyshell, called the F13. Moulded in 0.75mm high quality polycarbonate the 1-piece body comes including a driver helmet, rear diffuser and decal sheet and it is made to fit most of today's F1 chassis.
Source: Mon-Tech [mon-techracing.net]
Thursday, December 5, 2013 - add a comment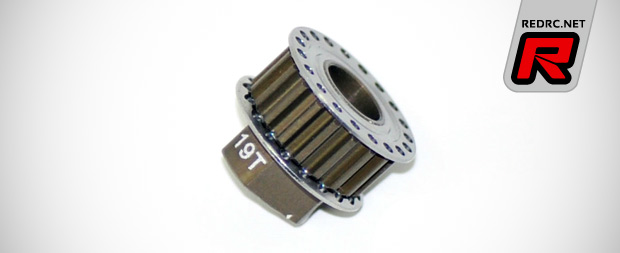 New from Serpent comes a variety of aluminium belt pulleys for the Viper 977. Available are 19T and 21T layshaft, 18T and 25T middle, 28T front and 48T rear pulleys as well as 19T and 21T lightweight pulley adapters. All parts are CNC-machined from high-quality aluminium with the side pulley shims offering openings to let dust and debris escape the pulley and belt area for improved durability and efficiency.
Click here to view the other new parts
Thursday, December 5, 2013 - add a comment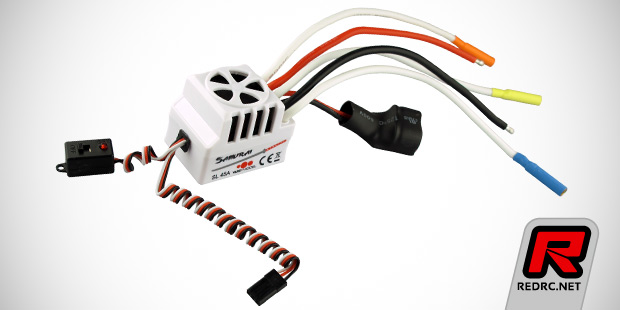 New from CN Development & Media comes the sensorless Samurai 1/10 BL/SL 45A brushless speed controller. Measuring 45x32x37mm the 2S to 3S LiPo compatible ESC features a 2A/6V switched BEC system, splash waterproof protection and it comes pre-soldered with 4mm gold-plated connectors for the motor. The controller is available separately or as combo set including a 3450kv motor and programming card.
Click here to view the combo set
Thursday, December 5, 2013 - add a comment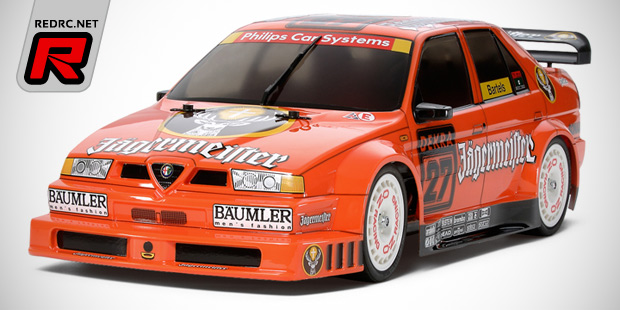 Tamiya introduce two new kits based on their TT-02 entry-level 4WD touring car. First up is the Alfa Romeo 155 V6 TI, the kit resembles the Jägermeister car that was run in the 1994 German Touring Car Championship. The kit builds on a plastic tub chassis with 4WD shaft transmission, gear differentials and in-line motor position. The highly detailed body comes with a separate rear wing and a large decal sheet while the wheels are OZ replicas with grippy slick tyres. The second new kit is the TT-02D drift chassis. It builds on the standard TT-02 and includes ball bearings, a special battery hold-down, aluminium motor heatsink, oil-filled shock absorbers and drift-spec tyres and wheels. Coming without a bodyshell nearly all 190mm and 200mm bodies should fit. Both cars will become available beginning of 2014.
Click here to view the drift chassis
Thursday, December 5, 2013 - add a comment