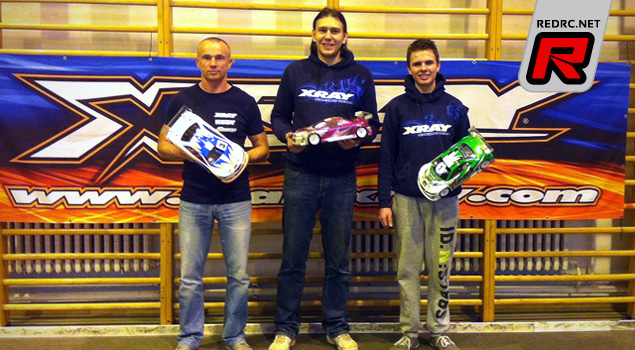 The Rebels Race 2014 was held last weekend in Trutnov, Czech Republic and the meeting marked the end of the national indoor season, attracting driver from all of the country. In the Touring Car Modified class five drivers battled for the top position with the best end for Jirka Vysin who took the pole position for the finals. In the A mains, Vitezslav Hola shifted into second gear as he was able to win the first two finals thanks to clean and fast driving. Jirka Vysin had to settle for second while Martin Korinek took the final podium spot to make it a 1-2-3 for Xray.
Source: Xray [teamxray.com]
Wednesday, April 23, 2014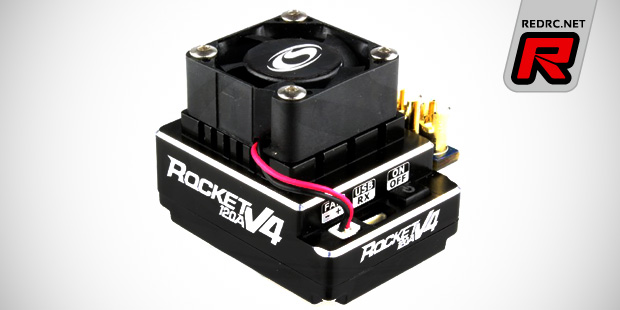 German company CS Electronic have released first images of their forthcoming Rocket V4 120A brushless speed controller. Making use of a common design the ESC will feature an aluminium case with low-profile heatsink, an optional fan unit, an easily replaceable receiver lead and heavy duty solder towers. There are no information about the software features yet but the controller will come including an USB adapter and possibly also a programming box.
Source: CS Electronic [cs-shop.de]
Tuesday, April 22, 2014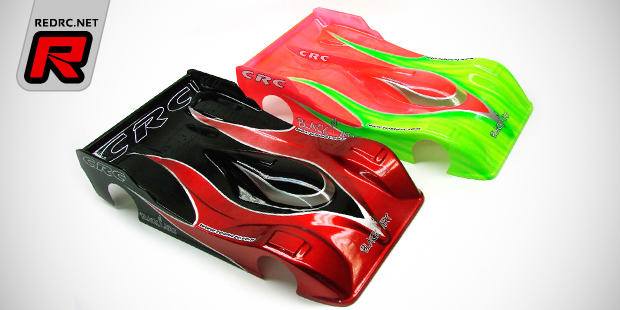 U.S. BlackArt distributors CRC introduce the new Toyota TS030 and Lola B10 1/12th scale bodyshells. Starting with the Toyota, the pink and green body in above image, the shell is designed to deliver increase downforce for high speed tracks while the centre spline makes for added stability. The body already proved its performance by winning at the recent European Championships in Italy. Also new is the Lola B10, the red and black body, that offers a bit less downforce making it perfectly suited for slower tracks, tight and twitchy circuits or Stock class racing. Both bodies are made from genuine GE 0.5mm Lexan and come clear.
Source: CRC [teamcrc.com]
Tuesday, April 22, 2014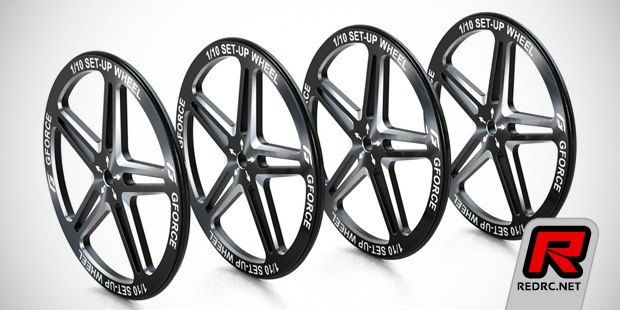 Japanese company GForce introduce these aluminium setup wheels for 1/10th vehicles. They are machined from lightweight aluminium, sport a 5-spoke design and feature rubber O-rings to prevent them from excessively slipping on the workbench or setup board once mounted to the car. The wheels come in sets of four in black or blue colour.
Click here to view the blue colour wheels
Tuesday, April 22, 2014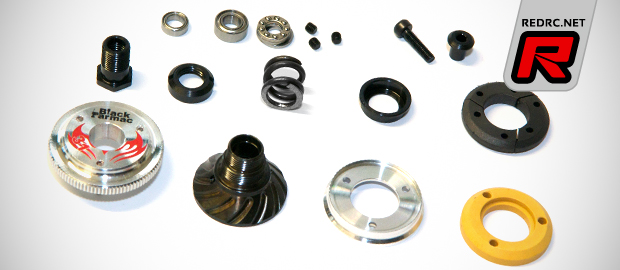 Blacktarmac introduce the double reverse clutch version 2.0 for .12 nitro engines. Offering improved quality and performance, the clutch set includes a new harder spring, a new 7075 Ergal 31mm flywheel, clutch shoes made from a highly durable material as well as new high-quality ball bearings. Available for the Xray NT1, Capricorn Lab C-02 and Shepherd Velox V10 the set also includes a lightweight 30mm flywheel for lower rotational mass, a 32mm all-round flywheel and a hard-coated 7075-T6 Ergal clutch bell.
Click here to view another photo
Tuesday, April 22, 2014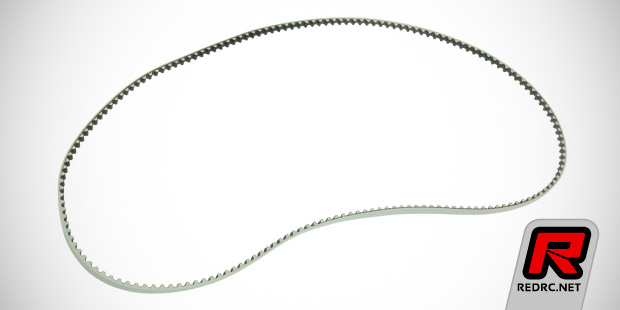 T.O.P. Racing have new low-friction drivetrain belts for the Sabre S4 available. The white colour front and rear belts are made from a special material that minimises friction and frees up the drivetrain for added efficiency, better acceleration and increased top speed.
Click here to view another photo
Saturday, April 19, 2014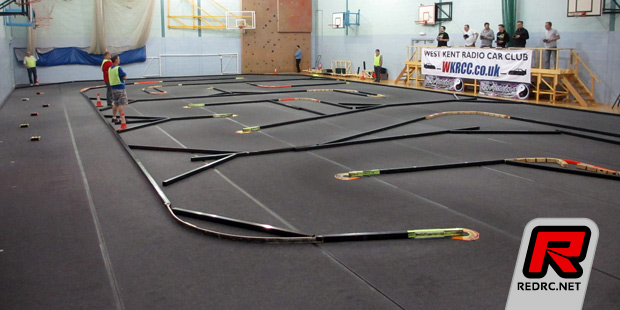 The 1/12 scale electric class is currently in its 'off-season' in the UK, with the BRCA nationals taking place during the winter from October to March. However, a number of clubs and series organisers continue to host events during the summer in order to keep competitors occupied and give them a chance to conduct valuable testing and get some practice in. The West Kent Radio Car Club in Tonbridge, South East England have previously held BRCA national events at their superb indoor venue. However, a complication with the booking arrangements at their venue meant that they were unable to be a part of last winters national calendar. As a result, they decided to put on a one-off GP meeting instead. The classes and racing format for the event were the same as for the BRCA nationals. A 2-day meeting with each day effectively counting as a separate event. This allowed drivers who could only make one of the days to attend.
Click here to continue reading the report
Saturday, April 19, 2014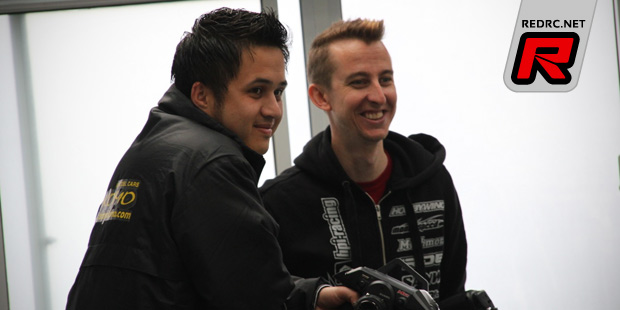 With a morning filled with 3 full rounds of practice, racers were able to really dial in their cars, drop their lap times, and kick up their consistency. Times in the 11-12 second range were common in the stock class, while 1/12th scale and modified sedan were able to dip the times below the 10 second mark.  Staying focused on the tight and twisting layout is the key to success as the track will reach up and bite you if your attention wains.
Click here to continue reading
Saturday, April 19, 2014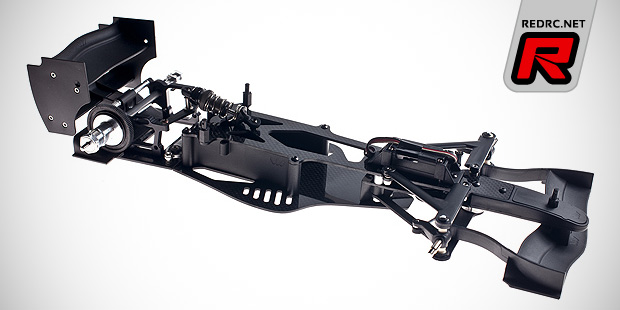 Italian company WRC introduce the F-One-S "sport version" 1/10 formula chassis kit. Making use of carbon fibre and aluminium parts, the kit also includes some new-for-2014 option parts, a 1-piece bodyshell, a 1-piece ball differential and a new 12-ball main gear. The kit is available from now on.
Click here to continue reading
Friday, April 18, 2014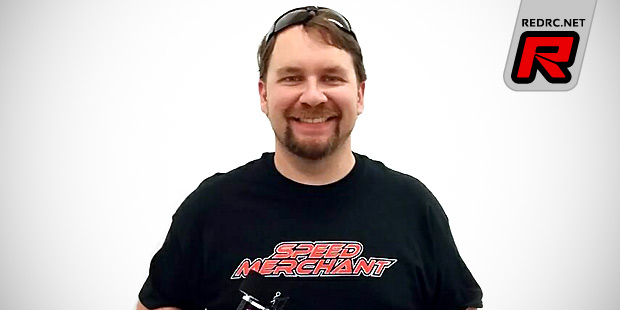 SpeedMerchant announce the signing of multi-national champion Josh Cyrul onto to their racing team. Josh has been a perennial figure a top 12th scale podiums for years and he started his tenure with SpeedMerchant by TQ'ing and winning all of the 12th scale classes at this year's Mile High Indoor Champs in Colorado with his new Rev.8.
Source: SpeedMerchant [teamspeedmerchant.com]
Friday, April 18, 2014