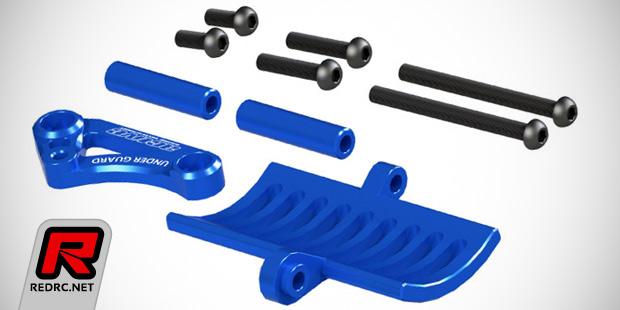 Coming from Active Hobby Products and made for Tamiya's WR-02 2WD wheeler chassis is an aluminium motor guard set. Included is a machined motor guard with numerous slots for cooling and weight reduction as well as all needed mounting hardware. The assembly protects the somewhat exposed motor of the WR-02 chassis during on-road and off-road abuse while adding a bit of visual impact at the same time. The set is available in four colours including blue, black, red and silver.
Click here to view more photos
Friday, October 31, 2014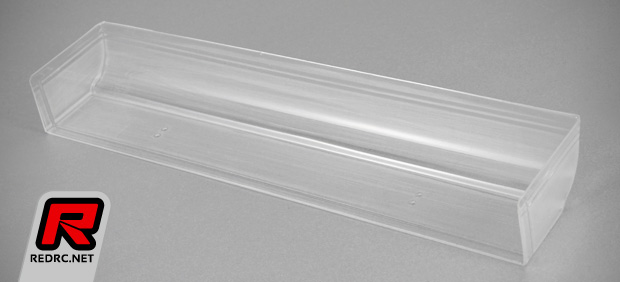 Available now from Marc Rheinard's MR33 brand is a new touring car rear wing for 190mm bodyshells as well as plastic card board boxes to protect your RC equipment during transportation and storage. Starting with the rear wing, the redesigned downforce enhancer sports an updated design for improved corner speed while offering three different cutting lines for the wing height and two different wing chord lines. Two pairs of dimples allow to easily mount the win in a front and rearward position. The wing is made from tough 1mm polycarbonate and comes including a pair of 20x40mm endplates. Also new is the MR33-branded RC plastic card box with dimensions of 470x220x130mm. The box is made to protect valuable equipment such as chargers, power supplies, as well as spare parts. The boxes can also be used within many hauler bags.
Click here to view the storage box
Friday, October 31, 2014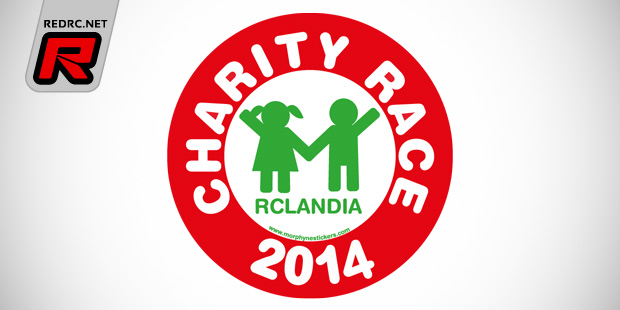 Following the success of the past 5 years of the Charity Race organised by Team La Gang and ToniSport at the permanent RC Landia carpet track in Scandiano, the event is back for a 6th year from the 28th to the 30th of November. Born from an idea between Team La Gang and Marc and Toni Rheinard, the event went ahead with a big effort from the organisers along with the support of a whole host of top international drivers and factory teams. Last year thanks to a big auction that they do before the final they raised more than €7,500 which was donated to the department of paediatrics hospital in Scandiano in the form of equipment purchased directly from Team La Gang so they are sure that their money will used in the way that they want. Limited to 120 drivers due to the limited pit space this year, thanks to ToniSport, they will have Marc Rheinard, Ronald Volker and Daniel Baldissarri and in attendance while thanks to Team Xray they will have Alexander Hagberg, Martin Hudy, Bruno Coelho, Marek Cerny, Francesco Martini, Alessio Menicucci, Alessandro Brunelli and other Italian Xray team drivers coming who will race against the best drivers from all over Italy for a weekend of fun, charity, good food and racing. For anyone interested in attending, feel free to contact Toni Rheinard (info@tonisport.de) or Davide Sillingardi (sillarcmail@gmail.com). Registration will open on Monday 3th of November at 9 pm on myrcm.ch.
Friday, October 31, 2014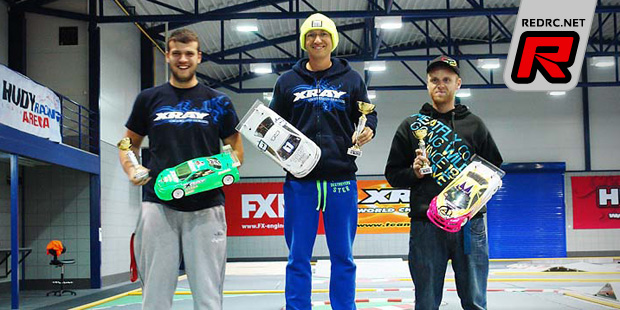 The 1st round of this Winter's Slovakia Cup was held at the Hudy Arena in Trencin, Slovakia. Run in the six classes of Touring Car Modified and Stock, Formula, Pan Car as well as 2WD and 4WD Buggy the race attracted a good turnout of racers. In the Touring Car Modified class Martin Hudy soon set the benchmark with David Nemcek and local driver Tomas Liptak battling for 2nd and 3rd spot in qualifying. The triple finals were then again dominated by Martin with David coming in 2nd and Tomas rounding out the podium in 3rd.
Click here to continue reading the report
Thursday, October 30, 2014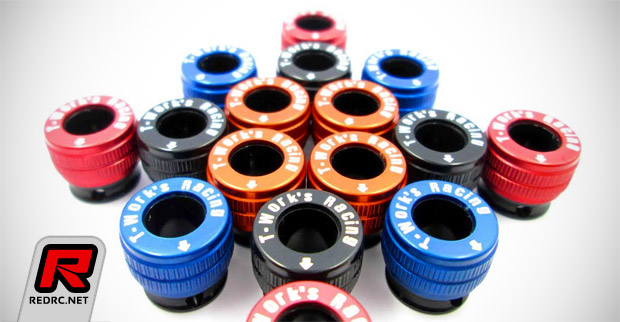 New from T-Works come aluminium body height adjusters for the use with all on-road cars with 6mm body posts. The parts are made from 7075 material and their threaded design allows to fine-tune the height and rake of a body in a range of 0mm to 3mm. Laser-etched marks make adjustment easy and included with the adjusters come 2mm stainless steel pins and securing O-rings.
Click here to view the other available colours
Thursday, October 30, 2014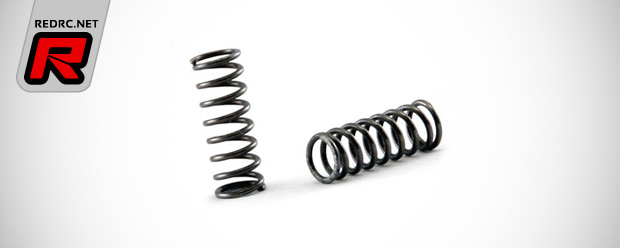 Shepherd announce a new option part for the Velox-Revolutionary-Shock-System. The super soft floating piston spring is even softer than the extra soft one and with these springs it is possible to build the shocks with zero rebound which results in better handling of the car especially on small bumps/curbs. The springs are available from now on.
Source: Shepherd [team-shepherd.com]
Thursday, October 30, 2014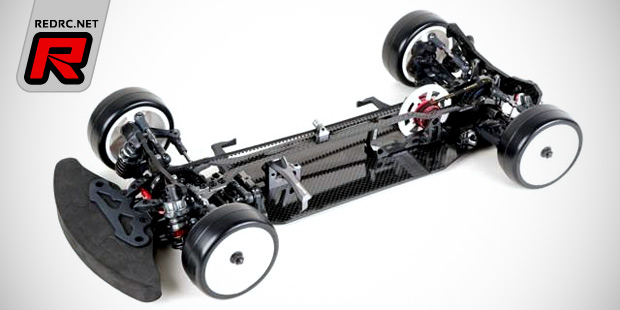 VBC Racing Australia have first images of the forthcoming Wildfire D07 electric touring car kit available. The latest incarnation of the company's touring car platform will be based on a 2.5mm carbon fibre main chassis with 2mm upperdeck and an innovative "floating" steering design that decouples the steering bellcrank posts from the chassis to allow for improved front flex characteristics. A sturdy aluminium centre pod still makes for accurate steering response while different flex settings help to fine-tune the setup. Also new to the D07 is an improved motor mount for optimised left-to-right flex characteristics of the rear part of the chassis while the new Zero Tolerance Pulley system makes for an ultra smooth drivetrain operation. Other new features include an updated anti-roll bar mount on the A-arms, a new suspension geometry using carbon composite parts, all-new 3.5mm carbon shock towers, new centre arm mounts with adjustable flex settings and more.
Click here to view the features and more photos
Wednesday, October 29, 2014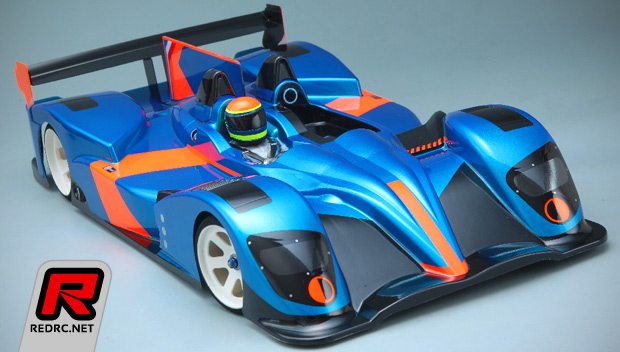 Following first teaser images Team Muso now officially announce the release of the LM-P Typ2 200mm on-road bodyshell. The multi-piece body is made from clear polycarbonate and it comes with separate rear wing, shark fin and roll cage details to create several aerodynamic configurations. The body is designed for the use with 200mm World GT chassis and also fits Tamiya F103 GT cars.
Click here to view more photos
Wednesday, October 29, 2014