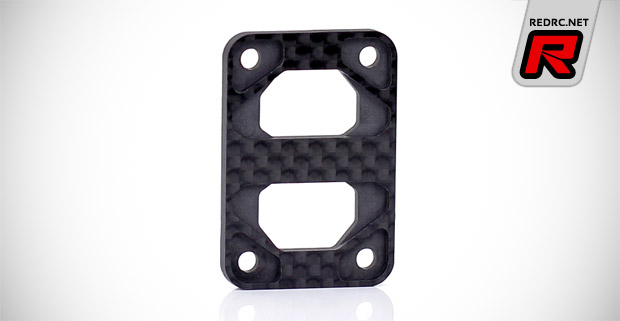 PSM have introduced two new optional parts for the Kyosho Inferno MP9e TKI and the CML Centro C4.2. First up for the MP9e is a 3mm thick lightweight carbon fibre centre differential brace which replaces the standard nitro brace included in the kit. For the C4.2 are new battery strap posts which are made from high quality 7075 aluminium and will replace the original Posts. A perfect fit with the original battery strap, they come supplied with the required fasteners.
Saturday, December 7, 2013 - add a comment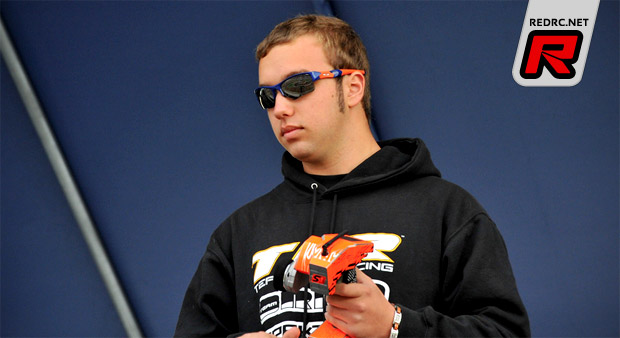 Team Losi Racing announce another re-signing, this time of US National Champion Dakotah "The Phenom" Phend for the 2014-2015 racing seasons. Dakotah had what many would consider to be a dream year in 2013, driving his Team Losi Racing vehicles to 3 ROAR National Championships in 1/8-scale electric buggy, 4WD short course truck and the prestigious 2WD modified buggy classes. To follow this up on his success Dakotah finished 8th in the debut for the new TLR 22-4 4WD buggy in the 2013 IFMAR World Championships. He had this to say:
I, along with Team Losi Racing, have had a great 2013 racing reason and I'm looking forward to my renewed partnership with them through the 2015 season.  The last few years with TLR have been great and I'm excited to continue driving, tuning and winning with the full-lineup of electric and nitro TLR vehicles.
Source: TLR [tlracing.com]
Saturday, December 7, 2013 - add a comment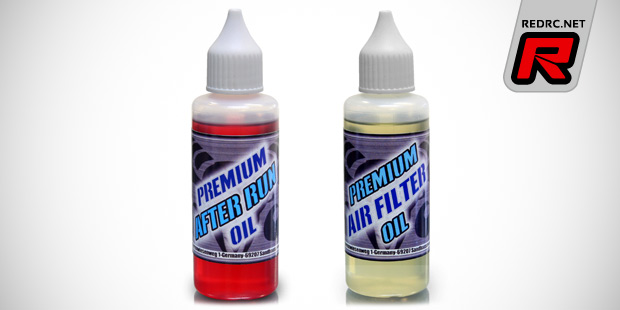 A new range of high-quality premium oils for nitro applications is available from Shepherd. First up is an after run oil specially developed for the use with nitro engines. It keeps the internal engine parts lubricated and protected from oxidation and excessive wear when storing the engine or starting it from cold. It is recommended for the use after every racing day and before storage. The second new product is the sticky air filter oil that protects the engine from dust and dirt. It allows enough air to flow through the filter while airborne particles adhere to it ensuring an optimised combination of protection and performance. Both oils come in handy 50ml bottles.
Source: Shepherd [team-shepherd.com]
Saturday, December 7, 2013 - add a comment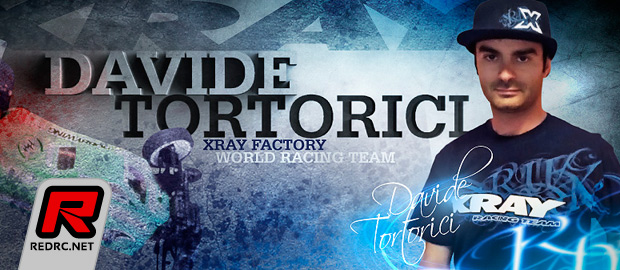 Xray announce that multiple European and Italian Champion Davide Tortorici has joined the team to race the company's 1/10th electric off-road cars. Davide will use the XB4 & XB4 2WD at all Italian races as well as internationally at the EOS and European Championship. This is what Davide has to say about the deal:
I would like to thank Xray to give me this opportunity to race with the currently best 1/10 off-road cars. I am really happy to be part of the extremely professional and dedicated team and the quality and performance of the car give me a real confidence. I hope to see you all at EOS or Euros.
Source: Xray [teamxray.com]
Friday, December 6, 2013 - add a comment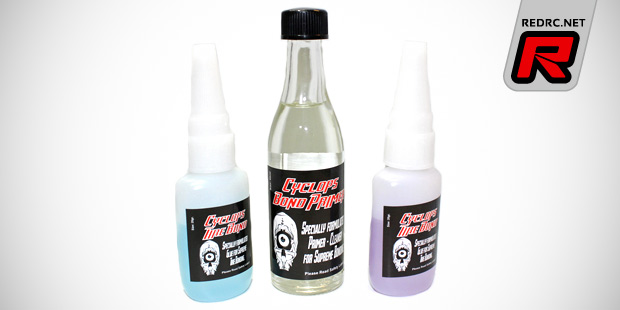 Cyclops have an updated line of tyre gluing accessories available. The purple medium glue is a 100cst viscosity product and after demand from customers the glue is now available in a new, improved bottle. New to the line is the blue thin glue of 25cst viscosity that offers the same elasticity and bonding capabilities as the original purple formula but is thinner allowing the chemical to penetrate gaps faster and also to dry faster. Last but not least is the Cyclops primer which is used to prime the surface of both the tyre and rim for perfect bond. It also is a surface cleaner used instead of ammonia, alcohol or break cleaner. 1/10 EP touring car drivers have also found in many case the primer/cleaner to be used as a tyre additive or as a primer agent for the additive.
Source: DSAW Hobbies [dsaw-hobbies.com]
Friday, December 6, 2013 - 1 comment so far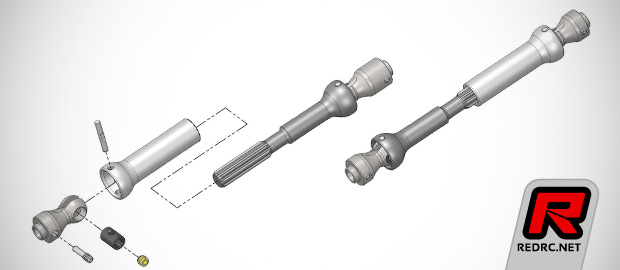 MIP introduce new Spline CVD centre drive kits for the Axial Wraith and SCX10 off-road vehicles. The kits feature an updated design that was made necessary after Axial's running changes to the chassis. The MIP kits will no longer feature the double set screw design to clamp onto the through hole but now incorporate a pin set screw for attachment. Along with that improvement MIP have also changed the drive hubs so that there is no longer any interference when it comes to making contact with the stock spur gear cover. The kits come as specific Wraith and SCX10 variants including hardware and a set of grease and thread lock.
Click here to view the Wraith centre CVD kit
Friday, December 6, 2013 - add a comment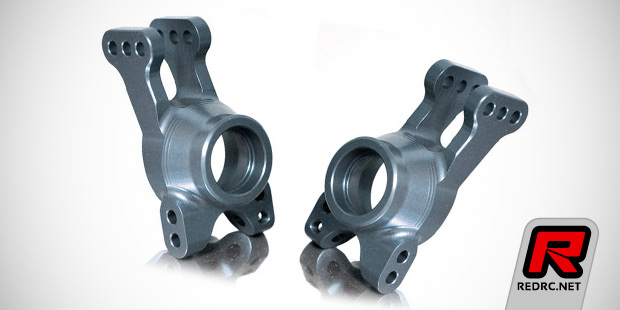 RB introduce new suspension and drivetrain option parts for the RB One line of buggies. First up are aluminium rear hubs made from 7075-T6 aluminium. The parts feature multiple mounting positions for the upper camber links, come grey anodised and greatly improve the durability of this highly stressed part of the buggy. Next up are parts for the drivetrain in the form of ventilated steel brake discs. Developed to make for a precise and fading-free brake system the discs are made for the use with another new part; the Ferodo-equipped brake pad set. The special pads are vulcanised on the steel brake pad for maximum temperature resistance and best possible brake action. To make maximum use of the new brake setup RB has also announced a set of extra-strong springs that are ideal for the use with the Ferodo brake pads. Last but not least come new off-set 17mm aluminium wheel hubs. Available as +1.5mm and +2.5mm variant the parts are sold as pairs, come hard anodised and make for increased track width in order to gain more stability on the front or the rear end of the buggy.
Click here to view the other new parts
Friday, December 6, 2013 - add a comment
Following some speculation about his future, Kyosho have announced that Jared Tebo has he re-signed a contract with the Japanese manufacturers. Winning 8 ROAR National Championships, an IFMAR World Championship as well as nearly 50 big races in the past 5 years Jared has extended his deal with Kyosho for a further 5 years. Jared has this to say about his new deal:
I am very pleased to be signing with Kyosho for another 5 years. My relationship with Kyosho is great, and the past 5 years have been amazing together on and off the track. I feel as a person, and driver, I fit in really good with the Kyosho brand and it just feels like home for me in my racing career. In the past 5 years we have been able to have amazing results; 47 big race wins, including 8 ROAR National Championships and 1 IFMAR World Championship. I am very excited to say the least about the next 5 years in my racing career, as I feel Kyosho can give me the best resources to reach my main goal of 1/8 Offroad World Champion. Thanks to Aki, Mitsuo, Kanai, Chikuba, Joe, Futoshi, and all the the Kyosho staff for their hard work.
Source: Kyosho [kyoshoamerica.com]
Friday, December 6, 2013 - add a comment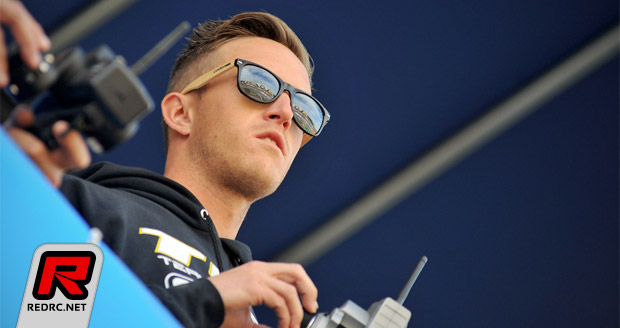 Former National Champion and Reedy race winner Dustin Evans has re-signed with Team Losi Racing. Dustin just wrapped up an impressive season with many notable wins including titles at the JConcepts Indoor Nationals, Rumble in the Rockies, Proline Surf City Classic as well as multiple ROAR National podiums and a respectable finish at the IFMAR Worlds. Dustin will continue to play a vital role in contributing feedback to the engineering team as well as providing input on future Team Losi Racing innovations through the 2016 racing season and he had this to say.
I am very excited to continue with TLR for another three years. We have had some very successful years and with all the great products and people at TLR, there should be many more to come.
Source: TLR [tlracing.com]
Thursday, December 5, 2013 - add a comment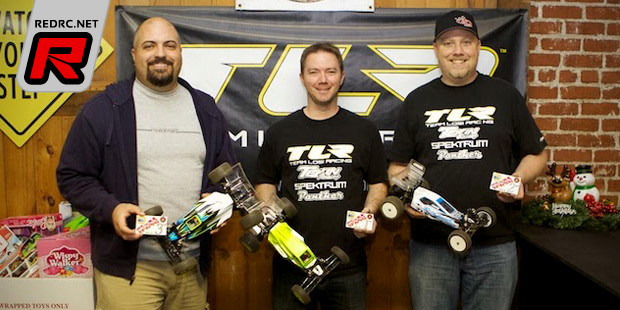 Exeter Hobbies held a Toys for Tots race Thanksgiving weekend, to raise donations for the Marine Corp Reserve toy drive. TLR Ryan Dunford and Doug "Casper" Nielsen made the drive up to the Central Valley from Southern California to help support this great cause and to mix it up with the locals. The race generated 80+ entries and tons of toys. Exeter hobbies does not normally field a modified buggy class so Ryan and Casper put in some stock motors to have some fun with the locals with 3 full heats of Pro stock buggy in attendance. After qualifying was done Ryan would take TQ with a blistering 19 lap time and Casper would line up second also on a 19 lap pace. Exeter hobbies runs a 2 bump up format and 7 min mains for more track time.
Click here to continue reading
Thursday, December 5, 2013 - add a comment