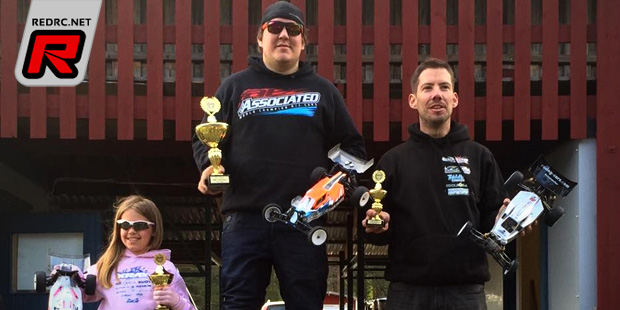 The opening round of the Swedish 1/10th Off-road Nationals was held in Söderhamn on a challenging and pretty low-grip astroturf track. The 2WD class saw some nice battles for the win between Niclas Maansson and young Malin Karlsen with Niclas coming out successful in the opening A-main while Malin was able to strike back in A2 following some small errors of Niclas. For the third and decisive A-main Malin was in a better position as she had scored a 1st and 2nd place while Niclas had a 1st and 3rd place to count. After the start both were running like a freight train until Niclas made a small mistake allowing Malin to get past and open up a small gap. But after having a few small bobbles of her own Niclas was able to catch up on Malin in the very last lap, taking a chance and jumping long on the table top in the winds to just barely put his front end ahead of Malin. Crossing the line both were just 1/10th of a second apart with Niclas coming in 1st.
Click here to continue reading the report
Friday, May 29, 2015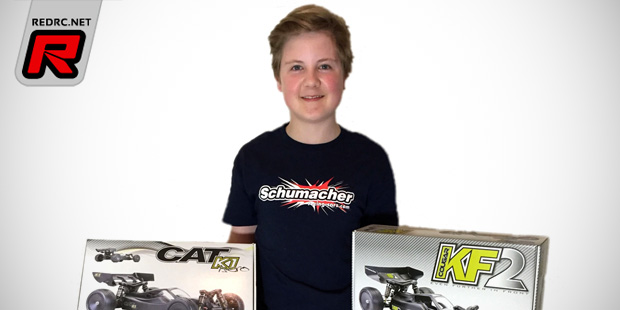 Schumacher welcome young up and coming Finnish star Max Mort to their team. Max will be competing in many regional and national races in Finland as well as select international races such as the EOS events. This is what Max has to say:
I am happy to start driving with Schumacher Off Road cars for 2015-2016 season. I was given an opportunity to drive with factory support with really competitive cars on carpet and I couldn't have said "no". I am really looking forward to the EOS season and Finnish races and I hope that we can have a great year together.
Source: Schumacher [racing-cars.com]
Friday, May 29, 2015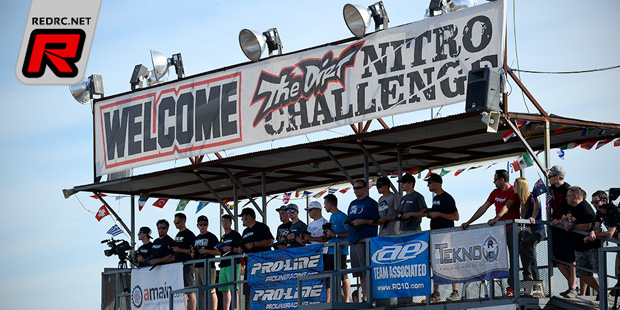 TheDirt Racing have announced the official dates for the 2016 DNC to be February 17th to 21st. The 17th annual event will be held once again at Fear Farm in Phoenix, AZ with the organisers are planning early for the 2016 event and there will also be an entries cap for the first time ever the the 17 year history of the race. After the huge influx of last minute entries last year the organisers decided it was time to make sure they have a manageable number of entries to make sure the event can be run within reasonable time scales. The official flier and entry form will be posted after the Summer with the entry limit as well as the opening sign up dates to ensure everyone has a fair chance to get signed up. To kick off the Summer TheDirt Racing are offering an "Early Entry Summer Discount". It is officially open now and will end on Tuesday the 2nd of June. The cost is $60 per entry. You can take advantage of this Summer sale by using PayPal and sending your entry to thedirtracing@aol.com or email Joey Christensen at thedirtracing@aol.com.
Friday, May 29, 2015
The 6th Annual JConcepts Spring 1:8 Indoor Nationals was hosted by Hobbyplex in Omaha, NE with the event attracting racers from all over the country. In the 1/8th Pro Nitro Buggy qualifying Tyler Jones would show the fast way around the track by TQ-ing the class. In the main Tyler would start from his TQ position but would soon fall back to 2nd place after getting caught up in a wreck but he soon caught the 2nd place driver, passed him, and was gone after that to ultimately put two laps on the field on his way to a 1st place finish.
Source: JConcepts [jconcepts.net]
Thursday, May 28, 2015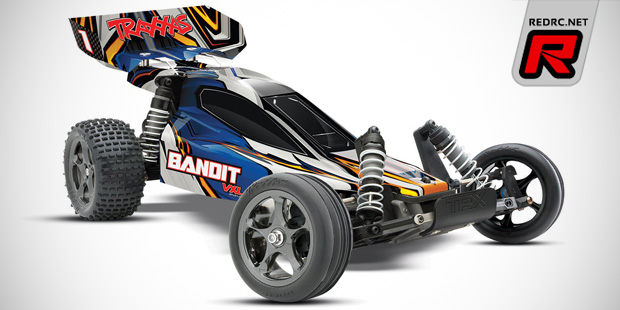 Traxxas have upgraded VXL Brushless RTR kits available such as the Bandit 1/10th 2WD buggy and the Stampede 2WD truck. Both are proven platforms and around for some time and they feature powerful brushless systems, capable of propelling the cars to speeds of more than 110km/h, they include TQi 2.4GHz radio systems, 7-cell NiMH battery packs and suitable chargers. New to both kits is the Traxxas Stability Management that helps providing straight ahead full-throttle acceleration on slippery surfaces, without fishtailing, spinouts, and loss of control. High speed cornering and control is also made possible as TSM makes corrections in the background, without intruding on fun, or creating unexpected side effects. Both kits will hit the stores very soon.
Click here to view more photos
Thursday, May 28, 2015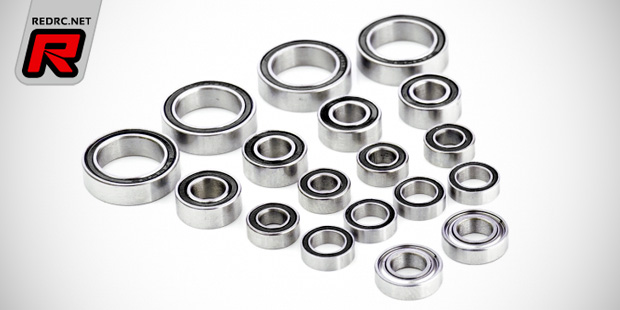 Muchmore introduce their Premium Racing ball bearings in a range of sizes. Coming with a protective rubber shield on one side and a drag-reducing metal shield on the other side the bearings will offer exceptional protection against the elements while improving the drivetrain efficiency compared to all-rubber sealed ball races at the same time. The bearings come pre-oiled using high-temperature resistant oil and they are available in five different standard sizes with the 5x10x3mm offering being the only all-metal seal one.
Source: Muchmore [muchmoreracing.net]
Thursday, May 28, 2015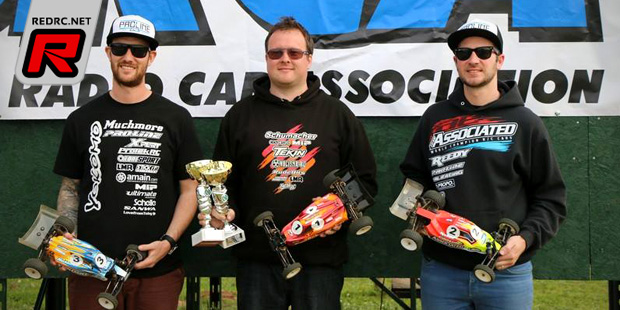 Round 3 of the BRCA 1/10th Buggy Nationals was held at the Telford club in Broseley, Shropshire. In the 2WD class, run on Saturday, Schumacher's Simon Moss took the TQ and pole position for the triple A-mains from Neil Cragg (Team Associated) and Lee Martin (Yokomo). Tom Yardy (Team Associated) and Elliott Boots (Kyosho) rounded out the top 5 result.
Click here to continue reading the report
Thursday, May 28, 2015
Team Associated have new Brushless LiPo combos based on their SC10 2WD Stadium Truck available. New to the Qualifier Series line, these SC10s include a water-resistant high-power brushless speed control, water-resistant enclosed receiver box, and adjustable blue anodised aluminium V2 coil-over shocks. The 2.6:1 ratio gearbox includes a sealed gear differential with heavy-duty internal gears and the externally adjustable V2 slipper clutch. The KMC replica hex-drive wheels come standard on the SC10 with high-traction racing compound rear tires and inserts for more grip. The 2.4GHz radio system, metal gear steering servo, WolfPack 3300mAh LiPo battery and Reedy 423-S 35W balance charger round out the package. The LiPo combo kits are available as Lucas Oil, Rockstar Makita and Toyota Racing/TRD truck.
Click here to view the features and more photos
Thursday, May 28, 2015