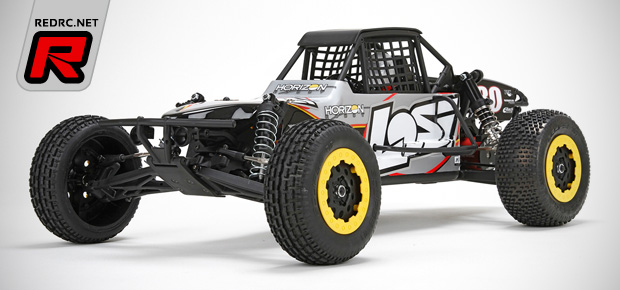 The latest incarnation of Losi's XXX is the XXX-SCB 1/10th 2WD short course buggy. When the platform first hit the RC scene 15 years ago, competition drivers were hooked on this unstoppable buggy. The vehicle utilises the AVC Active Vehicle Control system to help make its powerful 3300Kv brushless motor more manageable for entry-level drivers. With waterproof electronics under the hood, you can drive no matter what Mother Nature throws your way. The factory assembled buggy features sturdy suspension components, a 3-gear transmission with adjustable slipper clutch, grippy racing tyres and a pre-decorated 3-piece bodyshell. Also included is a high-torque steering servo, waterproof electronics, a 2S LiPo battery and a 2.4GHz radio system.
Click here to view the features and more photos
Thursday, October 2, 2014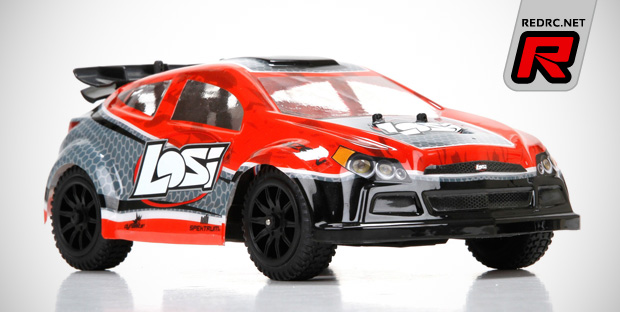 Losi revamp their 1/24th scale 4WD micro vehicles such as the Micro Rally-X and the Micro SCTE. Both base off a 4WD off-road chassis with a speedy 7915kv brushless motor and feature long-travel suspension components. A new HyperCharge system allows to charge the 225mAh Reaction LiPo battery within minutes with a 15C charge rate. Included with the cars comes a genuine Spektrum DX2E 2.4GHz radio system, grippy tyres and pre-decorated bodyshells.
Click here to view the features and more photos
Thursday, October 2, 2014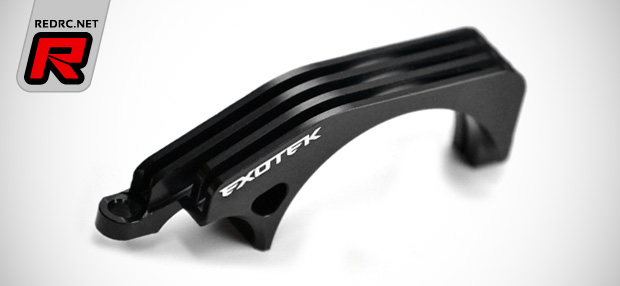 Coming from Exotek and made for the TLR 22-4 4WD buggy is an aluminium finned motor cam strap. Offering a heatsink design the CNC-machined part sports a sleek shape and lightweight design and it allows for extra cooling for the cramped confines of the 22-4. The strap comes in anodised black or yellow colour to match with the remainder of Exotek's TLR option parts.
Click here to view a photo of the part in place
Thursday, October 2, 2014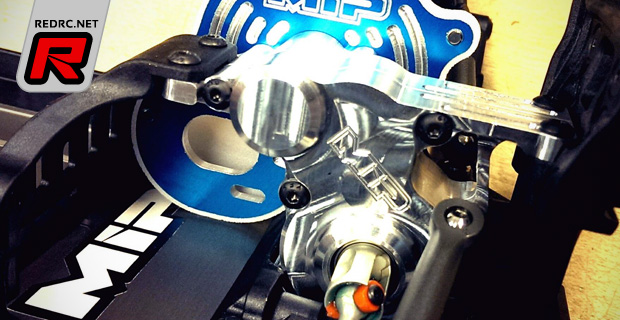 MIP soon have a 3-gear transmission conversion for Team Associated's B5M buggy available. The transmission setup takes out the 4th gear to reduce overall drag and enhance rotational efficiency, making it ideal for Stock racing while being a great tuning aid for Modified as well. Currently in prototype stages the final product, that also includes a new motor plate, will be made from 7075 aircraft grade aluminium with the release date being set for November or December.
Source: MIP [miponline.com]
Thursday, October 2, 2014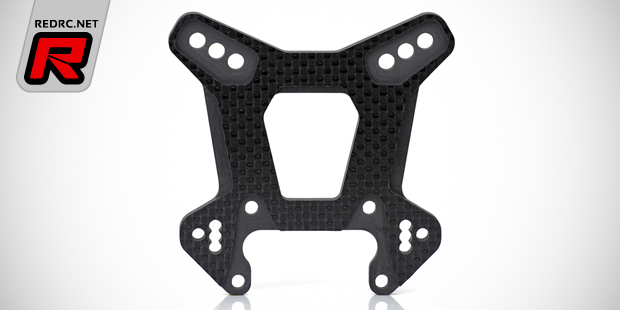 Available now from PSM are carbon fibre shock towers for the TLR 8ight 3.0 buggy. Developed by Billy Fischer and made in Germany from 5mm semi-gloss material, the shock stays offer a revised rollcentre geometry for better vehicle control and improved rear traction. Weighing in at 16.5g for the front and 23g for the rear shock tower the parts are also scrub some weight compared to the stock items.
Click here to view the rear shock tower
Thursday, October 2, 2014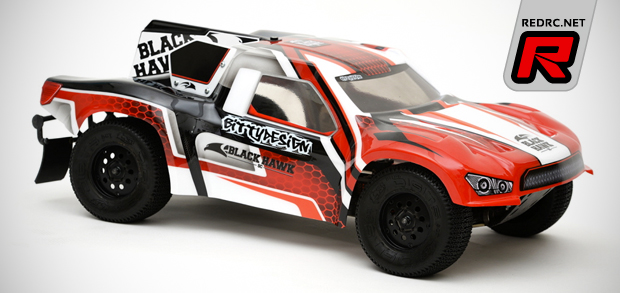 Available soon from Italian company Bittydesign is the Black Hawk 1/10th scale short course bodyshell. Made from 1mm lexan material the body fits most of today's short course trucks and it features an add-on rear fin that improves stability especially over jumps and in high speed corners. Air escape vents in the front fenders and the rear part of the body allow the air to stream through the body in order to reduce the "parachute" effect associated with many SC bodies. Included with the body come add-on number plates, hardware, window masks and a decal sheet.
Click here to view more photos
Wednesday, October 1, 2014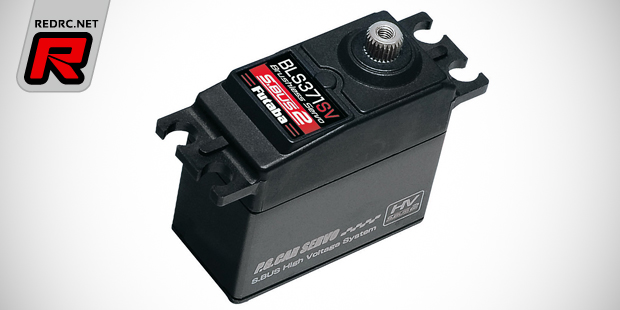 Available now from Futaba are three new high voltage compatible S.Bus2 brushless servos for electric and nitro applications. The BLS371SV (0.10s), BLS471SV (0.07s) and BLS571SV (0.08s) all offer brushless motors, dual bearings, metal gears and they are water sealed making them ideal for on-road and off-road racing alike. While the standard size BLS371SV features a heatsink middle case to dissipate heat better the BLS571SV is a low-profile servo for electric touring car and 2WD buggy applications. All three are compatible with Futaba's S.Bus and S.Bus2 system and programmable through the 4PX transmitter for channels, normal/reverse, dead band, speed, travel and more.
Click here to view more photos
Wednesday, October 1, 2014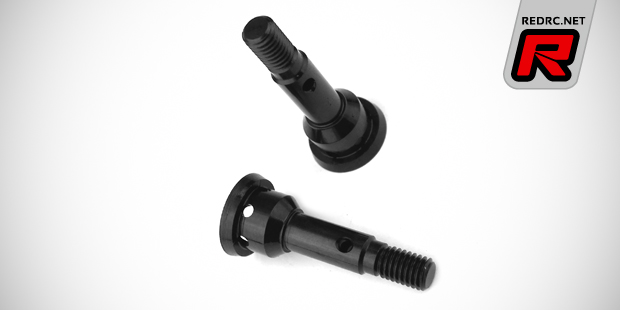 New from Tekno RC and made for the SCT410 are M5 thread stub axles and matching serrated wheel nuts. Pro 4 SC vehicles have a lot of power and the 12mm wheel hexes that are used can strip easily if the wheel becomes loose. This results in wasted wheels and tyres and so Tekno RC have equipped the new stub axles with a large M5 thread in order to use a larger M5 serrated nut that will not come loose. This makes for a far more durable stub axle, fewer stripped nuts and less tyre waste due to wheels coming loose. The axles are of a hardened steel construction and come black oxide coated for hard wearing characteristics. The matching wheel nuts are made from black anodised aluminium, they offer a serrated back to ensure the wheels stay on and they come in sets of four nuts.
Click here to view more photos
Wednesday, October 1, 2014