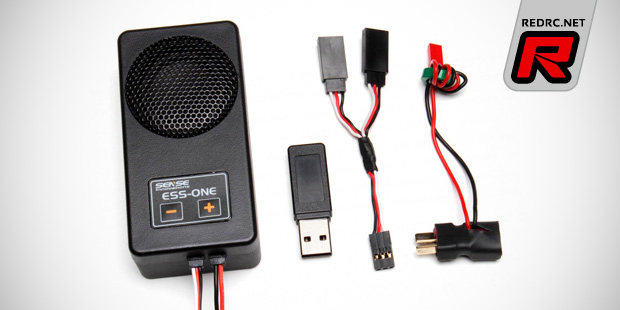 Team Associated help you to take your scale realism experience to the next level with the ESS-One Engine Sound System and XP light arrays. The ESS-One Engine Sound System allows to choose from multiple throaty race engine sounds, shifting, brakes, and turbo blowoff valves. The programmable ESS-One delivers these sounds in one simple, small box for a clean and easy installation and it is usable for short course trucks, drift or rally cars.
Click here to continue reading
Saturday, November 22, 2014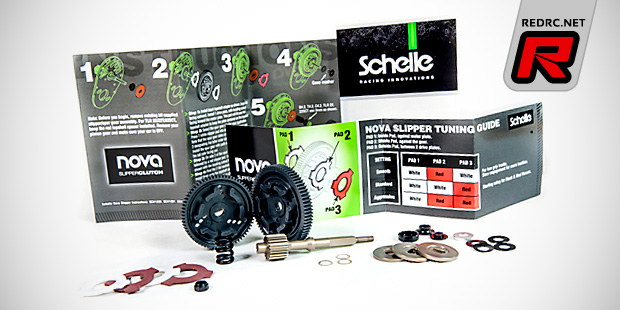 Schelle Racing Innovations' Nova 3-pad slipper clutch is now also available for Kyosho's RB6 2WD buggy. All parts needed are included in this conversion to race stock or modified buggy with a 69 or 76 tooth Nova spur. Also included is the required Nova aluminium topshaft which will adapt the Kyosho gearbox to a Nova slipper clutch and 5.5mm hex adjustment nut. The Kyosho conversion also includes both types of slipper pads with a tuning guide to help racers learn how to tune the clutch for different conditions from slick to astro turf. The conversion also fits the RT6, SC6 and Ultima SC with the aluminium top shaft also being available separately.
Source: Schelle Racing Innovations [schelleracing.com]
Saturday, November 22, 2014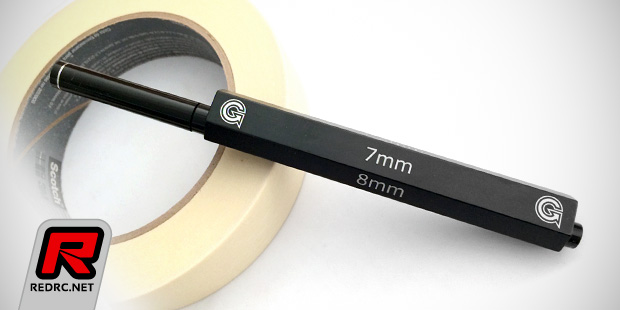 Gravity RC introduce the Skirt Pen, an adjustable height marker to mark the height of on-road body cut lines. With the body on the car the pen is laid on the table or pit board to draw an accurate line around the body which indicates the lower cutting line. The 6-sided unit offers measurements of 4.5mm, 5mm, 6mm, 7mm, 8mm, and 9mm with the laser-engraved number facing up is the exact height of the pen's tip. The Skirt Pen also includes masking tape to apply on the body's skirt before drawing the line to help with visibility on dark body designs. Other uses may include marking lines on foam off-road inserts when cutting them narrower to size.
Click here to view another photo
Saturday, November 22, 2014
Tekno RC have revised rear arms for the EB48 and NB48 1/8th buggy and a new 5.5mm and 7mm nut wrench available. Starting with the A-arms, they are exactly the same material and dimensions as the XT arms, but with added clearance for the shock spring perches. They are a direct fit on the Tekno's nitro and electric 1/8th buggies and they will perform well in all climates.
Click here to continue reading
Saturday, November 22, 2014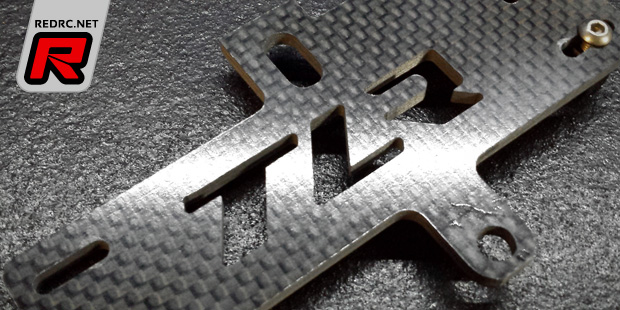 Factory RC introduce a carbon fibre shorty battery brace for the TLR 22-4 buggy. The battery hold down features an adjustable battery stop block that allows to more easily and conveniently adjust the battery position within he chassis. The brace replaces the stock plastic part, it is cut from 3mm carbon fibre and it comes with heavy duty carbon steel or titanium screws.
Click here to view more photos
Friday, November 21, 2014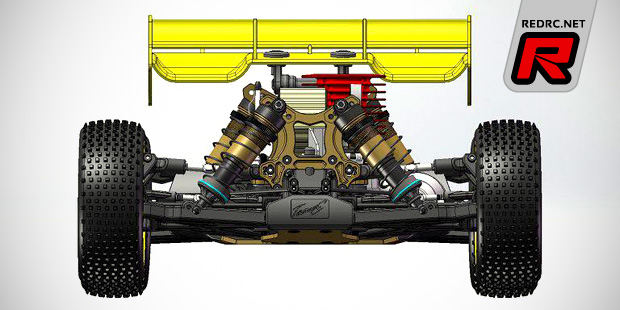 Team C have released a first teaser image of the forthcoming TM8 1/8th nitro off-road buggy. So far only one CAD rendering is available and from the looks of things the buggy will be of a class-standard design although it is not clear if some fancy gizmos are hidden behind the front shock tower. We bring you more information as soon as we get them.
Source: Team C [teamcracing.net]
Friday, November 21, 2014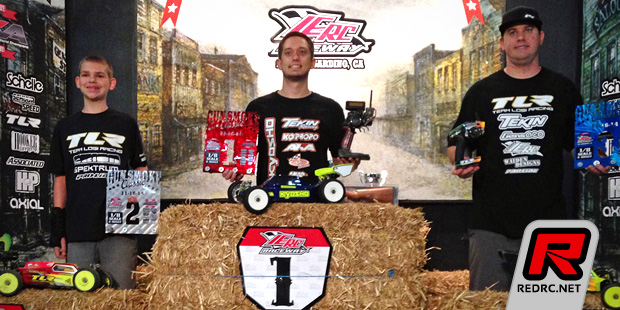 The recent Gun Smoke Classic race held at IERC Raceway in San Bernardino, CA saw a tight battle of Lucas Sanford, David Jenson and Brian Sullivan over the top spots in the 1/8th E-Buggy class. Brian Sullivan had a very good run in the first heat taking the TQ but Lucas Sandford would take the overall TQ in Rd1 by 2 seconds and a near perfect run. In Q2, David Jenson pressed hard for the entire race, but Sanford had another great run taking the win. Sanfords 2nd round TQ meant he would not have to race the third qualifier, and would start on the pole for Sunday's A-mains, with Eric McNeil 2nd and Brian Sullivan 3rd.
Click here to continue reading
Friday, November 21, 2014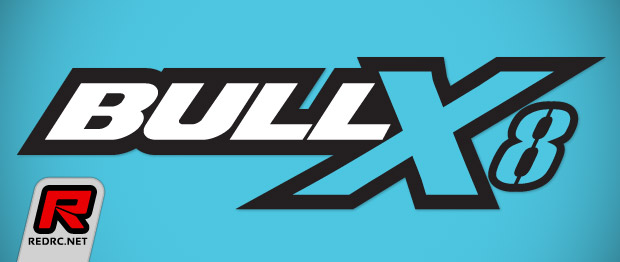 With it's origins in true nitro on-road racing Team Shepherd is ready to take the next step and enter the competitive 1/8 off-road market. The first off-road nitro car from the German manufacturer will be called Bull X8 with the nitro version release being planned for December and the electric version following in early 2015. More detailed information and pictures will be available soon. Patrick Schäfer had this to say about the new project:
For quite some time we have received many requests from customers from all over the world for a Shepherd 1/8 off-road car so it's only logical to enter one of the biggest markets in the industry. We are very excited about this project which was a completely new challenge for the whole team.
Source: Shepherd [team-shepherd.com]
Thursday, November 20, 2014