Víctor Peláez wins Spanish 200mm Champs Rd2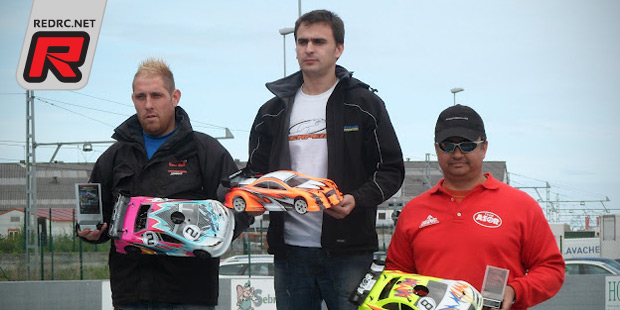 The second round of the Spanish 200mm National Championship was held in Gijón, with the weather forecast expecting rain for all the three days. This meant that all drivers had to adapt both their cars and their driving skills to all kind of situations, foreseeing that all qualifiers and all finals will be completely different one to another. Friday was useless, with the track completely wet there was no point on risking the car in free practice. Without being able to test one single minute, qualifiers started and as it was predicted they weren't going to be easy at all. It was all about which tires worked and at what time. With the track being in a somewhat in-between state, nor flooded, nor dry, the window to choose between different tires was wide open and to make it even more interesting short moments of sun and showers took turn. TQ then went to Edu Escandón who opted for the right set of tires for the last qualifier, which strangely enough were dry tires, despite the track was still humid. Jonnhy Pastor took the runner-up sport with Luis Cayetano and Raul Casado following in third and fourth place.

The main final was no exception from the remainder of the weekend with rain making its appearance in the warm-up time. The pilots got an extra 10 minutes to test tires and to make the final decision. Everyone opted to go for dry tires and at the end of the 30 minutes final Víctor Peláez took first place with Jonnhy Pastor only some three seconds behind him. Jose Antonio Aldudo grabbed third place only one lap down with Davis Campos in fourth place.
Source: Serpent [serpent.com]