Daniel Vega wins Madrid Championship 2012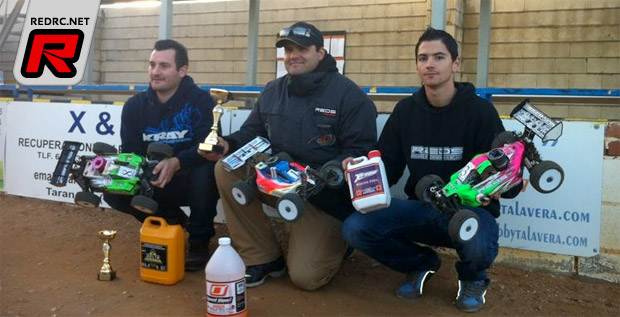 The Tarancon race track and C.A.T.A.R club played host to the fourth race, of five, of the Central Championship Region of Madrid. For this race various drivers from other regions were in attendance including Ignacio Candel, vice-champion of Spain, and some other drivers from Levante such as Marcelino, Daras and Bernabe. Also many drivers from Madrid or Toledo such as Ignacio Gutierrez and Ignacio Candel. The race was very difficult in the morning due to the thick fog, the bottom of the track difficult to see and control the car, doubly difficult in that it is not allowed to practice on Saturday.
In the semifinals it was Daniel Vega who ended up taking the top spot for the main final followed by his Reds Racing team mate Ignacio Candel in 2nd. The final saw some very nice fighting between Vega and Candel, followed closely by Gutierrez, who suffered from his tires coming unglued relegating to him back. First Daniel pulled out a gap in front of Candel, but a crash allowed Ignacio to take the lead and then pull a gap. Daniel caught back up to Ignacio but again in the same spot made the same mistake and then Candel could open a big gap. Daniel increased his pace and once more closed to Candel within 3 seconds. In the pit lane Daniel passed Candel, the former flipping over allowing Daniel to open a good gap. Candel now tries to close the gap with a very good pace but Daniel made no mistakes. Candel was twice close to catching Daniel, but he flipped over both times giving Daniel the win.
Source: Reds Racing [