DJ Apolaro wins Sedan at ROAR Onroad nationals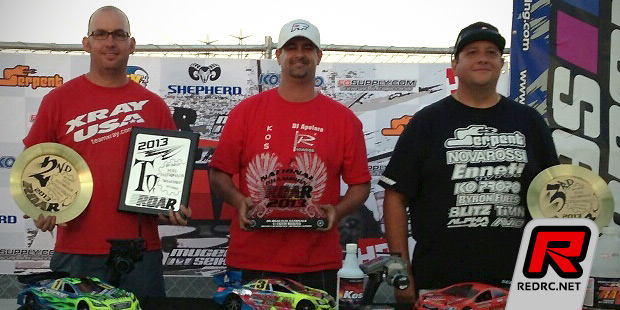 This past weekend the ROAR Fuel On-road Nationals were held in California at the Greater LA RC club track. The parking lot track was nicely prepared but proofed to be tough on the tyres making tyre strategy an important point for the finals. Many drivers tried to bring home two first good runs in order to try and test tyres for the finals during the other rounds. In the 1/10th 200mm sedan class it was Mike Swauger who took the TQ honours followed by Ralph Burch, DJ Apolaro and Paolo Morganti in fourth.

In the final Mike got away as Ralph's mechanic put his car down late and DJ ran into the back of him. This allowed Mike to get a very quick gap and to allow other cars to get in front of DJ who made his way up to 2nd by the 3rd or 4th lap and was catching Mike when he had an issue coming onto the back straight as his car rolled and flamed out. This let DJ take the lead and he started to gap the rest of the field. Mike lost about 2 laps and Capricorn driver Apolaro knew everyone was going to be pushing for the entire race. Most racers had planned a tyre change, but DJ did not. His plan from the start was to not change tyres and manage the race accordingly. For the first 20 minutes Ralph was able to stay on the same lap about 10 seconds back, but DJ was able to put him a lap down about the 20 to 25 minute mark. Swauger was making a comeback on the other cars, but Apolaro was able to maintain the 2 lap lead the entire time. Eventually the race came to an end after the 1 hour final and DJ was able to take the win with Mike Swauger 2 1/2 laps back and Paolo in 3rd some 5 laps back.
Source: Capricorn [capricornrc.com]