January 23, 2014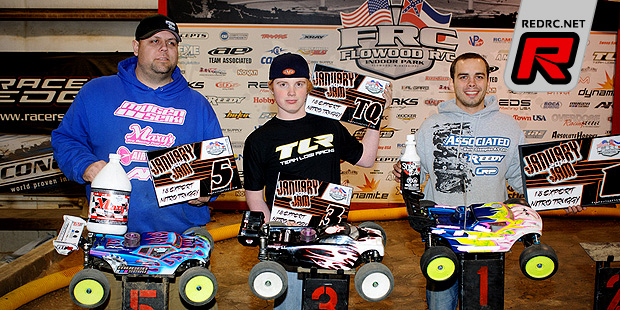 Flodwood RC in Flodwood, Mississippi played host for the 4th Annual January Jam. Bubba Barham and the entire FRC crew always does a fantastic job on race promotion and track prep to make FRC one of the most frequented tracks for myself along with the south's fastest racers. This year they had roughly 240 entries spread out in the most popular classes in RC. In the Pro Nitro Truggy class Team Associated/JConcepts driver Blake Boggs battled it out with FRC's local Chandler Patrick in the qualifiers. After a TQ and two respective top 3 finishes Blake had to settle for a 2nd place in the grid. In Buggy qualifying Arkansas native Drew Spurgeon, FRC locals Greg Gatewood and JC Team mate Kevin McCoy took the first three places.

In the Pro Truggy A-main Chandler Patrick took the first turn a bit wide allowing Blake Boggs to pass. Blake now tried to drive as smooth and conservative as possible and for the first part of the race Kyosho's Ty Rogers pressured him hard but an unfortunate flame-out gave Blake room to breathe. With about 7 minutes to go Drew Spurgeon had gained time on Blake as he exited the pits for the last time. This put both side by side racing to the next turn, knowing he had to pit again Blake wasn't going to push for the lead but instead followed him close hoping to force a mistake before his last pit. What happened next was crazy, as both came down the back straight Drew's truggy suddenly took a tragic turn left centring a pole ending what both had hoped would be a fight to the finish. This eventually let Blake cruise to the finish line taking the win over Billy Carpenter.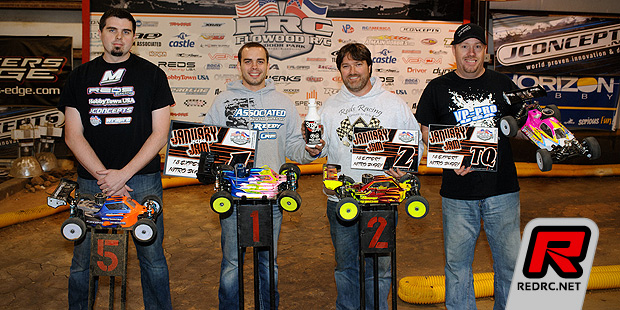 In the Buggy A-main Blake Boggs ended up 3rd after the first lap tailing Gatewood and Spurgeon with Cody Avant right behind him but he soon fall back to 8th place after a mistake. Blake then put the hammer down and after a while he had passed Gatewood while he was in the pits. About half way in Blake had a nice lead and continued to drive hard with no mistakes. As the race went on Blake continued to push hard knowing Gatewood and McCoy would be close in tow but at the end of the final Boggs managed to take the win close to 2 laps on the field.
Source: JConcepts [jconcepts.net]
---