January 31, 2014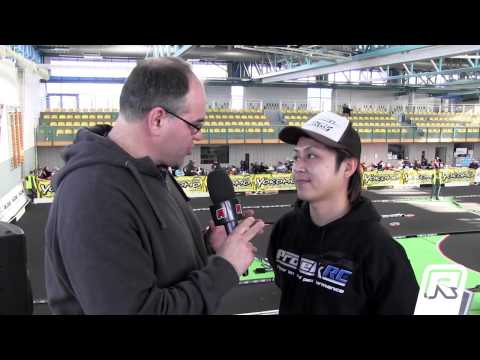 With lots of speculation over his future since announcing his departure from HB/HPI last August we again talked exclusively with Atsushi Hara and can confirm ahead of its official announcement that he has signed for Speedmaster, parent brand of SWorkz. Having tested many brands of car and talked with numerous companies he finally decided on the Taiwanese company as he feels they offer him the best opportunities for his future going forward, not just for racing. One of the factors influencing the deal was the connection with A-Main Hobbies, a personal sponsor of his but with some big developments in the pipeline between the Taiwanese brand and the US online power house we can expect to see the brand receive a bigger push in the US and Worldwide. In terms of the car, he says that while it needs some work to get the performance up to scratch, the quality is top notch and going forward he will have an updated car for this year's Worlds in Italy. In our interview Hara also confirmed that he will race for Yokomo in the remaining ETS rounds as well as the TITC and the World Championships in Florida in what is a per race contract.
Multiple World and National Champion Atsushi Hara has joined forces with Speedmaster Hobby Company, the distributor of Sworkz racing vehicles and TPRO tires to facilitate the role of Team Brand Ambassador. Hara has signed a three-year contract with Speedmaster and will be a full-time employee, utilized to help develop and refine products specifically for racing. Hara will be racing SWORKz 1/10 and 1/8 off-road vehicles the next three years, providing valuable feedback and direction to the engineering team.

Speedmaster's Scott Yang had this to say: "We're very excited to have Atsushi Hara on our team and the vast knowledge from years of racing he brings with him. He has been one of the most decorated racers, but has also been a consummate professional when representing his sponsors and is why he'll be our company's ambassador. We know that he'll play a major role in developing our growing racing lines SWORKz and TPro."

Hara and the rest of the SWORKz team will attend all of the major international races in 2014. SWORKz involvement at internationally recognized races is core to our business, brand awareness and allows us to be at the forefront of emerging trends.
---