January 29, 2015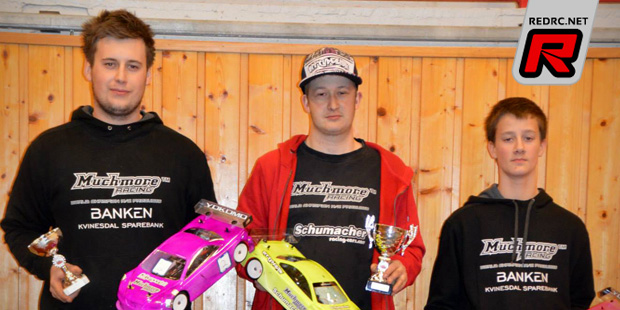 The first round of the Norwegian Banken Cup was held at Kvinesdal, Norway on a large indoor carpet track. The Modified class attracted the biggest turnout of drivers and in the first qualifying round it was current Nordic Champion and Schumacher driver Nikolai Haaheim who had a disastrous start after stripping the spur gear of his car. Oyvind would start the qualifier on top of the field, but several rolls sent him down the pack. Yokomo driver Oskar Fjeld made the best out of the situation and after a slow start he won the first round in front of youngster Tobias Sanden and Rune Svestol.

In the second round Nikolai was back on track and he set at new TQ time after a close fight with Oskar who would find himself in 2nd spot for the A-main. Tobias Sanden would round out the top 3 so far.
In the opening A-main Nikolai had a great start and he immediately opened a big gap to take the win from tone to tone. Tobias also was very fast with his Yokomo in the opening stages and he was able to put some pressure on Oskar, but would have to retire with a broken car. This left Oskar on the runner-up spot in front of Rune Svestol.
In the second final Oskar was not allowing Nikolai to get away, and he tried to get a way past the leader for the whole race but Nikolai made no mistakes and would secure the overall win by finishing the second leg 0.6 seconds in front of Oskar. Tobias had his car up and running again and secured a 3rd place after swapping positions with Oyvind a couple of times.
In A3 Oskar had his mind set for a win and would eventually dive to the inside of Nikolai entering the sweeper at the end of the straight for a spectacular pass. Nikolai would later roll his car allowing many drivers past. Up front Oskar took the win in front of Tobias and Svein.
Overall result:
1. Nikolai Haaheim – Schumacher
2. Oskar Fjeld – Yokomo
3. Tobias Sanden – Yokomo
4. Svein Anfinsen – Xray
5. Rune Svestol – Xray
6. Oyvind Stusdal – Yokomo
7. Egil Amtedal – Xray
8. Tore Fossberg – Xray
9. Even Enerstvedt – Yokomo
Thanks to Oyvind Stusdal for the report
---