February 22, 2017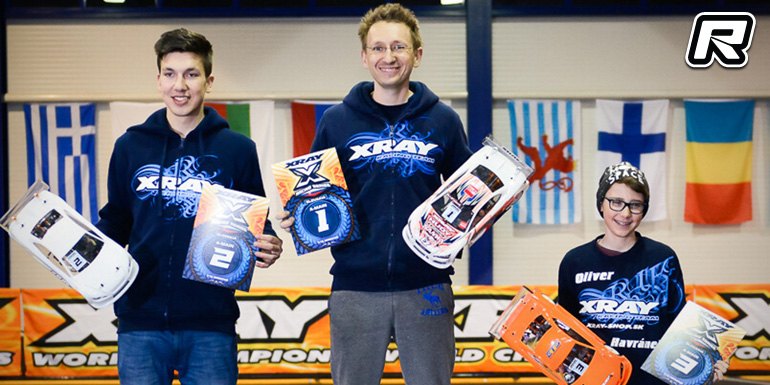 Round four of the Xray Racing Series Slovakia was held at the Hudy Racing Arena in Trencin. The event was held in several electric on-road and off-road classes and it attracted some of the countries fastest drivers. In the premier class of Touring Modified Martin Hudy was the man to beat and at the end it was only about who would round out the top 3 result. Ultimately Jakub Simurda and Oliver Havranek would join Martin on the podium.
Touring Modified final results:
1. Martin Hudy
2. Jakub Šimurda
3. Oliver Havránek
4. Michal Wójcik
5. Ladislav Lebánek
6. Radek Voda
7. Arkadiusz Smyk
8. Jano Benetin
9. Zsolt Kálnay
10.Filip Obora
In Touring Stock class young Oliver Havranek won the opening two A-mains to grab the overall win early, allowing him to sit out A3. Arkadiusz Smyk would be award with the runner-up spot overall from Tono Sloboda in third.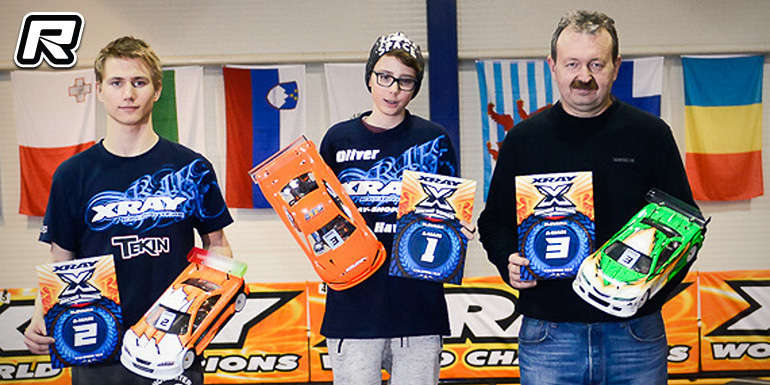 Touring Stock final results:
1. Oliver Havránek
2. Arkadiusz Smyk
3. Tono Sloboda
4. Matúš Benetin
5. Filip Obora
6. Peter Zemanovič
7. Tomáš Hrkel
8. Dušan Bayer
9. Viktor Halčin
10.Mariusz Zachacz
In the Formula class Martin Hudy held TQ and he would convert the pole position into another victory at the end. Behind him rising Slovakian 2WD star Andrej Vnucko came in second from Igor Liptak third.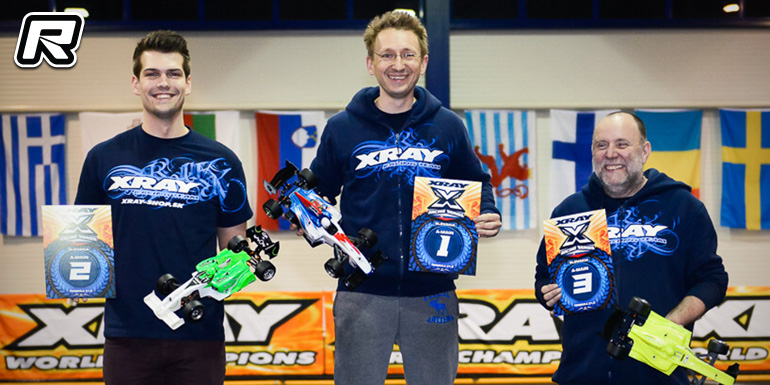 Formula final results:
1. Martin Hudy
2. Andrej Vnucko
3. Igor Lipták
4. Dušan Bayer
5. Pavol Chovan
6. Miloš Dobiás
7. Rudo Kadlečík
8. Andrej Verný
9. Miroslav Hargaš
1/10th Pancar was led by Andrej Vnucko. No one was able to get past him and so he brought home the win from Vladimir Viskup in second and in third.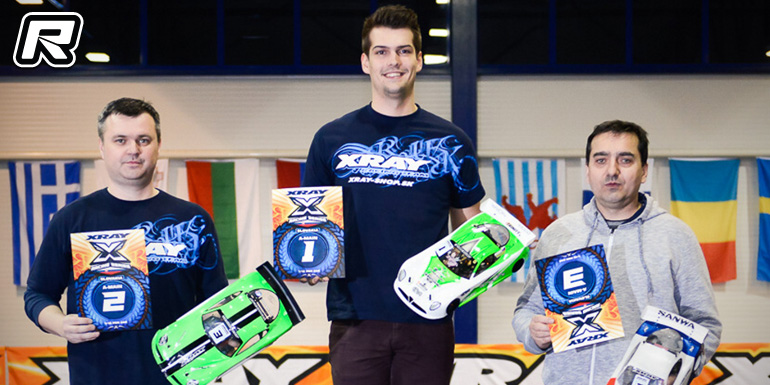 1/10th Pan Car final results:
1. Andrej Vnucko
2. Vladimir Viskupup
3. Rudo Kadlečík
4. Marek Helbich
5. Pavol Chovan
6. Miroslav Hargaš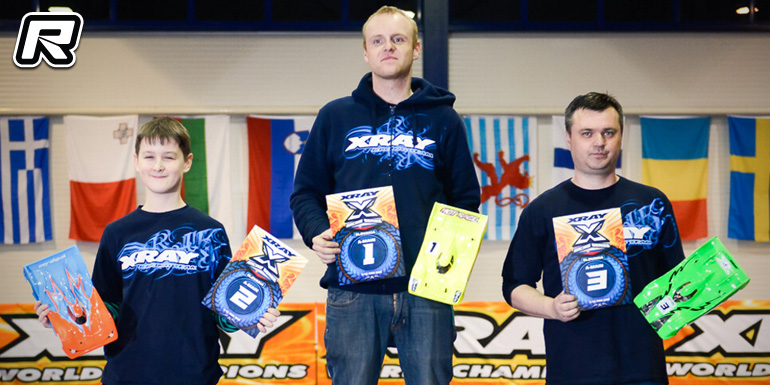 Only three cars made up the 1/12th pan car field and with a flawless performance Tomas Liptak brought home the win from Branislav Panak and Vladimir Viskup. A new class of rising popularity is 1/12th GT and it saw a brilliant fight between Tono Sloboda and Igor Liptak with the better end for Tono who scored the overall win from Igor in second. Branislav Panák had to settle for third overall.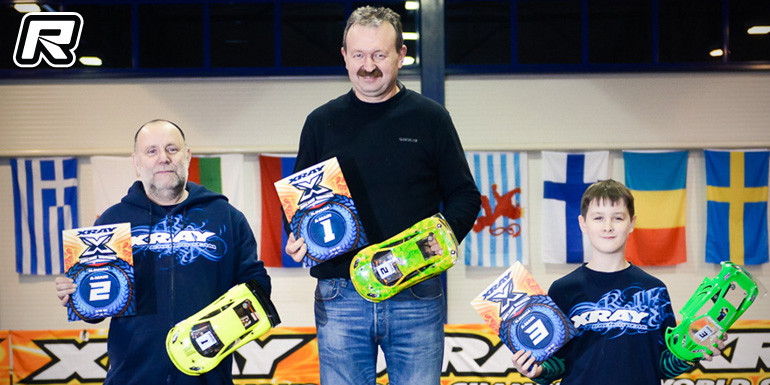 1/12th GT final results:
1. Tono Sloboda
2. Igor Lipták
3. Branislav Panák
4. Jozef Bozo
5. Ivan Viskup
Over to the off-road categories and it was Kaja Novotny who TQ'd the 2WD Buggy class from young Max Gotzl and Ales Bidovsky. The finals then proved to be a tough affair for the pole sitter as Kaja had his problems with the first double jump right after the start and he had to work his way through the field. Ultimately he would still bring home the win while the fight was on for the remaining podiums spots. In the end Max would prevail to take the runner-up spot from Ales in third.
2WD Buggy final results:
1. Kaja Novotny
2. Max Gotzl
3. Ales Bidovsky
4. Ondrej Kulhanek
5. Michal Nagy
6. Adrian Uhrik
7. Matuš Benetin
8. Pavel Ntkovca
9. Jaroslav Valder
10.Martin Rytir
4WD Buggy was again dominated by Kaja who took the TQ by about 10 seconds. The finals then were pretty much a blue print of the qualifiers as Kaja brought home popular wins to grab the overall from Alex Bidovsky in second and Max Gotzl third.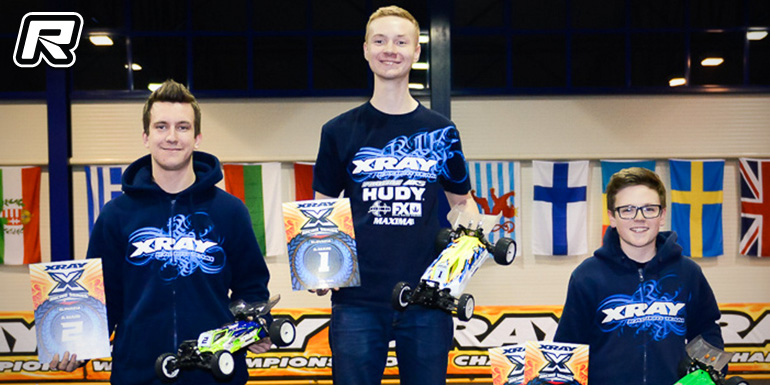 4WD Buggy final results:
1. Kaja Novotny
2. Ales Bidovsky
3. Max Gotzl
4. Lacko Toth
5. Martin Rytir
6. Igor Liptak
7. Ondrej Kulhanek
8. Vaclav Broz
9. Antonin Hybler
10. Jaroslav Valder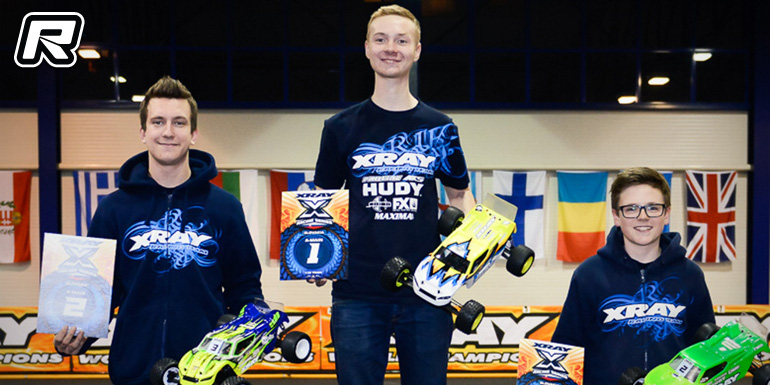 In the Truck class the Kaja show continued and he took the day's win from Ales and Max who again had an entertaining time fighting for the runner-up spot.
Source: Xray [teamxray.com]
---