August 8, 2018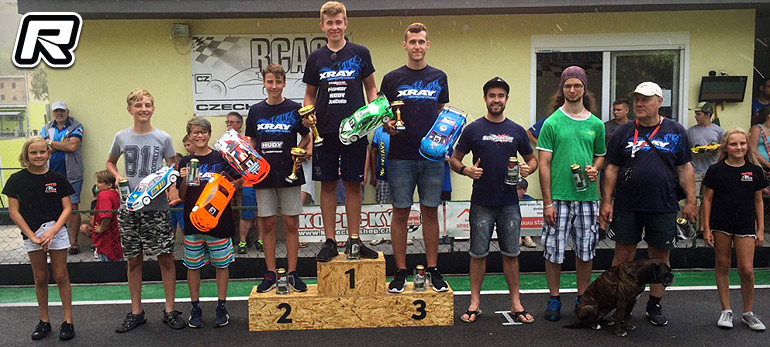 The Czech Outdoor Electric On-road Nationals were held last weekend. In the premier Touring Modified class it was Matej Sulc and Oliver Havranek battling for the pole position while Matus Benetin and Dominik Sulc were in a fight for P3 in the qualifiers. Ultimately Oliver could take the TQ spot in front of Matěj and Matus but the finals changed everything. In the first A-main leg Oliver and Matej were hard battling until Oliver's crashed on the straight, allowing Matej to play it safe in order to bring home the leg win. In the second final Matej would overtake Oliver to take the win and with it the overall in front of Oliver 2nd and Dominik 3rd.
Touring Modified top 5 results:
1. Matej Sulc
2. Oliver Havranek
3. Domink Sulc
4. Matus Benetin
5. Marek Fric
The Stock class promised nice battles between Oliver Havranek, Matus Benetin and Simon Horak, but Oliver was unbeatable so he easily took TQ in front of Simon and Matus. The finals then also were easy for Oliver. The battle for the 2nd place lasted until the last final and it looked like Simon would take a relatively easy win to confirm his 2nd place from the qualifiers, but because of a mistake, Matus overtook Simon to win the last final and become overall runner-up. Simon completed the podium.

Touring Stock top 5 results:
1. Oliver Havranek
2. Matus Benetin
3. Simon Horak
4. Filip Rajdus
5. Vlastimil Svec
Over in the Formula class it was all about Simon Horak and Lukas Hoch. They were battling from the beginning but only Lukas would hold the car for five minutes without mistakes. Ultimately Lukas took the overall TQ and win in front of Simon and Martin Janicek.

Formula top 5 results:
1. Lukáš Hoch
2. Šimon Horák
3. Martin Janíček
4. Tomáš Rajdus
5. Jan Matros
Source: Xray [teamxray.com]
---