October 15, 2018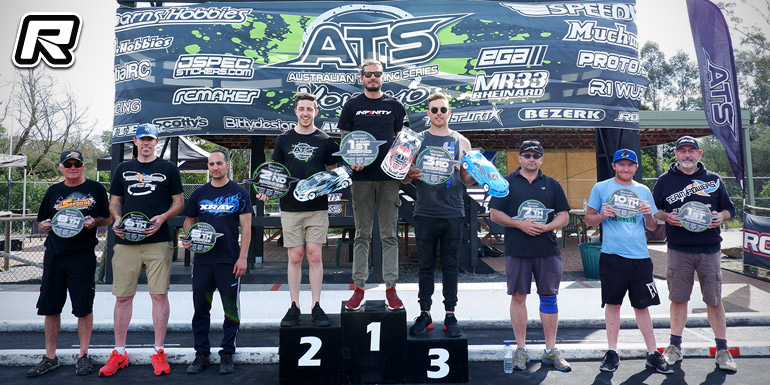 The first round of the newly-formed Yokomo Australian Touring Series ATS took place last weekend at the Melbourne Radio Controlled Circuit Racers (MRCCR) Circuit in Lilydale, Victoria. The ATS brings a fresh approach to EP On-Road racing in Australia, aiming to provide the best racing, experience and entertainment possible to all involved, while maintaining a focus on racer enjoyment. Several of Australia's top Modified drivers joined the field in Lilydale, making the battle out front very exciting. Seeding practice went to Ryan Maker by a 0.7s margin over Jesse Davis and Sandy Iavazzo. However Davis picked up the pace in qualifying, snatching the win in rounds 1 and 3, while Maker played a slightly different tire strategy to win rounds 2 and 4, holding the overnight TQ before round 5 on Sunday morning.
The stage was set for a close fight for the overall TQ, while Sandy Iavazzo put in solid runs to hold 3rd. The overall TQ was ultimately decided with Ryan Maker having a spin at around the halfway point, allowing Jesse Davis to stretch out and take the top spot on the grid for the finals.
In the finals, Davis encountered trouble and allowed Maker to snatch the A1 win, before bouncing back and taking A2 to set an A3 decider between the two, while Antoni Caretti still held a chance of causing an upset with a best result of 2nd place in A1. In the 3rd leg, Davis wasted no time trying to build a gap over Maker, but caught the kerb in the infield, allowing Maker to close the gap in an exciting battle. The pair were lapping traffic around the 2-minute mark; when Maker collided with another car, leading to his retirement from A3 and robbing us of the close battle for the win. Jesse Davis Powered home to take the overall win from Ryan Maker in 2nd and Antoni Caretti stepping into 3rd.
Touring Modified final results:
1. Jesse Davis
2. Ryan Maker
3. Antoni Caretti
4. Sandy Iavazzo
5. Chris Kalfoglou
6. Brian Stewart
7. David Mohorovic
8. Chris Schmidt
9. Ryan Withers
10.Jade Miller
11.Renato Benci
13.5T Pro Stock Touring, the largest field of the weekend, proved tough to rise to the top, as Tom De Nardis drove with confidence all weekend long. Starting out on the top of the time sheets in seeding practice, De Nardis never looked back as he stormed to a convincing clean sweep of all 5 qualifying rounds ahead of youngster Jordan Hunting and David Calwell. The finals were much the same, Hunting looked close in the early stages of each main, but ultimately De Nardis would put on a clinic, sweeping all three Mains in a procession ahead of Hunting and Calwell rounding out the podium.
Touring Pro Stock final results:
1. Tom De Nardis
2. Jordan Hunting
3. David Calwell
4. Andrew Sienniak
5. Wayne Edwards
6. Rob Jones
7. Chris Charmoun
8. John Krillis
9. Joe Fekete
10.Blair Cradick
In a tight 21.5T Stock Touring field, Glenn Wilson led a powerhouse charge right from the seeding runs, Wilson recorded the fastest top 3 consecutive laps by 0.7s ahead of Michael Powell and Scott Griffiths. Wilson would go on to take the overall TQ by winning 3 of the 5 rounds, ahead of Trevor Waye throwing down fast runs from the opposing qualifying heat, and Scott Giles in 3rd. As finals came around, Wilson put on a driving clinic, sweeping all three A-mains by over 5 seconds to secure the overall win, while the rest behind him battled for the remaining positions. Michael Powell put in a storming performance from 6th on the grid to secure 2nd overall in a tiebreak from Trevor Waye in 3rd.
Touring Stock final results:
1. Glenn Wilson
2. Michael Powell
3. Trevor Waye
4. Scott Giles
5. Nick Krillis
6. Richard Hopkins
7. Aaron De Fina
8. David Whittam
9. Peter Miller
10.Scott Griffiths
11.Chris Nickelson
12.Ryan Easte
In 1/12th Stock Tom De Nardis showed solid pace once again, repeating his efforts from the 13.5 Pro Stock class, as he took the top seed ahead of Antoni Caretti and Paul Sims. De Nardis carried this pace into qualifying, taking 4 of the 5 rounds to secure the overall TQ. However there was a stir from deep in the field as Ricky Vocale began to find more pace as the event wore on, after seeding 10th overall, Vocale won the final round with the fastest time of the weekend, securing 2nd on the grid ahead of Paul Sims, the stage was set for some exiting racing across the triple 8-minute A mains!
In A1, Vocale got the better of De Nardis, who seemed to be battling some minor car troubles; as Vocale took first honours leading home De Nardis 2nd and Brian Stewart 3rd. A2 saw De Nardis throw down the gauntlet, putting in the fastest run of the day to lead home Vocale by 6.5 seconds and Scott Callaghan in 3rd, forcing the overall to be decided in A3. De Nardis got away clean for the first few laps of A3, but trouble struck again, allowing Ricky Vocale to slip through to the lead. Vocale didn't have it all easy though, as he had some trouble later in the run, only managing to sneak home for the overall win by 0.8s over Scott Callaghan and Paul Sims in 3rd. Vocale taking 2 A main wins to win from Tom De Nardis 2nd and Scott Callaghan 3rd.
1/12th Stock final results:
1. Ricky Vocale
2. Tom De Nardis
3. Scott Callaghan
4. Brian Stewart
5. Paul Sims
6. John Krillis
7. Chris Schmidt
8. Scott Giles
9. Rob Jones
10.Hugh Benbow
11.Blair Cradick
The next round of the Yokomo Australian Touring series is February 8-10, 2019 at the RRCSA Circuit in Littlehampton, South Australia.
Source: Australian Touring Series [atsrc.com.au]
---