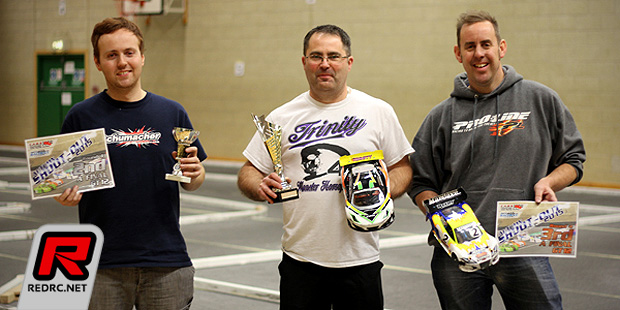 This past Sunday Swifts Raceway held the final round of the Autumn Shoot Out Series. With over 60 drivers in attendance, the season finale was going to be an exciting one. The track layout was fast and flowing with a lot of great areas for overtaking. The team had also managed to schedule in a structured practise making a perfect event to use as a practice before the Nationals. All the championship titles were still available going into the final round with the GT12 title the closest and it would be Mark Jewitt and Andy Murray who were giving it everything for this final battle. For the last few rounds it was Jewitt who was just able to keep ahead and take TQ. The pair were divided by literally nothing, only a 0.52 second difference over 6 minutes. It was going to be another titanic final. Craig Mawson and Stephen Lander were also locked in a qualifying battle and finished 3rd and 4th respectively.
Continue reading the report here
Tuesday, December 1, 2015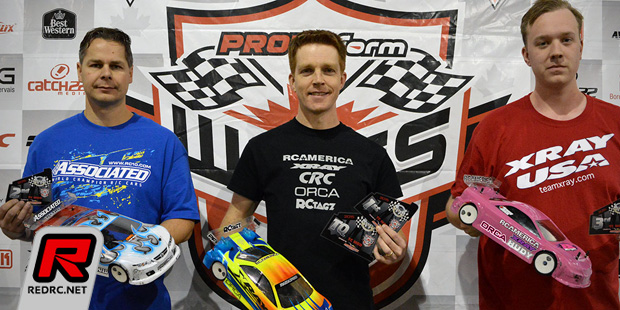 The third round of the Western Canadian Indoor Championship Series was held in the Capital of Alberta, Edmonton. Hosted by the NASCAR Club, great weather helped racers from all around Western Canada make the drive, and this year saw their biggest turnout ever. In Touring Modified, National Champion, Xray driver Blake Bell drove his T4 from pole to checkered without looking back. For his second round in a row, Blake took all 3 class wins, again proving exactly why Blake is "The Champ". Fellow Xray driver Danny Buck would hold 2nd for almost the entire race, but on the 3rd last lap it all exploded with three different racers, Danny Buck along with Team Associated's Peter Toszer and Team Awsomatix's Wayne Mah, holding 3rd place. Ultimately Peter Tozser would bring it across the line, followed by Danny.
Continue reading the report here
Tuesday, December 1, 2015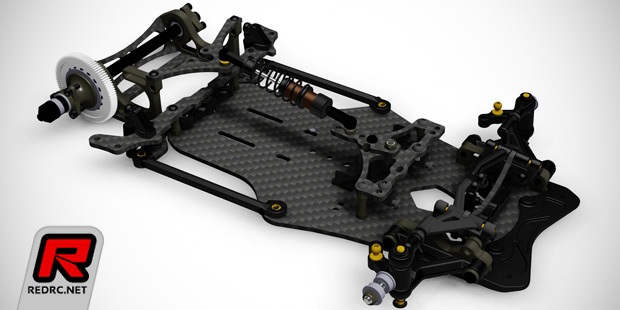 Destiny Japan have first images and information on their new VD12 1/12th scale pan car available. The car is the brainchild of Finland's Vesa Yli, the man behind the EFRA Euros winning V-Dezign cars and, although new as a brand, Destiny Japan is backed by the experience and knowledge of Xenon Racing's Terutaka Hanaumi. As for the car the VD12 builds on a 2.5mm carbon fibre chassis that allows for both longitudinal and transversal battery mounting, while the suspension duties are taken care of by genuine Xenon front suspension parts and a centre shock absorber that can be run in a long and short configuration depending on the battery layout. An innovative independent and adjustable front shock system is smoothing out road imperfections and a symmetrical floating steering servo mount makes for equal left-to-right flex of the chassis. On the rear end a new vertical micro damper layout does away with the traditional laydown tube dampers for improved handling and tuneability. The kit is rounded out by a graphite rear axle with alloy wheel hubs and a thrust-raced ball differential. A release date has yet to be announced.
View the features and more photos here
Sunday, November 29, 2015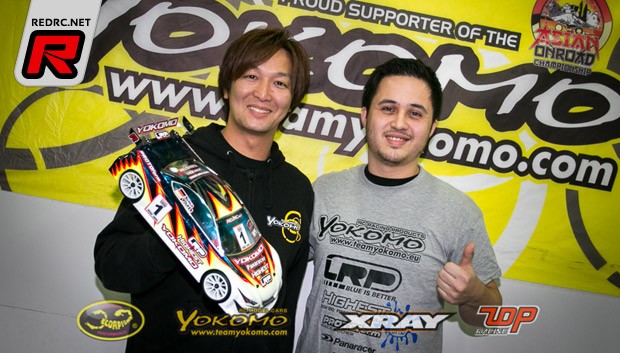 The 5th and final round of the Asian Onroad Championships has made its way to historic Yatabe Arena in Japan. The popularity of this race has exploded each and every year as the finale race was sold out months prior and hitting over 250 entries making this Yatabe's biggest race ever (by entry count).
Continue reading the report here
Sunday, November 29, 2015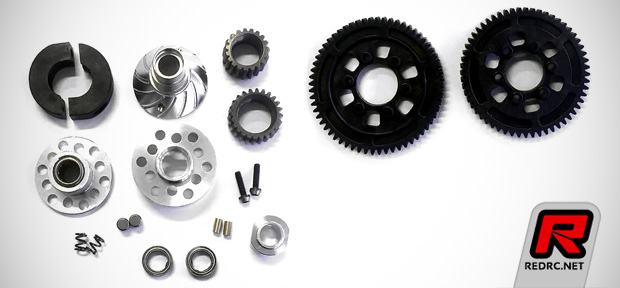 Following a long and meticulous development period Project RC have now introduced their all-new 0.8 pitch 2-speed on-road gearbox. Using the gearbox, that had a successful outing during the recent IFMAR 1/8th World in Brazil, will increase acceleration and top speed thanks to their low rotation mass, optimised gear mesh and high efficiency. The conversion includes everything needed and it is available for both the Shepherd Velox V8 and the Mugen MRX5.
Source: Project [projectrc.net]
Thursday, November 26, 2015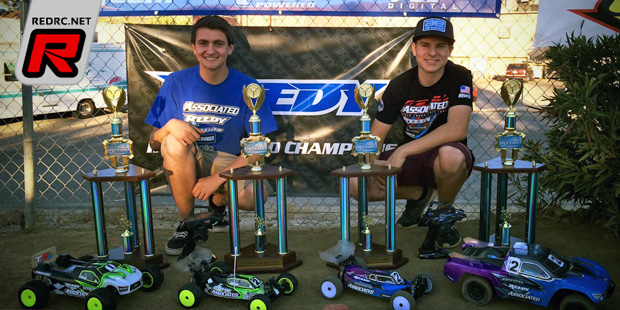 The inaugural Reedy Outdoor Off-Road Championships was hosted by Hot Rod Hobbies in Saugus, California. Replacing the Reedy Truck Race, this new event featured watered track conditions, spiked tires and roost throwing vehicles of all categories. With short days and breaks in the program for watering, the 150 entries enjoyed a smooth race event that allowed for consistent track conditions for all participants. As practice got underway smiles and laughter filled the pits. Racers commented on how fun it was to drive on a watered surface with some fluff and slightly rough track conditions.
Thursday, November 26, 2015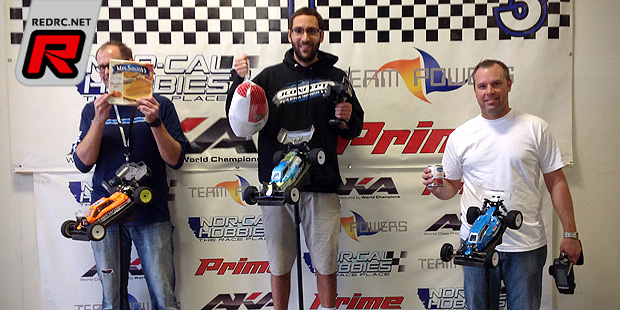 The 8th Annual Turkey Shootout was hosted by Norcal Hobbies in San Jose, California. Daniel Brown TQ'd three out of four rounds of qualifying, having a DNF in the final round. Despite the DNF, Daniel positioned himself as TQ in both the 2WD Modified Buggy and Modified Truck classes heading into the mains. In the 2WD main, Daniel got a great start and by the second lap he was able to break away from the field and dominate the main, maintaining a sizeable gap throughout. In Modified Stadium Truck Daniel got a good start as well but this time he was followed closely by local fast guy Peter Stein. At the half way point Daniel was able to break away from Stein and cruise to his second victory of the weekend.
View the Modified Truck podium here
Wednesday, November 25, 2015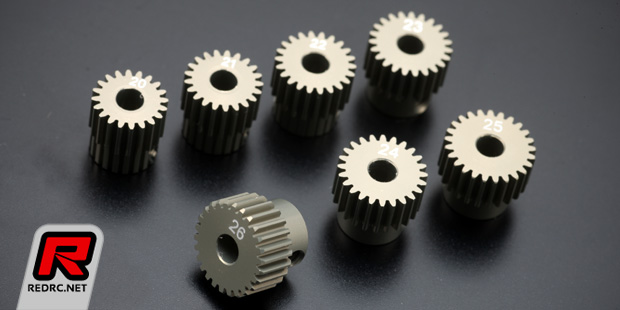 Yokomo have introduced the Racing Performer line of precision 64 pitch pinion gears. Cut from high-quality aluminium and featuring a special treatment to make for a hard-wearing yet low-friction surface the gears are available in a range from 20T to 26T, making them best ideal for Touring Modified and 1/12th scale cars.
Source: Yokomo [teamyokomo.com]
Wednesday, November 25, 2015