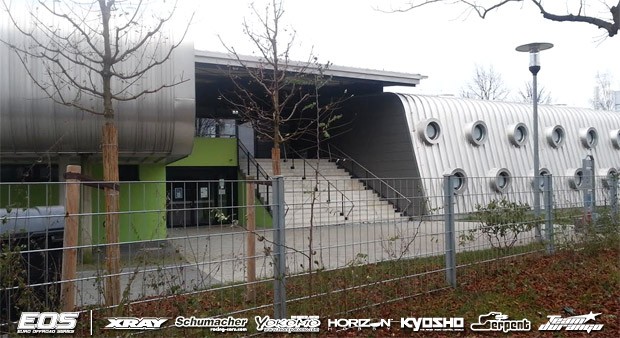 It is all change for this weekend's (Jan 30 – Feb 1) second round of the Euro Offroad Series as the championship returns to Berlin for a second year. Following a successful first visit to the German capital city last year, the first change is the venue with the race moving to a larger, more modern, building to better cater for the 200 plus entries. Having partnered up with Schumacher as official tyre supplier for Season #4, which got underway in Poland last October, another change for Round 2 is the switch over to pre-glued handout tyres for everyone. The third change comes in the form of the track action after the 2015 brought about one of the biggest team driver line up changes in years.
Continue reading this announcement here
Wednesday, January 28, 2015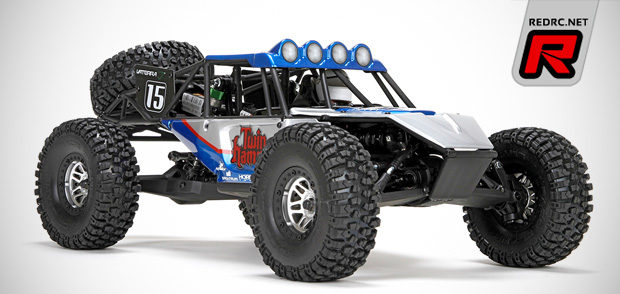 Coming from Vaterra is the slightly updated Twin Hammers 1.9 1/10th scale 4WD rock racer RTR kit. The vehicle sports a somewhat scale chassis layout with independent front suspension and a solid rear axle to tackle both high-speed tracks and rock crawling trails. A 2-speed transmission allows to shift on the fly while waterproof electronics make for go everywhere capability. Included with the upgraded kit comes a Spektrum DX4E 2.4GHz computer transmitter with Active Vehicle Control technology that assists with driving in critical situations as well as blue and silver body panels to make the truck stand out.
Click here to view the features and more photos
Wednesday, January 28, 2015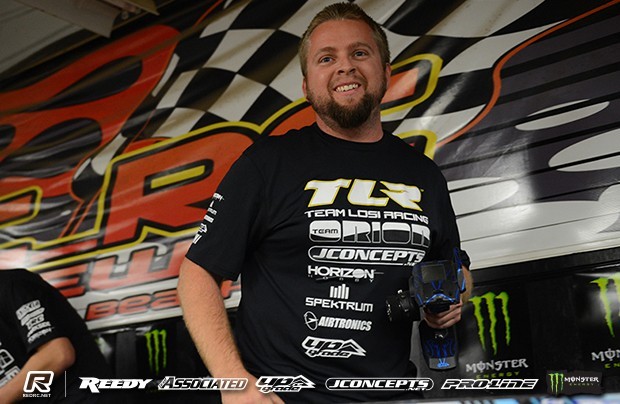 Ryan Maifield has finally won the much coveted Reedy Race of Champions, the TLR driver winning the 21st running of the very event that gave him his first break in a sport in which he would become one of the world's greatest offroad drivers.  Like last year's running of the event at OCRC Raceway in Huntington Beach,  Maifield went into the final round of racing as the points leader only this time it was Jared Tebo, not defending back to back champion Ryan Cavalieri, who was his only challenger.  With a 2-point deficit, the pressure lay on Tebo going into the deciding round with the Kyosho driver's race up first.  Needing a Top 2 finish to have a chance at his first Reedy title it wasn't to be with both Cavalieri and Carson Wernimont seeing off his efforts leaving the World Champion to finish third. Maifield, irrespective of the outcome of his final race, was going to become the 15th different name to be engraved on the Reedy Race trophy but in true Maifield style he wanted to end with a win. Despite a tough start the ever spectacular driver recovered to do just that with his overall win coming 3-points ahead of Tebo with Cavalieri completing the podium a further point off.
Continue reading this report here or view our full event coverage here.
Monday, January 26, 2015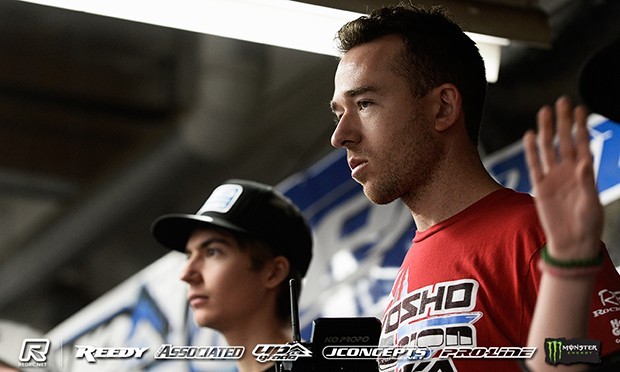 Jared Tebo opened the final day at the Reedy Race of Champions with an important win that when dropped scores are taken into account puts the Kyosho driver in the lead from overnight leader Ryan Maifield on the tie breaker. Both chasing their first title at the 21st running of the event, they each started their respective third round of 4WD action from 7th on the grid with Maifield up first and getting a third while in the next encounter Tebo despite giving away his lead in the race with a mistake got lucky in the final lap to claim his second win of 4WD.  In the third race defending Champion Ryan Cavalieri, starting from the front row of the grid, would cruise to an easy victory to register his first 4WD win.  Moving the Associated driver up to third in the standings back ahead of Joern Neumann, with dropped scores the Californian sits 3-points adrift. Former champion Neumann is a further 2-back, both drivers needing both good results and bad rounds for Maifield and Tebo to get back in the hunt for adding another Reedy Race title to their CVs.
Continue reading this report here or view our full event coverage here.
Sunday, January 25, 2015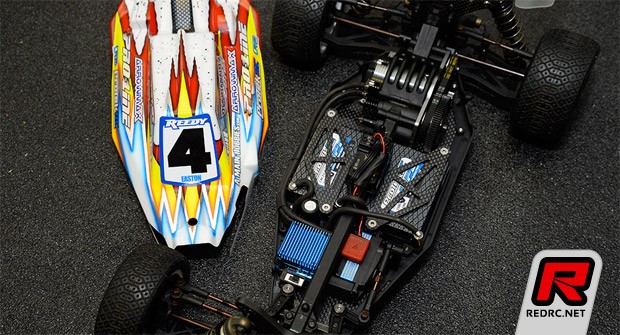 Serpent are debuting a pre release version of their all new SRX-4 1/10th 4wd buggy here at the Reedy Race. Being run by the car's designer Billy Easton it features a 2-belt configuration with a long centre belt and short side belt, which helps keep the centre of gravity low and the weight centralised. Positioning of the motor was a priority when designing the car, keeping it centralised and to the rear to help with rear traction which in turn allows you to run a more aggressive steering setup.
View more information, images & video here
Sunday, January 25, 2015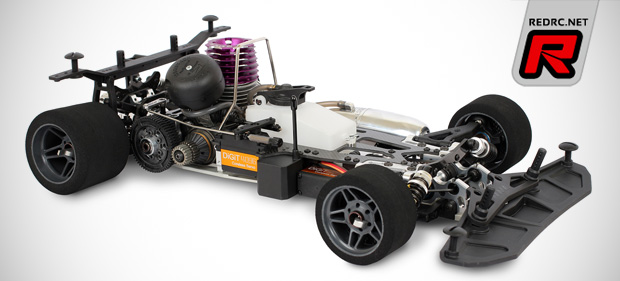 ARC introduce the R8.0 1/8th scale nitro on-road kit. Developed over a period of 18 month and under racing conditions, the newly designed car is based on a slim aluminium chassis and it features bulkheads made from 7075-T6 aluminium for high precision and optimised strength. The transmission parts are manufactured from heat-treated spring steel to minimise wear and maintenance needs while the belt pulleys are designed in a way that they do not need additional adapters to fit on their respective shafts which makes for a much lighter drivetrain. Moulded from high quality composite material the pulleys are also available in a Kevlar variant for improved durability, a lower weight and increased transmission smoothness. The gearbox package is rounded out by module 0.8 spur and pinion gears that allow for high efficiency without sacrificing durability.
Click here to continue reading
Friday, January 23, 2015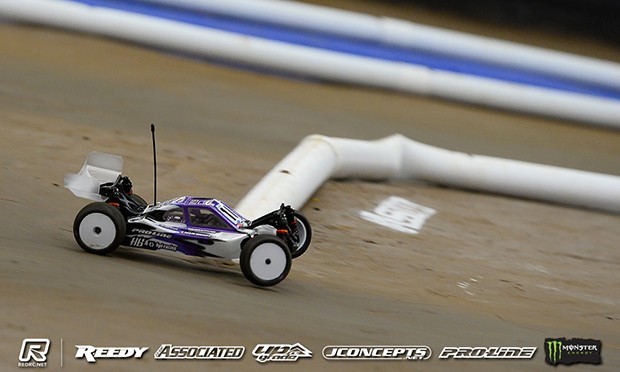 After two rounds of 4WD practice at the Reedy Race of Champions in California, HB's Ty Tessmann heads the pace with the Canadian setting the fastest lap time from Ryan Maifield and World Champion Steven Hartson.  Defending champion Ryan Cavalieri would end up fourth quickest despite pulling an arm off his Associated in the second practice.  With a best lap of 20.457, Tessmann was fastest by 0.140 from Maifield with Hartson running an almost identical time around the OCRC Raceway track to his former team-mate.
Continue reading this report here or view our full event coverage here.
Friday, January 23, 2015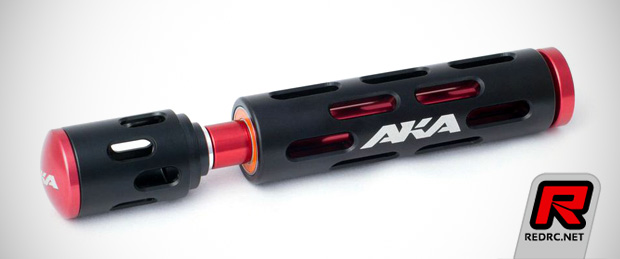 AKA have a range of new pit accessories available such as a tyre balancer, tyre punch and mini pump bottle. Starting with the 2-in-1 handheld wheel balancer, the tool has been meticulously engineered to balance most 12mm hex and 17mm hex wheels, including 1:10 buggy, short course, 1:8 buggy and truggy. The sleek, lightweight design fits in any toolbox without taking up much room. Included with the balancer is one block of balancing clay.
Click here to continue reading
Thursday, January 22, 2015