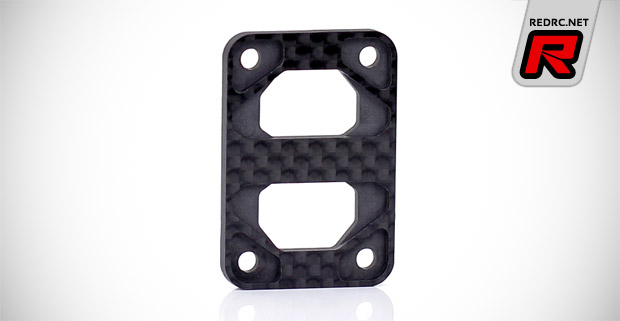 PSM have introduced two new optional parts for the Kyosho Inferno MP9e TKI and the CML Centro C4.2. First up for the MP9e is a 3mm thick lightweight carbon fibre centre differential brace which replaces the standard nitro brace included in the kit. For the C4.2 are new battery strap posts which are made from high quality 7075 aluminium and will replace the original Posts. A perfect fit with the original battery strap, they come supplied with the required fasteners.
Saturday, December 7, 2013 - add a comment
Following some speculation about his future, Kyosho have announced that Jared Tebo has he re-signed a contract with the Japanese manufacturers. Winning 8 ROAR National Championships, an IFMAR World Championship as well as nearly 50 big races in the past 5 years Jared has extended his deal with Kyosho for a further 5 years. Jared has this to say about his new deal:
I am very pleased to be signing with Kyosho for another 5 years. My relationship with Kyosho is great, and the past 5 years have been amazing together on and off the track. I feel as a person, and driver, I fit in really good with the Kyosho brand and it just feels like home for me in my racing career. In the past 5 years we have been able to have amazing results; 47 big race wins, including 8 ROAR National Championships and 1 IFMAR World Championship. I am very excited to say the least about the next 5 years in my racing career, as I feel Kyosho can give me the best resources to reach my main goal of 1/8 Offroad World Champion. Thanks to Aki, Mitsuo, Kanai, Chikuba, Joe, Futoshi, and all the the Kyosho staff for their hard work.
Source: Kyosho [kyoshoamerica.com]
Friday, December 6, 2013 - add a comment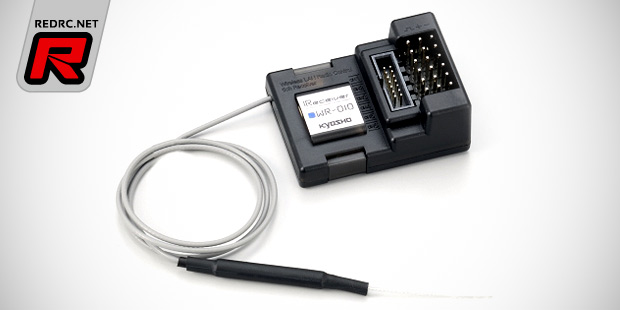 Kyosho introduce the iReceiver wireless LAN radio control system. Making use of a special receiver that replaces the vehicle's standard unit the system allows to control cars, boats and planes via iOS or Android smartphone, tablet and PDA. Up to 6 channels can be controlled and in addition, a micro-camera unit is also available to fit onto your model to capture the action to view on your smartphone in real time creating the feeling of actually driving the car. The data can even be recorded and saved plus a variety of setting features are available including slowing the speed down for easier control, lap time measurement, timer and failsafe functions.
Click here to view the features and a video of the system in action
Thursday, December 5, 2013 - add a comment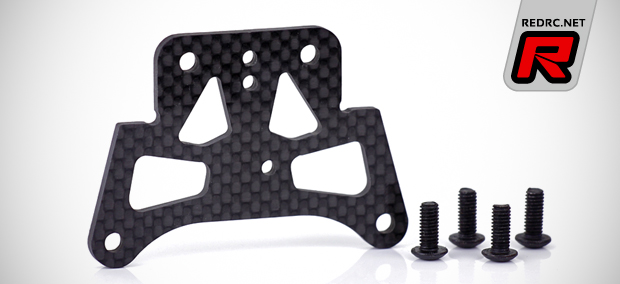 German company PSM have new carbon fibre option parts for Kyosho's MP9 TKI3 buggy available in the form of a front top plate and a radio tray. Starting with the top plate, the part is CNC-machined from 3mm high quality glossy finish carbon fibre and made to directly replace the kit part with a stiffer and very lightweight part. Included with the plate comes a set of suitable fasteners. Also new is the TKI3 radio tray, again made from 3mm glossy finish carbon fibre. The part weights in at only 9.5g, it offers a high rigidity and, like all PSM parts, it is made in Germany.
Click here to view the radio tray
Tuesday, December 3, 2013 - add a comment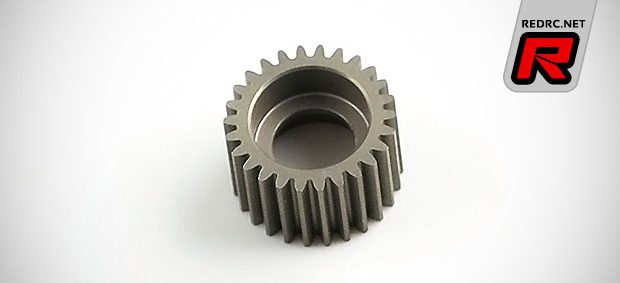 Kyosho Germany introduce this 26T aluminium idler gear for the RB6 buggy and RT6 truck. It is designed to replace the standard composite part with a more durable solution, ideal when running low-turn motors in high ambient temperatures or on very high-traction surfaces. The gear is cut from high-quality aluminium and it comes hard-anodised for added durability.
Source: Kyosho [kyosho.de]
Thursday, November 21, 2013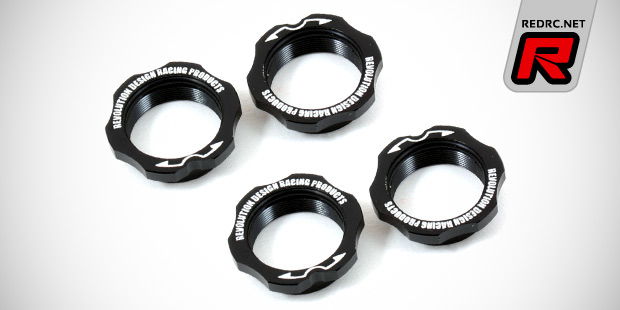 The Revolution Design Racing Products shock preload nut set is designed to replace the standard aluminium nuts on Kyosho's 1/10th big bore shock absorbers such as found in the RB6, RT6 and ZX-5 kits with larger diameter and easier to use parts. Included in the set are four CNC-machined 7075-T6 aluminium nuts that sport an updated design to allow for better and easier ride height adjustment. The black design corresponds with the other RDRP parts for the RB6 while white logos and markings make for a cool factory look. Included with the nuts also come four suitable rubber O-rings to limited the movement of the nuts, preventing them from unwanted movement during the race.
Click here to view the parts in place
Wednesday, November 13, 2013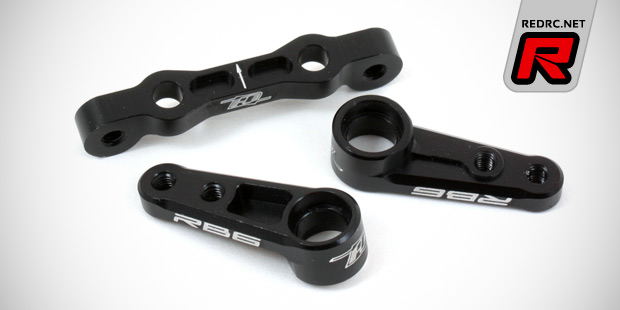 Revolution Design Racing Products introduce the aluminium steering rack set for Kyosho's RB6 buggy. Designed to replace the kit's plastic steering bellcranks and rack with a more rigid and more precise solution, the set includes CNC-machined and black anodised aircraft-quality 7075-T6 aluminium parts for maximized durability. The higher strength of the steering assembly also improves steering precision on high-grip surfaces for a more agile and predictable handling. Included in the set are two bellcranks and the steering rack with the parts also fitting the recently released RT6 truck.
Click here to continue reading
Tuesday, November 12, 2013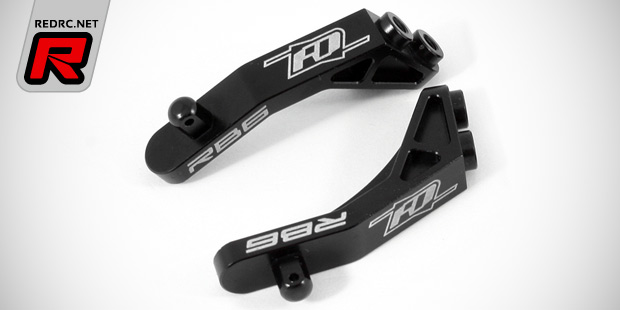 Revolution Design Racing Products announce the soon release of the aluminium wing mount set for mid motor converted Kyosho RB6 buggies. Machined from 7075-T6 aluminium and coming black anodised the wing mount is not only a lot more durable than the kit parts but also makes for a more solid base especially for larger or heavier wings, meaning improved aerodynamic efficiency. It is a direct fit on the stock plastic shock tower and also perfectly matches with RDRP's soon-to-be-released carbon fibre rear shock tower set. As usual the parts sport a stealthy black colour and laser-etched logos for a cool factory look.
Click here to view the parts in place
Monday, November 11, 2013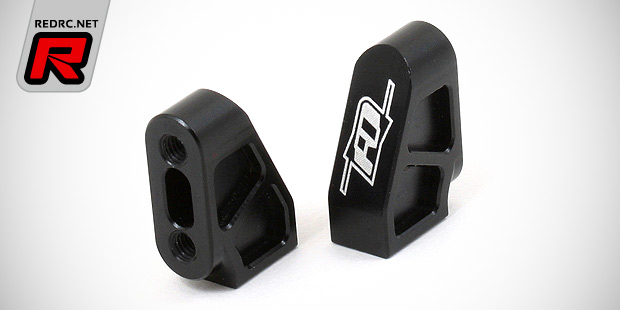 Made for the Kyosho RB6 2WD buggy are these Revolution Design Racing Products aluminium servo mounts. Made from aircraft-quality 7075-T6 aluminium and coming stealth black anodised the parts are designed to replace the kit's plastic servo mounts with more rigid and better looking parts. The brackets are of a universal fit most of today's standard-size servos, they come as pair, are laser etched with RB6 logos and they fit the new Kyosho RT6 stadium truck as well.
Click here to view more photos
Saturday, November 9, 2013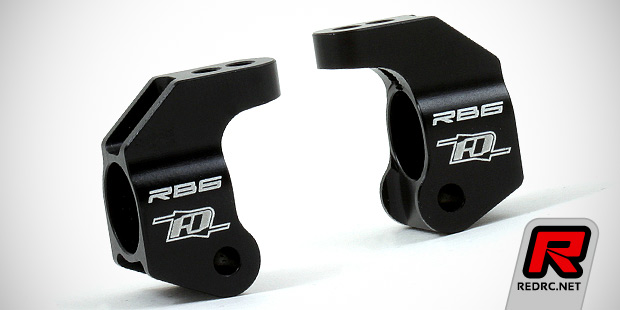 Revolution Design Racing Products introduce first option parts for the Kyosho RB6 line of buggies. Coming soon are precision machined aluminium rear hubs that are made to replace the standard plastic hubs with a more durable and cooler looking variant. The hubs mimic the stock geometry, offer two vertical mounting positions for the camber link ball studs and they are of a 0° toe design. As usual they come in RDRP's signature stealth black anodising and sport white markings for that desirable factory look.
Click here to view another photo
Friday, November 8, 2013