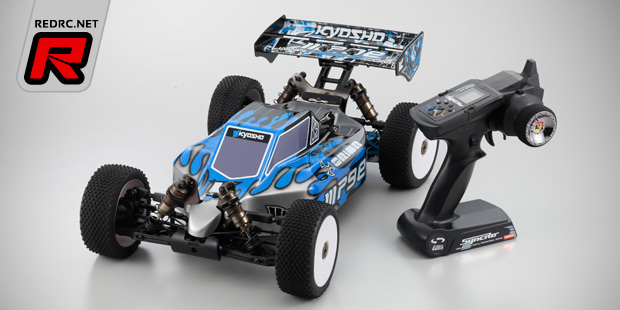 Coming in April is Kyosho's MP9e TKI ReadySet 1/8th electric off-road buggy. Building on the proven MP9 platform, the buggy features an aluminium chassis and shock towers, threaded aluminium big bore shock absorbers, machined suspension plates, front universal driveshafts and moulded chassis braces. The factory assembled vehicle comes with a 2.4GHz radio system, a newly developed high response KT-401 steering servo and a genuine Team Orion Vortex 8 waterproof speed controller and Neon8 2100kv brushless motor. The package is rounded out by a pre-finished bodyshell and grippy pin tyres on white disc rims.
Click here to view the features and more photos
Friday, February 28, 2014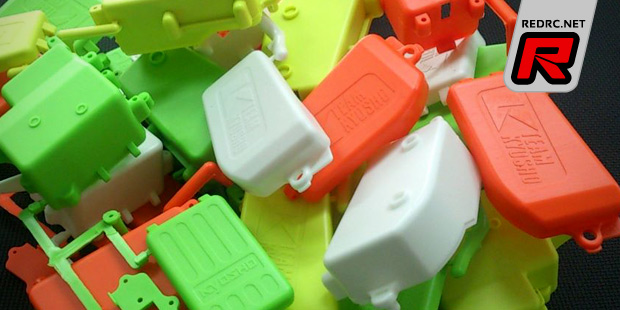 Kyosho's mastermind Yuichi Kanai is well known for his green-themed Inferno buggies and now he came up with the idea of producing coloured plastics for the usually black-coloured receiver and battery boxes of the MP9 TKI3 buggy. Kyosho already have neon green, yellow and orange wings and rims available that go along standard white and black coloured parts and now there may also come white, yellow, orange and green coloured radio boxes to complement your body's livery or rim and wing colour. Green, orange and white MP9 suspension inserts already made it to Kyosho's option parts listing but there is no official statement about the coloured boxes yet but if they can gain enough interest maybe they put them up for sale too.
Click here to view more photos
Tuesday, February 25, 2014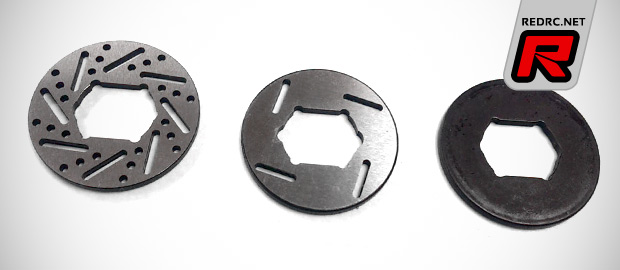 Kyosho's Yuichi Kanai recently gave an insight into the brake setup options the three available MP9-compatible brake disc types offer. While the standard-type full-face IF468 kit disc offer a mild, easy to control brake, the optional IFW122 SP discs make for improved stopping power. The latter also sport cut-outs for a more efficient cooling during long mains. The latest offering are the IF415 discs you can spot on the left side of the above image. The highly slotted design gives maximum ventilation and brake power.
Source: Kyosho [kyosho.com]
Thursday, February 20, 2014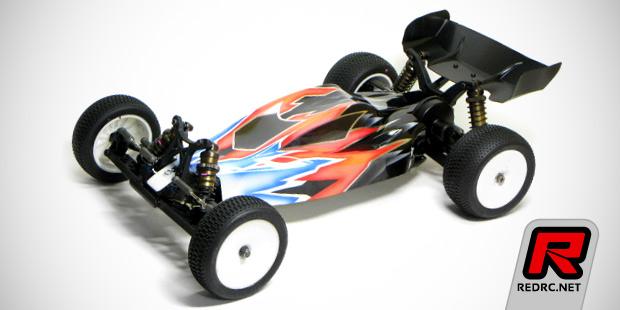 Available soon and a limited edition only is this Pholc bodyshell from Azarashi. Made for the use with the Kyosho RB6 and also mountable on the Tamia TRF201 XR and XM as well as the X Factory X-6 Cubed the body is of a flowing design that sets it apart from the current breed of somewhat edgy cab forward bodyshells. The shell is usable on mid and rear motor buggies and becomes available by the end of February.
Click here to view more photos
Thursday, February 13, 2014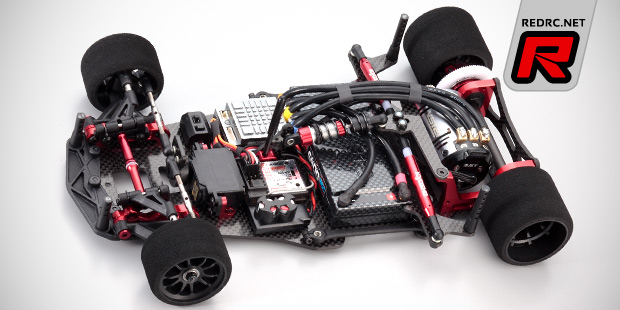 Kyosho Germany introduce the Plazma Ra Red 50th Anniversary Edition 1/12th pan car kit. Building on the already known Plazma Ra kit, the Red edition comes with two optional roll dampers, optional rear wheel hubs and also an optional rear bulkhead. Otherwise the features remain the same as are the carbon fibre main chassis, symmetrical front end components, Futaba/JR compatible mini servo mounts and a large diameter ball differential.
Click here to view another photo
Monday, February 10, 2014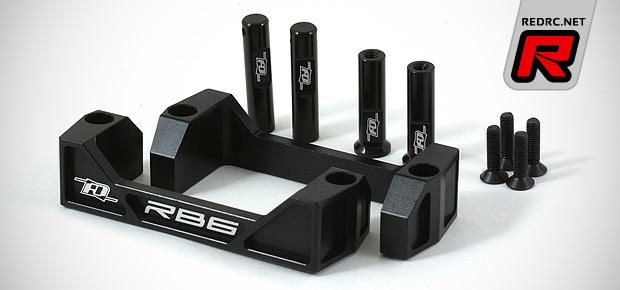 New from RDRP come two new battery positioner sets for the Kyosho RB6 buggy and RT6 stadium truck. First up is the aluminium variant that is only slightly heavier compared to the kit's plastic parts. They are designed to enhance the look while offering higher rigidity at the same time. Made from 7075-T6 aluminium the C-shaped parts sport laser-etched graphics and are usable for standard length, shorty and saddle pack battery configurations alike.
Click here to continue reading
Tuesday, February 4, 2014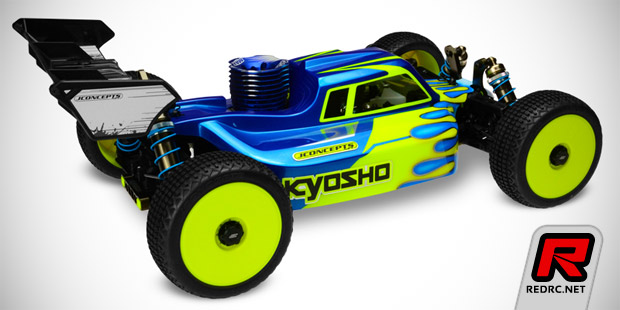 JConcepts have released their popular Silencer body shell for the Kyosho MP9 TK13 buggy. Designed for the use on high-speed tracks it features a narrowed, Finnisher stance cockpit that allows for smoother high-speed transition and increased flow in and out of the body for electrical air-flow. A deep recess behind the cab features dual channeling out the rear providing air escape along with rear-end stability. The side-pods have a clipped rear-end, narrowing the rear by angling just in front of the rear tyres. The extended runner features on the rear-end of the body enhance the force placed on the rear pods during high-speed acceleration. The main pods are heavily chamfered with a more heat-shrink design over the speed control and motor areas. The end result has the body looking extremely low-profile with heavy JConcepts edginess and appeal and it is capped off with a cockpit  "shark fin" for more high-speed tracking stability and increased roof stiffness.
View more images of the body here
Thursday, January 30, 2014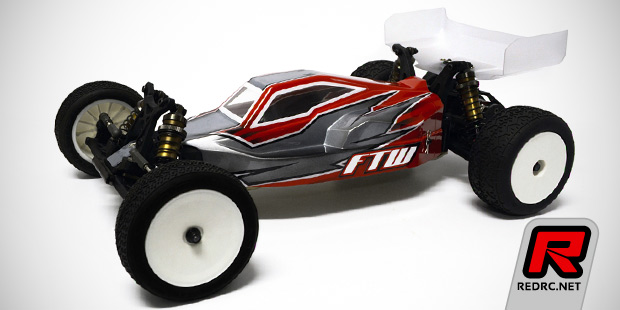 For The Win introduce the Nanofox bodyshell for the Kyosho RB6 buggy. Stealth facets that define FTW style are fused with Grand Prix inspiration to cloak an all-business forward cab and impossibly low profile side pods with style. Like all FTW body shells, fitment is immaculate and most popular electronic suites are easily housed inside. The unique side pod profiles provide an ideally positioned air inlet opportunity. The body is formed from clear .030" polycarbonate and fits the buggy in both mid and rear- motor configurations, it includes moulded cut lines for each configuration as well as two .040 Fulcrum wings, a decal sheet, and window masks.
Click here to view another photo
Thursday, January 23, 2014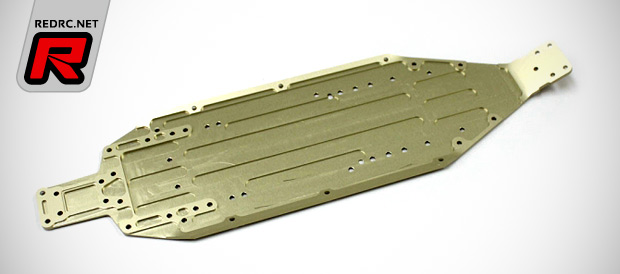 Kyosho soon have new option parts for the World Championship winning RB6 buggy available. First up is a lightweight chassis plate, made from 7075-T6 aluminium. Coming hard anodised the chassis also sports additional milled out sections for a lower weight compared to the standard kit chassis. Also new is the Blade lightweight body made from 0.6mm polycarbonate. Being of a lighter weight, using the body makes for a lower centre of gravity and a reduced all-up weight. Last but not least is a brass weight set for the rear bulkhead of mid motor converted cars. Included are a total of three weights as well as mounting hardware for a drop-in fit.
Click here to view the other new parts
Tuesday, January 21, 2014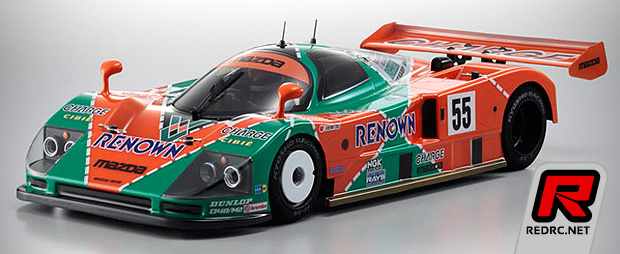 Available soon is Kyosho's Mazda 787B based on the Plazma LM 1/12th scale pan car chassis. The kit is based on the Plazma Ra 1/12th competition chassis and features a long wheelbase FRP chassis, aluminium front suspension parts, alloy dampers and motor mount, as well as ball races, grippy foam tyres and it comes with a G20 brushed motor. Included are also one clear and one pre-painted Mazda 787B Le Mans body shell that resemble the monstrous Group C cars who attended at the 1991 24 Hours Le Mans race. Not included are the radio system, speed controller and battery.
Source: Kyosho [kyosho.com]
Monday, January 20, 2014