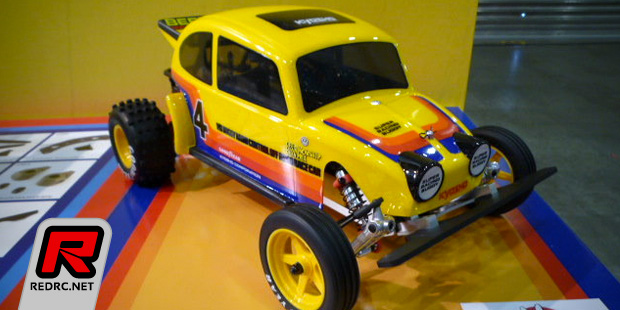 Following the re-release of the iconic Scorpion 2WD buggy Kyosho will soon also have the not-less desirable Beetle Off-Road Racer available for all of you who could not afford one back in the last century. Based on the same ladder frame chassis as the Scorpion the Beetle features a different tyre/wheel combination and of course the name-giving VW Bettle bodyshell. As with the Scorpion you can expect some redesigned and upgraded parts in the Beetle kit to make the kit usable with modern day electronics, but overall the distinctive 1980's appearance will remain. We do not have definite information on a release date but it is understood that the kit, that was on show during the recent All Japan Hobby show, could hit the stores before Christmas!
Image: Hobbygarage RC [ameblo.jp/hobbygarage-rc]
Monday, September 29, 2014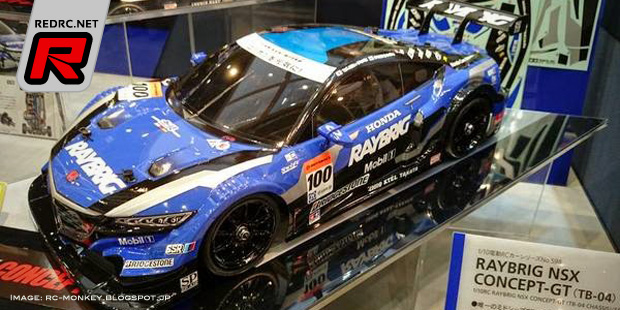 A bit earlier today we brought you first images of the Tamiya TRF419 and what appears to be the follow-up model of the Kyosho TF6 and now more images are available from this week's All Japan Hobby Show in Tokyo. First up is Tamiya's recently announced Raybrig NSX Concept-GT kit that will become available on the TB-04 shaft-driven chassis. What makes the kit stand out is once again Tamiya's highly detailed polycarbonate bodyshell and the huge decal sheet to resemble the full scale Raybrig NSX.
Click here to continue reading
Friday, September 26, 2014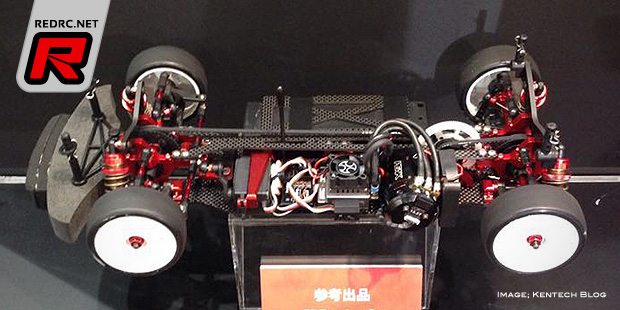 While Tamiya officially announce a new electric touring car kit at this week's All Japan Hobby Show, competitor Kyosho are currently a bit under the radar with a follow-up model of their ageing TF6 platform. The car on show in Tokyo sports a new shape chassis, updated front and rear bulkheads, a new motor and layshaft mount as well as what appears to be a floating battery mount that prevents the battery pack from affecting chassis torsion during cornering. Like the now-standard floating servo mounts the battery "floats" above the chassis, hanging in a carbon fibre brace that is connected to a sturdy aluminium piece which is mounted on the roll axis of the chassis. Also visible in the image is Kyosho's idea of a reactive rear suspension that allows to adjust the rear toe-in gain or loss during cornering. We try to get more information on the car in question as we understand that the vehicle will be in use during the forthcoming IFMAR Electric On-road World Championships.
Click here to view another photo
Friday, September 26, 2014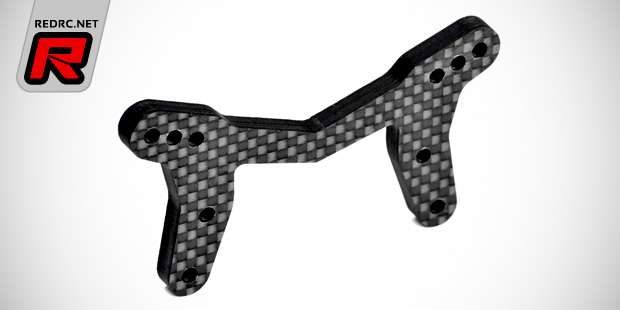 Exotek introduce two carbon fibre front shock towers for the TLR 22 2.0 and the Kyosho SC6 truck. Starting with the TLR part, the shock tower is made of 5mm high-quality carbon fibre and much stiffer and stronger than the original composite item resulting in a more consistent damper action. Extra machining reduces unnecessary weight while improving airflow through the shock stay at the same time. The tower fits both the 22 and newer 22 2.0. Also new and made for the Kyosho SC6 and RT6 is a 4mm front shock tower. Again made to improve shock action the part offers additional outer shock mounting holes for added tuning options while lower countersunk holes insure exact mounting and alignment which is critical for taller shock towers.
Click here to view more photos
Wednesday, September 17, 2014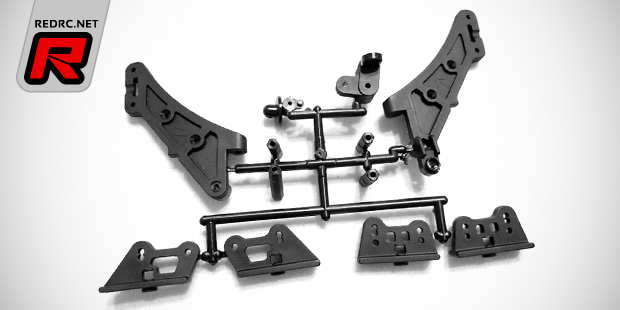 Kyosho's 1/8th scale wizard Yuichi Kanai has released first information on the forthcoming short wing mount for the MP9 buggy. Thanks to two different wing mounting plates the wing mount allows to use three mounting positions; standard kit, standard kit height but 9mm more forward as well as third position 9mm more forward and 5mm lower than standard. The height and position of the wing has direct influence on the rear traction available and is a fine tuning tool to adapt the buggy's jumping characteristics also.
Click here to view another photo
Tuesday, September 2, 2014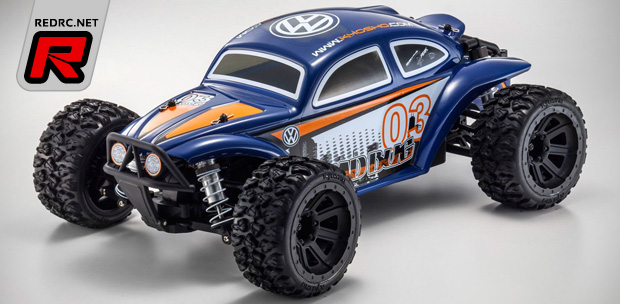 Coming soon from Kyosho is the 1/10th scale Mad Bug VE ReadySet off-road buggy. The shaft driven 4WD vehicle can handle just about any type of rough terrain thanks to its large 100mm diameter tyres on inch up wheels and the aluminium oil shocks. The bathtub chassis is equipped with a heavy-duty suspension, slipper clutch and metal diff gears in the high durability drive train that can take plenty of punishment from hard driving. Included with the factory assembled kit comes a genuine Team Orion Neon One 2400kv brushless motor, a Team Orion R10 One speed controller and a waterproof high torque steering servo. The set is rounded out by a 1800mAh NiMH battery pack, a wall charger and your choice of a blue or white bodyshell.
Click here to view the feature and more photos
Tuesday, September 2, 2014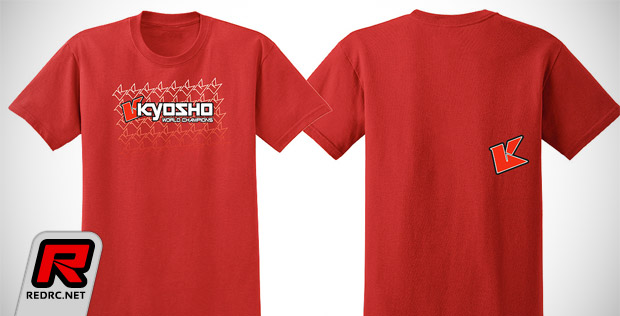 Kyosho America have released this new line of t-shirts to help you show your loyalty to the Japanese brand. The new KFade tee comes in 3 colours, red, black and white and sports the Kyosho logo on the front with the title World Champions over a fading Kyosho K logo while on the lower back the K logo is placed large on the right side. There is also a new black tee from the Peak Racing brand which follows a similar front design with the main logo repeated on the back just below the neck. Available in a large range of sizes.
Wednesday, August 20, 2014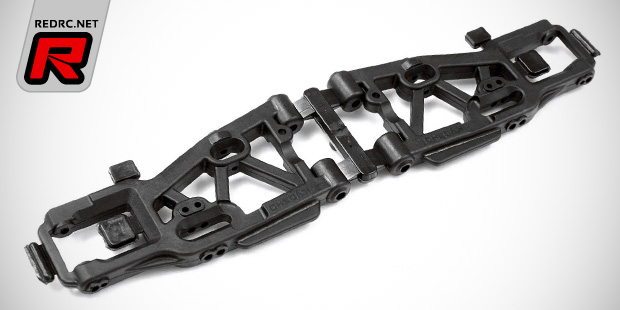 Yesterday we brought you preview images of forthcoming option parts for Kyosho's MP9 line of buggies and today Kyosho America have more definite information available. First up are new hard front suspension arms to compliment the hard rear arms that are optional on the MP9. The arms feature a stronger material that is especially useful when running in hotter temperatures or climates. These conditions tend to make standard molded parts a little flexible, and these arms are specifically designed to avoid too much flex in high heat. They are not recommended for running in temperatures below 20°C or 70°F.
Click here to continue reading
Saturday, August 2, 2014