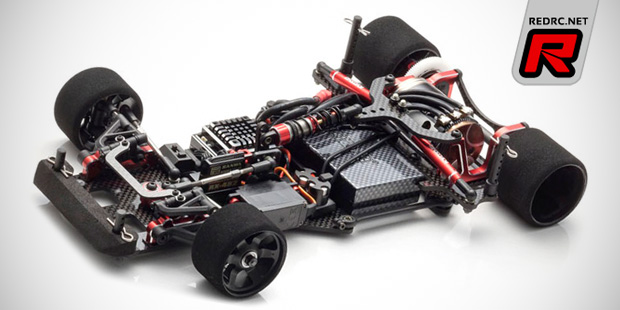 Coming this November is Kyosho's Plazma Ra 2.0 1/12th scale pan car kit. Building on the 2011 Plazma Ra kit the 2.0 variant features some subtle design revisions to make it easier to adapt the car to a range of track conditions from slippery up to high-grip thanks to a widely adjustable centre shock and the ability to run both a crank-type or direct steering assembly. A new king-pin strut system of the front suspension allows for easier and more precise camber, caster and track width adjustments and also simplified maintenance. Grooves in the chassis allow to run the 1S LiPo back in a forward or rear position and the centred motor position delivers optimal left-to-right balance. The kit is rounded out by a high-torque ball differential with thrust bearing and 4mm adjustment nut.
View the features and more photos here
Wednesday, November 18, 2015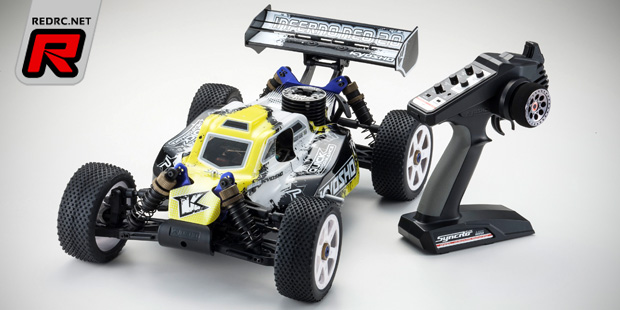 Kyosho America have introduced the Inferno Neo 2.0 1/8th scale nitro ready-to-run buggy. Features including the front and rear shock stays of the MP777 provide rigidity and strength with precision off set to produce a high amount of traction, even over the rough surfaces. Combined with big bore shocks equipped with dial-adjustable tension, the effective damping force delivers on-track stability and easy control for beginners with the sharper response required by serious racers. In addition, universal swing shafts on the front provide reliability under severe racing conditions. A new aerodynamic cab forward body design produces stable posture through the air and reinforces its competitive edge with frontal down force. The proven KE21R engine offers a balance of power, torque and stability and fitted with a recoil starter, the 21-class engine is fast and simple to start. The Readyset is equipped with the 2.4GHz Syncro KT-231P RC system and KS4031-06W servos and the kit is topped off by a bodyshell available in two colour variations.
View the features and more photos here
Wednesday, November 18, 2015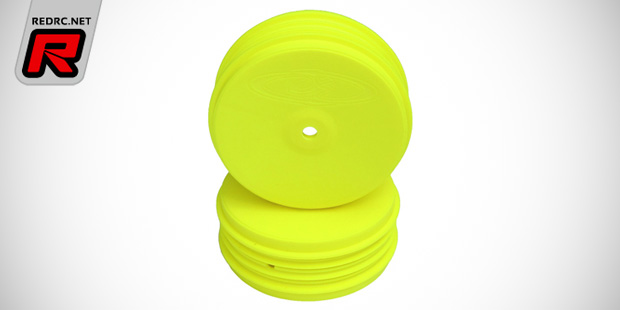 DE Racing has added 2.4″ 4WD buggy front wheels to their SpeedLine Plus 2.4 range of 1/10th buggy wheels. They feature a 12mm hex and offset for use on many models including the Kyosho ZX-6, TLR 22-4, Hot Bodies D413, and Team Associated B44.3 when using their 12mm hex conversion. The wheels are manufactured in the USA and available in eight colours including black, blue, green, orange, pink, red, white and yellow.
View the other available colours here
Tuesday, November 10, 2015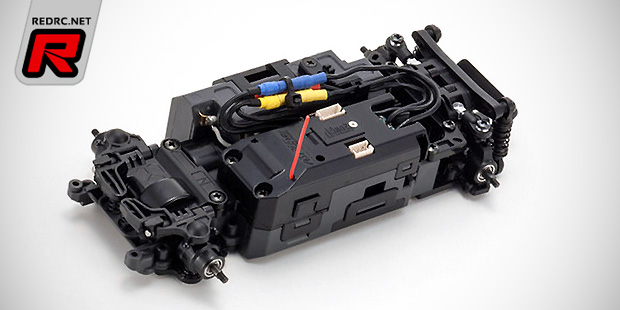 Coming soon from Kyosho is the MA-020VE Pro Mini-Z AWD kit. The all-wheel chassis features the VCS front suspension known from the MR-03 as well as a DWS rear double wishbone suspension for best possible handling. The 8500kV XSpeed VE brushless motor delivers a huge amount of power while being virtually maintenance-free at the same time. The chassis comes in the narrow track and M-size wheelbase configuration although parts for the wide track and L and LL wheelbase settings are included. Part of the package is also the MHS 2.4GHz system that, when used with the Synchro EX-6 transmitter, is up to 16-times faster than the ASF system and 4-times faster than the KO Propo EX-1 combo. Not included in the set are wheels, tyres and a bodyshell.
View the features and more photos here
Wednesday, October 28, 2015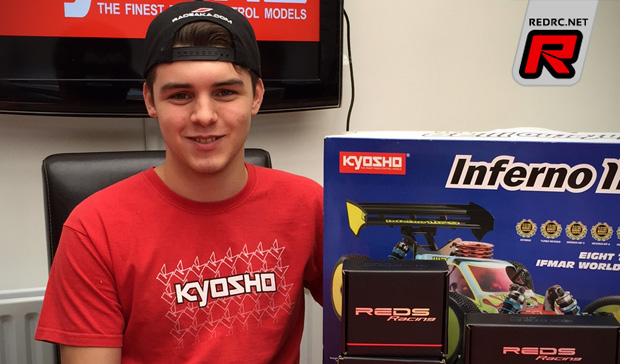 Kyosho Europe have announced the signing of UK's Jack Embling to the international team. Jack will be using the Inferno MP9 TKI3 chassis with Reds Racing engines and AKA tyres. The young man has improved each year of his career and is now ready to go that extra step and follow his new team mate Elliott Boots to success in 2016. Jack had the following to say:
I am incredibly excited to be joining Kyosho factory team for 2016. It's always been my ambition to drive for Kyosho and I see this as a great opportunity to take my racing to the next level. I would like to thank Mike, Christophe, Kenji and Mitsuo for making this happen. So 2015-2016 is going to be a busy year, starting with the upcoming race at Padova in November, then on to Montpellier, Neo, Euros, UK Nationals, and the Worlds in Vegas, its going to be a fantastic year. I am feeling super confident running one of the best packages around with my proven Reds engines and AKA tyres.
Source: Kyosho [kyoshoeurope.com]
Wednesday, October 21, 2015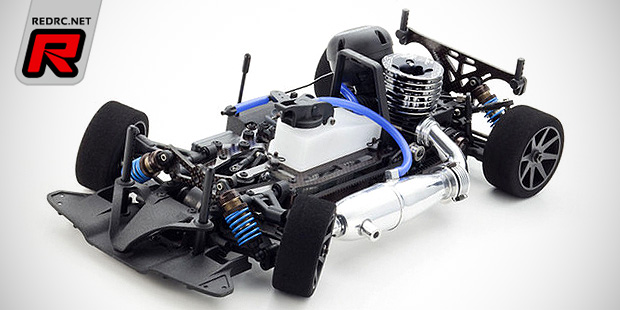 Seen for the first time at the recent All Japan Hobby Show Kyosho now officially introduce the V-One R4 Evo 1/10th 200mm nitro on-road kit. The latest incarnation of successful R4 platform features several improvements and refinements to better cope with today's powerful engines and so the newly shaped main chassis and upper deck are the foundation of improved mechanical grip and optimal performance in a wide variety of racing conditions. The new aerodynamic front bumper delivers improved turning stability while the front knuckles and rear hubs can be installed with optional carbon discs to provide increased high-speed stability and chassis setting variation.
Friday, October 16, 2015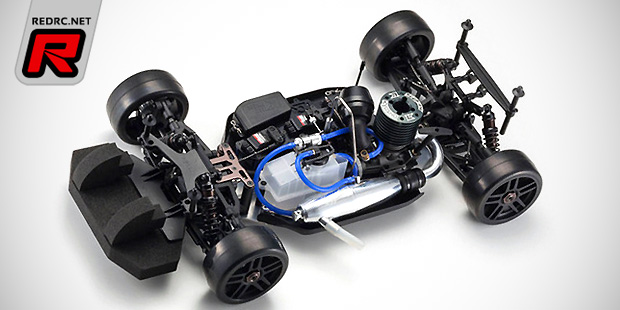 Kyosho America have introduced the Inferno GT2 Type-R 1/8th scale nitro on-road chassis for the ever growing GT class. To realise improved circuit performance, the base GT2 is now equipped with almost 20 optional parts and packaged as a high-performance build kit. Starting with optimised chassis rigidity, high level grip is maintained around the rear, and combines with upgraded braking performance to ensure the weight of the chassis can be delivered to a controlled stop. Other features include the MP9 TKI3 style RC layout, aluminium oil shocks and shock stays, anti-roll bars, centre universal swing shafts as well as a 3D bumper for a maximised aerodynamic effect without panels flapping. The Type-R kit is rounded out by a set of 45 degree KC slick tyres on 5-spoke wheels.
View the features and more photos here
Thursday, October 8, 2015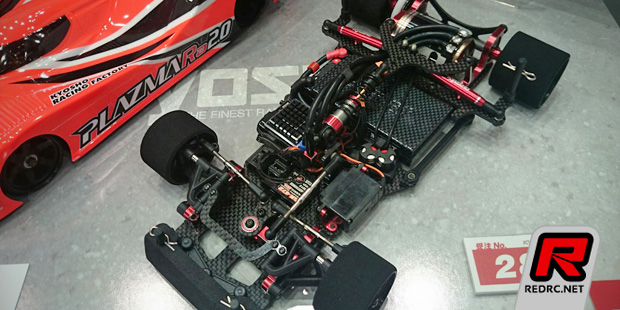 On show at the Kyosho booth at this week's All Japan Hobby Show are several new competition kits ranging from 1/12th to 1/8th scale. First up is the Plazma Ra2.0 1/12th scale pan car kit. The follow-up model of the Ra features several improvements and new features such as the single bellcrank "reverse-type" centre steering assembly with longitudinally mounted steering servo. New are also the front aluminium suspension mounts that allow for easy ride height changes using carbon fibre plates and the battery mount utilises rubber O-rings for tape-less battery mounting. Also new with the 2.0 version is the ability to adjust the side springs through the lower pod plate with the larger inner hex making adjustments more precise and easy.
Friday, September 25, 2015