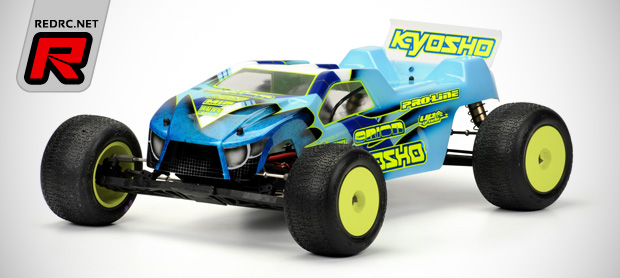 Pro-Line introduce the Bulldog design bodyshell for mid motor racing trucks such as the Kyosho RT6 and the Centro CT4.2 as well as 1/8th Electron buggy tyres. Starting with the body, the mid motor Bulldog is based on the proven rear motor variant and features a new Mohawk down the centre of the roof that improves high-speed stability and adds an aggressive look. The front end geometry has also been reshaped and improved to achieve higher front down force and reduce wheelies that cost precious time. The body comes made from high-quality polycarbonate and it includes window masks and a decal sheet.
Click here to continue reading
Wednesday, November 26, 2014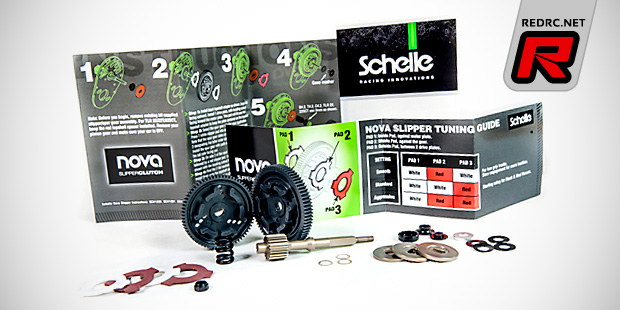 Schelle Racing Innovations' Nova 3-pad slipper clutch is now also available for Kyosho's RB6 2WD buggy. All parts needed are included in this conversion to race stock or modified buggy with a 69 or 76 tooth Nova spur. Also included is the required Nova aluminium topshaft which will adapt the Kyosho gearbox to a Nova slipper clutch and 5.5mm hex adjustment nut. The Kyosho conversion also includes both types of slipper pads with a tuning guide to help racers learn how to tune the clutch for different conditions from slick to astro turf. The conversion also fits the RT6, SC6 and Ultima SC with the aluminium top shaft also being available separately.
Source: Schelle Racing Innovations [schelleracing.com]
Saturday, November 22, 2014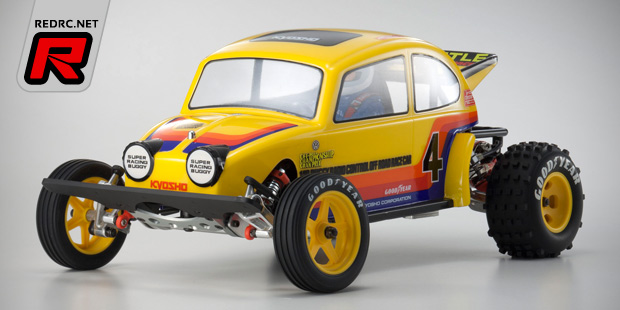 Coming this December is Kyosho's re-release Beetle 2WD buggy kit. The 2014 version of Kyosho's 1983 kit externally may look like the original Beetle with its semi-trailing suspension arms, but the advanced 6061-T6 forged aluminium material delivers futuristic levels of strength, rigidity and durability to cope with the power of modern day electronics. Following the original design, the kit features a new two-piece die-cast aluminium gearbox with differential gears and in addition, the included slipper clutch protects the transmission as well as delivers efficient traction. Precision 48 pitch gears reduce traction pulsation for direct driving control characteristics while the flat under surface of the countersunk chassis has no protruding screw heads for minimal contact resistance and scraping, resulting in higher durability. Stainless shafts combine with aluminium shock bodies on the oil shocks for smooth stroke from top to bottom and running performance worthy of a true racing buggy. Like the original Beetle, the 2014 version is packaged as an unassembled kit, but nearly all tapping screws and nuts have been replaced with the improved lightweight and security of hex screws. Included with the kit also comes a replica bodyshell and period-correct wheels and tyres.
Click here to view more photos
Tuesday, November 11, 2014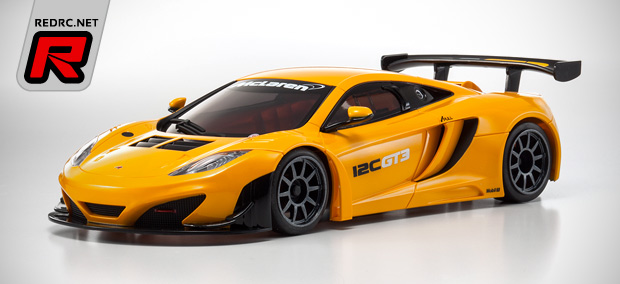 Kyosho soon have three new bodyshell variants of the Mini-Z MR-03 Sports chassis available. Coming as McLaren 12C GT3 2013, Porsche 962C and Aston Martin DB9R, all MR-03S chassis feature a re-designed front suspension geometry, a high-resolution digital servo with coreless motor and an integrated FET speed controller. An optional lighting set improves reality thanks to working head- and brakelights. Included with the cars comes a 2.4GHz Perfex radio system.
Click here to view more photos
Tuesday, November 11, 2014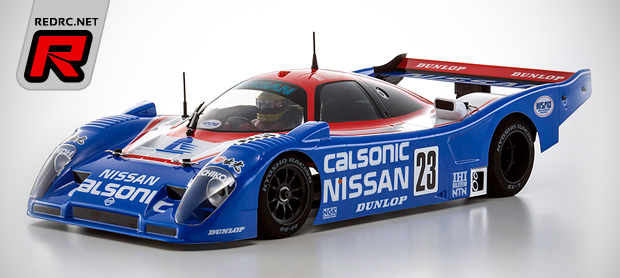 Kyosho soon have a new bodyshell variant of the Plazma LM 1/12th scale chassis kit available. Joining the Toyota TS020, the Porsche 962 and the Mazda 787B is the 1990's Nissan R90CP No. 23. Based on the Plazma Ra competition pan car the Plazma LM series of cars build on a long wheelbase chassis with conventional T-bar rear suspension, a single central shock and dual side dampers. The highly adjustable front suspension is directly taken over from the LM's competition sibling as are many parts of the rear suspension including the adjustable ball differential. The car is useable with a wide range of battery configurations including 1S to 2S LiPo batteries and four to six cell NiMH battery packs and comes almost ready-to-run including a brushed G20 standard motor, pre-mounted high grip foam tires and the highly detailed Nissan R90CP body shell.
Click here to view more photos
Friday, November 7, 2014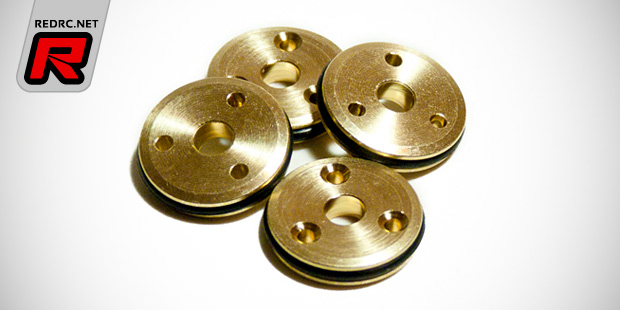 Hot on the heels of the 1/8th scale brass shock pistons Imbue announce the release of 12mm 1/10th variants. The pistons are meant to improve bump handling, they make for plusher landings and smoother vehicle response. Initially available in 3×1.35mm hole configuration, the hole selection works well on both outdoor and indoor tracks, with tapered holes on one side to allow tuning for faster rebound or dampening. Included are standard and tight fit sealing bands for a perfect fit and to eliminate blow-by and friction. The pistons fit TLR, Associated, and Kyosho vehicles as well as and other brands that utilise a 3mm mounting shaft.
Source: Imbue [imbuemotorsports.com]
Monday, November 3, 2014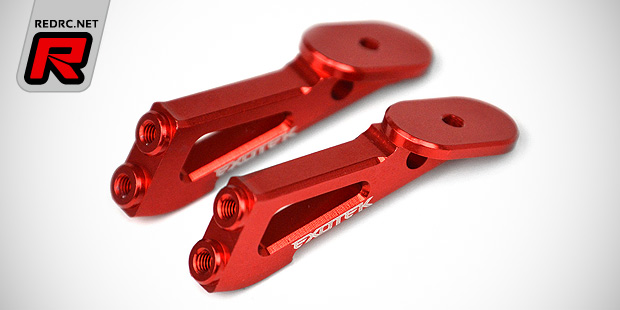 Exotek have new option parts for Kyosho's RB6 buggy available in the form of aluminium wing mounts for mid motor converted buggies as well as delrin big bore cartridge housings. Starting with the wing mounts, the parts made from 7075 aluminium are of a heavy duty design for extra durability while being light of weight at the same time. Threaded holes allow to mount the wing using low profile M3 screws, doing away with the need to use body clips. The mounts come red anodised to match with the remainder of Exotek's Kyosho option parts.
Click here to continue reading
Wednesday, October 29, 2014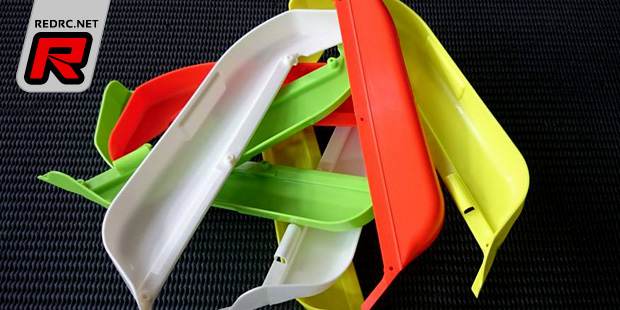 To match with their various colour MP9 receiver and battery boxes Kyosho soon have corresponding chassis side pod sets available. Given the photos Kyosho's Yuichi Kanai released the pods come in orange, yellow, green and white colour to replace the standard black parts with more colourful ones. More information, such as availability, should surface soon.
Source: Kyosho [kyosho.com]
Monday, October 6, 2014