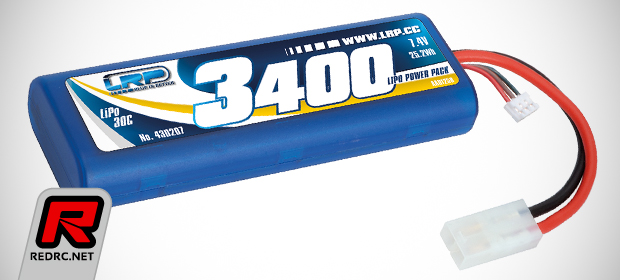 LRP introduce the new Power Pack 3400 hardcase LiPo battery. Build from 30C cells the battery mimics the dimensions of a NiMH racing pack making it ideal not only for a wide range of RTR vehicles but also nitro starter boxes and many other applications that need "racing pack"-style batteries. The pack comes in a protective hardcase and is pre-wired with a Tamiya-type connector and an EHR balancer port.
Source: LRP [lrp.cc]
Monday, December 2, 2013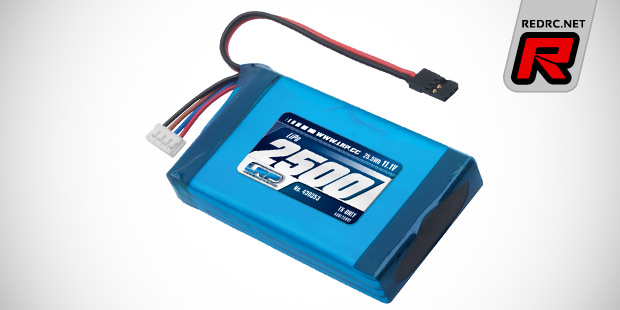 LRP have new LiPo battery packs for Sanwa and Futaba radios to offer along an updated line of specific receiver battery packs. Starting with the transmitter batteries, available soon are a 11.1V 2500mAh pack for the Sanwa M11, MX-3 and Futaba 3PK, a 7.4V variants with 2600mAh for the M11-X and MX-3X as well as a 3000mAh pack for the M12, MT-4 and the Exzes-X. All batteries come pre-wired with balancer ports and a universal connector. For the receiver side of things LRP offers the 2200mAh small hump, 2500mAh 2/3A straight and 2700mA 2/3A hump battery pack. All are of 2S/7.4V specification for the direct use with high voltage compatible receivers and servos. Like the transmitter packs the RX batteries come pre-wired with industry-standard balancer connectors and universal plugs.
Click here to view the other new battery packs
Monday, November 18, 2013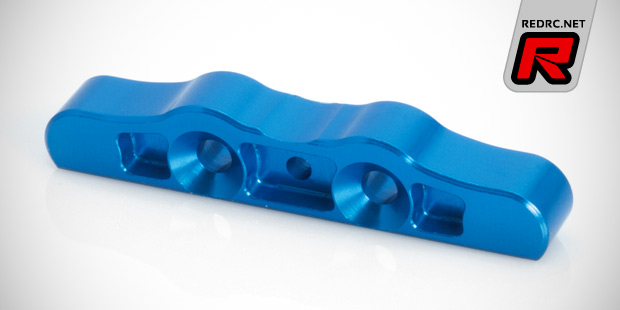 LRP have new option parts for the S8 1/8th off-road platform available in the form of three aluminium suspension mounts. Coming as FR, RF and RR variant the suspension hangers are CNC-machined from aluminium, come blue anodised and make for a more precise and durable location of the lower wishbones. The parts fit the S8 Rebel, S8 BX, S8 BXe and S8 TX.
Click here to view the other new parts
Monday, November 4, 2013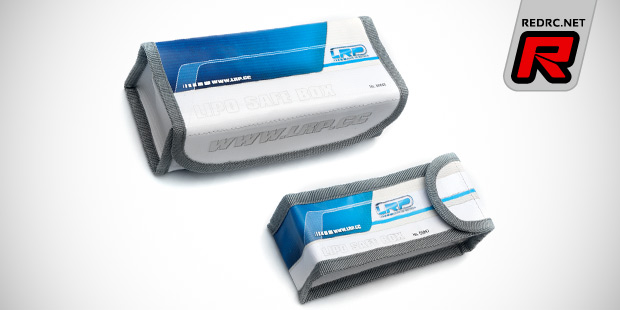 New from LRP come the LiPo Safe Boxes in two sizes. Made from a fire-resistant fabric the bags help to keep flames and electrolytes inside the container in the event of a LiPo battery going "boom" during charging. Tough velcro straps keep the lid closed securely while convenient openings make charge wire routing easy. The Safe Box is available as small 15x6x5cm box and large 18x8x6cm offering.
Source: LRP [lrp.cc]
Thursday, October 24, 2013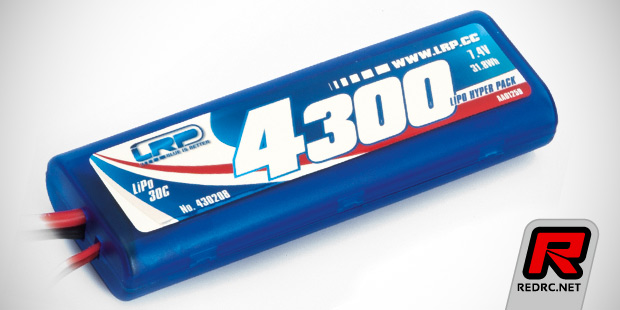 LRP introduce the 2S 4300mAh Hyper Pack LiPo battery. Build from 30C cells the battery comes in a protective hardcase of oval diameter making it ideal not only for RTR vehicles but also to power nitro start boxes and many more. The battery comes prewired with a Tamiya-standard connector and EHR balancer port.
Source: LRP [lrp.cc]
Tuesday, October 22, 2013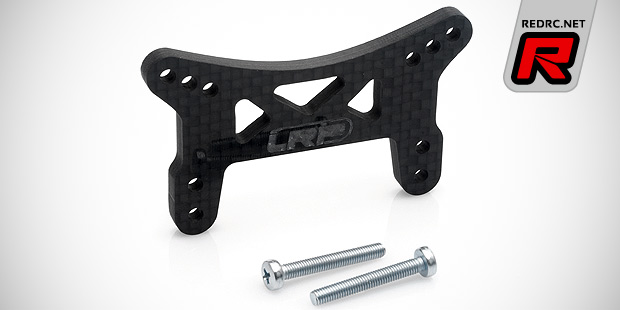 LRP introduce new carbon fibre option parts for the S10 Twister and Blast series of club-level off-road vehicles. Available soon are 4mm front and rear shock towers that lower the weight and centre of gravity of the chassis while offering added rigidity at the same time. They are available separately, come with suitable mounting hardware and the series includes specific parts for the S10 Twister BX, Twister TX/SC and Blast BX/TX/MT/SC. Also for the 4WD S10 Blast series come 4mm front and rear topdecks, the parts also lower the overall weight of the cars while offering improved durability and looks.
Click here to view the other new parts
Friday, October 18, 2013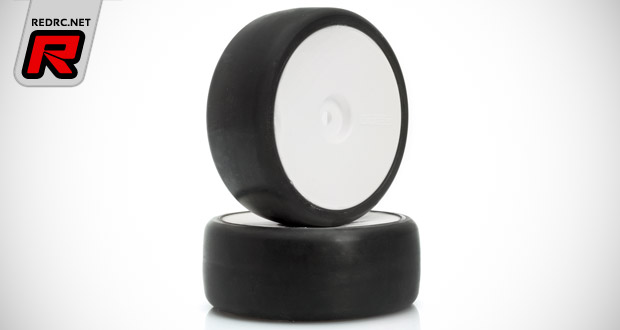 LRP introduce the VTEC G36 asphalt tyre. Building on the experience gained with the 30X tyre the G36 is made from a new rubber compound for improved traction and maximum durability. It is designed for racing at high asphalt temperatures and comes pre-glued on a redesigned, impact-resistant and true running rim with LRP's white insert.
Source: LRP [lrp.cc]
Friday, September 27, 2013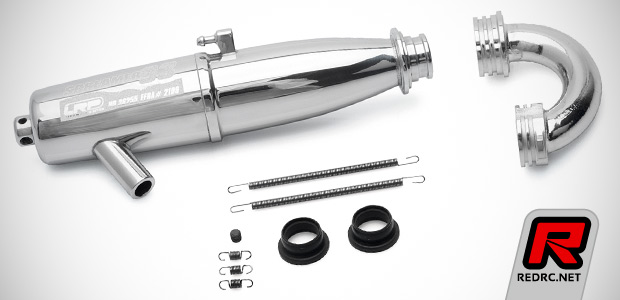 New from LRP comes the Screamer-93 1/8th off-road exhaust system. The 3-chamber EFRA2109 pipe is designed to make for a more linear power curve and more controllable throttle action while increasing fuel economy at the same time. Included with the set that works with most of today's 1/8th off-road engines come a suitable manifold, silicone gaskets and mounting springs.
Source: LRP [lrp.cc]
Tuesday, September 17, 2013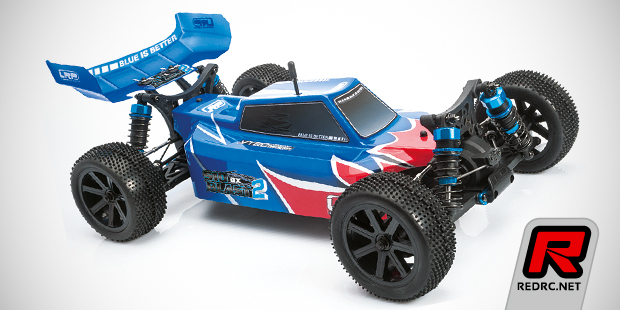 LRP introduce the updated S10 Blast BX 2 RTR buggy that received refinements in many areas. The vehicle is based on the already known BX composite tub chassis with 4WD shaft drivetrain and the updated kit features a fully enclosed drivetrain, steel gears, reinforced suspension parts, front and rear anti-roll bars, front CVD driveshafts, big bore shock absorbers, as well as L/R thread turnbuckles. The receiver is housed in a splash waterproof receiver box on top of the upper deck, while the buggy also comes with a splash waterproof steering servo, and a 2.4GHz radio system. The package is rounded out by a new and aggressively styled cab forward body shell. The buggy is available as standard brushed version with an AI Runner V2 digital controller or including a Spin Pro RTR brushless ESC and Vector K7 4300kv brushless motor.
Click here to view the features and another photo
Monday, July 29, 2013

Team Associated and LRP today announced jointly that Associated will no longer be selling and servicing the LRP brand in North America. Associated has supported the LRP brand in North America for over 18 years and the two brands have achieved great success with many IFMAR World Championships together during this partnership. See below for the remainder of the announcement.
With both brands expanding and their respective product lines overlapping, both sides felt the timing was right to work independently, but still continue a racing partnership.  Associated will now fully focus on developing and promoting the Reedy brand in all markets. Reedy develops products in the electric motor, nitro engine, battery, charger and speed control categories. LRP will expand its presence in North America by establishing LRP America, Inc. in Southern California. LRP America will provide marketing, service, and race support for a broadened product range in North America. LRP America will begin serving North America on September 1, 2013.
Source: Team Associated [rc10.com] & LRP [lrp.cc]
Wednesday, July 24, 2013