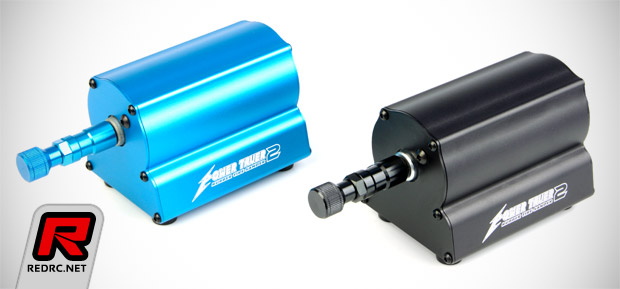 Much More have updated their popular touring car tire sander. The Power Truer 2 now features the ability to rotate the tire in both directions through the newly positioned switch. The new truer is still powered by 6 to 12V (7.4v recommended) and comes in a choice of anodised black or blue.
View another image of the truer here
Monday, April 15, 2013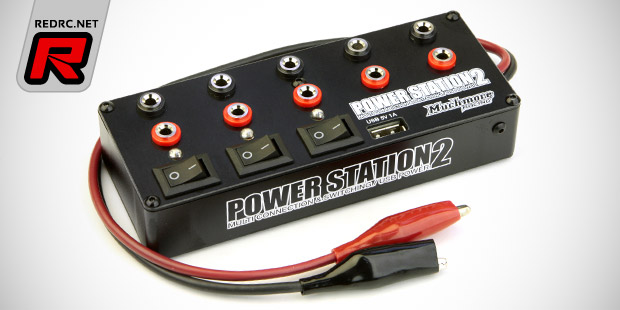 Much More Racings's Power Station 2 multi distributor is designed to enlarge the amount of 12V outputs available on any power supply. They sport three switching ports, two direct ports and a 5V/1A USB port to power chargers, pit lamps, mobile devices and more. Featuring a sturdy metal casing and crocodile clamp input connectors the boxes are available in your choice of black or blue colour.
Click here to view another picture
Friday, April 12, 2013
Much More Racing introduce the Fleta ZX electric brushless motors. They feature a black anodised full aluminium case with large airflow openings, balanced sintered rotors with laser-etched diameter markings, and an easy to adjust timing system. The motors are available as 3.5T to 8.5T modified and 10.5T to 21.5T stock variant.
Source: Much More [muchmoreracing.net]
Thursday, February 28, 2013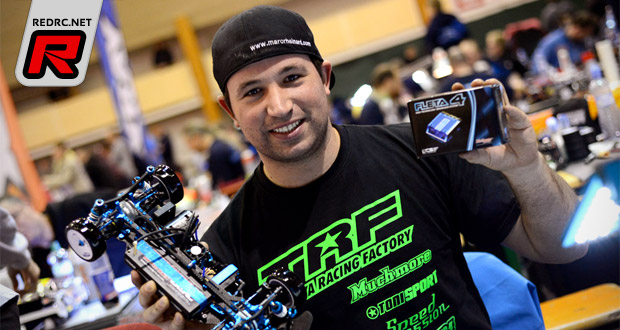 Three time ISTC World Champion Marc Rheinard has re-signed with Muchmore Racing for the 2013-2014 season. In addition to using the company' chargers, tire warmers and other accessories, Marc will now also use their new line of Fleta 4 ESC and ZX motors. Marc Rheinard had this to say:
First of all I must thank Speedpassion and especially Wilson for the great support over the last 5 years.  We had an amazing time winning many races, the highlight being able to win 2 IFMAR World Championship titles back to back. The support and quality of their products was always perfect. Now however it is time for a change. Having been supported by Muchmore Racing, using their chargers, tyre warmers and other accessories for many years, I am really excited about racing with their new Fleta 4 ESC and Fleta ZX Motors.  Muchmore Racing have always produced high quality products and since getting my first sponsorship from Muchmore Racing I have build up a really good friendship with their president Mr. Jang.  I have already had an opportunity to run the new Fleta 4 ESC and Fleta ZX Motors and was impressed by their performance so I am really looking forward to this new partnership and to the prospects of achieving good results together over the coming seasons.
Source: Much More [muchmoreracing.net]
Thursday, January 31, 2013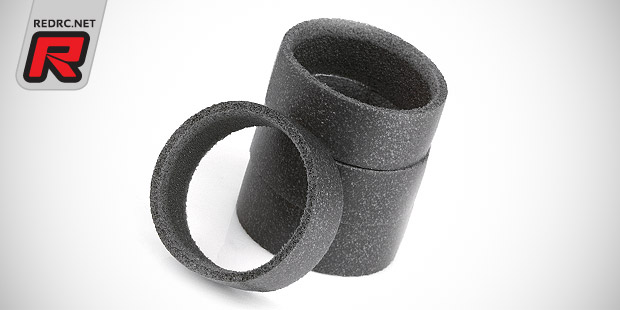 Much More introduce the Absolute closed cell tyre inserts for 1/10th touring car tyres. The inserts weight 0.4g per piece and are designed for the use in both high and low traction conditions such as carpet tracks and on slightly dusty asphalt tracks. They come in sets of four and are available now.
Source: Much More [muchmoreracing.net]
Monday, November 12, 2012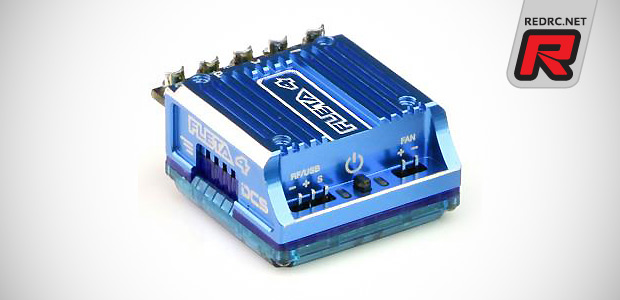 Much More introduce the Fleta4 brushless speed controller. The ESC features a special Double Cooling System design called DCS, a machined aluminum case to lower the operation temperatures and boosted as well as turbo timing software functions. A build-in switch, over-temperature, low voltage and failsafe protection adds to the specifications. The 2S-compatible controller is useable with motors as low as 3.5T, has a low-profile heatsink with optional fan unit and will become available in blue and black colour.
Click here to view more photos
Monday, October 8, 2012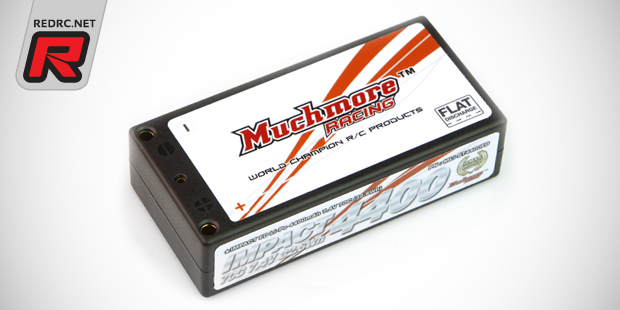 Much More Racing introduce the Impact FD series 4400mAh 70C LiPo battery pack. The 96mm 'shorty' pack weights 200g and is ideal for all 2WD applications and helps to put weight were it is needed. The hard case pack incorporates 4mm bullet type connectors and a 2mm balancer port and is available soon.
Source: Much More [muchmoreracing.net]
Tuesday, September 4, 2012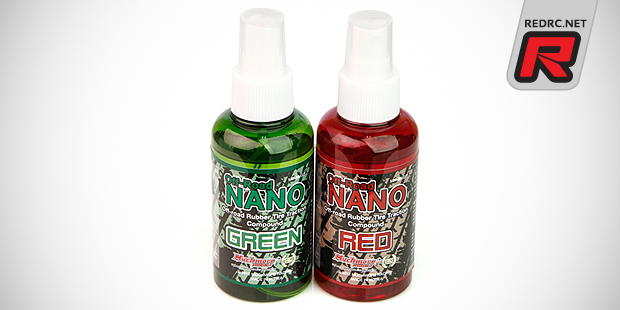 New from Much More Racing comes the Nano off-road traction compound and the Sanwa M12 and MT-4 transmitter LiPo battery pack. Starting with the traction compound the Nano called tire softener is available in Green and Red formula and is designed to give electric and nitro tires an improved grip on slick clay surfaces. The traction compound comes in spray bottles for easy application. Made for the Sanwa M12 and MT-4 transmitters is Much More Racing's 2500mAh 7.4V LiPo battery pack. It comes pre-wired with a Sanwa-compatible plug and balancing port and sports dimensions of 95x30x12.5mm with a weight of 97g.
Click here to view the TX battery pack
Friday, August 31, 2012