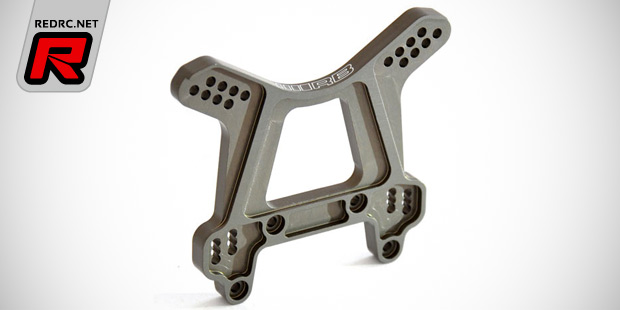 RB introduce new option parts for the RB One and RB One R 1/8th off-road buggy. First up are CNC-machined 7075-T6 aluminium shock towers. They offer multiple shock and camber link mounting positions and come with a hard anodised finish. Available are front and rear items laser-etched with RB's distinctive logo. Next up are CNC-machined steering spindle carriers. Available as separate items and with 12° or 14° built-in castor they are made from 7075-T6 aluminium and sport a gun metal finish. They not only offer added rigidity over the stock parts but also help to fine-tune the steering characteristic. The carriers come including new spindle collars that are also available separately. Staying in the steering department, RB have CNC-machined 7075 alloy steering spindles available. Coming as standard 0° or optional 5° castor variant the parts look cool and add stability to the front end of the RB buggy while the different castor angles allow subtle set-up changes. Like the spindle carriers the steering spindles are available as separate left and right hand item. Last but not least comes a carbon fibre heat shield that is attached to the rear chassis brace. The part protects the radio box and throttle servo from excessive heat coming from the engine, it looks cool and has enough space to become decorated with your sponsor or name decals.
Click here to view the other new parts
Wednesday, September 4, 2013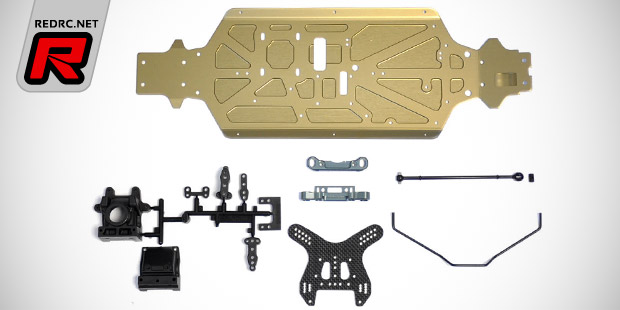 After introducing the new RB One R V2 buggy French-based company RB now also have a V2 upgrade kit for existing One R vehicles available. The set contains a redesigned aluminium main chassis with 'flat' rear end, a corresponding rear gear box, V2 shock tower and updated rear aluminium suspension mounts for the use with toe and anti-squat inserts. Also included in the set is a 115mm CVD dogbone and a new rear anti-roll bar. Included with the upgrade kit come three hard material differential cases and cross pins. The RF and RR V2 aluminium suspension mounts are also available as separate items.
Source: RB [rbproducts.com]
Thursday, August 29, 2013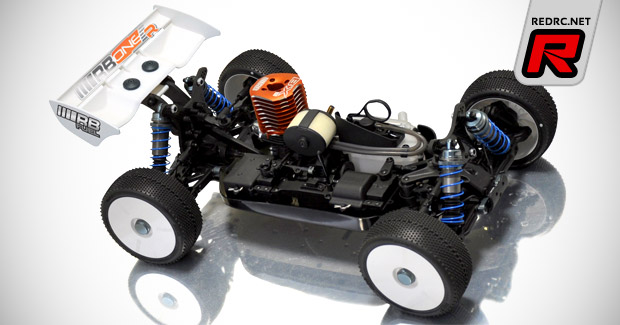 German RB distributor RMV Deutschland have information of the updated RB One R V2 2013 kit available. The new V2 version comes with a load of redesigned parts such as a new hardcoated 7075-T6 aluminium chassis plate, new differential cases, a new rear gearbox with redesigned aluminium suspension mounts and a longer rear centre driveshaft. Complementing the upgraded rear section is a new carbon fibre shock tower with updated mounting points. The steering also received a make over and now features a revised geometry, new servo saver and new Ackermann plate while the centre bulkhead is equipped with a new brake eccentric, linkage and discs. The updated variant of the EFRA Euro B winning car is available soon.
Click here to view more photos
Wednesday, August 14, 2013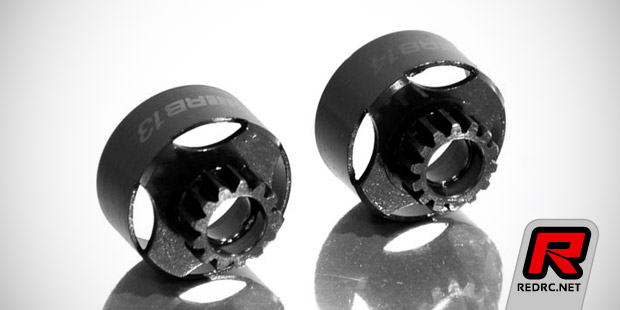 RB have introduced new optional parts for their RB One line of buggies in the form of clutch bells, a new main gear and a thicker anti-roll bar wire. Starting with the clutch bells, the parts are of a vented design and now come in two new sizes, 13T and 14T. They are CNC-machined, lightweight and sport size markings for easy identification. In addition to the clutch bells RB also have a new lightweight 50T main gear available. Again CNC-machined and of a lightweight design, the part reduces the rotating mass of the drivetrain for quicker spool-up and acceleration while offering additional gearing possibilities. Last but not least comes the super thick 2.9mm front anti-roll bar wire. Designed for very high grip surfaces the thickest of RB's swaybar wires keeps the front end planted on astro or carpet tracks. All parts are designed to fit both the RB One and RB One R.
Click here to view the other new parts
Thursday, August 1, 2013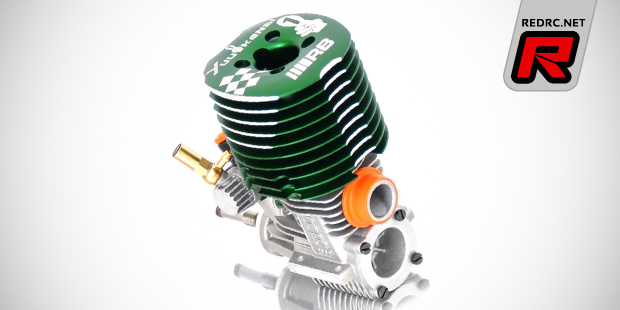 After returning to engine supplier RB, Japanese 1/8th buggy ace Yuichi Kanai now receives his own YuuiKanai branded engine. Developed in cooperation with the iconic Japanese driver and made in Europe the signature engine features a long stoke design and comes with a 14.5mm crankshaft, competition conrod, high speed main and front ball bearings, 3-port liner and piston with Multi Exhaust System technology and a turbo combustion camber insert. Build around RB's crankcase the engine is equipped with a special 9mm buggy carburettor with 6.5mm and 7.5mm venturi inserts and a low centre of gravity cooling head of green colour and with exclusive Kanai engravings. The engine is limited to 300 pieces worldwide and comes including an EFRA2097 exhaust system.
Click here to view a photo of the engine's internals
Tuesday, July 30, 2013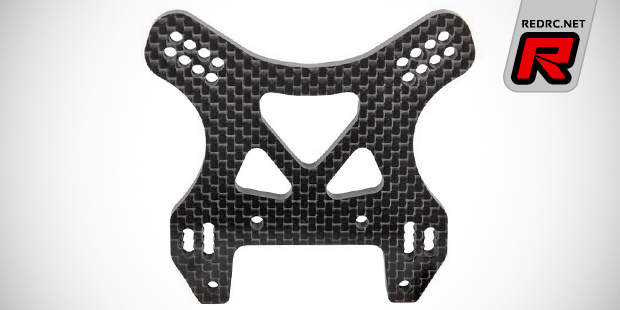 Reckward Tuning from Germany announce new option parts for RB's One R 1/8th buggy in the form of front and rear carbon fibre shock towers, vented fibre glass brake discs and a set of rubber-sealed ball bearings. Starting with the shock towers, the parts are CNC-machined in Germany from high-quality 5mm carbon fibre and designed to fit the One R buggy only. Both the front and the rear shock stay sport additional inner shock mounting positions for added tunability. Next up are machined fibre glass brake discs whose design and material makes for better stopping power and minimised brake fading. The discs are white of colour and a direct replacement for the stock parts. Last but not least comes a RS spec rubber sealed ball set. Included are 24 ball races, treated with high-quality grease for long durability and less maintenance.
Click here to view the other new parts
Thursday, July 25, 2013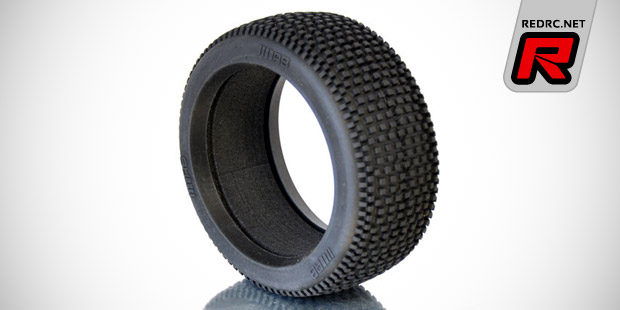 RB announce the official release of the new Cyclone 1/8th buggy tyre. It makes use of a flat tread with mainly square blocks giving the tyre lots of grip and stability. Included come new double hardness inserts that sport a softer outer ring to absorb bumps and imperfections of the track while a harder inner foam is giving better support at high speeds and when the going gets tough. The Cyclone already proofed its capabilities by setting the TQ and the fastest lap times in the hands of Davide Ongaro at the European B Championship and it is available pre-mounted or as tyre only in medium, soft and super soft compound.
Friday, July 19, 2013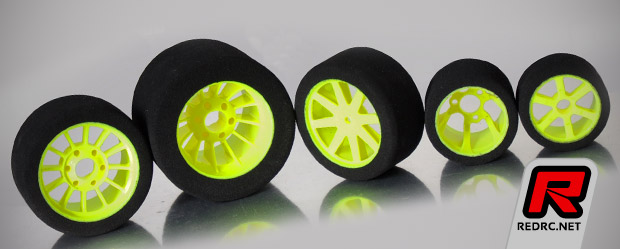 RB introduce their new SpeedLine foam tyre range for 1/12th, 1/10th and 1/8th cars. All rims are made using a special injection process to ensure optimal balancing and true running while the Japanese-made foam is checked, selected and matched in order to create the best possible quality. To create a reliable bonding between the rim and the foam RB keys all rims to make for a perfect surface. Available are six different 1/12th, twelve 1/10th and ten 1/8th compounds with the latter two also include a special 'Humido' compound for damp tracks. All wheels are made in Italy and are supplied in an air-tight chrome packaging to keep them fresh even if stored for a longer time.
Source: RB [rbproducts.com]
Wednesday, July 17, 2013