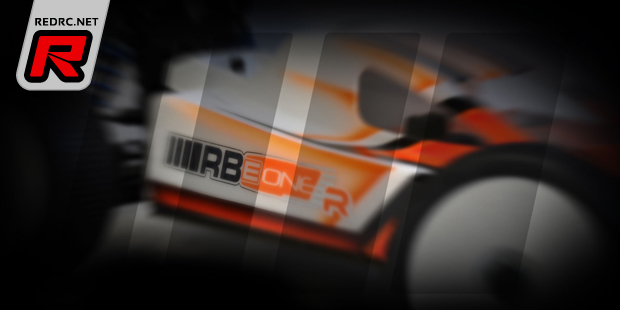 RB Products released a first teaser image of their forthcoming E One R 1/8th electric off-road buggy. The "R" hints that the vehicle will very likely come in a race-spec configuration, possibly with parts that already found their way into the V2 version of RB's nitro buggy some time ago. As detailed information about the specification and features are not available yet we can only wait until the official press release for definite details.
Source: RB [rbproducts.com]
Tuesday, December 3, 2013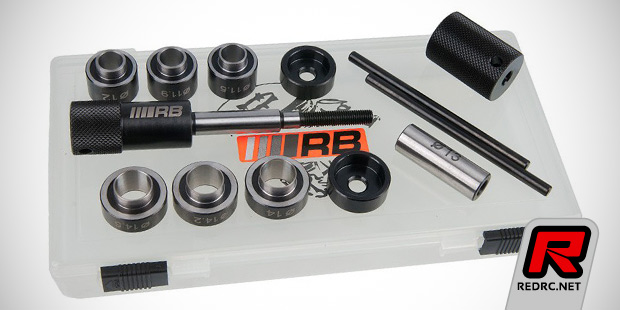 German RB distributors RMV Deutschland introduce the RB Concept engine bearing tool set. Designed for swift and easy bearing insertion, the set allows to safely mount a variety of main bearing sizes including 11.5, 12, 13, 14, 14.2 and 14.5mm ball races. Also front bearings can be installed with ease and without having to fear any damage to the bearings or crankcase. The tool set comes in a handy storage case including comprehensive manual.
Source: RMV [rmv-deutschland.de]
Monday, November 11, 2013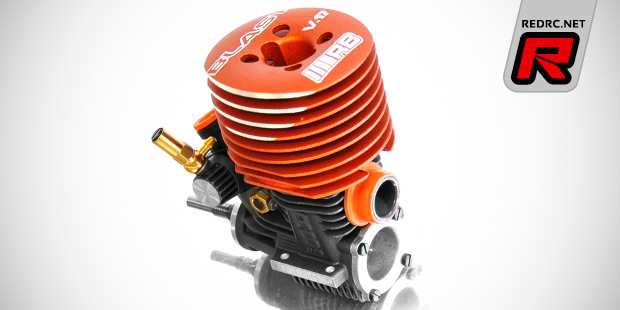 New from RB comes the Blast V17 .21 nitro off-road engine. The limited edition 5-port engine features RB's dual bypass multi exhaust system, a lightened and bi-balanced 14mm turbo crankshaft with silicone insert and a lightweight piston with a durable competition conrod. The lightweight low-profile cooling head is coupled to a Turbo combustion camber insert and the composite carburettor is equipped with a 7mm venture insert. The engine is build around a strong crankcase with high speed bearings and available separately or as combo set including an in-line exhaust system.
Source: RB [rbproducts.com]
Monday, November 4, 2013
German RB distributors RMV Deutschland introduce the limited edition Blast V.16 engine. The long stroke buggy engine is of a 5+2 port design, features an ABC liner and piston, a hardened 14mm crankshaft with silicone insert and a 9mm carburettor with 7mm venturi insert. The orange anodised cooling head comes with a turbo combustion camber insert and the engine builds around a black anodized crank case.
Click here to view the specifications
Monday, October 21, 2013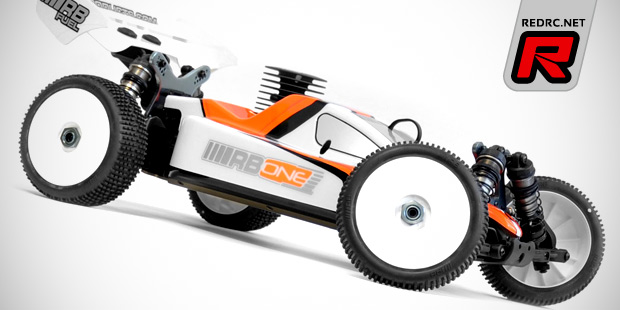 RB introduce the V2 version of their popular RB One RTR 1/8th nitro off-road buggy. The vehicle is based on the well-known RTR variant and features many refinements and improvements for added performance and durability. New for the V2 version are hard differential cases, water-proof 9kg-cm servos, a new battery case for regular AA-size cells, a new polished in-line pipe and the first – limited edition – batch will also come with a 7075-T6 hard anodised aluminium chassis. Included with the V2 come also genuine RB competition rims and tyres, a newly designed racing body shell and a new rear wing. With the buggy comes the RB Black recoil starter engine and a 2.4GHz radio system.
Click here to view more photos
Wednesday, October 16, 2013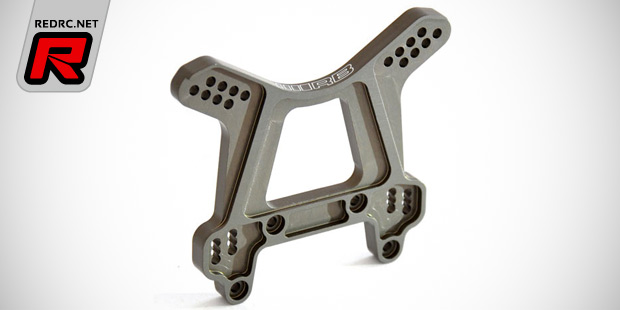 RB introduce new option parts for the RB One and RB One R 1/8th off-road buggy. First up are CNC-machined 7075-T6 aluminium shock towers. They offer multiple shock and camber link mounting positions and come with a hard anodised finish. Available are front and rear items laser-etched with RB's distinctive logo. Next up are CNC-machined steering spindle carriers. Available as separate items and with 12° or 14° built-in castor they are made from 7075-T6 aluminium and sport a gun metal finish. They not only offer added rigidity over the stock parts but also help to fine-tune the steering characteristic. The carriers come including new spindle collars that are also available separately. Staying in the steering department, RB have CNC-machined 7075 alloy steering spindles available. Coming as standard 0° or optional 5° castor variant the parts look cool and add stability to the front end of the RB buggy while the different castor angles allow subtle set-up changes. Like the spindle carriers the steering spindles are available as separate left and right hand item. Last but not least comes a carbon fibre heat shield that is attached to the rear chassis brace. The part protects the radio box and throttle servo from excessive heat coming from the engine, it looks cool and has enough space to become decorated with your sponsor or name decals.
Click here to view the other new parts
Wednesday, September 4, 2013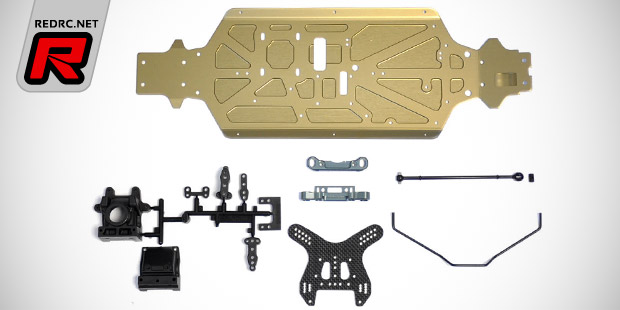 After introducing the new RB One R V2 buggy French-based company RB now also have a V2 upgrade kit for existing One R vehicles available. The set contains a redesigned aluminium main chassis with 'flat' rear end, a corresponding rear gear box, V2 shock tower and updated rear aluminium suspension mounts for the use with toe and anti-squat inserts. Also included in the set is a 115mm CVD dogbone and a new rear anti-roll bar. Included with the upgrade kit come three hard material differential cases and cross pins. The RF and RR V2 aluminium suspension mounts are also available as separate items.
Source: RB [rbproducts.com]
Thursday, August 29, 2013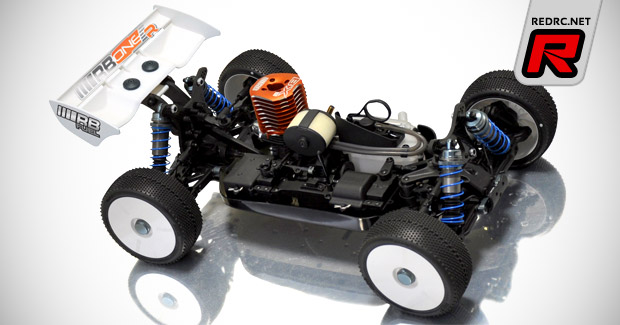 German RB distributor RMV Deutschland have information of the updated RB One R V2 2013 kit available. The new V2 version comes with a load of redesigned parts such as a new hardcoated 7075-T6 aluminium chassis plate, new differential cases, a new rear gearbox with redesigned aluminium suspension mounts and a longer rear centre driveshaft. Complementing the upgraded rear section is a new carbon fibre shock tower with updated mounting points. The steering also received a make over and now features a revised geometry, new servo saver and new Ackermann plate while the centre bulkhead is equipped with a new brake eccentric, linkage and discs. The updated variant of the EFRA Euro B winning car is available soon.
Click here to view more photos
Wednesday, August 14, 2013