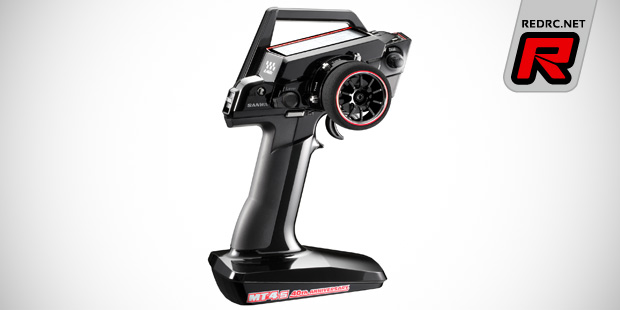 Following the 40th Anniversary limited edition M12 radio Sanwa soon also have the smaller MT-4S available in a special edition. Much like the M12 Anniversary edition the intermediate level MT-4S will sport a special piano lacquer design, an aluminium steering wheel as well as a set of 2.4GHz receivers including one RX-471 Dual-ID and one RX-472. The radio's features are unchanged from the standard MT-4S and include fast F.H.S.S-4 transmitting, telemetry, and compatibility to older-spec FH2 and FH3 receivers.
Source: Sanwa [sanwa-denshi.co.jp]
Wednesday, November 12, 2014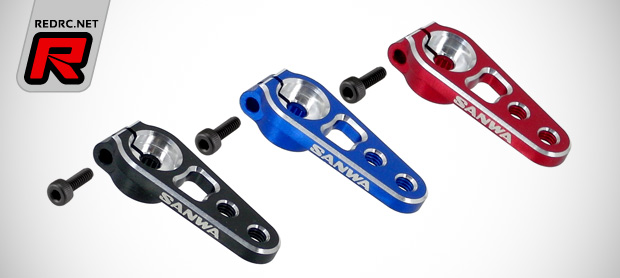 German Sanwa distributors LRP introduce 23T aluminium Servo arms in three different colours. Coming in anodised black, blue and red the arms offer improved rigidity and precision over standard plastic arms, they feature two threaded ball stud mounting holes and a clamping design to securely fit them to the output gear.
Source: LRP [lrp.cc]
Wednesday, November 12, 2014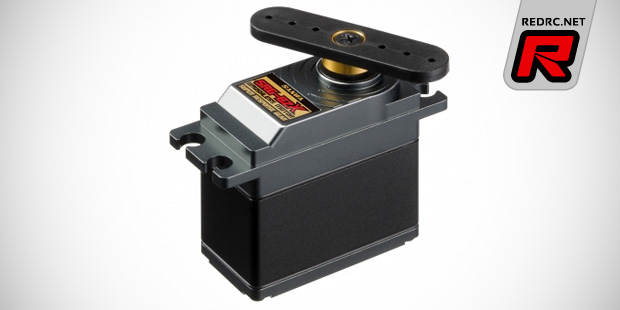 German Sanwa distributors LRP introduce the Sanwa SRG-BZX and SRG-BZX Type-R servos. Both digital servos offer a brushless motor, metal gears and a speed of up to 0.09s with a torque of 15kg-cm at 7.4V input. While the BZX comes with a middle aluminium heatsink section and a plastic upper case the BZX Type-R is an all-alloy type with upper aluminium case for even more durability in demanding applications such as 1/8th nitro buggies and trucks.
Click here to view the standard SRG-BZX servo
Friday, June 27, 2014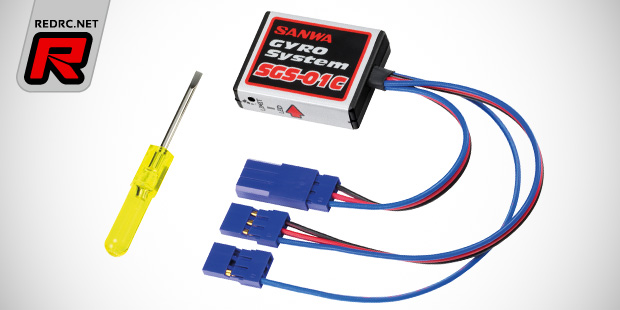 German Sanwa distributor LRP introduce the SGS-01C gyro system that helps to make car control much easier, especially on slippery surfaces as it can reduce both under- and oversteer tendencies. Designed with drift car racing in mind the gyro is also usable in many other applications although you have to check with the event's rules before using it in competition as many tracks, race series and governing bodies ban the use of gyros for fairness reasons. When used in combination with Sanwa's M12, Exzes-Z or MT-4S transmitters the gyro's sensibility is adjustable via the radios and even during a run.
Source: LRP [lrp.cc]
Wednesday, June 18, 2014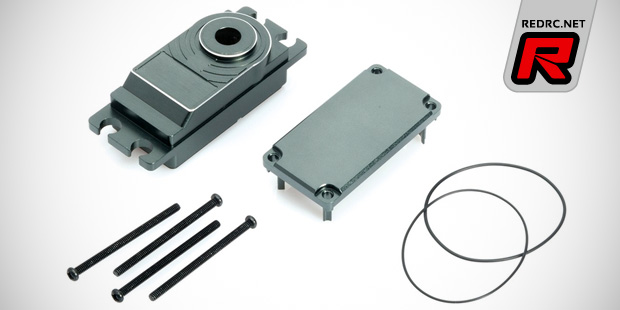 German Sanwa distributor LRP introduce an aluminium upper and lower servo case for the Sanwa SRG servo. Included in the set, that greatly increases the strength and stability of the servo, are CNC-machined and gun metal anodised aluminium cases, four screws and two rubber seals to replace the standard plastic parts on the SRG servo. Although not official stated it is understood that the aluminium case is only usable with the standard size SRG-CZ but not the low-profile SRG-BL or -BLS.
Source: LRP [lrp.cc]
Wednesday, May 28, 2014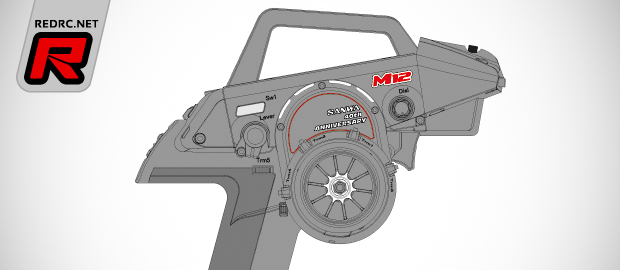 To celebrate their 40th Anniversary, Japanese manufacturer Sanwa introduce a special edition of the M12 top-of-the-foodchain radio system. Coming in a special piano lacquer design, with an engraved serial number plate and new offset steering wheel, the radio highly differs from the standard M12. It is understood that the set will include a total of three receivers including a RX-471, RX-472 and a RX-471 Dual-ID-Ver. Also included is a transmitter battery pack and a suitable charger.
Source: Sanwa [sanwa-denshi.co.jp]
Thursday, May 8, 2014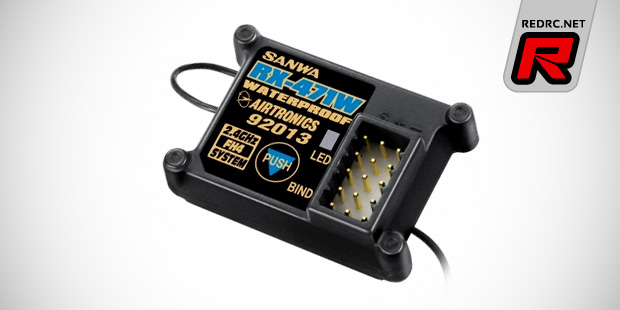 Available soon is Sanwa's RX-471W 4-channel 2.4GHz receiver. The IPX4 spec waterproof device is high-voltage compatible, it measures 30×23.3x14mm and weights in at around 10g. The receiver be used in FHSS4 and FHSS3 mode with M12, M11X, MT-4, MX-3X, Exzes Z and Gemini X radios and it also supports Sanwa's Super Response SSR mode.
Source: Sanwa [sanwa-denshi.com]
Wednesday, February 26, 2014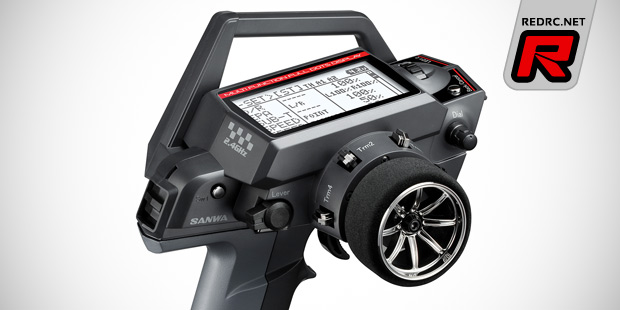 Sanwa introduce the MT-4S 2.4GHz radio system, the follow-up model of the popular MT-4 intermediate level transmitter. The latest incarnation offers a blue back-lit screen for improved visibility of all relevant parameters during usage and setup plus Sanwa's SSL technology allows to adjust the Super Vortex speed controller and SGS-01C gyro via the transmitter. When used in FH4T modulation the MT-4S now also is nearly as fast as Sanwa's current M12 top-of-the-foodchain radio while offering 18 model memory, telemetry functions and the usual array of mixes and servo setup options. The radio comes including a RX-472 receiver and will become available very shortly.
Click here to view the features and the radio in full
Wednesday, February 19, 2014