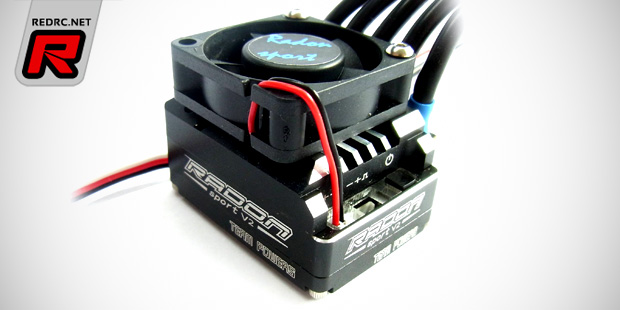 Coming soon from Team Powers is the Radon Sport V2 brushless speed controller. The upgraded V2 comes with several hardware and software improvements to boost performance and reliability. Starting with the hardware upgrades the V2 sports swapped A and C motor wires for easier wiring, the alloy case features a newly designed heatsink that allows to mount the new 30mm fan flat or at a 30 degree angle and both the receiver connection and programming wire have been relocated to avoid unwanted removal. As for the software changes the speedo offers a single modified and stock program, simplified boost and turbo settings as well as improved brake adjustment and smoother throttle control. The new firmware also addresses reliability issues when running boosted stock motors with high timing settings and the improved software also keeps the ESC running at lower temperatures.
View the specifications, features and more photos here
Thursday, September 17, 2015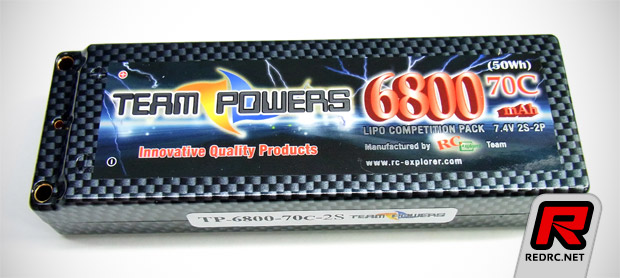 Team Powers have introduced their new line of LiPo Batteries for 2012. The range includes a 7.4V 6800mAH 70C stick pack, a 7.4V 4400mAH 60C Shorty (94mm long) pack, a 3.7V 6400mAH 70C 1S pack and finally a 7.4V 5400mAH 35C saddle pack. All LiPos feature a hard case and gold plug connectors. Finally they have also released their Mighty Gripper V2 tire additive, which they claim was the best kept secret from TITC 2011.
Wednesday, January 11, 2012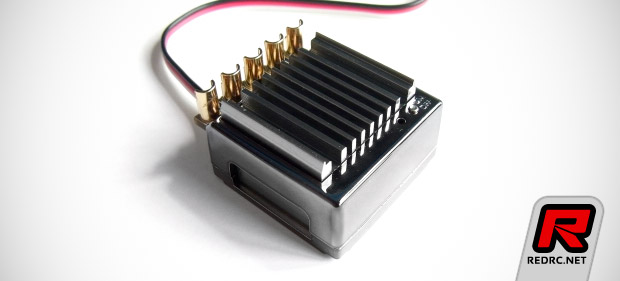 Team-Powers have released information on the updated V1.1 version of their XPS Speed Control. A pretty standard affair, the unit will support all kinds of sensor/sensorless brushless 540 type motors and its XPS Pro and Sport has Turbo mode function that can support modified and stock mode motors directly. To make it easy for users to adapt the settings to all different track sizes and conditions, it comes supplied with an LCD setting card that allows you to adjust the throttle/brake profile parameters directly. For the throttle profile, it can adjust the power band, punch, timing and turbo boost parameter to control the power delivery to the motor. In order to make the ESC lighter, the lower casing will change to plastic but will keep the aluminium casing on the upper side to disperse heat.
Source: Team-Powers [raceport.de]
Friday, November 4, 2011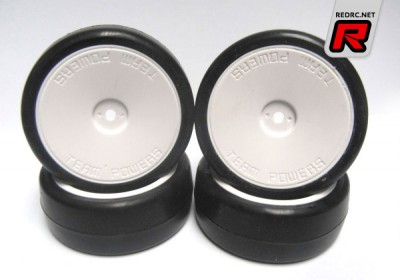 Team Powers have introduced their Pro TC 36R tire designed specifically for electric touring cars on asphalt tracks. Offering a high level of grip, the tire use a long life rubber and comes supplied pre glued on Team Powers white disc wheels.
Source: Team Powers [team-powers.com]
Tuesday, February 1, 2011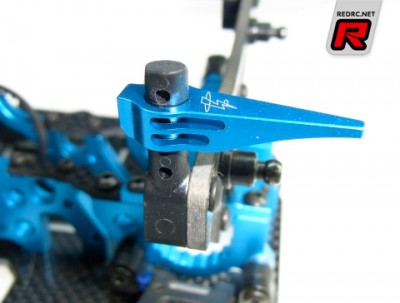 Team-Powers have released a new update of their high downforce aluminium body supports, suitable for all touring cars. They are designed to help increase rear traction and are best suited to low or normal traction conditions. In stock competition they can allow the use of less rear toe-in to increase top-end speed. Sold in a pair they are available in Tamiya blue and black colours.
Source: Team Powers [team-powers.com]
Sunday, January 9, 2011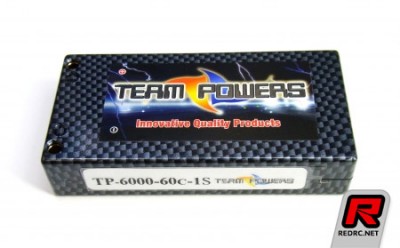 Team Powers have introduced this 60c 6000mAh 1S LiPo pack. Designed to be used in 1/12 and 1/10 pan cars, this powerful 3.7V battery sports a carbon look hard case with built in bullet connectors.
Source: Team Powers [team-powers.com]
Monday, December 27, 2010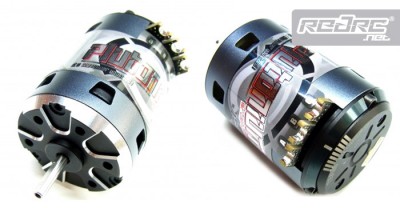 Team Powers have announced the upcoming release of their Plutonium motor. This new design features a lightweight motor can and machined endbell and back plate for extra cooling, while the cans have also been left open for easy soldering. Full information on the different versions is expected soon.
Source: Team Powers [team-powers.com]
Thursday, November 11, 2010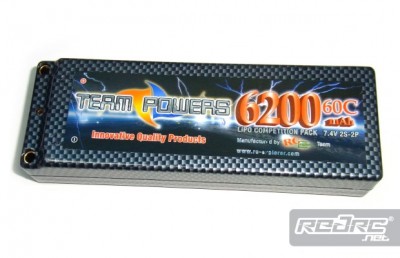 Team-Powers have released a new 6200mAh 7.4V LiPo battery for Touring Cars and Offroad applications. Featuring a continuous discharge capacity of 60C, this competition pack features a hard case for impact protection and is supplied with bullet connectors.
Source: Team-Powers [team-powers.com]
Thursday, November 4, 2010