Xray have announced the signing of French 1/5th scale European Champion Mathieu Brier to their team. The French National Champion and Worlds finalist will race 1/10th scale electric on-road and off-road classes at national events as well as the EOS and ETS. Mathieu says:
After my previous years racing the 1/5 class I wanted to move onwards and decided to race also the 1/10 class and looking for the best product, team and support there was no other option for me than Xray. I am very happy that the French distributor RB Products have proposed me and I got this great opportunity to be part of the Xray team. I am looking forward the 2015 season and cannot wait once I hit the track.
Source: Xray [teamxray.com]
Thursday, April 30, 2015

Xray have announced the signing of young and talented Dionys Stadler to their World Factory Team. The multiple German Junior Champion will focus on electric and nitro on-road racing and participate at national and international events such as the German Nationals, the ETS and ENS. Dionys has the following to say about the deal:
I am very happy to be able to drive for one of the best RC car teams. The chance to join the Xray factory team is a fantastic opportunity which I could not miss. Products and support from Xray are of the highest quality and this is very important to be able to achieve the top results. I am proud to be part of the team and I will do my best to provide the best possible to achieve best results. I want thanks everyone at Xray and Hudy family for this excellent opportunity and the trust in me.
Source: Xray [teamxray.com]
Tuesday, April 28, 2015

In addition to the 2.0mm soft carbon fibre top deck for the Xray T4'15 Avid now also have a soft 1.5mm version available. Cut from premium carbon fibre which utilises a standard angle layup to allow for more flexing and twisting the 1.5mm soft deck is recommended to increase performance on asphalt and green carpet tracks in combination with the Avid 2mm aluminium chassis.
Source: Avid [avidrc.com]
Friday, April 24, 2015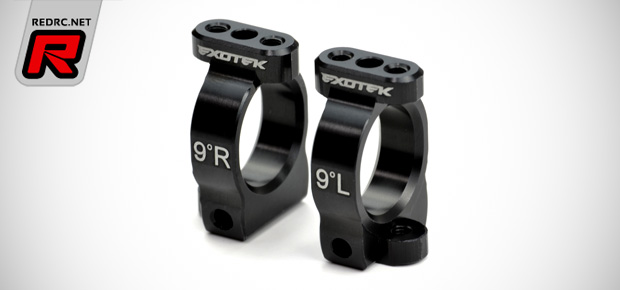 Exotek have new aluminium option parts for the Xray XB4 available in the form of 9 degree C-hubs and a steering crank set for the '15 Spec kit. Starting with the hubs, the heavy duty and precision machined parts are made from 7075 aluminium and they are designed to fit any XB4 series vehicle. Machined down to 6 grams per piece they are still much stronger than the stock plastic hubs and they are made to match the stock geometry. Polished and anodised in factory orange or black the hubs come laser etched for easy left and right identification and they accommodates a set screw for the hinge pin.
Click here to continue reading
Thursday, April 23, 2015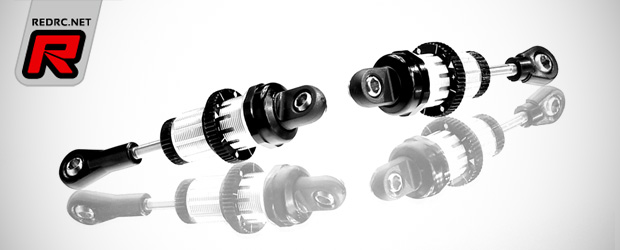 Italian company Blacktarmac introduce the LSS Ver. 2.0 on-road shock absorbers. The updated version sports a long list of features such as different length aluminium shock bodies including double O-ring short-type bodies, teflon bushings for improved sealing, high-precision 2 to 8-hole 1.1mm pistons, new piston screws, super smooth piston rods as well as new laser-etched spring preload nuts for easier and more intuitive shock adjustment. The shocks are available in four different sizes including 56.3mm, 57.9mm, 60.3mm and 65.5mm variants as well as complete sets for kits such as the Xray NT1 2015 and RX8, the Shepherd Velox V10 Pro and V8 Pro, Capricorn Lab C03 and C892 as well as the Mugen MTX6 and MRX5. There is also a set specifically for Yokomo's DB7 electric touring car.
Click here to view another photo
Tuesday, April 21, 2015

Xray have announced the re-signing of multiple USA champion Eric Anderson to the team for the 2015 season. Eric is focused on electric on-road racing and will attend at all the major national and international races in touring car and 1/12th classes including the ROAR Nationals, the AOC and the ETS season final. The Snowbirds, IIC, ROAR National and AOC International Champion has the following to say about the deal
I am honored to be part of the Xray team for another year. I have been running Xray cars exclusively for the past 5 years and have owned every Xray 1/10 touring and 1/12 scale ever made. I am extremely happy with their on track performance and the way that Xray's team works together to ensure everyone is always up to speed. The quality and factory support from Xray is second to none and it shows in their products, on track performance and customer support. I look forward to promoting all of Xray's products and helping to refine the performance even further with future models.
Source: Xray [teamxray.com]
Friday, April 17, 2015

Xray have announced that European Champion Yannick Aigoin has returned back to Xray. Yannick, who announced his departure from Team Associated last week, returns back to the team that brought him his European Champion title with the Xray XB8. Xray are happy to have the 7 time French National Champion back in the team for 2015. Yannick had this to say:
To be back at Xray is the feeling like when you come back home. I am very happy to have the chance and opportunity to work again with Juraj and the Hudy family. I always remember the great days when I was racing for Xray which was the period that brought me my best achievements including European Champion title and it was also time when I was very close to win the Worlds in Jakarta. As I know how professional and highly dedicated Xray is and adding this to our friendship we had since that time makes me just supper happy to be home again. I will be travelling to all French races to support the Xray drivers in France as well will attend the major international races. I am looking forward.
Source: Xray [teamxray.com]
Wednesday, April 15, 2015

Xray have announced the signing of talented US off-road racer Taylor Petersen to their team. The multiple US Nationals and World Championship finalist will attend at various races across the USA and he had the following to say about the deal:
I would like to Thank Xray/RC America for the opportunity to race for them again, as I feel they have the best platform for me to succeed with. Xray has made leaps and bounds the last few years and I know they will never stop improving, and I will do my best to show the public how good this car really is. I Look forward to seeing everyone at the races!
Source: Xray [teamxray.com]
Tuesday, April 14, 2015