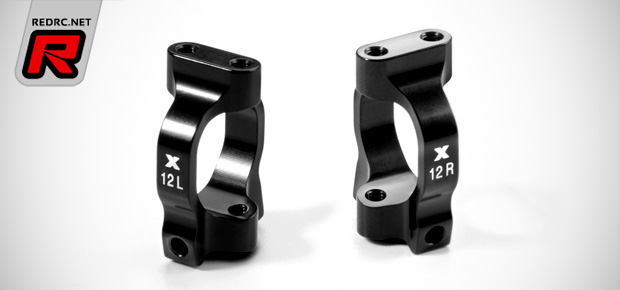 Xray introduce 12 degree aluminium C-hubs for the XB4 line of off-road buggies. The parts are machined from high-quality 7075 alloy material, they come black anodised and laser-etched for easy identification. The pre-set 12 degree castor setting is ideal for high traction conditions, it increases corner exit steering while the aluminium material makes for less flex and added overall rigidity.
Source: Xray [teamxray.com]
Friday, January 30, 2015

Xray announce the contract extension with European Touring Car Stock and multiple ETS Champion Marek Cerny. Marek will continue as a full factory driver, he will be attending all major European races including the ETS and he has the following to say about the deal:
Being part of the Xray team is a dream come true. Racing the best performing car and having the best possible support helped me to win last year the world's most competitive racing series ETS for the second time and to win the prestigious European Champion title. All the great results I have achieved with the Xray team obligate me to do my best to continue to repeat all these great results and to continue to improve all the time. Since I joined the factory team my experience and results have improved and I enjoy being part of the team a lot – the professionalism, dedication and working atmosphere are second to none. I would like to thanks especially to Martin Hudy for all his advices, support and trust in me.
Check out Marek's Xray profile video by clicking here.
Friday, January 30, 2015

Xray have announced that US top off-road driver Tyler Vik has renewed his contract with the Slovakian company for 2015. Tyler is the winner of many major US off-road races and multi time US off-road nationals' finalist. Tyler is a multi-class off-road driver and will race with the XB8, XT9, XB8E, XB4 and the XB4 2WD and he has the following to say:
I am happy to continue to be part of the Xray factory team, and look forward to showing the performance of the cars throughout the 2015 racing season. The progress we have been doing with both 1/10 and 1/8 off-road cars is impressive and I am excited what this year will bring me. I will travel to all the major US races so do not hesitate to see me. I'd like to thank the Hudy family, as well as Ralph and Bryan at RC America for making this possible.
Source: Xray [teamxray.com]
Thursday, January 29, 2015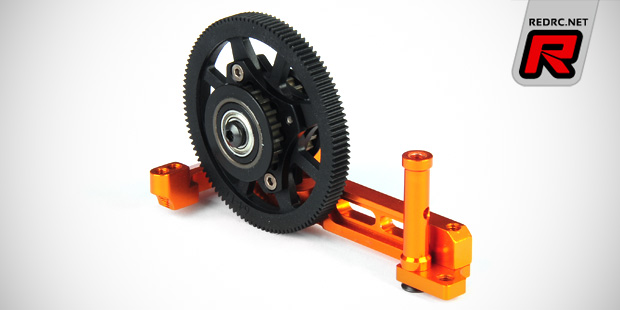 New from Spec-R comes a motor mount conversion kit for Xray's T4'15 touring car. Included is a redesigned motor and layshaft mount made from orange anodised 7075 aluminium that utilises a single mounting bracket for the layshaft for improved flex characteristics. The rear part of the motor mount offers two different ARS toe link positions, doing away with the standard towers, and included are also hard-coated 7075 aluminium centre belt pulleys, a spur gear and a front topdeck mount.
Click here to view another photo
Thursday, January 29, 2015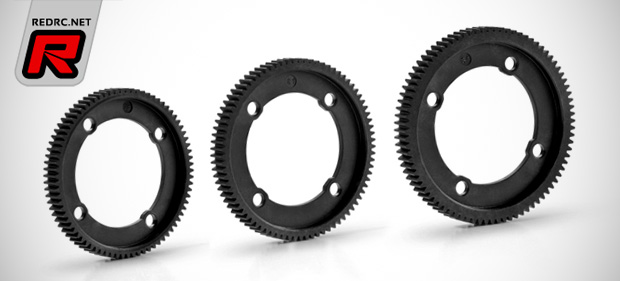 Xray announce the release of optional centre diff spur gears for the XB4 buggy. Made from specially formulated composite material the gears are of a special design that allows for swift and easy gear ratio changes without having to disturb the diff setting. The gears are available in a 78T, 81T and 84T variant.
Source: Xray [teamxray.com]
Wednesday, January 28, 2015

Xray have announced the contract extension with World and European vice-champion Bruno Coelho. The multi-talent from Portugal will fully concentrate on on-road racing for his 2015 campaign that will see outings in 1/10th scale electric and nitro on-road as well as in 1/8th nitro on-road with his race calendar including appearances at the EFRA Euros, the ENS, as well as national Portuguese and Xray Challenge events. Bruno has the following to say about the deal:
This year far exceeded, all my expectations. Xray gave me all the conditions not only to grow as a better driver, by enabling me to drive amongst the best drivers in the world, but also by integrating me in a team full of talent, that always supported and challenged me to be better and to do better. It's with an enormous satisfaction that I re-sign with Xray for the upcoming year, with the main goals, to work harder, to push the bar even higher, to always fight for the win and to support my team mates and Xray to achieve the success and results that we all deserve.
Source: Xray [teamxray.com]
Tuesday, January 27, 2015

Xray have announced that European Champion and multi-time Portuguese National Champion Miguel Matias will continue to be part of the factory team for the 2015 season. Miguel is a professional off-road car racer with many years of experiences and a stunning list of achievements and victories. Miguel will continue to work closely with the R&D team on the further development of Xray's electric and nitro off-road car platforms. Miguel has the following to say about the deal:
Being part of the Xray factory team has been a great experience and I am very happy for the support and backup I get. The speed of development is incredibly fast and very professional which is a great inspiration to me to improve as well. I will continue to race both nitro and electric off-road platforms. This year I will travel more and will participate also at the entire EOS series as well all the European Championships on schedule. I cannot wait for the next races, see you soon.
Source: Xray [teamxray.com]
Monday, January 26, 2015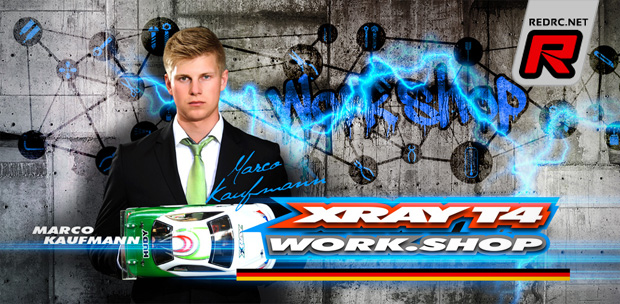 After the success of the Xray Work.Shop Italy the Slovakian manufacturer now invite all Xray driver to take part at the Xray Work.Shop Germany. The event will take place at the TSV 1871 Augsburg on Saturday the 14th of February. German Junior Champion Marco Kaufmann will guide the participants to extract the maximum out of Xray's T4 electric touring car. The doors open at 10 a.m. with the workshop starting at 11 a.m. For further information feel free to contact the hosting club at info@tsv-1871.de.
Source: Xray [teamxray.com]
Saturday, January 24, 2015