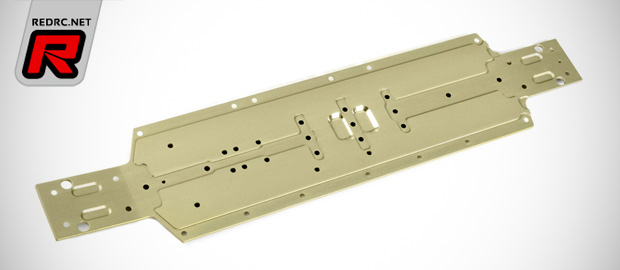 Xray have an extra-stiff aluminium chassis for the XB4 1/10th scale buggy available. Made from 3mm Swiss 7075-T6 material and coming hard anodised the chassis increases corner speed and stability especially on high traction surfaces and it can be used without the buggy's graphite front and rear top decks. The chassis is still light of weight thanks to strategically machining in low-stress areas and optional graphite body mounts are recommended for easy body mounting.
Source: Xray [teamxray.com]
Monday, March 2, 2015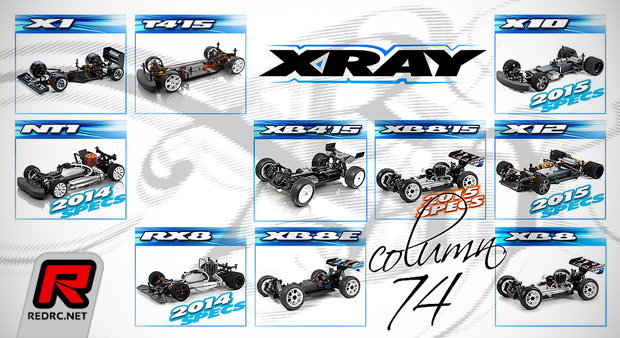 The 74th installment in the Xray column from Xray owner and chief designer Juraj Hudy is now online. In this months column, Juraj reviews a very busy 2014 season in which the Slovakian company completed and launched 10 Xray projects.
As the 2015 season is already fully running it is time to take a short review of what we did in 2014 and to set our plans for 2015. Together with Martin & R&D & racing team we have worked very hard on further development and improvement of all product lines, so for 2015 you can again expect new & improved products.
Read the full column here.
Source: Xray [teamxray.com]
Friday, February 27, 2015

Xray has announced that the multiple Italian Champion Francesco Martini has re-signed with the Slovakian manufacturer for the 2015 season. Francesco is an extremely dedicated touring car racer and an important member of Xray's R&D team as he was involved in the development of the T4 platform as well of the X1 formula car. Francesco says:
I am very happy and thankful to continue my collaboration with the Hudy family. In the last year I was able to work directly on a new X1 platform development and this has been for me the greatest RC experience. Being direct involved in the entire development process from design stage through very long and exhaustive prototype testing until final production has been a great journey that I have enjoyed and that allowed me to experience how passionate, professional and dedicated everyone at Xray is with Martin in the lead. With my involvement into R&D I am fully motivated to continue our work on the further development and I am very honored to be part of this great team. I am available to anyone with any questions concerning the X1 so do not hesitate to see me.
Click here to view Francesco's Xray driver profile video
Friday, February 27, 2015

Xray has announced that Marco Kaufmann has re-signed with the Slovakian team to race the company's T4 and NT1 in the 2015 season. Marco is a young and talented driver and he has been a main driving force of the Xray team in Germany. Marco will participate at all major national and international races and he has the following to say about the deal:
I am very happy to re-sign with Xray. I have been racing with Xray since I have started to drive RC cars and I am very proud to represent this finest company and to be part of the Xray R&D team. In 2015 I plane to start nitro racing and will race with the NT1 at as many races as possible. I am sure with the World Championship winning model and the experience and help from Hartmut Rose, Bertram Kessler and my father we can achieve great results. Looking forward to a great and successful future.
Click here to view Marco's Xray profile video
Wednesday, February 25, 2015

Xray has announced that young and talented Malin Karlsen will continue to be part of the factory junior team, Xray's melting pot of uprising RC talents. The 8 year old girl from Norway has so far shown an exceptional talent and she will continue to race Xray's XB8, XB8E, XB4 and XB2 in her 2015 campaign that will include appearances at the 1/8t and 1/10th EFRA Euros, the EOS, the Nordic Championships and the Swedish National Championship and the Swedish Cup Series. Malin has the following to say:
I love RC cars and Xray was my first car and I have a lot of passion for this car and like everyone on the team. I am very proud that I was chosen by Xray to be part of the junior factory team and I am very happy to be given this opportunity. This year I will continue to participate at as many races as possible around the globe to learn as much as possible and to gain new experiences to improve my skills and results. I am looking forward to meet you all again.
Source: Xray [teamxray.com]
Monday, February 23, 2015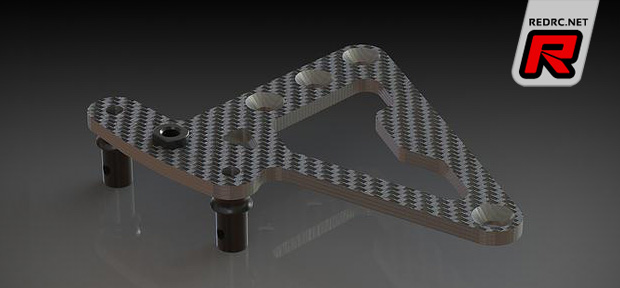 EX Lab has released a first rendering of what appears to be a floating steering and servo holder for the Xray T4. Making use of a redesigned upper servo holder plate that takes the steering bellcrank posts the part removes the steering assembly from the lower chassis plate to minimise the influence of the twisting chassis on the steering angle during hard cornering. The chassis will also flex more with the steering posts removed from the lower plate which can be beneficial in certain conditions while an additional post allows to connect the servo holder plate with the top deck in case a stiffer front end is required. The set, that from what is understood is designed to work with the T4's standard inner and out aluminium servo mounts, will become available in mid-March.
Source: EX Lab [excelllab.com]
Monday, February 23, 2015

Xray has announced that the US top off-road racer Josh Wheeler will continue to race with the Slovakian team in 2015. The multiple World Championship finalist will race Xray's 1/8th and 1/10th 4WD vehicles and he has the following to say:
I am pleased to announce that I will continue with Xray for the 2015 race season. Xray has been a great partner that has continually strived to produce the best cars in the world and never cease to improve. The entire Hudy family has been a great support and continue to allow me to follow my dream. I look forward to another great race season and all the exciting things to come.
Source: Xray [teamxray.com]
Wednesday, February 18, 2015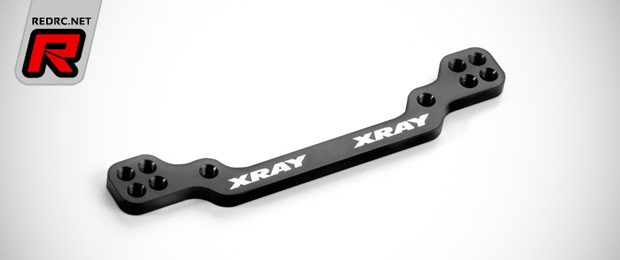 New from Xray and made for the XB4 line of 1/10th buggies is a 4-hole aluminium steering link. Made from Swiss 7075-T6 aluminium and coming black anodised and laser-etched the part offers additional steering Ackermann positions for a wider range of steering angle settings while being of a higher rigidity at the same time. The sturdy construction also makes for improved steering precision and a more predictable handling especially on high-bite surfaces.
Source: Xray [teamxray.com]
Wednesday, February 18, 2015