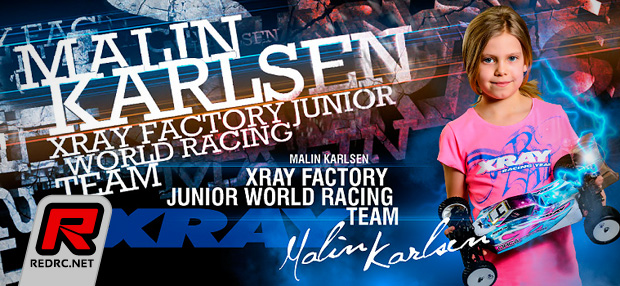 Xray announce that young up and coming off-road talent Malin Karlsen has joined their junior team. Malin is an 8 year old girl from Norway who has shown an exceptional talent. Malin will be racing all Xray off-road buggies in her upcoming campaign that will include the EFRA 1/10th Buggy Euros, the 1/8th and 1/10th Nordic Champs as well as the Swedish Nationals and Cup Series.
Source: Xray [teamxray.com]
Wednesday, April 23, 2014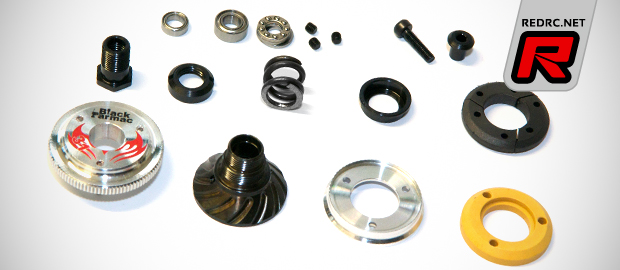 Blacktarmac introduce the double reverse clutch version 2.0 for .12 nitro engines. Offering improved quality and performance, the clutch set includes a new harder spring, a new 7075 Ergal 31mm flywheel, clutch shoes made from a highly durable material as well as new high-quality ball bearings. Available for the Xray NT1, Capricorn Lab C-02 and Shepherd Velox V10 the set also includes a lightweight 30mm flywheel for lower rotational mass, a 32mm all-round flywheel and a hard-coated 7075-T6 Ergal clutch bell.
Click here to view another photo
Tuesday, April 22, 2014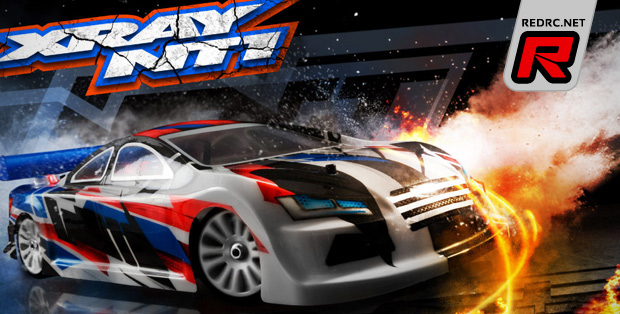 Xray introduce the latest incarnation of their World and European Championship winning NT1 1/10th nitro on-road in the form of the 2014 Spec kit. Compared to its predecessor the car features only subtle refinements such as a new chassis and radio plate, a new fuel tank mounting system, a new smaller 2-speed gearbox and an updated front middle shaft mounting system. Other new features include redesigned shock towers, shocks and a new battery mount. The new features are meant to make maintenance and setup even easier while also adapting the car to harder hand-out tyres, as designer Martin Hudy describes in our exclusive interview some days ago.
Click here to view more photos
Wednesday, April 16, 2014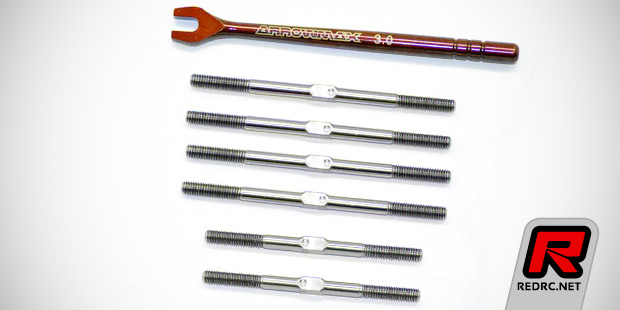 Arrowmax introduce this titanium turnbuckle set for the Xray XB4 line of 1/10th scale buggies. The parts are a direct replacement for the stock links, they are made from high-quality material and come marked for easy identification of the left and right hand thread. Included in the 6-piece set is also a suitable 3mm spring steel turnbuckle wrench.
Source: Arrowmax [arrowmax-rc.com]
Wednesday, April 16, 2014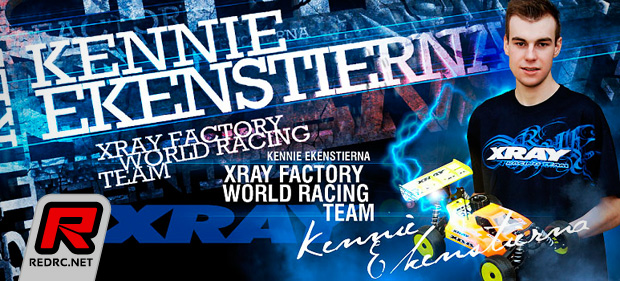 Xray  announce that young talented driver Kennie Ekenstierna teams up with Xray for the 2014 season. The Nordic vice-champion and top Swedish off-road driver will run the full line of Xray  1/8th and 1/10th scale off-road cars. Kennie will primarily focus on the 1/10 off-road European Championship that will be held in Sweden, as well as all Nordic and Swedish races and has to say the following about the deal:
I have been racing Xray XB4 and XB4 2WD as a private driver since last year, and I am very impressed with their performance and reliability which allowed me to attain 2nd place at the Nordic Championship last year as well as getting to onto the podium many times at various races in both classes. It was not a hard decision for me to change also my 1/8 buggy to an Xray. I am very honored to be given the opportunity to work directly with the Xray world racing team and I am super excited to work with drivers the likes of Savoya, Bayer, and Matias. I know I will learn so much from them and will improve my racing skills. I want to give my thanks to Minicars for their support, and my thanks and appreciation to Xray for their trust in me.
Source: Xray [teamxray.com]
Monday, April 7, 2014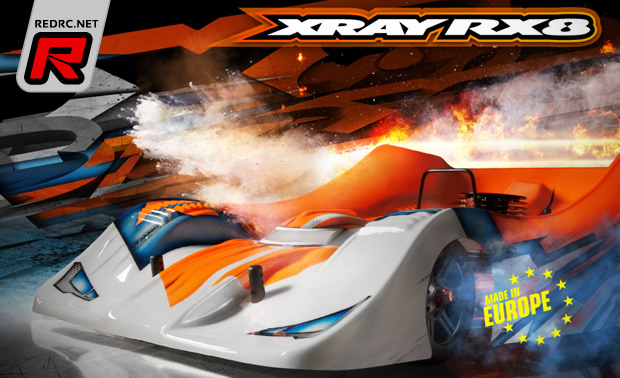 Following the first two parts of our exclusive Xray RX8 presentation in the form of an in-depth interview with Martin Hudy and hot on the heels of our article about the making of the RX8 we now bring you the third part of the RX8 story – an exclusive preview with first images as well as more details on the car's features and specifications.
See the exclusive preview here
Saturday, April 5, 2014
Following our exclusive interview with Xray's onroad designer Martin Hudy about the forthcoming Xray RX8 1/8th nitro on-road car we now have a more in-depth article in which Martin explains the challenges of making an already proven car even better and how he tackled the recent tyre rule changes.
Read the full exclusive article here
Friday, April 4, 2014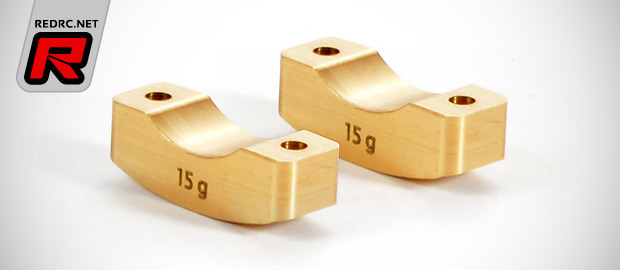 Made for the XB8'14 are two new suspension weight sets from Xray. Coming as specific set for the front steering blocks and rear hubs, the parts are machined from brass, they weight 15g per piece and are made to give the buggy a more planted feeling under certain track conditions. The weights are a direct fit to the hubs and come as pairs.
Click here to view more photos
Friday, April 4, 2014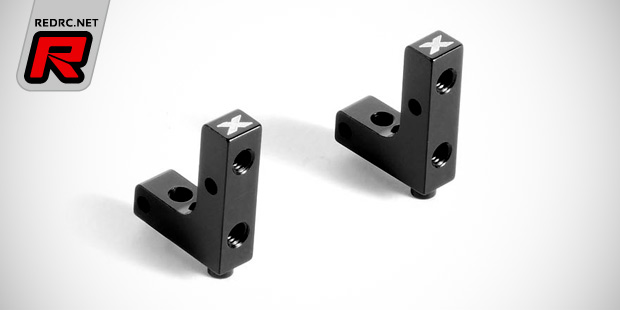 Designed for both the XB4 4WD and XB4 2WD buggy are these servo mounting brackets from Xray. They are machined from 7075 aluminium and come black anodised to replace the stock plastic mounts with stiffer and more reliable parts that also increase the steering response especially on high-bite surfaces. The servo are available in a set of two pieces.
Click here to view a photo of the parts in place
Thursday, April 3, 2014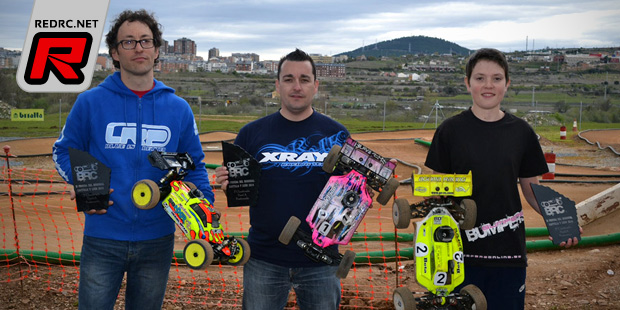 The first two rounds of this year's Galician Championships where a back-to-back affair with the first round taking place at the Boiro track. The weekend started on a smooth and slippery track but as the race progressed the surfaces got a lot bumpier. Cristian Villar took the TQ spot for the semifinals and he was also able to win his semi in front of Xray teammate Jorge Santin while Manuel Perez (Xray) took the second semi. In the final Cristian was able to build a comfortable gap allowing him to cruise to the win in round 1 of the championship. Jose Porto Andion finished second, Victor Remiseriro Moure completed the podium.
Click here to continue reading
Tuesday, April 1, 2014