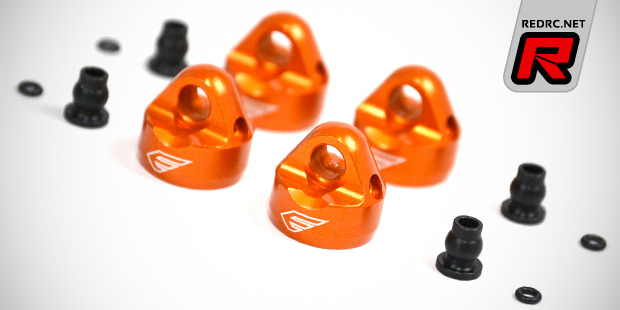 Exotek introduce new optional parts for Xray's successful XB4 line of buggies in the form of aluminium shock caps, shock collars and spring cups. Starting with the shock caps, the parts are CNC-machined from high-quality aluminium and of a heavy duty design. They come in orange or black colour, include snap-in POM bushings and high density rubber O-rings for the bleeder screw. They are usable on all XB4 shocks but require the use of XB4'14 inner O-ring seals.
Click here to continue reading
Monday, March 10, 2014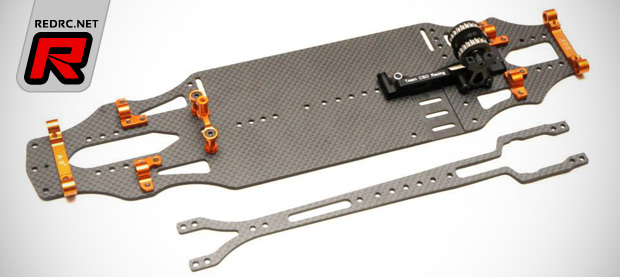 CSO introduce the Super-V3 flexible chassis conversion kit for the CSO-One, Team C TC10 and the Xray T4 and T4'2104. The integral part of the kit is the redesigned motor and layshaft mount that now mounts directly on the centre line of the chassis resulting in more equal left-to-right chassis flex. The updated layshaft mount sports mounting holes to connect the upper deck with the mount which helps on very high grip surfaces. An additional upper deck post can be added on front of the motor, again located directly on the chassis' centre line. It is understood that the conversion kit includes a new chassis and topdeck as well as the motor and layshaft mount along a set of aluminium centre pulleys. There will also be a version that additionally includes front and rear aluminium suspension mounts.
Click here to view more photos
Thursday, March 6, 2014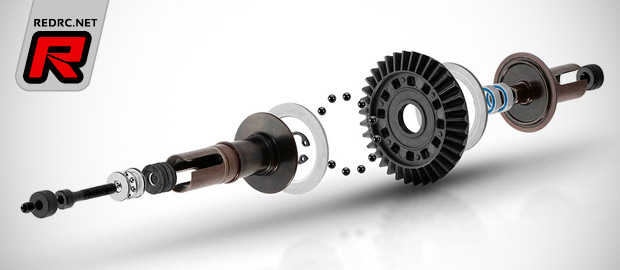 Xray introduce this ball differential for the use with the XB4 and XB4 2WD line of buggies. The pre-assembled diff is equipped with 2.4mm ceramic balls, a carbide axial thrust race, Hudy spring steel outdrives, heavy-duty diff plates and a composite material crown gear. The externally adjustable differential is best used on low-grip surfaces as it can enhance traction and drivability.
Click here to view another image
Tuesday, March 4, 2014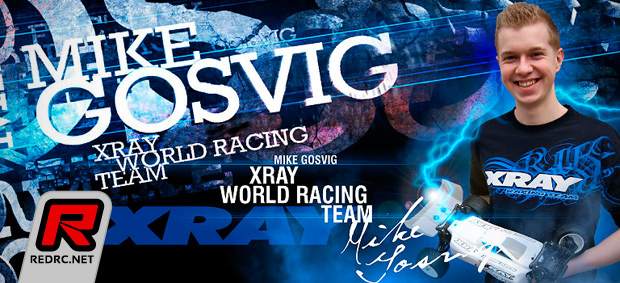 Multiple Danish 1/10 on-road champion, Mike Gosvig has joinded the Xray factory team. In the recent years, Mike has repeatedly proven his talent and professional attitude as a private driver by winning multiple Danish Championships as well as greatly representing at the races. Mike now joined the Xray world racing team and will primarily focus on 1/8th and 1/10th off-road classes. This is what Mike has to say about the deal:
I am very honored to have the chance to be part of the most professional RC car company in the world. I have been racing Xray cars for some time now, and as such I know and admire their attention to detail, their high quality, and their outstanding performance which has allowed me to win many races. I am grateful for this opportunity to be part of the Team, so I can learn and improve my skills and in return give better results. It is wonderful to have such a strong team behind me, and I am confident going into the upcoming season. Thanks goes to North TQ for their help that allowed me to achieve my racing goals.
Source: Xray [teamxray.com]
Tuesday, March 4, 2014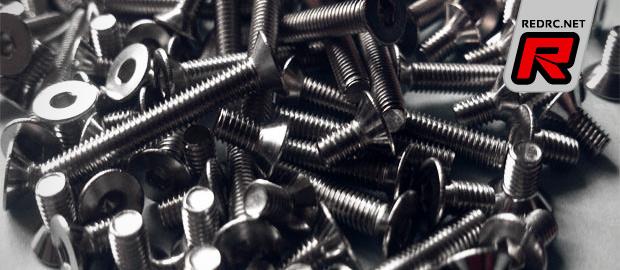 ZZRacing have new titanium and stainless steel hex socket screw kits available for a variety of chassis such as the Serpent SRX2, the Tamiya TRF418, Hot Bodies R10 and Team Associated B5. There are also coming kits for the Xray XB4 2014, XB4 2WD as well as the Team Durango DETC410 and DEX210v2. The sets are made as a direct replacement for the stock steel screws, they save weight, add durability and a certain amount of bling to the chassis.
Source: ZZRacing [zzracing.net]
Sunday, March 2, 2014
World and multi national champion Mike Swauger will continue with Xray, the Slovakian company announce. The nitro on-road specialist will use the company's 1/10 and 1/8 cars during his 2014 campaign and has the following to say about the deal:
I would like to thank Ralph Burch and everyone at RC America and Xray for the past two years of racing. I'm excited to have signed with team again for the 2014 season and looking forward to having a great year of racing with the Xray team. See you at the next race.
Source: Xray [teamxray.com]
Thursday, February 27, 2014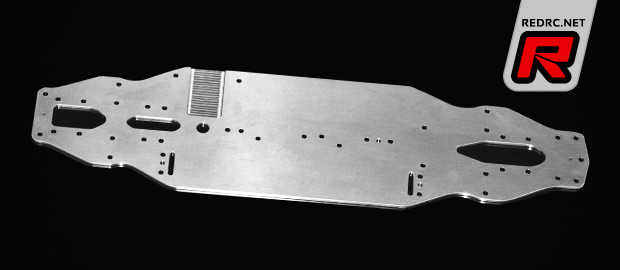 Aluminium chassis plates seem to becoming en vogue in electric touring car racing and one of the latest companies to jump on the band wagon is Asian aftermarket company Arrowmax. Their latest release is this 2mm 7075-T6 alloy chassis for the Xray T4'14. CNC-machined and coming with a silver finish the lower deck is a direct replacement for the kit's stock carbon fibre chassis.
Source: Arrowmax [arrowmax-rc.com]
Wednesday, February 26, 2014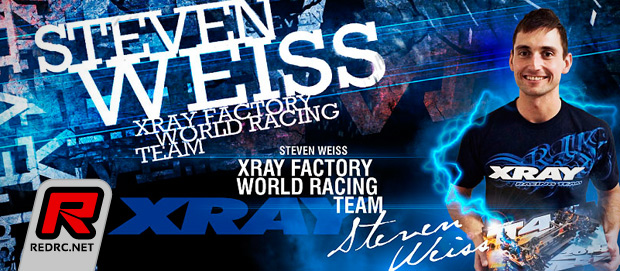 Xray have announced that Steven Weiss has re joined the Slovakian company. Steven was part of the team back in 2007 when he claimed the TQ and 2nd at the EFRA Euros in France. After campaigns with other teams Steven has now returned and has the following to say about the deal:
I'm very happy to be back with the best team in the industry. The last 4 years were full of new experiences and involvement with RC projects and various companies & teams which helped me to grow both personally and professionally. All the experiences taught me that there is no better company and racing team in the RC industry than Xray. Since the 2014 is a very important racing year with World Championship on schedule I wanted to race with the fastest car and have a backup of a professional and strong team and as such there was no other option for me than Xray. I am very happy to be given this opportunity to come back to the team and I will do all my best. I am extremely motivated for the upcoming season and can not wait to get to the track once again.
Source: Xray [teamxray.com]
Wednesday, February 26, 2014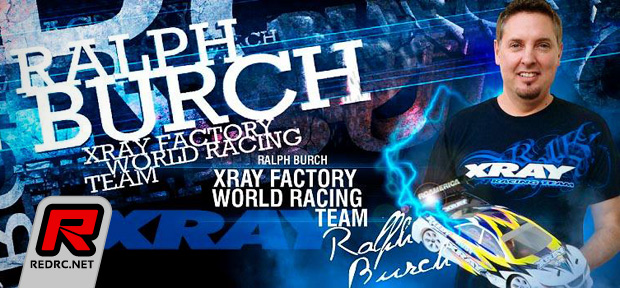 Xray announce that US on-road super star and World Champion Ralph Burch will race all the on-road classes in 2014 with Xray. Ralph will attend all major races to support the Xray USA team, competing with Xray's RX8, NT1, T4 and X12 cars. Ralph says:
I have been racing with Xray team since the very beginning since I have started to race the very first T1 more than 13 years ago. Over the years we have built a very effective team work & cooperation which has resulted into some of my best achievements in my racing career including the World Champion title. I am very proud to represent this finest company and I am very happy that our cooperation will continue and I hope some more great results will come either for me or for anyone at the Xray team. I have been available to any Xray drivers with any their questions or comments and I am looking forward to see you all during the 2014 at the races.
Source: Xray [teamxray.com]
Monday, February 24, 2014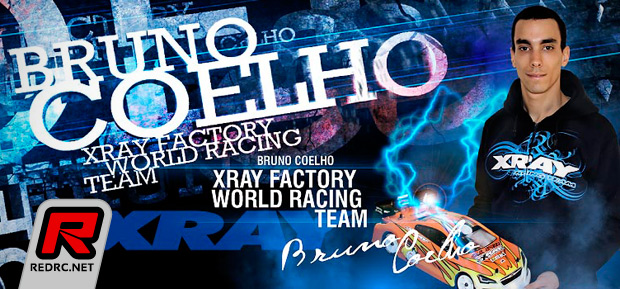 Xray announce that the multi-time Portuguese champion Bruno Coelho has re-signed with the Slovakian manufacturer to be part of the team in 2014. Bruno is a multi-skill driver who successfully races all kinds of classes and therefore he will use Xray's full range of nitro and electric cars and buggies in his 2014 campaign. This is what Bruno has to say about the deal:
I finally managed to realize a big dream that I had for some time. I want to say thank you to Xray for helping me achieving my goals and expectations for this season. I promise that I will work hard in order to add even more titles to this great brand that has evolved so much in the world of RC and also give my contribution to the advancement of the Xray technical level.
Source: Xray [teamxray.com]
Thursday, February 20, 2014