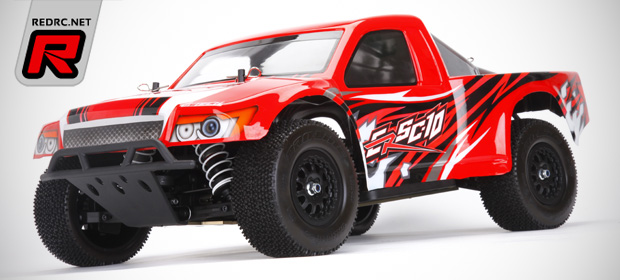 Intech have released a first teaser image of their forthcoming ERSC-10 1/10th scale 4WD short course truck. No further information are available yet but it is understood that the truck is based off of the BR-6E 1/8th 4WD buggy and it will hit stores in January 2015. We bring you more information as soon as they become available.
Source: Intech [intechracing.com]
Wednesday, December 17, 2014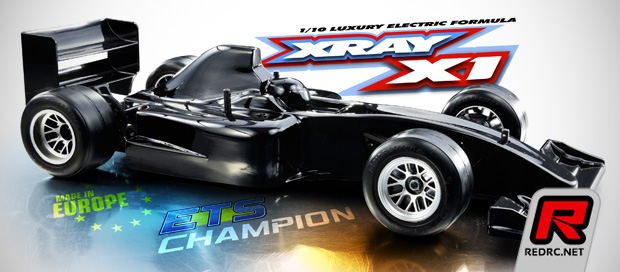 Following our exclusive making off story featuring Xray's new X1 formula car we now have all details available about the company's first formula pan car kit. Developed by Martin Hudy in cooperation with Francesco Martini and Jan Ratheisky, with the latter winning the 2014 ETS Formula class title using the prototype car, the vehicle is based on a super narrow 2.5mm carbon fibre chassis with optimised torsional flex to make for highest possible corner speeds and maximised traction.
Click here to continue reading
Tuesday, December 16, 2014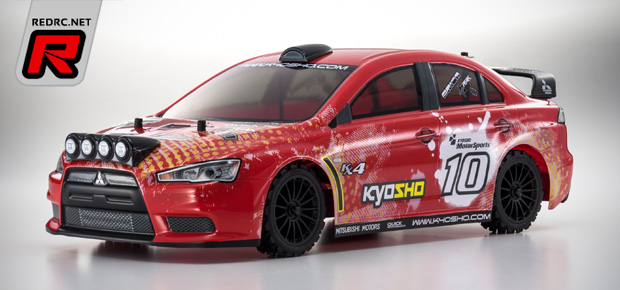 The Kyosho Fazer VE-X Lancer Evolution RTR kit is based on the popular Fazer shaft-driven 4WD entry-level chassis and it features a sturdy tub chassis frame, permanent all-wheel drive, full ball bearings and grippy rally tread tyres. The car is powered by a waterproof Team Orion brushless system and it comes factory assembled including a waterproof KS-204WP steering servo. The set is rounded out by a 2.4GHz radio system, a 1800mAh Team Orion Rocket Pack NiMH battery, a wall charger and a pre-painted bodyshell in red or white colour.
Click here to view the features and more photos
Tuesday, December 16, 2014
Italian company WRC soon have their new GTX 1/8th nitro on-road car available. We do not have any more information than the teaser image but expect detailed features and specifications to surface soon.
Source: WRC [wrc-racing.com]
Tuesday, December 16, 2014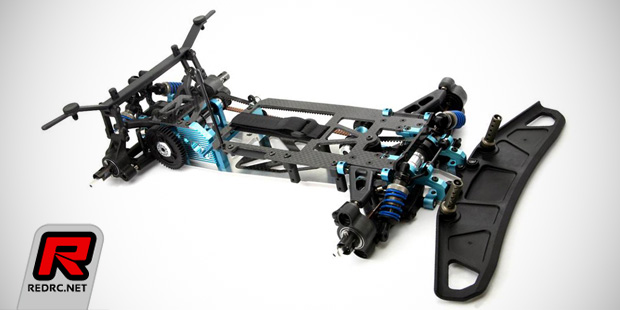 After the first preview in November Shepherd finally release detailed information about the Velox E8 1/8th electric on-road competition car. The vehicle is based on the European Championship winning Velox V8 EC nitro car and it offers nearly the same balance which is possible by using a one-piece 6S LiPo battery mounted in the same area as the fuel tank of the nitro-powered car. Dedicated batteries will soon be available through Shepherd and various battery manufacturers. Making use of many features seen on the nitro variant, such as the complete suspension, the 3-belt drive train and other features like the laid down steering servo the performance on the track is similar or even better compared with the nitro version. The car allows the use of standard 1/8th scale brushless motors and speed controllers as well as the high-end combos of Swiss company TTB without any additional parts needed. For the use of standard components a 7075-T6 aluminium motor mount and a high quality carbon plate for the ESC are included in the kit while the TTB combo can be mounted directly on the chassis plate for a perfect fit. The Velox E8 comes with an high quality 7075-T6 aluminium chassis plate for optimised engine cooling with a carbon insert to protect the battery from heating up. The kit is available from now on.
Click here to view the features and more photos
Monday, December 15, 2014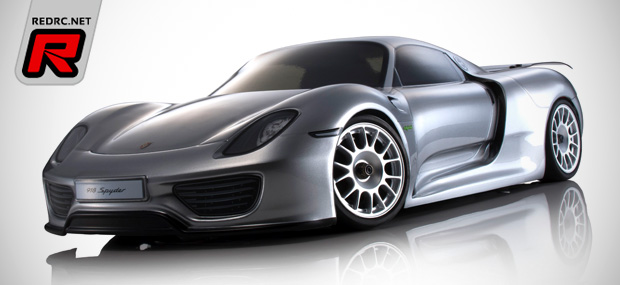 Kyosho introduce two new bodyshell variants for the Fazer VE entry level 4WD touring car chassis. Coming as Spyder Silver or Weissach Package both cars make use of the popular shaft-driven Fazer chassis with sturdy fixed length suspension components, metal gear differentials, sealed receiver box and grippy racing tyres. The pre-assembled cars come including a waterproof high-torque steering servo, waterproof Team Orion R10 One brushless speed controller and Team Orion Neon One brushless motor as well as a 2.4GHz FHSS pistol grip radio, a Team Orion 1800mAh NiMH battery pack and suitable wall charger. The package is topped off by your choice of a silver Spyder or white/red Weissach Package 918 bodyshell.
Click here to view more photos
Monday, December 15, 2014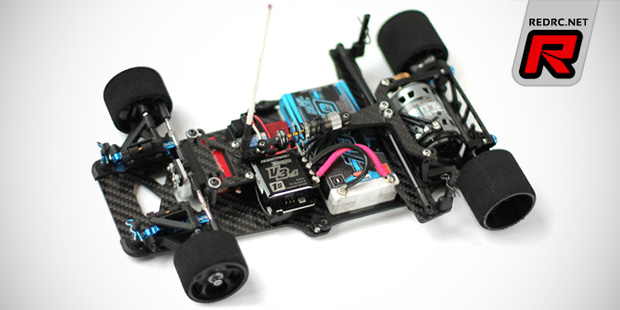 Reflex Racing introduce the RDS RR 1/12th scale kit. Designed and developed in house at Reflex Racing the kit has several innovative features such as an integrated uni-mount shock/servo/antenna mount, and an adjustable wheelbase motor pod to make the car the most adjustable and versatile 12th scale in the market today. The car is also compatible with Xray or Team Associated side links, as well as Xray or Team Associated damper tubes.
Click here to continue reading
Monday, December 15, 2014
VBC Racing introduce the 235mm version of the Lightning10 1/10th scale pan car chassis. The Lightning10-235 marks the revival of the 1990's Pro10 class and the kit is constructed using high grade carbon fibre materials, lightweight 7075 aluminium alloy, and high strength composite materials. The kit features ultra short 7075 aluminium drive hubs, a big bore centre shocks, multi location side springs, optional brass balance weight with multiple mounting locations, an optional fan mount, and a highly adjustable adjustable front suspension that allows to fine-tune track width, caster, active caster, camber and ride height. The oversized rear motor pod is designed to keep the wheel hubs as narrow as possible while allowing the use of brass balance weights for weight distribution fine-tuning. The kit will become available early January 2015.
Click here to view the features and more photos
Saturday, December 13, 2014