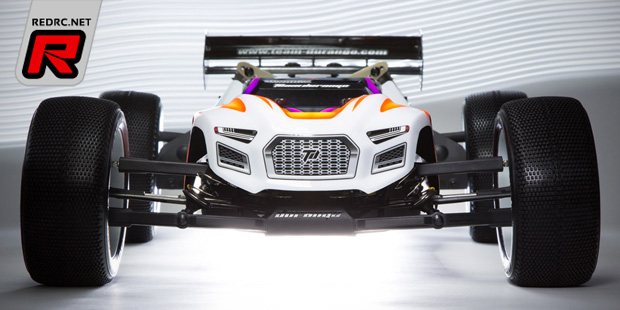 The new Team Durango DEX8T 1/8th scale E-Truggy kit makes use of the design features introduced with the recently announced DEX8 and DNX8, such as a patent pending sliding gear mesh centre bulkhead and all-new suspension components including a pivot ball front suspension. The truck is based on a long wheelbase 3mm 7075 aluminium chassis with hard-anodised finish and it used quick-release front and rear gearboxes to speed-up maintenance and setup work. The front and rear shock towers are cut from high-quality aluminium as are the 16mm big bore shock absorbers with threaded bodies and colour-coded springs. The suspension hanger are also aluminium parts and they feature composite inserts to allow for easy toe and kick-up changes. Like the other new Team Durango 1/8th vehicles the DEX8T comes partly assembled for reduced build time and to minimise the opportunity for errors. Components such as the shocks, diffs, steering knuckles, hubs and links come factory build which is a bit of a novelty. Included with the kit comes a pre-cut truggy bodyshell and a strong yet flexible nylon rear wing with gurney flaps that allows for aerodynamic tweaks in seconds.
Click here to view more photos
Friday, March 20, 2015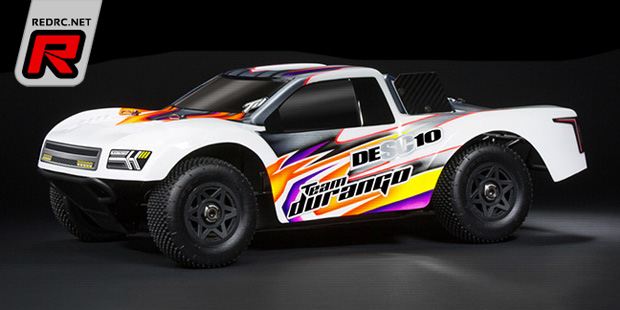 The new Team Durango DESC10 4WD short course truck kit highly differs from its unofficial predecessor DESC410 as it builds on a completely new platform that shares many parts with the all-new DEX8 1/8th electric off-road buggy. The backbone of the truck is a 3mm 7075-T6 aluminium chassis onto the 3-diff drivetrain builds. A sturdy pivotball front suspension and beefy rear arms make for loads of durability as do aluminium suspension hangers with moulded composite inserts for suspension geometry adjustments. The shock towers are made from high-quality aluminium as are the threaded big bore shock absorbers. The rigid motor mount is designed for the use with 550-size and 1/8th class brushless motors while the centre differential appears to be shiftable in order to adjust the gear mesh between the pinion and the main gear. Included with the kit, that comes partly pre-built, are front and rear anti-roll bars, while the bodyshell is sold separately.
Click here to view more photos
Thursday, March 19, 2015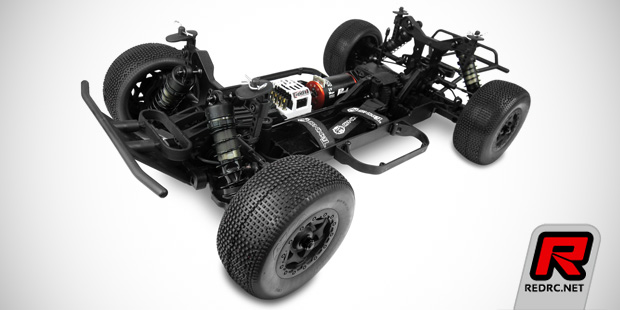 Tekno RC introduce the SCT410.3 4WD short course truck kit. The updated version of the original SCT410 comes with a slew of new parts and improvements such as an all-new suspension geometry, reduced height shock towers, a V2 hinge pin system, clamping design spring perches and new droop screws. The drivetrain received smoother gears and 1-piece composite diff cross pins, new tapered aluminium driveshafts, lightened outdrives and an angled rear gearbox with larger bearing as standard. Also included comes a lightened 4mm black anodised aluminium chassis, aluminium pivot balls, aluminium suspension and spindle bushings, a LCG lightened motor mount and a split centre diff mount beside other performance and durability enhancing features that also make for reduced maintenance times. The kit is set for a release in April.
Click here to view lists of the new features and more photos
Thursday, March 19, 2015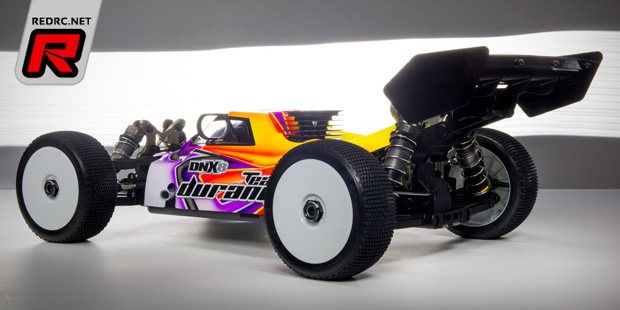 Following a couple of teasers Team Durango now officially introduce the DNX8 1/8th nitro and the DEX8 1/8th electric off-road buggy. Both kits are designed from the ground up and have nothing in common with their respective predecessors, the DNX408 and DEX408. Starting with the DNX8, the buggy is based on a class-standard hard-anodised aluminium chassis and it features a front pivot ball suspension, sturdy aluminium shock towers and several other alloy parts such as suspension hangers with composite inserts and more. Many of the parts come as factory-assembled pre-built items such as gear diffs, the 16mm oil-filled shock absorbers, the front steering knuckles, camber and steering links and more which not only greatly reduces build time but also possible errors. The buggy features several service time saving features such as an easy to remove radio tray, easy access linkages and more. Highly stressed parts such as driveshafts, turnbuckles and diff outdrives are made from high quality steel while the chassis braces are made from tough composite plastic. Included with the kit comes a pre-cut bodyshell with advanced aero design for improved handling.
Click here to continue reading
Wednesday, March 18, 2015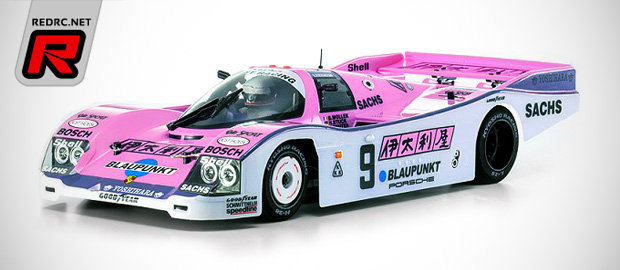 Kyosho's line of Plazma LM 1/12th scale racers sees the addition of two new kits in the form of the Carbon Edition Porsche 962C Coupe 1989 Joest-Racing  and the Carbon Edition Toyota GT-One TS-020 1998. Both offer upgraded chassis compared to the standard kits with the main chassis and rear lower pod plate as well as the chassis brace being made from high-quality carbon fibre instead of black fibre glass sheets. The included motor mount is compatible with 540-size motors and the kits also include an alloy adapter plate to run smaller 380-class brushless motors. Part of the rolling chassis packages are also 9 ball races, foam tyres on scale rims and last but not least replica bodyshells including comprehensive decal sheets and moulded details.
Click here to view more photos
Wednesday, March 18, 2015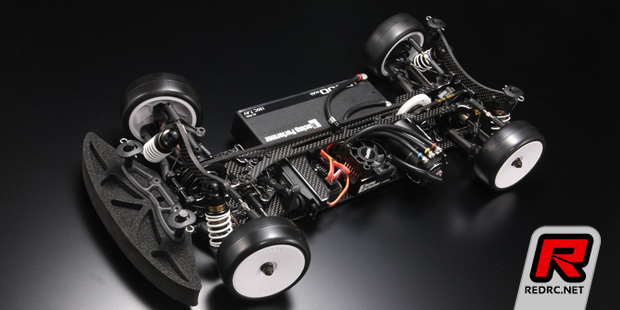 Yokomo introduce the BD7 2015 JMRCA Open Class Spec touring car chassis kit. Based on the World Champion winning BD7 2015 the upgraded kit includes a range of optional parts found race-worthy by Yokomo's team drivers such a floating servo mount, titanium turnbuckles and front double-joint universal driveshafts. The kit, including the option parts package worth around US$100, will become available in late March.
Click here to view more photos
Tuesday, March 17, 2015

Shortly after the announcement of the R8.0 1/8th nitro on-road car ARC have first renderings of an electric-powered variant available. Sharing around 85 percent of parts with the nitro variant the whisper silent electric car will sport a relocated drivetrain with an inner mounting position for the centre belt to allows the battery packs to be mounted as close to the centre of the chassis as possible. The battery trays will accept 2S, 4S and 6S LiPo packs while the motor mount takes industry standard 550-class motors. The speed controller will be located on a separate tray to keep the centre of gravity as low as possible. With the R8.0E being a purpose designed kit there will also be a conversion kit available for the R8.0 allowing nitro drivers to use the car off season. Both the full kit and the conversion will become available in July.
Click here to view more photos
Tuesday, March 17, 2015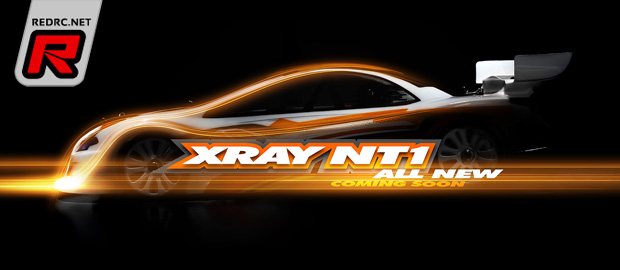 Xray have released a first teaser image for their all-new NT1 200mm nitro on-road kit. Later this week, in the build up to the car's release, we will have an in-depth interview with Xray's on-road designer Martin Hudy and an exclusive 'making of story' on the latest release in the World Championship winning NT1 platform.
Source: Xray [teamxray.com]
Monday, March 16, 2015