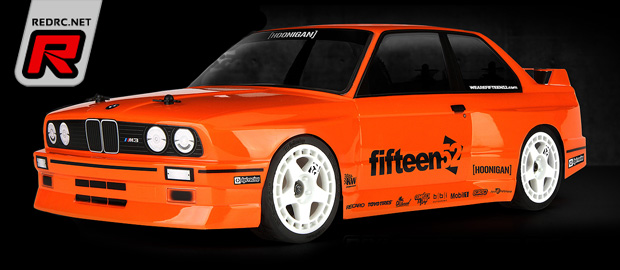 HPI Racing introduce the all-new RS4 Sport 3 1/10th 4WD electric touring car. The club racing chassis features a completely sealed and highly efficient shaft drivetrain, coil-over shock absorbers plus waterproof electronics. The fully contained drivetrain means there are no exposed gears, belts or drivetrain parts to get stuck with rocks or dirt. Finally, the RS4 Sport 3 is finished with realistic tyres plus a range of licensed replica body and wheels for an authentic look that will grab the attention of all RC and motorsport enthusiasts. The range will include a BMW M3 E30 fifteen52, a Subaru BRZ with drift tyres and a Falken Tire Porsche 911 GT3 RSR in Flux specifications with a powerful brushless motor and speed controller.
Click here to view the features and more photos
Friday, January 30, 2015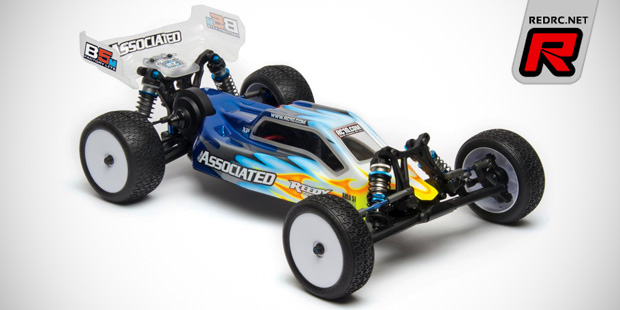 Team Associated introduce the B5M Factory Lite, a special version of the B5M that would optimise the platform to excel in classes requiring spec motors and for certain track conditions that allow the racer to take full advantage of the performance offered from reduced weight. Shedding over 75 grams of weight, the B5M Factory Lite includes a 3-gear transmission for lower rotational mass, a lightened hard-anodised aluminium chassis, titanium turnbuckles, and aluminium front axles.
Click here to view the features and more photos
Thursday, January 29, 2015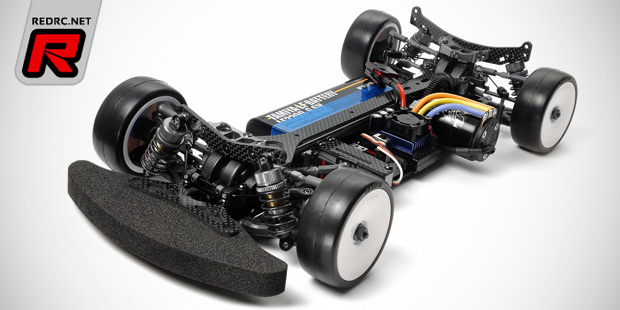 Tamiya's TB Evo.6 4WD shaft driven touring car kit will soon also become available in a limited edition Black Version. It is understood that the car, that features a pretty unique layout with a shaft drivetrain but a transversally mounted motor – as seen on belt-driven cars – is unchanged from the standard "blue" version apart from the black aluminium parts for the bulkheads, turnbuckles and damper parts.
Source: Tamiya [tamiya.com]
Thursday, January 29, 2015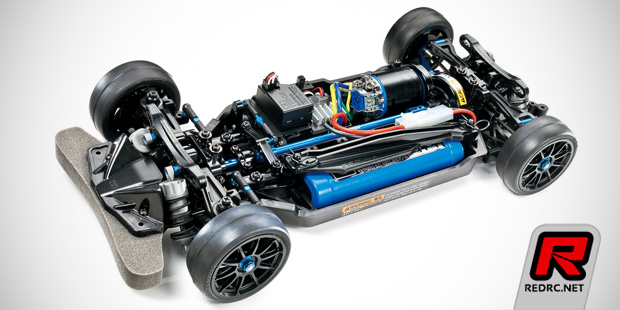 Tamiya introduce the TT-02R electric touring car kit featuring some valuable optional parts such as a aluminium main shaft parts, aluminium steering turnbuckles, lock nuts and ball joints as well as new grey colour CVA shock absorbers and black springs. Also included will be 3 degree toe-in rear uprights, a blue aluminium motor mount, a ball bearing set and more.
Source: Tamiya [tamiya.com]
Wednesday, January 28, 2015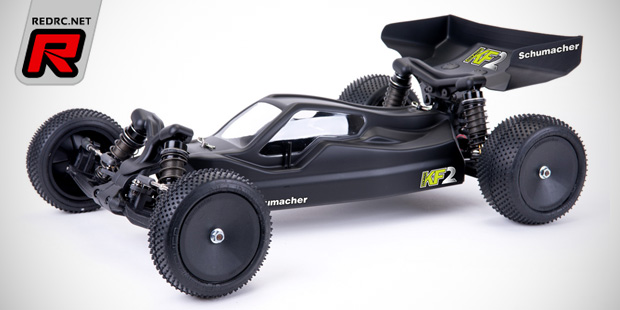 The new Schumacher Cougar KF2 is a professional, high performance 1/10th scale 2WD racing buggy, based upon the multiple national championship winning Cougar KF. The KF2 includes an adjustable motor position for optimum weight distribution on high or low grip tracks. Among the KF2's many other refinements is an all new black alloy chassis, new bodyshell, alloy chassis stiffeners, new lightweight side gears and new quad pad vented slipper unit. These and other features make the KF2 more reliable, easier to work on and above all, faster. The buggy is also equipped with industry standard 12mm hex front and rear wheels, big bore shock absorbers to soak up the bumps and it becomes availably by end of January.
Click here to view the features and more photos
Wednesday, January 28, 2015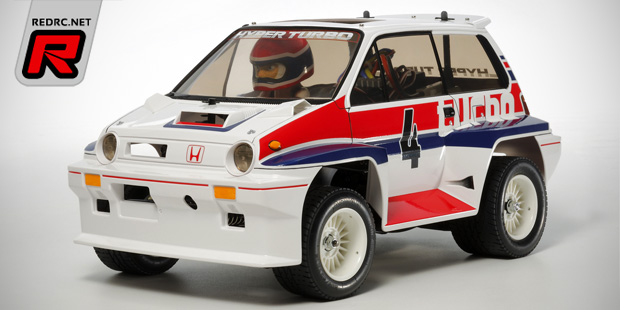 Tamiya introduce the "re-release" of the iconic Honda City Turbo kit on a WR-02C wheeler chassis. Sporting a 1980's re-release bodyshell with period correct tyres and wheels the car is based on the simple yet sturdy WR-02 C 2WD mid motor chassis to allow the use of more modern motors and electronics as back in the days. Tamiya have yet to announce a release date but we keep you up to date as soon as more information become available.
Source: Tamiya [tamiya.com]
Wednesday, January 28, 2015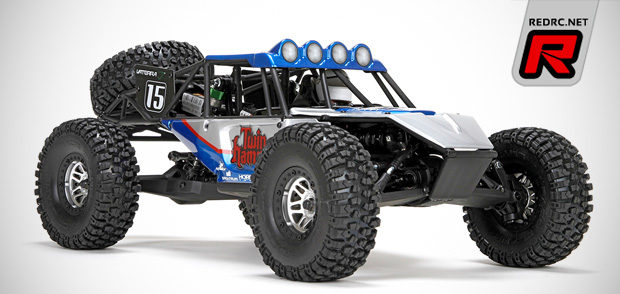 Coming from Vaterra is the slightly updated Twin Hammers 1.9 1/10th scale 4WD rock racer RTR kit. The vehicle sports a somewhat scale chassis layout with independent front suspension and a solid rear axle to tackle both high-speed tracks and rock crawling trails. A 2-speed transmission allows to shift on the fly while waterproof electronics make for go everywhere capability. Included with the upgraded kit comes a Spektrum DX4E 2.4GHz computer transmitter with Active Vehicle Control technology that assists with driving in critical situations as well as blue and silver body panels to make the truck stand out.
Click here to view the features and more photos
Wednesday, January 28, 2015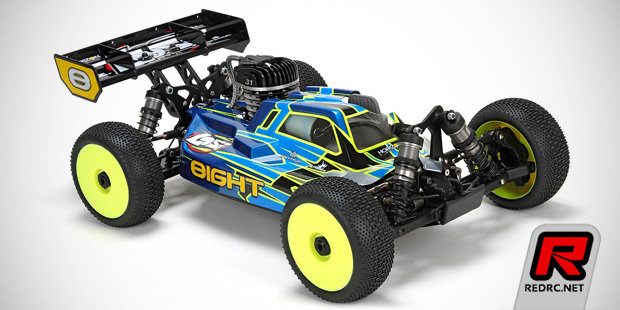 During this week's Nuremberg Toyfair Horizon Hobby introduce their new Losi 8ight petrol buggy and 8ight-T petrol truggy 1/8th scale kits. Both are based on the respective ROAR Gas Nationals winning platforms and they are tweaked to take a 5.1cc petrol engine, allowing them to run longer and require less maintenance compared to their nitro fuel powered counterparts. To better accompany the upgraded power and national championship driving characteristics both also come with AVC Active Vehicle Control technology that allows to drive faster with more control and to get the most out of the power and precision gas vehicles. Rounding out the packages is a 2.4GHz Spektrum DX2E transmitter, a 7.4V LiPo receiver battery pack, a starter box  and waterproof Spektrum servos and electronics.
Click here to view the features and more photos
Wednesday, January 28, 2015