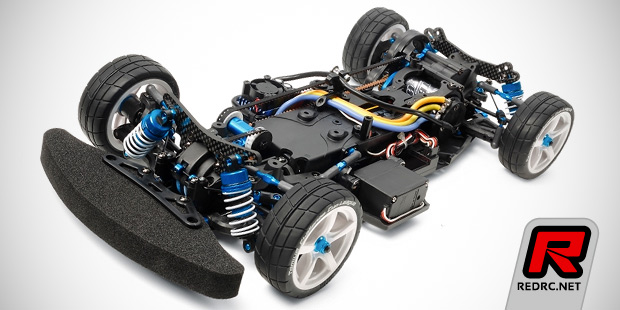 Tamiya introduce the limited edition TA06-R 4WD touring car kit. The intermediate level belt-driven car features option parts taken over from the TRF line such as the TRF418 A-arms and uprights and TRF417 front and rear driveshafts. The "R" version also received some one-off parts to make the TRF parts fit while graphite reinforced A, J, T and N parts make for higher chassis rigidity. Other options included in the kit are front and rear anti-roll bars as well as TA06MS aluminium centre pulleys. The kit is scheduled for a late March release.
Source: Tamiya [tamiya.com]
Wednesday, March 5, 2014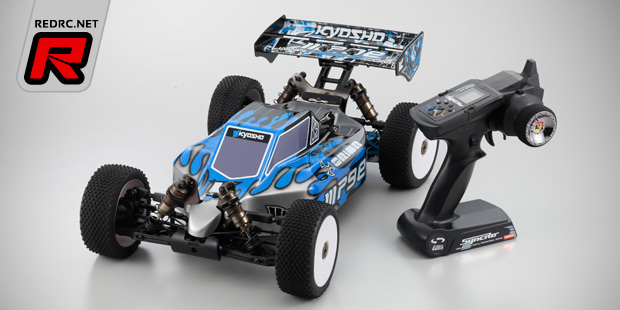 Coming in April is Kyosho's MP9e TKI ReadySet 1/8th electric off-road buggy. Building on the proven MP9 platform, the buggy features an aluminium chassis and shock towers, threaded aluminium big bore shock absorbers, machined suspension plates, front universal driveshafts and moulded chassis braces. The factory assembled vehicle comes with a 2.4GHz radio system, a newly developed high response KT-401 steering servo and a genuine Team Orion Vortex 8 waterproof speed controller and Neon8 2100kv brushless motor. The package is rounded out by a pre-finished bodyshell and grippy pin tyres on white disc rims.
Click here to view the features and more photos
Friday, February 28, 2014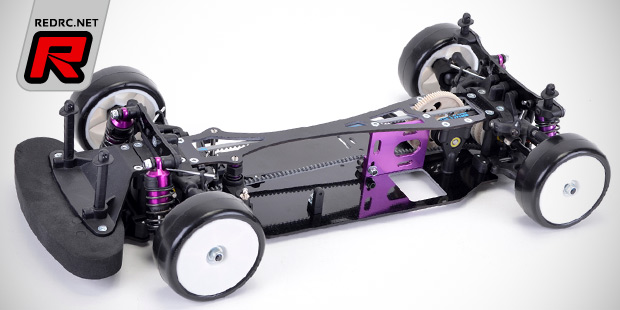 Schumacher introduce the Mi1v2 electric touring car kit. The car offers an updated chassis and top deck to easily accept a wide rage of LiPo batteries, it offers a 4WD belt drive transmission with ball differentials, a widely adjustable suspension and front and rear anti-roll bars. The entry to intermediate level car also comes with a full set of ball bearings, front in-board toe-out options and a purple anodized motor mount for optimized heat dissipation. The package is rounded out by aluminium body shock absorbers.
Click here to view the features and more photos
Thursday, February 27, 2014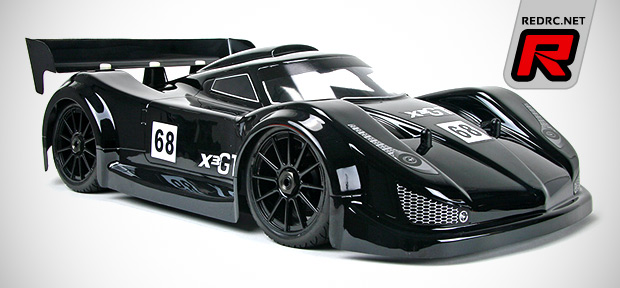 OFNA presents the X3-GT 1/8th 4WD nitro on-road kit. Based around a sturdy, hard-anodised aluminium chassis with 2-diff drivetrain and 2-speed gearbox the vehicle also features low-profile aluminium shock towers and shocks, a 1-piece radio tray for easy servicing and maintenance, as well as a .28 recoil starter nitro engine with a tuned pipe for added performance. Included in the kit are strong steering and throttle servos, a 2.4GHZ radio system and also semi-slick tyres on black multi-spoke rims along mean looking GT bodyshell.
Click here to view more photos
Friday, February 21, 2014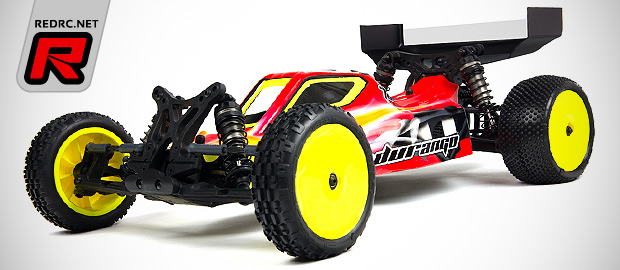 Team Durango introduce the new DEX210v2 2WD electric off-road buggy. Building on the popular DEX210 platform the updated v2 version features a good amount of new features and updated parts such as an 8mm longer chassis for improved stability, new straight design front wishbones for increased ground clearance and redesigned front and rear shock towers for added crash stability, additional setup options and better stability when landing jumps. In addition to the new front lower A-arms the kit also received new rear arms, longer differential outdrives, updated driveshafts and also new gearbox halves with added camber link mounts. Team Durango also worked on the durability by adding an aluminium steering link plate, new DIMEC X ball cups and an aluminium RR -2mm low roll centre suspension mount. Included with the kit, that allows to build your choice of a mid or rear motor buggy straight from the box, are also a redesigned bodyshell and a new rear wing.
Click here to view more photos
Thursday, February 20, 2014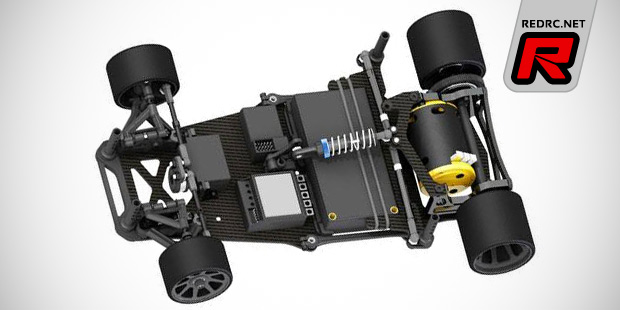 Today first renderings of Kawada's forthcoming M300 FX-III 1/12th chassis appeared on the interweb. The car builds on a long wheelbase carbon fibre chassis with transverse battery layout and it will feature a damper-equipped and SDS-named front end which basically features a standard layout but two damper tubes that connect the upper and lower A-arms in order to make for a smoother operating front suspension. The rear of the car sports a conventional link-type power pod mounting with dual roll dampers, an aluminium centre shock absorber and rear axle height adjustment via eccentric inserts. Battery mounting takes place using an O-ring making the use of fibre tape unnecessary. It is understood that the kit will hit the stores by end of March.
Update: In the meantime Kawada released a handful of images showing the real car. You can find them after the break.
Click here to view more photos
Wednesday, February 19, 2014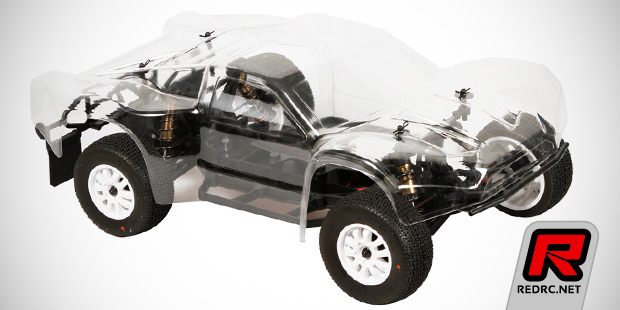 Seen for the first time at the recent Nuremberg International Toyfair in Germany, Serpent now officially announce the Spyder SCT-2 2WD short course truck. Based off the Spyder SRX-2 buggy the truck features a long wheelbase composite chassis, redesigned shock towers, long-stoke big bore shock absorbers, aluminium suspension mounts and it will come as a rear motor truck. Specially designed nerf bars with lexan inserts help to keep as much air out of the bodyshell for improved jumping abilities and a reduced "parachute" effect. The truck is set for an April release with a ready-to-run version coming soon after.
Click here to view more photos
Thursday, February 13, 2014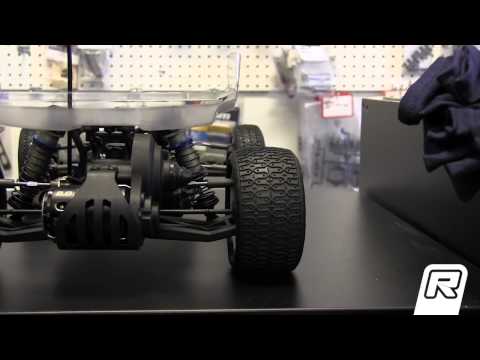 During the past weekend's JConcepts Winter Indoor Nationals at SmacTrac in St Louis, Missouri, Team Associated's Brent Thielke and JConcepts' Jason Ruona gave us a first insight into the brand-new Team Associated B5, the follow-up model of the hugely successful B4 buggy. The new platform is based off the design ideas of the B4 but offers a lot more tuning options to make it easier for drivers to adapt the vehicle to different surfaces and track conditions. Being available as rear motor kit first, as it was raced at SmacTrac, there will soon also be a mid motor version for high-bite and European style tracks too. To find out more about the B5, simply hit the video box above.
Monday, February 10, 2014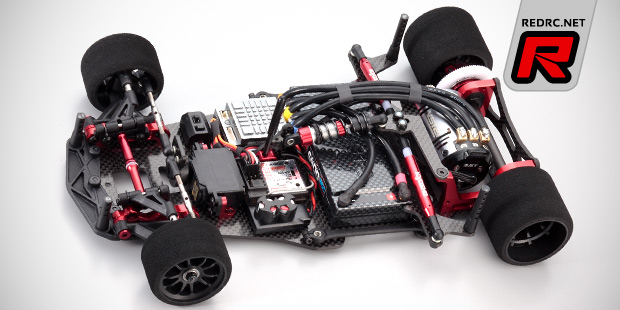 Kyosho Germany introduce the Plazma Ra Red 50th Anniversary Edition 1/12th pan car kit. Building on the already known Plazma Ra kit, the Red edition comes with two optional roll dampers, optional rear wheel hubs and also an optional rear bulkhead. Otherwise the features remain the same as are the carbon fibre main chassis, symmetrical front end components, Futaba/JR compatible mini servo mounts and a large diameter ball differential.
Click here to view another photo
Monday, February 10, 2014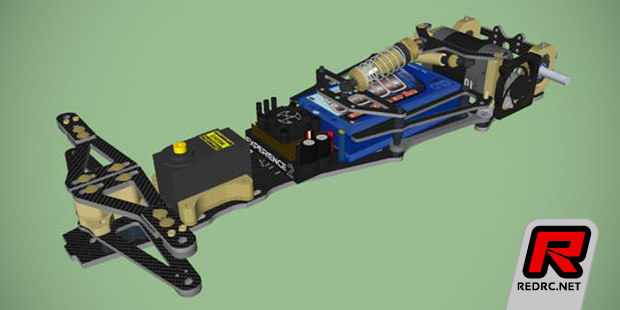 MD Racing from Spain are currently working on a new 1/10th Formula 1 kit called the F14. The kit will feature a narrow, 75mm wide chassis, a sliding servo mount for easy steering Ackermann adjustment, adjustable wheelbase and a sliding rear axle mount for step-less rear axle height adjustment. The first prototype of the car, that is designed to 180mm and 190mm classes, will hit the track soon.
Click here to view more photos
Saturday, February 8, 2014