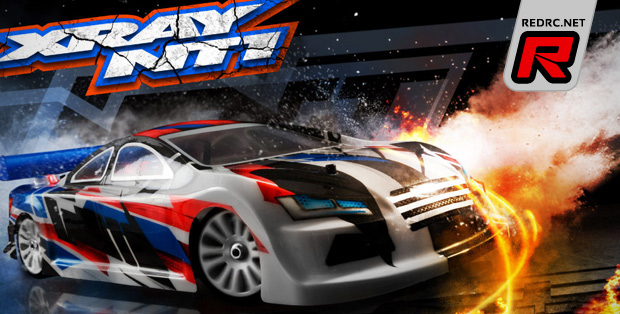 Xray introduce the latest incarnation of their World and European Championship winning NT1 1/10th nitro on-road in the form of the 2014 Spec kit. Compared to its predecessor the car features only subtle refinements such as a new chassis and radio plate, a new fuel tank mounting system, a new smaller 2-speed gearbox and an updated front middle shaft mounting system. Other new features include redesigned shock towers, shocks and a new battery mount. The new features are meant to make maintenance and setup even easier while also adapting the car to harder hand-out tyres, as designer Martin Hudy describes in our exclusive interview some days ago.
Click here to view more photos
Wednesday, April 16, 2014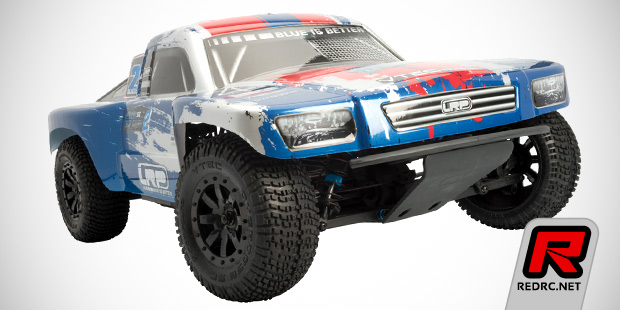 LRP introduce the upgraded S10 Blast SC 2 ready-to-run short course truck. The 4WD vehicle underwent a revision and now features a revamped drivetrain featuring a new slipper assembly and new gears for added durability and reliability. Many of the composite materials also received a reinforcement, again in order to add rigidity while upgraded shock absorbers with a membrane volume compensator lead to a more agile handling. Also included in the set are waterproof electronics for all-weather usability. The truck comes factory assembled with a brushed motor, AI Runner 2 digital speed controller and 2.4GHz radio system.
Click here to view a photo of the chassis
Tuesday, April 15, 2014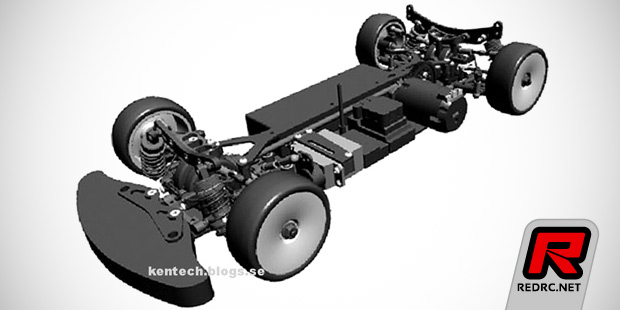 Kentech Blog got their hands on a first rendering of the forthcoming Tamiya TB Evo 6 touring car. The shaft driven TC will make use of the latest TRF418 suspension arms, TB04 front and rear gear boxes and it is designed around a traversal motor position such as found on most of today's belt-driven touring cars. Included with the kit come several option parts such as low-profile shock absorbers, dual joint front driveshafts, aluminium turnbuckles, aluminium nuts and ball joints as well as a hi-torque servo saver and floating servo mount.
Source: Kentech [kentech.blogs.se]
Tuesday, April 15, 2014

German news platform RC-News.de report that Kyosho is planning to re-release the iconic 1982 Scorpion 2WD buggy. Designed by Akira Kogawa, who was also responsible for the Kyosho Beetle, Tomahawk and Optima, the buggy marked the beginning of Kyosho's successful line of 2WD buggies that later became the Ultima, a kit that won the 1987 World Championships in the hands of Joel "Magic" Johnson. It is understood that the re-release Scorpion buggy will be on show at this year's Shizuoka Hobby Show that will kick-off at the 15th of May. We bring you more information on the kit as soon as they become available.
Source: Kyosho [kyosho.com]
Monday, April 14, 2014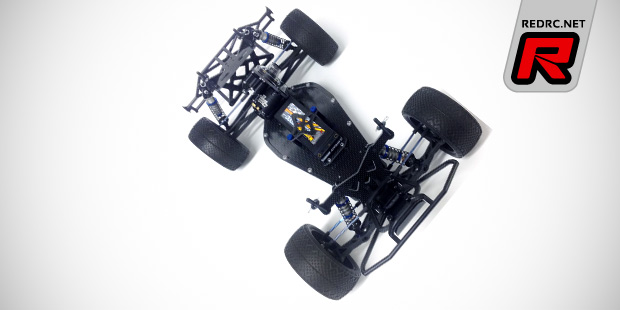 U.S. company Murfdogg introduce the Physco SC truck kit. Especially designed for the use on high-bite tracks such as sugared clay and astro turf, the truck features a mid motor layout with a 4-gear transmission and a centre biased weight distribution. The kit is made from 3mm and 3.5mm quasi-isometric carbon fibre sheets including the chassis plate, chassis stiffeners, front shock tower, rear shock tower, battery locators, battery hold down strap, transmission brace/camber plate, an rear body mount brace. Other parts include silicone nitride diff balls, VTS slipper assembly, full ceramic ball bearings, Pro-Line and DE Racing wheels as well as a Pro-Line Evo racing body.
Click here to view the features and more photos
Saturday, April 12, 2014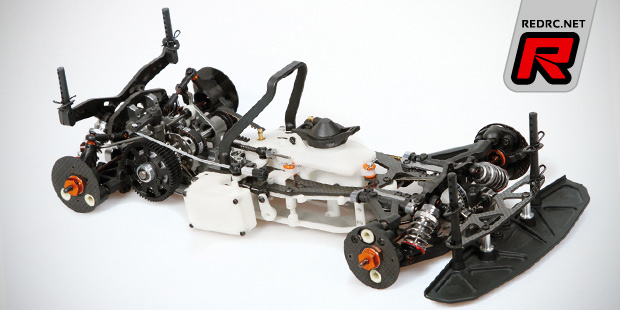 Serpent have released first images of the Natrix 748 200mm nitro on-road kit. The follow-up model of the successful 747 is designed with the input of Serpent's factory team drivers such as Mark Green and the Sahashi brothers in order to create a platform that works for club and high-level racers alike. Therefore the kit comes with redesigned differentials that sport new housings and internals, repositioned ball-raced anti-roll bars, lightened rear brake and 2-speed shaft holders, a redesigned fuel tank that makes for a lower centre of gravity and new servo mounts with a more centralised position. A new chassis plate with a more backward mounted engine helps to optimise the weight balance while a new steering block design, taken over from the 977, allows for a leading or trailing position and adjustable kingpin inclination. Both the front and rear hubs are designed for the use with aero discs and the carbon fibre radio plate offers a wide range of flex adjustments. The Natrix 748, that is visible with white 3D printed prototype parts here, will be ready for a release around mid-May.
Click here to view more photos
Thursday, April 10, 2014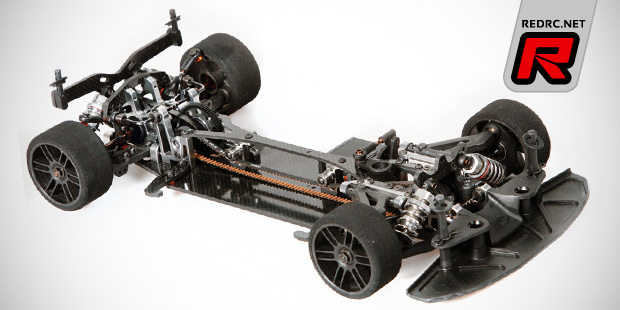 Following the 747-e conversion kit Serpent now introduce a full kit allowing to build an electric-powered 747 car from scratch. The idea behind the conversion of a nitro-powered sedan into a whisper-silent electric racer is to offer a more solid platform to race on nitro outdoor track where noise emission can be a problem. The kit is based around a carbon fibre chassis with tough front and rear aluminium bulkheads, a specially designed aluminium motor mount and wide track suspension components taken over from the 747. The kit features a laydown servo mount, ball-raced anti-roll bars, carbon fibre battery holders, aluminium shock absorbers, as well as front CVD and rear dogbone driveshafts and it is usable with 200mm touring car bodyshells. In terms of the power unit the car is best powered by a 3S LiPo battery pack in combination with a 540-size 4-pole motor and an 1/8th scale speed controller. The 747-e kit will become available by end of April.
Click here to view more photos
Wednesday, April 9, 2014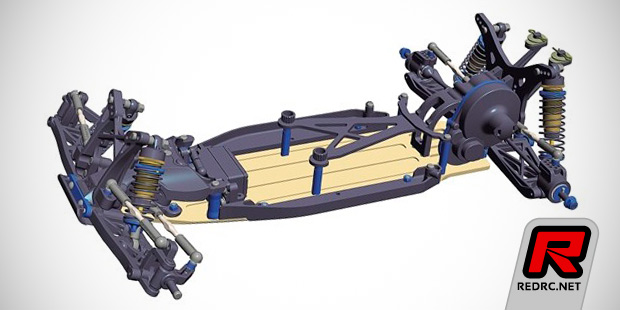 Tamiyablog have first images of two new Tamiya kits available in the form of the TRF201XMW and the Rock Socker. Starting with the TRF201XMW, the 2WD buggy was introduced last year as a conversion kit for the TRF201 rear motor buggy and it is understood that the XMW will be a full kit rather than just a chassis and gearbox conversion. The XMW will feature a new long wheelbase 3mm aluminium chassis extending the wheelbase to 284mm, the gearbox will still be an all-aluminium affair that allows to use a ball or gear differential and the shock absorber upper caps incorporate a bleeding screw. The kit is set for a late May release.
Click here to continue reading
Wednesday, April 9, 2014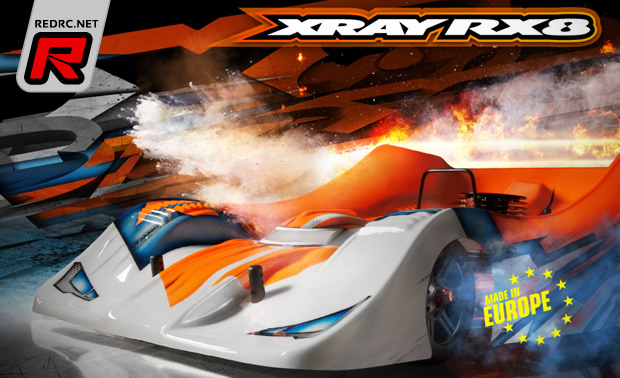 Following the first two parts of our exclusive Xray RX8 presentation in the form of an in-depth interview with Martin Hudy and hot on the heels of our article about the making of the RX8 we now bring you the third part of the RX8 story – an exclusive preview with first images as well as more details on the car's features and specifications.
See the exclusive preview here
Saturday, April 5, 2014
Following our exclusive interview with Xray's onroad designer Martin Hudy about the forthcoming Xray RX8 1/8th nitro on-road car we now have a more in-depth article in which Martin explains the challenges of making an already proven car even better and how he tackled the recent tyre rule changes.
Read the full exclusive article here
Friday, April 4, 2014