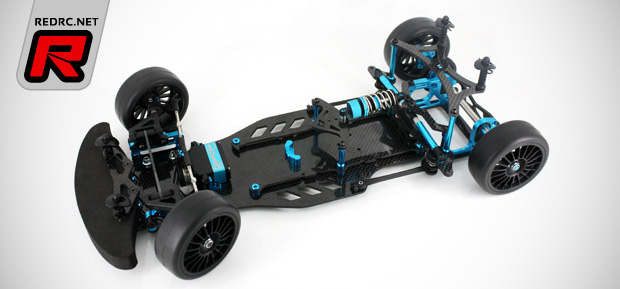 New from Teamsaxo comes the GT-500 1/10th pan car kit for rubber tyres. The rear wheel drive chassis is basically a World GT car but tweaked towards the use of standard touring car wheels in combination with 190mm touring car bodies. The car is based on a carbon fibre chassis that accepts both standard and shorty LiPo packs and it features a large volume centre shock absorber, dual tube side dampers and a highly adjustable front end. Also included in the kit, that will become available in mid-September, is a heavy-duty ball differential and a steel rear axle.
Click here to view more photos
Monday, September 1, 2014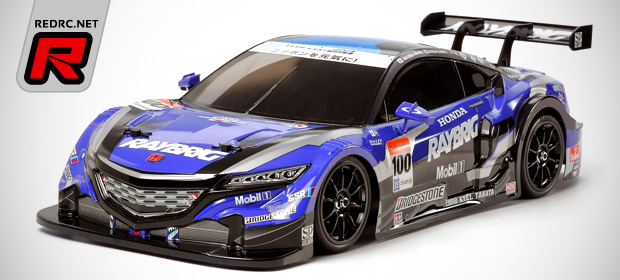 Tamiya announce the release of the Raybrig NSX Concept-GT kit on the TB-04 chassis. The kit is based on a shaft-driven chassis, the differentials inside the gearboxes are newly designed as they utilize a sealed gear differential system whereby the internal gears movement is controlled by different viscosity differential fluids. The double-wishbone suspension system makes use of the same short reversible type that has been used on the TB-03, TA-05 Version II, TA-06 and the TRF416 and 417 World Championship machines. The TB-04 also incorporates the IFS inboard front suspension whereby the front shocks are positioned horizontally and low to the chassis, so that low profile sports car body shapes can be accurately reproduced without losing any realistic scale appearance. Included in the kit is a clear NSX Concept-GT shell with full decal sheet.
Source: Tamiya [tamiyausa.com]
Friday, August 29, 2014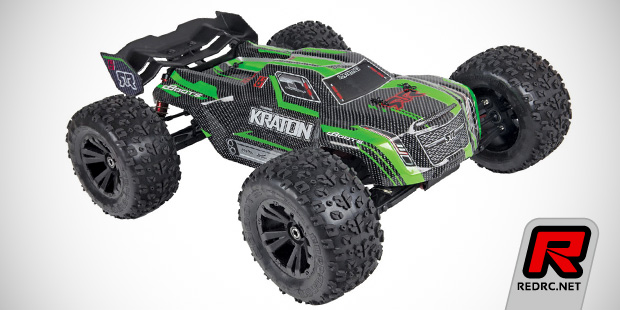 The Kraton 6S BLX speed monster truck is Arrma's second 1/8th scale kit following the introduction of the Typhon 6S BLX buggy. The truck builds on a black anodised aluminium chassis plate and features a heavy duty 3-diff drivetrain, long suspension components, aluminium big bore shock absorbers and front and rear anti-roll bars from stock. Universal driveshafts transfer the power of the 6S compatible sensorless brushless motor to the multi-spoke rims with dBoots MT tyres. All electronic components such as the high-torque steering servo and the 180A speed controller are full waterproof while being protected by an inner roll cage at the same time. The truck comes ready-to-run including a 2.4GHz radio system and a pre-decorated bodyshell with a green/carbon or blue livery.
Click here to view more photos
Friday, August 29, 2014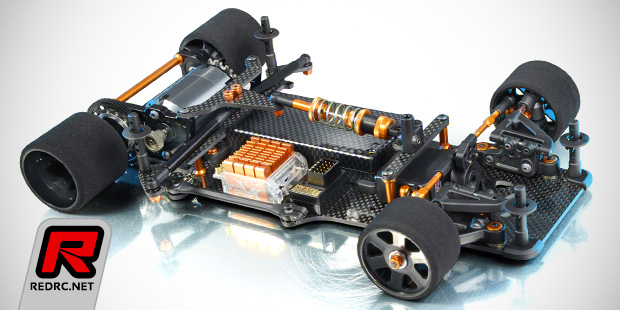 Xray introduce the latest incarnation of their EFRA Euros winning X12 1/12th pan car platform, the X12'15. Not being a totally new car but a subtle refinement, the kit features several performance enhancing details beside orange coloured aluminium parts to match the company's current colour scheme. The car builds on a redesigned carbon fibre chassis that is 3mm narrower while smaller cut-outs in the front optimise the steering characteristics. Along with the new chassis design goes a narrower rear pod and a new centre shock assembly that allows to run a long shock, using an adapter tube or short shock for better bump track handling and on-power traction or improved steering response and quicker direction changes. Part of the suspension package is also a new 1-hole piston for improved on-power steering and new orange anodised aluminium parts.
Click here to continue reading
Thursday, August 28, 2014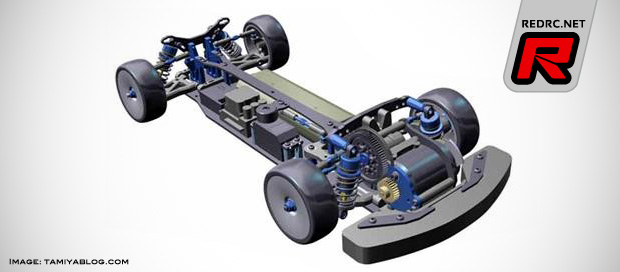 Tamiya Blog have a first rendering of Tamiya's forthcoming FF-04 Evo front wheel drive chassis available. The latest generation FF chassis builds on the carbon fibre double deck chassis concept of the FF-03 Evo and features a range of upgraded and newly designed parts. The chassis itself is made from 2.5mm carbon fibre with a 2mm upper deck. The suspension arms are taken over from the TRF418 while the power is transferred by a XV-01 design gearbox. The limited edition kit will also come with a 3mm aluminium motor plate and other alloy parts such as the front brace, servo mount, turnbuckles and bulkhead. The package is rounded out by a gear diff unit, fluorine-sealed ball bearings, TRF shock absorbers and dual joint universal driveshafts. The FF-04 Evo is set for a release later this year.
Image: Tamiya Blog [tamiyablog.com]
Thursday, August 28, 2014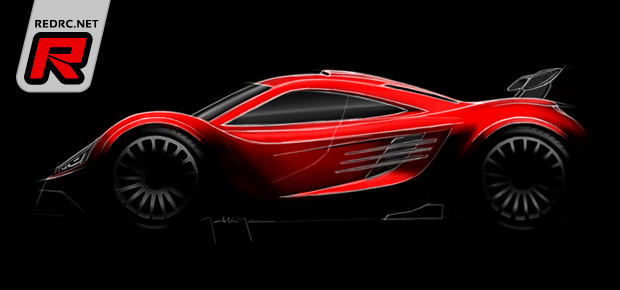 MCD Racing have released a first teaser image of their forthcoming XS-5 large scale super car. Based on the successful RR5 off-road car the kit is meant to kick off a new MCD product line. More information will become available very soon.
Source: MCD Racing [mcdracing.com]
Tuesday, August 26, 2014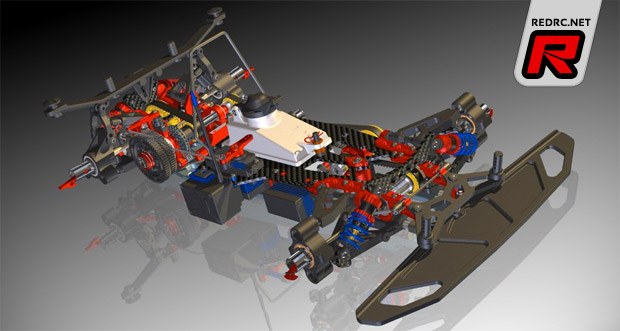 Capricorn have released the follow up to their successful C801 chassis, the LAB C802 is a natural evolution and was in use at the recent 1/8th Euros where it got both cars in the top 4 with Dario Balestri taking the title. Access to the car's transmission has been made easier with the a new front assembly meaning that is now possible to change both the front and rear belts in less than 15 minutes. The famous 0,8 transmission which inspired the other constructors as it was able to give more traction and handling remains unchanged as does the reverse clutch with ultralight bell. The radio plate is completely new and uses a traditional position for the throttle servo while the floating front mount works on ball bearings, and by simply fastening or removing 2 screws it is now possible to activate the FF2 system (Full Flex System).
View more details and images here
Saturday, August 23, 2014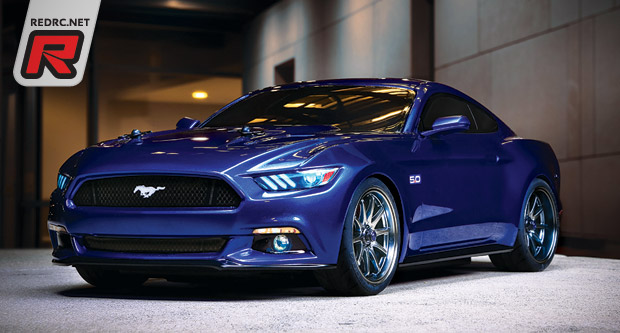 New from Vaterra, the 1/10-scale 2015 Ford Mustang coupe is a one-of-a-kind RC recreation of this landmark automobile. It comes completely assembled and ready to run with the officially licensed body in place. Beneath the exterior is the power and poise of a Vaterra V100-S chassis. Its potent Dynamite power system and shaft-driven 4WD provide a perfect blend of speed, traction and control that make this car a blast to drive right out of the box.
View more images & details here
Thursday, August 21, 2014