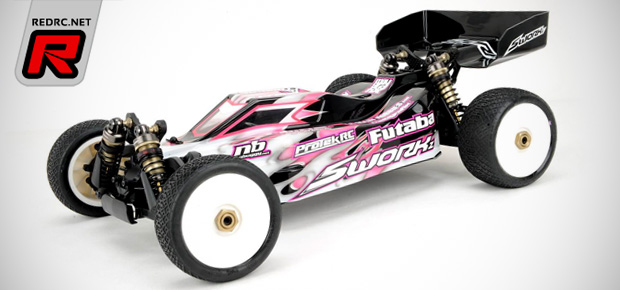 Following first S104 Evo prototype images that surfaced back in January SWorkz now have more photos of their forthcoming 1/10th 4WD electric off-road buggy available. Information on the kit are still vague with the only definite features announced yet being the FCSS aluminium chassis, new big bore shock absorbers and a 3-diff drivetrain. Looking at the images the buggy will also sport a floating servo mount, semi-gloss carbon fibre parts and a dedicated electronic layout for shorty LiPo battery packs. More information and images should become available in time for the release in mid-August.
Click here to view more photos
Sunday, July 26, 2015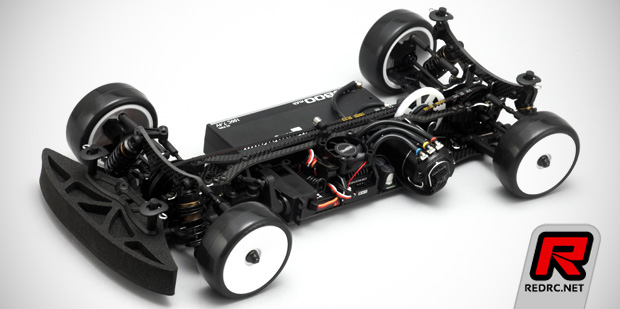 Coming end of July is Yokomo's latest incarnation of the club-level BD7 ver.RS electric touring car. The ver.RS3 offers some high-end features such as a graphite main chassis, graphite upper deck and graphite front and rear shock towers along aluminium upper bulkhead covers, aluminium split inner suspension mounts, aluminium motor mount and SLF short shock absorbers. Also included in the package are a front spool and a rear gear differential.
Click here to view more photos
Tuesday, July 21, 2015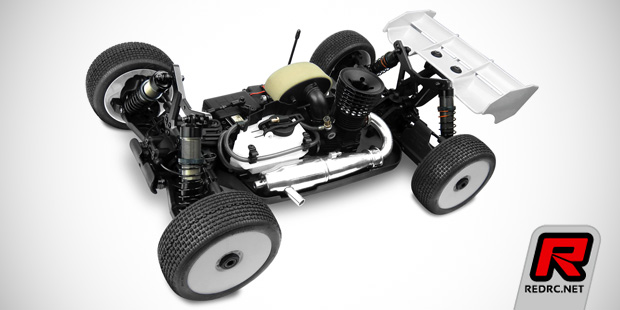 Tekno has given its NB48 1/8th nitro off-road buggy a revision and now rolls out the NB48.3 that is meant to be faster, nimbler, and easier to drive. Sharing many parts with the recently introduced EB48.3 electric buggy the nitro kit includes a redesigned suspension package for improved big jump landings, small bump handling and consistency by utilising longer shock absorbers with new shock pistons as well as including revised A-arms and shock towers with updated shock positions. The chassis has evolved as well as by offering the forward engine position only and by optimising the flex characteristics of the front engine layout. This improves the gear mesh between the clutch bell and the new 46t spur gear and also helps to calm the rear of the car.
Click here to continue reading
Monday, July 20, 2015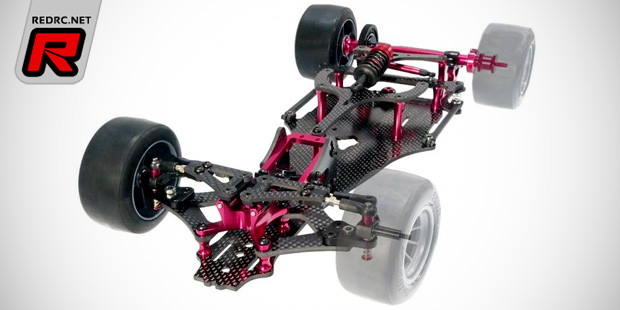 T.O.P. Racing have first images of their forthcoming Rebel F1X formula pan car available. No detailed features are known yet but looking at the preview images the car is based on a class-standard carbon fibre chassis with link-type rear suspension. The chassis seems to allow the use of inline or transversally mounted shorty LiPo packs and it sports an adjustable low-profile servo mount whose mounting angle can be altered using several mounting points for the aluminium mount. Up front the car features fixed lower A-arms with the upper arms being attached to the front aluminium bulkhead using pivot joints. Both the upper and lower arms are made of carbon fibre sheet material that use composite adapters to mount the steering knuckles to. More information and images should become available in time for the release.
Click here to view more photos
Friday, July 17, 2015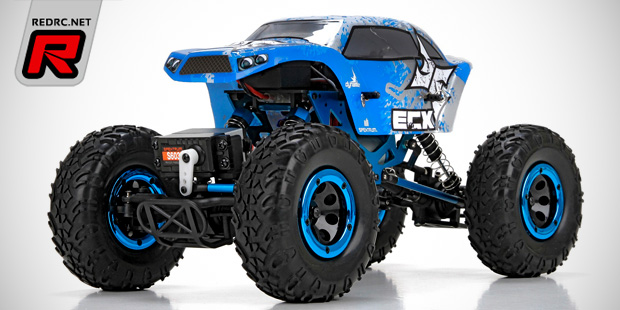 Horizon Hobby have introduced the ECX Temper 1/18th scale 4WD RTR rock crawler. Featuring a 4-link setup the vehicle is basically a scaled-down 1/10th scale model and it sports a 2mm alloy chassis, locked front and rear differentials, metal pinion and main gear, waterproof electronics and a high-torque motor. Also included are a pre-designed bodyshell, grippy tyres, a 900mAh NiMH battery pack and a suitable charger along a 2.4GHz radio set.
Click here to view more photos
Thursday, July 16, 2015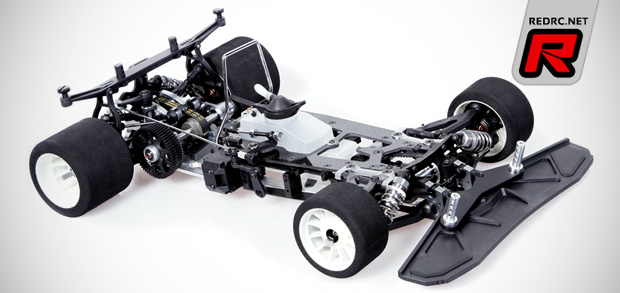 Following a recent teaser Serpent have now released more information and images of the forthcoming Viper 977 Evo 1/8th scale nitro on-road kit. The latest incarnation of Serpent's World Championship winning 977 platform will feature the SL8 XLi super-low inertia 2-speed gearbox, new 0.8 pitch composite gears, hardened 0.8 pitch clutch gears as well as an optimised 7075-T6 aluminium chassis with improved flex characteristics and weight slide system. Also included in the Evo kit is a new 2.5mm carbon fibre radio plate with ball-raced central flex system, a new front bumper with inserts and an improved rear body mount. The kit will ship in the third week of July.
Click here to view the features and more photos
Wednesday, July 15, 2015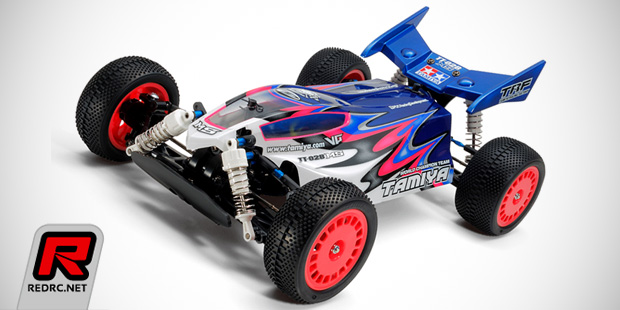 Coming soon from Tamiya is the TT-02B MS 1/10th scale 4WD kit. Based off of the entry level TT-02 chassis the buggy also received the MS treatment with FRP shock towers, aluminium centre driveshaft, front and rear metal cup joints, rear aluminium hubs and white CVA shock absorbers. Other features include adjustable camber and steering links, fluorescent orange rims and a special bodyshell and rear wing.
Click here to view more photos
Friday, July 10, 2015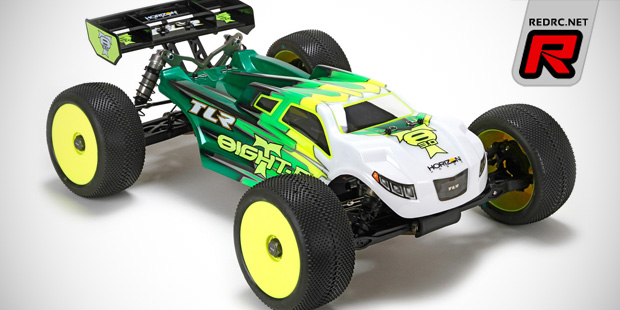 Horizon Hobby have introduced the Team Losi Racing 8ight-T E 3.0 1/8th scale electric truggy kit. The latest incarnation of TLR's popular 8ight-T platform features an all-new chassis that has been widened and balanced specifically for electric power. It is milled from lightweight, 4mm 7075-T6 aluminium and has been hard anodised for maximum durability. The chassis gives racers multiple ESC and battery mounting locations which makes it possible to easily relocate components when tuning the vehicle's balance for varying track conditions. Specific suspension components such as springs, shock pistons and sway bars have also been updated to better complement electric power systems. Included in the 3.0 kit are also new CNC-machined aluminium shock towers, tapered shock springs for improved clearance and less chances of spring cup ejection during extreme impacts. The kit is rounded out by a special electric version bodyshell which shares many of the same lines with the nitro version body but extends the rear stabilisation fin so that it meets the rear of the cab. The adjustable rear wing includes a .250 and .500 inch spacer that let the wing move back for extra stability on high-speed tracks.
Click here to view the features and more photos
Thursday, July 9, 2015