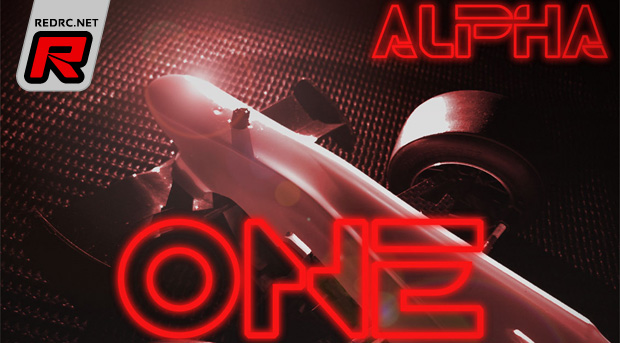 Alpha is a new brand from Italy and the first product to hit the market is the 'One' 1/10th formula kit. No details are known yet but we bring you updates as soon as first information surfaces.
Source: Italtrading [italtrading.it]
Thursday, November 27, 2014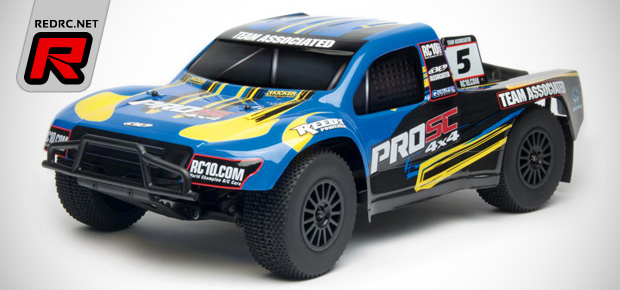 The latest addition to Team Associated's Qualifier Series of sport-level vehicles is the ProSC 4×4 Ready-to-Run truck. Featuring all-wheel drive, a sturdy aluminium centre driveshaft, an adjustable slipper clutch, sealed gear differentials and 16mm fluid-filled coil-over shocks the truck is ready to tackle any terrain. Included with the factory-assembled ProSC also comes a 3S LiPo-compatible brushless driveset with a 550-size 4-pole motor and a splash-proof brushless speed controller. The package is rounded out by grippy short course tyres and your choice of a blue-black or white-blue truck body.
Click here to view the features and more photos
Wednesday, November 26, 2014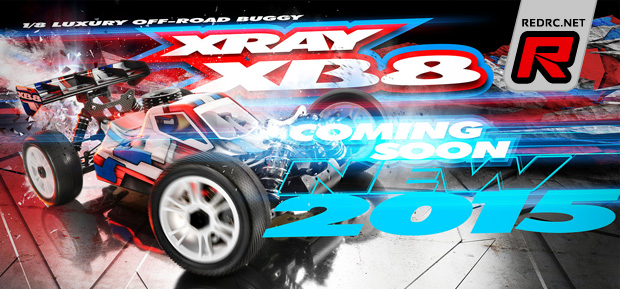 Xray announce the soon release of the 2015 spec XB8 1/8th nitro off-road buggy. With the 2014 version being well received within the nitro buggy community Xray had a hard time to improve the successful platform. This is what Juraj Hudy has to say on what is to expect with next year's model:
I am very happy that during the year majority of the feedback and comments for XB8 were very positive and as such we have had a very difficult task with the 2015 improvements as there was not much to improve. The 2015 version of the XB8 will be the next evolution of the platform featuring a dozen of refinements and improvements making the car even stronger and better performing.
Source: Xray [teamxray.com]
Tuesday, November 25, 2014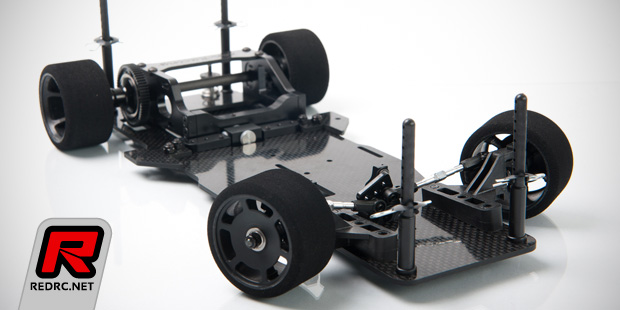 Following first teaser images UK company Zen-Racing now have more information and photos on their first full-car kit available. Coming in two different specifications as extended RSGT12 Race and standard RS12GT12 kit, the 1/12th scale GT12 kit is of an ultra lightweight design with carbon fibre main chassis, aluminium pod plates and a solid graphite rear axle. A unique pivot system allows the rear end to float while the moulded front end suspension parts give only a minimum of adjustments, making the car user friendly even for less experienced drivers while still allowing enough fine-tuning potential for the Pro. Both the standard and Race kit come with pre-glued and trued JFT foam tyres, a 66T Kimbrough spur gear and duraluminum turnbuckles while the Race kit also includes aluminium servo mounts, a full set of front and rear ride height adjusters, a full positive lock rear diff, machined front suspension blocks for alternative caster and camber settings and more.
Click here to view the features and more photos
Monday, November 24, 2014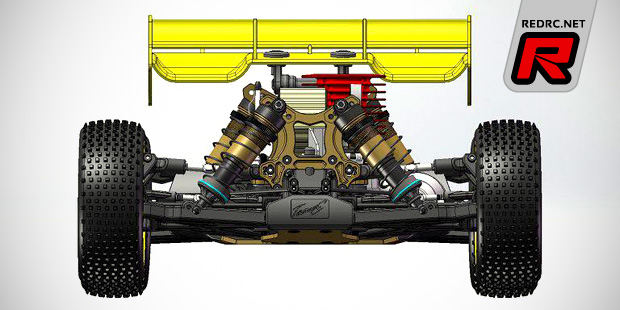 Team C have released a first teaser image of the forthcoming TM8 1/8th nitro off-road buggy. So far only one CAD rendering is available and from the looks of things the buggy will be of a class-standard design although it is not clear if some fancy gizmos are hidden behind the front shock tower. We bring you more information as soon as we get them.
Source: Team C [teamcracing.net]
Friday, November 21, 2014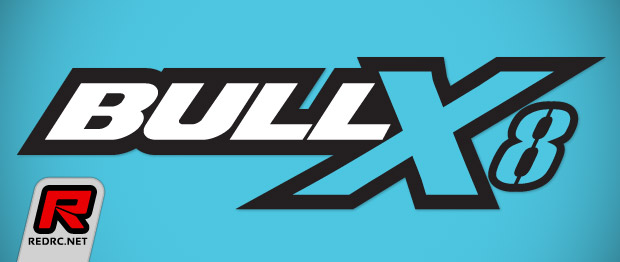 With it's origins in true nitro on-road racing Team Shepherd is ready to take the next step and enter the competitive 1/8 off-road market. The first off-road nitro car from the German manufacturer will be called Bull X8 with the nitro version release being planned for December and the electric version following in early 2015. More detailed information and pictures will be available soon. Patrick Schäfer had this to say about the new project:
For quite some time we have received many requests from customers from all over the world for a Shepherd 1/8 off-road car so it's only logical to enter one of the biggest markets in the industry. We are very excited about this project which was a completely new challenge for the whole team.
Source: Shepherd [team-shepherd.com]
Thursday, November 20, 2014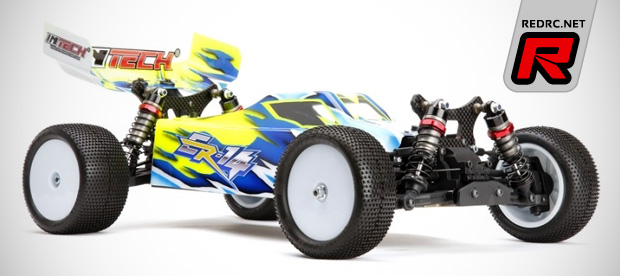 Intech Racing have first images of their forthcoming ER-14 1/10th scale 4WD buggy available. Although specifications and features are not officially released yet it appears that the buggy is based on an aluminium main chassis with carbon fibre upper decks. The drivetrain is believed to be a 3-diff affair with a centre gear differential, hardened steel parts and front and rear gear diffs. The lower A-arms sport a very sturdy design while the carbon fibre shock towers are cut from thick sheet material. Other features will include threaded aluminium shock towers, front and rear anti-roll bars and aluminium suspension mounts. The buggy is available for pre-order now and will hit the stores beginning of December.
Click here to view more photos
Thursday, November 20, 2014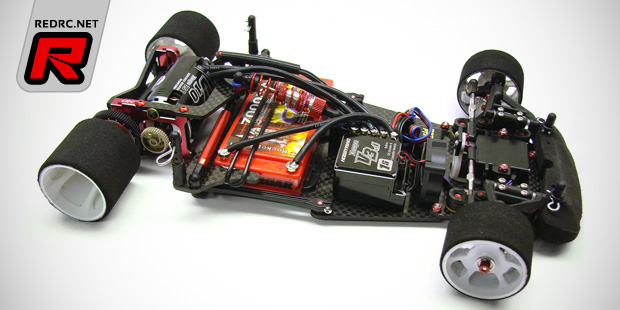 CRC's 2014 IFMAR World Championships winning Xti-WC 1/12th scale pan car kit will soon become available for the public. Building on the winning heritage from the multi-champion Xti and Xti-Altered Ego cars, the World Champion edition features a new chassis and a front sub frame U-plate as well as minor geometry tweaks to allow both stock and modified racing right out of the package. The main feature of the new design is the front sub frame that uses six attachment points rather than four. The "double decker" design coupled with the increased mounting positions results in a much more rigid front end, however, the user can remove one set of mounting points to adjust the front flex of the chassis.
Click here to continue reading
Monday, November 17, 2014