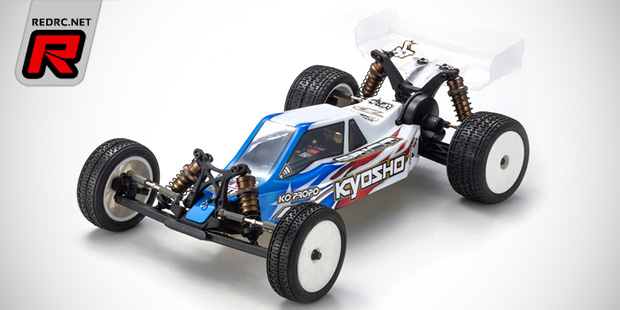 Coming soon from Kyosho is the 2015 specification Ultima RB6 1/10th scale electric 2WD buggy kit. Based off of the 2013 IFMAR World Championship winning car the latest incarnation features some subtle modifications such as UM713B rear suspension arms with additional shock mounting positions and XGS013 rear springs for improved traction. Also included is the LA373 Step Wing 3.0 for improved cornering and durability. The other key features such as the 7075 aluminium chassis, the interchangeable 3-gear and 4-gear transmission with reinforced idler gear as well as the ability to run multiple battery configurations remain the same on the '15 kit.
Click here to view the features and more photos
Friday, May 22, 2015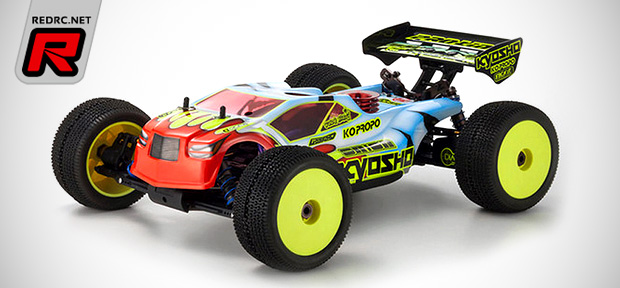 Kyosho America have released first information and images of the Inferno ST-RR Evo.2 1/8th scale nitro truggy kit. The evolution of the successful ST-RR Evo is making use of newly designed front and rear shocks stays that suit high-grip surfaces while offering an optional radio box set and also a lightweight clutch bell. The tough straight cut bevel gears and small flywheel from the 1/8th buggy World Champion MP9 deliver increased reliability while the dial-adjustable big bore shocks allow for precision setting. The low-profile form of the new forward cabin design body combines with the MP9 wing to produce sure-footed rear grip and manoeuvrability. There is no official release date yet but it is understood that the kit will hit the stores soon.
Click here to view the features and more photos
Wednesday, May 20, 2015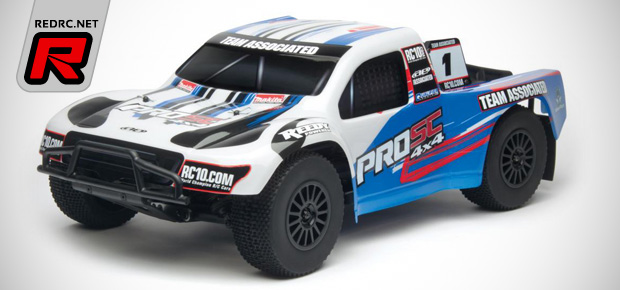 Team Associated have announced two new versions of the ProSC 4×4 Ready-To-Run truck. The #7063 ProSC 4×4 comes ready to run with many high performance features including the XP 2.4GHz radio system and a Reedy brushless power system. Additional features include sealed gear differentials front and rear, which are connected together with a tough aluminium drive shaft, as well as an adjustable centre slipper clutch to handle all of the Reedy brushless power. The bumps are managed by huge 16mm fluid-filled, coil-over shocks and aggressive, short-course racing tyres. The #7063C ProSC 4×4 LiPo Combo not only includes the standard features of the ProSC 4×4, but also the all-new Reedy 423-S Compact Balance Charger and a Reedy WolfPack LiPo 3300mAh 30C 7.4V battery are included as well.
Click here to view the features and more photos
Tuesday, May 19, 2015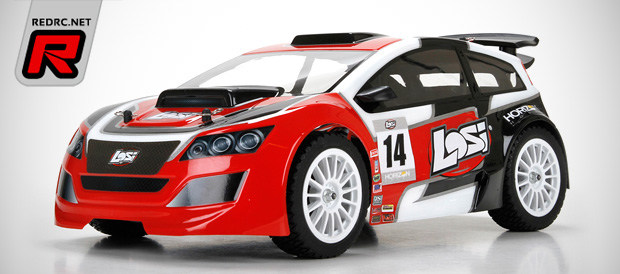 Horizon Hobby have introduced the new Losi 1/14th scale Mini Rally 4WD RTR kit. Based on the Mini 8ight platform the car features a shaft drivetrain, long travel suspension and a 4500kv brushless motor and 2S LiPo-compatible speed controller for true rallycross performance on a variety of surfaces. Rally-inspired wheels and tyres as well as a rally bodyshell make for a cool appearance while the included Dynamite 7.2V 1200mAh NiMH battery and a suitable charger allow you to hit the track instantly.
Click here to view the features and more photos
Friday, May 15, 2015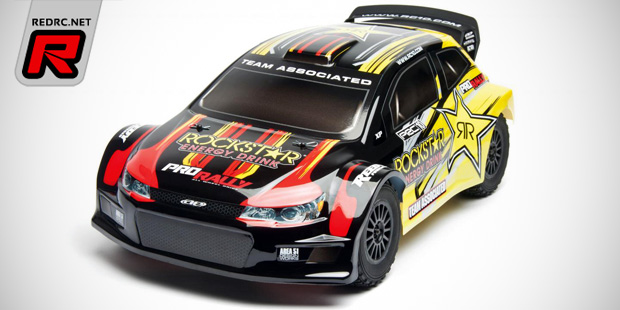 Team Associated's ProRally 1/10th scale ProRally 4WD RTR car is soon also available as LiPo Combo package. The ProRally 4WD RTR is a factory assembled all-wheel-drive RC car that features front and rear sealed gear differentials, a tough aluminium drive shaft, and an adjustable centre slipper clutch. The bumps are managed by four fluid-filled, adjustable, coil-over shocks and aggressive, all-terrain racing tyres mounted on rally-inspired hex drive wheels. A Reedy brushless 550-SL motor and a XP water-resistant speed controller, pre-soldered with high-current T-plug connectors, are also part of the package as is the XP 2.4GHz radio system. All of this comes topped off with your choice of two custom-finished Rockstar ProRally detailed bodies. In addition to that the new Reedy 423-S 35W Compact Balance Charger and Reedy WolfPack LiPo 3300mAh 30C 7.4V Battery are included as well in the LiPo Combo package.
Click here to view the features and more photos
Friday, May 15, 2015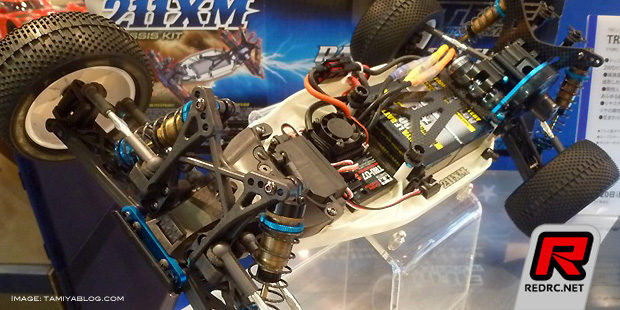 Tamiyablog have released first images of forthcoming Tamiya kits on show at this week's Shizuoka Hobby Show. First up is of course the new TRF211XM 1/10th 2WD mid-motor buggy. By the look of things the buggy makes use of the proven TRF201 front and rear end as well as the 201's gearbox with the chassis being made using a new composite material that combines the stiffness of an alloy chassis with the light weight of composite plastic for improved on-track performance. We do not have any information if the white colour chassis will make it into the kit or if the buggy will come with a dark colour one, once the hype about the new chassis material has settled a bit.
Click here to continue reading
Thursday, May 14, 2015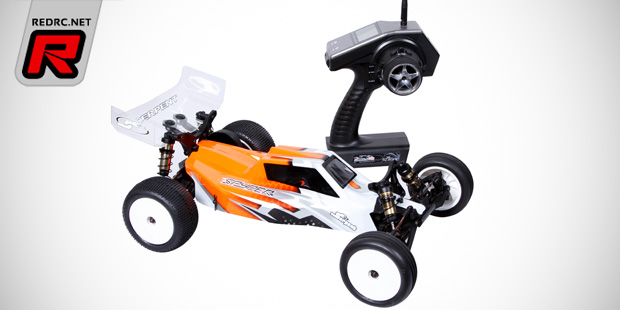 Serpent's Spyder SRX-2 1/10th 2WD mid-motor 2WD buggy is now also available in a ready-to-run variant. Based off of the popular Spyder competition buggy the bashing and club level racing RTR variant sports many race-worthy features such as the highly adjustable suspension with composite inserts and 12mm threaded aluminium big bore shock absorbers and the tough transmission with a compact gear differential and slipper-less direct drive as well spring steel driveshafts. The buggy, that comes with an all-composite tub chassis, also includes orange-seal ball bearings, Dragon-RC pre-mounted tyres on 12mm hex wheels and a pre-designed bodyshell and wing. The package is rounded out by a powerful 3000kv sensorless brushless motor, waterproof Dragon-RC speed controller, high-quality steering servo and a 2.4GHz 3-channel radio system.
Click here to view the features and more photos
Tuesday, May 12, 2015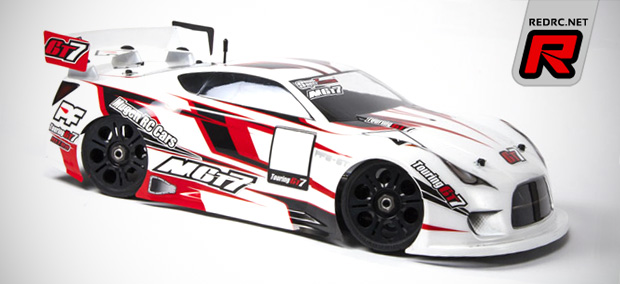 Mugen introduce the new MGT7 nitro and MGT7E electric 1/8th GT car kit. Both are based off of the World Championship winning MBX7 platform and with the addition of purpose-designed parts they are ready for the growing GT racing scene. The cars feature low-profile front and rear shock towers, 16mm diameter shocks and a 2-diff shaft-driven drivetrain with sturdy gear differentials and CVA drive shafts throughout. Specially designed front and rear body mounts offer a wide range of adjustments to allow the use of many aftermarket bodyshells while the large front plastic bumper with foam protector will help keep the front of the body front tucking during hard impact. Tough side guards keep harm away from the electronics and power train in the event of a crash.
Click here to continue reading
Monday, May 11, 2015