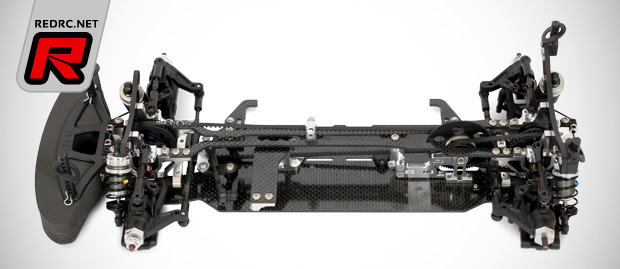 ARC introduce the latest version of their popular R10 4WD touring car in the form of the R10 2015 ATS kit. The vehicle features the newly developed ATS Active Toe System, a design seen on many current touring cars these days. The ATS allows to adjust the toe angle change of the rear wheels during cornering in a range of up to 1.5 degree to provide more on-power steering and better rotation through the corner in order to minimise understeer. Part of the kit is a special ATS base plate that not only holds the drag links but it also acts as a stiffening plate as it allows to use two or four mounting screws to fix the plate to the chassis, making rear flex adjustment possible. Included with the kit comes the ATS system with standard hardness A-arms, aluminium C-hubs, composite knuckles as well as all parts to run a standard arm rear setup. On top of that the ATS version kit comes with dual joint front driveshafts, and an aluminium front belt tensioner. For owners of the standard R10 2015 an ATS upgrade kit is available.
Click here to view more photos
Wednesday, October 22, 2014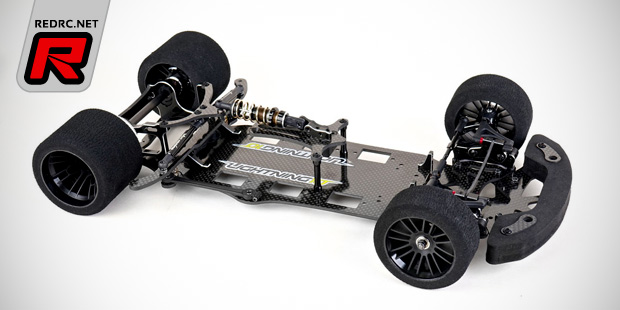 Following first teaser renderings VBC Racing now officially introduce the Lightning10 200mm World GT pan car kit. Based on a 2.5mm carbon fibre chassis the car offers a fully adjustable front end that allows for track width, caster, reactive caster and camber adjustments while two different servo mounts take standard or mini-size servos. The wheelbase is adjustable to suit US WGT or Europan pan car racing while special rear axle height adjusters make the usage of a wider range of tyre diameters possible. The suspension package is rounded out by dual roll dampers and two mounting positions for the side springs make adoption to various track conditions easy. The car can be run with shorty or 1S battery packs while chassis cut-outs allow the use of an optional brass weight system to fine-tune the balance. The car has already proven its performance by taking the win at the 2014 IIC in the hands of Max Kuenning and it becomes available by the beginning of November.
Click here to view the features and more photos
Monday, October 20, 2014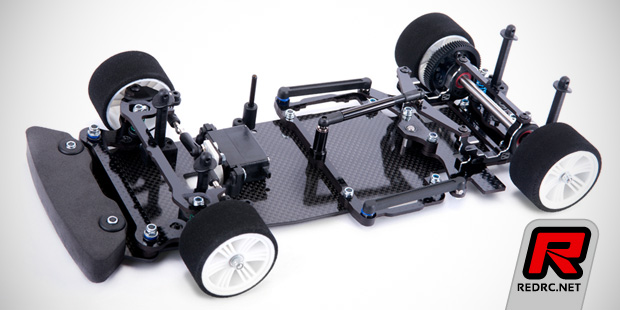 Schumacher introduce the latest incarnation of their championship winning SupaStox 1/12th scale GT12 kit, the SupaStox GT. Coming in two versions, with a S1 fibreglass chassis and rear differential or based on a carbon fibre chassis with fixed axle, the car is meant to be lighter, stronger and faster than ever. Included in all versions is a new low centre of gravity alloy motor mount and a pivot ball rear end with front to back tube damper for improved bump handling while new front and rear ride height adjustment options allow for improved fine-tuning. The car accepts a wide range of industry-standard bodyshells and electronics and it comes with pre-glued contact foam tyres front and rear.
Click here to view the features
Wednesday, October 15, 2014

VBC Racing today released a teaser for the forthcoming Wildfire D07 electric touring car kit. No details are known but the car is meant to sport some unique features one of which is the newly designed ZTP spur gear mount with aluminium belt pulleys. The kit will hit the stores in November and we bring you more details as soon as they become available.
Source: VBC Racing [vbcracing.com]
Friday, October 10, 2014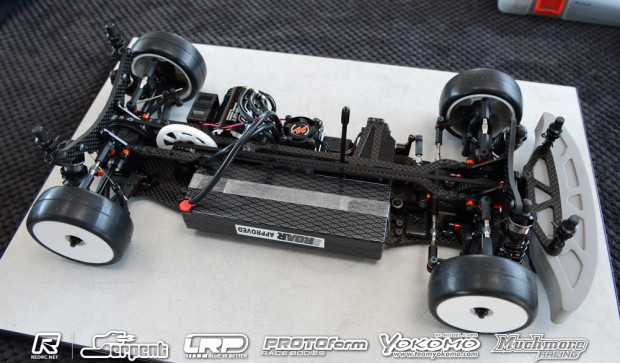 Team HB are making their race debut here in Kissimmee with their all new Pro 5 platform. As to be expected it is somewhat of a conventional layout and configuration but as with almost all touring cars on the market it is the details that matter. With only the rear uprights and the front driveshafts carried over from its predecessor the car has been completely revamped. Up front the steering knuckles have keyed carbon levers for adjusting the Ackermann, the floating steering servo mount features an integrated antenna holder and battery stop.
View more details and images here.
Thursday, October 9, 2014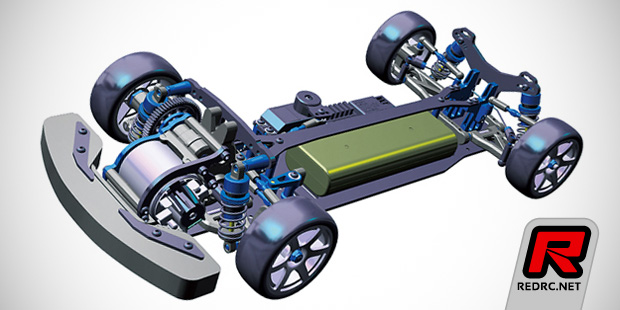 Tamiya's highly awaited FF-04 Evo front wheel drive chassis will hit the stores soon. Seen for the first time during the recent All Japan Hobby Show the kit builds on a newly designed 2.5mm carbon fibre chassis with 2.0mm top deck and TRF418 suspension arms. The kit features an updated servo mount for low-profile and standard-size servos and the car is equipped with a 3-gear transmission taken over from the XV-01 rally kit. The FF-04 Evo is set for a release in late November.
Click here to view the features
Thursday, October 9, 2014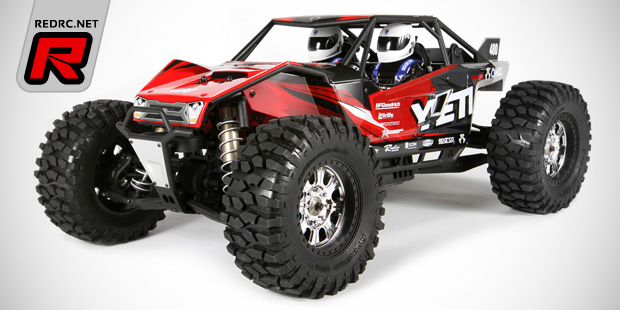 Axial introduce the 1/8th scale Yeti XL Monster Buggy the up-sized brother of the 1/10th scale Yeti. Being a mixture of a monster truck and a rock racer the Yeti XL was developed with maximum bashability in mind. The vehicle is powered by a Castle Creations 2200KV 4-pole Vanguard XL brushless motor and equipped with the industry's first 8th scale solid rear axle with an independent front suspension chassis system. Everything is kept under control by massive 20mm aluminium shock bodies that house Big Bore 16 (16mm) pistons on beefy 4mm shock shafts which help maintain high speed stability when running through a wide variety of terrain. Included with the kit also comes a Vanguard AE-4 XL 6S LiPo-compatible brushless speed controller and a water-resistant Tactic TSX45 MG metal gear servo.
Click here to view the features and more photos
Wednesday, October 8, 2014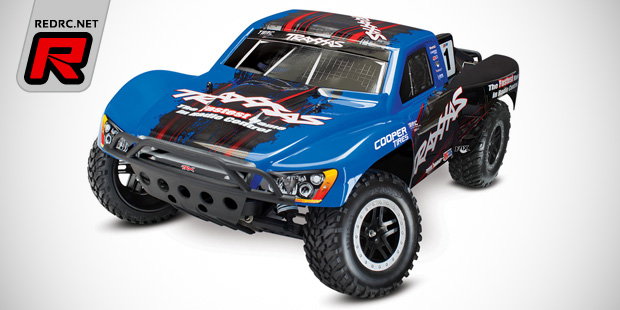 Traxxas amps up the realism of their popular Slash 2WD short course truck by introducing the OBA on-board audio system. Using Traxxas' award-winning Slash 2WD with composite tub chassis, long-travel suspension and brushless-ready drivetrain the OBA version includes a sound unit that uses sound that has been sampled from Traxxas' team trucks, including the Traxxas Pro 4 short course truck driven by Mike Jenkins. Featuring an on/off button and volume controls, the system offers adjustable settings. Runtime is not compromised since the system uses a minimal amount of power from the battery. The sounds are intuitive and respond to the throttle input from the transmitter. If the truck is stopped for more than 10 seconds the engine will shut off – to rev it up again just tab the throttle. The rocker switch on the included 3-channel transmitter is used to shift to "neutral". The truck is available as Mike Jenkins Edition #47 & #25, Traxxas Blue Racing Edition, or Traxxas White Racing Edition.
Click here to view the features, more photos and a video of the truck in action
Tuesday, October 7, 2014