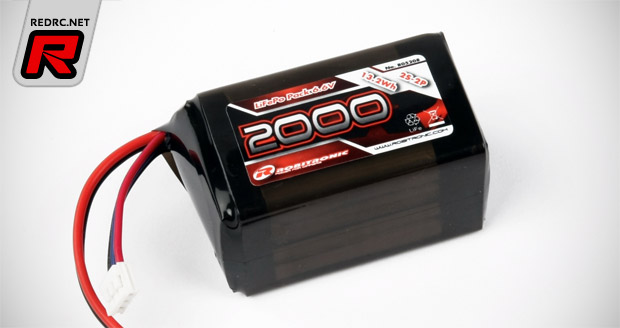 Robitronic have introduced these two new receiver packs featuring a hard case. Often the 7.4 volts that come from a LiPo pack is too much for receivers or servos, so if you don't want to use a regulator you can use Robitronic's LiFe Packs which output 6.6 volts directly. The hump pack weighs 95 grams and has a capacity of 2000mAh while the stick pack is 1600mAh and weighs 80 grams.
Friday, May 18, 2012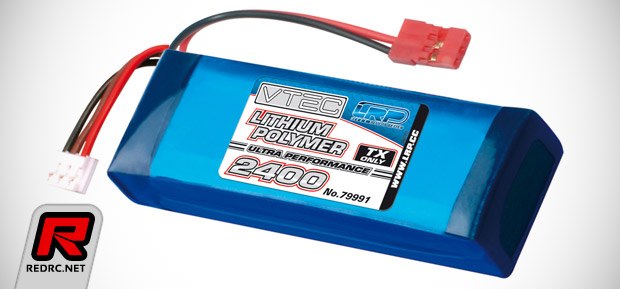 LRP have introduced this new LiPo battery which has been especially developed for Sanwa MT-4 and Exzes-X high-end transmitters. Weighing in at only 86g this light weight helps optimise the transmitter's balance, while the high capacity of this 2400mAh 2S battery guarantees a significantly extended operating time of the transmitter. LRP have also released s complete line of high quality differential and shock oil, available in 11 and 10 different viscosities respectively.
Monday, May 14, 2012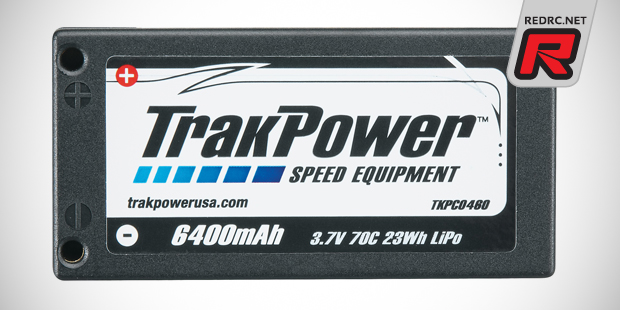 TrakPower introduce several new LiPo battery packs build from 50C to 70C cells. The hardcase packs come as 1S, 2S, 4S and 6S variant with bullet or Deans Ultra Plug connectors and include 1S 1/12th, 2S 95mm 'shorty' and 4S 1/8th scale packs.
Click here to view the other new packs
Tuesday, May 1, 2012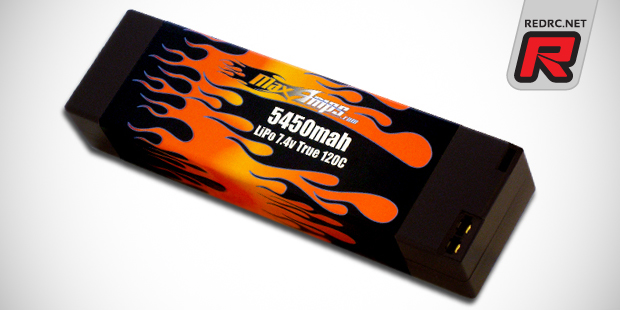 MaxAmps announces the new internal plug option for the Race Edition 6500 7.4v 150c and the 5450 7.4v 120C LiPo packs. Unlike other bullet style connectors, there is no chance of reversing polarity since both the balancer and main Traxxas HC plugs are keyed and they are specifically designed for vehicles with longer battery trays. The balancer tap is also built into the pack and offers a very clean look, both inside and outside of your vehicle.
Click here to see the other pack
Saturday, April 28, 2012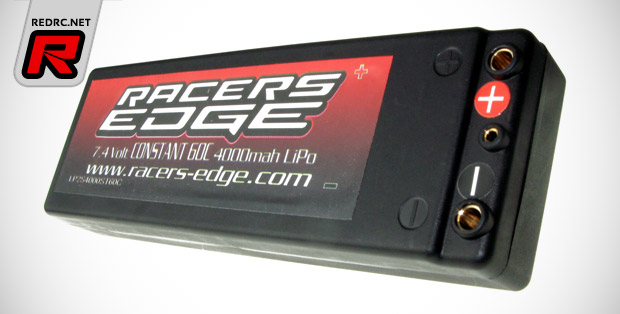 Racers Edge introduce their 7.4V 2S 4000mAh 60C Lite series battery pack. The battery sports regular 2S dimensions, is 23mm tall and weights only 226g. Making use of the short pack cell the standard size battery lowers the overall weight of the car without the need to re-balance the vehicle. The hardcase battery comes including Deans wire set and with JST-XH style balance plug.
Source: Racers Edge [racers-edge.com]
Thursday, April 26, 2012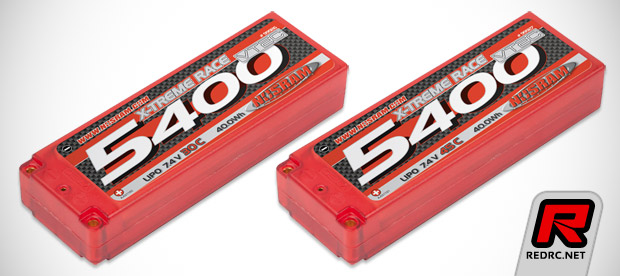 More power and a higher C-rating, Nosram now offers their all new VTEC LiPo X-treme race hard case packs also for hobby racers. The cells are again thinner and more efficient than before and due to the revolutionary high density stacking technology, the new packs feature outstanding capacities. Both 7.4V packs come in 5400mAh in both a 30C and 45C version.
Source: Nosram [nosram.com]
Wednesday, April 18, 2012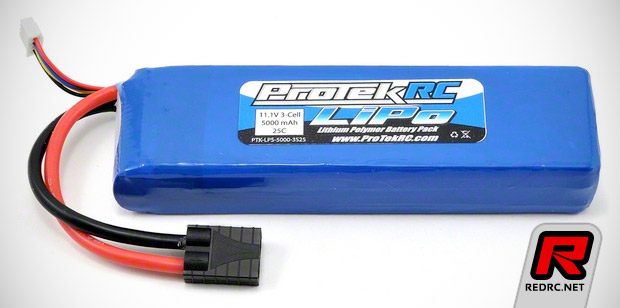 A Main Hobbies' brand ProTek R/C announces its new "Sport Race" 25C LiPo Hard Case Battery Pack (11.1V/5000mAh) with Traxxas plug installed. This 3S  pack has been developed specifically for Traxxas 3S LiPo applications and is recommended for the Traxxas Slash VXL, Slash 4×4 VXL, E-Revo Brushless, E-Maxx Brushless and XO-1 vehicles. The battery features a genuine Traxxas High-Current Connector for the ultimate in efficiency, ease of use and high current handling capabilities for charging/discharging, as well as a 4-pin Align/E-Flite style XH balance connector for balancing. Although these are not ROAR approved hardcase batteries, they are built using a hard lexan shell to help prevent damage in the event of a crash.
Source: A-Main Hobbies [amainhobbies.com]
Tuesday, April 17, 2012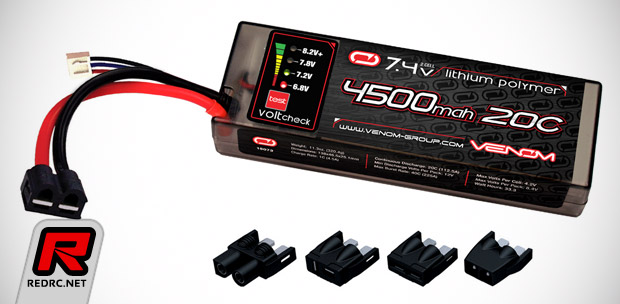 Venom have introduced the hobby's first batteries with integrated voltmeter. With a simple press of a button, a series of LED lights will clearly indicate your charge status. Available in a 7.4V 4500mAh 20C configuration for use in most RTR 1/10th scale vehicles, and a 14.8V 4500mAh 35C configuration for most 1/8th scale trucks and buggies. Standard features include the Venom Universal Plug System, heavy-duty hard case, 12 AWG wire leads, XH balance connector and Venom's Lifetime Battery Replacement Plan. Don't just guess, be sure with Venom Volt Check Batteries. Venom have also announced the addition of their new 7.4V 25C 10,000mAh LiPo. This pack is the perfect combination of proven Venom power and extended run-time.  The 25C 2S configuration comes pre-wired  with heavy-duty 12AWG wire leads, the Venom Universal Plug System, a JST XH style balance connector and of course, Venom's Lifetime Battery Replacement Plan.
Thursday, April 5, 2012