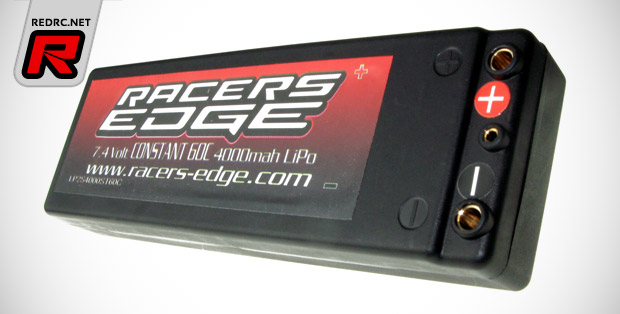 Racers Edge introduce their 7.4V 2S 4000mAh 60C Lite series battery pack. The battery sports regular 2S dimensions, is 23mm tall and weights only 226g. Making use of the short pack cell the standard size battery lowers the overall weight of the car without the need to re-balance the vehicle. The hardcase battery comes including Deans wire set and with JST-XH style balance plug.
Source: Racers Edge [racers-edge.com]
Thursday, April 26, 2012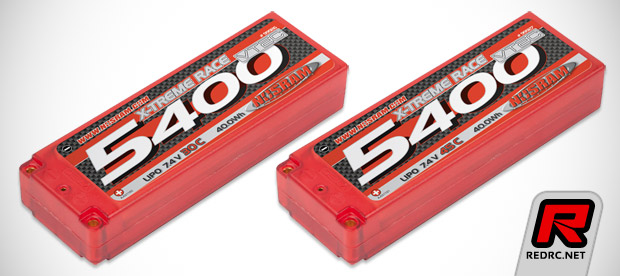 More power and a higher C-rating, Nosram now offers their all new VTEC LiPo X-treme race hard case packs also for hobby racers. The cells are again thinner and more efficient than before and due to the revolutionary high density stacking technology, the new packs feature outstanding capacities. Both 7.4V packs come in 5400mAh in both a 30C and 45C version.
Source: Nosram [nosram.com]
Wednesday, April 18, 2012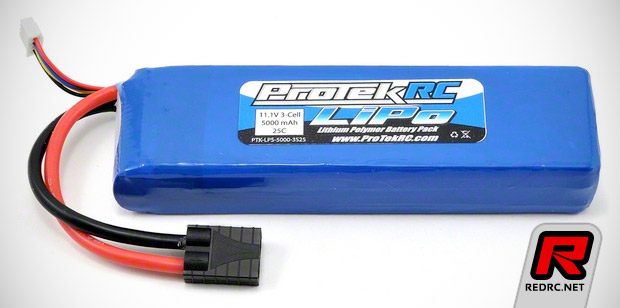 A Main Hobbies' brand ProTek R/C announces its new "Sport Race" 25C LiPo Hard Case Battery Pack (11.1V/5000mAh) with Traxxas plug installed. This 3S  pack has been developed specifically for Traxxas 3S LiPo applications and is recommended for the Traxxas Slash VXL, Slash 4×4 VXL, E-Revo Brushless, E-Maxx Brushless and XO-1 vehicles. The battery features a genuine Traxxas High-Current Connector for the ultimate in efficiency, ease of use and high current handling capabilities for charging/discharging, as well as a 4-pin Align/E-Flite style XH balance connector for balancing. Although these are not ROAR approved hardcase batteries, they are built using a hard lexan shell to help prevent damage in the event of a crash.
Source: A-Main Hobbies [amainhobbies.com]
Tuesday, April 17, 2012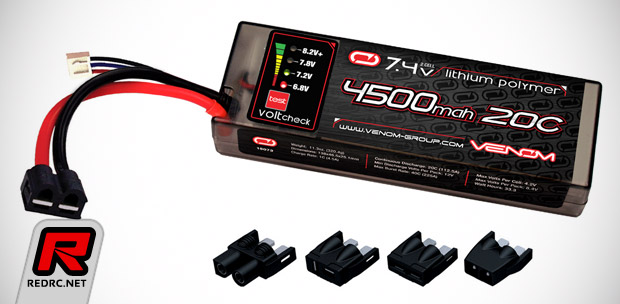 Venom have introduced the hobby's first batteries with integrated voltmeter. With a simple press of a button, a series of LED lights will clearly indicate your charge status. Available in a 7.4V 4500mAh 20C configuration for use in most RTR 1/10th scale vehicles, and a 14.8V 4500mAh 35C configuration for most 1/8th scale trucks and buggies. Standard features include the Venom Universal Plug System, heavy-duty hard case, 12 AWG wire leads, XH balance connector and Venom's Lifetime Battery Replacement Plan. Don't just guess, be sure with Venom Volt Check Batteries. Venom have also announced the addition of their new 7.4V 25C 10,000mAh LiPo. This pack is the perfect combination of proven Venom power and extended run-time.  The 25C 2S configuration comes pre-wired  with heavy-duty 12AWG wire leads, the Venom Universal Plug System, a JST XH style balance connector and of course, Venom's Lifetime Battery Replacement Plan.
Thursday, April 5, 2012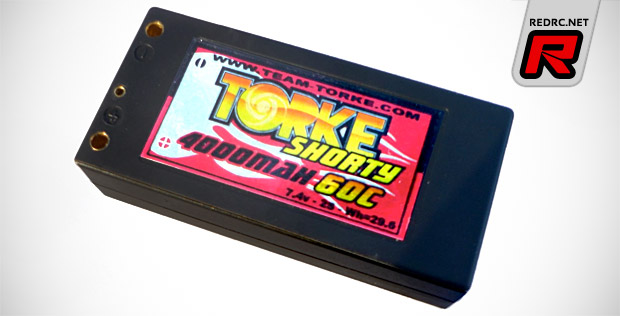 Team Torke have released a new Shorty LiPo pack for cars with space constraints or for those racers that wish to play around with the weight balance of their car. The pack is a hard case 4000mAh 60C 7.4v 2S battery which weighs in at 205 grams and sports the standard bullet connectors.
Source: Team Torke [team-torke.com]
Wednesday, April 4, 2012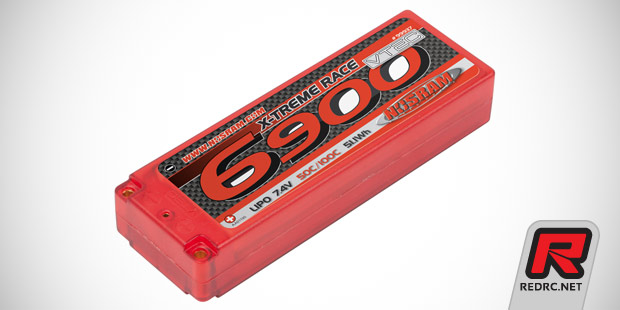 Nosram introduce their latest x-treme race hardcase LiPo battery packs. Made from the latest 55C and 50C cells the packs are available in various configurations ranging from 2S straight, 2S shorty and 2S saddle-packs down to two new 1S 1/12 scale packs. All are housed in transparent red protective hardcases and come equipped with 4mm connectors.
Click here to view the other new battery packs
Friday, March 23, 2012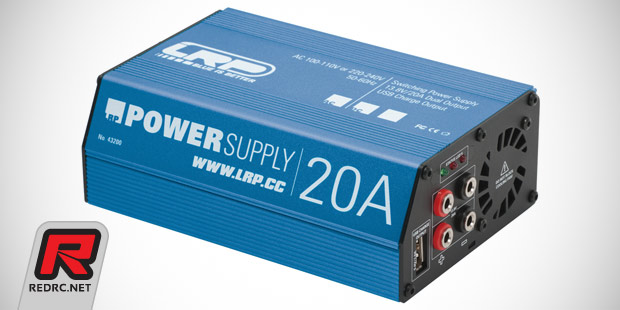 LRP introduce the new Powersupply Competition 13.8V/20A as well as 55C Car Line LiPo batteries. The power supply features dual output sockets, works with 110V and 230V input and deliveres 13.8V and a maximum of 20A to power chargers, dischargers and any other device that makes use of 12V input. Additionally a 5V/1A USB charge output is integrated to charge electronics devices such as mobile phones.
Click here for more information
Friday, March 23, 2012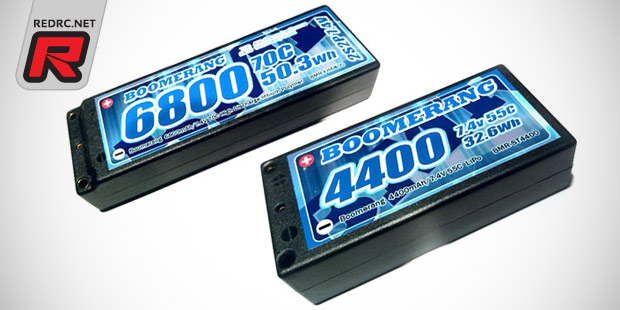 Swiss company Boomerang introduce their new line of 70C and 55C competition LiPo batteries. Build using the latest high performance cells and coming in a protective hardcase with 4mm power and 2mm bullet type balancer port the packs are available in several specs such as 2S 70C 6800mAh straight, 2S 55C 440mAh "Shorty", as well as 6500mAh and 5800mAh straight and 5300mAh saddle packs. Check the link below for all specs, prices and availability.
Source: Boomerang [boomerang-batteries.ch]
Friday, March 9, 2012