The New 60C Race Edition 4000mAh LiPo battery pack from Racers Edge features industry standard bullet ports and comes with a Deans connector wire set complete with JST-XH style balance plug. 60C for high output racing conditions, this pack is designed to fit in all 1/10th scale cars and trucks and offers lighter weight and more power in a smaller package. With the shorter length of this pack its weight can be shifted fore and aft to aid in finding the perfect setup, a direct compliment to the new TLR 22 buggy.
Source: Racers Edge [racers-edge.com]
Wednesday, September 7, 2011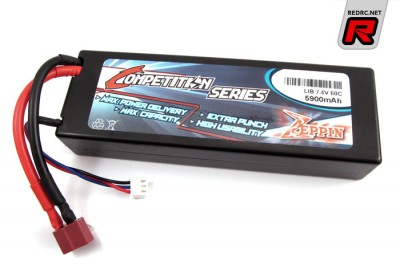 Zeppin Racing have introduced their new line of LiPo packs. A standard range of batteries there is a 5900mAh 60C 7.4v pack, a 5000Ah 30C 7.4V, a 5700mh 25C 7.4v saddle pack and a 5300mAh 45C 3.7v pack for 1/12th scale. All packs come with hard cases and all but the 60C pack come with bullet connectors.
Monday, September 5, 2011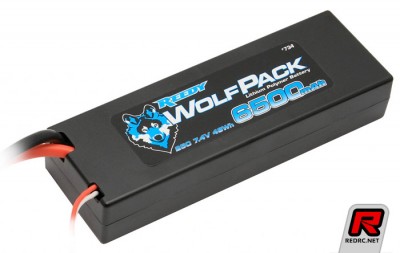 Reedy have added two new battery packs to their range of LiPo Wolfpacks. Available in 6500mAh 7.4V 25C and 3900mAh 11.1V 35C each battery features Reedy's molded hard case for maximum crash protection. High quality cell manufacturing and construction techniques result in reliable operation and maximum cycle-life. Unlike some brands that utilize power-robbing 'universal' plugs, Reedy's WolfPack LiPo batteries come equipped with beefy silicone wires and a low-resistance Deans Ultra Plug connector. An integrated balancing harness with a JST-XH connector is also included.
Sunday, September 4, 2011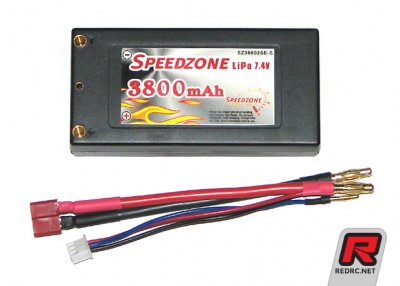 Speedzone got in touch to tell us about their latest release in the form of a 3800mAh 60C 96mm LiPo battery pack. Ideal for all off-road applications the hardcase pack features dimensions of 96x47x25mm allowing the adjustment of the chassis weight distribution by sliding the pack back and forth. Included is a charge and balance harness.
Source: Speedzone [speedzoneusa.com]
Wednesday, August 3, 2011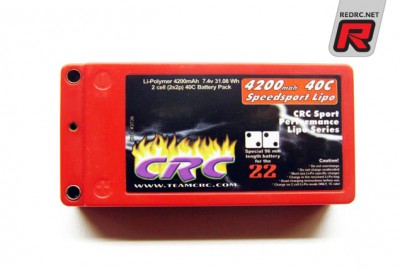 CRC introduce the Shorty 4200mAh 40C 7.4V 95mmm LiPo battery pack for the LTR 22 buggy and all other chassis that make use of the new 95mm LiPo batteries. Made with the latest generation 40C LiPo cells the Speedsport pack features bullet type battery and balancer connectors and weights 215g. The orange hardcase battery pack is available now. 
Source: CRC [teamcrc.com]
Tuesday, August 2, 2011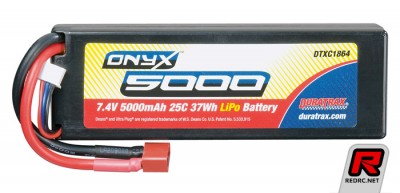 Duratrax have introduced their new line of Onyx true-rated LiPo batteries at affordable prices. Onyx LiPo 25C packs offer quality, dependability and long-lasting power and drivers can trust the stated capacity of an Onyx LiPo pack to deliver the performance promised, charge after charge. Ideal for upgrading an RTR vehicle or for competing in racing events, they are available in capacities, configurations and discharges to meet a wide range of applications. All include built-in discharge lead and balance connector. Available in 5000mAh 7.4V hard case with either Deans or TRX plug and in 7.4V and 11.1V 5000mAh soft case versions both with TRX connectors.
Saturday, July 30, 2011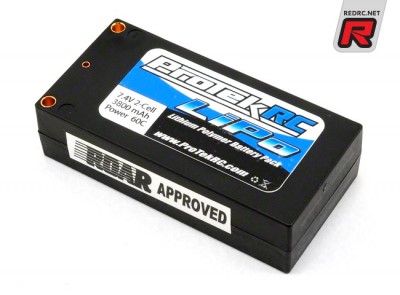 A Main Hobbies have announced two new Protek R/C LiPo batteries, further expanding its line. The ProTek R/C 2S 'Supreme Power' LiPo 60C Shorty Pack was designed to provide race-winning power and run-time in a short 96mm case. Its small stature allows for extra mounting versatility to fine-tune the weight distribution of off-road cars and trucks, like the new Team Losi Racing 22 buggy. The ProTek R/C 2S 'Sport Race' LiPo 50C Stick Pack provides unmatched performance in a rounded case design that fits even the tightest chassis configurations that require a stick pack-style battery, and offers the convenience of 4mm bullet connectors. The ROAR approved hard case offers protection against damage, and with a running weight of just 208 grams this new pack is the perfect choice for applications where weight savings will improve performance.
Thursday, July 28, 2011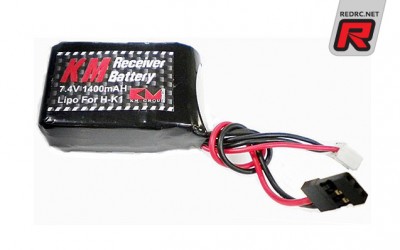 KM Racing release a 2S7.4V 1400mAh LiPo receiver battery for the KM H-K1 200mm on-road chassis and all other nitro cars that except batteries with the given pack dimensions. Small and with 40g light of weight the pack allows for the use of the new generation of LiPo-compatible high voltage servos and receivers for even more steering speed and torque. Standard servos may need a voltage regulator to cut the voltage to the needed 6.0V. The pack comes pre-wires with JR receiver and standard balancer plugs.
Source: KM [km-rc.com]
Tuesday, July 19, 2011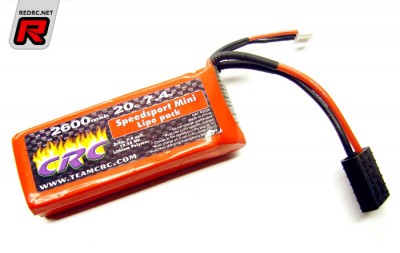 Team CRC's Speedsport line of LiPo batteries is growing, offering great battery packs at an even better price. These batteries pack a huge punch for your vehicle and now you can put CRC Speedsport packs in your "Mini" 12th, 16th and 18th scale type vehicles. Available in 2600mAh 20C and 1700mAh 20C packs and are supplied fitted with Traxxas connector.
Thursday, July 7, 2011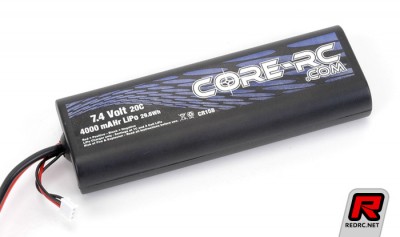 The new Core RC LiPo battery range is designed to provide low cost racing or RTR fun with all the advantages of LiPo battery technology. These rounded batteries are an ideal replacement for older technology 7.2v NiMh and NiCds, fitting into most RTR and sport vehicles alike. Available in 4000mAh and 3000mAh 20C packs fitted with Deans Ultra Plug for extreme high current load and JST-EH Balance type plug.
Tuesday, July 5, 2011