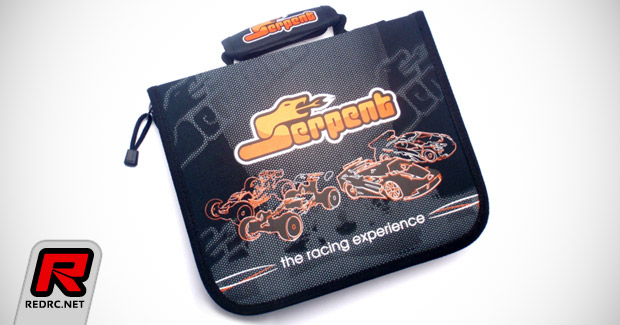 Serpent have released his strong tool bag featuring quality Serpent graphics. The bag can carry your full range of tools, all of which are secured neatly through the use of elastics loops. Sized at 287mm x 235mm x 45mm it features a high quality zipper and padded carrying handle.
Wednesday, July 4, 2012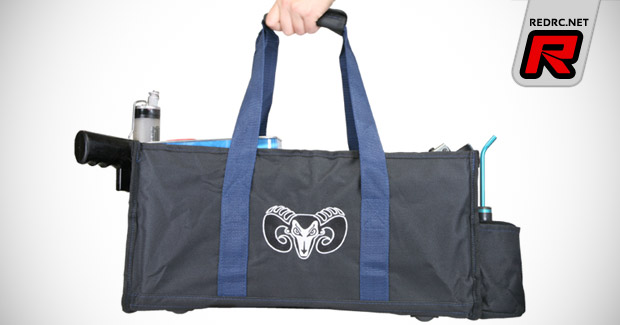 Shepherd have introduced a new accessory to make life easier when you're trackside, the all new Shepherd pitlane bag. Manufactured from super lightweight high-quality wear-resistant material it's equipped with a large number of different pockets for various items such as tools, glowstarter, fuel bottle, spare tyres, stop watch and other items that are commonly needed in the pitlane. The main compartment offers enough space for all kinds of starterboxes as well as a fuel can. Extra flexible straps on the outside for a fuel gun ensure that you don't have to worry about leakage inside the pitlane bag. The reinforced sidewalls are easy to assemble/disassemble and keep all goods safely at their place. When not in use the bag can be folded completely flat for easy transportation and can be fitted into the outside pocket of the Shepherd pit trolley or any other bag. Colored in black with blue stichings and handles it features an embroidered Shepherd ram had and the Shepherd logo on the padded handle.
View another image of the bag here
Friday, June 22, 2012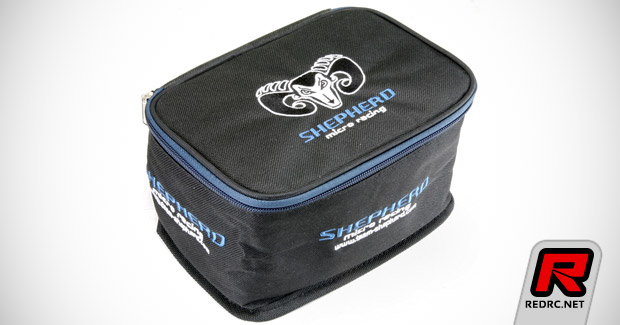 Shepherd have released this handy 'multifunctional bag' for engine storage or all kinds of equipment such as oils, tools, grease and other items needed at the racetrack. The Bag is made from high quality materials and sports an embroidered Shepherd ram head and logo. It comes with two separator inserts for safe storage of the engines and fits perfectly in the popular Shepherd pit trolley.
Source: Shepherd [team-shepherd.com]
Thursday, June 14, 2012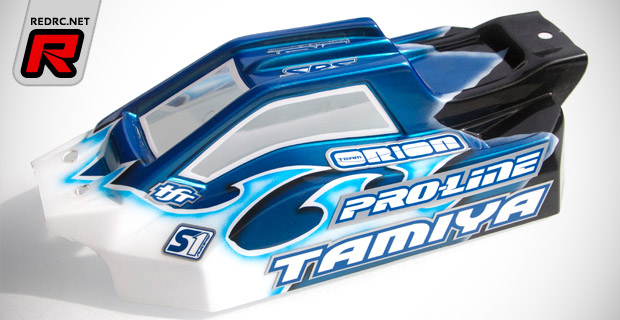 Seen at the Cactus Classic two months ago Pro-Line have released the Bulldog clear body for the Tamiya TRF502X buggy. Other new items from Pro-Line include a pair of Velocity 2.2" 4WD front wheels for the Associated B44.1 in white and yellow. A reversed dish design protects the nut and axle from damage during collisions and brings an awesome new look to your buggy. Pro-Line's new tire bag features luggage quality zippers and material that displays your support with a huge P-L logo. The bag is supported by an inner corrugated plastic housing that protects your stuff and holds the bags shape and has an adjustable shoulder strap for easy transport and a completely open top for easy access to your stuff. Finally there is new tire gluing band that are specifically designed for holding tires down during the gluing process while still being stretchy enough to work on multiple sizes of tires. From 1:10 buggy and truck to SC and all the way up to 1:8 buggy, Pro-Line's new tire bands perform flawlessly.
View the other new products here
Saturday, May 19, 2012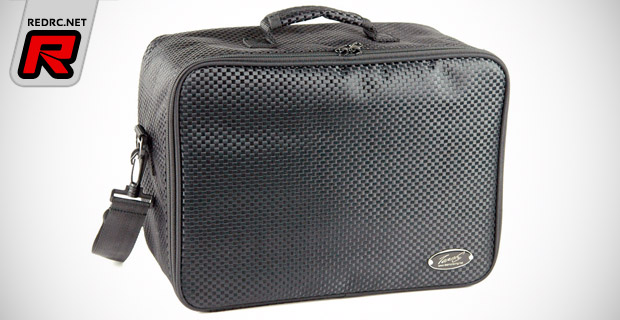 New for the KO Propo EX-1, Team C have introduced this carbon look transmitter bag. This hard wearing carry case features shoulder strap and handle and comes supplied with cut foam specifically for the EX-1 and some extra accessories.
Tuesday, May 8, 2012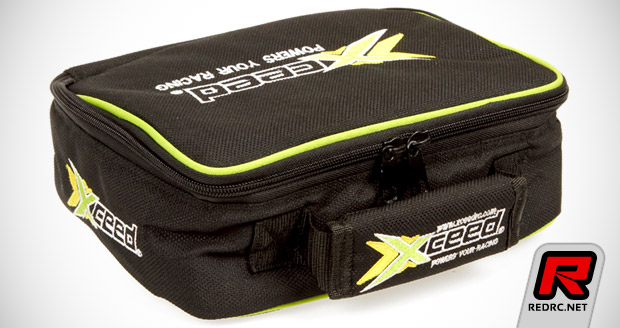 Two new bags from Xceed, the first is this medium equipment bag. Handy for storing all kind of equipment such as charger, power-supply, tyre warmer etc, it is made in such a size that is also fits all drawers of the popular trolley and carry-bags. High quality materials, good zipper, separator inserts, nice embroidery. Xceed have also released their LiPo safety bag for safe charge and storage. The bag can hold 2 LiPo packs at one time and is fireproof, using a high quality special textile material.
Wednesday, April 18, 2012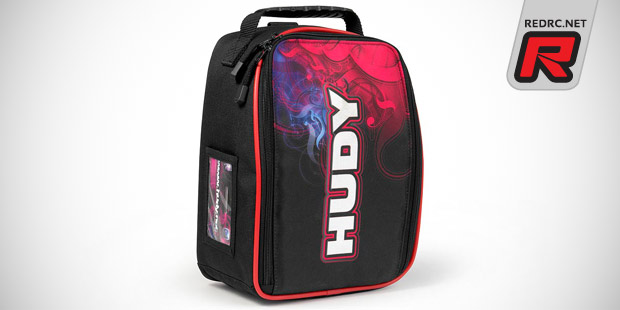 Hudy introduce the exclusive edition of their transmitter bag. Sporting a compact size and full colour printed graphics the bag is made from high quality materials and comes with a comfortable rubber handle and padded walls. An elastic safety strap secures the transmitter while storage and transportation and large dual zippers male access quick and easy. Two exterior straps at the rear of the bag allow to mount the transmitter bag to most widely-used car carrying bags. A special wide elastic strap lets you attach the transmitter bag to your hand luggage when travelling.
Click here to view another picture
Monday, March 26, 2012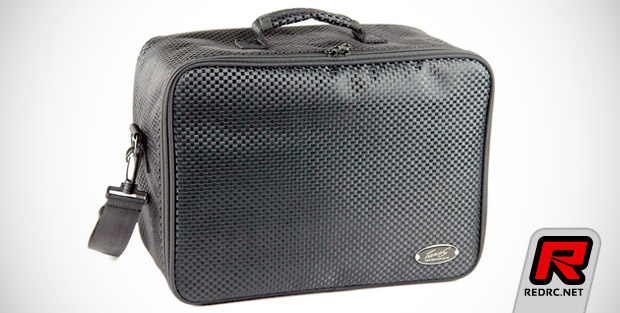 Team C have released a new transmitter bag for the Sanwa Exzes stick radio. The case, which features a cool carbon fibre look sports a solid block of foam which has been cut out to perfectly fit the Exzes securely while also offering some other space for RX packs and spare receivers.
Saturday, December 24, 2011