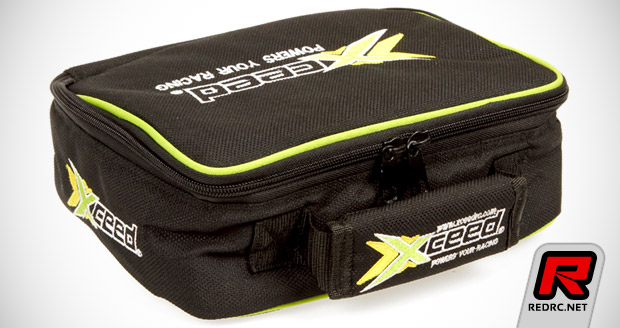 Two new bags from Xceed, the first is this medium equipment bag. Handy for storing all kind of equipment such as charger, power-supply, tyre warmer etc, it is made in such a size that is also fits all drawers of the popular trolley and carry-bags. High quality materials, good zipper, separator inserts, nice embroidery. Xceed have also released their LiPo safety bag for safe charge and storage. The bag can hold 2 LiPo packs at one time and is fireproof, using a high quality special textile material.
Wednesday, April 18, 2012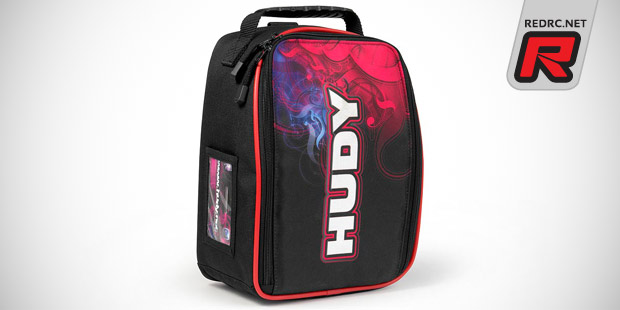 Hudy introduce the exclusive edition of their transmitter bag. Sporting a compact size and full colour printed graphics the bag is made from high quality materials and comes with a comfortable rubber handle and padded walls. An elastic safety strap secures the transmitter while storage and transportation and large dual zippers male access quick and easy. Two exterior straps at the rear of the bag allow to mount the transmitter bag to most widely-used car carrying bags. A special wide elastic strap lets you attach the transmitter bag to your hand luggage when travelling.
Click here to view another picture
Monday, March 26, 2012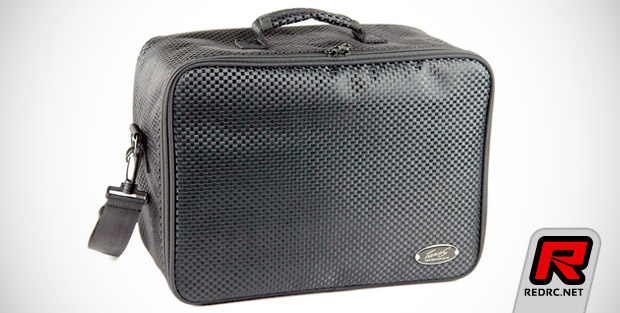 Team C have released a new transmitter bag for the Sanwa Exzes stick radio. The case, which features a cool carbon fibre look sports a solid block of foam which has been cut out to perfectly fit the Exzes securely while also offering some other space for RX packs and spare receivers.
Saturday, December 24, 2011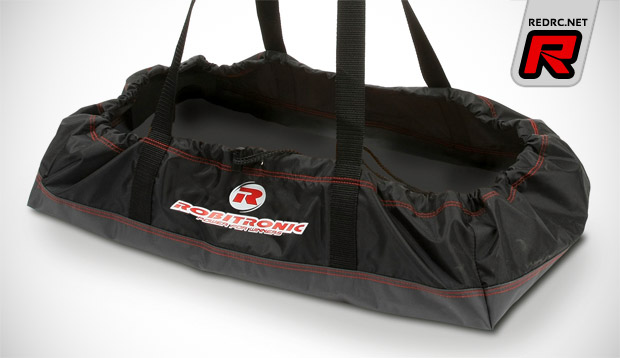 The Robitronic Dirtbags help to keep the trunk or back seat clean as they are designed to enclose the most dirty parts of off-road vehicles such as the tyres and chassis. The synthetic fabric the bags are made of are easy to clean with water and soap and even prevent water and oils so sip through. The bags are available in four sizes for Crawlers, 1/8 scale buggies, 1/8 scale truggies and monster trucks as well as large scale vehicles.
Friday, November 18, 2011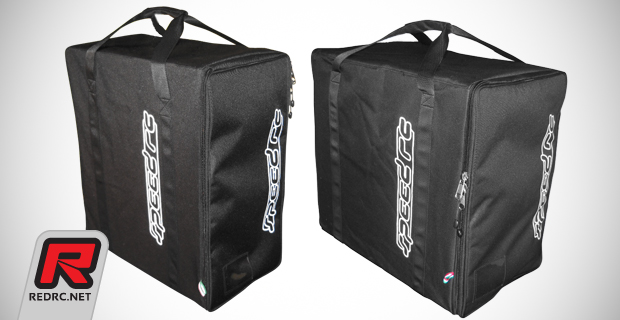 Speed RC release a new version of the transportation bag line. Available in large and medium size the bags are redesigned to make them larger, lighter and even more durable. Both feature inner compartments with the "Big Bag" sporting three and the "Medium Bag" sporting four highly resistant drawers to store and transport the radio, charger, batteries, tools and more. The larger offering sports dimensions of 60x35x55cm with the medium one is 50x30x60cm in size. Both outer fabric parts are completely washable.
Source: Speed RC [speedrc.it]
Tuesday, November 15, 2011
JConcepts got in touch to show us their new backpack specifically designed to carry a complete Short Course truck with room to spare. The bag features durable external material with front panel printing. Traditional front panel pockets have room for just about anything from spare parts to electrical and tools. The full-length side pockets are purpose built to hold four mounted tires on each side of the bag giving the racer multiple tire options in one contained unit. In addition, the inside of the bag has a composite hard bottom which allows the backpack to support its own weight during storage and packing. A carrying handle on top and conventional back straps with padded area make trips extremely simple. The backpack and compartments are not intended as LiPo safety material. Always follow manufacturers recommendations and specifications while storing potentially hazardous equipment.
Click here to view more pictures
Thursday, October 13, 2011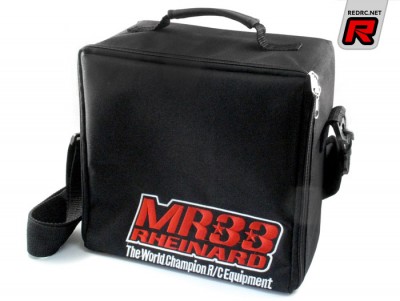 MR33, brand of 3-time World Champion Marc Rheinard have released a new radio and oil bag. The padded Radio Bag (250mm x 260mm x 160mm) is a perfect fit for the Sanwa M11 and also includes a separate case to put receiver or other items, a handle as well as a shoulder belt to carry. The padded oil bag (220mm x 120mm x 150mm) offers a secure storage area your shock oils, additive, glue etc. Both black bags come embroidered with the MR33 logo in red.
Friday, September 9, 2011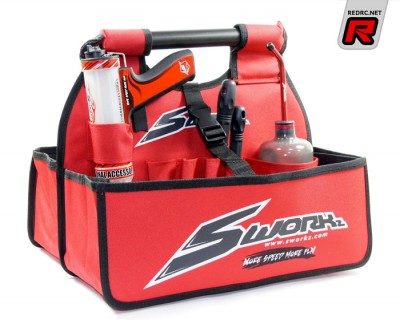 S-Workz have introduced some new accessories to make life easier for when you're trackside. First up is the Pit Bag, that can be used for bring starter box, fuel gun, fuel bottle and all kinds of RC tools into the pitlane and it folds flat for easy transport. For at your pit bench there is the new style tool bag. With its rectangular shape the tools can be more easy to put in and the handle and zip makes it easy to transport. Finally the new red pit pad has been made with Dening cloth to keep your works surface neat and tidy and protect the table from the dirt of your car.
Tuesday, September 6, 2011