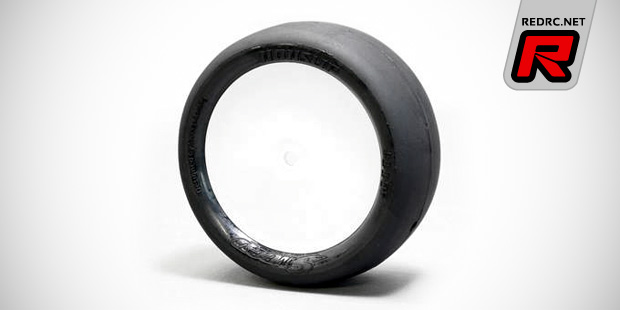 Sweep Racing introduce the Nonslip slick tyres for 1/10th buggies. Available as 2WD/4WD front and rear tyre in ultra soft Silver, extra soft Blue, soft Red, medium White and a special clay compound, the tyres are made for all track slick tyres can be run on such as specially prepped clay and some carpet tracks.
Click here to view the rear tyres
Saturday, April 19, 2014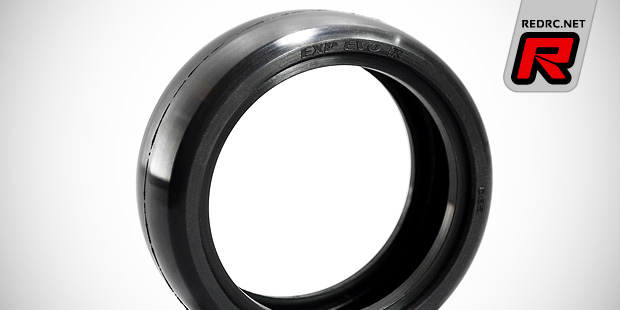 Sweep Racing introduce the EXP Evo-R touring car tyres. The tyre, developed with the help of Touring Car World Champion Jilles Groskamp, has an all new designed carcass that greatly improves the balance and feel making it easier to drive. The new design has an increased diameter of 65mm which is slightly larger than the previous EXP Evo giving a thicker side wall while the Evo-R also sports a stronger inner mesh/belting for increased durability. The tyre comes in three different compounds of 30, 36 and 40 hardness.
Source: Sweep [sweepracing.com]
Friday, April 18, 2014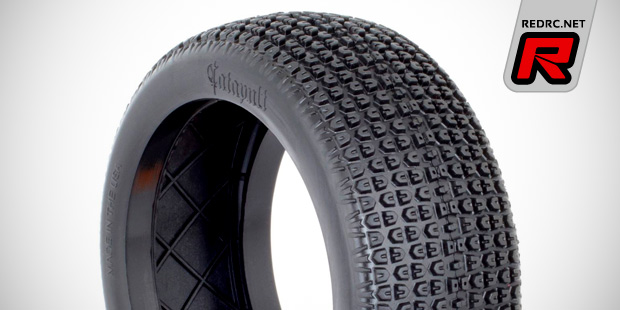 Available very soon from AKA are the new Catapult and Typo 1/8th buggy tyres. Starting with the Catapult, the tyre that helped David Ronnefalk to win at the 2014 Dirt Nitro Challenge is designed to offer a good balance of tread life and traction on dusty, abrasive tracks. The larger lugs keep wear at bay while the "C" shaped treads dig through the dust to find grip. The tyre is available in AKA's super soft, soft, and medium compounds.
Click here to continue reading
Friday, April 4, 2014
Active Hobby Products from Japan soon have a line of 1/12th scale foam tyres available. Coming first as 35 shore front and 30 shore or 35 shore rear tyre the donuts are already cut to a low profile diameter making excessive truing unnecessary. Each set will contain 3 pairs and the tyres are designed to fit most of today's 1/12th wheels. Designed for carpet and high-grip asphalt tracks the foams will become available by end of April.
Click here to view the rear tyres
Wednesday, April 2, 2014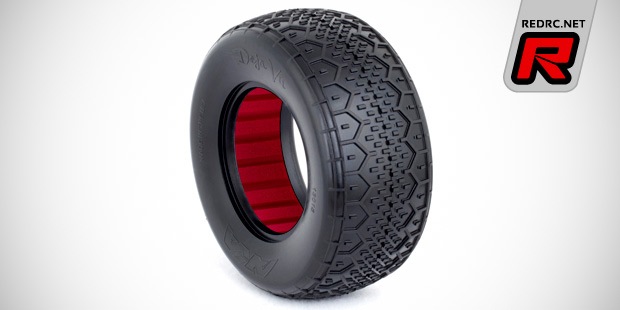 AKA soon have new short course truck tyres available in the form of the Deja Vu and Gridiron II. The Deja Vu is a bar-type tyre for indoor clay and outdoor hard packed tracks. The taller tread pattern cuts through the dust and provides a longer wearing tyre for abrasive tracks. The Gridiron II is similar to its older brother, but refined with a large number of smaller pins that are meant to work well on hard packed tracks with a layer of dust that sits on top. Used in the front the tyre also is good to smooth out steering on 2WD SC trucks. Both tyres are available with red inserts or pre-mounted on AKA Cyclone wheels in clay, super soft, and soft compounds.
Click here to view more photos
Tuesday, April 1, 2014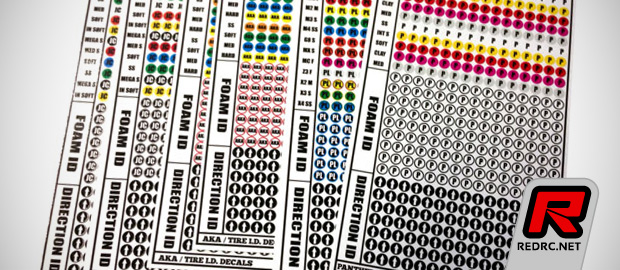 StickIt1Racing now have these tyre ID decals available. Coming for all important tyre manufacturers such as AKA, JConcepts, Panther and Pro-Line, the decals include specific dots for each of the manufacturer's compounds and inserts plus general arrow dots to mark the direction of rotation. The decals are made from long-lasting vinyl and laminated for durability and they help to indicate the compound and foam used in a wheel set so you never end up with using a wrong set again.
Source: StickIt1Racing [s1racing.net]
Saturday, March 29, 2014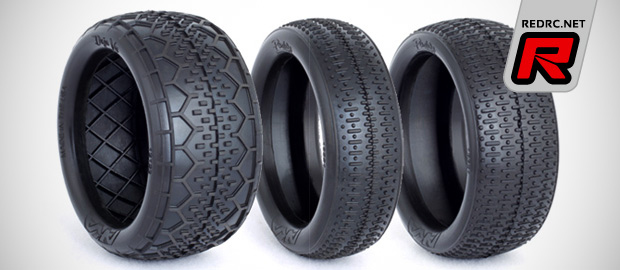 AKA introduce new treads out of the Evo range of tyres in the form of the Deja Vu rear and Pinstripe 2WD and 4WD front tyre. Being compatible only with AKA's Evo line of rims the tyres come in the company's clay, soft and super soft compounds including red closed cell inserts with the Deja Vu also becoming available pre-glued on white or yellow Evo wheels.
Source: AKA [raceaka.com]
Friday, March 28, 2014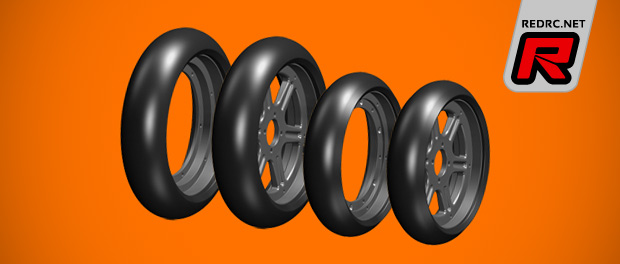 Italian company GRP introduce their new line of tyres for 1/5th scale on-road bikes. Coming for the front and the rear they offer an optimised design without sharp edges in order to maximise the side bite and traction available. A newly designed carbon fibre reinforced rim does away with the need to run inserts for improved precision and a very true running wheel. A WMS called weight system allows to increase the weight of each wheel by using two, four or six stainless steel rings to up the rotation mass for improved stability and traction on low to medium bite tracks. The tyres are available in a medium, soft and super soft compound pre-glued on two different design wheels or as rubber only.
Source: GRP [grpgandini.it]
Friday, March 28, 2014
Italian company GRP have a new 1/8th scale GT and Rally tyre available. The tyre mounts on a new yellow colour rim and features an updated profile with increased radius for increased lateral grip while the lower profile improves stability and steering precision. The tyres come in a total of five different compounds ranging from super-soft to medium and also include a special rain tyre.
Source: GRP [grpgandini.it]
Tuesday, March 25, 2014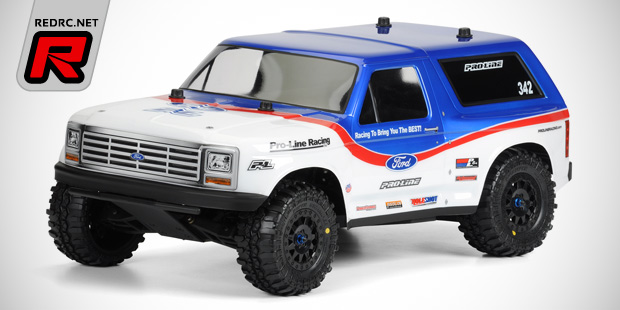 Pro-Line have a new bodyshell for Short Course trucks, pre-assembled Pro-Spec shock absorbers and pre-mounted Interco TLS SX Super Swamper SC tyres available. First up is the 1981 Ford Bronco bodyshell, designed to fit a wide range of trucks such as the Pro-2, Slash, Slash 4×4 and SC10, the body resembles the iconic Bronco truck for a true scale old school look. It comes clear, with a large decal sheet and required the use of extended body mounts due to its dimensions.
Click here to continue reading
Friday, March 21, 2014