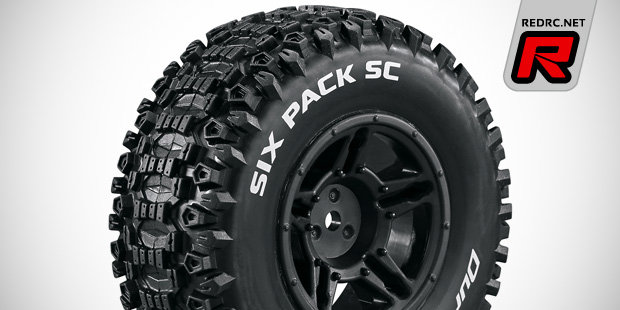 Available from early September are two new Duratrax short course tyres called the Six Pack SC and the Picket SC. The tyres offer a realistic tread design and they are moulded in the soft C2 compound. Sold in pairs and including foam inserts the tyres are available as rubber only or pre-mounted for Slash, Slash 4×4, SC10, SC10 4×4 and SCTE trucks.
Click here to view the other new tyre
Thursday, August 28, 2014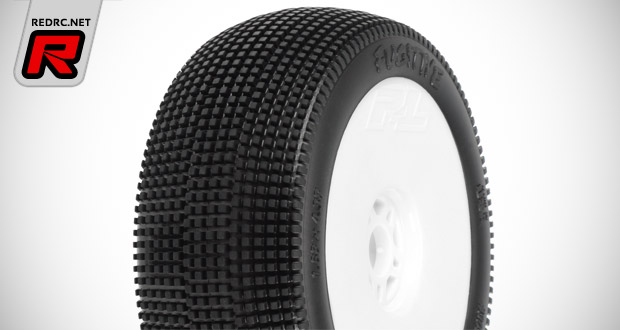 Seen at the recent 1/8th Euros, Pro-Line's all-new Fugitive is a super long wear high performance tire made up of small, tightly packed pins that can handle the abuse of being run on concrete. When combined with Pro-Line's X-Compound, the Fugitive has a great performance to cost ratio making it perfect for many European style tracks. The new Stunner SC tire combines the best features of the Tazer, Sniper and Blockade SC tires into one incredible tire. The center tread design of the Stunner is perfect for dusty and loamy outdoor tracks and the outer tread creates more aggressive side bite for consistent handling in loose conditions. Pro-Line have also released their Electron 1/10th tire for 2.2" wheels having previously only been available for mounting on VTR wheels. For truggy, PL's popular Hole Shot VTR and Blockage VTR tires are now also available in X-Compound. Finally there are new Velocity VTR 4wd Hex front wheels for the Kyosho ZX5/6 and the TLR 22-4 buggies.
Friday, August 22, 2014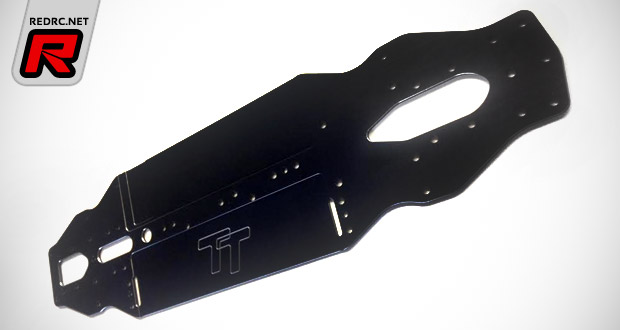 Team Tamale have introduced a new Xray T4 chassis made from 7075 T6 as well as 1/12th and 1/10th pan car tire truing adapters for foam tires. This chassis incorporates a few features not found on other T4 aluminium chassis. First, the battery compartment and the electronics side have been milled down. These cutouts will bring the chassis thickness down to 1.5mm. This allows the battery, speed control, receiver and servo to sit lower on the chassis as well as increase the flex through the middle of the chassis for different handling characteristics. You do not have to put the servo on the chassis, but you can used the floating mount. The motor recess have also been made 2mm narrower while limiting bending in this area. To limit the chassis rub in corners they also narrowed this chassis 2mm on each side and added a taper down each side. This will also help with the edge of the chassis catching on the race surface. Finally they have also added a taper at the front and rear areas around the droop screw areas of the chassis to try and limit the extra rub that can be seen with soft springs in high traction.
View details on the truing adaptor here
Tuesday, August 19, 2014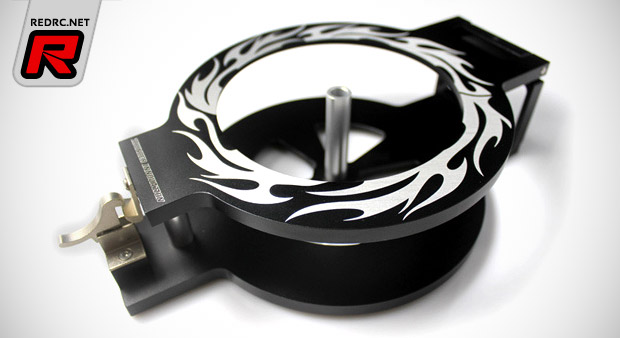 Thunder Innovation have released this tire gluing jig for 1/8th offroad truggy tires. Designed by TI in close cooperation with Gene Hickerson who owns the copyright it is a super easy, fast and efficient way to glue your tires. Precision CNC machined from aluminium it can only be used with AKA EVO truggy wheels (rim) or a similar design.
View an image of the jig in user here
Tuesday, August 12, 2014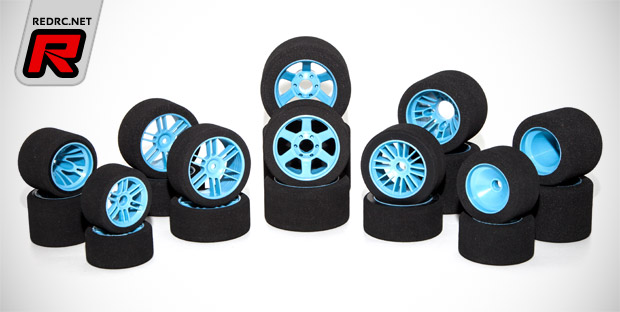 Swiss tire company UFRA have announced their new Blue Line of tires. Combining their top quality foam with a new line of wheels in their corporate blue colour there is pre glued and trued versions for 1/8, 1/10 Touring and 1/10 Pan Car as well as for two new lines 1/10 F103 Formula and 1/12 Pan Car.
Source: UFRA [ufra-tyres.ch]
Monday, August 11, 2014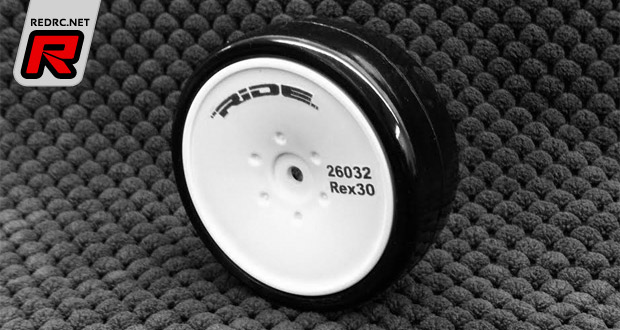 Ride tires have announced their updated Rex30 touring car carpet tire which has been successfully used in the Euro Touring Series last season. The Rex30 rubber compound remains the same but it is now mounted on an updated dish wheel for a better fit and truer mounting. The LT2 insert is also entirely new, ultra light weight and made of durable high density JB type foam. This new tire will be the control tire for both the 2014/15 season of the ETS as well as the new Essex Winter Series in the UK. Available at the end of August.
Source: Ride [rc-ride.co.jp]
Monday, August 11, 2014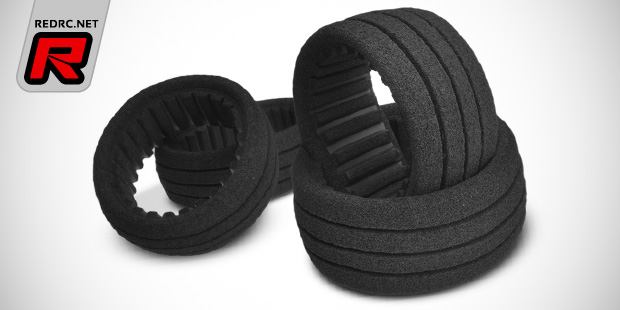 JConcepts' Dirt Tech inserts are soon also available for 1/8th truggies. Designed in conjunction with tyre insert guru, Brian "Dirt" Kinwald to bring the ultimate touch and feel while providing utmost durability, the 1/8th truck insert has medium sized cuts on the outside which touch off against the tyre inner carcass providing a cushy response and feel. The inside has horizontal channels cut in a 360 pattern to soak up the large impacts and help create forward bite and increase acceleration. The JConcepts design, with custom sculpted features, are blended into the newly developed material providing racers a durable option capable of being used in medium to extremely high-traction conditions.
Source: JConcepts [jconcepts.net]
Wednesday, August 6, 2014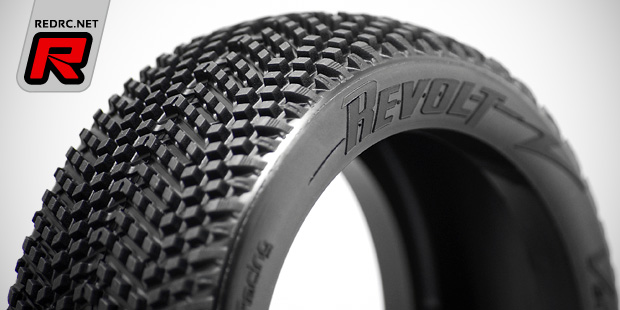 Seen for the first time some days ago Sweep Racing now officially introduce the Revolt 1/8th buggy tyre. Sporting a newly designed tread to providing minimum tyre ballooning during acceleration for a precise driving feeling, the tyre sports a pair of centre pins that are completely connected at the base of the inner V-shaped pattern for maximum forward bite. The unique W-shaped tread of the Revolt provides smooth or aggressive steering feeling depending on the rotation direction. The pin size of the tyre is a little bit smaller than with the Square Armor and its height is as tall as the company's Battle Star 2.0 with less spacing between pins for improved forward bite while providing smoother cornering feeling thanks to the optimal pin flex that also makes for longer tread life time.
Click here to view another photo
Wednesday, August 6, 2014