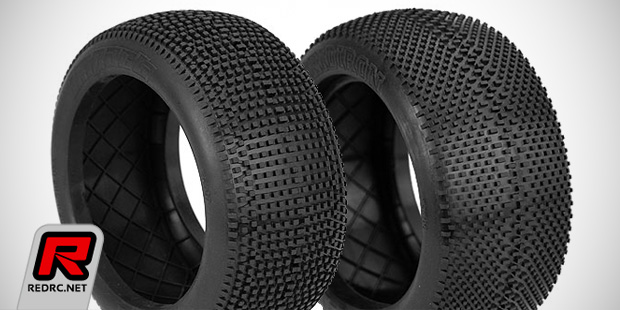 Coming soon from AKA are the Evo Gridiron and Evo Impact 1/8th truggy tyres in the new long wear compounds. The new long life rubber are available in a familiar Soft and Medium hardness and yield up to 50 percent longer tread life than standard compounds, making them ideal for today's demanding high-grip, high-speed, and abrasive tracks. The tyres are available as rubber including red inserts and pre-mounted on white or yellow Evo wheels.
Source: AKA [raceaka.com]
Tuesday, July 28, 2015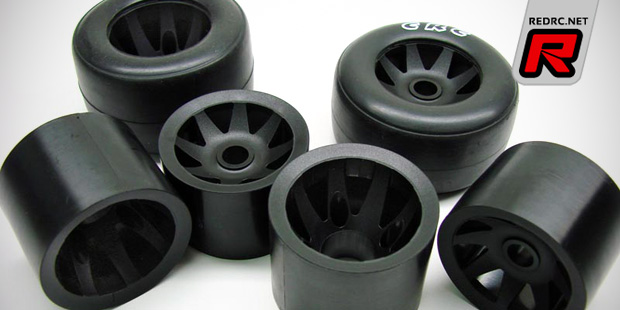 Calandra Racing Concepts have introduced new wheels and tyres for 1/10th on-road cars. Starting with the GTR wheels, these are designed for rubber tyre 1/10th scale pan car racing, both oval and road. They are direct bolt on for 1/10th cars and in the rear, they use the standard 4 bolt mounting pattern commonly used in oval and World GT. In the front, they utilise the normal 1/8×5/16″ bearing, again very common among the 1/10th oval and World GT cars. The mounted tyres measure around 2.45″/62.2mm diameter, most all pan cars can be adjusted to make the proposed 5mm ride height rule. The rims are designed to mount tyres such as the Pit Shimizu, Tamiya TCS and CRC RT1 and the rims allow for two types of scale looks; low profile sidewall GT type cars and large sidewall NASCAR and F1 scale looks. As for the new RT1 tyres, they mount in the same style as the most popular Formula tyres, the Pit Shimizu 0571 and 0572 and the Tamiya TCS. The CRC tyre is meant to perform very well with great grip and stability on both carpet and asphalt. Coming this Fall are also pre-mounted tyre and wheel combos.
Click here to view photos of the mounting variants
Friday, July 24, 2015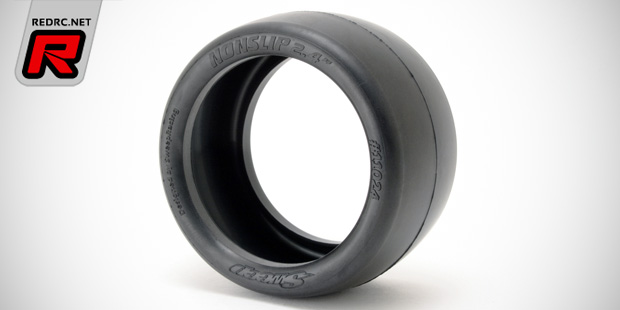 Available now from Sweep Racing are the Nonslip 1/10th buggy tyres for 2.4″ wheels. Made to comply with the new ROAR 2.4″ tyre dimension rules the Nonslip treadless tyre is ideal for prepped indoor clay tracks and it comes as 2WD front, 4WD front and general rear tyre.
Click here to view the other new tyres
Friday, July 24, 2015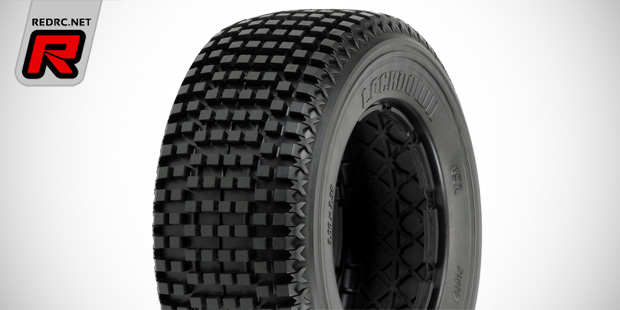 New from Pro-Line comes the LockDown XTR tyre for large scale models such as the Losi 5ive-T. Just like the 1/8th buggy race tyre, the LockDown has a more open tread pattern than the Blockade making it perfect for loose conditions. The tyre also features connected side tread technology that reduces the edginess of the truck to prevent catching a rut and flipping. The inside contains detailed webbing that strengthens the tire carcass and prevents excessive tire expansion. The tyre is moulded from durable XTR rubber and it works with HPI 5T rear and Losi 5ive-T front or rear foams.
Source: Pro-Line [prolineracing.com]
Friday, July 24, 2015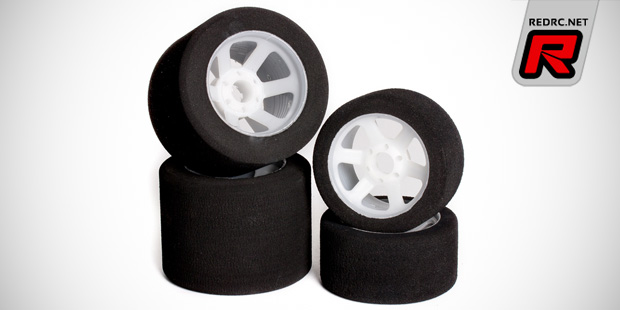 Flash Point have introduced several pre-mounted foam tyre sets for 1/8th and 1/10th on-road cars. Coming on white lightweight rims the sets include both the front and the rear wheels and they are available as 32/35 shore and 35/37 shore sets for 1/8th cars and as 35/40 and 37/42 shore sets for 1/10th 200mm sedans.
Click here to view the 1/10th tyre set
Wednesday, July 22, 2015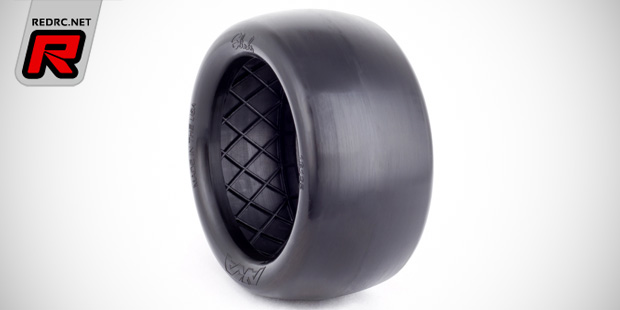 AKA is the latest company to introduce treadless slick tyres for 1/10th off-road buggies. Designed for maximum performance on high-grip, indoor clay tracks they are available in Clay compound only and compatible with the AKA Evo 2.4″ wheels or Hexlite 2.2″ wheels with the Evo conversion kit. Available as 2WD or 4WD front/rear pairs with red inserts, or 2WD/4WD rear pairs pre-mounted on Evo wheels.
Click here to view more photos
Wednesday, July 22, 2015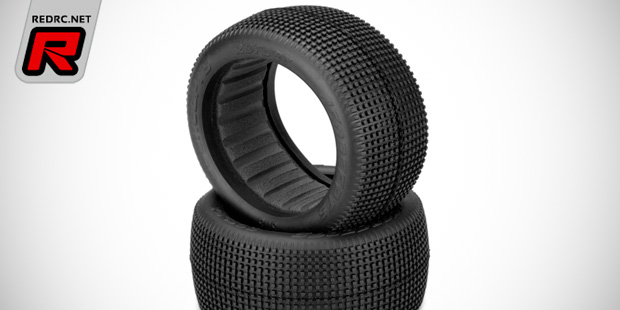 JConcepts' Reflex tyre is designed to bridge a gap between the popular Double Dees and other options such as 3Ds and Hybrids. The Reflex has square, angled pins that are stacked vertically to flex and fold evenly across the tyre for less wear and more forward bite while the aligned space helps rotation in the turns and gives a snappy release to square up quickly. Ideal on loose surfaces which are wet or dusty the tyre releases and bites hard during corner exit for straight line acceleration which makes them perfect for mid motor buggies.. The blended tread to tyre body is supported with a generous radius which promotes "pin snap" and also resists tearing or separation. Horizontal traction bars connect several pins near the centre of the tyre which bonds a critical area for increased push at high-speed. The Reflex', available as 2WD front, 4WD front and general rear variant, are built on the 60mm bead and carcass design making them interchangeable with all 60mm/2.4″ wheel combinations. The interior ribbing features the double-hatch pattern that helps maintain a comfy ride while each set of tyres includes the Dirt-Tech closed cell inserts.
Click here to view the other new tyres
Tuesday, July 14, 2015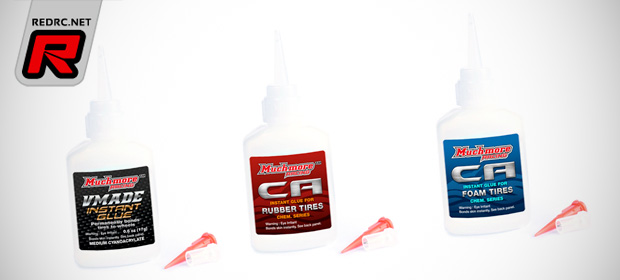 Muchmore have three dedicated cyanoacrylate glues for rubber and foam tyres available. First up is the V-Made glue that is the strongest in the line and therefore it is ideal for 1/8th and 1/10th buggy tyres and generally all applications that require a very strong bond. Also new are specially formulated rubber and foam tyre glues for general applications. All three come in 20g bottles with a needle cap and applicator being included in the package.
Source: Muchmore [muchmoreracing.com]
Monday, July 13, 2015