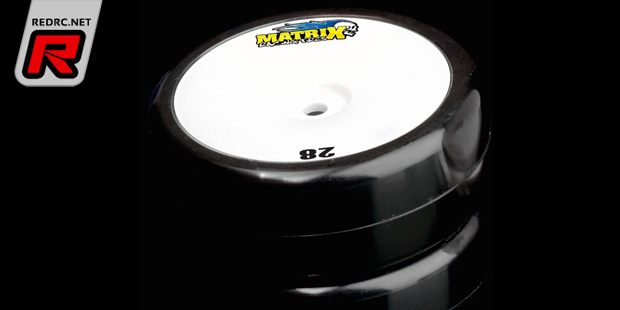 Matrix have a new line of touring car rubber tyres available for both carpet and asphalt racing. The carpet-specific tyre is available in 28 shore and 32 shore hardness while the asphalt tyre come in harder 34, 36 or 40 shore rubber. All tyres are available pre-glued on white disc rims and they are built using moulded double hardness inserts while the shore hardness is printed on the outside of the rim for easy identification.
Source: Matrix [matrixtires.it]
Sunday, December 21, 2014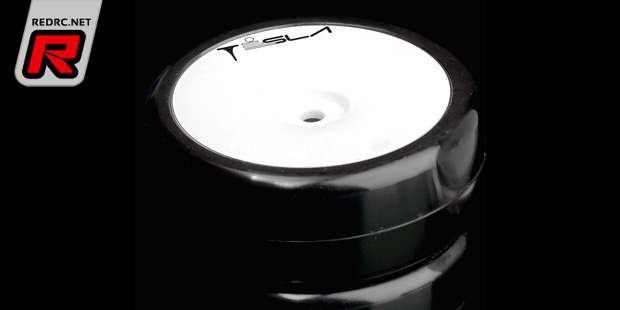 Italian company Capricorn introduce their new line of Tesla touring car rubber tyres. Available in a softer 32 shore and a harder 36 shore variant the tyres are good for carpet and asphalt racing and they come pre-glued with a carpet-specific bi-compound and an asphalt-specific standard compound insert.
Source: Capricorn [capricornrc.com]
Saturday, December 20, 2014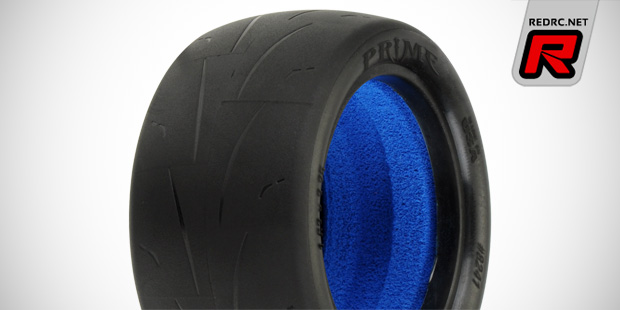 New from Pro-Line come the Prime slick tyres for 1/10th scale 2WD and 4WD buggies. They are targeted directly at racers currently running full "slick" tyres on clay tracks, saving them from having to grind treaded tyres down while delivering improved performance. Featuring unique grooves that add traction and stability when the track is freshly watered or when there is a slight layer of thin dust, the tyres offer additional advantage over a traditional slick that would spin in these situations. The raised treaded portion of the Prime tyre also has a distinctive rough surface texture similar to a ground slick tyre and makes the Prime have maximum performance right out of the package. The Prime is available as 2WD front, 4WD front and general rear tyre, in a traditional 2.2″ and new 2.4″ VTR variants and as both M4 super soft and MC clay compounds including blue closed cell inserts.
Click here to view the VTR variant
Friday, December 19, 2014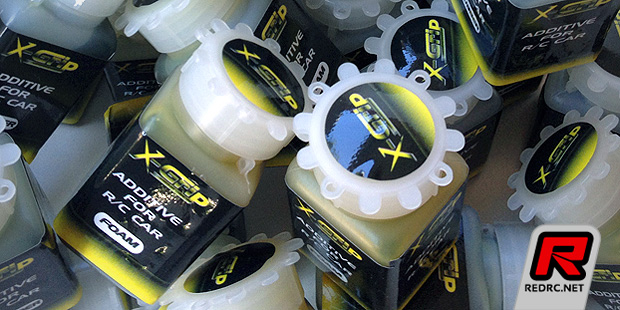 The new X-Grip tyre additives are available in specific foam and rubber variants to make the most out of the different tyre types. The foam traction compound is best used on low grip tracks as it makes for maximum traction while also being usable with rubber tyres in medium grip conditions. X-Grip rubber is best used with soft rubber tyres but also foam tyres in higher grip conditions. Both come easy to use and clearly marked plastic bottles.
Source: Mikimodel [mikimodel.net]
Wednesday, December 17, 2014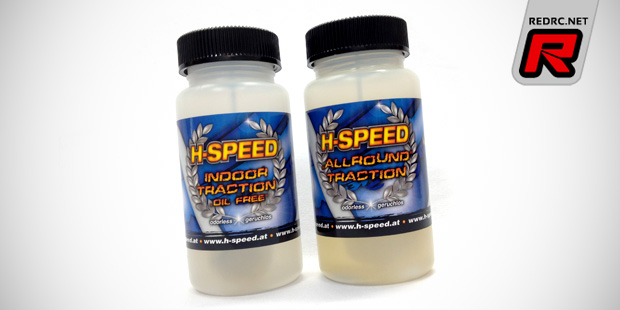 New from Hupo Hönigl's H-Speed brand come two traction compounds for the use with both rubber and foam tyres. First up is the Indoor Traction tyre sauce, an oil-free product that is carpet friendly and ideal when running on permanent indoor tracks. Made to give maximum traction over the duration of a run and offering a smooth initial feeling in the first minutes it is meant to also being a good handout tyre sauce. The second new compound is Allround Traction, a product that was developed to offer maximum traction for any condition and surface. It is usable on asphalt and carpet tracks alike with rubber and foam tyres. Both traction compounds are odourless and they come in dauber cap plastic bottles.
Source: H-Speed [h-speed.at]
Monday, December 15, 2014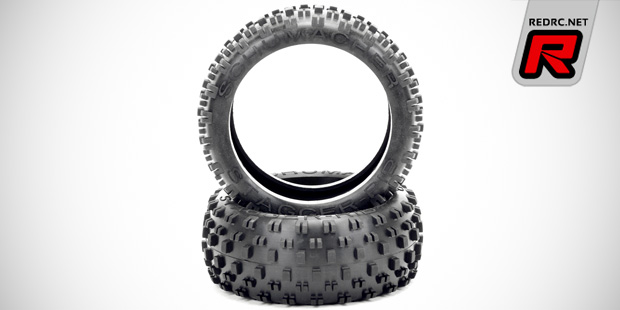 Coming from Schumacher and made for 1/8th off-road buggies is the new 1/8th Stagger tyre aimed at astroturf and multi-surface high grip tracks. The unique design allows the tyre to generate enough steering without causing grip roll. Also having plenty of forward drive due to the central row of horizontal bars. The tyre is meant for the front of the car but can also be used on the rear and it is available in two compounds, yellow for dry astro and softer silver for damp/wet conditions as a pair of tyre only or as pre-mounts on a Schumacher Revlite rim with medium foam insert.
Click here to view the pre-mounted tyre
Friday, December 12, 2014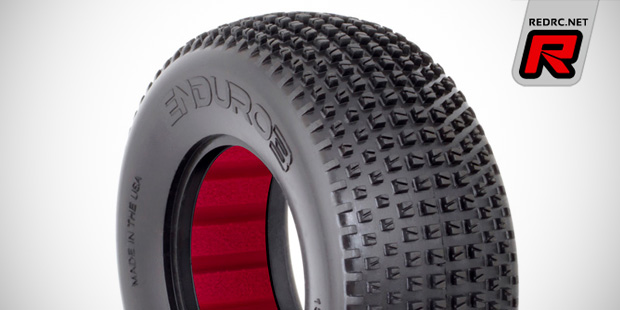 AKA introduce the updated Enduro 3 and Cityblock 3 1/10th short course tyres. Starting with the Enduro 3, the all-round tyre sports the same tread as the previous versions but an updated carcass as used on the 2014 ROAR National Championship winning Typo for improved performance in any track condition. The tyre is available as pre-mounted pairs or tyres with inserts in soft, super soft, and new ultra soft compound.
Click here to continue reading
Thursday, December 11, 2014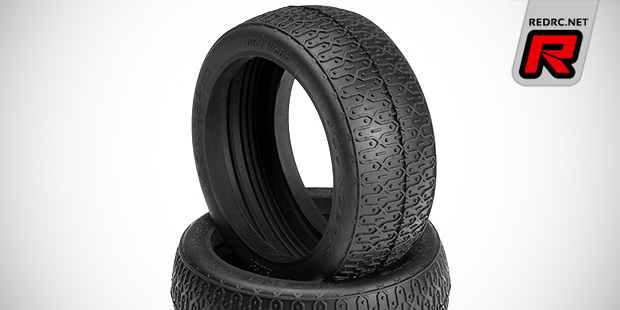 JConcepts' Dirt Webs tyre is now also available in an 1/8th buggy variant. Developed by Brian Kinwald and Jason Ruona the indoor-specific tyre has already proven its performance in 1/10th buggy racing and now the clay tread is also available for the 1/8th class. Originally based on the popular Pressure Points, the tyre design connects uniformly positioned Web-Bars to create an amazingly stable tyre. During 2014, the design was converted to use on a 1/8th buggy carcass and debuted during the 1/8th E-buggy ROAR Nationals in Houston, Texas. The Dirt Web tread sits on the proven JConcepts 1/8th tyre carcass giving a low-profile, wide-body appearance allowing clipped tread to extend all the way to the outer edges. The carefully shaped profile allows a great balance of monster forward traction and comfortable side-bite. Available in multiple compounds and including closed cell inserts, the Dirt Webs can easily be matched to any track conditions ranging from indoor clay, indoor dirt to outdoor hard-packed or treated clay or dirt.
Source: JConcepts [jconcepts.net]
Tuesday, December 9, 2014