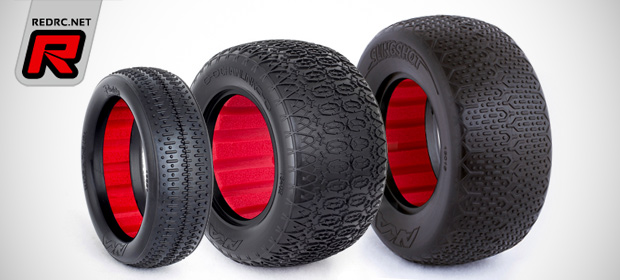 AKA now have a range of 1/10th scale buggy, short course and stadium truck tyres available in their all-new ultra soft compound. Designed for cold weather and low-traction conditions the tyres are ideally used in a temperature range of 0°C to 10°C and the select treads are available as rubber only including red inserts or a pre-mounts.
Source: AKA [raceaka.com]
Saturday, February 28, 2015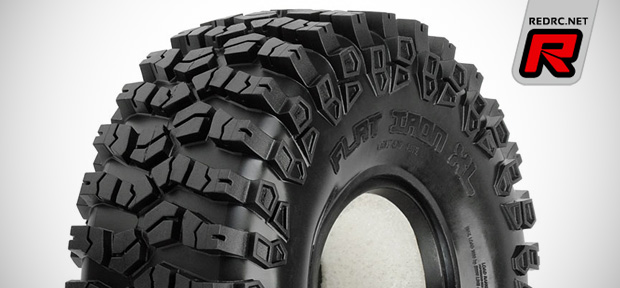 Pro-Line's new Flat Iron 1.9″ G8 rock terrain truck tyre sport a popular tread pattern, combined with scale realism and all out rock climbing performance. The large lug pattern combined with a siped tread allows the tyre to have the perfect amount of flex under throttle acceleration while the larger 1.9″ diameter gives any scale rig a ground clearance advantage. The tyre comes in pairs including memory foam inserts.
Source: Pro-Line [prolineracing.com]
Wednesday, February 25, 2015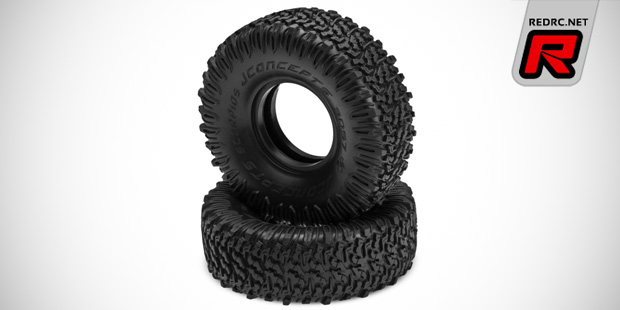 Following the Ruptures 1.9″ performance scaling tyre JConcepts also introduce the Scorpios, an all-terrain variant. It features scale looks and extra tall size and profile with a closely knit tread resembling a 1:1 scale tyre. The padded arrangement of tread makes the tyre ideal for transitioning from the hard road to dirt and then into rocky and uneven terrain. Once power is applied to the vehicle, the tread spacing opens up which allows for some deep digging making it a great working tyre in dirt and muddy conditions. Each tread block has finely cut edges with a healthy radius where the block meets the tyre body. Each block features slight cuts on top to open up and create some sling space while the outer most lug extends down the sidewall to stiffen the upper carcass and increase the pinch grip. The flexibility of the compound combined with the close arrangement gives the tire a grippy feel but still maintains that all important look. The large overall height provides plenty of ground clearance for an abundance of terrain and internal grid ribbing help maintain its upright structure during hard loads and on power bursts. The tyres include a soft open cell foam insert capable of standing up the super soft compound but flexible enough for sharp terrain.
Source: JConcepts [jconcepts.net]
Wednesday, February 25, 2015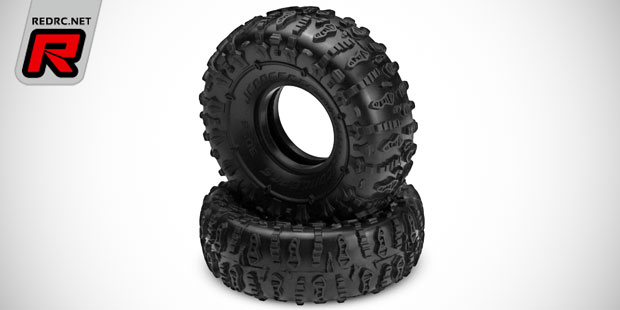 New from JConcepts comes the Ruptures 1.9″ performance scaling tyre in green compound. It is meant to be an extremely tacky yet versatile tyre and the design starts with a layout of individual "large islands" that react to directional and forward loading characteristics like a soft gummy candy. The long horizontal attack bars are connected with solid sidewall detail which braces the sidewall for the high impact situations. The centre "mini islands" help maintain spinning speed and at half height provide some space to sling clean during those dirty trail runs. The entire top level of the tread has built-in cuts and recessing which provide a sharp edge. A sidewall radial rib connected with a dual position arrow help maintain stability and help the driver squeak out of a tough situation. The carcass itself is extremely pliable which conforms to the vast majority of obstacles. Inside the carcass, JConcepts features a connected "Y" loop ribbing design which blends carefully into the sidewall. The bracing supports the lower half of the tire while maintaining the upper flex characteristics. The tyres include a soft open cell foam insert capable of standing up the super soft compound but flexible enough for sharp terrain.
Source: JConcepts [jconcepts.net]
Tuesday, February 24, 2015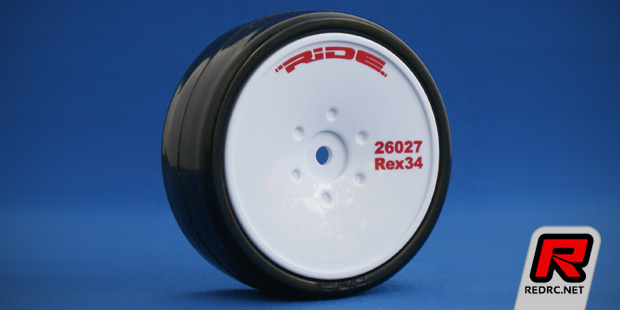 Ride introduce the Rex34 Ver2 touring car asphalt wheel. The rubber compound and orange moulded insert remain the same but the pre-glued wheels come with a redesigned disc rim that offers optimised moulding, an updated and more shock resistant material, an improved tyre fit, a reinforced hub and an improved glueing process to make for higher precision. The ver2 wheels come in sets of four and they are available now.
Source: Ride [rc-ride.co.jp]
Saturday, February 21, 2015
New from GRP come the Evolution V11 2015 touring car rubber tyres. Available pre-mounted on white disc rims the 2015 spec tyre features a new carbon composite belt and they are available in two carpet and two asphalt-specific compounds. The carpet C28 and C32 tyres are built using a lightweight insert while the A32 and A36 asphalt variants use a medium moulded insert. Markings on the outside of the wheel help with easy identification and the tyres are available in sets of four.
Source: GRP [grpgandini.it]
Friday, February 20, 2015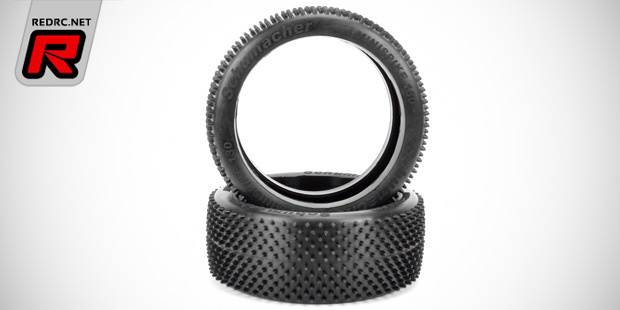 Schumacher introduce the new Minispike tyre for 1/5th large scale vehicles. Offering an inner diameter of 130mm the tyre is designed for the latest larger diameter wheels and it is available in Schumacher's most popular yellow compound suitable for grass and astro surfaces. The tyre is supplied in pairs without inserts.
Source: Schumacher [racing-cars.com]
Wednesday, February 18, 2015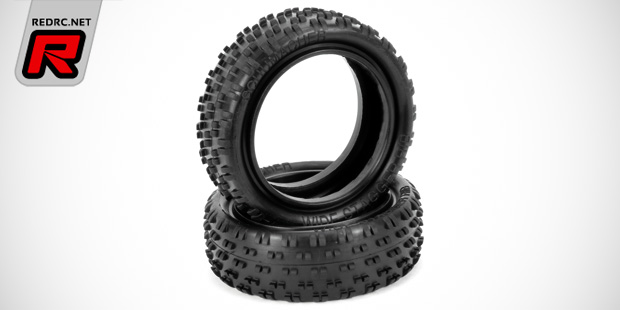 Schumacher introduce two new 1/10th off-road tyres, adding to their expanding range of tyres for multiple track conditions. Firstly the new 4WD wide front Stagger, this tyre has been developed for high grip astro and carpet surfaces and aimed at providing more grip whilst keeping stability associated with the staggered rib tyre. The 2.2 inch diameter tyre is suitable for 4WD and 2WD medium wheels and it is available in the Schumacher yellow compound for dry conditions and also inthe softer Silver rubber for damp and wet conditions. If you wish to skip that gnarly gluing job the yellow compound tyre is also available pre-mouted on the 4WD Flexlite 12mm hex wheel.
Click here to continue reading
Wednesday, February 4, 2015