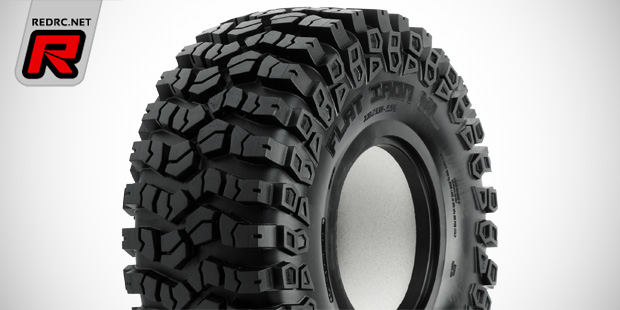 New from Pro-Line comes the Flat Iron XL 2.2″ G8 rock terrain tyre as well as two new 2.2″ bead-loc wheels. Starting with the tyre, it follows the "bigger is better" mantra while still fitting into existing rules. The Flat Iron tread pattern combines scale realism and all out rock climbing performance as the large lug pattern combined with siping allows the tyre to have the perfect amount of flex under throttle acceleration. Included with the pair of tyres come two memory foam inserts.
Click here to continue reading
Thursday, May 21, 2015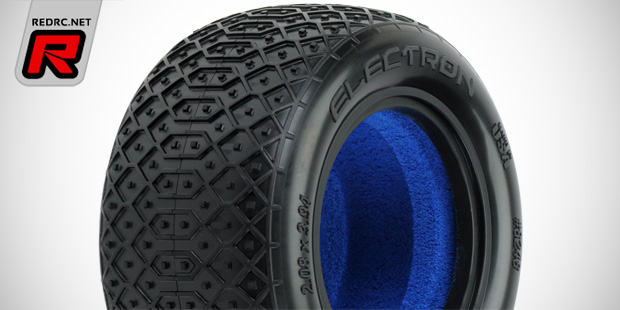 Pro-Line's Electron tyre is now also available in a variant for 1/10th scale racing trucks. The tyre shares close family ties with Pro-Line's popular Ion tyre with the dirt grabbing centre tread and futuristic styling. The Electron features connected tyre tread technology to improve traction and wear on even the most abrasive of indoor track conditions. The square centre pins laid out between the connected tread provide consistent forward and side bite even when the track gets dusty. The tyre fits most 2.2″ stadium truck rims, it comes including blue closed cell inserts and it is available in the M4 super-soft and MC clay compound.
Source: Pro-Line [prolineracing.com]
Thursday, May 21, 2015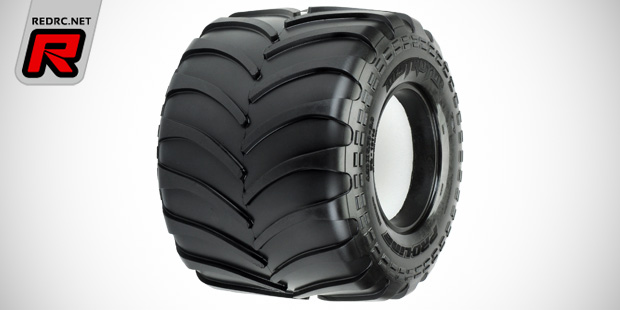 Pro-Line have introduced the Destroyer, an all-new tyre specifically designed for scale solid axle monster trucks. Made from Pro-Line's M3 race rubber for maximum traction on dirt or carpet and featuring an alternating deep-grooved chevron style tread pattern for incredible forward traction while maintaining a scale appearance the tyre is ideal for a range of applications. The overall size and width of the tyre has been finely tuned to be lightweight and agile, which makes it ideal for racing applications. The tyre includes soft white foam inserts for ultra-plush landings, greatly improving the handling and performance of the vehicle.
Click here to view more photos
Thursday, May 21, 2015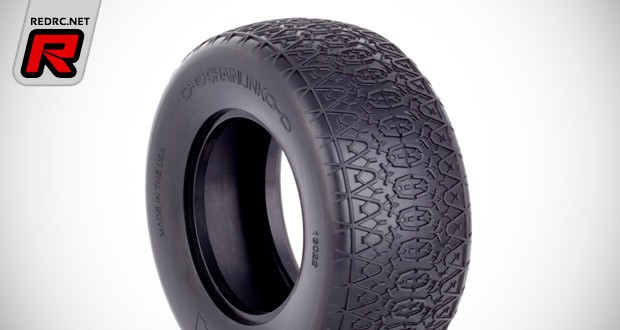 AKA have announced the release of their Chain Link thread for Short Course. Featuring a bi-level, interlocking tread pattern that creates support for the tire's carcass and treads, this additional support leads to consistency through corners and provides on-throttle stability. The Chain link has a perfect balance of forward drive and side bite which is ideal for hard packed or blue groove, indoor and outdoor tracks. Available in championship winning Clay, Super Soft, and Soft compound as tires with Red inserts or pre mounted pairs on Cyclone wheels for multiple fitments.
Source: AKA [raceaka.com]
Saturday, May 16, 2015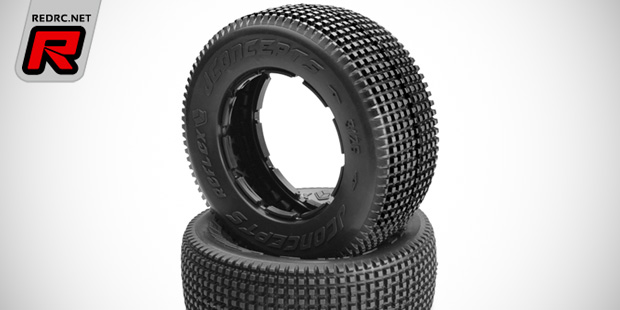 Following the introduction of the Chasers large scale off-road tyre, JConcepts now also announce the release of the Reflex tread. The yellow compound tyre has square angled pins that are stacked vertically to flex and fold evenly across the tyre. Typically a stacked tread will wear less and provide more forward bite while the aligned space helps rotation in the turns and gives a snappy release to square up quickly. Easily one of the smaller pin tyres available for 1/5th off-road, the Reflex is a beefed up version of its 1/8th scale sibling scaled up in size to withstand heavy abuse but just nimble enough to offer optimised response. To make them interchangeable, the tyre beads and inner carcass have been designed to use the stock Losi 5ive insert and fit directly to the already established bead-lock wheel. The inner tabs built into the carcass interlock with the Losi bead-lock style wheels for security.
Source: JConcepts [jconcepts.net]
Tuesday, May 12, 2015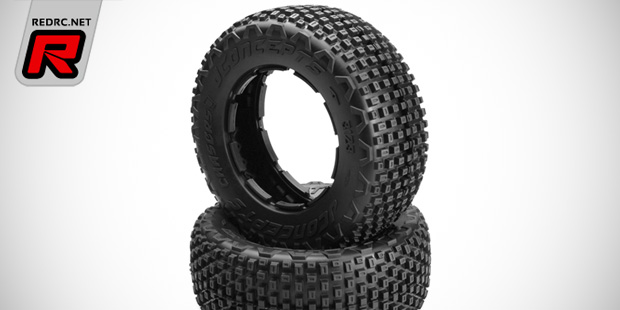 JConcepts have introduced their first ever tyre for the 1/5th scale class, the Losi 5ive compatible Chasers. The tyre relies on hefty, medium lugs which are angular in multiple directions. The horizontal type tread has a striking similarity to the trusty 1/8th buggy Crossbow tyre. Chasers have a squatty, close lug arrangement which gives responsiveness and bites in all conditions. The wet and dry condition tyre has small recessed cuts in the top of the tread for extra edges and increased formability over terrain. The centre overlapping bar treatment increases durability in the highest wear region of the tire. The outer sidewall has added tread at the top which provides extra reinforcement for those tough outdoor conditions while the outer V-lug also provides some paddle traction in loose sand or muddy conditions giving the Chasers ultimate versatility.
Click here to continue reading
Monday, May 11, 2015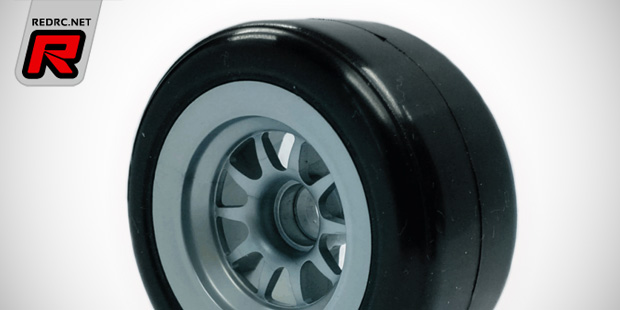 GQ introduce a new line of lightweight Formula tyres in F1-T3 compound. Offering super high grip the pre-mounted tyres come on silver-colour spoke rims with the front wheels weighing in at 66g a pair while the rear wheels weighing in at 74g. The wheels are designed to fit most F104-style "narrow" cars.
Click here for a photo of the rear wheels
Tuesday, May 5, 2015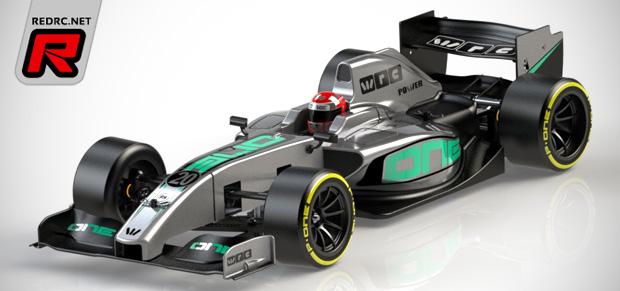 Italian company WRC will soon have a new 1/10th Formula body and new tyres and wheels available. Little is known about the new parts beside what can be seen in the image but the body looks pretty 2015-ish with its low and channelled nose design while the tyres seem to make use of a lower profile tyre wall and larger diameter rims, resembling Pirelli's 2014 18 inch test wheels. No release date is know yet but we bring you more information as soon as they surface.
Source: WRC [wrc-racing.com]
Wednesday, April 29, 2015