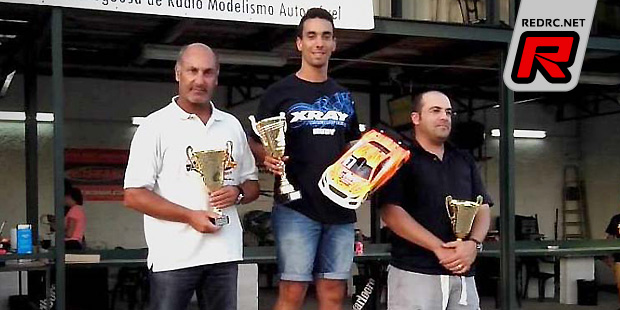 The 2014 Portuguese Cup was held at the Torres Novas track, home of past and future European Championships. The weather was fantastic all weekend long and a very well prepared track greeted the drivers. In the 1/10th 200mm class Bruno Coelho took the TQ and on top of that he also came out successful in the final that he won some 7 laps ahead of 2nd placed Joao Nascimento. Jorge Azinheira rounded out the podium in 3rd place.
Click here to view the final result
Friday, October 31, 2014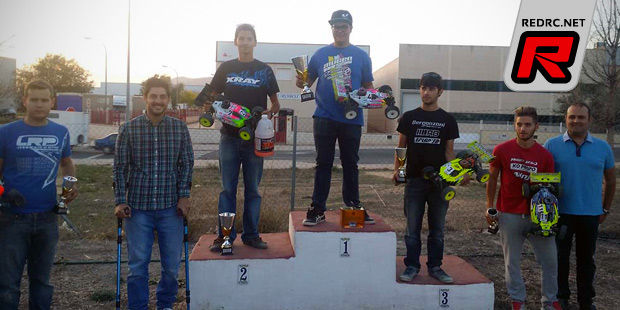 The first round of the Levante regional championship was held in Alicante, Spain with more than 60 drivers in attendance. The A-main saw Xray's Ignacio Candel chase Mugen driver Oscar Baldo hard for the whole race but at the end Oscar took the win with Ignacio in 2nd. Jose Tomar Escudero (Bergonzoni) rounded out the podium in 3rd place.
Source: Xray [teamxray.com]
Friday, October 31, 2014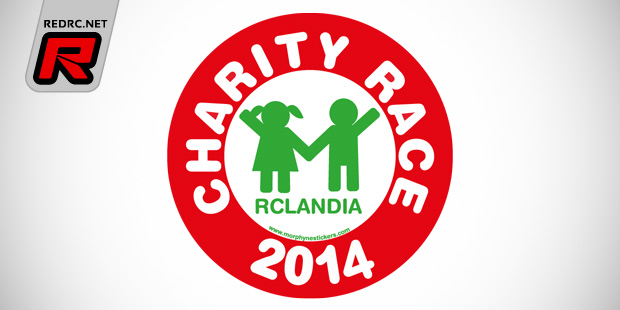 Following the success of the past 5 years of the Charity Race organised by Team La Gang and ToniSport at the permanent RC Landia carpet track in Scandiano, the event is back for a 6th year from the 28th to the 30th of November. Born from an idea between Team La Gang and Marc and Toni Rheinard, the event went ahead with a big effort from the organisers along with the support of a whole host of top international drivers and factory teams. Last year thanks to a big auction that they do before the final they raised more than €7,500 which was donated to the department of paediatrics hospital in Scandiano in the form of equipment purchased directly from Team La Gang so they are sure that their money will used in the way that they want. Limited to 120 drivers due to the limited pit space this year, thanks to ToniSport, they will have Marc Rheinard, Ronald Volker and Daniel Baldissarri and in attendance while thanks to Team Xray they will have Alexander Hagberg, Martin Hudy, Bruno Coelho, Marek Cerny, Francesco Martini, Alessio Menicucci, Alessandro Brunelli and other Italian Xray team drivers coming who will race against the best drivers from all over Italy for a weekend of fun, charity, good food and racing. For anyone interested in attending, feel free to contact Toni Rheinard (info@tonisport.de) or Davide Sillingardi (sillarcmail@gmail.com). Registration will open on Monday 3th of November at 9 pm on myrcm.ch.
Friday, October 31, 2014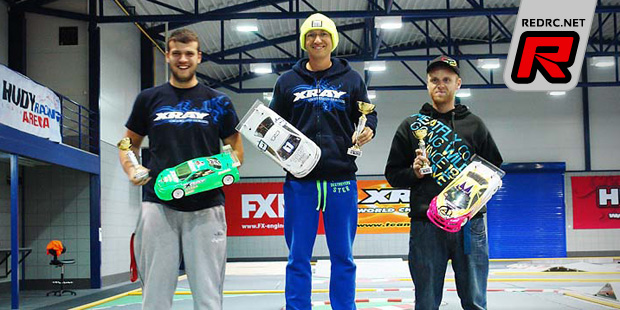 The 1st round of this Winter's Slovakia Cup was held at the Hudy Arena in Trencin, Slovakia. Run in the six classes of Touring Car Modified and Stock, Formula, Pan Car as well as 2WD and 4WD Buggy the race attracted a good turnout of racers. In the Touring Car Modified class Martin Hudy soon set the benchmark with David Nemcek and local driver Tomas Liptak battling for 2nd and 3rd spot in qualifying. The triple finals were then again dominated by Martin with David coming in 2nd and Tomas rounding out the podium in 3rd.
Click here to continue reading the report
Thursday, October 30, 2014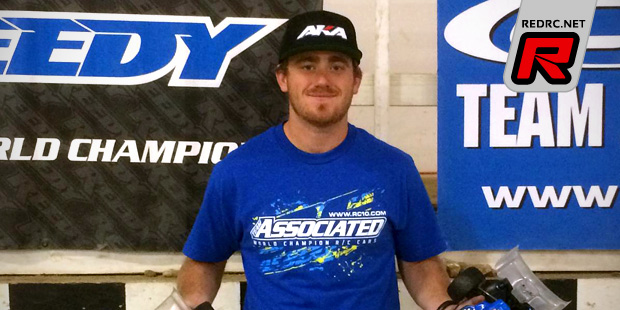 Traction Hobbies of Reno, NV hosted the second annual Winter Takes All race. Three rounds of qualifying were run on Saturday, rocket-round style, with Triple-A mains run on Sunday with eight drivers qualifying directly to the main and two bumping from lower mains. Drivers flocked from all over the Northern California/Nevada area to see who would take the overall win along with the cash purse put up by Traction Hobbies owner Justin Clark. Qualifying went perfect for Chris Jarosz, who took the TQ in both the 2WD and 4WD Modified classes, setting the fastest times in round 2 of qualifying on the indoor clay track. A1's of both classes would be wire-to-wire victories for Jarosz. A2 of 2WD would be another victory for Jarosz to take the overall title. A2 of 4WD proved to be more difficult for Jarosz. An early mistake put him down to the third spot, and it was an intense battle before he would come out on top, giving Jarosz his second victory of the weekend.
Source: Team Associated [teamassociated.com]
Thursday, October 30, 2014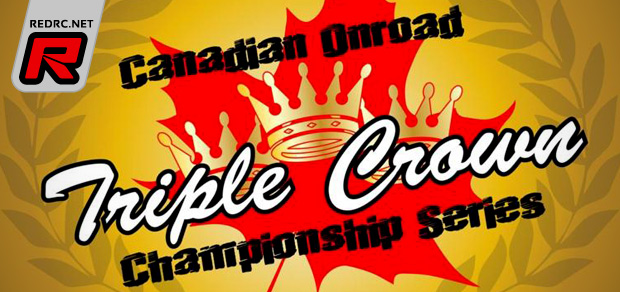 The Canadian Onroad Triple Crown Championship Series 2015 will kick-off on December 6th at Sutton Aviation RC Raceway in Ottawa. The 3-race Championship will be run in Touring Car Modified, Touring Car 17.5T Blinky as well as Vintage Trans-Am 21.5T with supporting club classes of Tamiya Mini, 1/12th scale and USGT. More information and sign up can be found here.
Wednesday, October 29, 2014
History was made on October, 25th 2014 in Saint George, Utah. The R/C Bullet designed, built and driven by Nic Case finally achieved a top speed of 202.02mph (over 325km/h). Using a custom chassis, body and tyres as well as off-the-shelf electronics this was the first reported +200mph run of an RC car and it qualifies for Guinness World Record.
Click here to view a short clip of Nic's car going 202mph
Wednesday, October 29, 2014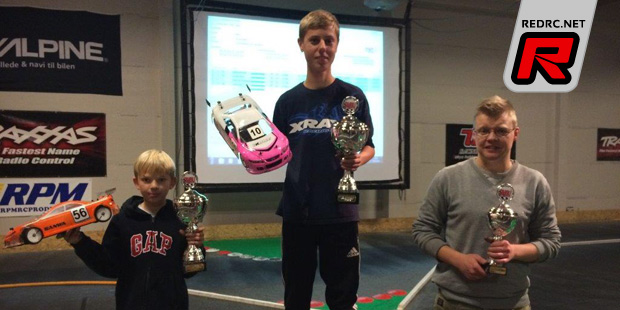 The first round of the Danish electric on-road nationals was held at the LFRC club in Nykobing Falster, around 130 kilometres away from Copenhagen. The track is a little bit bumpy, but it was the same issue for all drivers and in the Touring Car Modified class it was Stefan Finnich who was able to make the best out of the track conditions. Lars Holm made a good pressure on Stefan, but Stefan drove very cold, and kept Lars behind him. Gustav Pind just started and will be very fast one day.
Click here to continue reading the report
Wednesday, October 29, 2014