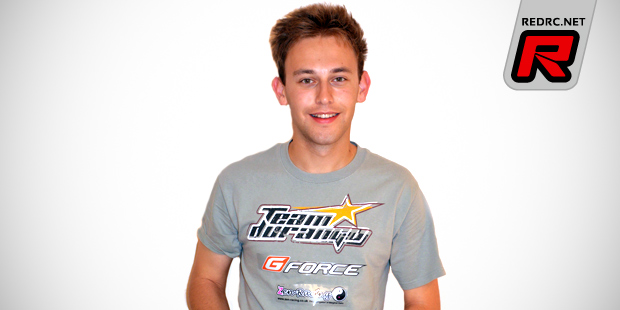 Team Durango driver Elliott Harper has announced he has signed for GForce to run their full line of pit accessories, for the remainder of the 2014 season and beyond. The 2010 World Championship Podium finisher had this to say about the new deal:
Firstly, I would like to thank Mr. Jang and Keith from Muchmore for their support over the years. As we approach this year's European and World Championships, I felt it was time for a change and, having seen the quality and line-up of the GForce products already in use trackside, I am proud to represent the company and hope to achieve some great results with them. I would also like to thank David Spashett and Zen Racing for their help and support and am looking forward to the coming races! See you trackside soon.
Source: Zen Racing [zen-racing.co.uk]
Friday, July 11, 2014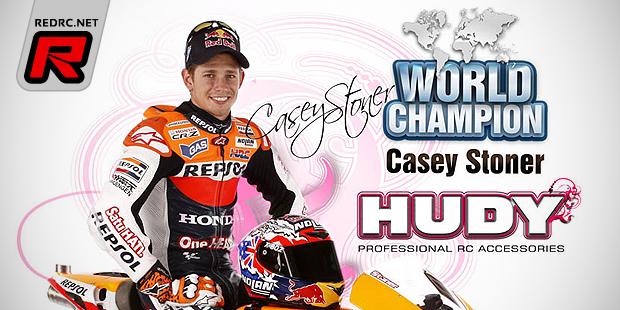 You may know it or not but 2-times MotoGP World Champion Casey Stoner has found a new profession after retiring from the fun world of motorbike racing as he recently stepped into RC car racing. Casey will now up his game by exclusively using Hudy tools to wrench on his Yokomo 2WD and 4WD buggies as well as his Hong Nor Pro4 truck. Casey says:
Being a professional sportsmen learned me that if you want to be best you need to work with the best. I was truly impressed by the quality and easy to use of all the Hudy products and there is nothing else I want to use. Either you take your hobby & sport seriously or for fun, there is nothing better than Hudy.
Source: Hudy [hudy.net]
Friday, July 11, 2014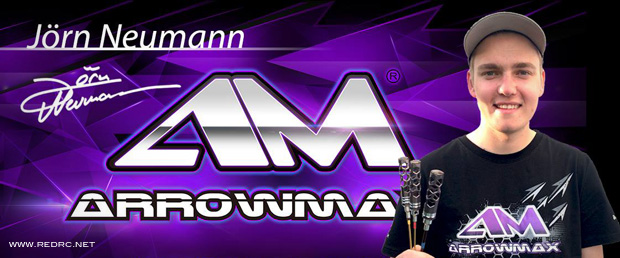 Arrowmax RC announce the signing of multi-time European Champion Jörn Neumann to their team. Jörn will be using Arrowmax honeycomb tools, setup tools and option parts and the German ace will also help with development and testing of new products. This is what Jörn has to say about the deal:
I am very happy to join the Arrowmax team. Its a great company with amazing looking products. I look forward to work with them and use their products.
Source: Arrowmax [arrowmax-rc.com]
Thursday, July 10, 2014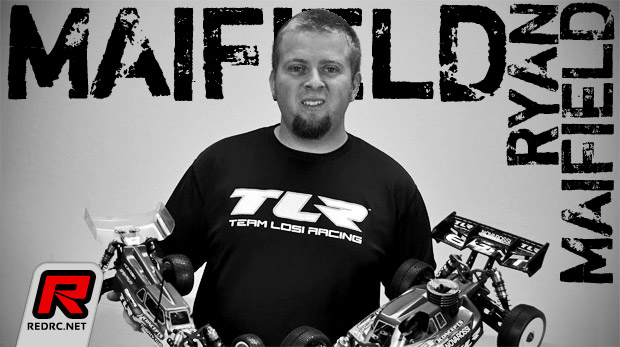 We have seen him announce his departure from Team Associated, with whom he drove with for 13 years, and more recently he was confirmed at both TLR and Team Orion going forward. We sent over a few question to Ryan Maifield to get a bit more insight into his decision to move to a new team and what his expectations are for the seasons ahead.
Wednesday, July 9, 2014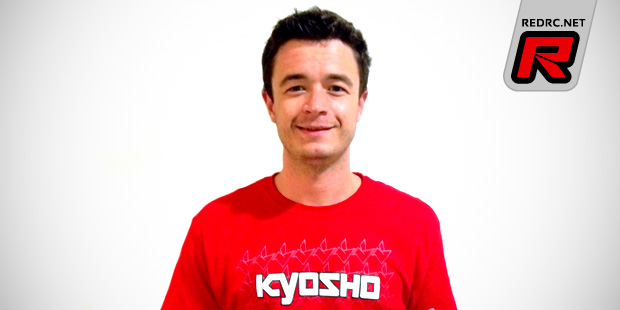 Kyosho America announce the addition of Matt Chambers to their factory race team. Matt is very well known for his 1/10 electric off-road racing skills where he has made countless A-Main's throughout his racing career. Along with Chambers' impressive speed on the track, he is also recognized as being one of the most hardworking and helpful racers off the track. Matt will make his Kyosho debut next week at the 17th Annual Hot Rod Hobbies Shootout in Saugus, California and he has the following to say about the deal:
I am extremely excited to be joining Kyosho America! I have always respected Kyosho's high quality cars, engineering, and innovations.  I am thrilled to be a part of such a strong racing heritage and can't wait to make my own contributions to the team.
Source: Kyosho [kyoshoamerica.com]
Wednesday, July 9, 2014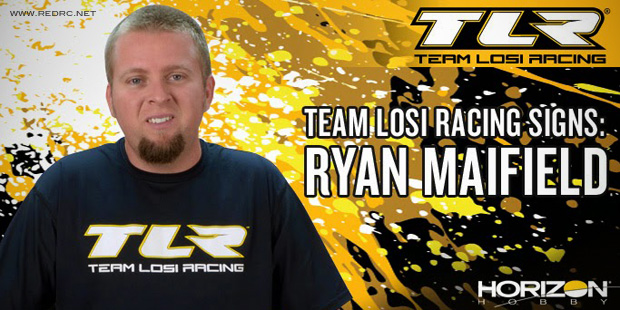 After much speculation about his post-AE future, Ryan Maifield has officially joined forces with Team Losi Racing. The multiple ROAR national champion will work closely with the TLR R&D team on the further development of the Team Losi Racing electric and nitro off-road car platforms including the 22, Ten and 8ight cars. Ryan will be making his Team Losi Racing debut at race 3 of the JConcepts Indoor National Series this weekend at Outback Raceway in Chico, CA.
View the official statement and interview here
Tuesday, July 8, 2014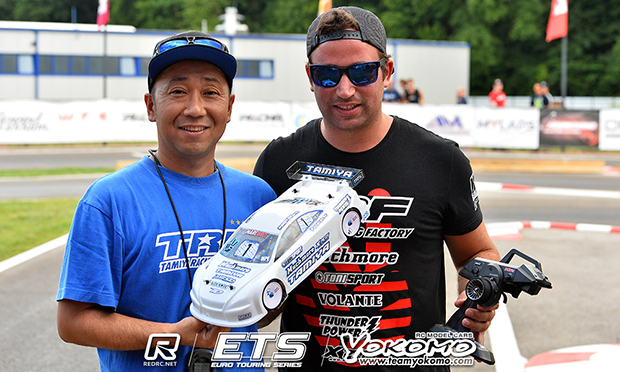 Marc Rheinard has taken victory at the season finale of the Yokomo Euro Touring Series at the Hudy Racing Arena, giving the championship's most winning manufacturer Tamiya their first & only win of the 2013/14 championship. Having not won in the world famous championship for over a season, the most winning driver claimed his 12th victory as he backed up his A1 win with a dominant performance in A2, helped hugely by his TRF team-mate Viktor Wilck. Despite having the slowest car on the track, the number 2 starting Wilck managed to keep a train of cars behind him for the entire five minutes allowing Rheinard to pull clear for an easy 3.6 second winning margin. The battle for second was an impeccable display of world class driving as despite their close proximity and high speeds of the cars there was no contact. With the top 4 finishing in the order which they started with Ronald Volker 3rd and Alexander Hagberg 4th, World Champion Jilles Groskamp was the highest place finisher to make a pass again getting by the Yokomo of Yannic Prumper for 5th.
Continue reading the report here or view our complete event coverage here.
Monday, July 7, 2014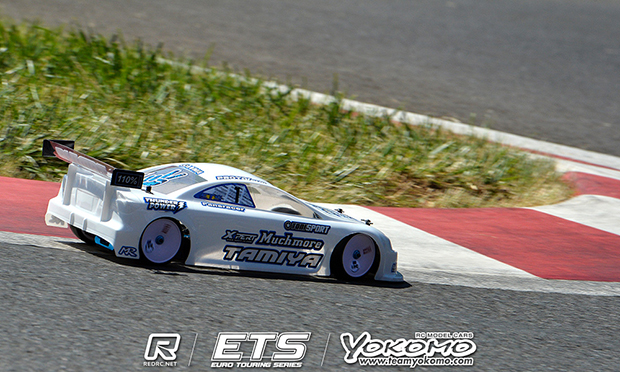 Marc Rheinard headed a Tamiya 1-2 in the opening A-Main at the Yokomo Euro Touring Series season, the Top Qualifier heading home a very evenly matched lead group from team-mate Viktor Wilck. While the race saw no changes of position among the Top 4, drivers had no time to let up with the pack covered by 1-second with Yokomo's Ronald Volker finishing third followed by Xray's Alexander Hagberg. The most significant moment of the race at the Hudy Racing Arena was a coming together between Jilles Groskamp and Yannic Prumper, the latter collecting the rear of the World Champion send both cars off onto the grass infield while in the battle for fourth position with Hagberg.
Continue reading the report here or view our complete event coverage here.
Sunday, July 6, 2014