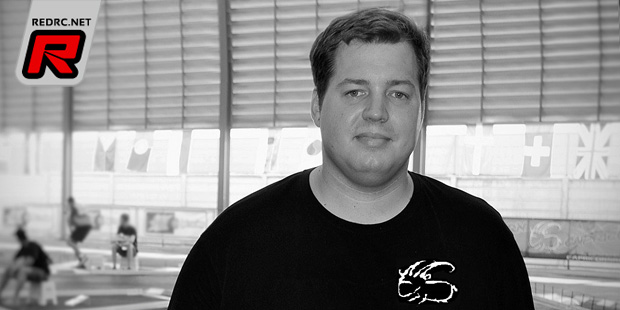 German driver Thilo Tödtmann has joined the Capricorn factory team to run the Italian company's full line of 1/10th cars, fuel and tyres for the 2015 season. The EFRA EC-B winner, EC-A finalist and regular ENS A-Main participant was already using the Lab C03 and Lab TE02 car since last year with good results. Thilo will attend all major 1/10th nitro races and he has the following to say about the deal:
I'm very excited to be joining Capricorn. I'm looking forward being part of the team and working with them throughout the next races. I'd like to thank Patrizio Rossi at Capricorn who is granting me that opportunity which I take grateful.
Source: Capricorn [capricornrc.com]
Monday, January 12, 2015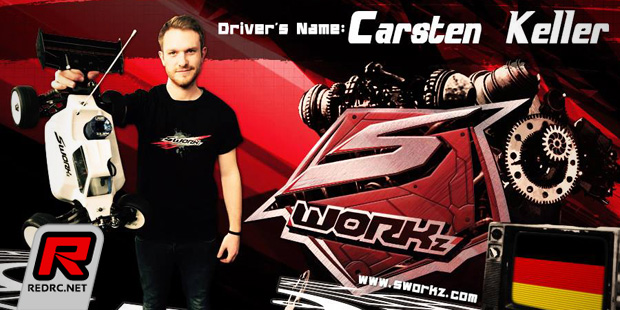 German frontrunners Carsten Keller, European Championship A-finalist, and Christian Hahlen have joined SWorkz with Carsten also being supported by MW RC Cars. Carsten has the following to say about the deal:
At initial testing the quality of parts and car both convinced me. I'm looking forward to a great collaboration and a successful 2015.
Click here to continue reading
Monday, January 12, 2015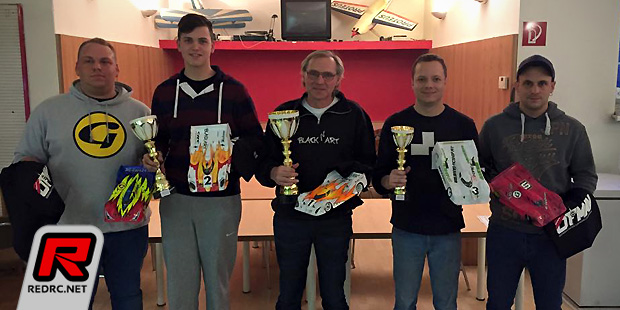 The Austrian 1/12th scale Stock Nationals were held on the permanent indoor racetrack of the MAC Traiskirchen, just outside of Vienna. The event attracted a good turnout of drivers thanks to the 10.5T motor limit in combination with "blinky" speed controllers. Robin Kaiser took the TQ and win with his CRC Xti in front of his teammate Dominic Vogl and Rene Dockter also using a CRC Xti WC car. Beside the main 1/12th class the race also saw the running of a Formula category, won by Herbert Weber (CRC), and a World GT class that was taken by Christoph Holter (CRC).
Source: Blackart [blackart-racing.eu]
Monday, January 12, 2015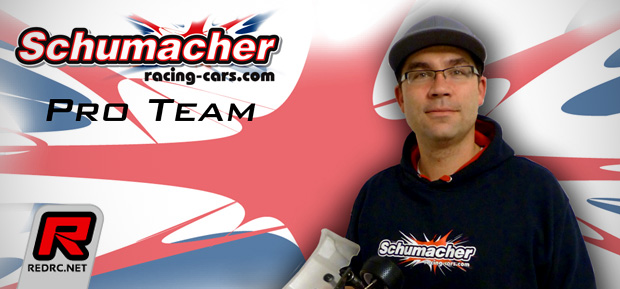 Schumacher have announced that top Austrian racer Peter Pinisch will be racing the company's 1/10th line of off-road buggies in 2015 and 2016. Peter is a former EFRA 4WD European Champion, and 3-time IFMAR Worlds A-finalist. He is also a regular EOS A-finalist and has achieved an amazing 20 EFRA Euros A-finals. He is a very fast and experienced racer and will be a big asset to Schumacher''s growing European off road team. Peter had this to say:
First of all I would like to thank all Team Associated especially Brent Thielke and Craig Drescher for their help and support the last 12 years. After some many years of racing it is time for a change and I`m really happy to announce that Team Schumacher give me the opportunity to run their products for the next years. I am really excited to race with the new cars at major international races EOS, Euros and Worlds.'
Source: Schumacher [racing-cars.com]
Monday, January 12, 2015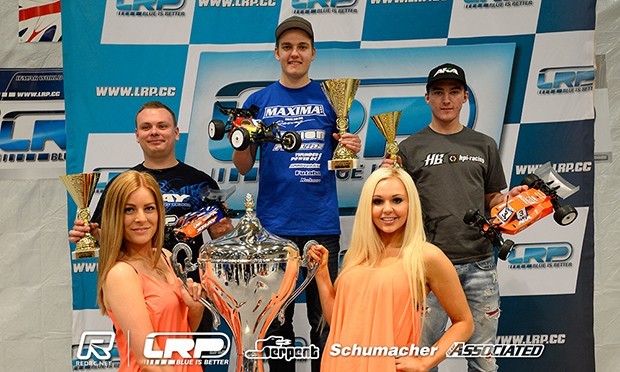 Joern Neumann remains the unbeaten DHI Cup Champion in 4WD Buggy when for the second year running, the German again saw off the challenge of Martin Bayer in the third A-Main.  With a win a piece, Bayer winning A1, the pair went into A3 exactly as they did 12-months ago with a winner takes all situation.  Starting from the TQ position Neumann would only briefly relinquish the lead when Bayer attempted a move on lap 3 and had to wait on Neumann to retake position as David Ronnefalk drove past the recovering Durango to take a short lived lead. While Bayer had the pace to challenge his carpet track nemesis a series of mistakes from the Czech driver would drop him to fourth leaving him to again finish second overall.  Finishing A3 in second position Ronnefalk would complete the podium in Denmark on his HB debut.
Continue reading this report here or view our complete event coverage here.
Monday, January 12, 2015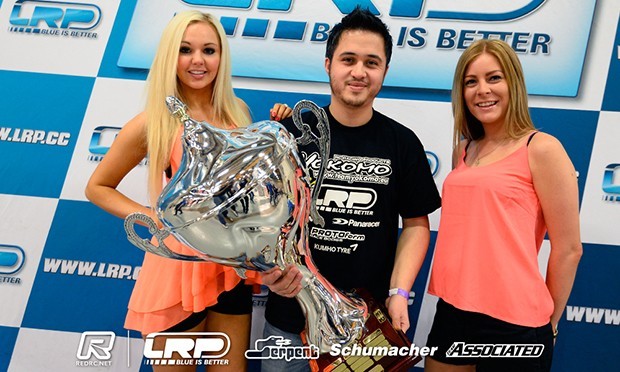 Ronald Volker has brought his tally of DHI Cup titles to six after another easy win in A2 secured him overall victory at the 15th running of the famous Danish event. The Yokomo driver was joined on the podium in Odense by Xray's Alexander Hagberg, winner of a controversial A3, with Freddy Sudhoff getting his debut for HB off to an encouraging start with third overall.  Having been the only serious contender to the reign of Volker over the weekend Yannic Prumper would miss the podium finishing fourth after a coming together with Hagberg as they battled for the lead in the closing race.
Continue reading this report here or view our complete event coverage here.
Monday, January 12, 2015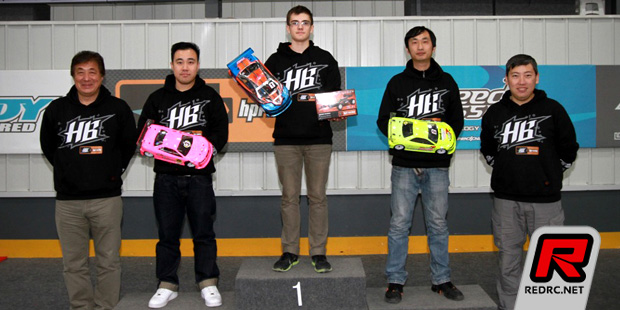 HB China kicked off its race season by holding a two-day event, the HB Team Challenge Race, including a driver recruitment meeting with HB/HPI CEO Tatsuro Watanabe at hand to welcome everyone. The event was held in Shanghai over the past weekend and saw 14 year old Mihnea Lupu, a Canadian who resides in China, take the victory over fellow HB Team China drivers Guo Yao Wei and Ding Fang Jie. The young, up and coming Canadian joined Team HB China for the 2015 season and will begin to compete more internationally.
Source: HPI [hpiracing.com]
Monday, January 12, 2015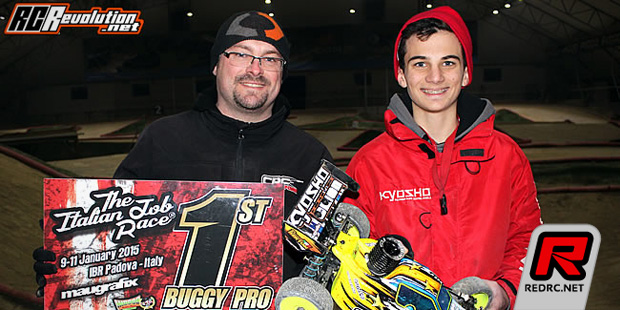 The 2015 edition of the The Italian Job Race was held this past weekend at IBR Padova in Italy featuring the usual turnout of local talent and internationally experienced drivers. In the 1/8th Pro Nitro Buggy class it was TLR's Alex Zenchettin who took the qualifying honours with his RB-powered buggy from the UK front runners Elliott Boots (Kyosho/Reds) and Darren Bloomfield (Agama/Bullitt). Alexander Stocco (TLR/Novarossi) and Renaud Savoya (HB/Team Orion) rounded out the top 5 result while other international pro drivers such as Lee Martin in 8th and Robert Batlle in 11th were found further down the field.
Click here to continue reading
Monday, January 12, 2015