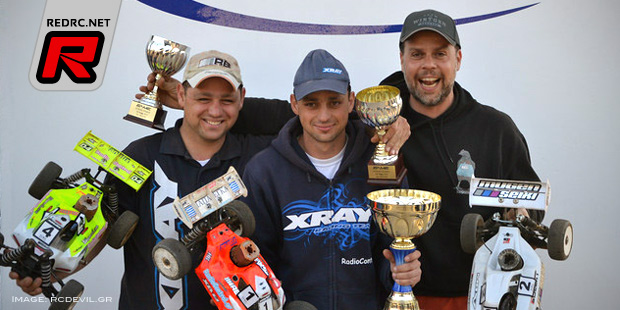 The Greek National Cup took place in Athens with drivers from all over Greek attending. Tasos Paparegas took the TQ spot after qualifying with Tsigos and Zagorisos in tow. The final was run in difficult conditions on a very bumpy track and once again it was Tasos who excelled with Tsigos being the only driver who was able to go Tasos' pace. At the end Tasos Paparegas took the win from Tsigos and John Paparegas. Makropoulos and Papanikolaou completed the top 5 result.
Source: Xray [teamxray.com]
Thursday, March 27, 2014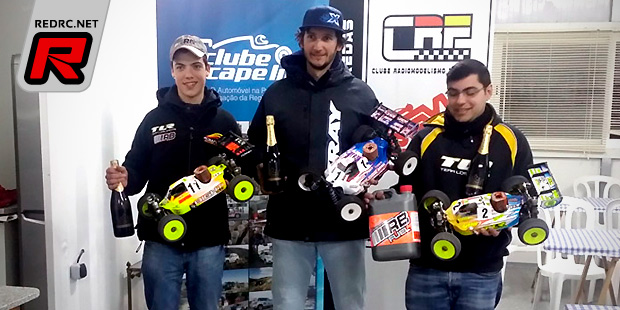 The first round of this year's Portuguese 1/8th off-road championship took place at the CRF Freixedas track, the venue of an EFRA Grand Prix in August. After qualifying 2nd the final was dominated by Xray's Miguel Matias who came in two laps in front of Goncalo Melo (TLR) and Ricardo Monteiro (TLR). Pedro Figueiredo and Nuno Rebelo completed the top 5 result.
Source: Xray [teamxray.com]
Thursday, March 27, 2014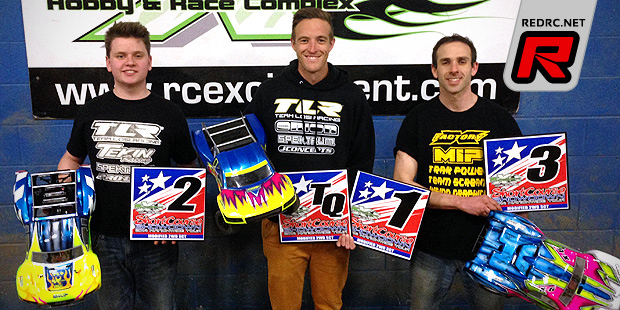 Race 2 of the Short Course Showdown Nationwide Tour was hosted by RC Excitement in Fitchburg, MA. With a full day of practice on Friday, the layout was fast and fun with lots of places to pass, making for a great racing weekend. The track opened at 7am on Saturday with 1 hour of open practice. After a quick drivers meeting racing kicked off at 9am. After round 1 Dustin Evans TQ'd Modified 2WD Buggy with his TLR 22 2.0 in mid motor configuration. Dustin also TQ'd 4WD Buggy and Modified 2WD Short Course while Dave Duncan TQ'd Stock 2WD Buggy with his Team Associated B5M. After two more rounds of qualifying on Saturday, the same drivers still held their TQ spots. Sunday morning started with 45 minutes of open practice followed by a final round of qualifying. When all the dust settled Dustin and Dave still had the TQ spots in the same four classes and both also where in control of their mains taking all 4 wins.
Click here to view more podium photos
Thursday, March 27, 2014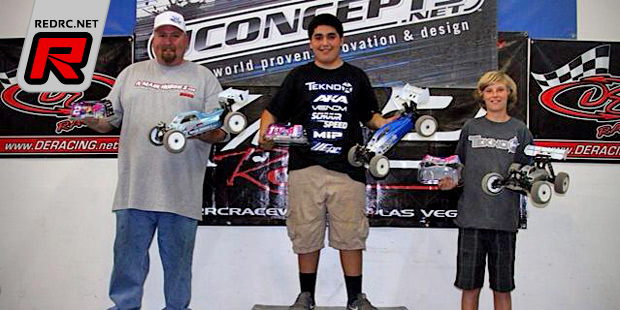 During last weekend's Top Notch Series race at the 702 Raceway in Las Vegas, Tekno RC's Rudy Rico brought home the win the the 1/8th E-Buggy class. After taking TQ he went on to win the A-main event while Lou Figueria took the runner-up spot. Rudy's Tekno teammate Jared Bryant rounded out the podium in 3rd.
Source: Tekno RC [teknorc.com]
Thursday, March 27, 2014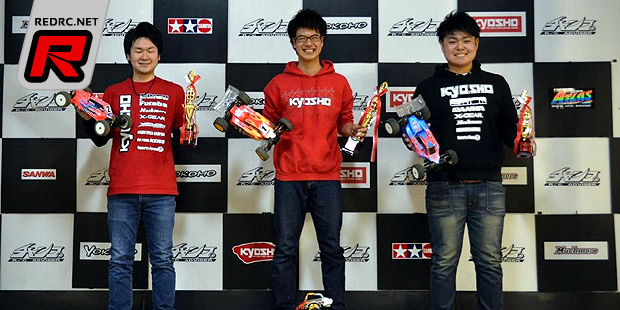 The 2014 edition of the annual Japan All Star EP off-road race took place at the RC Park Gojo circuit in Gojo, Nara, Japan. The event brought many sponsored drivers from Kyosho, Tamiya, Yokomo and MuchMore and is an opportunity for racers to compete and interact with the top Japanese racers from around the country. The indoor facility is famous for its great track conditions and fun layouts with the owner being an experienced motocross track builder, who has worked with Richard Winkler of Dirt Wurx. To keep the surface in a high grip condition, water was provided by pipes buried under the track.
Click here to continue reading the report
Thursday, March 27, 2014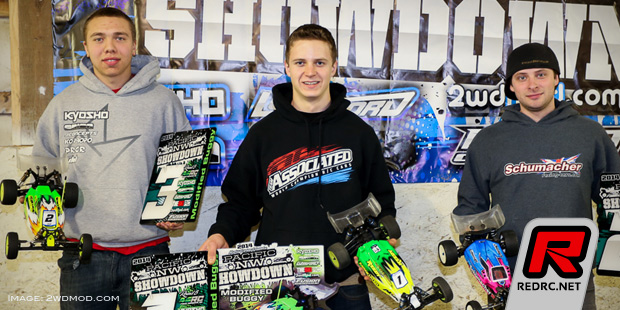 March 21st through the 23rd marked the final race of the epic Pacific NW Showdown winter series 2014. The finale was held at Four Season's raceway in Olympia Washington, home of Gary Brown, father to Northwest legend, Scott Brown. Unfortunately, good things must come to an end and after a long winter the final race was upon us. Undoubtedly saving the best race for last, Northwest's finest 1/10th scale off-road drivers would once again meet up for a last showdown and make claim for the series overall championship title. The event was scheduled for open practice on Friday from noon till 9pm and all 4 rounds of qualifying to be ran on Saturday. Sunday would hold triple A-main events decided by best 3 of 4 rounds of qualifying with 6 minute lower mains for bumps and award ceremony held after racing.
Click here to continue reading the report
Wednesday, March 26, 2014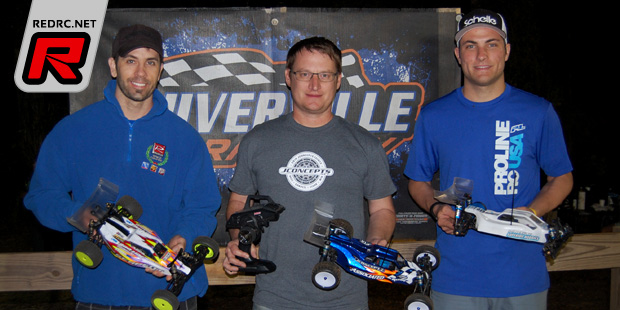 JConcepts Super Cup Championship Series packed the house at Shiverville Raceway in High Springs, FL for round 3, with a record 193 entries on the perfect spring day. Shiverville Raceway's freshly expanded and highly groomed race surface was primed to see some close and intense racing action. The track crew did an amazing job rebuilding the surface as early in the week it was hammered by over 3 inches of rain. Practice was held to a 2pm start on Friday for extra time as the Florida sun worked its magic baking the track. Racers then hit the track to work on lines and setups for Saturday's showdown that started at daybreak.
Click here to continue reading the report
Wednesday, March 26, 2014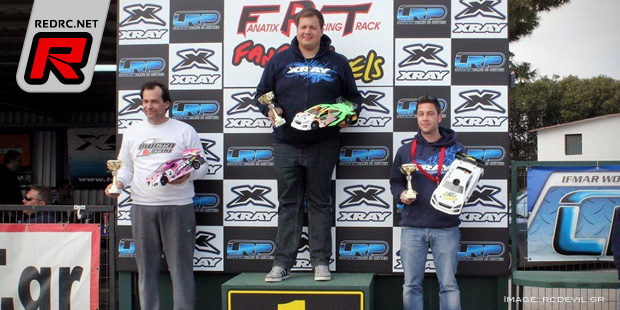 The first round of the Greek Nitro Series and Greek Touring Series started at the popular Fanatix track. The 200mm nitro class had German Xray driver Thilo Alexander Tödtmann taking the TQ position after the three 7 minute qualifiers. For the 45 minute final Thilo decided to use his Greek friend Doucakis as his mechanic and went for 4:30 minute pitstops while his main competitor Sotiropoulos J. was able to do 5:10 minute stints. But Thilo was able to compensate the larger amount of stops with a faster pace allowing him to take the win in front of 6-times champion John Sotiropoulos while Spiros Sotiropoulos completed the podium in 3rd position.
Click here to continue reading
Wednesday, March 26, 2014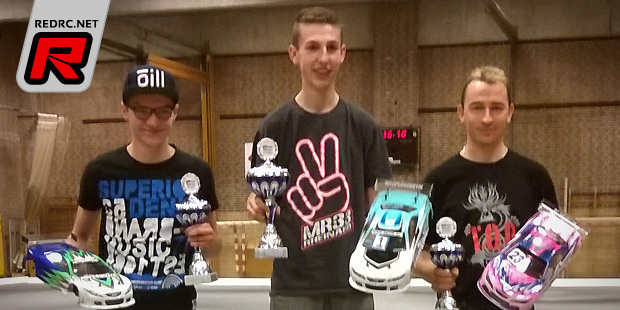 The 6th and final round of the Danish National Championships was held at the former DHI-Cup venue in Odense, where this great event was born many years ago. A big and flowing track with technical chicanes made for perfect conditions and close racing. Since it was the final race of the season, the schedule saw 5 rounds of qualifying with the 3 best to count, followed by 3 finals. In the Pro Stock class the fight for the magic A final spots was though, with 3 drivers being in the fight for TQ. Patrick Folman, Niklas Engholm and Søren Boy Holst all won rounds in qualifying – often with less than a second to second spot. At the end Patrick took TQ in a tie-break, with only .087 second from the number 2 driver.
Click here to continue reading
Wednesday, March 26, 2014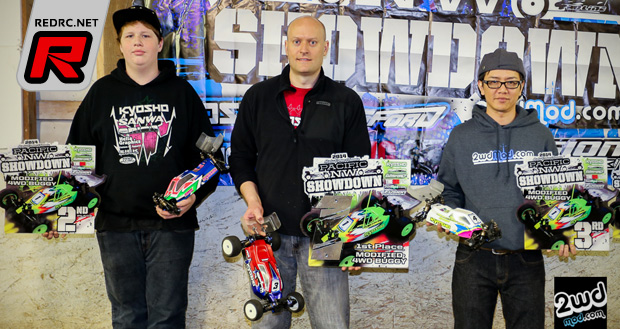 The 2013/14 Pacific North-West Showdown Series hosted their final round this past weekend at 4-Seasons R/C Raceway in Olympia, WA. This 5 race series would hit the best indoor off-road tracks that the North-West has to offer in the past five months. Three races would be held in Washington and two races in Oregon. Each driver's four best finishes out of the five races would count towards the overall championship. Kyosho/Team Orion driver Roger Seim would go into Olympia and finish off the series with a great result to lock up the overall 4WD Modified Buggy championship. Finishing 2nd overall for the series was Kyosho/Peak's Tanner Day while Kyosho/Team Orion's Thomas Tran who would complete the Kyosho ZX-5 SP podium sweep in 3rd.
Thanks to Joe Pillars for the report.
Wednesday, March 26, 2014